ABOUT MUKTINATH TEMPLE
Muktinath temple is the world's highest temple, 12,172 feet above the sea level. It is located at Thorong La Mountain pass, Mustang, Nepal. It comes under Annapurna Conservation Area. Visit to Muktinath Temple can easily be planned from Kathmandu or Pokhara.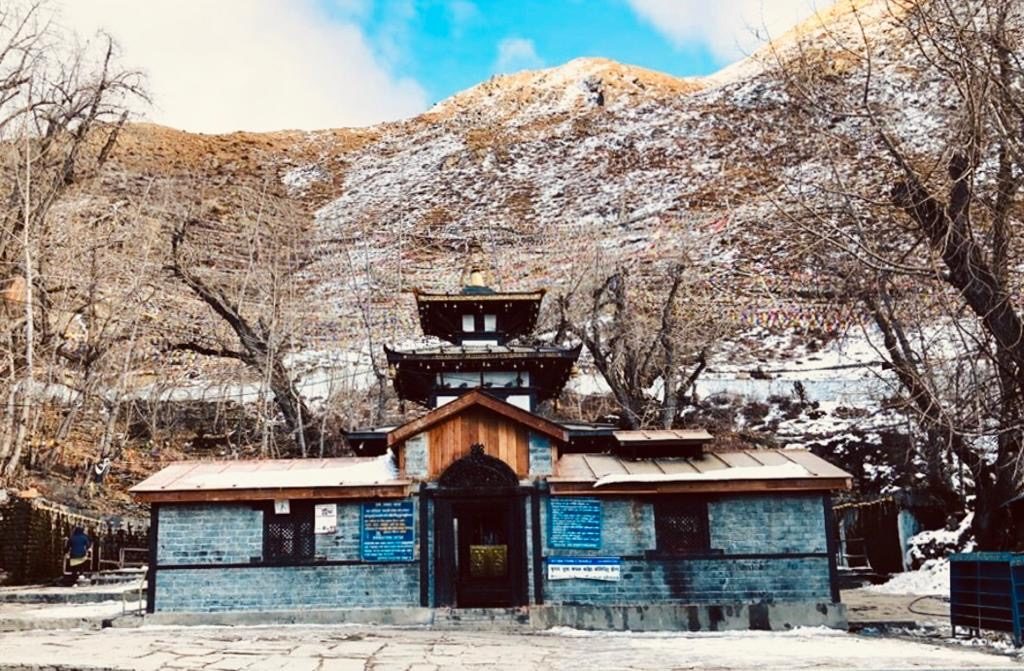 Muktinath is a sacred pilgrimage site for Buddhism and Hinduism. It is a Vishnu temple and has 108 water springs inside. As per Hindu mythology, a visit to this temple and taking a dip in the water spring can give salvation and liberation from rebirth and helps attain moksha. It is also one of the 108 Shaktipeeth. It is said that Goddess Sati's ashes had fallen at this place. Every year thousands of devotees from India visit this temple. This Pagoda styled temple is called Chumig Gyatsa by Buddhists, meaning hundred waters.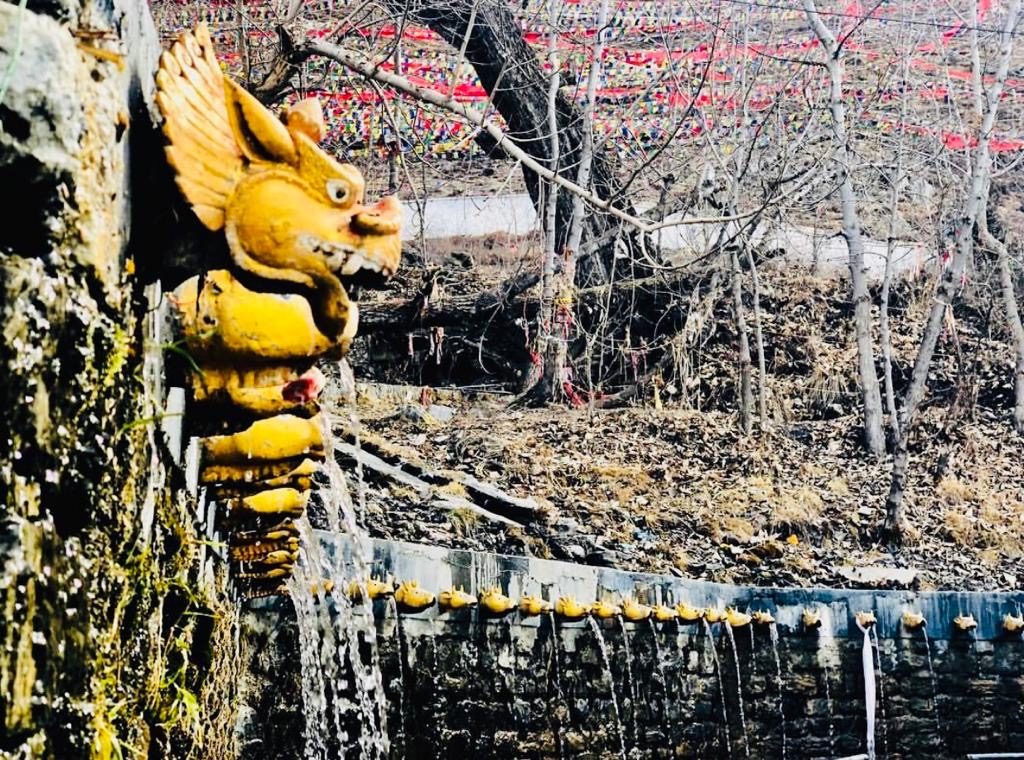 HOW TO REACH MUKTINATH TEMPLE FROM POKHARA/KATHMANDU
Muktinath Temple is 374 kms from Kathmandu, 174 kms from Pokhara and 25 kms from Jomsom. The journey to Muktinath is tough because of the high altitude and rough conditions of the roads.
BY HELICOPTER
The easiest butthe most expensive way is to take a helicopter ride (round trip) from Kathmandu or Pokhara for Muktinath. This ride takes just 2-3 hours to reach the Temple. Cost for this starts from $500 (sharing basis) and goes up to $2500 per person. Visit to Muktinath can be done in just a day, if using Helicopter. Cost of round trip helicopter ride from Pokhara will be cheaper than thatfrom Kathmandu.
BY FLIGHTS
Another slightly lesser costly option is to use flights. Nearest airport from Muktinath Temple is Jomsom Airport. There are no direct flightsfrom Kathmandu till Jomsom. One has to reach Pokhara either by bus, flight or private car and then take a flight from Pokhara Airport to Jomsom Airport. Price of flight ticket (one way) from Kathmandu till Pokhara is approx. 124 US$/Person and takes only 1 hour 40 mins to reach.
There are around 8+ flights flying everyday via Yeti or Buddha Air airlines. Price of flight tickets (one way) from Pokhara to Jomson is approx. 125 US$/Person and takes only 20 mins to reach. There are around good 6+ flights everyday from either Simirk Air or Yeti Air. To optimise the cost, most people take one flight and one road route. For example, reaching Pokhara by road and then taking a flight for Jomsom or reaching Pokhara by flight and then taking aroad trip till Muktinath.
BY BUSES
There are also public buses running from Kathmandu and Pokhara till Jomsom. It takes 7-8 hours to reach Pokhara from Kathmandu (Price of Bus ticket will be 8-12 US$/Person) and then another 8-9 hours to reach Jomsom (Price of Bus ticket will be 10-12 US$/Person). After reaching Jomson a local jeep (sharing basis) or local bus can be taken till Muktinath Temple, which takes 2-3 hours to reach. Cost for this will be roughly 3-5 US$/Person. If you do not want to stop at Pokhara, you can take the direct bus for Jomson from Kathmandu, which takes 15-16 hours to reach and will cost approx. 18 US$/Person.
BY CAR
An entire road trip can also be planned for Muktinath, by hiring a rental car along with a driver from Pokhara or Kathmandu. In this way one can customise the entire trip as per their convenience like stopping at Pokhara and taking a 2-3-day break. This is a good option,if there are more than 3 people.
BY FOOT
Muktinath can also be reached by trekking from Pokhara. Muktinath Temple comes under Annapurna Circuit Trekking Trip. This trekking trip is of moderate to high level and takes up to 7-8 days in total.
Whatever route you take, a trip to Muktinath is definitely going to be worthwhile
If you find this blog 'visit to Muktinath Temple' interesting, please share the link of the website/blog with your family and friends. If you have any comments or suggestions – please do write in the comments section below.
More about Pokhara: