SINGAPORE TRIP
Geographically small but giant in experience! Singapore is known as the Garden City and it feels exactly this way starting right when one enters Singapore's Changi Airport to various areas in this city-state. Singapore is clean, well planned and well connected country. It offers amazing view of sky scrapers and its infrastructure is breath taking. The parks and garden concepts are out of the world.  It is an ultra modern country with diversity in its people and culture. Singapore is currently the only island-city-country in the world. Overall it is the most fun family city for a short vacation in Asia. Here I am sharing the perfect 4 days itinerary for Singapore City, which will guide you about the best things to do in Singapore, places to visit in Singapore, where to stay in Singapore etc.
As Changi Airport is the biggest Connecting Airport of South East Asia hence Singapore can always be clubbed easily with various other places like Malaysia/Bali/Phuket/Bangkok etc. One can even add Bintan Island (Indonesia) via 1-hour ferry ride from Singapore.
DURATION OF SINGAPORE TRIP
To cover the main locations only 3 days are sufficient in Singapore. But if one wants to cover most of the things the city has to offer then it requires 5 days.
My Singapore itinerary is made up of 4 days in which I covered the must visit places in the first 3 days and the 4th day is optional and additional hence, perfect 4 days itinerary for Singapore. 
SINGAPORE 4 DAYS ITINERARY TRIP COST
Flight (round trip from India): 360-430 US$ / Person
Hotels: 145-215 US$ / Day (average)
Entrance to Attractions: 145-175 US$ / Person
Food and Travel: 215-285 US$ / Person
Miscellaneous: 100-250 US$ / Person
Overall: 1150-1580 US$ / Person for 4 days
HOW TO REACH / HOW TO TRAVEL WITHIN SINGAPORE
Almost all the metro cities around the world have a direct flights to Singapore. Changi airport is the busiest airport in Asia with maximum connecting flights for South East Asia. From India, there are around 15 cities with direct flights to Singapore.
For travelling within Singapore you can use MRT's (Subway/Metro) for quick, economical and easy transfers. The metro/subway has a good network and covers every area. Download the map beforehand to get the know how about the routes. Availability of Taxis are 24×7. You can use 'Grab App' as well which is like the Uber of Singapore. It offers better rates than local Taxi's. Singapore is a small city so one can easily cover everything using cabs, if finding MRT system complex.
WHERE TO STAY IN SINGAPORE
Singapore is a small country and reaching from one place to another is not very time consuming. One can plan their stay in areas depending upon their choice. As per my suggestions, below are a few one can choose from:
Clarke Quay – For Party Animals
City Hall – Central Area
Marina Bay – For most popular 5 Star Hotels
Orchard Road – For Shopping Freaks
Chinatown/ Little India – For Budgeted People (Little India best for Indians)
Below is the list of some of the fabulous Hotels in Singapore you can choose to stay:
Luxury Hotels in Singapore
Marina Bay Sands – Marina
Fullerton Bay Hotel – Marina
The Ritz Carlton Millennia – Marina
Mid Range Hotels in Singapore
Budget Hotels in Singapore
Need to know if staying at Marina Bays Sands worth it!! click on below link
(https://www.pinningdestinations.com/marina-bay-sands-is-it-worth-the-hype/)
BEST TIME TO VISIT SINGAPORE
Singapore has a pleasant weather and can be visited all round the year. However, to avoid crowd refrain travelling in the months of December, January and June.
MUST VISIT PLACES IN SINGAPORE
Merilion Statue Next to One Fullerton
Gardens By The Bay
Clarke Quay River Cruise for Experiencing Night Life of Singapore
Sands Sky Park for Skyline view of the city from Marina Bay Sands if not staying there
Universal Studios – If interested in Theme Parks
TIPS FOR SINGAPORE TRIP
Always try to stay at a walking distance to MRT's stations, if you want to travel cheap.
Try to buy tickets of most of the attractions online.
You can extend your trip to Singapore further by including a small trip to Indonesian Island – Bintan. You can visit this island by ferry from Singapore.
Download the Grab App (its like Uber of Singapore) and use it for local taxi for going around places. MRT's are definitely good but if one has time constraint then it is better to use cabs because they are quicker and drop you at the doorstep where as with MRT one has to walk a little.
You can plan to stay for a day at Marina Bay Sands to enjoy its famous infinity pool. For rest of the days book another budgeted hotel. This pool is worth experiencing.
Weather in Singapore is very unpredictable. Sudden unexpected rain occurs. Always carry a small umbrella. Moreover, it is best to check weather forecast before planning anything for the day.
Avoid Clarke Quay, Singapore Flyer and Universals Studios on weekends.
Instead of buying expensive sim card from Singapore, it is better to take International Roaming plan from Home Country.
PERFECT 4 DAYS ITINERARY FOR SINGAPORE
1st DAY: Marina Bay Sands Infinity Pool, Sky Park, Gardens by the Bay Light Show, Spectrum Light Show at Bayfront and Merlion Park.
2nd DAY: Orchard Street, Bugis Street, Garden by the Bay, Little India and Mustafa Center.
3rd Day: Universals Studios or Sentosa Sea Aquarium and Clarke Quay River Cruise or Night Safari for the evening.
4th DAY: Singapore Zoo & River Safari.
PERFECT 4 DAYS DETAIL ITINERARY FOR SINGAPORE 
DAY 1: Marina Bay Sands Infinity Pool, Sky Park, Gardens by the Bay Light Show, Spectrum Light Show at Bayfront and Merlion Park
We took a direct flight from India and reached Singapore around 12 noon. The best way to reach the city from the airport is via cab. MRT is there but with luggage it is difficult to travel. You can use Grab (like Uber) for better rates, if available.
For our first day in Singapore, we booked the luxuriously grand Marina Bay Sands hotel. Our main motive was to enjoy the Infinity Pool and Sky Park. It took us 25-30 mins to reach the hotel as Airport is 18 kms from Marina area. We reached Hotel and after doing the formalities for the check-in we went to the food court for lunch before checking in to our rooms. It was roughly a 10 mins walk from the lobby to the Food Court. There we spotted an Indian food counter. After over stuffing ourselves with lunch, we went to our respective rooms and relaxed for a bit.
Infinity Pool – Marina Bay Sands
Then we got ready and went to the famous rooftop Infinity Pool. It was a little crowded but we really enjoyed thoroughly. We took a good swim and enjoyed the view of the city which was spectacular from the pool boundary.
Sky Park – Marina Bay Sands
After spending some good amount of time here we went back to our rooms took a shower and got ready. It was around sunset and therefore the perfect time for Sky Park – Observation Deck at Marina Bay Sands. Sky Park offers the best view of the city. From the right side one can see the whole harbor line and Gardens By the Bay's ariel view and to the left side one can see the city view with Singapore Flyer, the whole marina region and multiple sky scrapers. The best part is, it is open to air and not covered in glass and therefore was very windy and pleasant. I can vouch that the kind of photographs of the city of Singapore Sky Park will offer; no other place is capable of doing that.
Light Show at Garden by the Bay
We heard about the light show at Gardens by the Bay taking place everyday at 7:45 PM and 8:45 PM under Super Tree Grove, which is for free. So after visiting Sky Park we went down to the lobby area and asked for directions from the hotel staff for Garden by the Bay Light Show area. It was a long 10-15 minutes walk from the hotel. Even though in the maps, it looks like Garden by the Bay is just next-door, in reality it is a minimum 10-15 minutes walk. We targeted the 7:45 p.m. show. We reached there on time and sat down at the stairs. It was a short 10 minutes show.
Spectrum Light Show
Post the show, we walked back to the Hotel and visited the Bay front area, which is right outside Marina Bay Sands Shopping Mall known as Shoppe at Marina Bay Sands. At Bay front there is this Spectrum Light Show taking place everyday at 8 PM and 9:30 PM (Saturdays another show at 11:00 PM), which is again for free. This is an amazing water and Light Show.
Unluckily, on reaching we missed the 8 PM show as it was a long walk from Garden by the Bay till Bay Front – roughly 15-20 mins. As the next show was at 9:30 PM so in the mean time we went to Punjab Grill – an Indian restaurant nearby. It was good but because it is a fine dining restaurant, it was quite expensive. There are various other options as well in this area. One can check out various dinning option as per their choice on Google and decide.
Post dinner, we saw the light show taking place at Bayfront area. This laser light show was really good. If one has limited time, then both these can be avoided but as we were staying at Marina Bay Sands so we covered it all. If you have time just to cover one of the shows, I will suggest skipping the light show at Garden by the Bay and visit the Spectrum Light Show at Bayfront.
Merilion Park – One Fullerton
After the light show, we went walking to Merlion Park, which is on the opposite side right across the river. Singapore has a total of 7 Merlion Statues and the most famous one is the one which is next to One Fullerton. The entire walk from Bayfront to Merlion Park was mesmerizing as we could see all the beautiful buildings, hotels and light shows taking place on the way. We really enjoyed our time there. After spending some time there, we went back walking to our Hotel.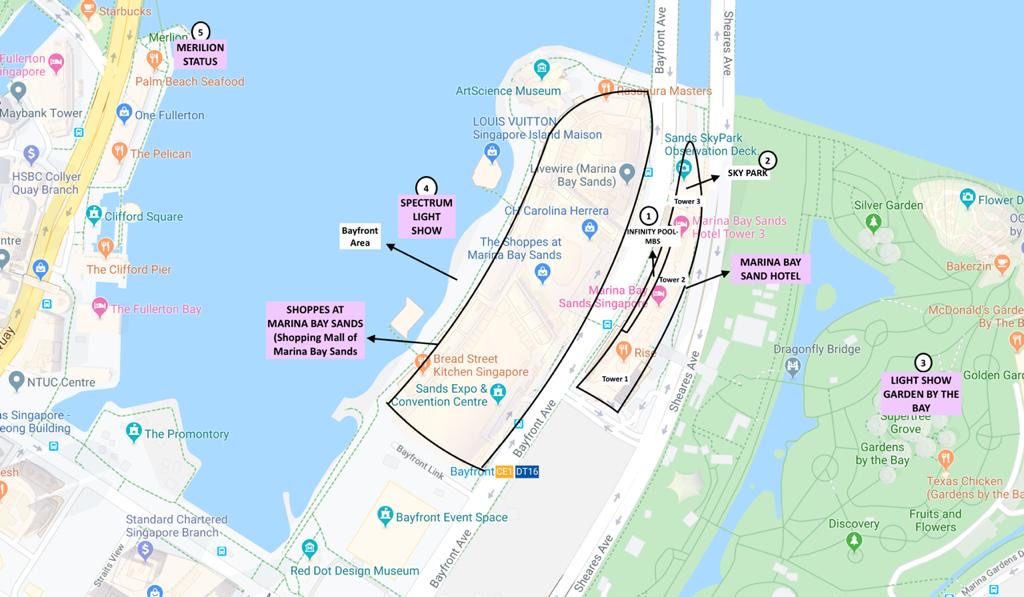 12:00 PM: Reached Singapore
02:00 PM: Reached Hotel Marina Bay Sands
02:30 PM: Lunch at Food Court at Marina Bay Sands Shopping Mall
04:00 PM: Infinity Pool in MBS
06:00 PM: Sky Park at MBS
07:45 PM: Light Show at Gardens by the Bay
08:00 PM: Dinner at Punjab Grill at Bayfront area
09:30 PM: Spectrum Laser Show at Bayfront
10:15 PM: Visit to Merlion Statue, next to One Fullerton
11:30 PM: Back to Hotel
DAY 2: Orchard Street, Bugis Street, Garden by the Bay, Little India and Mustafa Center
As soon as we got up, we again went to the Infinity Pool to enjoy the morning view. As we were checking out today hence it was our last opportunity to enjoy the pool and so we made the most of it. It was less crowded in the morning, so it was much better. After enjoying in the pool for sometime we went back to our room. As breakfast wasn't included in our room tariffs, we enjoyed simple tea/coffee with some packed snacks in our room only. We checked out from the hotel around afternoon and dropped our luggage at the concierge.
Orchard Road
After that we then went for some shopping at a very famous shopping destination of Singapore – Orchard Road. For this we took the direct MRT (green line) to reach Orchard Road. You should always ask hotel staff for best route for MRT. We went to Bayfront station and took the green line and got down at Orchard Boulevard, which is closest to ION Mall. You can also use Grab to reach there.
After reaching, we strolled around and checked out all the malls in the area – starting from ION to Paragon Shopping Centre, from 313 Somerest to Orchard Central. Even if you do not want to do any shopping, one can just walk around, admiring all these huge shopping complexes, trying all different kinds of cuisines at the food courts and amazing deserts which are equally fun and worth it. There are food courts in all of these malls.
Bugis Street
Later, we went to explore Bugis Street, which is just 10 mins from Orchard Street. This is a crowded market for cheap buy; one can do a lot of bargaining, have a lot of street food etc. One can find all varieties of things here from t-shirts, footwear's, souvenirs, toys etc.
Garden By the Bay
After visiting this market, we went directly to Gardens by the Bay by taking MRT (Green Line) from Bugis Junction to Bayfront Station. It took us 30-45 mins to reach bay front station. One can take a cab as well which takes around 10-12 mins only. Garden by the Bay should be visited either early morning at 9 am or late afternoon around 4:30 – 5:00 PM (like we did) as afternoons can be very hot. This is the reason why we covered Orchard Road in the afternoon.
Gardens By The Bay is an extraordinary manmade creation in Singapore. They are an excellent example of nature combined with Modern Architecture. These huge Supertrees are now heart of Singapore.
The outdoor gardens are free to explore at Garden by the bay but entry charges are required for various attraction they offer like cooled conservatories, floral fantasy, OCBC Skyway, Super Tree Observatory etc. Check out the website www.gardensbythebay.com.sg for details of these attractions.
Out of all the attraction cooled conservatories is the most visited one. It includes entry to two conservatories – Flower Dome and Cloud Forest. We bought tickets on the spot for 28 SGD/person. You can buy them at cheaper rates from www.klook.com. Both  Flower Dome and Cloud Forest experience was amazing.
Cloud Forest
Cloud Forest has the highest indoor waterfall and it was the best part of Garden by the Bay. It also hosts some of the rarest species of Flora which were very fascinating.
Flower Dome
Flower Dome as the name suggests was full of huge variety of flowers. It was enchanting and made us feel like we were walking amid the flower gardens.
It roughly took 1.5 – 2 hours to visit both the conservatories and free area of the garden. Post this, we went walking back to MBS Hotel to collect our luggage from Concierge.
Singapore Flyer
If one wants to visit Singapore Flyer, then they can do that right after visiting the Gardens by The Bay. Singapore Flyer is just 1.6 kms from Marina Bay Sands. Entry Ticket is 33 USD/Person. We did not go to Singapore Flyer as we already enjoyed the view at Sky Park. Moreover, based on reviews Sky Park is at a much higher altitude compared to Singapore Flyer hence offering a better view.
Little India
After collecting our luggage, we booked our ride through Grab and went to our Hotel Park Royal – Little India, where we would be staying for the rest of the days. Immediately after checking in, we went out for dinner.
Little India is like heaven for Indians. This place was absolutely different from Marina Area. It made us feel we were in India only. One shall find a large number of Indian Restaurants here. South Indian food in Little India is splendid. There are a lot of big Indian restaurant chains that have branches here like Saravanaa Bhawan, Bikaner, Shiv Sagar, Copper Chimney etc.  Everything was at a walking distance from our hotel.
Mustafa Center – Little India
We went to Shiv Sagar and then on our way back we went to Mustafa Center – a multi-story shopping complex. It is open 24 hours and has everything from grocery to cosmetics, from apparels to food counters etc. This is best place to buy gifts for friends and relatives back in India. After doing some shopping at Mustafa centre we went back to our Hotel and called it a night.
07:30 AM: Infinity Pool Marina Bay Sands
12:00 PM: Checking out from Marina Bay Sands (Luggage Drop at Concierge)
01:00 PM: Orchard Road
03:00 PM: Bugis Street
04:30 PM: Garden By the Bay
07:30 PM: Marina Bay Sands to collect luggage
08:30 PM: Checking in at Park Royal, Little India
09:00 PM: Dinner at Little India
10:30 PM: Mustafa Center
11:30 PM: Back to Hotel
Day 3: Universals Studios or Sentosa Sea Aquarium and Clarke Quay or Night Safari for the evening
Universal Studios
As we were a group of young people, Universal Studios was definitely on top of our list. Theme parks have always excited us and have never been a disappointment. As we wanted to make most of this theme park we got ready early and left the hotel around 9 a.m.
We booked our tickets online from www.klook.com one day in advance, in order to save time at the entrance. We took direct MRT (purple line) to reach Universal Studios. It took us roughly 30-40 mins to reach there. One can use cab as well. MRT is usually cheaper.
Below are some tips for Universals Studios –
Always buy tickets before online beforehand – to avoid queue at the ticket counter.
Avoid weekends
Reach on time like 10:00 AM
Start theme park from the opposite side and not from where the park starts.
Please buy Express pass if it is Holiday time in Singapore or Weekends.
Carry snacks in order to avoid time wastage at food stalls
Drink a lot of water to keep yourself hydrated at all times.
Carry Hat or Cap, as it can get hot and humid during the day time.
Sea Aquarium/Palawan Beach/Wings of Time laser Show
If anyone is not interested in the theme parks, they can try Sea Aquarium at Sentosa Islands for this day. Tickets again can be purchased either online or on the spot. Post visiting the Sea Aquarium one can go to Palawan Beach at Sentosa Islands. There is also "Wings Of Time" light and laser show happening at Sentosa Islands at 7:40 p.m. and 8:40 p.m. But, if you have covered Spectrum Light Show at Bayfront, then this is not required.
Clarke Quay
After enjoying the thrilling rides at Universal Studios, we came back to our Hotel and relaxed for some time. Later, we got ready and went to Clarke Quay. We took direct North East (Purple line) MRT from Farrer Park Station (2 mins walk from our hotel) and got down at Clarke Quay Station. In just 30 mins we reached Clarke Quay via MRT.
Clarke Quay is an amazing place with many food eating options, music and lights by the riverside. You can easily spend 2 hours eating and enjoying at this place.
River Cruise at Clarke Quay
We then went for River Cruise which starts from Clarke Quay and covers an entire view of Clark Quay, Boat Quay up to the Marina area. Cost for this is 25 SGD/Person. This can be bought from online portals like www.klook.com, www.viator.com etc or directly at Clarke Quay. This 40 minutes cruise provides an amazingly good experience for the sunset, for clicking great pictures and getting a beautiful view of the city skyscrapers from the cruise. We missed the sunset but the night view was equally good. This cruise runs daily from 9 AM to 11 PM.
Night Safari
If not interested in Clarke Quay one can book Night Safari tour from one of the many websites liked viator/klooks/getyourguide etc. It will be roughly 50 SGD/person inclusive of pick up and drop. Night Safari starts from 7:30 PM up to 12:00 midnight. They take for a ride on a tram across the jungle. There is no guarantee that you will spot animals. But mostly people get to see deers, owls and hear many animal voices in this trip.
08:30 AM: Breakfast at Hotel
09:30 AM: Leaving for Sentosa Islands
10:15 AM: At Universal Studios/ Sea Aquarium
06:00 PM: Back to Hotel
07:00 PM: Clarke Quay, River Cruise or Night Safari
10:00 PM: Back to Hotel
DAY 4: Singapore Zoo and River Safari
Singapore Zoo & River Safari
Although, most of Singapore is covered in the above 3 days, yet, if we have a day in hand, then Singapore Zoo with River Safari is worth visiting. River Safari is just next to Singapore Zoo and has the same entrance. Tickets for both the places can be bought from the same ticket booth. If booking online Singapore Zoo tickets will cost 38-40 SGD/person and combined with river safari price will be roughly 70-75 SGD/person.
In case you are interested in visiting both, the Singapore Zoo and the River Safari, make sure you reach here early. Singapore Zoo is really far (27 kms from Little India) and it takes roughly 1 hour if going by MRT /Bus and 30 mins by cab. By Cab it will cost roughly 20-25 SGD.
Singapore Zoo is very vast and exploring it will take 3-4 hours. Carrying a hat is advisable as it can get hot and humid during the daytime. River Safari was a different experience. Definitely go for Amazon River Quest for a thrilling water ride.
Jewel Waterfall Singapore
Post this tour, we went back to our hotel. We had a late night flight, hence we collected our luggage from our hotel and went to the Airport. Do not forget to visit this amazingly beautiful waterfall called JEWEL at Changi Airport at Terminal 1 while catching your return flight. Reach Airport well on time to catch a glimpse of this waterfall. Mostly flights are not from Terminal 1, so it takes half an hour to reach Terminal 1 and checking out this jewel waterfall and then returning back to assigned terminal/Gate.
Jurong Bird Park
Other than this one can also plan to visit Jurong Bird Park if one has more days in Singapore. This is again very far (24 kms from Little India). Out of Singapore Zoo, Night Safari and Jurong Bird Park – Singapore Zoo is the best.
Further from Singapore
This ends my 4-day itinerary to Singapore. But one can always extend it by a few days and include the amazing Bintan Islands of Indonesia. It is a very good beach and is just at a 1-hour easy ferry ride from Singapore. Moreover, for Indians, there is no Visa requirement for Indonesia.
Apart from Bintan, there are many places that can be combined with Singapore like Malaysia, Langkawi, Bali, Phuket, Krabi etc. Flights for all these places are extremely cheap if booked in advance.
10:00 AM: Breakfast at Hotel
12:00 PM: Singapore Zoo & River Safari
06:00 PM: Back to Hotel
BINTAN FROM SINGAPORE
Bintan Island is famous for its pristine white sand beaches, luxury hotels and amazing golf course. It has become 2ndmost visited place after Bali in Indonesia. Best time to visit this place is from March to October.
How to plan for Bintan from Singapore
If planning to visit Bintan then this needs to be covered as soon as you land in Singapore. Incase, you reach Singapore late at night then book a hotel at Changi Airport and take the morning ferry. Planning this trip in between the stay or even at the end of your trip can be risky because if anything gets delayed it can ruin the entire trip. Ferry Terminal (Tanah Merah) is just 15 mins from Changi Airport.
How to book ferry tickets for Bintan
Do not book ferry tickets in advance. These are easily available at Ferry Terminal. Always buy return ticket from Tanah Merah Ferry Terminal, Singapore to Bintan. There are two ports in Bintan – Bandar Bentan Telani (North Side) and Tanjung Pinang (West Side). You can pick any of these two to get down. Rates for Ferry will be 50 SGD for return ticket i.e. 25 SGD one-way. Most common ferry is Sindo Ferry. Visit singaporeferrybooking.com to check the timings for the ferry and plan accordingly.
Where to stay in Bintan
After reaching Bintan you can look out for various hotels and resorts – negotiate on the spot and finalize. You can also prebook resort online in advance. The best resort in Bintan is Banyan Tree but it is very expensive. Other good options are Bintan Lagoon Resort, Nirvana Resort Hotel and Lagoi Bay Villas. For Bintan, best is to book a luxury resort and just relax by the beach side.
How to travel within Bintan
For travelling around you can hire a moped, which is available at just 20 SGD.
Places to visit in Bintan
You can visit 500 Lohan Temple, Crystal Lagoon, Trikora Beach and Grand Mosque of the Sultan of Riau etc. Everything can be properly covered in 2 day's time.
If you find this blog 'Perfect 4 Days Itinerary for Singapore' interesting, please share the link of the website/blog with your family and friends. If you have any comments or suggestions – please do write in the comments section below.
Need regular dose of travel information, planning and update on new blogs, please like my page on Facebook.
Need regular dose of travel shots – follow my page on Instagram