DUBAI & ABU DHABI TRIP IN 4 DAYS
Looking forward for a detailed guideline for a trip to Dubai along with Abu Dhabi in 4 Days? Here I am sharing my suggested itinerary for Dubai, which includes all information about Dubai  – best time to visit, where to stay, places to visit, total trip cost etc. 
What comes to your mind when you think about DESERTS? Of course yes! It is men walking with camels, the heat, thirst due to lack of water and difficulty in habitation. Be ready to be amazed to witness the ultra modern city located in the desert – Dubai. Its adoption to the latest technology, modern architecture, huge sky scrapers, artificial Island etc. has outshined all the top cities of the world. 
Here one gets a chance to visit some of the most extraordinary manmade structures like the tallest building in the world – Burj Khalifa, largest Mall of the World – The Dubai Mall, the most magnificent Mosque in Abu Dhabi – Grand Mosque and much more. This trip is short yet full of fun and amazing for family.
DURATION 
This Dubai & Abu Dhabi trip duration is of total 4 days. One can always extend it for a few more days to make the trip more relaxing and cover most of the places. 
4 DAYS IN DUBAI COST
Even though flights to Dubai are cheap from India, but Dubai is not at all economical. From hotels, taxi fares for long distances, entrance tickets to various attractions etc. one has to spend big bucks. Since it is a small trip, it doesn't cost much. Moreover, big saving in airfare gives a big advantage.
Flight (round trip from India): US$ 285 – $357 / Person
Hotels: US$ 80 –  150 / Day
Attractions: US$ 285 – 300 / Person
Food and Local Transport: US$ 285 – 300 / Person
Miscellaneous: US$ 80 – 150 / Person
Approx Total: US$ 1100 – 1500 for 4 days
HOW TO REACH / HOW TO TRAVEL WITHIN DUBAI 
Dubai is well connected and has various flight options from all around the world. In India, there are many cities with direct flight to Dubai.
For travelling within Dubai you can use Metro or a Cab. Cab can be regular meter ones or Careem (Uber of Dubai). Uber also works in Dubai but people are more comfortable with Careem. Taxi's /Cabs are quicker, more convenient but are pricy compared to Metros. You can use Metro for long routes and for smaller ones use cabs/Taxis. You can also try to cover major main areas by Metro and then followed by Cab. In this way we can balance both time and budget.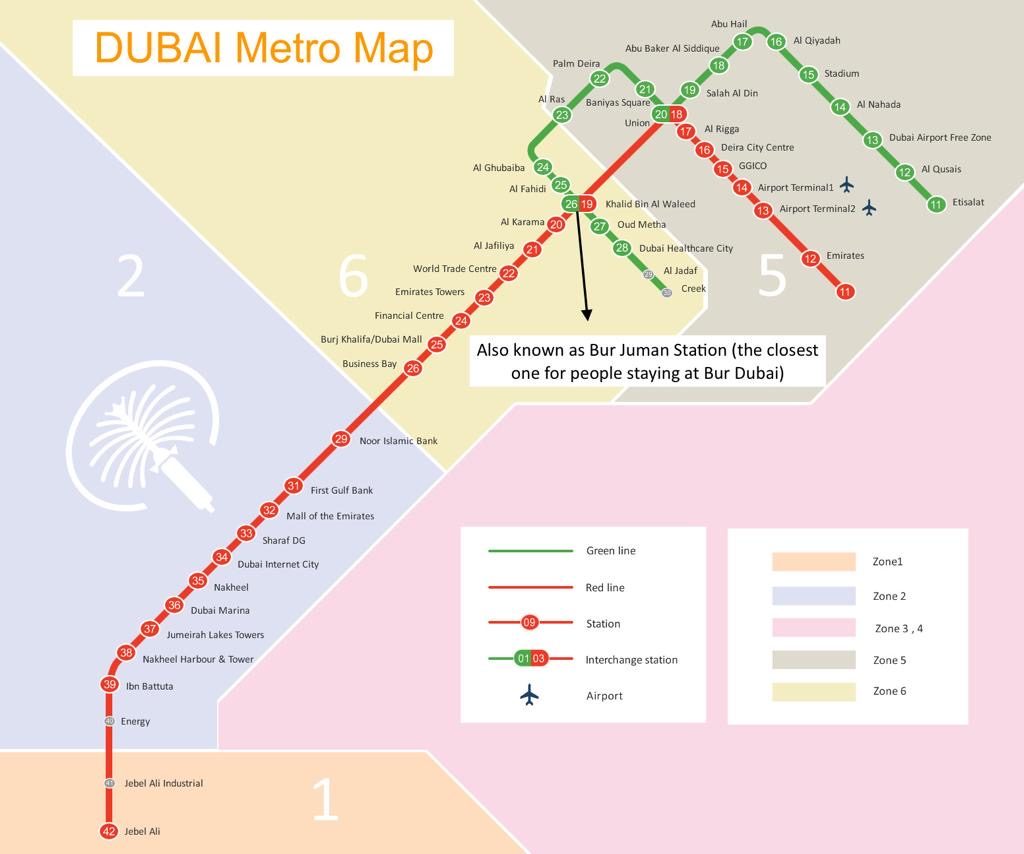 WHERE TO STAY IN DUBAI
One can easily get around from one place to another in Dubai as all the main areas are within 15 kms vicinity. It is one of the good things while visiting Dubai, as one can choose to stay in any areas as per their preferences.
Dubai Downtown (area near Burj Khalifa) is the most preferred location as it is situated centrally and closer to major attractions. The Downtown has all top-notch 5-star hotel chains and few of them offer spectacular view of Burj Khalifa.
The most expensive area is Jumeirah/Marina area. Most popular bars are around this area.
Bur Dubai is a very famous residential area of Dubai with good apartments and hotels. It has broad roads and is pleasantly quiet. This area is cheaper than Downtown and Marina. It is a little far from all major attractions but it can be easily managed by using public transport. Mostly Indians prefer this area for their stay as it has plenty of Indian Restaurants and gives a homely feel.
If you want to experience old Dubai, then Deira is that area. The only advantage of this area is that it is close to the airport. It is quite far from all the main attractions but again this place can be managed by public transport. The hotels in this area offer the most economical accommodations. You can enjoy 5 start hotels at reasonable rates.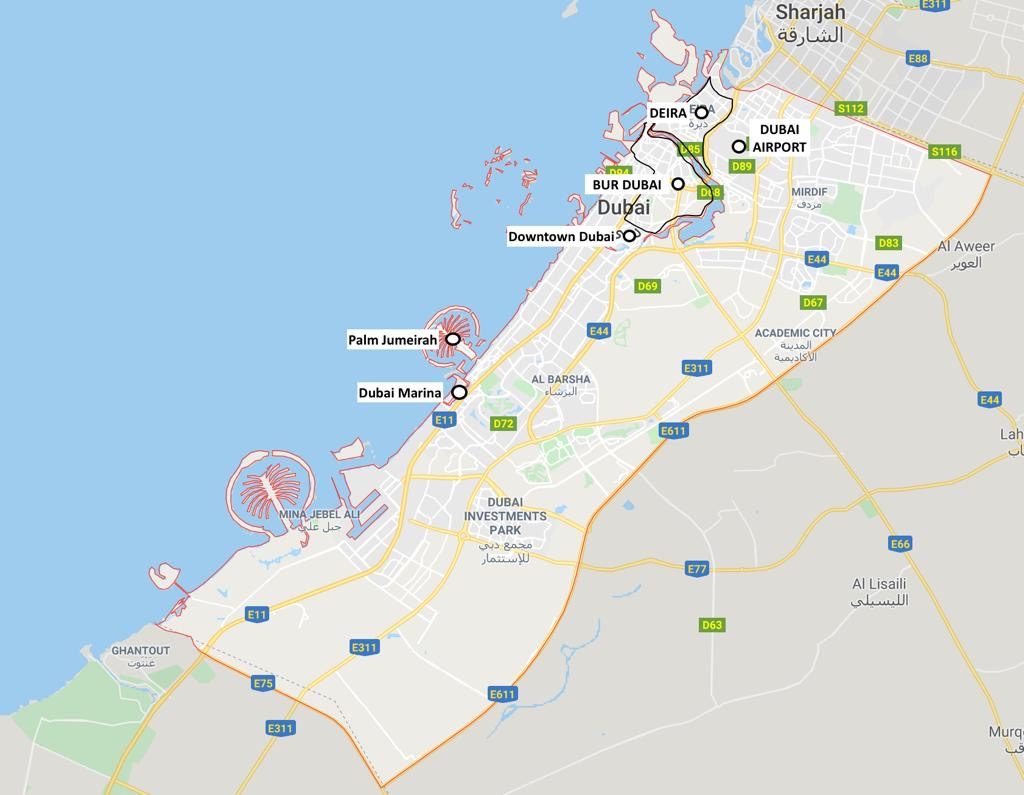 Although online hotel websites offer wide range of hotels, below are the list of suggested hotels:
Luxury:
Moderate:
Budget:
BEST TIME TO VISIT DUBAI & ABU DHABI
November to March are pleasant in Dubai and is the best time to visit and enjoy major activities. As Dubai is located in a desert, it is not advisable to visit during summers.
MUST VISIT PLACES IN DUBAI & ABU DHABI
Largest Mall of the world – Dubai Mall
Tallest Building of the world – Burj Khalifa
Palm Jumeirah / Dubai Marina Area 
Grand Mosque – Abu Dhabi
TIPS FOR DUBAI & ABU DHABI TRIP
Mostly all of us have Uber downloaded but before heading to Dubai please download Careem as well.
Dubai has a very simple metro route. They are relatively slow and cover only the main areas. Yet it is totally worth trying, at least once on any one route, as even Dubai's metro gives a luxurious feeling. Stay on red line of metro if one plans to use it.
For Abu Dhabi Day Tour – please wear full-sleeved clothes (hands and full legs covered dress) for Grand Mosque. One can even keep stole or full sleeve jacket handy for the same. Grand Mosque of Abu Dhabi is closed on all Fridays so plan your visit accordingly.
Almost all attractions have entry charges in Dubai and Abu Dhabi, so choose your attractions carefully based on preference. Always cross check the rates of these attractions online as you can get very good discounts and offers.
MY SUGGESTED 4 DAYS ITINERARY FOR DUBAI 
1st DAY: Reaching Dubai, Checking in to Hotel and Desert Safari
2nd DAY: Dubai Mall/ Dubai Aquarium and Underwater Zoo/ Dubai Fountain/Burj Khalifa
3rd DAY: Full Day Tour to Abu Dhabi
4th DAY: Dubai Frame/ Jumeirah Beach/ Souk Madinat/ Dubai Marina/Palm Jumeirah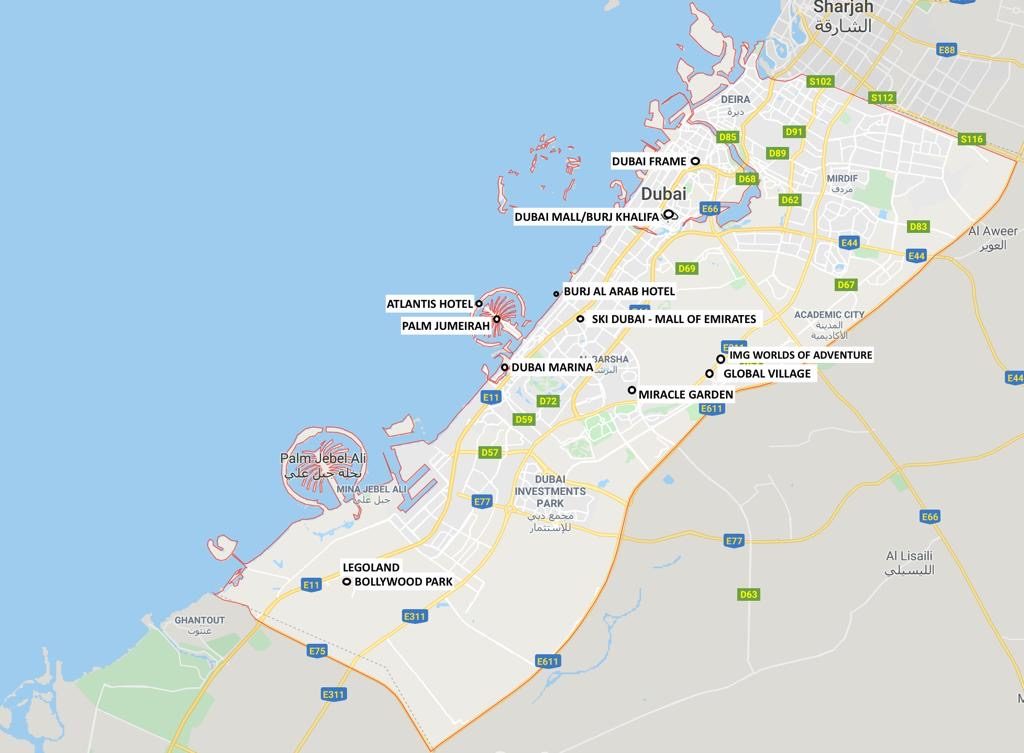 MY SUGGESTED 4 DAYS DETAIL ITINERARY FOR DUBAI 
DAY 1: Reaching Dubai, Checking in to Hotel and Desert Safari
We reached Dubai around afternoon. From there we took a cab till our Hotel in Bur Dubai. We booked Fortune Grand Hotel Apartment located at Bur Dubai. It is relatively economical as compared to other hotels. Over all stay here at this hotel was good. We were given a small apartment with bedroom, living room, kitchen etc. 
Desert Safari
Going to Dubai and not experiencing Desert Safari is like not visiting Dubai at all. We booked the desert safari afternoon trip from our hotel travel desk. We got a good deal at this hotel which included hotel pick up and drop, car ride for desert dunes, ballet dance and dinner buffet. Price for this should be roughly 80-100 AED. Please always compare the prices from various websites like www.getyourguide.com, www.klook.com, www.raynatour.com etc for the best deal and then take a decision.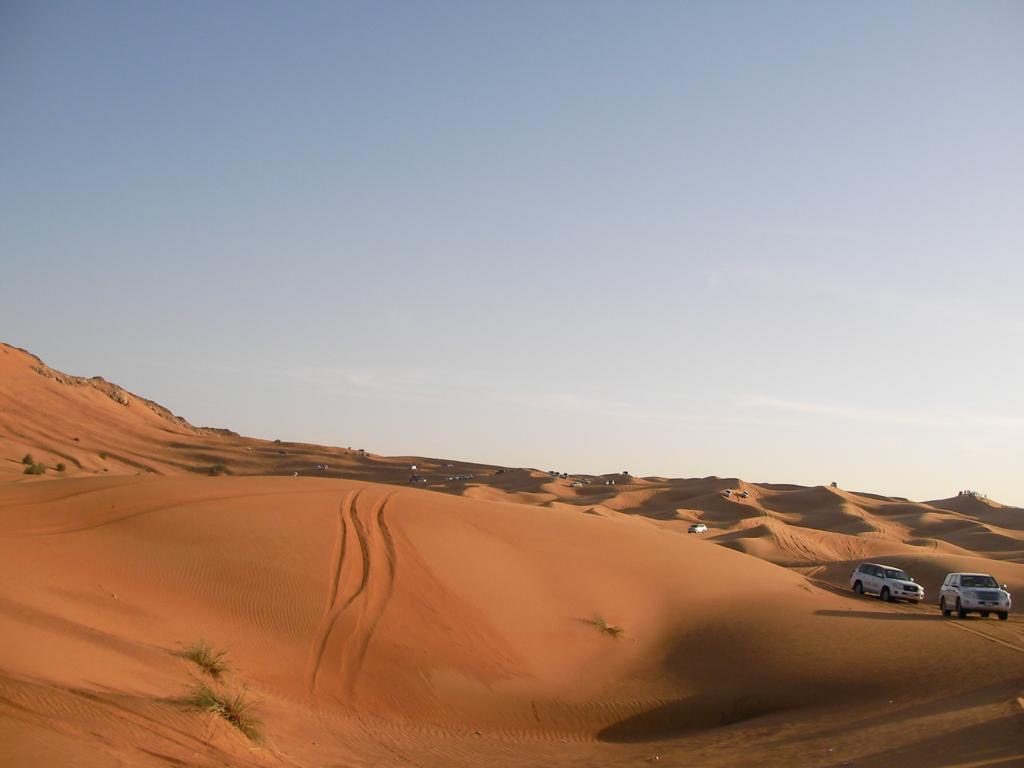 The driver picked us up on time and it was roughly a 1 hour drive. After reaching the desert area, we got into the safari cars and our fun ride began. It was exactly like a roller coaster ride on the sand dunes. It was a total thrilling experience we enjoyed it thoroughly. The best part was to witness the amazing sunset right in the middle of the dessert. Post this, our tour operator took us to a tent camp where Dance performances and Dinner Buffet was organised. We took few snacks and then sat down to see the Ballet and Arabian dance performance by the artist.
After this, we enjoyed the Dinner Buffet and then got into the car to be taken back to our Hotel. Overall experience was amazing – the Safari was thrilling and adventurous – totally worth experiencing, ballet dance and food were okay but as it was a complete package so we could not single it out. Around late evening, we were back to the hotel. As we had already had dinner at the safari, we came back to our apartment and called it a day.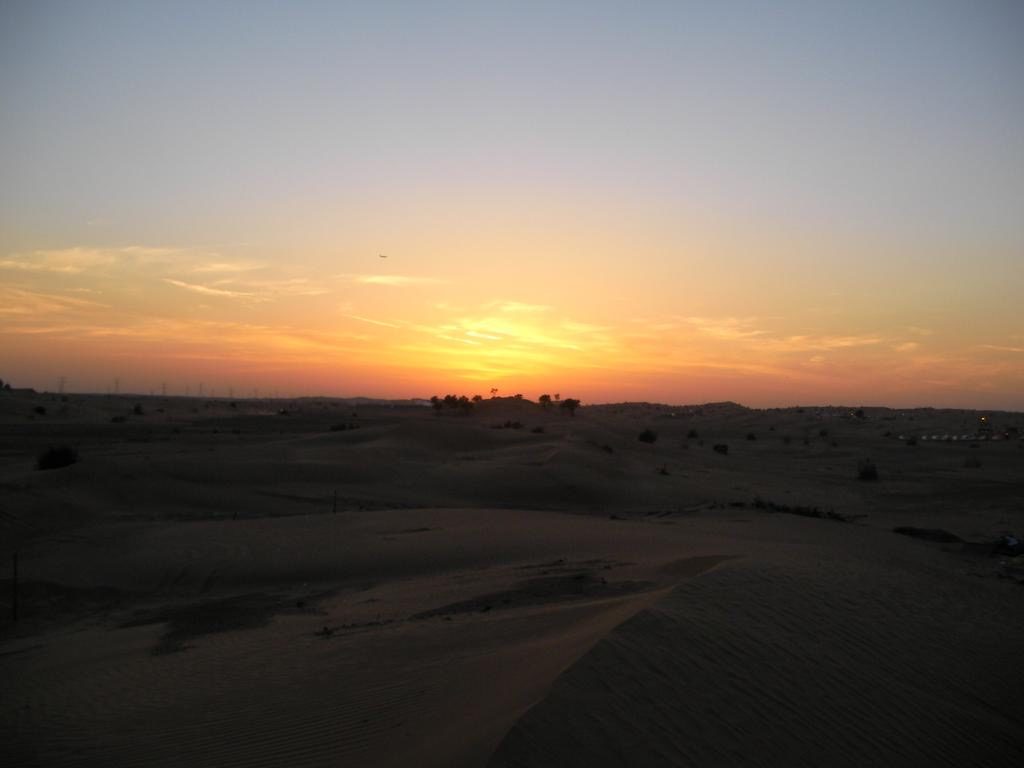 12:00 PM – Reaching Dubai
01:00 PM – Checking in Hotel
04:00 PM – Desert Safari
10:00 PM – Back to Hotel
DAY 2: Dubai Mall/ Sea Aquarium in Dubai Mall/ Dubai Fountain/ Burj Khalifa
Dubai Mall
We dedicated this day, entirely to Dubai Mall and all the attractions there – Aquarium, Burj Khalifa and the Fountain Show etc. After having breakfast, we left for The Dubai Mall. We booked a cab via Careem for this. We could have taken the metro but that would have taken 30 mins whereas by cab we reached in 13 mins only.
After reaching the Dubai Mall, we were mesmerised with its grandness. There are so much of other attractions aside from shopping – the view of Burj Khalifa, the huge indoor aquarium, the amazing waterfall inside the mall and the fountains outside. One can easily spend the entire day at Dubai Mall.
Dubai Aquarium & Underwater Zoo
After strolling for some time we then bought tickets for Dubai Aquarium & Underwater Zoo for 100 AED/Person. Tickets can be bought on the ground floor where there is an underwater tunnel. You can also buy tickets online from various websites as well. After buying tickets, we went to Café Bateel for an amazing Lebanese lunch. There are various other food options as well in Dubai Mall. After lunch, we went up to the main aquarium on the 3rdfloor, which is very huge. We were surprised to see huge variety of aquatic animals, that too in the centre of the mall.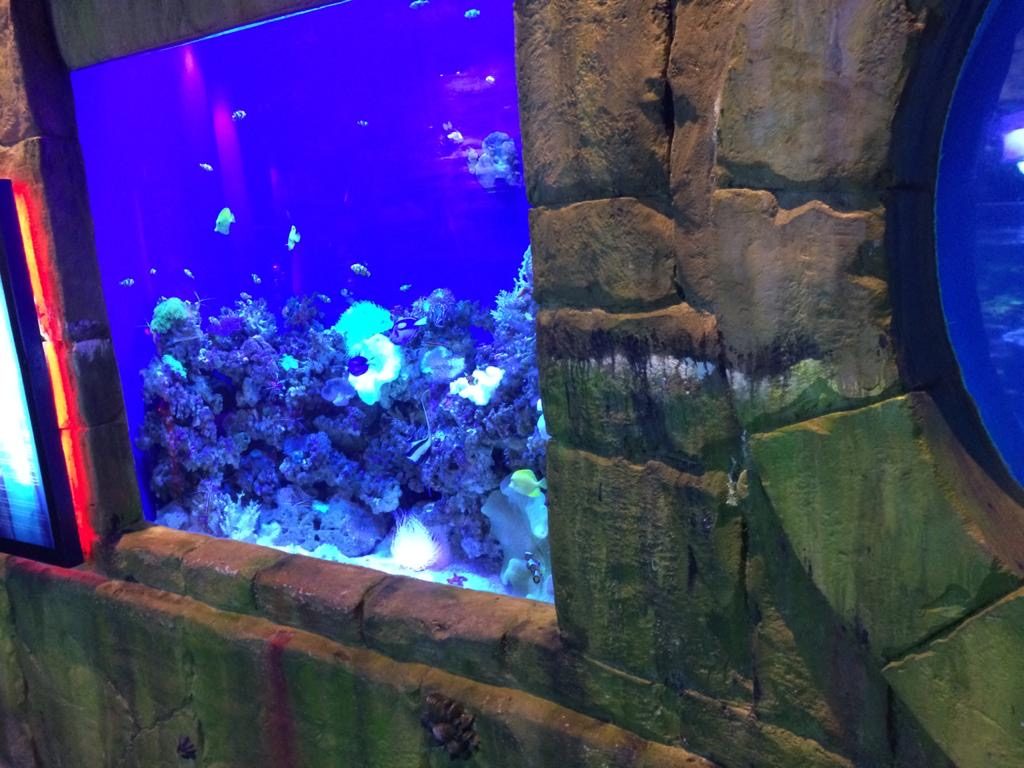 At The Top of Burj Khalifa
After visiting the aquarium, we went to entry way to "At The Top" of Burj Khalifa. We already bought tickets before online from www.atthetop.ae. Best time to visit the top of Burj Khalifa is around sunset or after sunset. Tickets for Burj Khalifa are very expensive ranging 370-507 AED/Person and and it does not even have an open to sky area at the top. It is a glass room with a very good view, but if the budget is tight one can avoid this. We went there, as we wanted to experience the view from tallest building of the world.
In case, if you don't want to go to the top of Burj Khalifa you can go and dine at Atmosphere, which is at the 122th floor. Here you can enjoy a good meal as well as enjoy the skyline view. If you are in a group of 4, then dinning at Atmosphere will be cheaper than the tickets for all 4 to "At The Top" – Burj Khalifa.
Dubai Mall Fountain Show
Post the visit to the Burj Khalifa, we went to the ground floor to enjoy the fountain show, which takes place every half an hour starting from 6 PM up to 11 PM.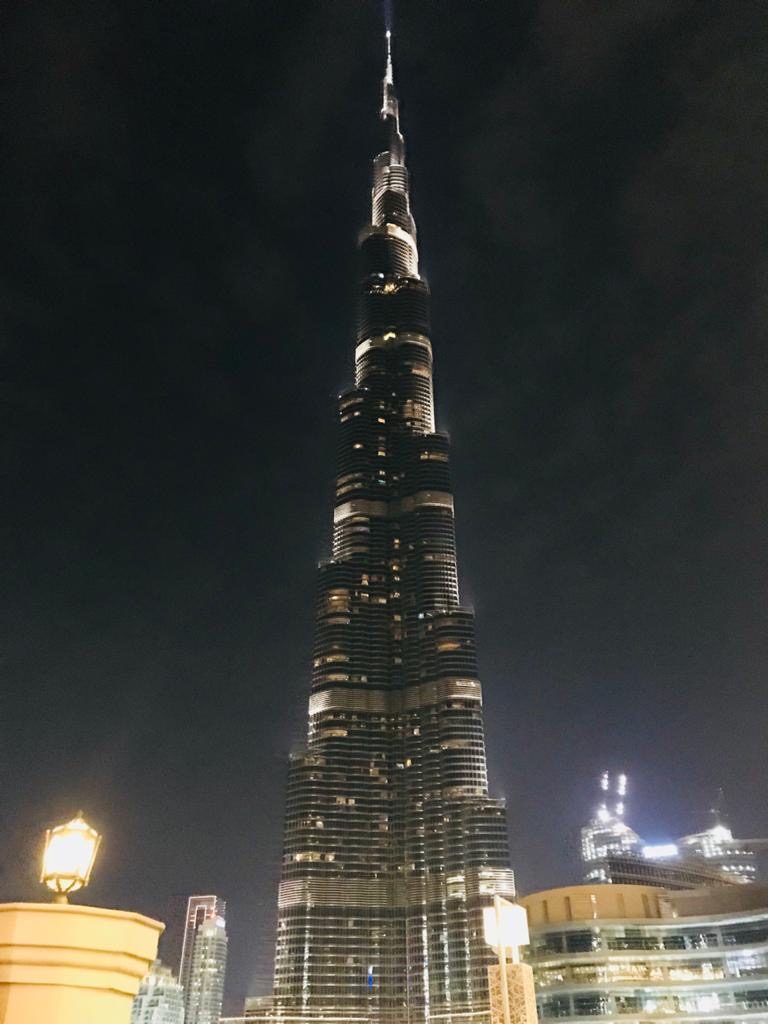 After this, we went for dinner at the Mall only. There are many Indian food options here – Bikanervala, Indian Palace Express etc. To return to the hotel, we took a metro from Dubai mall. One can also use a cab for this if one wants to reach back early but we wanted to go by metro, as we wanted to experience the entire view from the metro.
09:30 AM – Breakfast at hotel
11:00 AM – Dubai Mall
01:00 PM – Lunch at Café Bateel
02:00 PM – Sea Aquarium
05:00 PM – For at the top – Burj Khalifa
07:30 PM – Fountain Show at Dubai Marina
08:30 PM – Dinner at Dubai Mall
10:00 PM – Back to Hotel
DAY 3: Day Tour to Abu Dhabi
Abu Dhabi is the Capital of UAE and is just 140 kms from Dubai. Just like Dubai, Abu Dhabi is also a home to some of the most magnificent attractions which are worth experiencing. On the top of the list is definitely THE GRAND MOSQUE.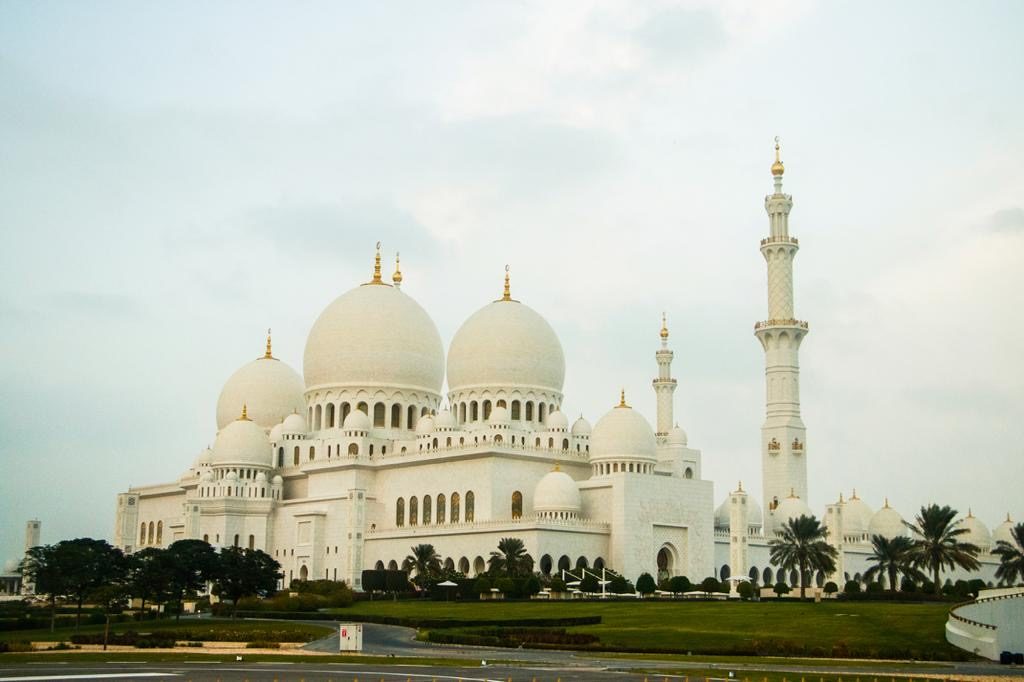 From where to book Abu Dhabi Day Trip
For this day, we booked a one day trip to Abu Dhabi from the travel desk at our Hotel, a day earlier. Please also check various options online from  www.viator.com, www.klook.com, www.raynatours.com, www.getyourguide.com etc. and freeze the best deal. You can get a very good deal for just 150-300 AED/person for bus tours online. If you are 3-4 people then I would suggest booking a full day car tour available at the hotel's travel desk at roughly 500 AED. We booked a car as we were 3 people together.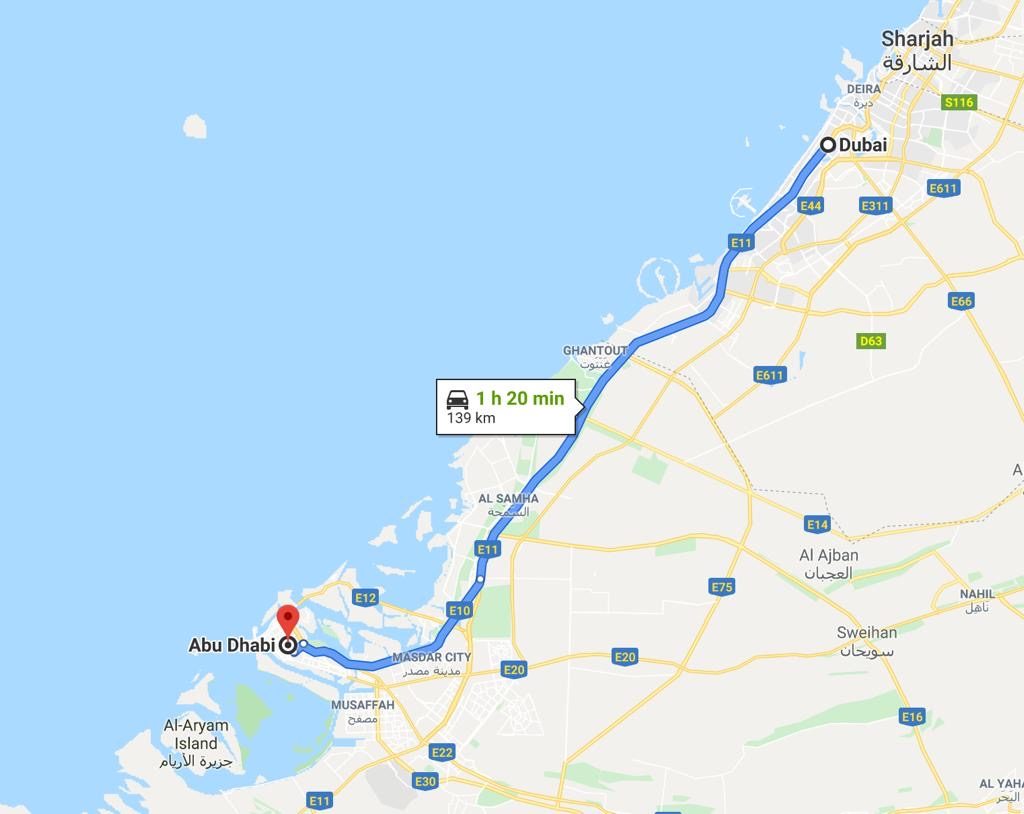 Abu Dhabi is approximately 1.5 hours drive from Dubai. After having a heavy breakfast from our hotel, we started with this tour. The entire road route was amazing.
Ferrari World
Our first stop was at Ferrari World. Ferrari World is the largest indoor theme park. It has around 20 rides including the most famous ride – Formula Rossa, the world's fastest roller coaster. It is the only Ferrari based theme park in the entire world. 
We only enjoyed the free entrance areas as my other group members were not at all interested in rides. Moreover, we were having time constraints as it was just a day tour to Abu Dhabi and other places also needed to be covered the same day. Honestly, even the free areas were equally good. We saw amazing Ferrari cars at the lobby, which were literally like an eye candy.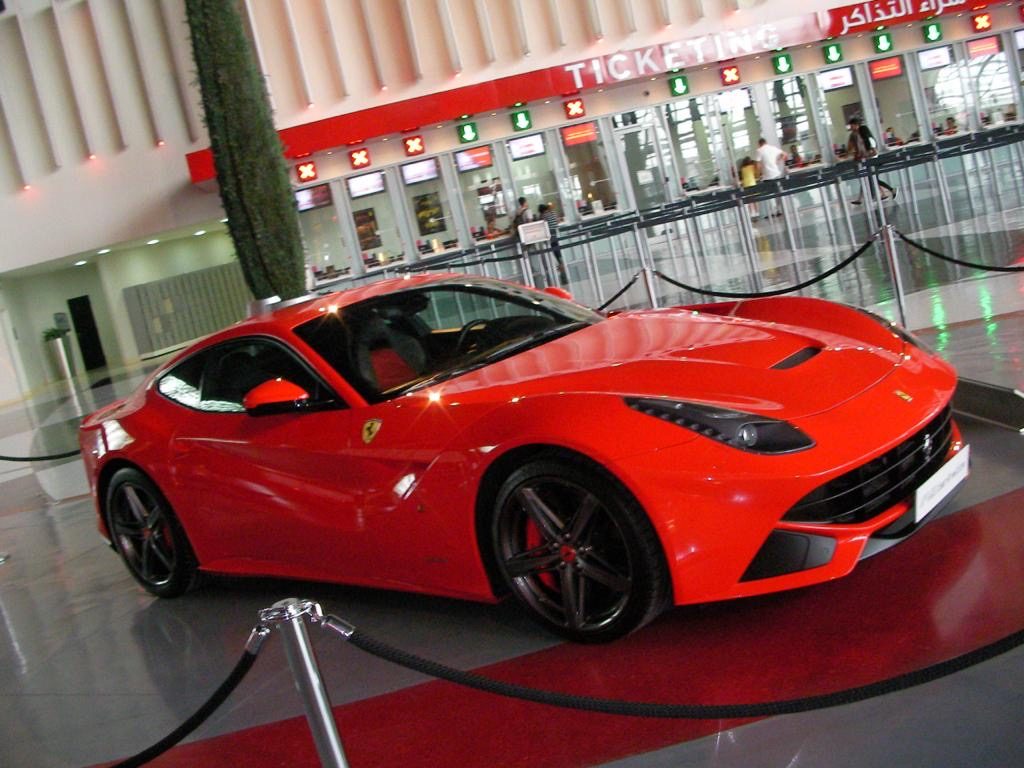 Heritage Village/Marina Mall
Our next stop was Heritage Village. As the name suggests, this park was created to show the life of the people living in deserts of UAE in the earlier times. This Park was okay but as it was a part of the package we had to cover it. We quickly covered it and went to Marina Mall to have lunch. We went to the mall's food court. After having a stomach full, we strolled around the mall for sometime. If one has limited time, then they can skip Marina Mall.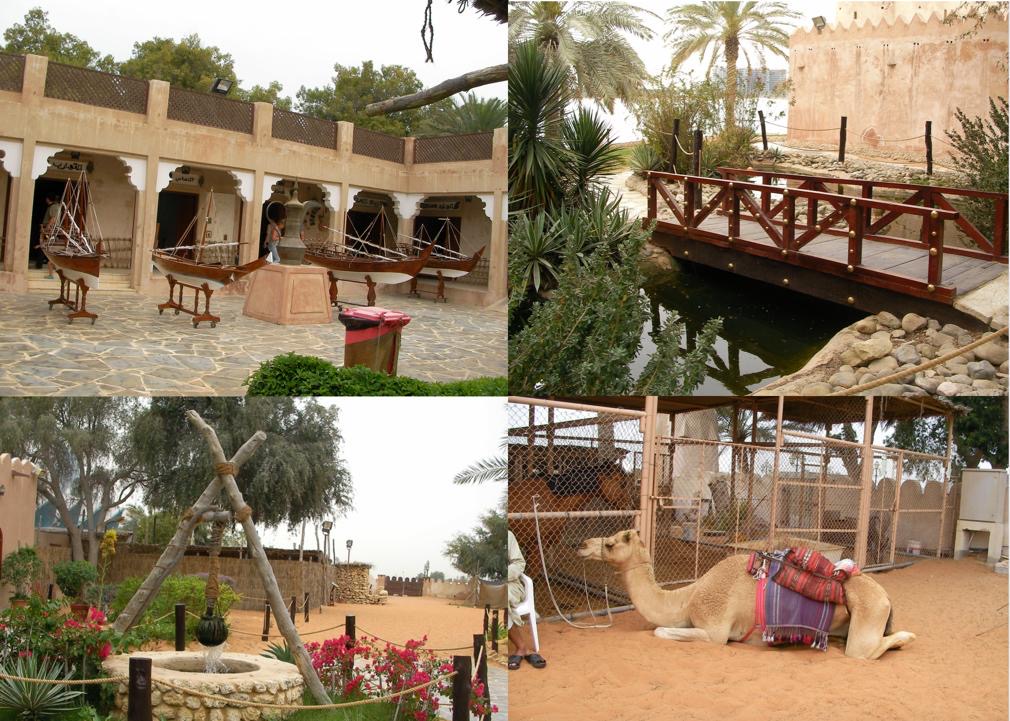 Sheikh Zayed Grand Mosque
Our next and last stop was the marvellously Grand – Sheikh Zayed Grand Mosque. No visit to Abu Dhabi is complete without visiting this place. Entry is free but one needs to be properly dressed/covered (from head to toe) to enter. In case they feel that your dress is inappropriate they will let you wear their traditional Black Dress – Abaya, which is again provided free of cost by them. I wore a gown for this day along with stole because obviously I wanted to click pictures in my own dress.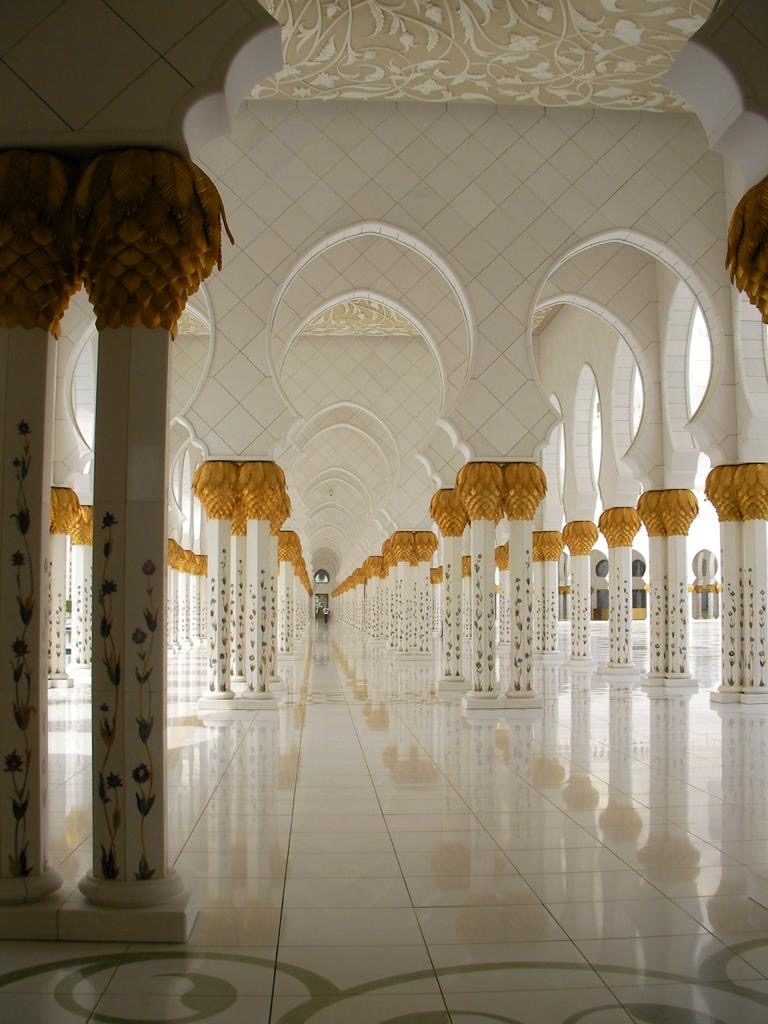 We were totally blown away by the beauty of this place. The white beautifully crafted marbles, the large chandeliers, exquisite carpets etc. This mosque was very huge and everything was absolutely neat, clean and shinning.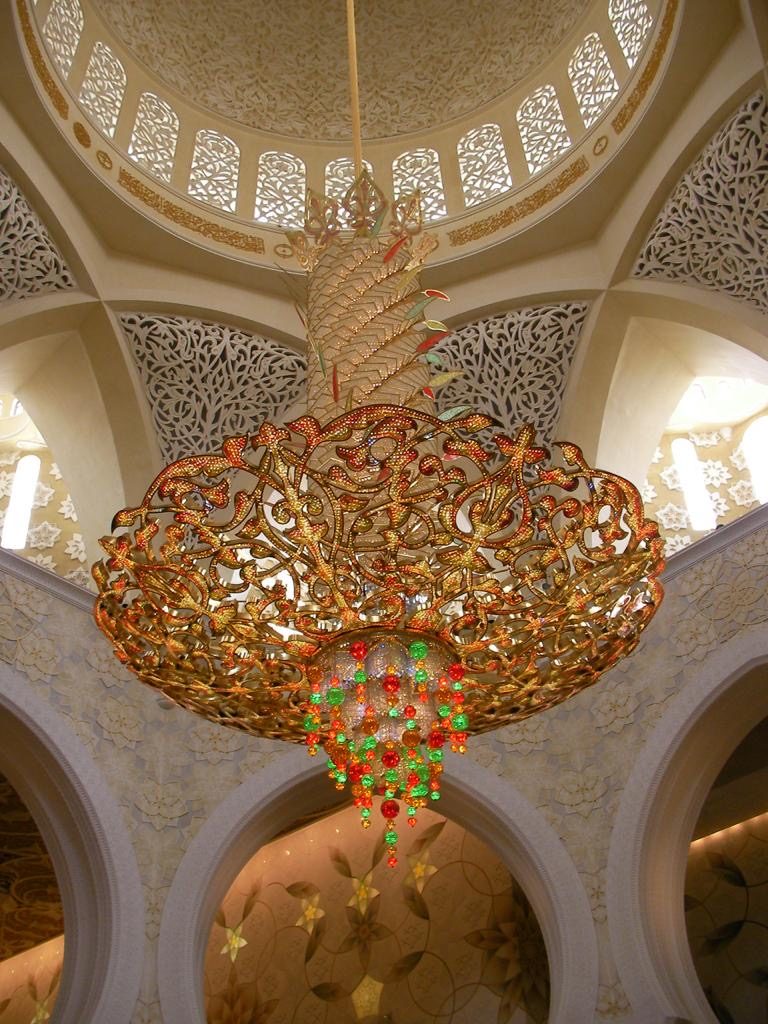 After spending a good amount of time here we went back to Dubai. This completed our day trip to Abu Dhabi. If you are with kids or interested in theme parks, then I would suggest staying in Abu Dhabi for a one day and enjoy the Warner Bros theme park. While staying for a day in Abu Dhabi one can enjoy Ferrari World as well as Warner Bros. If planning to stay in Abu Dhabi for a day, then book either your arrival or departure from Abu Dhabi. In this way you will have just one way transfer to Dubai.
Getting back to Dubai 
After reaching back to our Hotel, we relaxed for some time. We went out for dinner at Lebanese Village in Bur Dubai, which was at a walking distance from our Hotel. This is an amazing place for Lebanese food.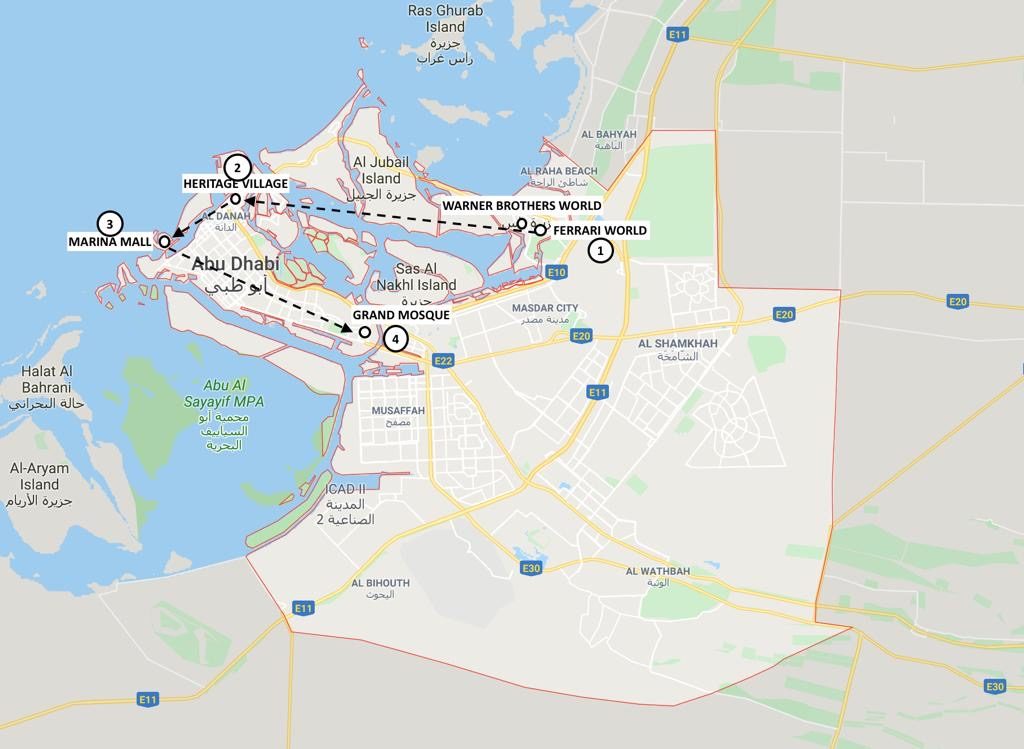 09:00 AM: Breakfast at Hotel
10:00 AM: Leaving for Abu Dhabi
12:30 PM: Ferrari World
02:00 PM: Heritage Village
03:00 PM: Marina Mall
04:30 PM: Grand Mosque
06:00 PM: Going back to Dubai
08:00 PM: Back to Hotel
09:30 PM: Dinner at Lebanese Village
DAY 4: Dubai Frame and  Palm Jumeirah
Dubai Frame
For the last day, we planned for Dubai Frame and then exploring Jumeirah region. We started with Dubai Frame, which was close by from our Hotel. As the name suggests, Dubai Frame is a huge and outstanding building created in the form of a photo frame. Best time to visit Dubai Frame is either before 12 noon or after 4 o clock.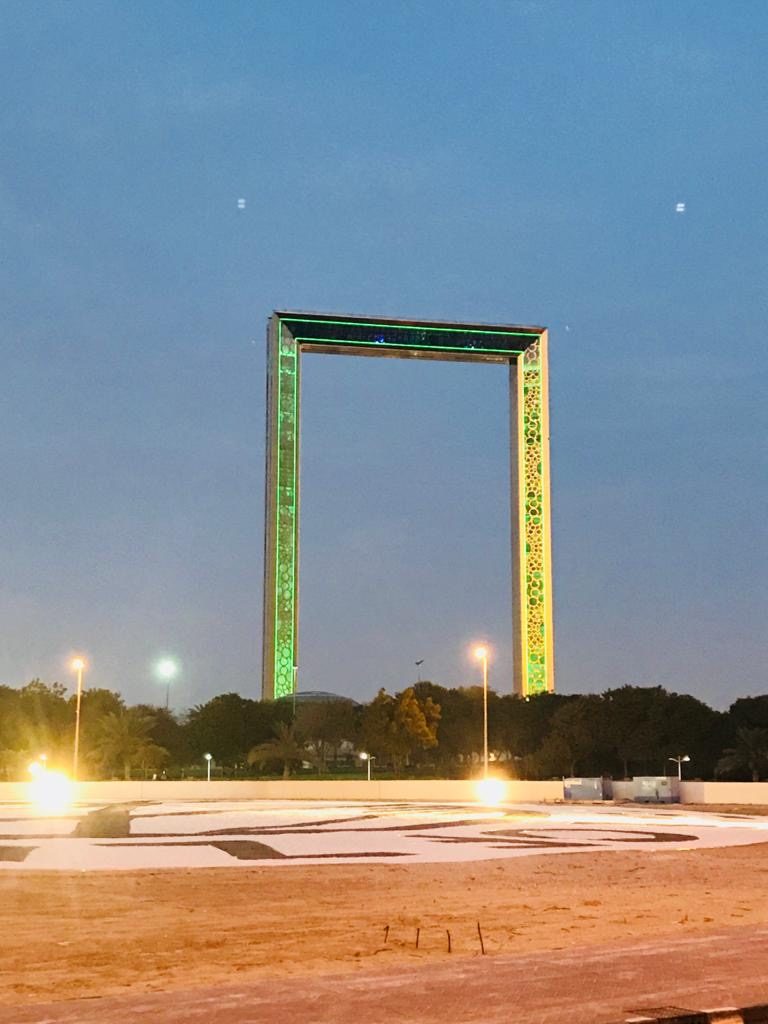 So, after having a heavy breakfast, we got ready and went straight to the Dubai Frame in a cab. After reaching, we bought tickets at the ticket counter on the ground floor. It was 50 AED/person. On entering the premise, we saw fountains and gardens and one can admire the framework of the building from here. We then got into the elevator to reach the top floor. Elevators have see through glass so one can see the view outside while going all the way up to the top floor. It was a thrilling ride on the elevator and after reaching the top we could see the beautiful view all around.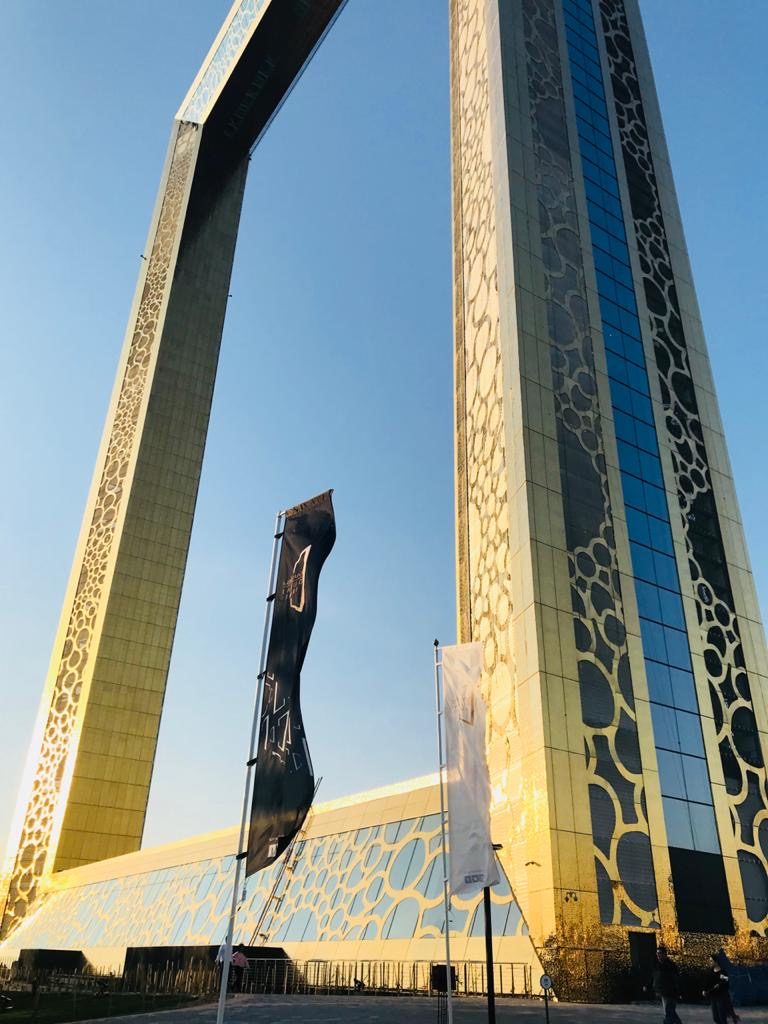 The best thing was that the see through glass floor from where we could see the ground  below us and it gave us the feeling of walking in the air. The experience was scary but amazing. Just like the Burj Khalifa, this place is also closed with glasses and do not have open areas.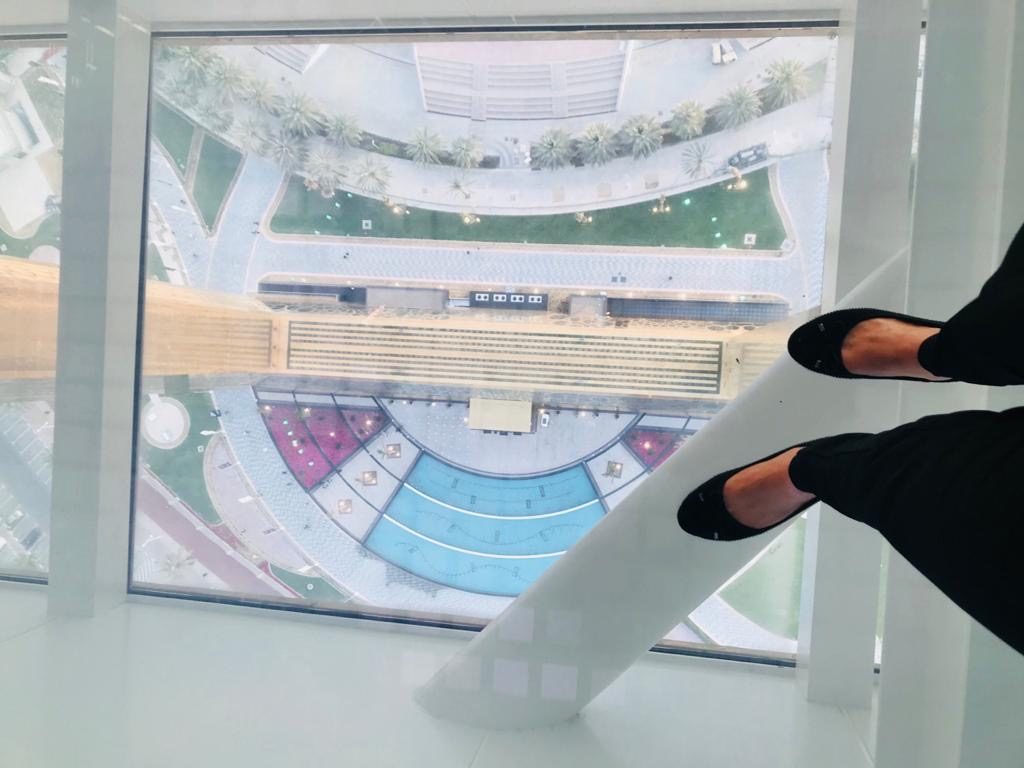 Dubai Jumeirah 
After spending some time here, we got back to our hotel and then got ready for the 2nd half of the adventure for the day – Jumeirah region.
For going till Marina/Jumeirah area you can either take metro (red line) and got down direct at Jumeirah or Dubai Marina Station or you can take a cab to reach there. Although metro is good but through cab you can enjoy the view of all the sprawling buildings on the way including Burj Al Arab – the boat shaped landmark Hotel of Dubai built on an Island. All cab drivers in Dubai are very kind and they themselves will show you all major landmarks which will be on the way. 
Jumeirah Beach/ Souk Madinat/ Dubai Marina
We first stop for sometime at Jumeirah Beach. It is a beautiful clean beach with an amazing view all over. The main highlight is the Burj Al Arab Hotel view at the backdrop. As it was very sunny we spend just few minutes and went to Souk Madinat (just 5 mins drive from Jumeirah Beach) for lunch. Souk Madinat is a centre of many hotel complex, restaurants and shops. This Souk Market in particular is designed beautifully with manmade river canals in between. It gives a real feel of traditional Souk Market of Arab with modern infrastructure. Souk Madinat is extremely good around sunset. You can also enjoy Abra boat ride here along with dinner buffet. Price of same is around 75 AED/Person.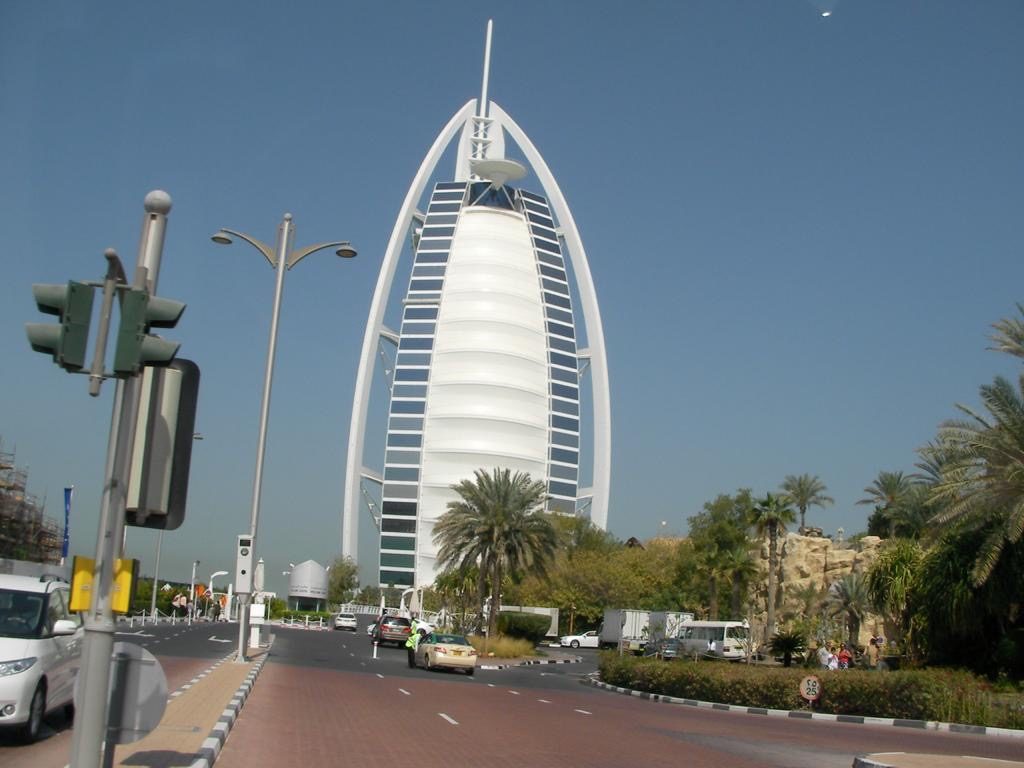 After our lunch at Souk Madinat, we again took a cab till Marina walkway (10 mins drive). After reaching we strolled around for some time. This area is full of sparkling, shinning and magnificent buildings with extraordinary shapes worth admiring.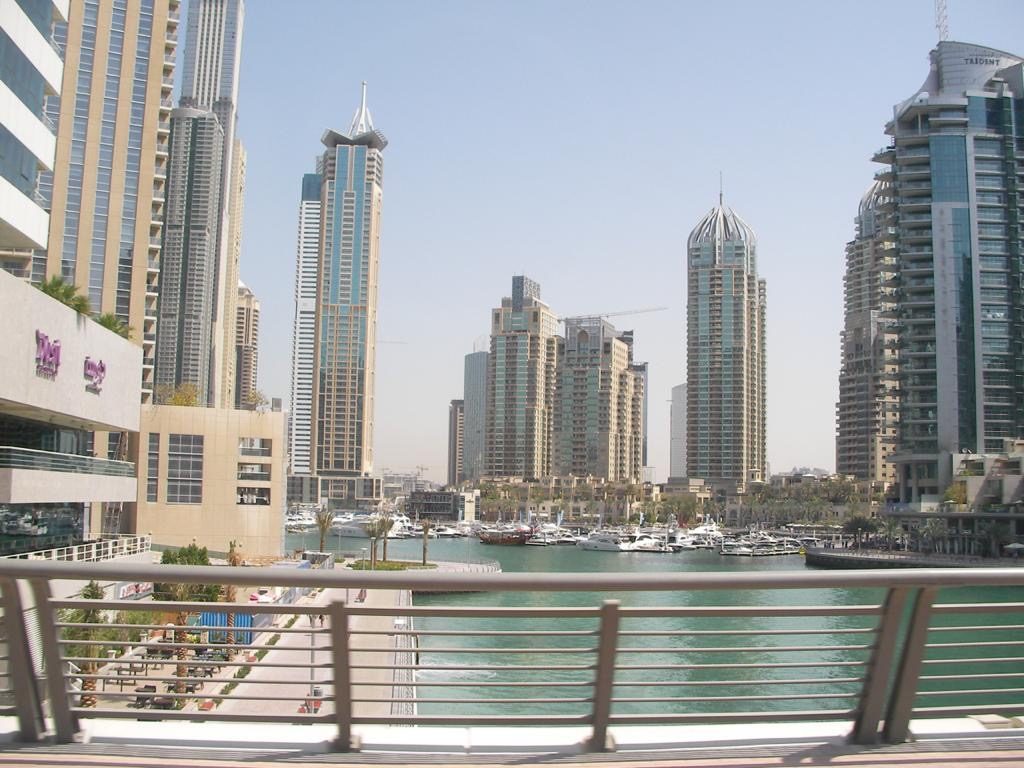 Palm Jumeirah
Palm Jumeirah is the engineering marvel of Dubai. It's a palm tree shaped artificial (manmade) land mass created on the sea body. It is home to many glitzy hotels including Atlantis (the most famous hotel in Jumeirah) and its famous water park Aquaventure. It also hosts luxury homes, apartments, malls, upscale restaurants, nightclubs etc. It's so amazing to see how Dubai created luxury right in the heart of the sea.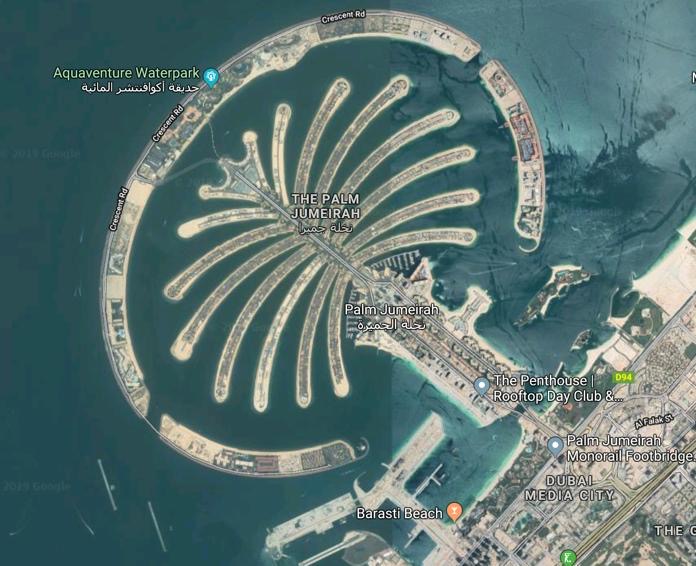 To enjoy Palm Jumeirah region there are many options available – by taxi, by monorail, by speedboat, by Dhow Cruise, skydiving and helicopter. View of Palm shape can only be enjoyed by flight, or skydiving or by helicopter. One can also enjoy partial palm view from Observatory Bar and Grill situated at the 52ndFloor of the Dubai Marriott Hotel.
Speedboats
Speedboats are available at any hour in the Marina area, which takes you for 1.5 hour sea route trip covering the entire palm area starting from Marina to outside the Atlantis, getting a close view of Burj Al Arab and then return. It is roughly 100-200 AED/Person. Yellow boat and Splash tours are the most common speedboat companies. Speedboats are a good option but they are way too expensive and we feel speedboats should be enjoyed at beach places only.
Monorail
Monorail is nice and cost 30 AED/Person roundtrip and 20 AED/Person for one way. This monorail is expensive compared to metro rates, as it is privately owned. You cannot take good pictures from inside the monorail but can enjoy the view sitting inside. Compared to this, taxi is better.
Taxi
Out of all the options we decided to take explore Palm Jumeirah region through taxi only. So after spending some time at Dubai Marina we took a cab till Atlantis Hotel. On reaching the Hotel we enjoyed some coffee at Starbucks. We strolled around for some time at the Palm Jumeirah Boardwalk. The city's skyline view across the sea looked fabulous from here. There were many roadside food stalls for a quick snack.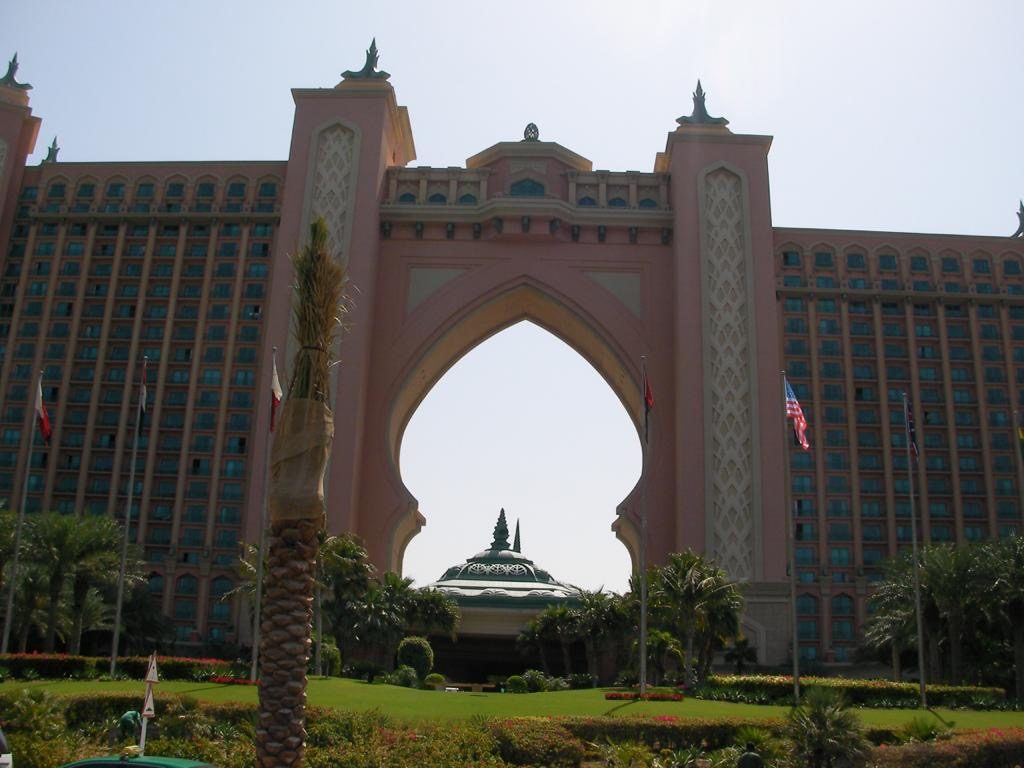 Dhow Cruise
For the evening, we had an option for Marina Dhow Cruise. These Dhow are traditional wooden boats which were used in the earlier days for transportation. These are now converted for fancy dinning. These are fully air-conditioned and have double decks (Upper and Lower) for enjoying the sea view. One can enjoy the whole marina sky scraper view while dinning here in the middle of the sea. This cruise takes the same route as the speedboats. These cruises roughly charge from 100-200 AED/Person depending upon the type of cruise you choose. Hotel pick up and drops / dinner are all included.
Similar to this Dhow Cruise, other cruises run in Deira region as well, which are cheaper than Marina Dhow Cruise, but, Deira region will not give the same view as this Modern Marina region gives. One can book these from various portals online or from the hotel travel desk.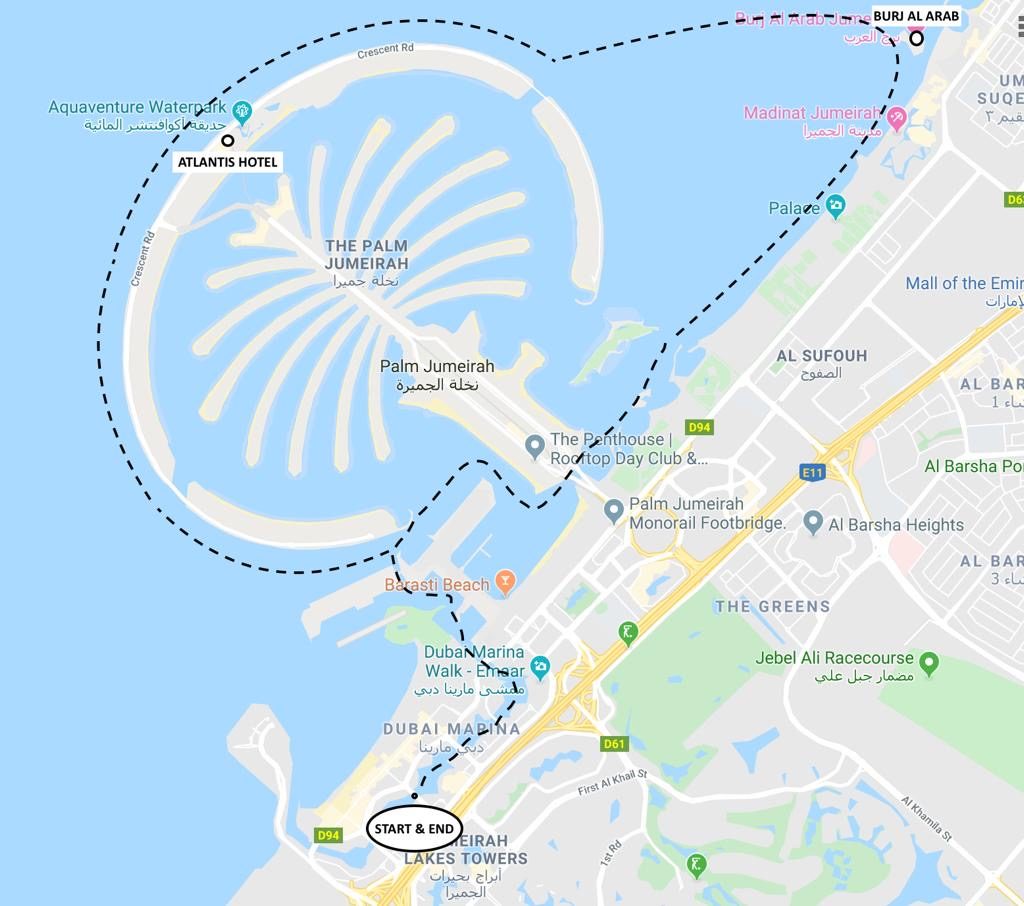 Penthouse Rooftop Day Club
We did not go for Dhow Cruise, as we were 4 people and total would have been more than 400 AED. We instead went to Penthouse Rooftop Day Club – an evening Lounge situated at Palm Jumeirah. View from this place was absolutely incredible. We visited this place to enjoy the sunset. We tried a few snacks. Please always call and get your booking done in advance, as this lounge is quite famous and usually full.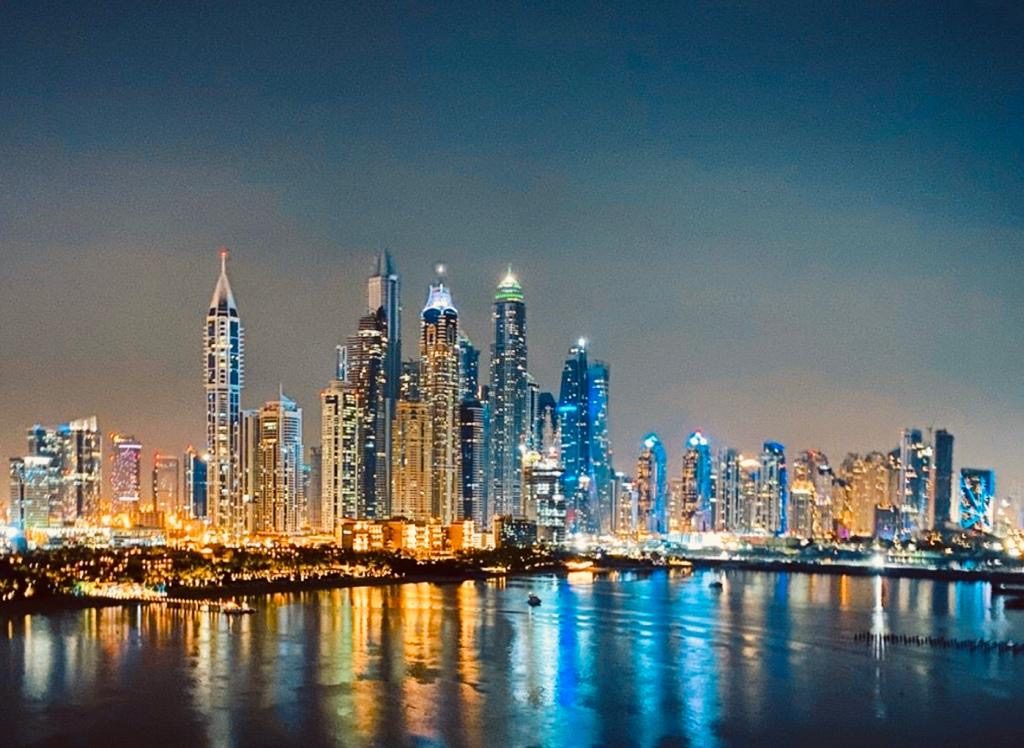 Dubai at Night
After enjoying our dinner at Penthouse Rooftop we explored again entire Marina and Jumeirah region as it was shining with all lights and glitter – giving a completely different view compared to day time. 
10:00 AM: Breakfast at Hotel
11:00 AM: Visit to Dubai Frame
12:00 PM: Jumeirah Beach 
01:00 PM: Souk Madinat 
03:00 PM: Marina Walkway
04:00 PM: Atlantis Hotel, Palm Jumeirah
06:00 PM: Penthouse Rooftop
08:00 PM: Exploring Marina and Jumeirah region 
11:00 PM: Back to Hotel
OTHER ATTRACTIONS IN DUBAI WORTH CONSIDERING
I shared detail itinerary of Dubai & Abu Dhabi in 4 days, where in I tried to cover all major attractions but Dubai have many more attractions which we could not cover because of time constraint. One can consider below as well if they have few more days in hand.
SKI Dubai
Situated at Mall of Emirates, it is the largest indoor Skiing facility. It gives a real feel of being on snow slopes and mountains right in between a Mall. There is an entry charges depending upon the number of activities you take. Inside you can enjoy skiing, zip lining, encounters with Penguin etc. This really is a fun activity space for kids and adults.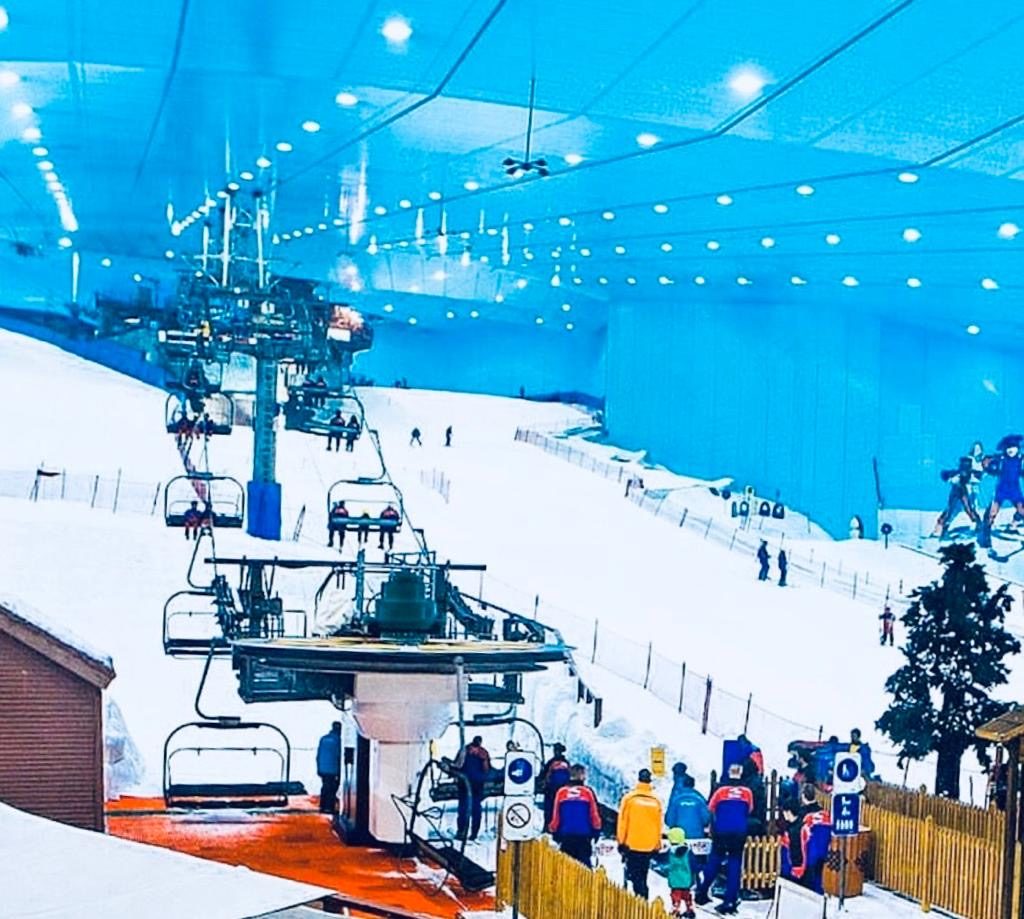 Global Village 
This is a complete family destination. It is a huge area where famous cities of the world and their landmarks are created like Eiffel Tower – Paris, Opera House – Australia, Big Ben – London, Colosseum – Rome etc.  Behind these are the stalls offering food of different cuisines of that particular City/Country. There are various shops as well selling souvenirs and famous stuff of that City/Country. Apart from this there are a lots of Games, Fountains and Light Show at night etc.
Entry ticket is just 15 AED/Person. One can spend a good amount of time here s from afternoon till the time lights are on in the night. PS: This is only open from end of October up to April. Timing starts from 4 PM till Midnight.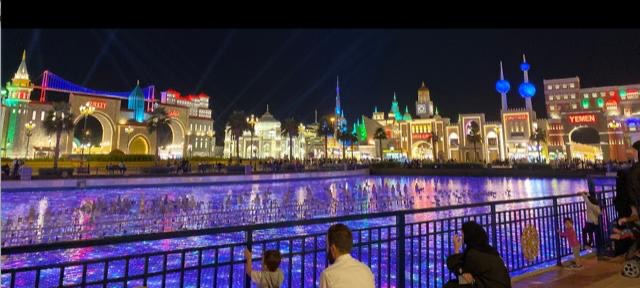 Miracle Garden 
Dubai never seizes to amaze us. It has made some of the most extraordinary attractions right in the middle of the desert. One such attraction is the Miracle Garden – the world's largest Natural Flower Garden. Various designs and shapes like disney's cartoon characters, palaces, animals figures like Horses, Penguins etc, its Airline A – 380 of Emirates etc are created from flowers and plants. This park stretches to 72,000 Square meters of area and has 50 millions flowers and 250 Million plants. This garden opens only for 6 month from the end of November up to May. Entry tickets are quite expensive around 50 AED/Person. Timings for visiting this Garden are from 9 AM to 9 PM.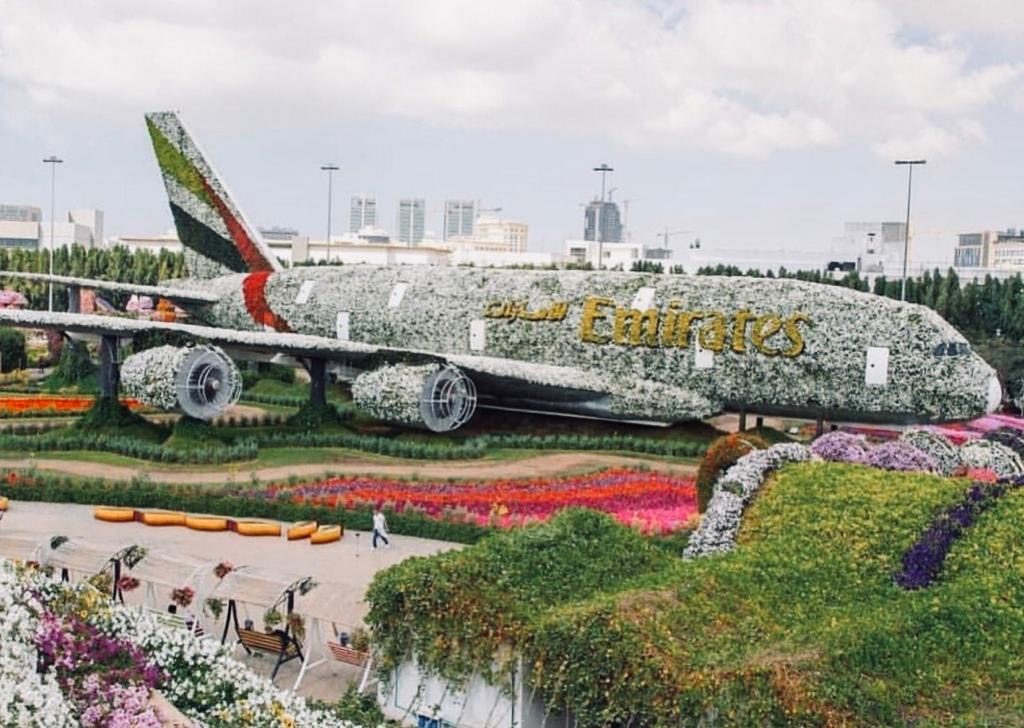 Bollywood Park 
For all Indian, Dubai has dedicated an entire theme park called the Bollywood Park. It has thrill rides named after famous Bollywood Movies – most famous ones are Krishh and Ra One, Bollywood Shows, 4D shows, food stalls selling delicacies of India etc. If you are a Bollywood fan, this park is a must visit. Entry for this park is 120 AED/Person. Tickets can be bought one day in advance from various online websites like www.klook.com,  www.bolloywood.headout.com, www.raynatours.com or directly at the facility.
Legoland 
Situated right next to Bollywood Park is Legoland. This place is great for kids aged 2-12 as they will have free entry to this park but adult tickets are quite expensive ranging from 175-220 AED/Person. Ticket can be bought online from various websites like www.klook.com, www.legoland.headout.com or directly at the facility. There are various rides for kids to enjoy. Best part is the mini world where replicas of various famous buildings of Dubai were created. To my surprise they have even created the Taj Mahal from Lego.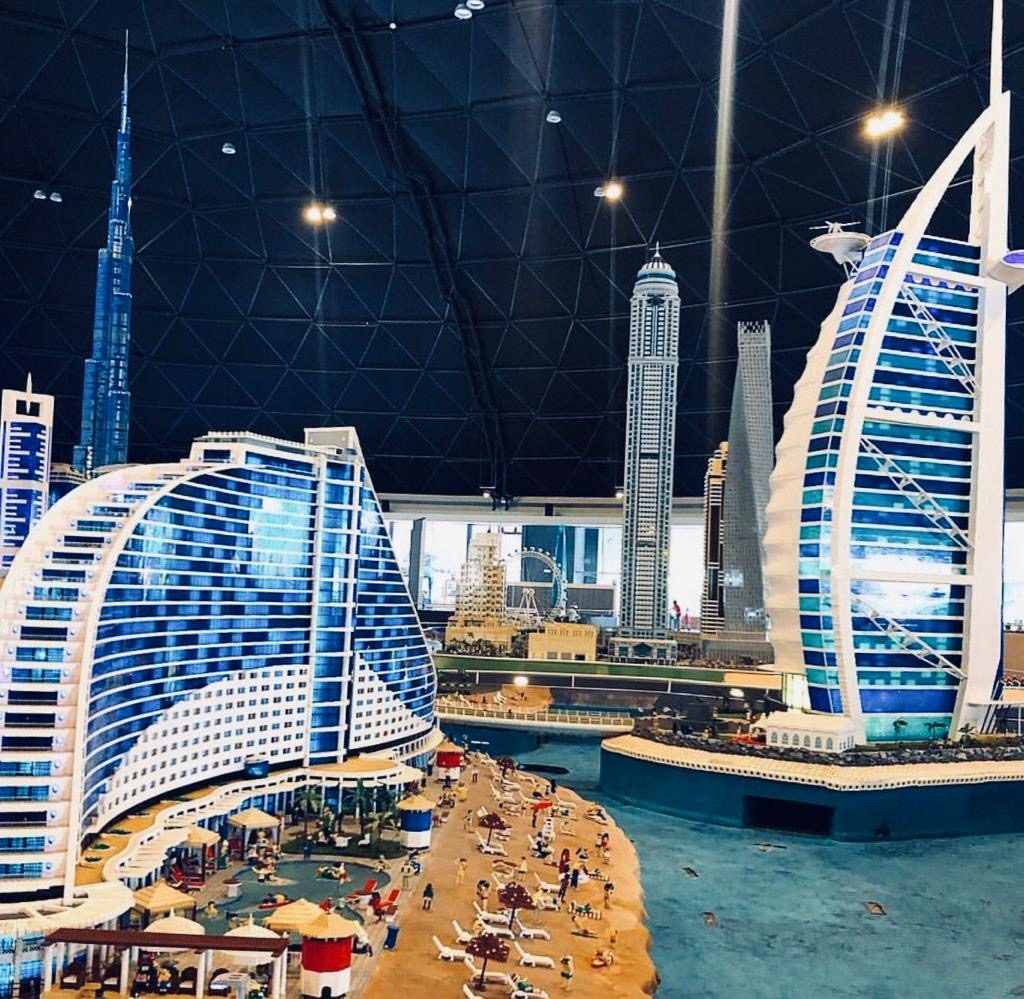 IMG World of Adventure 
This is an indoor amusement park with thrilling rides and roller coasters. This is based on the theme of famous Cartoon Network Characters, Marvel Heroes and Dinosaurs. This place is huge and there are rides for all age groups. Tickets can be bought at the facility or from online websites like www.viator.com, www.klook.com etc. Prices range roughly from 150-200 AED/Person. This place is far from main Dubai roughly 25-30 kms. They also provide free shuttle bus services from various location. You just need to have a valid ticket to avail this service. Timing for the shuttle bus can be checked from www.imgworld.com.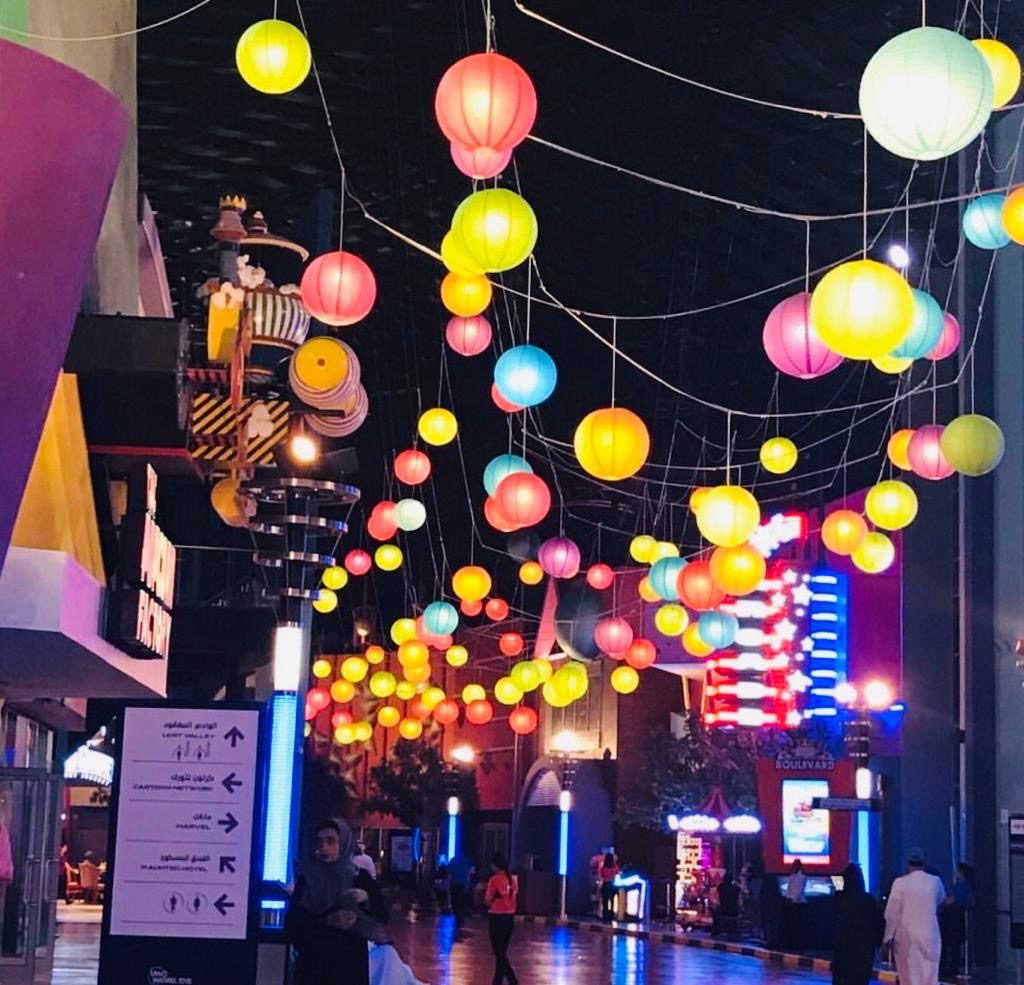 If you find this blog 'My Suggested Itinerary for Dubai' interesting, please share the link of the website/blog with your family and friends. If you have any comments or suggestions – please do write in the comments section below.
Need regular dose of travel information, planning and update on new blogs, please like my page on Facebook.
Need regular dose of travel shots – follow my page on Instagram