Everyone visiting Singapore always want to stay at Marina Bay Sands. But the hotel is definitely very expensive. Tariff for a day starts from a whopping 600 SGD. So, is the price justified for Marina Bay Sands – Is it worth the hype? I will rather share my view with pros and cons, so that you can make the decision yourselves.
ABOUT MARINA BAY SANDS
Marina Bay Sands is the most famous landmarks of Singapore. There is no talk about Singapore without the mention of this Hotel. It is a sprawling 5 Star Hotel owned by Sands Hotel of Las Vegas in Marina Region of Singapore hence the name Marina Bay Sands. It has 3 towers and 55 floors. There are a total 2500 rooms in this Hotel. Apart from its magnificent structure, its main attraction is the Infinity pool, which is a dream for most of the people to take a swim in. It is like swimming on the clouds. Internet has played a big role in popularizing this Hotel. When people started posting their pictures from this Infinity Pool, the pool became a sensation amongst everyone around the world. Within a short span of time Marina Bay Sands became one of the most visited places in Singapore.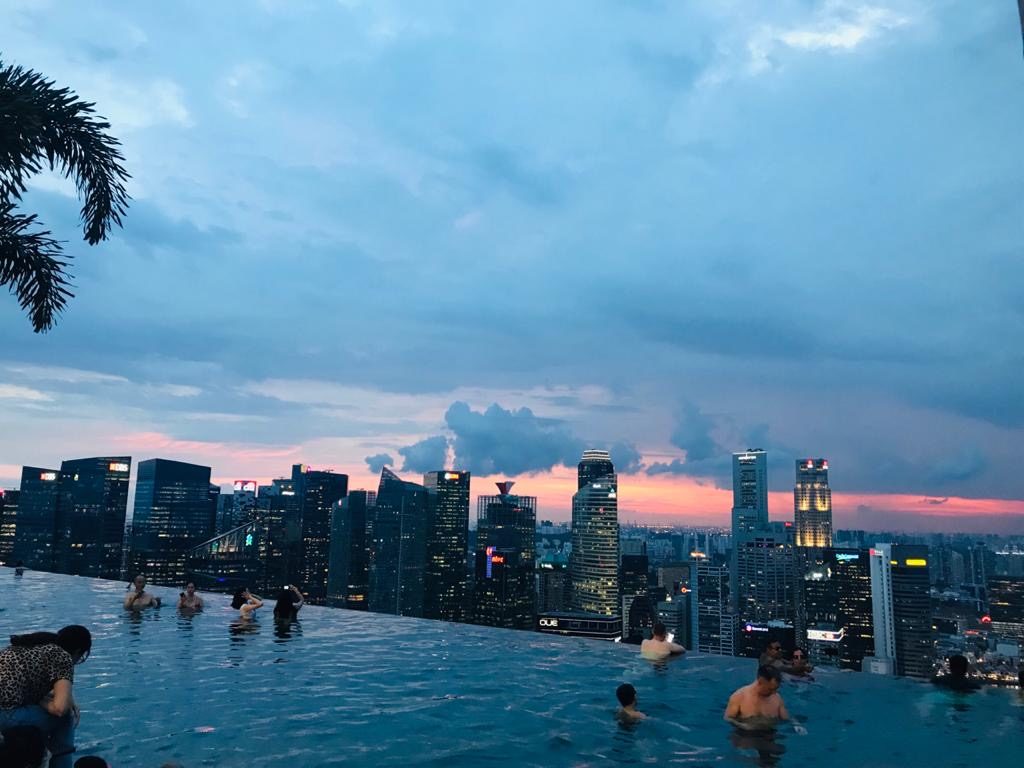 PROS OF STAYING AT MBS
Rooms are spacious, neat and big with a huge bathroom and other luxurious facilities. Generally, most of the hotels in Singapore have very compact rooms but rooms here are way too big, easily accommodating more than two occupants. Luxury! What else can I call this?
 Services are excellent. Anything you ask for, from Room Services, will ve available to you within a few minutes.
Entire hotel is lavish, extremely big having great amenities.
Location is the best part. All attractions are just at a walking distance like Gardens by the Bay, Spectrum Light Show, Marina area, Merlion Park, Singapore Flyer etc.
 To top the list – the fabulous Infinity Pool. It is an absolutely different experience to view the city from rooftop pool.
 The Sky Park of MBS offers the best view of the city. The entry is free for the guest staying at MBS. You can visit it multiple times to enjoy the day/sunset/night view during your stay.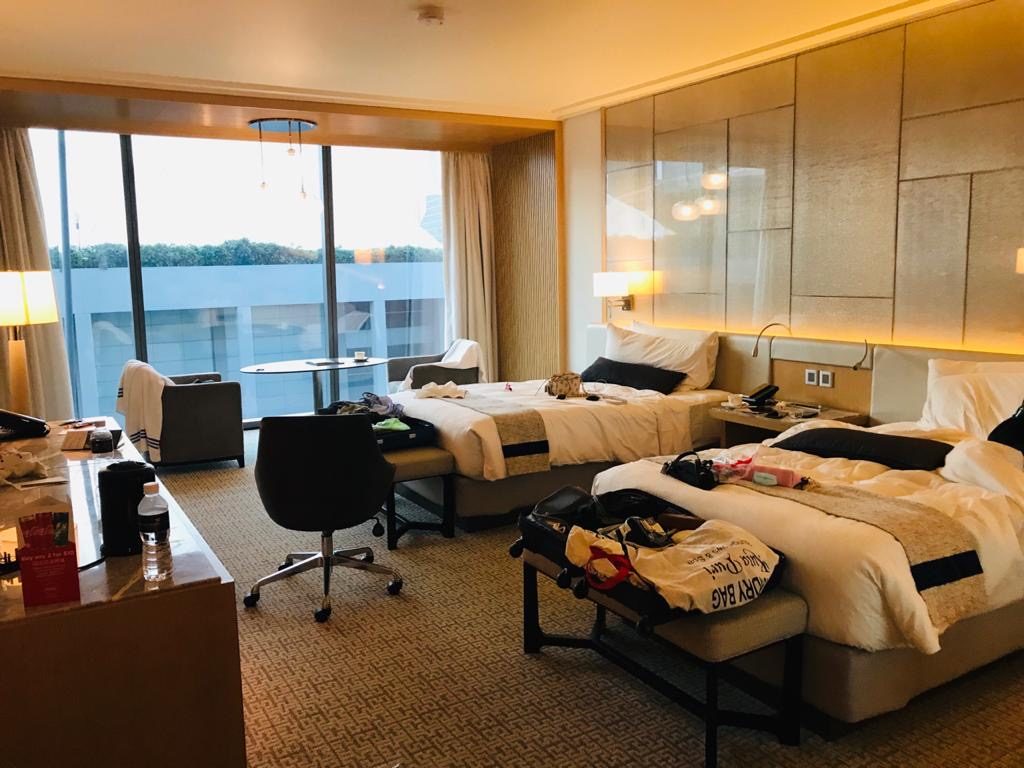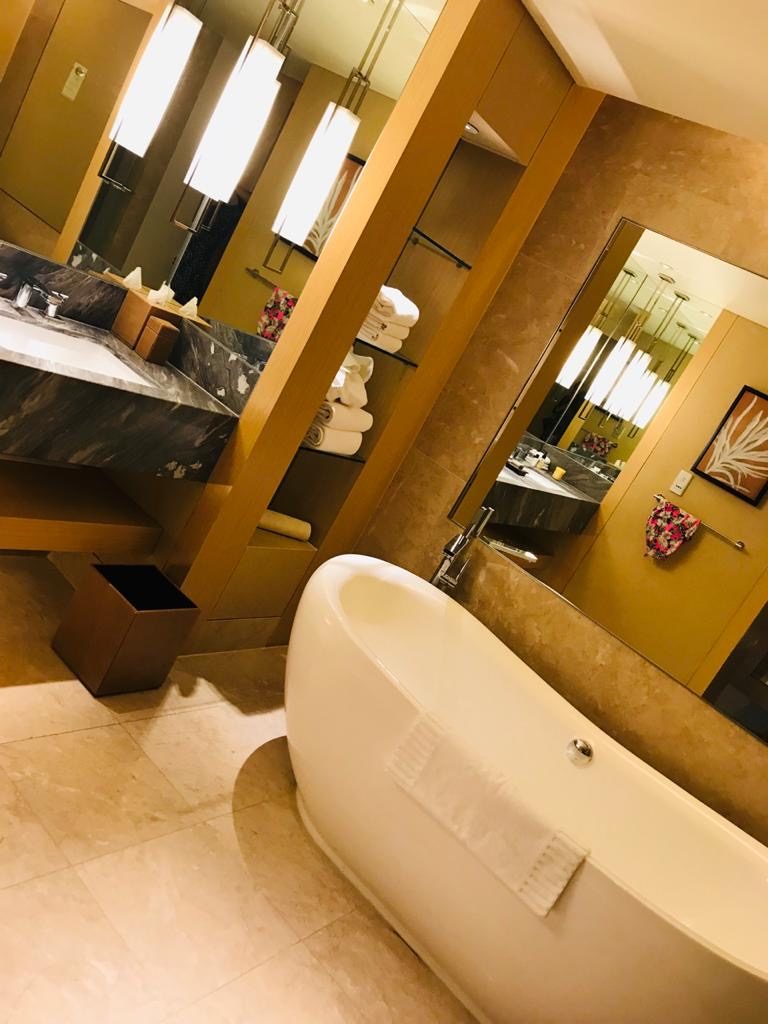 CONS OF STAYING AT MBS
Very expensive hotel.
Infinity Pool is very crowded around evenings. Mostly all the people are just clicking picture and hardly anyone is seen swimming.
It is a very huge hotel. Going from one place to another wasn't that easy. Whether it was going to the Lobby, Infinity Pool, Sky Park, Food Court, Money Exchange, Multi Specialty Store like 7 Eleven, MRT Station Bayfront, Shopping Mall, Garden by the Bay etc., everything was a task and it would take at least 10 minutes to reach.
Hotel was lacking personal touch. It is way too much commercialised.
CONCLUSION ABOUT STAYING AT MARINA BAY SANDS – Is It Worth The Hype?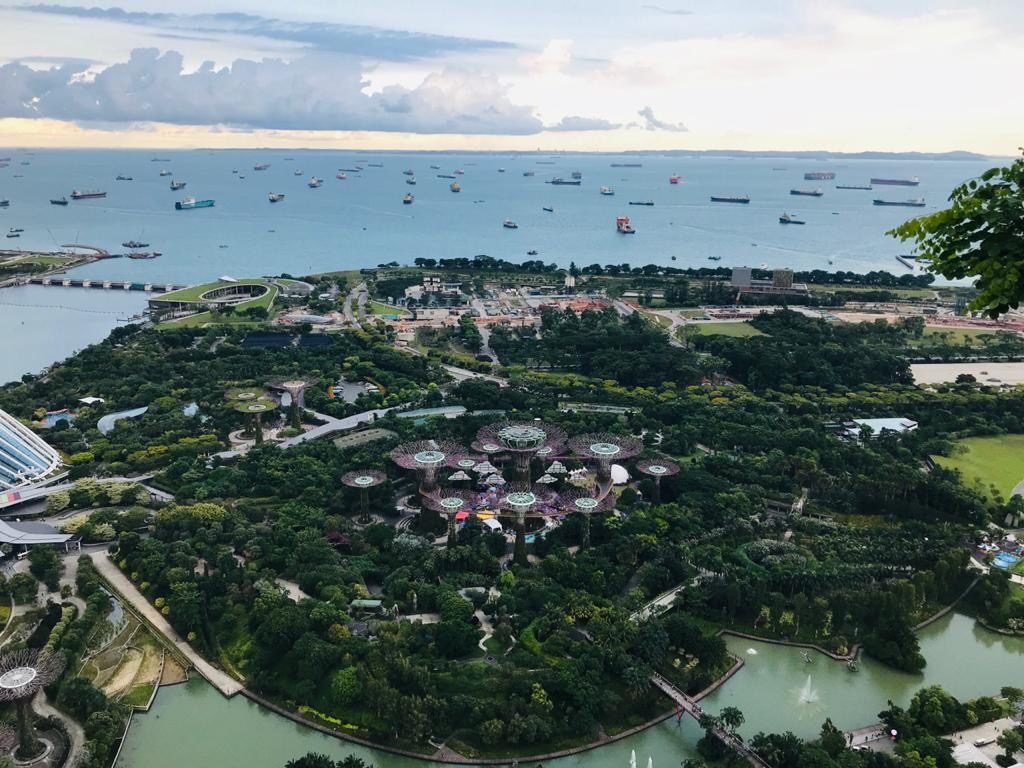 One night tariff for one room at Marina Bay Sands costs around 600 SGD. Cost for Sky Park is 23 SGD/ Person for adults hence 46 SGD for two people. Now for comparison let me assume, if you are staying at any other area like Little India or Orchard Road, then, coming to this area by cab and going back, say even twice would have cost max to max 80-100 SGD. Cost of Hotel at other area would be like 200 SGD-300 SGD. So roughly staying at Marina Bay Sands will cost 200 – 250 SGD extra for 2 people  (600 SGD less 250 SGD tariff of other Hotel less 46 SGD for Sky Park Entry for 2 people less 100 SGD Taxi expense for coming to Marina Area so it comes out total 204 SGD SAVINGS).
Infinity Pool is not allowed to people not putting up at the hotel. So if you think 200-250 SGD is a good amount to spend for Infinity Pool, multiple visit to Sky Park and ease of staying in that same area and covering all places nearby – which saves time, then it is worth it and I personally suggest you to stay for a day.
I think it was a pretty decent deal for a one-time experience and not for every visit to Singapore. Once is enough.
IMPORTANT POINTS AND TIPS, IF PUTTING UP AT MARINA BAY SAND
For one room you will get 2 keys. Please take care of these keys, as they are your access cards for Marina Bay Sands Infinity Pool and Marina Bay Sands Sky Park. Without scanning these cards, you wouldn't be allowed to enter.
If you haven't booked rooms inclusive of breakfast, then please do arrange for some alternative for breakfast. Packaged snacks can be very helpful.
Contact Hotel staff in advance and advise them about your arrival time. They will send you an email asking to fill in mandatory details like full name, permanent address, passport details etc. Do this as this is going to save check-in time.
There are 3 towers in MBS. Get in touch with the hotel management to find out in which tower will you be settled. Generally, all rooms are in Tower 2 and Tower 3. Tower 1 has bigger rooms and suites. While taking a cab, if you get this information, you can then get down at correct Tower reception. This will help save you some walking time.
If you have more than one room booking, please inform Hotel staff in advance, else, you might be placed on different floors. Mind you, it wasn't easy to go to another floor in MBS as it is not a compact Hotel- it was one of the largest hotels I have stayed in.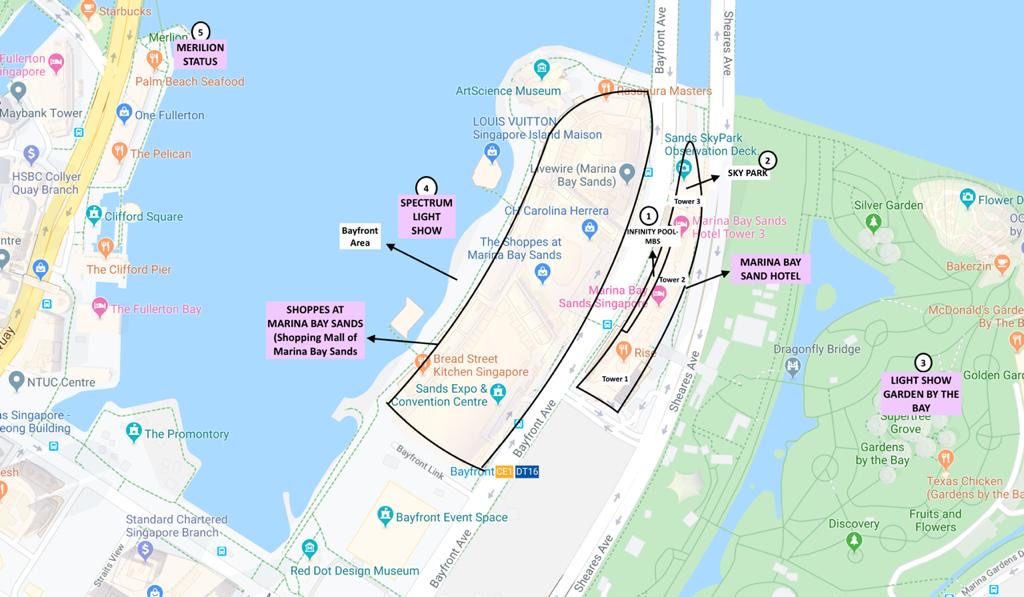 Click here to book a room at Marina Bay Sands
Need perfect 4 days itinerary of Singapore City – click here
If you find this blog 'Marina Bay Sands – Is it Worth the Hype' interesting, please share the link of the website/blog with your family and friends. If you have any comments or suggestions – please do write in the comments section below.
Need regular dose of travel information, planning and update on new blogs, please like my page on Facebook.
Need regular dose of travel shots – follow my page on Instagram