Maldives has always been known as a luxury honeymoon destination, where one day tariff for a resort starts from whopping 350 US$ and goes up to 2500 US$. There have been numerous discussions about making a trip to the Maldives on a Budget. But Maldives on a Budget – is it possible? Even if it is possible then is it a good decision to do in a cost-saving way like compromising on stay and view. Here, after coming back from Maldives I am sharing my viewpoint on Maldives, the cost involved, the pros and cons of staying in a 5-star resort on a private island as well as staying in a budgeted guesthouse on a local island. Hope this can help you to make your decision while planning a trip to the Maldives.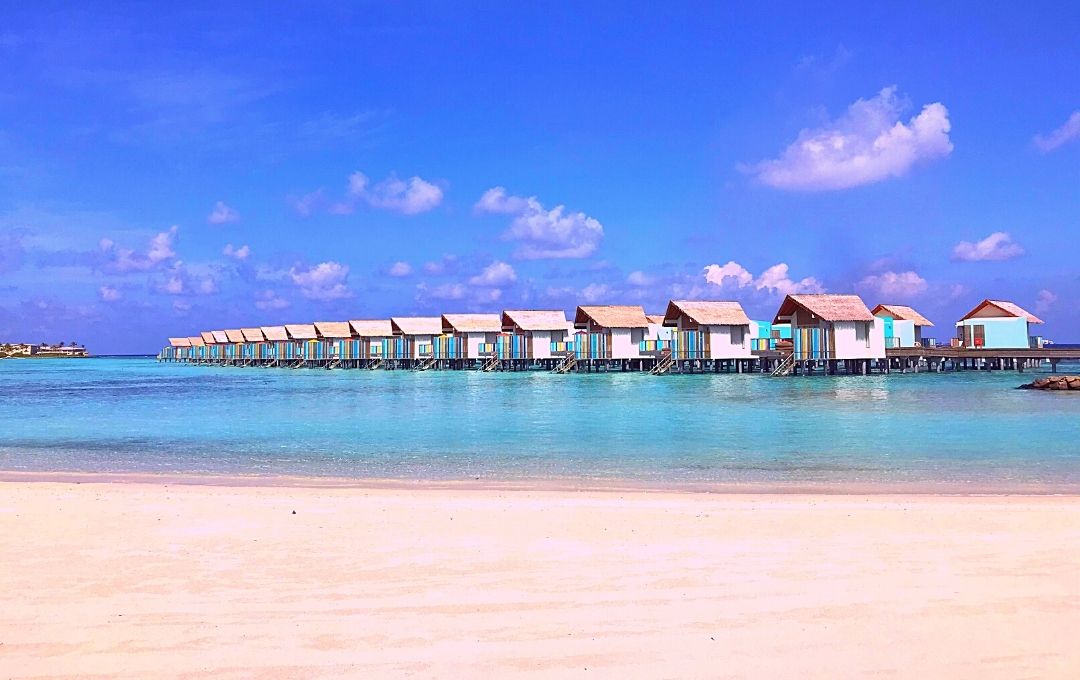 ABOUT MALDIVES
Maldives is a part of Asia and is situated slightly below India/Sri Lanka in the southwest direction. It consists of approx. 1190 small islands (26 coral atolls) scattered closely in the Indian Ocean. Out of 1190 islands only approx. 200 of them are inhabited rest are still unexplored. It is the smallest country and the 2nd least populated one in Asia.
All the Islands are surrounded by turquoise blue water, shiny white sand, rich coral, blue lagoons, palm trees, etc. Hence, making this place truly magical and a paradise of its own. Such kind of landscape and natural setup is rarely found anywhere else in the world. This is the reason that since the time Maldives has been open for tourism (around 1972) it has gained tremendous popularity as an ultimate beach and Honeymoon destination.
Whether you stay on Private Island or a local Island – the view, breeze, and beauty of Maldives will not at all disappoint you. The wooden walkways, which are very much prominent in the entire Maldives adds to its signature beauty.
BEST TIME TO VISIT MALDIVES
The temperature in Maldives is almost the same throughout the year with an average temperature ranging from 25-29 degrees only. April is the hottest month when the day temperature gets 30 degrees Celsius. September is the month when rainfall is experienced. It is usually November, December, January, February that are considered the best months to visit Maldives where day and night temperature is slightly better than the rest of the months.
HOW MANY DAYS IN MALDIVES IS ENOUGH
Maldives includes a bunch of Islands. Typically the view from all the Islands is relatively the same. If you visit other Islands apart from the one you put up at then also it is not something different that you will explore or discover. It is a beach destination and the major activities that be done are snorkeling/kayaking/scuba and Island Hopping. Male being the capital can still be explored on one of the days. Overall if you putting up only on private Islands or only on a local island then 3 Days to 5 Days are the maximum. If you are putting up at both the Islands then 5 days to 7 Days are maximum.
HOW TO REACH MALDIVES/ HOW TO TRAVEL WITHIN THE MALDIVES
Maldives Capital Male Airport has good flight connectivity with all major South East Asia countries. In India, we have various direct flights to Male from various major cities like Mumbai, Kochi, New Delhi, Hyderabad etc (check flight schedule from www.skyscanner.com)
After reaching Male Airport, the only way to reach a particular Island is through Speed Boat or public ferries, or seaplane. Most of the hotels in private islands provide complimentary pick-up and drop facilities from the airport to all their guests. For reaching local islands one needs to look for speedboats (takes approx. 25 USD/Person, direct connectivity, more frequency, lesser time) or public ferry (1-3 USD/Person but limited connectivity, slow frequency, involves transfers and time consuming) from the airport.
To travel from one island to another the only way is to book a speedboat or using a public ferry (cheaper option).
WHAT ARE PRIVATE ISLANDS IN MALDIVES
Almost all the hotels & Resorts have purchased an Island in Maldives and made a sprawling big resort over it with overwater villas, beach-facing rooms/villas, access to private beaches, infinity pools, etc. Therefore these are called private islands, as the hotels own them.
These Hotels and Resorts have played a big role in popularizing Maldives by attracting people from all around the world. Without them, Maldives surely wouldn't have been that popular destination that it is today. People dream about staying at a sprawling overwater luxurious villa with all amenities in between the water.
These are ranged with very high tariffs depending upon the property size, facilities, and services they provide. Starting from 350 USD to sprawling 2800 USD per day Maldives has it all.
The extremely high real estate price, cost of maintaining such property in between a sea on an Island, paying for high import duties, using ferry every time for transit, etc. are some of the major reasons behind such high tariffs of private islands Hotel/Resorts.
Even though expensive still people pay to enjoy this lifetime experience of staying in an ultimate luxury hotel in between the sea with the most beautiful view all around. These private Island Hotels also leave no stone unturned in providing the best facilities, services and making the memorable stay of its guest.
Click here to check out some fabulous private island properties in Maldives.
BENEFITS OF STAYING IN A PRIVATE ISLAND
A perfect holiday experience – luxury stay, great views, private area, good food, best amenities, and amazing services.
The most relaxed trip as everything is well catered by the hotel so guests just need to relax and enjoy.
It is extremely convenient when compared to staying at the local islands. No struggle regarding reaching the hotel or food or with the stay.
The ultimate experience of staying at an overwater villa is only possible at hotels on private islands.
It is allowed to consume alcohol in private islands, which is otherwise, banned in Maldives.
DRAWBACKS OF STAYING IN A PRIVATE ISLAND HOTEL
The biggest disadvantage is that private hotels are very expensive and it is not at all possible for any budget traveler to make it to a private island resort without spending much.
Staying at Private Island Hotel provides limited experience. It is like staying in a bubble with no insight into local people's life.
Limited island tours available, which are expensive as well.
WHAT ARE LOCAL ISLANDS IN MALDIVES
Local Islands in Maldives are the ones where local people stay. Initially, the tourist wasn't allowed to stay in Local Island but from last few years the Maldives Government has given relaxation and many guesthouses are now open in local Islands welcoming tourist to stay with the locals and experience daily Maldivian life. These guesthouses are much cheaper compared to hotels/resorts on a private island. In approx. 60-150 USD you can find a decent guesthouse to stay.
The most popular local island visited by tourists is Maafushi. There are other local islands as well like Fulidhoo, Keyodhoo, Thinadhoo, Rasdhoo, Ukulhas, etc but reaching there requires a lot of time and transfers as ferry frequency is not that great. With Maafushi it is a lot better because it is quite popular, situated close to Male hence reaching there is a lot easier compared to other local islands. From Maafushi there are various snorkeling/Scuba diving and Island tours available at good prices.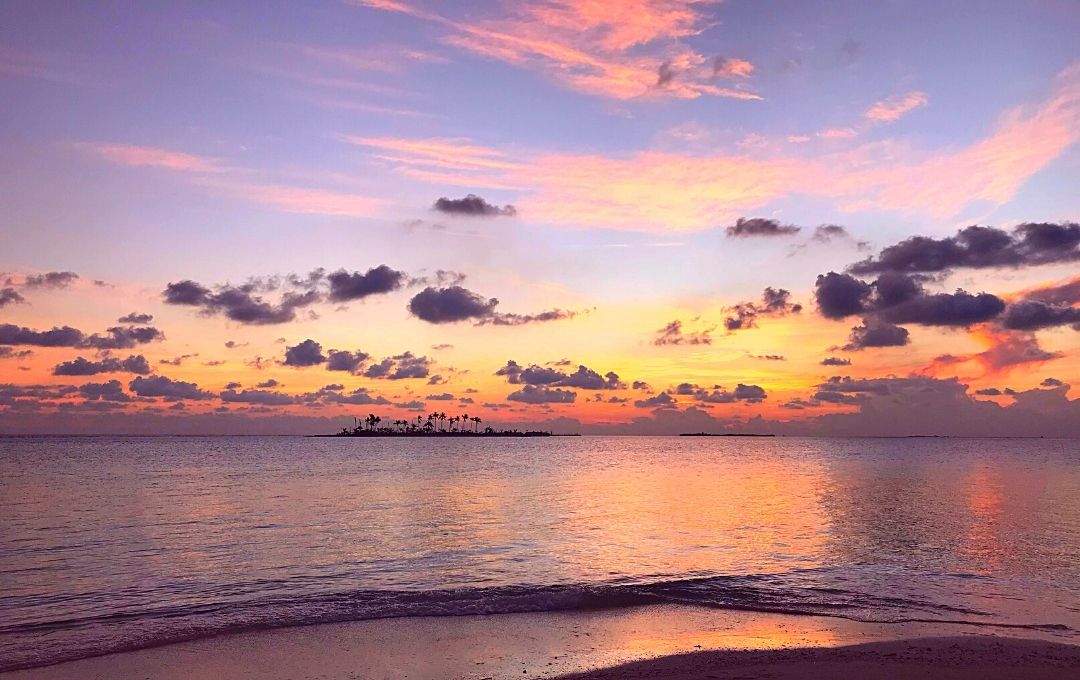 BENEFITS OF STAYING IN LOCAL ISLANDS
The biggest advantage is having the cost-saving budget stay option and still enjoy the beauty of Maldives, which is otherwise known only for expensive stay.
Gets more exposure compared to staying at just one Private Island. Various options for amazing snorkeling/scuba/island trips at a better price.
Get insight into the local life of Maldives.
DRAWBACKS OF STAYING IN LOCAL ISLANDS
Missing paradise and convenient life of Private Island Hotels.
Experiencing overwater bungalow is out of the question
Very limited food options although much cheaper but still very limited and compromising.
No alcohol available.
Reaching Local Island involves the hassle of booking a speedboat/public ferry from the airport, extra waiting time, and transfers involved.
MALDIVES ON A BUDGET – HOW IS IT POSSIBLE
If you see the majority of the amount spent on a trip to the Maldives is over accommodation. All other expenses remain more or less the same whether it is flight expenses, transit or food, etc. So basically the only way possible to make Maldives trip on a Budget is to stay at cheaper accommodation.
Unfortunately, none of the private island hotels are within 100-200 USD /Day tariff but in local islands, they are budgeted guesthouses.
The difference in tariff between Private Island and Local Island is a lot.
Private Island Resort Cost per night: 350-500 US$ for a decent stay. Overwater bungalow/villa cost starts from 500 US$/Day.
Local Island Guesthouse Cost per Night: 80-100 US$ for a decent stay
Difference 270-400 US$ saving for a single day. If it is a 3-day trip then it is whopping 800-1200 US $ savings.
Even though it will be a big saving in cost but visiting Maldives and not experiencing private island hotel stay is like why to go to Maldives at all. These private island hotel stay is the ultimate experience otherwise it is like going to any other beach location.

CONCLUSION
The best way to experience Maldives is to stay at Private Island Hotel for 1 to 3 days (depending upon budget) and once Hotel drops you back to Male Airport, then arranging to reach the local island and staying there for another 2-3 days. You can even ask the hotel to transfer you directly to the local Island.
In this way, you won't be missing out on anything and it will balance the cost of the trip as well.
If there is no budget issue then staying at Private Island and going to local and other islands as a day trip is the best deal.
If looking for a budget stay then also try staying at a private island hotel at least for a day and then local island for the rest of the days.
Going to Maldives and not experiencing a private island hotel stay is a big miss out.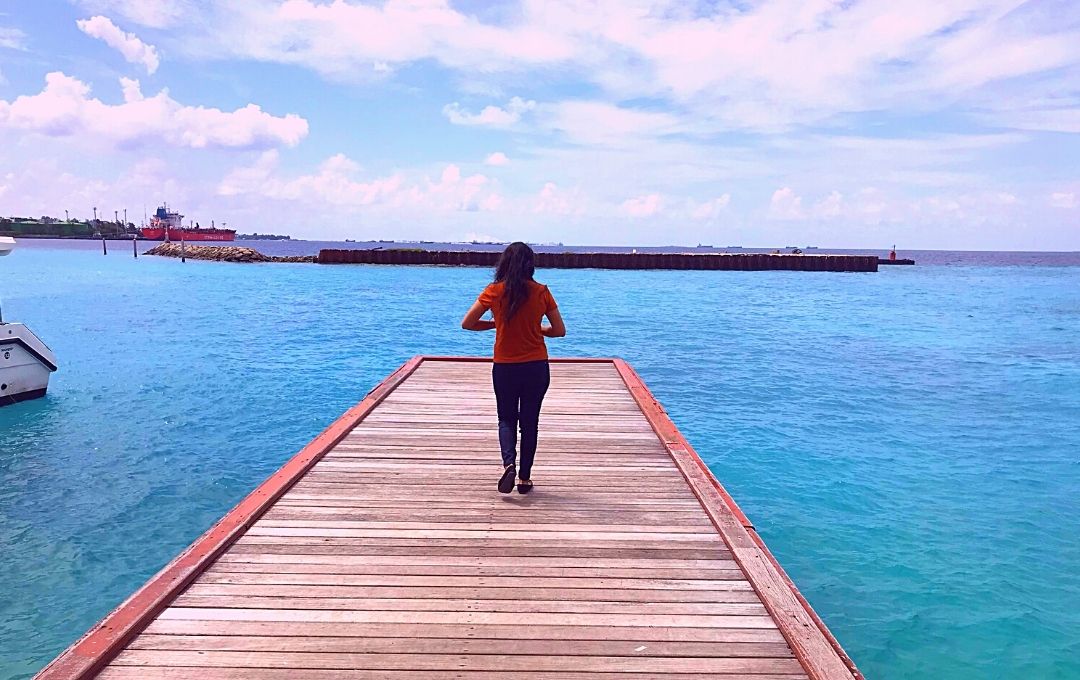 If you find this blog 'Maldives on Budget – is it possible' interesting, please share the link of the website/blog with your family and friends. If you have any comments or suggestions – please do write in the comments section below.
Need regular dose of travel information, planning and update on new blogs, please like my page on Facebook.
Need regular dose of travel shots – follow my page on Instagram