ABOUT LAS VEGAS ITINERARY 3 DAYS
Located in the deserts of the State of Nevada, is the most fun city of United States – Las Vegas. The very first thing that comes to our mind, when talking about Las Vegas is Casinos & Gambling. Apart from Casinos, the city also offers ultimate experience of nightlife, entertainment, extravagant hotels & resorts, huge range of fabulous restaurants owned by some of the world's top chefs and lastly amazing shopping. Here I am sharing a very interesting Las Vegas Itinerary 3 Days, which will show the other side of the gambling city.
This Las Vegas itinerary 3 days is enough to cover almost all fun things to do in Las Vegas like visiting major attractions, shows, nightclubs and a day trip from Las Vegas to Grand Canyon.
Las Vegas always has something for people of all age groups and therefore it is said – 'Vegas is Always a Good Idea'. A trip to Las Vegas is the best weekend getaway for all Americans.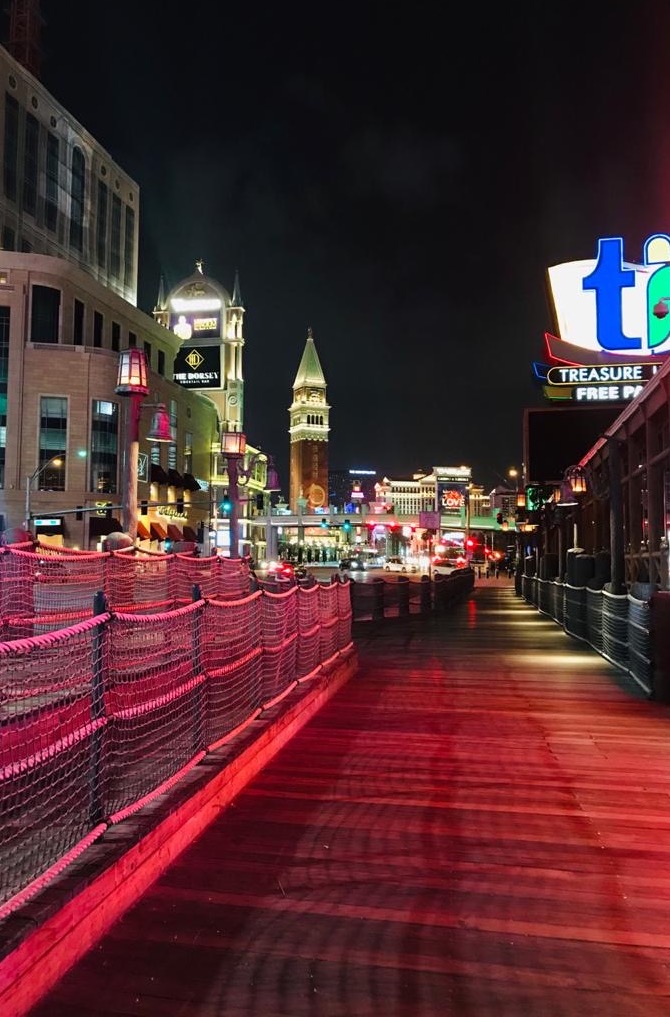 ABOUT LAS VEGAS STRIP
The glitzy Las Vegas Strip also known as Las Vegas Boulevard, is a 4.2 miles long road, full of fabulous hotels on both sides, is always open for everyone day and night. These Hotels are the pride of Las Vegas – attracting millions of visitors from around the world.
Each of the hotels in the Boulevard are dedicated to a particular theme, which makes it very interesting to visit – the Paris Hotel is based on Paris City and its biggest attraction is the miniature of the Eiffel Tower, New York Hotel is based on New York City and its main attraction is the miniature of the Statue of Liberty, Venetian Hotel is based on Venice and has Gondolas, Caesar Palace & Bellagio is based on Italy and therefore have amazing architecture and statues etc.
LAST VEGAS ITINERARY 3 DAYS – TRIP COST 
Hotels: $100 – $200 / Day (including Resort Fees)
Food & Local Transport: $215 – $300 / Person
Entry to Various Attractions: $75 – $100 / Person
Day Trip Cost: $100 – $200 / Person
Approx.Total: $550 – $900 / Person for 3 days (Excluding Flights)
BEST WAY TO TRAVEL WITHIN LAS VEGAS
The best thing is that the Las Vegas Mc Carran International Airport is just a few minutes ride from the Strip, so one can easily book Uber/Lyft to reach their Hotel. Some of the hotels also provide shuttle services from the airport at a very nominal price.
The major attraction of Las Vegas is the Strip, which can easily be covered on foot but if one is not interested in walking then one can use the amazing monorail running along the whole Las Vegas Strip stretch. Monorail timings are from 7:00 AM up to 2:00 AM at night (Mon-Thu) and 7:00 AM to 3:00 AM(Fri-Sun). This monorail is the quickest and the most efficient way to reach the other side of the Strip. Price of monorail ticket starts from $6. They also offer $15 for full day pass.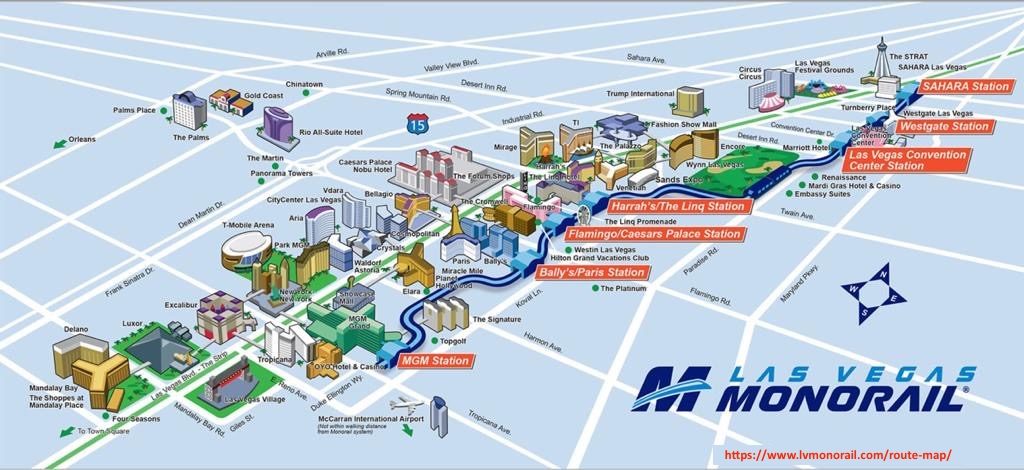 The city also runs public buses for various routes. Uber/Lyft and Taxis are also available all the time.
There are three trams running on the following routes in Vegas free of cost – 
Excalibur – Luxor – Mandalay Bay
Park MGM – Aria – Bellagio
Mirage – Treasure Island
WHERE TO STAY IN LAS VEGAS
Click on the link below to check out the various options to stay in Las Vegas – Budget hotel options, Mid Range & Upper Mid Range Hotels options and Luxury Hotels options.
(https://www.pinningdestinations.com/exotic-hotels-to-stay-in-las-vegas/)
BEST TIME TO VISIT LAS VEGAS
March, April, May, September, October and November are the best months to travel to Las Vegas when temperature is moderate ranging from 15°C – 25°C. June, July and August are really hot months specially in the afternoons, hence not advisable. December, January and February are colder months with temperature ranging from 4°C – 10°C. December is quite a busy month because of Christmas and New Years, so this month should be avoided.
MUST VISIT IN LAS VEGAS
Walk down to the Las Vegas Strip and visit all the opulently grand hotels and their lavish casinos. Even if one is not interested in gambling, still it is interesting to see all these hotels, their shopping complexes and their various dining options inside.
Bellagio's Fountain Show and Mirage Volcano Show are some of the free eye candy shows worth watching atleast once.
A visit to Fremont Street situated at Las Vegas Downtown – Old Las Vegas (15-20 mins from Las Vegas Strip) is a must. The main highlights of Fremont Street are the light show on the ceiling, old historic casinos, lot of street artists performing and a Slotzilla Zipline to try. It is a nice place to spend the evening/night.
There are a lot of day trips available from Las Vegas. Grab the opportunity to visit atleast one of them while you are visiting Vegas, specially the most popular Grand Canyon Day Trip.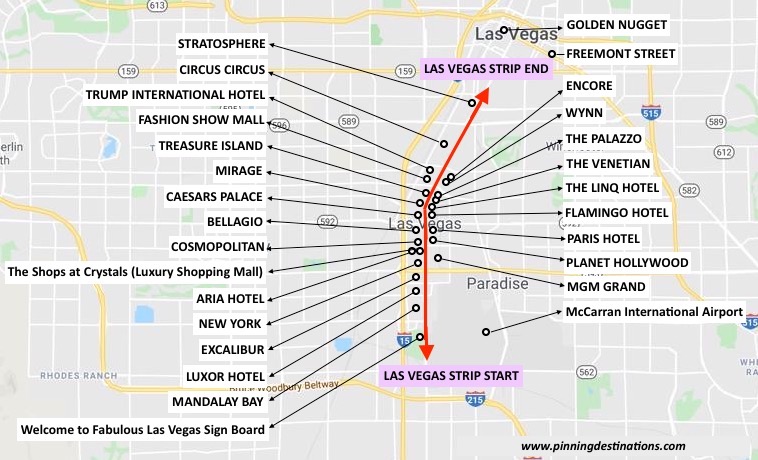 TIPS FOR VEGAS TRIP
Tipping is quite common, moreover, kind of compulsory in Las Vegas, whether it is for the concierge at the hotel managing your luggage, cab drivers or to a server at any restaurants. Be prepared for this small extra cost.
The most interesting thing about Las Vegas Strip is the way all the hotels in the Strip are inter connected to each other via walkways. One can even cross from hotel to hotel without even actually walking on the roads of the Strip. It feels like they deliberately designed it this way so that every visitor may visit all the hotels located in the

Strip.

Some of the free attractions available in Las Vegas Strip are – Bellagio's Fountain Show, Bellagio's Conservation and Botanical Gardens, Wildlife Habitat at Flamingo's Hotel, Circus Show at Circus Circus Hotel, Steetmosphere at Grand Canal Shoppe – Venetian Hotel and Mirage Hotel Volcano Show in the evening.
Yes it's correct that all casinos provide drinks FREE OF COST but only if you are playing. Also keep tipping the server for good and quick service.
There are various types of tourist pass available like The Las Vegas Sightseeing Pass, The Las Vegas Sightseeing Flex Pass, Go Las Vegas Card, Las Vegas Pass, Las Vegas Explorer Pass etc starting from $89 and goes upto $500. List down the attractions, compare prices and make the best decision whether to buy the pass or visit the attractions individually.
TIPS WHILE BOOKING A HOTEL
If you are a first timer or visiting Las Vegas for a short span then it is advisable to stay at the center of the Las Vegas Strip. In this way reaching both ends of the strip would be easier.
Some of the hotels have censors on the minibars in the rooms. Do not touch them because even if you shift the items of the minibar from their place by mistake, hotels will charge you. Get the minibar locked if there is a possibility. In such a case, hotels do not ask you for deposit amount.
All hotels in Las Vegas charge a compulsory Resort Fee ranging from $24 to $60/Day, which is not included in the prices of the hotel at the time of the booking. Kindly consider this extra cost while booking any hotel in Las Vegas. You can check out the list of hotels in Las Vegas which charge resort fees from resortfeechecker.com. You can even check the amount they charge per day.
Most of the hotels in Las Vegas Strip do not offer any breakfast buffet. But yes, almost all of them have good café or Starbucks at the lobby to rely on. Most of the hotels do not provide electric kettle and tea/coffee kit in the rooms. Some of them do arrange on request but at a cost. Carry it yourself if this is required.
LAS VEGAS ITINERARY 3 DAYS
1st Day: Reaching Las Vegas, Strolling the Vegas Strip, visiting The New York Hotel, Crystal Shopping Mall – Luxury Shopping Mall, Paris Hotel, Bellagio Fountain Show, Mirage Hotel Volcano Show, Venetian Hotel and ending the day either at a Casino or a Lounge or a Nightclub.
2nd Day: Wildlife Habitat at Flamingo Hotel, Fashion Show Mall or Day Pool Party and Fremont Street in the Evening
3rd Day: Day Trip from Las Vegas – Grand Canyon or Antelope Canyon & Horseshoe Bend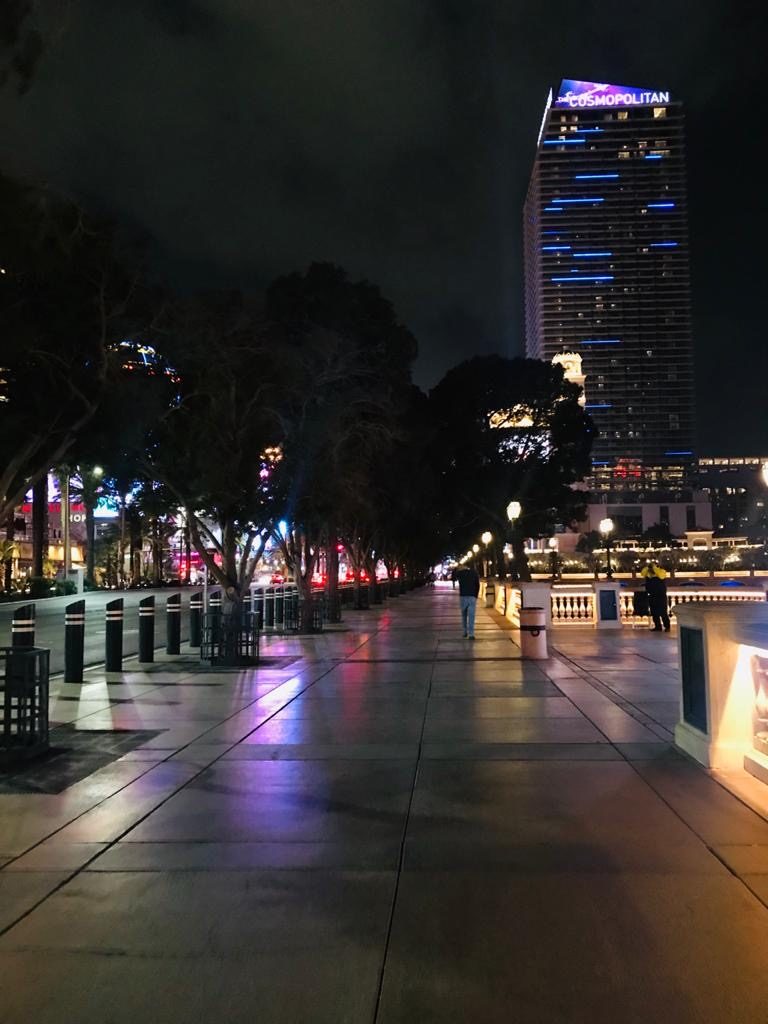 LAS VEGAS ITINERARY 3 DAYS IN DETAIL
Day 1: Reaching Las Vegas and Strolling the Las Vegas Strip
Start your day by strolling around the Strip and checking out each hotel on the way. Las Vegas Strip starts from a fabulous Welcome to Fabulous Las Vegas Sign Board, which is very close (3 mins walk) from Mandalay Bay Hotel and ends on the Stratosphere Hotel. I suggest starting your visit to the Strip with New York Hotel (if you are not interested in Mandalay Bay and Luxor) and ending it with The Venetian Hotel. Fashion Show Mall, Stratosphere Hotel and Las Vegas Downtown can be covered together on the next day.
The hotels and malls on the Las Vegas Strip, which are worth visiting from inside, are the following –
Mandalay Bay
Visit Mandalay Bay only if you want to go to the Shark Reef Aquarium situated at this hotel. Entry price is $25 USD/Person (Adult). It's a small aquarium very uniquely designed with stone wall and beautiful walkways. The most interesting part is the walk through the glass tunnel filled with sharks and other aquatic animals. There are a variety of fishes, sharks, seahorses, stingrays, sea turtles etc to see in this aquarium. Overall it is a decent max-to-max one hour attraction. If not interested in visiting any aquarium in Vegas, this can be skipped. You can also take advantage of the free tram that runs from Mandalay Bay to Luxor Hotel to Excalibur Hotel.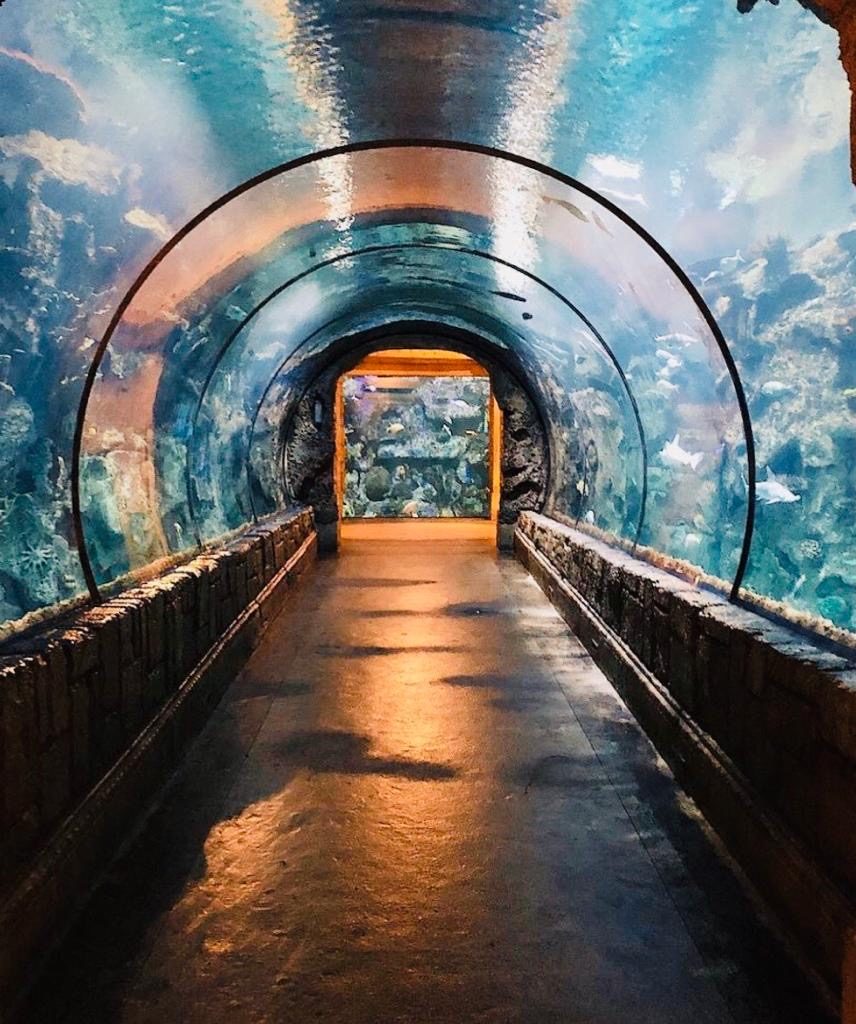 Luxor 
Right next to Mandalay Bay is Luxor Hotel, which is based on Egyptian theme and has replicas of the Sphinx and Pyramids inside. Replica of Sphinx at Luxor in even larger in size than the original one. Do visit if you want to get the feel of Egypt – otherwise skip this hotel.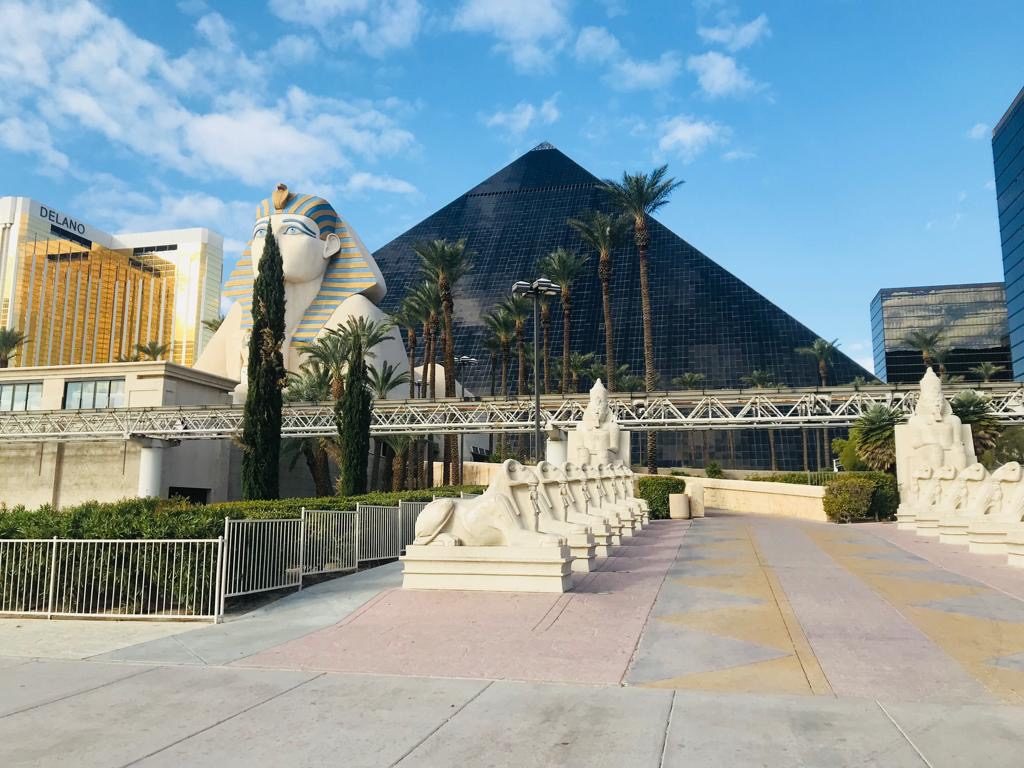 New York Hotel 
It is very interesting to visit this small replica of New York City, which gives a true feeling of Manhattan. The main highlight is the 150 Foot high replica of The Statue of Liberty, which is standing tall at the corner of the main road right outside the hotel. The hotel's towers are also made up of the replicas of famous buildings of Manhattan like The Empire State Building, Chrysler Building etc.
Restaurants worth trying in New York Hotel
If hungry, try some of the good food options available in New York Hotel like – New York Pizzeria for relishing big slices of Pizza, Greenberg's Deli sandwiches, Shake Shack burgers or if interested in a bar then go to Nine Fine Irishman. If you are a chocolate fan do visit Hersey's Chocolate World located inthis hotel only. Right opposite of this hotel is MGM Grand Hotel, whose main attraction is the famous Hakkasan Restaurant and Nightclub.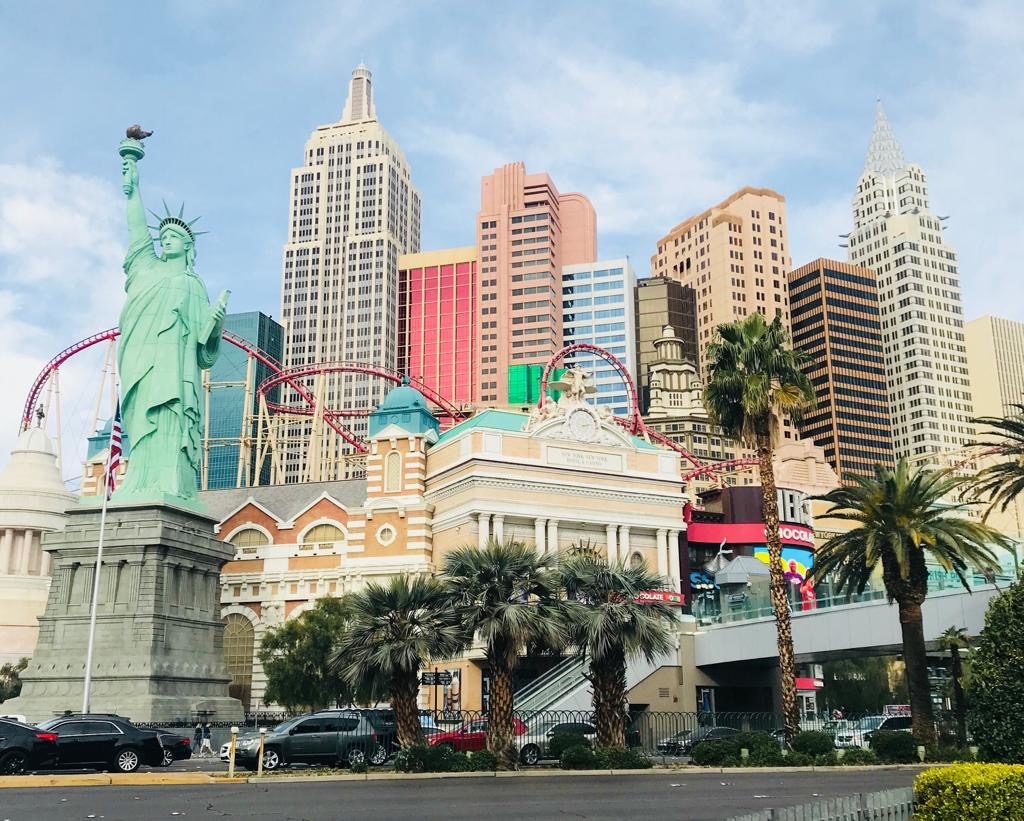 Crystal Shopping Mall 
This is a luxurious Shopping Mall connected to Aria Hotel. It is full of high-end branded outlets including Louis Vuitton, Dolce & Gabbana, Tom Ford, Gucci, Hermes and what not. Even if you are not interested in any luxury shopping, yet you should visit this mall and enjoy the stunning modern architecture of this place. Definitely check out the design of the upscale restaurant – Mastro's Ocean Club located in this mall. Other than this, Cucina by Wolfgang Puck and The Pub are some casual restaurants here.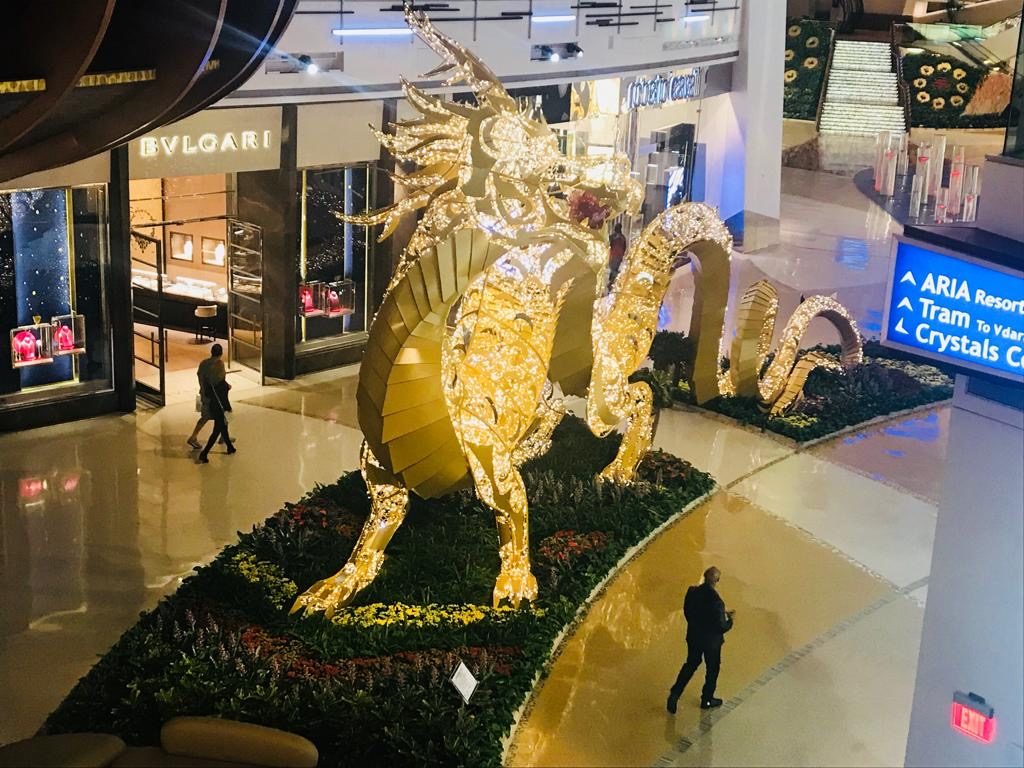 Cosmopolitan Hotel 
It is right next to The Crystal Shopping Mall. You can walk by this hotel and admire the crystal work all over the place. If you are hungry, try the amazing restaurant – Eggslut and another hidden pizza place on its third floor, which doesn't have any hoarding or name but is famously called as the Secret Pizza Place. I bet this will be the best Pizza you have ever tasted.
Planet Hollywood 
Right opposite to The Cosmopolitan is Planet Hollywood. You can give a small visit to this hotel before heading to Paris Hotel, which is next to this hotel. If hungry, try Gordon Ramsay Burger, situated at this hotel only.
Paris Hotel 
This replica of Paris City is definitely a must visit. The most attracting thing is the mini creation of Arc de Triomphe and the 550 Foot high Eiffel Tower standing at the entrance of the hotel. You can even go to the top of Eiffel Tower and enjoy the open panoramic view at just $25/Person. Tickets can easily be purchase from the counter located at this hotel only.
Eiffel Tower Restaurant
You can even try the upscale Eiffel Tower Restaurant on the 11th floor of The Eiffel Tower replica. The Observation Deck on The Eiffel Tower and The Eiffel Tower Restaurant both, provide an amazing view of the Strip as well as the Bellagio's Fountain Show. A walk inside the hotel gives you such a realistic feel as if you are actually walking on the streets of Paris. Gordon Ramsay's famous upscale restaurant Gordon Ramsay Steak is at this hotel only.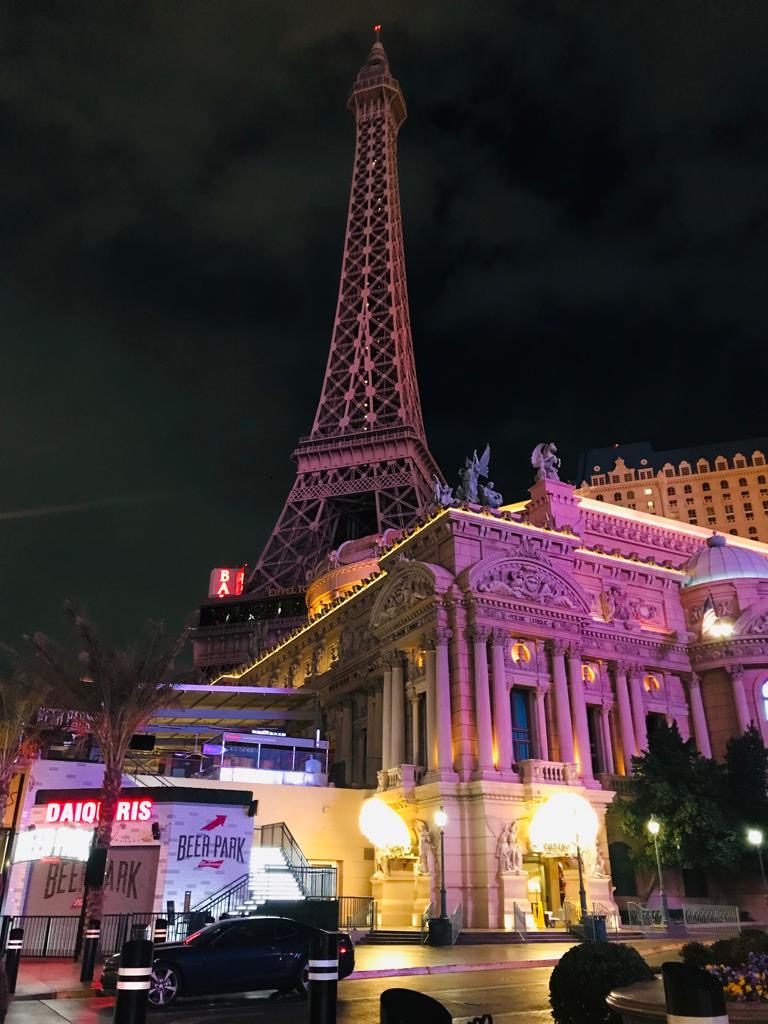 Bellagio Hotel & Caesars Palace Hotel 
The most famous hotel of the Strip – Bellagio is extremely popular for its gorgeous Dancing Fountain Show. The fountain show is roughly for 5 mins and showcased every 15 mins from 7:00 PM till 12:00 midnight. This fountain show is the main highlight of the Strip. It entertains thousands of people passing by the Strip every day. There is also a beautiful Bellagio Conservatory and Botanical Garden inside the hotel, which is again free for all. It is open 24 hours so you can go anytime and visit this. Since this is a free attraction, there is no harm in visiting it for a while.
Right ahead of Bellagio is Caesars Palace Hotel. You can admire the wonderful replica of the Trevi Fountain outside Caesars Palace Hotel. Gordon Ramsay Hell's Kitchen is located at Caesars Palace Hotel.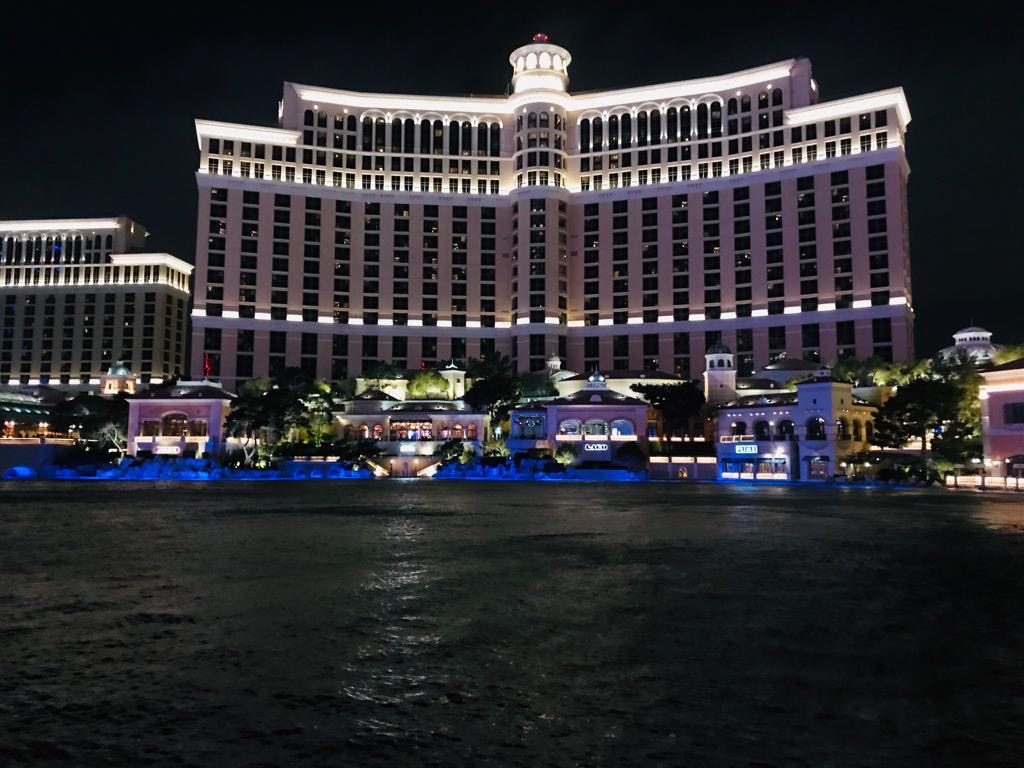 Linq Hotel 
This hotel is very famous for its High Roller (Ferris Wheel) which is 550 Feet in height and provides an amazing 360° view of Las Vegas City. Entry price is $10/Person during the daytime and $20/Person at night. Timings are from 12:00 Noon up to 1:00 AM in the night. This is definitely one of the best ways to enjoy the view of Las Vegas Strip. Tickets can be bought on the spot or from online portals. It is better to buy online in advance and secure a time slot, as it can be crowded especially around evenings.
Mirage Hotel
It is extremely famous for its daily free thrilling Volcano Show at 6:00 PM, 7:00 PM, 8:00 PM, 9:00 PM, 10:00 PM and 11:00 PM. This is a free attraction and the main highlight of Las Vegas Strip. There is also a beautiful lush green Secret Garden, which is the home to a number of White Tigers, Lions and Leopards and also hosts live encounters with Dolphins. Entry price is $25/Person (Adult). Timings are from 10:00 AM till 6:30 PM. This is a different kind of experience in the gambling city of Vegas but if one is not interested in animal watching, one can totally skip it. There is also a free tram running from The Mirage to The Treasure Island.
Venetian
Another major landmark of Las Vegas is the Venetian Hotel. Enjoy the mini creation of Venice here. Most attractive are the huge river canals and gondolas created at the entrance. On entering, one can completely relate with Venice by the paintings, artistic designs etc.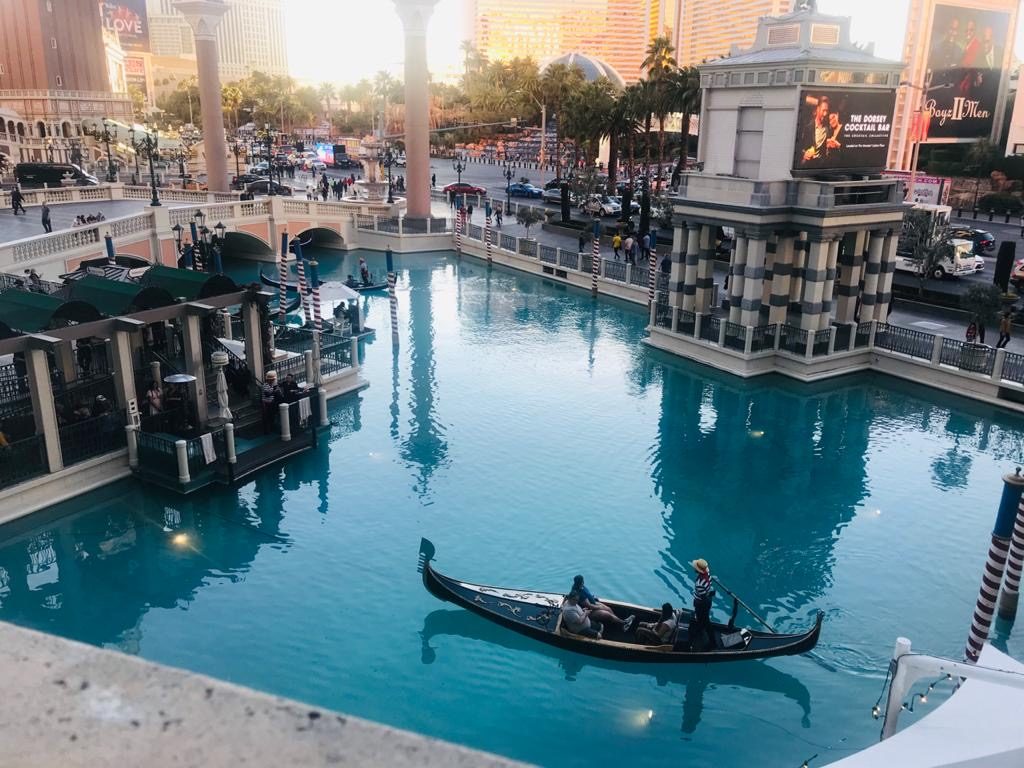 Definitely visit the Grand Canal Shoppe – Shopping Mall at The Venetian/Palazzo Hotel. Witness the canals and bridges created with Gondolas on them and the sky painted on the roof giving you feel of the open skies. You can enjoy free Streetmosphere Show – a musical performance by artists – that takes place daily at Saint Mark's Square – Grand Canal Shoppe. There is also a food court at Grand Canal Shoppe, which is worth exploring. The Venetian also has an upscale Asian cuisine restaurant and nightclub named Tao.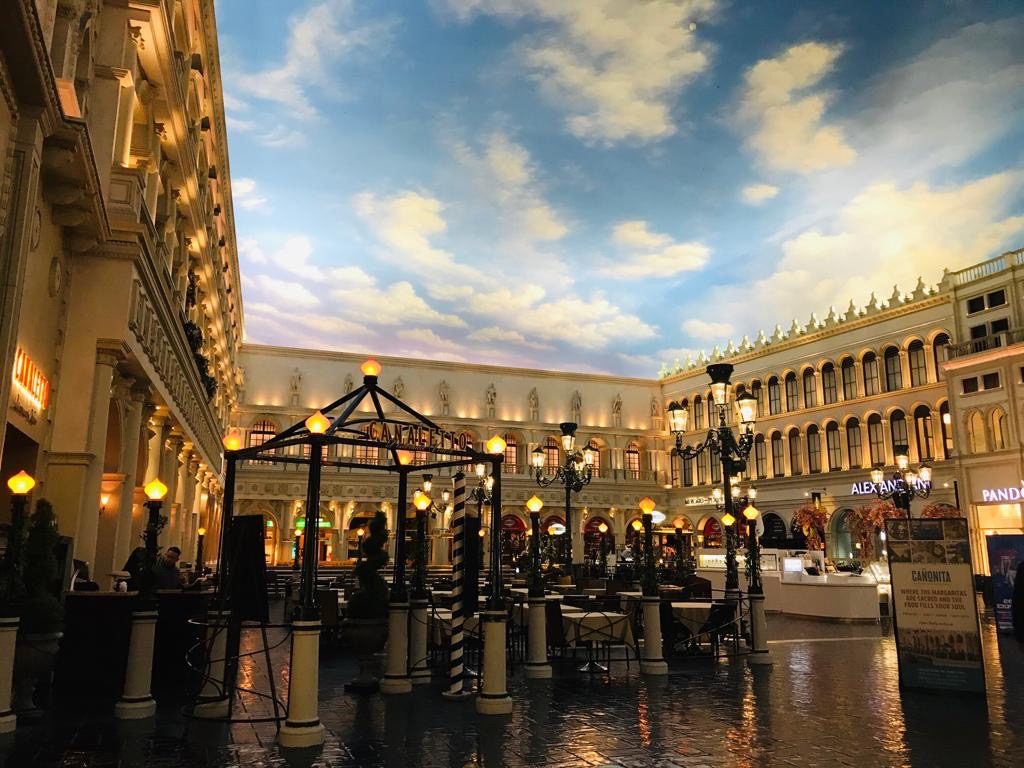 Rest of the time you can either enjoy at the casinos or at the nightclubs.
Following are a few options of some of the
Famous Nightclubs in Las Vegas

worth considering –
Omnia Nightclub – Caesars Palace Hotel
Hakkassan – MGM Grand Hotel
Marquee Night Club – Cosmopolitan Hotel
Drai's Nightclub – Cromwell Hotel
Tao Nightclub – Venetian Hotel
*Please check the opening days, time and cover charges beforehand.
Day 2: Wildlife Habitat at Flamingo Hotel, Fashion Show Mall or Day Pool Party and Fremont Street in the Evening
Flamingo Hotel
For this day, you can start by visiting the Wildlife Habitat located at The Flamingo Hotel, if you are interested in live encounters with beautiful flamingos and other beautiful birds. A visit in the morning will definitely refresh you. It is a free attraction. Timings are from 8:00 AM to 2:00 PM only.
Mirage Hotel's Secret Garden
If you are more interested in watching animals like Dolphins, White Tigers, Lions etc then you can visit Mirage Hotel's Secret Garden. It is not a free attraction and charges are $25/Person. Timings are from 10:00 AM up to 6:30 PM. As The Mirage Hotel is very close to The Flamingo Hotel, both attractions can be easily covered in the morning hours.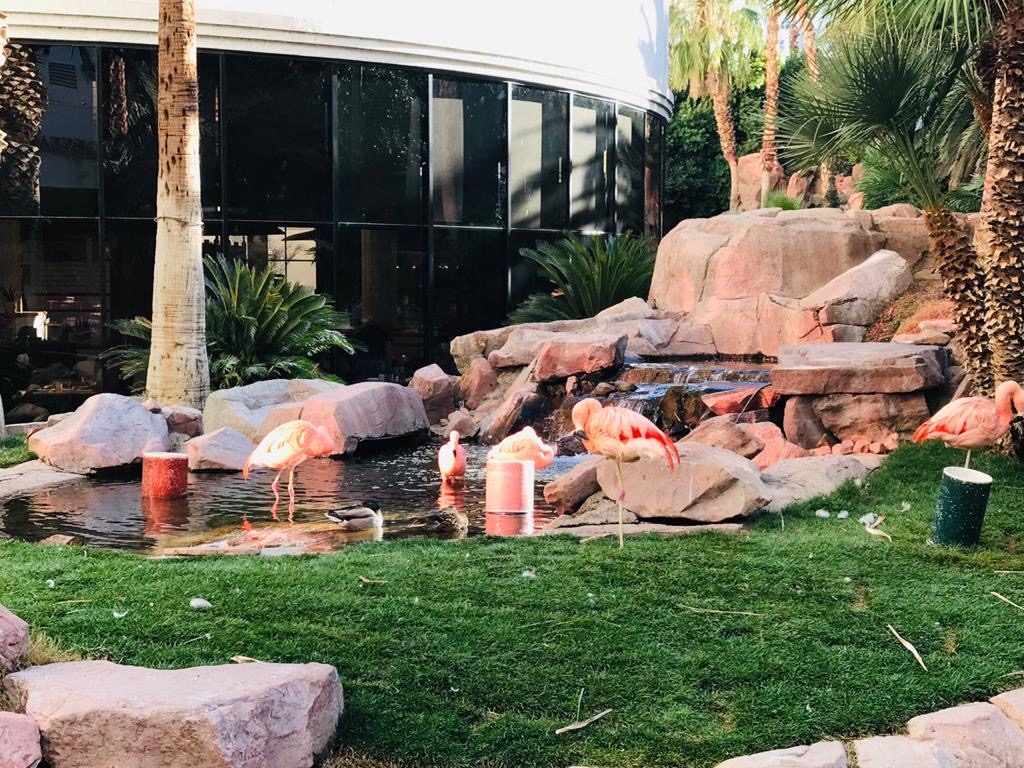 For the afternoon, one has various options like enjoying a day pool party or shopping at The Fashion Show Mall (amazing shopping mall worth visiting) or watching live shows (usually the shows are much cheaper during the day time and a few hotels even offer free shows) or enjoy at the casinos.
Following are some of the
Famous Pool Parties

in Las Vegas –
Wet Republic –  MGM Grand
Encore Beach Club – Wynn Hotel
Drai's Beach Club – Cromwell Hotel
Tao – Venetian Hotel
Marquee Day Club – Cosmopolitan Hotel
Go Pool Day Club – Flamingo Hotel
*Please check the opening days, time and cover charges beforehand.
Following are some of the top
Las Vegas Shows

worth considering –
Cirque Du Soleil – It is a kind of an acrobatic show. It is the most famous show in Las Vegas. It has various types and forms of shows running in the entire Strip like Cirque du Soleil O at The Bellagio's Hotel, Circle du Soleil Mystere at The Treasure Island Hotel, Circle du Soleil The Beatles Love at TheMirage Hotel etc.
David Copperfield at MGM Grand – Interested in Magic shows? I am sure this should be on the top of the list. Other options for magic shows are Paranormal at Bally's, Piff the Magic Dragon – Flamingo Hotel.
La Reve at Wynn Hotel – Another stunning acrobatic show with stage performances as well as underwater performances. This is an alternate choice for Circle du Soleil.
Carrot Top at Luxor Hotel – If interested in some laughter and fun, this is the perfect choice.
*Please check the opening days, time and ticket charges beforehand. Mostly all top shows in Las Vegas are scheduled at the evening only like 7 PM or 9:30 PM. Tickets can be purchased at the spot or from various tour shops at Las Vegas Strip or online from various portals like www.starhub.com, www.lasvegasdirect.com, www.ticketmaster.com etc.
Stratosphere Hotel/Fremont Street
For the evening, go to Stratosphere, if you want to enjoy the 1149 Feet Stat Tower, which gives amazing view of Las Vegas City from its Observation Deck.
If not, then go directly to Fremont Street, situated at Downtown Las Vegas. It is often called as Classic Old Las Vegas. Everything over here is fun – the light show at the ceiling, live music performances on the street, classic casinos and Slotzilla Zip Line. It is better to end this day a bit early, as the next day is a long day trip.
Day 3: Day Trip from Las Vegas – Grand Canyon or Antelope Canyon/Horseshoe Bend
Away from the lights and glamour of 5-star hotels are some of the natural excursions available from Las Vegas City. The most common, popular and suggested day trip is Grand Canyon or Antelope Canyon/Horseshoe Bend for first timers visiting Vegas.
1. GRAND CANYON DAY TRIP 
The most popular place to visit for a day tour from Las Vegas is The Grand Canyon. Grand Canyon lies in the State of Arizona and share borders with Utah and Nevada. It is spread across an area of 4926 sq. kms.
Grand Canyon National Park is divided into two Rims – North Rim and South Rim. Both rims take 4.5 to 5 hours to reach from Las Vegas. It is not possible to cover both the South and North Rim on the same day, even though it appears to be close by on the maps. It will take 4-5 hours drive or 1-1.5 days by hiking to reach from one rim to the other. Probably, if a bridge is constructed in future between the North Rim and the South Rim, it might be easier and quicker to cover both in a day.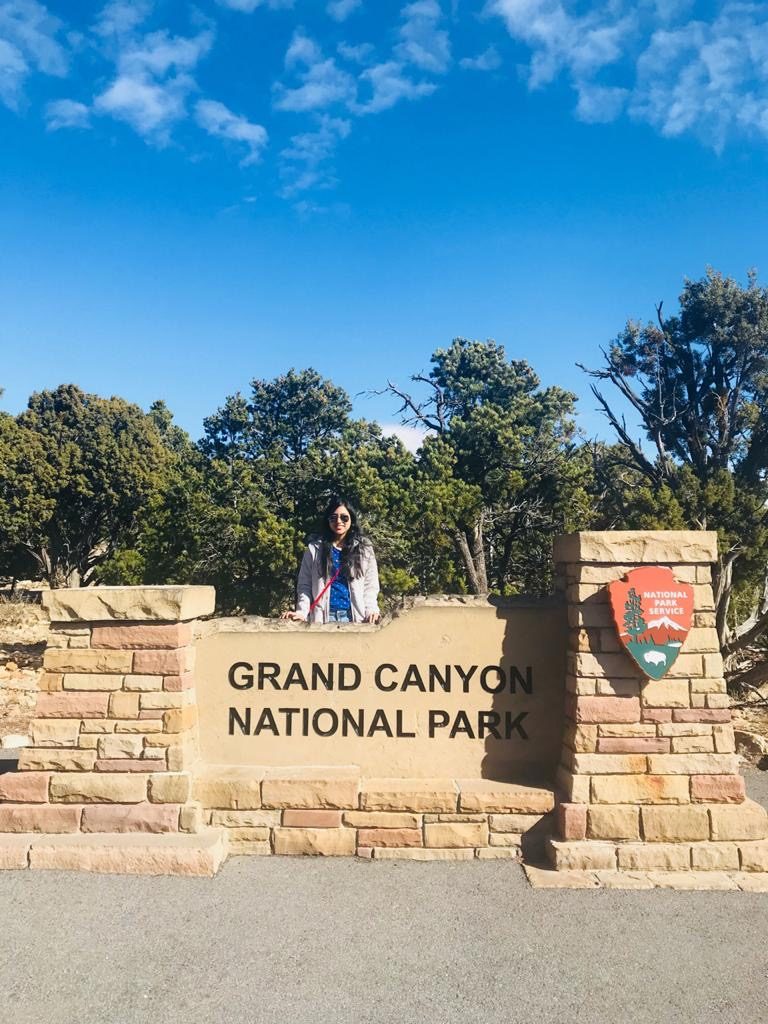 Difference between North Rim & South Rim
North Rim is quite smaller in comparison to the South Rim.
North Rim has only 3 viewing points whereas South Rim has so many. River Colorado is visible from a lot of points on the South Rim but from the North Rim it is visible only from a single point and the view is quite unsatisfactory.
North Rim is 8000 feet whereas South Rim is 7000 feet above sea level. North Rim is colder (approx. more than 10°) than South Rim. As North Rim is colder, it experiences heavy snowfall during winters and is therefore closed from mid October up till mid May where as South Rim is open throughout the year.
As North Rim is at a higher altitude than South Rim, it demands heavy trekking and hence not suitable for people with old age, kids or people with breathing or knee problems.
View of the canyon is definitely more beautiful from the North Rim as compared to the South Rim.
Grand Canyon West Tour
There is another tour – The Grand Canyon West Tour, which is not apart of The Grand Canyon National Park and comes under the Hualapai Indian Reservation. It is just a 2.5 to 3 hours drive from Las Vegas. Even though it is not as big as the South Rim, it is very popular because of the amazingly beautiful 10 feet wide, 70 feet extended horseshoe shaped glass bridge created about 4000 feet above the floor of the canyons called the Glass Skywalk, which is absolutely a thrilling experience. Walking on the glass floor gives an adrenaline rush, which is definitely worth trying. Always buy tickets of The Grand Canyon West Tour including Glass Skywalk with stop over at Hoover Dam.
How to Book Grand Canyon Tour
To sum it all, there are three different tours available to visit The Grand Canyon – Grand Canyon North Rim, Grand Canyon South Rim and Grand Canyon West Tour (including Glass Skywalk with stopover at Hoover Dam). Tickets for bus tours and helicopter tours are readily available online on www.groupon.com, www.tours4fun.com, www.papillon.com etc. Tickets can also be booked from the Hotel Travel Desk or various small retailers available in Las Vegas Strip. If possible, book tickets 2 to 3 days in advance because sometimes there is a lot of rush and you might not get a booking for the next day.
Price of Grand Canyon Tour
Prices for the Grand Canyon bus tours ranges from $78 – $140/Person (Adult). Helicopter tours usually cost $250 to $350/Person(Adult). You can even hire a car and drive it yourself up to the Grand Canyon. Cost wise, self-drive is the most economical option.
2. ANTELOPE AND HORSESHOE BEND COMBINED TOUR FROM LAS VEGAS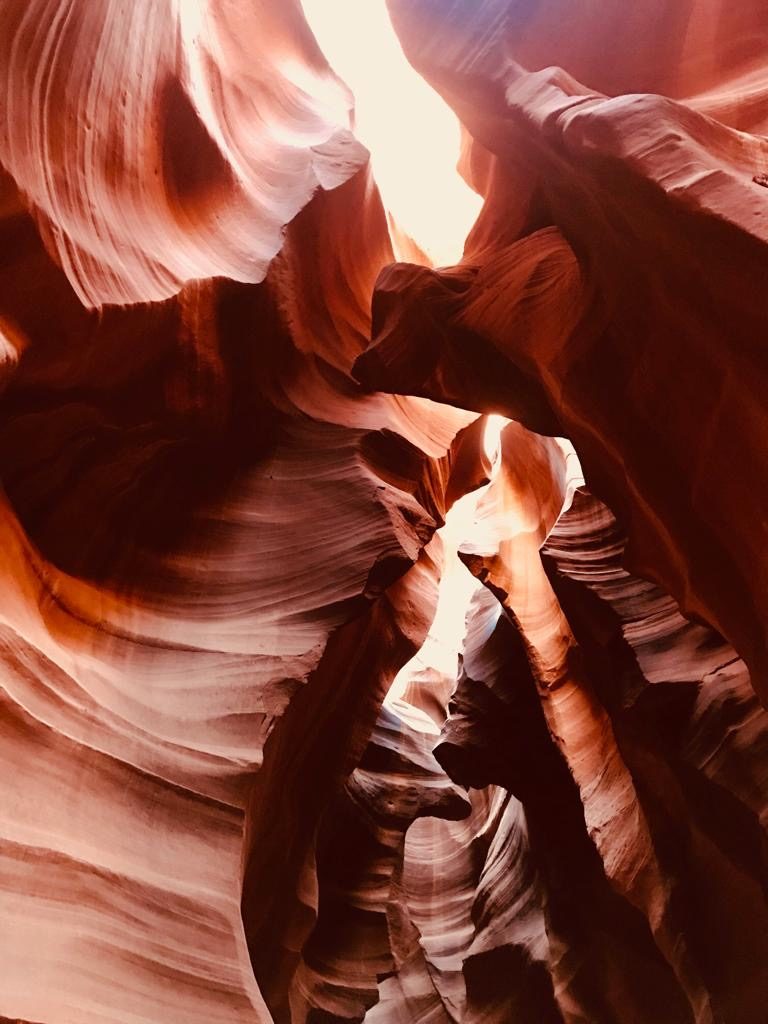 Everyone must have seen Antelope Canyon and Horseshoe Bend images – as desktop wallpapers, on Instagram & Facebook's famous travel pages or on a popular travel bloggers website. Yes! It is possible to visit both these places from Las Vegas as a day tour. It takes roughly 5 hours to reach Antelope Canyon from Las Vegas. Horseshoe Bend is situated close by (just 10 miles) to Antelope Canyon, hence, their visit is always combined together.
About Antelope Canyon
Antelope Canyon is extremely beautiful wave like creation carved on rocks due to the flooding of the area over years, situated in State Arizona. Such a landscape is extremely unique and worth visiting. There are two sections of Antelope Canyon – Lower Antelope Canyon and Upper Antelope Canyon.
Difference between Upper and Lower Antelope
Both are generally the same but Upper Antelope is more popular because of the photography tour offered here and also because sunbeam passing through rocks can be visible from Upper Antelope Canyon and not from the Lower Antelope Canyons. People get better clicks at Upper Antelope Canyon but it is very crowded and it is slightly difficult to walk inside as pathways are narrower compared to Lower Antelope Canyon.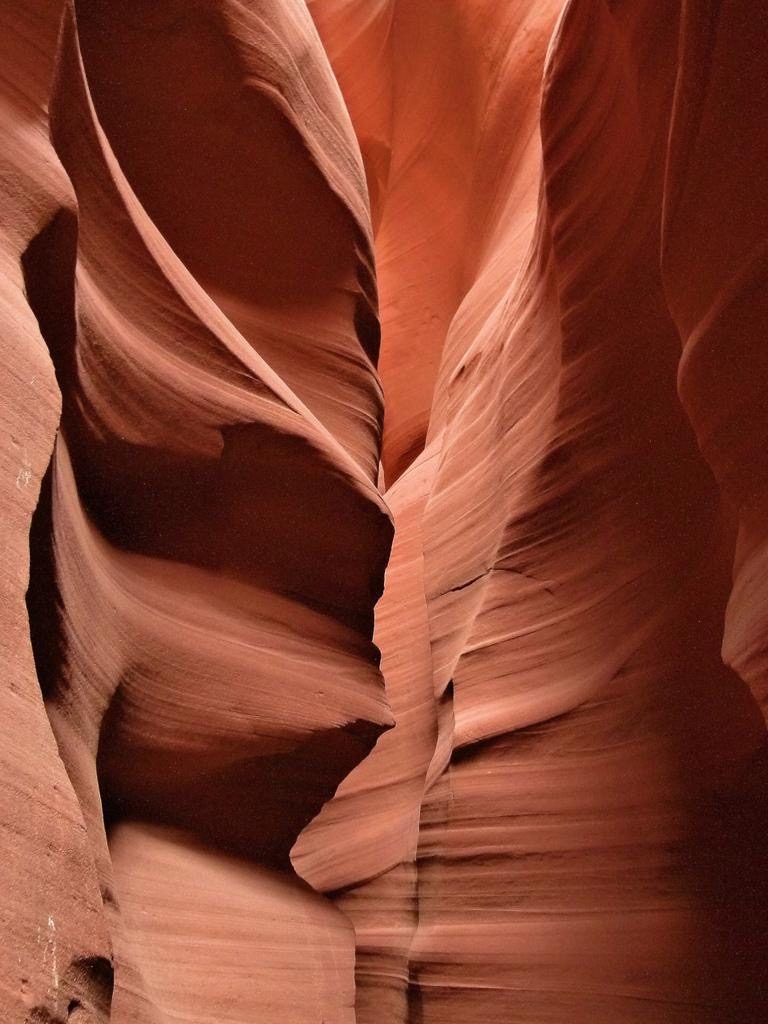 About Horseshoe Bend
Horseshoe Bend is a beautiful rock creation – shaped like a horseshoe in the middle of dark greenish Colorado River, giving such a picturesque view worth admiring for hours. Surrounded by Canyons all around, this place is one of its kinds.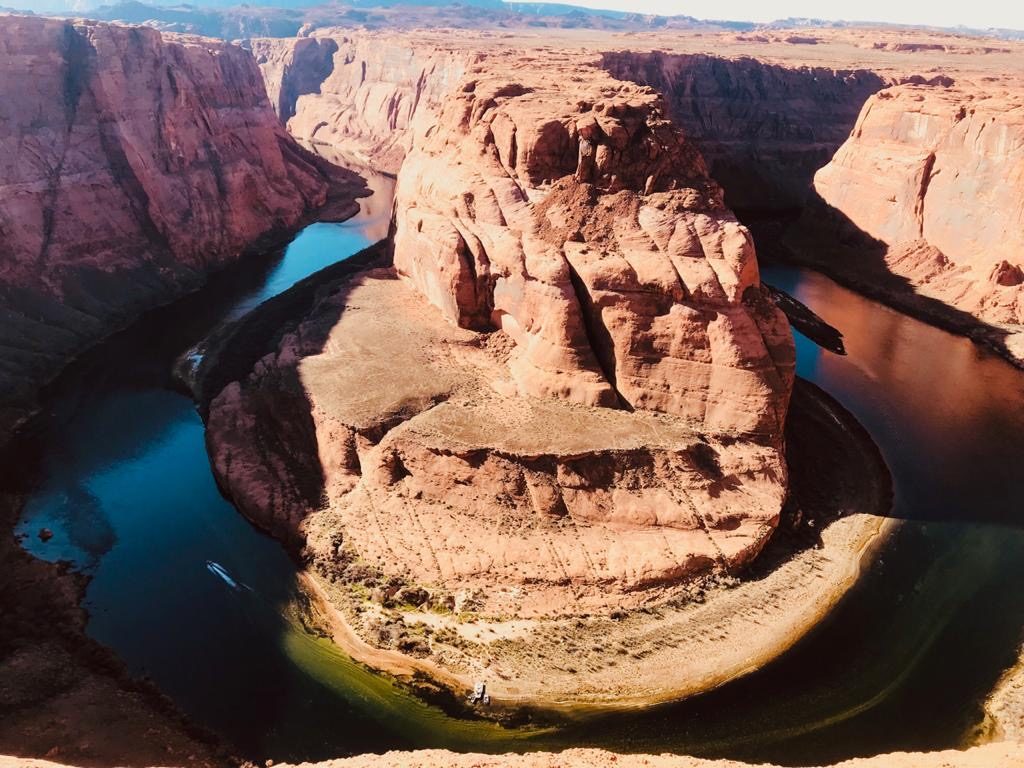 How to Book Antelope Canyon & Horseshoe Bend Tour
There are not many tour companies offering Antelope and Horseshoe Bend tour from Las Vegas. I got this tour booked (Bus Tour) from www.tours4fun.com, which was way cheaper than other online portals. The deal was for just $75/Person, including pick up and drop from Las Vegas Strip, snacks, guide etc. Always book tour few days in advance as there are limited tours available for Antelope Canyon and Horseshoe Bend.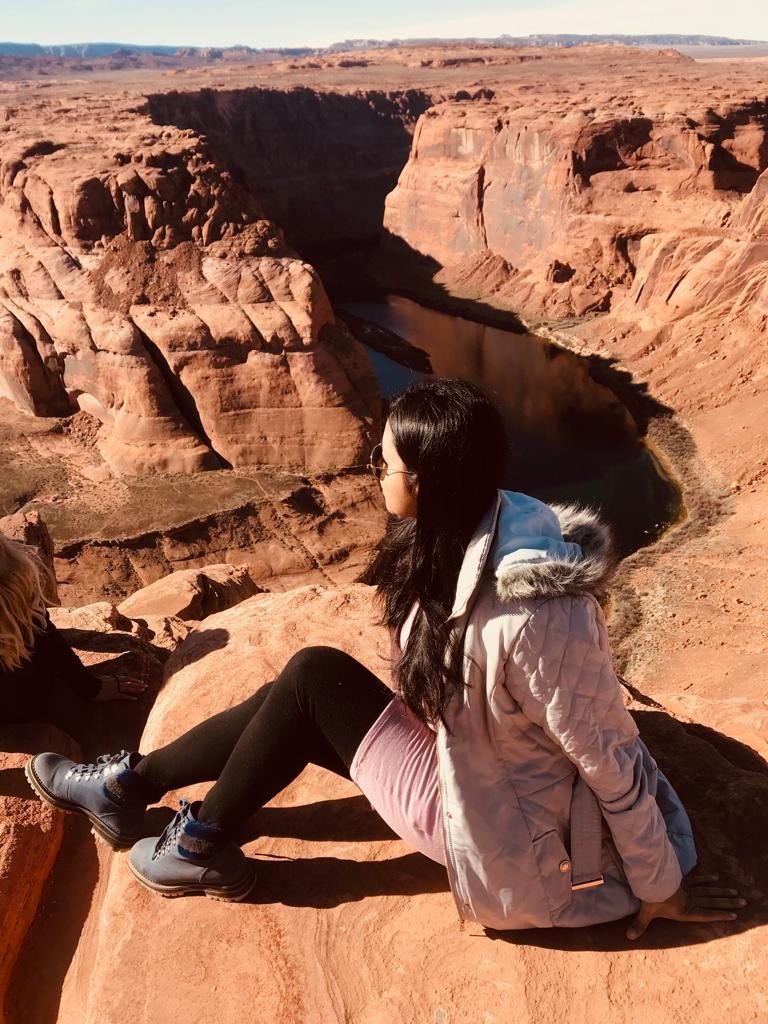 Click here to know more day trips that can be planned from Las Vegas
If you find this blog 'Las Vegas Itinerary 3 Days' interesting, please share the link of the website/blog with your family and friends. If you have any comments or suggestions – please do write in the comments section below.
Need regular dose of travel information, planning and update on new blogs, please like my page on Facebook.
Need regular dose of travel shots – follow my page on Instagram