Looking forward to a trip to Koh Samui? Here, I am sharing with you all, the perfect Koh Samui 4 days itinerary, which will guide you about the things to do in Koh Samui, places to visit in Koh Samui and where to stay in Koh Samui etc. The blog tells you about the best way to experience Koh Samui in 4 days.
Koh Samui is Thailand's 2nd largest Island after Phuket. This Island is undoubtedly one of the most scenic Islands I have ever visited. This place offers the best holiday experience with lush greenery, beach life, mountains, waterfall, serene temples, exotic spas, fine dinning options and many more. For Indians, it is the quickest, easiest, economical and fun filled get away for a 3-4 days break. Below is the itinerary that I followed and trust me it was quite fun.
DURATION OF THE TRIP
Although Koh Samui can be completed in 3 days but I made it for 4 days to make it a more relaxed Beach Holiday.
KOH SAMUI 4 DAYS ITINERARY TRIP COST
Flight (round trip from India): 250 – 400 US$ / Person
Internal Flight Transfers: 170 – 260 US$ / Person
Accommodation: 75 – 130 US$ / Day
Food & Transport: 145 – 215 US$ / Person
Miscellaneous: 75 – 115 US$ / Person
VISA on Arrival: 60 – 70 US$ / Person (Free for Indians)
Activity like Island Tour: 60 – 65 US$ / Person
Approx Total: 900 – 1385 US$ / Person for 3-4 days
BEST TIME TO VISIT KOH SAMUI
December to April are the best months to visit Koh Samui. These months are ideal for beach activities. Temperature around this time is roughly 25 – 29°C.
HOW TO REACH KOH SAMUI
To reach Koh Samui, one has to first reach Bangkok. Thailand's capital city Bangkok's Suvaranabhumi Airport, has very good connections with all major cities around the world.
Bangkok to Koh Samui Direct
After reaching Bangkok, the best and the most convenient way, is to book direct flight to Koh Samui Islands. Flying time is just for 1-1.15 hours. But, there is a catch. Flight rates for Koh Samui from Bangkok is very expensive. Round trip costs approximately US$ 170-270 (sometimes even more, during the peak season or if booking close to travel dates).
This is because Koh Samui Airport is a private airport owned by Bangkok Airways. Majority of the flights to Koh Samui are of Bangkok Airways with just 1 or 2 flights of Thai Airways. Flight rates are always high. Try to book tickets 2-3 months in advance to get a good deal.
Bangkok to Koh Samui via Surat Thani
Another option is to take a flight from Bangkok to Surat Thani, which is almost half the price from the above mentioned option.
From Surat Thani Airport, one has to reach Donsak Pier, which is 90 kms away (roughly 1.5-2 hours road journey). People usually take the bus, readily available at Surat Thani Airport for roughly 250-300 THB (US $6.5-8) per person.
After reaching the ferry port  at Donsak Pier, catch the ferry to Koh Samui Islands, which takes another 45-60 mins and cost roughly 350-500 THB (US $9.5-13.5). Ferry tickets can be pre-purchased from Surat Thani Airport as well.
This entire process is definitely cheaper but involves a lot of transfers and is much time consuming. Loading and unloading of luggage at various transfer spots can be a big hassle.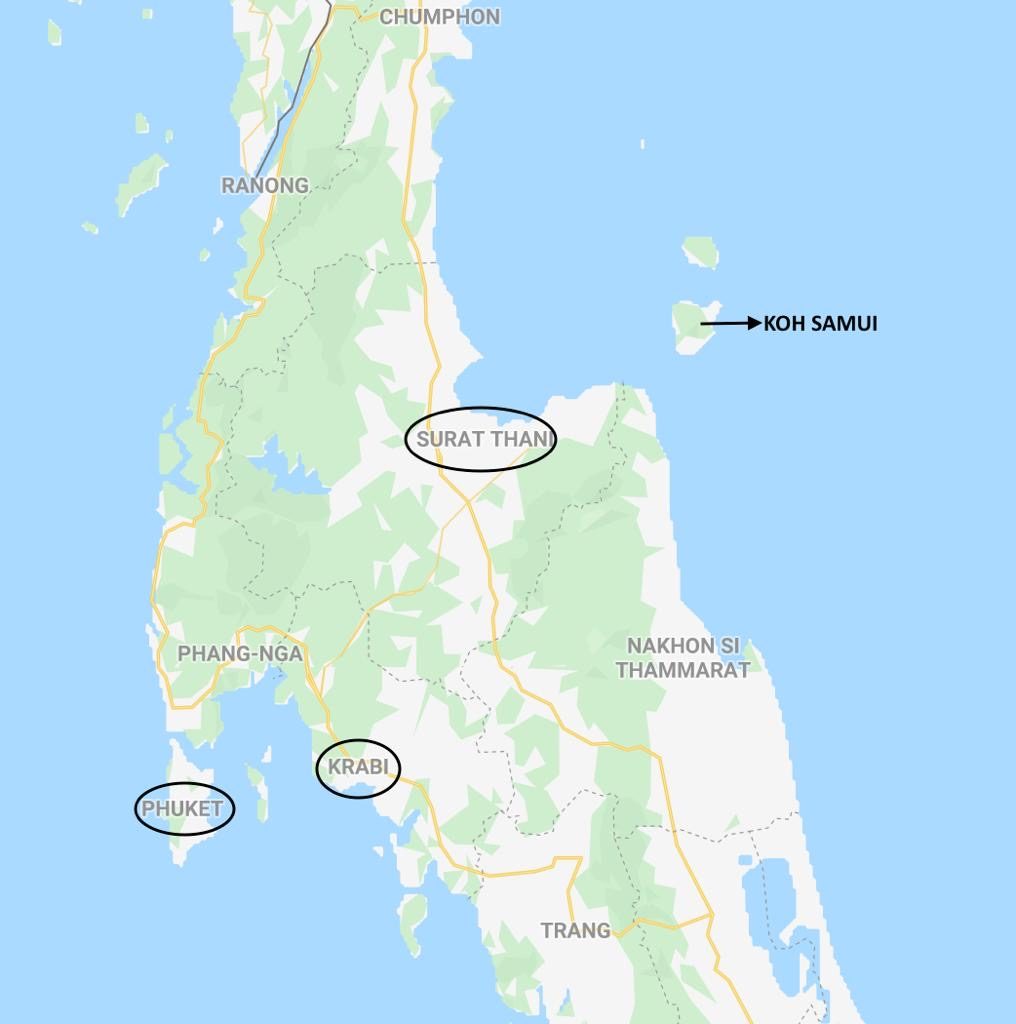 HOW TO TRAVEL WITHIN KOH SAMUI 
For going around from one place to another one will find Songthaew (Two Way Taxi) all over Koh Samui. It is a roof-covered loader having two benches inside, having a capacity to carry 10-12 people together.
Another option is using Taxi's but this is an expensive option.
Best is to hire a good 8-9 hours car along with chauffeur from the various tour shops at Chaweng Beach. Negotiate well to get good deal. With a full day car one can stop at multiple location easily.
If you are a good driver yourself and have International Driving license you can rent a car and drive it yourself.  This is the cheapest way to travel.  Further even Bikes and Scooties are also available on rent, which is the most economic way to travel around.
WHERE TO STAY IN KOH SAMUI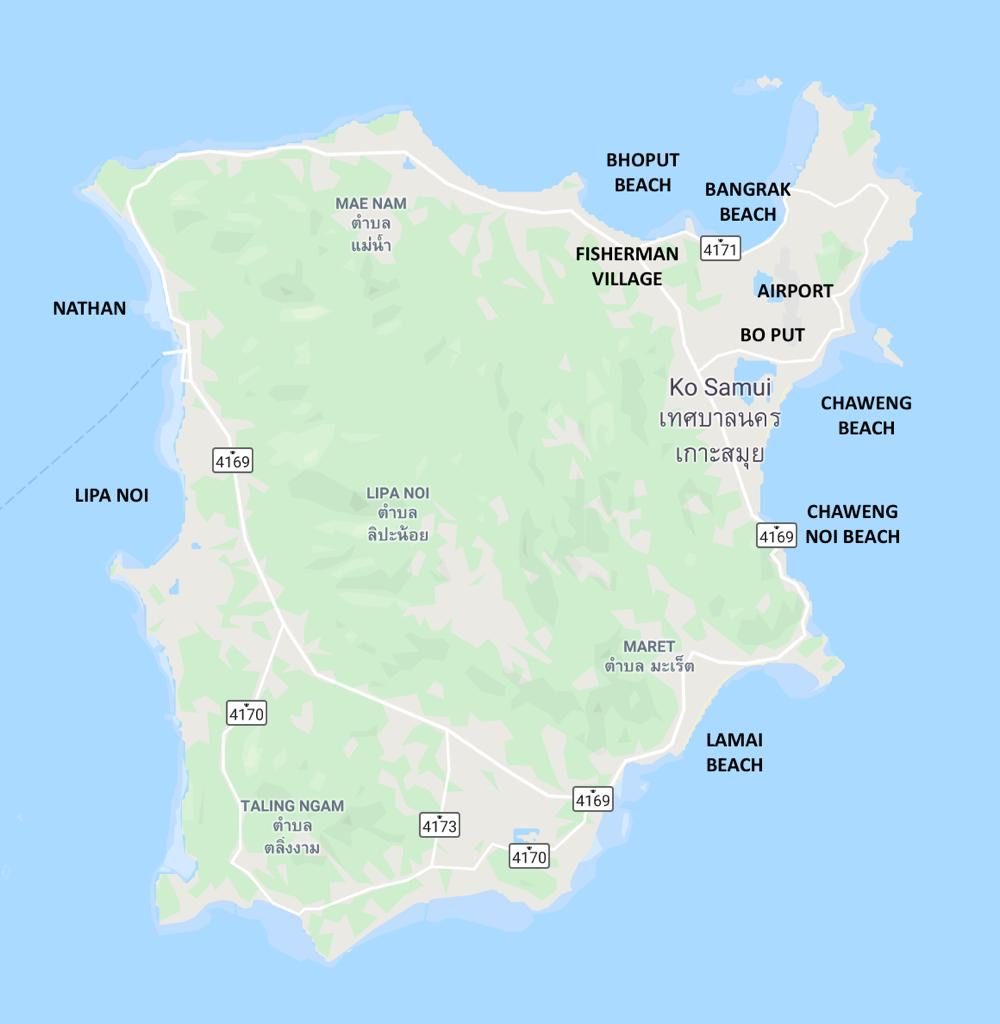 Chaweng Beach is the best area to stay in Koh Samui. Stay right at walking distance from the amazingly beautiful Chaweng beach in order to enjoy most of your trip. Chaweng Street is always hustling and buzzing with lots of bars, dinning options, tour shops, souvenir shops, boutiques, spa parlours etc. One can enjoy the evening strolling in this market area. There are numerous hotels, resorts and villas to choose for your stay. Below are some of the good hotels at Chaweng, which are just at a walking distance from the beach.
TIPS FOR KOH SAMUI TRIP
Get Thailand VISA applied from home country to avoid the huge queue of VISA ON ARRIVAL process, if possible. For Indian Thailand is now VISA FREE.
Carry Thailand currency – THAI BHAT from hometown or else carry USD as exchange rate against USD is always better compared to any other currency.
Plan your visit around moon party at Koh Tao – an Island close to Koh Samui. Easily reachable by ferry. Koh Samui is mainly famous for the Full Moon Party which takes place every time on a full moon night. Sadly, we missed this one.
You can easily club this with visit to Bangkok or Phuket or Krabi and make it a 6-7 days trip.
MUST VISIT ATTRACTIONS IN KOH SAMUI
Ang Thong Marine National Park Day Tour via Ferry.
Koh Tao & Koh Nangyuan Day Tour via Ferry.
Lad Koh View Point/Lamai View Point for some fun pictures.
Must visit Lounge/Bar: Woo Bar – W Retreat Hotel & Ark Bar – Chaweng Beach.
 KOH SAMUI 4 DAYS ITINERARY 
1st Day: Reaching Koh Samui, enjoying Sunset at Chaweng Beach and Ark Bar
2nd Day: Lat Ko viewpoint, Jungle Viewpoint, Lamai viewpoint, Na Mueang Waterfall 1 and 2, Wat Khunaram, sunset at Hin Ta Hin Yai Rocks, Dinner at The Cliff Bar and Grill
3rd Day: Ang Thong Marine National Park – Island Tour
4th Day: Big Buddha, Wat Plai Laem, Fisherman village and Sunset at W Retreat Woo Bar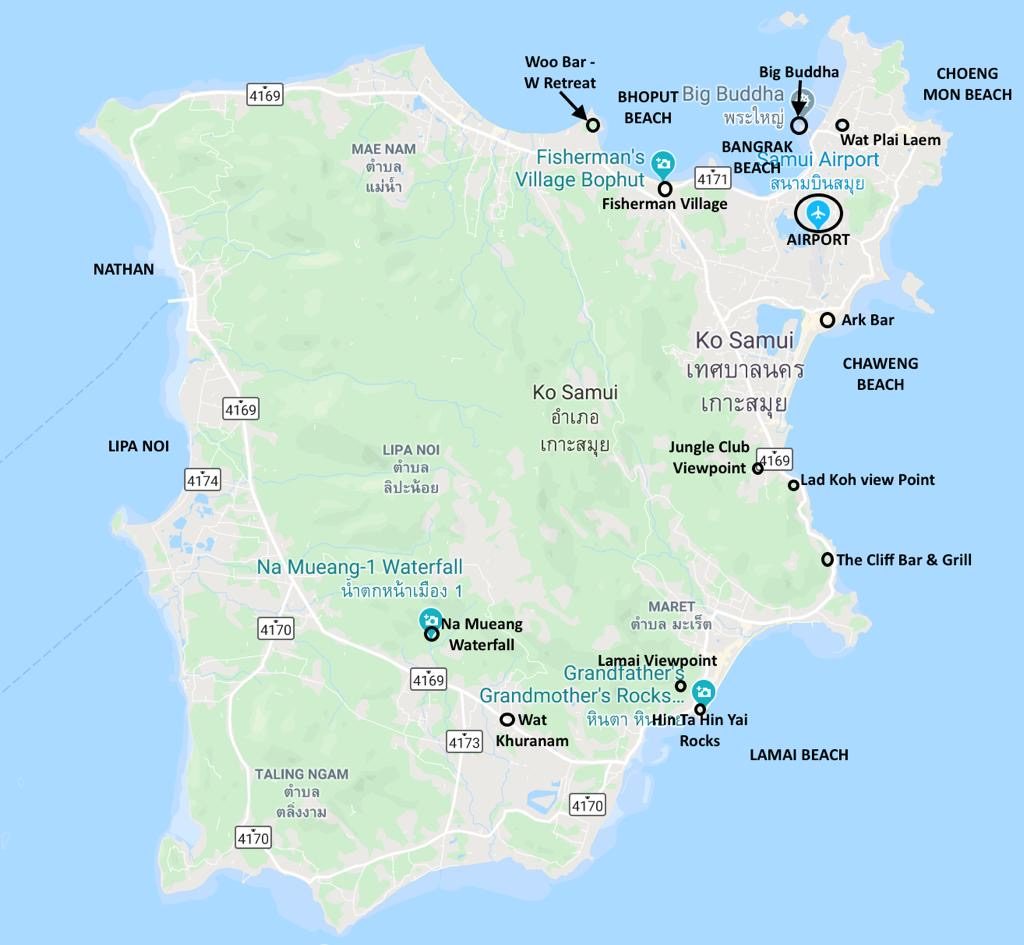 KOH SAMUI 4 DAYS ITINERARY IN DETAIL 
DAY 1: Reaching Koh Samui, Chaweng Beach Sunset and Ark Bar
We took a direct flight from India to reach Bangkok. Thailand Visa is now free for Indian but others have to go through VISA on arrival procedure. From Bangkok we had direct flight for Koh Samui.
Koh Samui Airport
Koh Samui Airport is by far one of the most beautiful airports I have ever visited. I would rather call it a resort than an airport with gardens, fountains, huts and lush greenery. Most of the hotels provide airport pickup in Koh Samui, but if not, one can get the transfer at around 2000 THB depending on the distance of your hotel.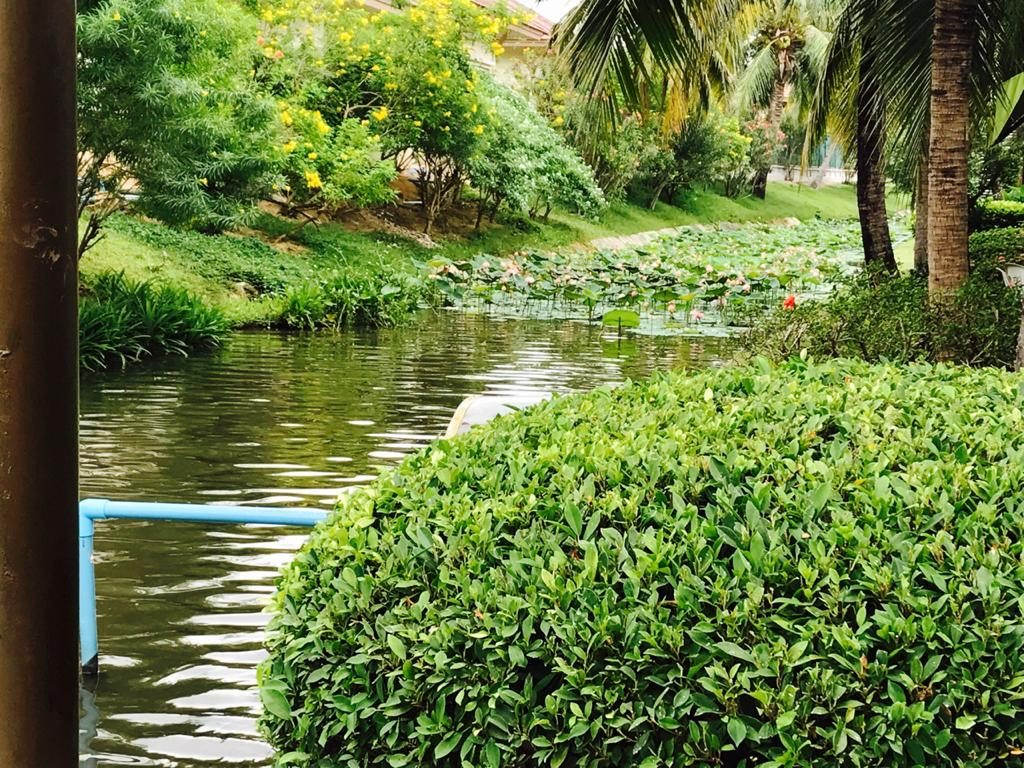 After reaching Koh Samui we booked a taxi and reached our hotel. It took us 15 mins to reach the hotel. We checked into our hotel and immediately went out for lunch nearby at Noori India – an Indian restaurant which was just at a walking distance from our hotel. Restaurant was good and totally worth going if want to have Indian Food.
Chaweng Beach
Post lunch we relaxed for 3-4 hours, as we were very tired due to travelling the whole of last night to reach to this island from India. In the evening, we went to Chaweng Beach, which was again at a walking distance from our hotel.  We really enjoyed our time getting wet on the beach.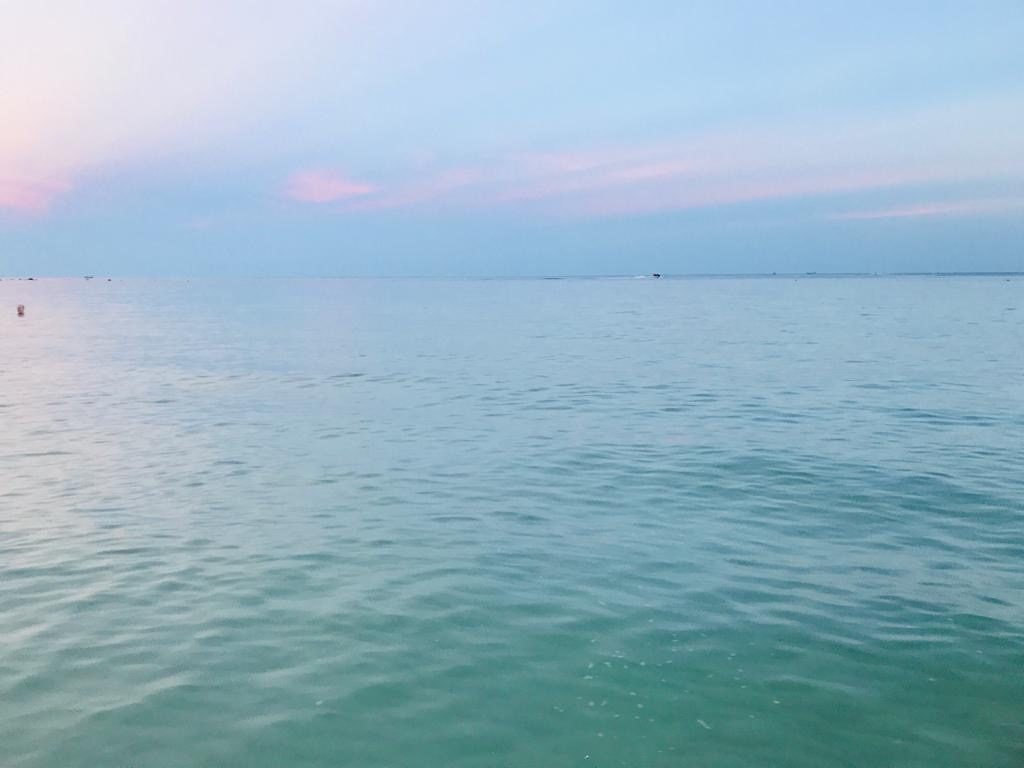 Dinner at Chaweng Beach
After this, we went back to the hotel, took a nice bath and got ready for dinner. For dinner we went to a very famous Thai Food restaurant – Khaw Glong, which was also at a 10 mins walking distance from our hotel. This place serves authentic Thai food, which is worth a try. We were very tired, so we went for a foot massage from one of the massage parlours in Chaweng Market. We then got a cab booked for the next day from one of the tour shops at Chaweng Market.
Ark Bar – chewing Beach
Later we went to Ark Bar – a very famous night bar of Koh Samui. This place is very famous for its fire show which takes place every night. After a lot of dancing and drinking we came back to our hotel and slept well.
12:00 PM: Reaching Koh Samui
12:30 PM: Reaching Hotel Buri Rasa Village
01:00 PM: Lunch at Noori India
05:00 PM: Chaweng Beach
08:00 PM: Dinner at Khaw Glong – Thai Restaurant
09:30 PM: Foot Massage
11:00 PM: Ark Bar
DAY 2: Lad Koh viewpoint, Jungle Club view point, Lamai view point, Na Muang Waterfall 1 & 2, Hin Ta Hin Yai Rocks and Wat Khuranam
We got a full day car with driver booked for this day. Our driver reached the hotel on time and we started with our 2ndday trip. We started off with some amazing viewpoints, which are very famous in Koh Samui for their panoramic view.
Lad Koh Viewpoint
First we went to Lad Koh viewpoint, which was just a 10-12 minutes drive from our hotel. It is on the main road from Chaweng to Lamai. View from this point was amazing. This place is an amazing spot for photography.
Jungle Club
We then went to Jungle Club. This is a resort on a hill. It is very famous for the view it offers. All those who are not staying at this resort can still enjoy this place by dinning in their restaurant – exactly like us. The drive up to this place is definitely scary, but after reaching, it is difficult to leave this place. On reaching, we sat on comfortable chairs overlooking the bay while enjoying some good curry, pasta and sipping coconut water.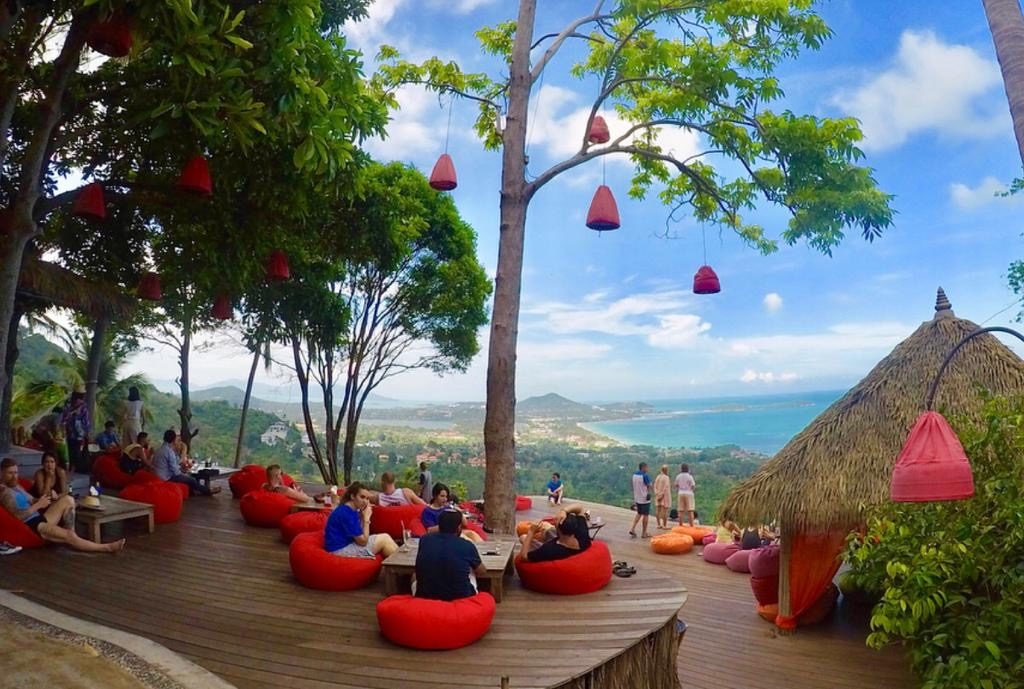 Lamai Viewpoint
After relaxing here, we then went to Lamai viewpoint. It took us 20-25 mins to reach there. Lamai viewpoint will take around 300 steps to reach. From there, you will get cable car. Total 200 TBH for return trip from cable. View is definitely worth the struggle of reaching there but it is not suitable for people with knee problems or age factor or kids. You can also enjoy zip lining here at just 1000 TBH/Person. There is also a restaurant up there for snacking.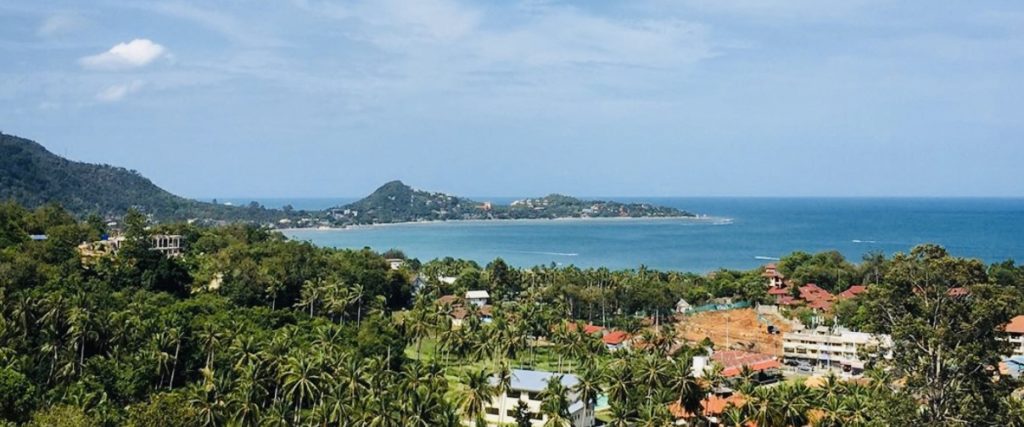 Na Muang Waterfall
After spending good amount of time here we went to our next destination Na Mueang waterfall 1 and 2. It took us 20 mins to reach there. There is a nominal entry fee for individuals and for cars to reach the waterfall and it is collected at the entry point. It is an adventure place for rock climbing, with lush greenery and a beautiful waterfall. Do visit the place with an extra pair of clothes and swimming gear, as I am sure you would like to take a plunge in the water. Elephant ride is also available. This place will consume you for at least 3 to 4 hours.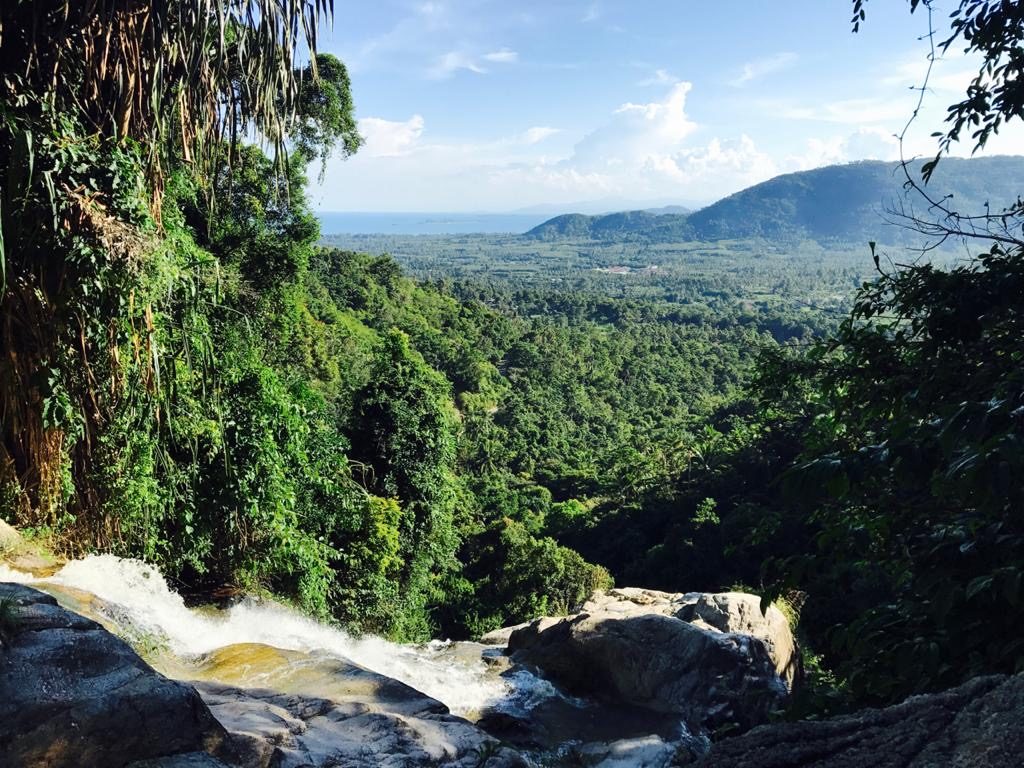 Very close to Na Muang Waterfall, is a beautiful, quiet and interesting garden full of statues of Lord Buddha, called the  Secret Buddha. It is just 1.3 kms (10 mins drive) from Na Muang Waterfall and hence can be easily clubbed with this visit. At it is located on the top of the hill, the road ride is quite bumpy. We had to skip our visit to this hidden gem as the road at that time was in a very bad condition. Entry Price for Secret Buddha is 80 Baht/Person.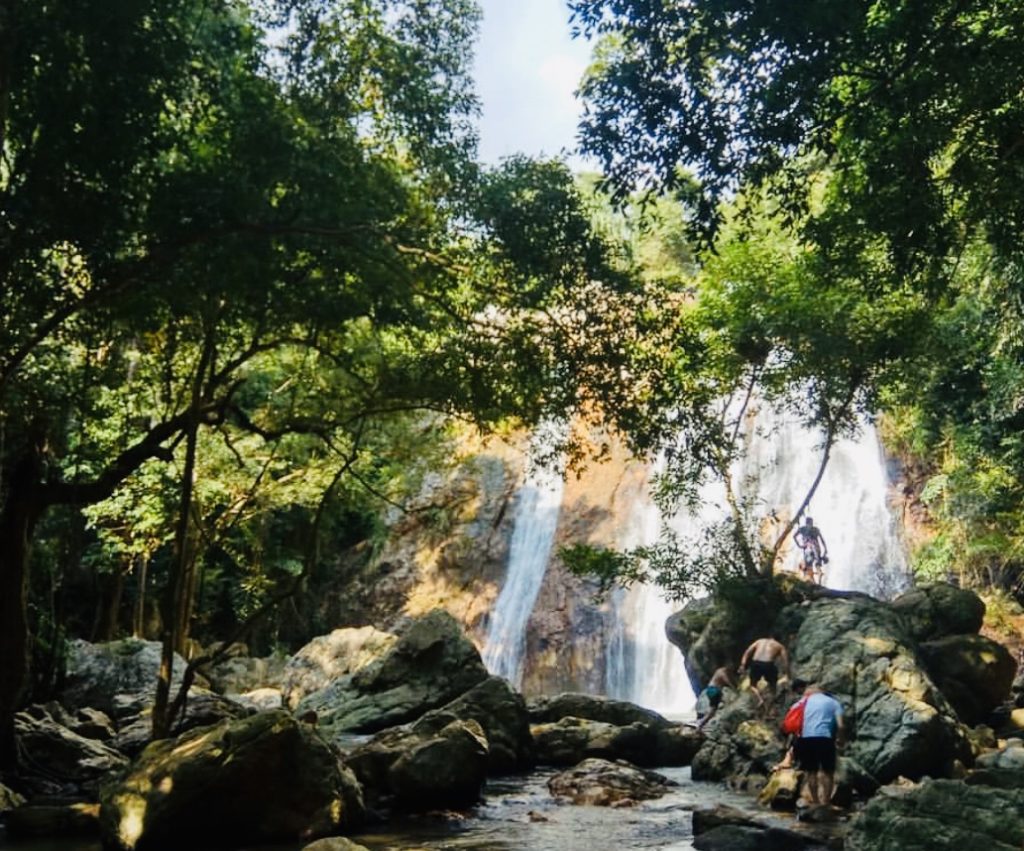 Wat Khuranam
After the fun filled experience at the waterfalls we went to visit Wat Khunaram (Monk Mummy), which was in just 10 min drive from waterfall. This remarkable temple was home to a monk who died while meditating and his body is still preserved in a glass. The body is worshipped and shows the greatness of the Thai culture. If you have limited time you can skip this place.
Hin Ta Hin Yai Rocks
After visiting Wat Khanaram, we went to visit Hin Ta Hin Yai Rocks, popularly known as the Grandfather and Grandmother Rocks, located at Lamai Beach. It took us 10 mins to reach here from Wat Khuranam.
There is very interesting story that goes behind these rocks. It is said that there was an old couple that were crossing the beach with their son to get to some point, but encountered a storm and died. They then got converted into rocks. The shape of the rocks resembles the image of a man and a women and it looks beautiful during sunset. You can also cover this place right after Lamai viewpoint but we did not because it was sunny that time.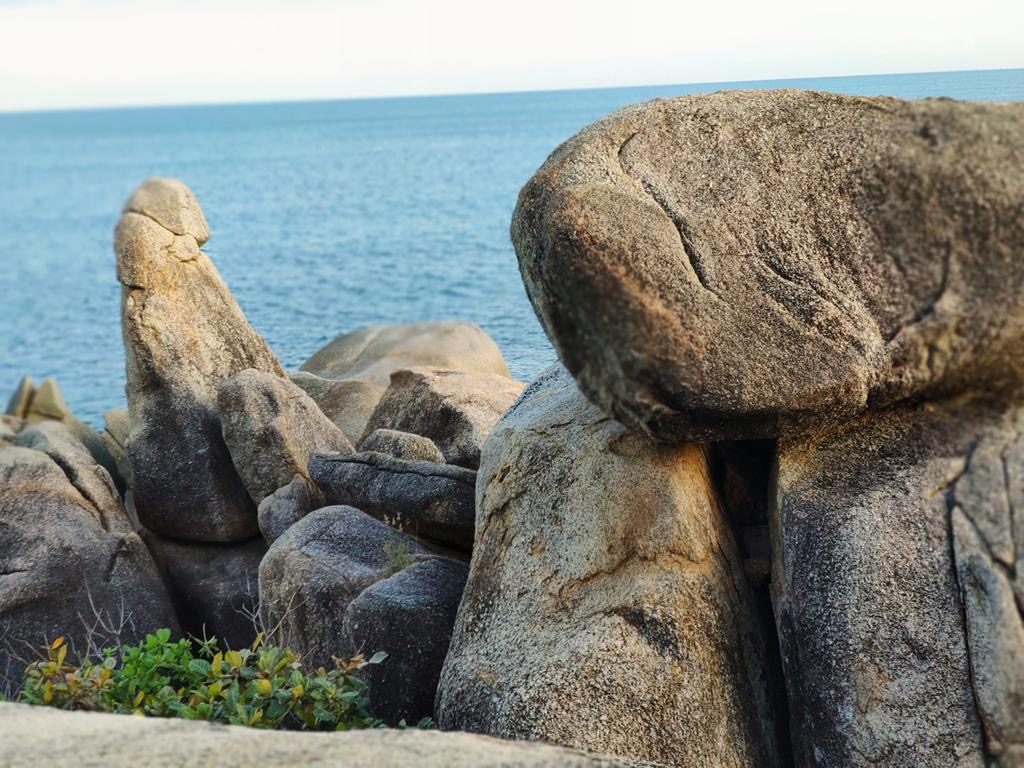 The Cliff Bar and Grill
We then went for dinner at 'The Cliff Bar and Grill', which is on the way from Wat Khunaram to Chaweng Beach. It is a beautiful seaside restaurant and has amazing delicacies. After dinner we went back to Chaweng Beach. As we were very tired, we treated ourselves with the best of thing this place offers – the amazing foot massage.
09:00 AM: Breakfast at Hotel
09:30 AM: Lad Koh View point
10:30 AM: Jungle Club
12:30 AM: Lamai View Point/ Lunch at the restaurant at top of Lamai View Point
02:30 PM: Na Muang Waterfall 1 & 2
05:00 PM: Wat Khuranam
06:00 PM: Hin Ta Hin Yai rocks
08:00 PM: Dinner at "Cliff Bar & Grill"
09:00 PM: At Hotel
10:00 PM: Foot massage
DAY 3: Ang Thong Marine National Park – Island Tour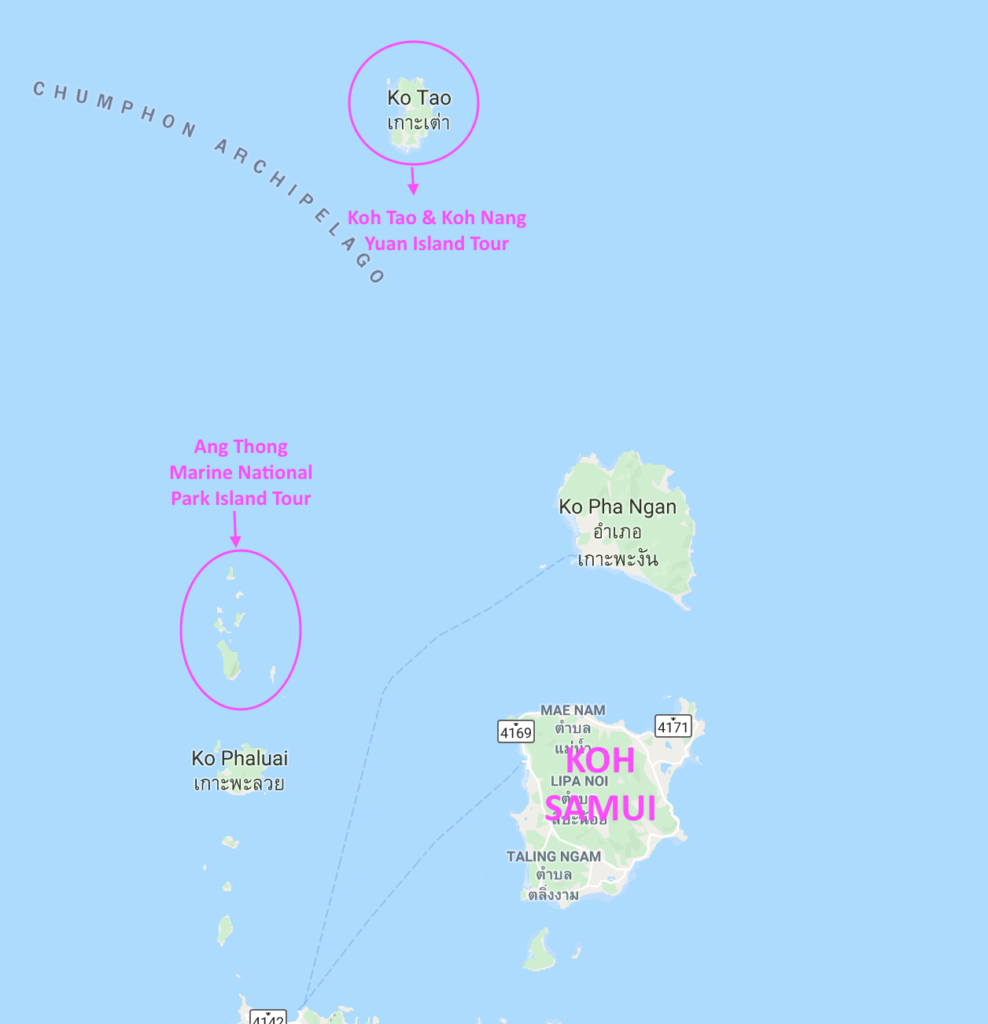 Island Tours from Koh Samui
Generally there are 2 options available for Island tour – Koh Tao & Koh Nangyuan and Ang Thong Marine National Park. If one has more days in Koh Samui, they can try to cover both.
Koh Tao/Koh Nangyuan is more scenic and is better for Scuba /Snorkeling where as Ang Thong Marine National Park Island tour offers Kayaking, Snorkelling, Site seeing, Sweet water lake and visit to 5 islands.
We booked our tickets for Ang Thong Marine National Park with one of the tour operators at Chaweng Beach, one day prior to our visit. Please also check rates from online portals like www.klook.com, www.viator.com etc and grab the best deal.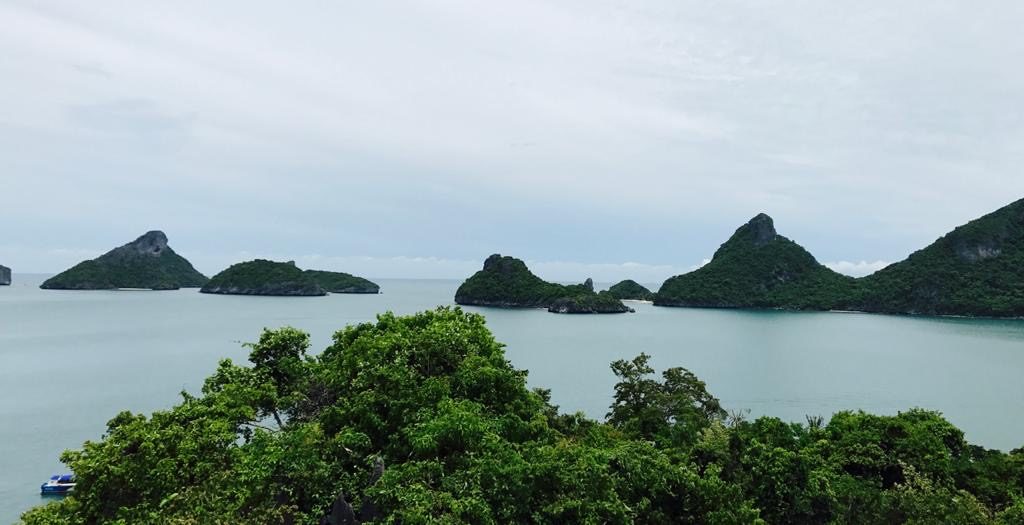 And Thong Marine National Park – Island Tour from Koh Samui
We were in a group with family and kids and hence we picked Ang Thong Marine National Park. This island tour was the best thing in the entire trip and is definitely not to be missed. Generally, price for this tour can be 1000-1800 THB /Person including lunch and hotel pick up/drop.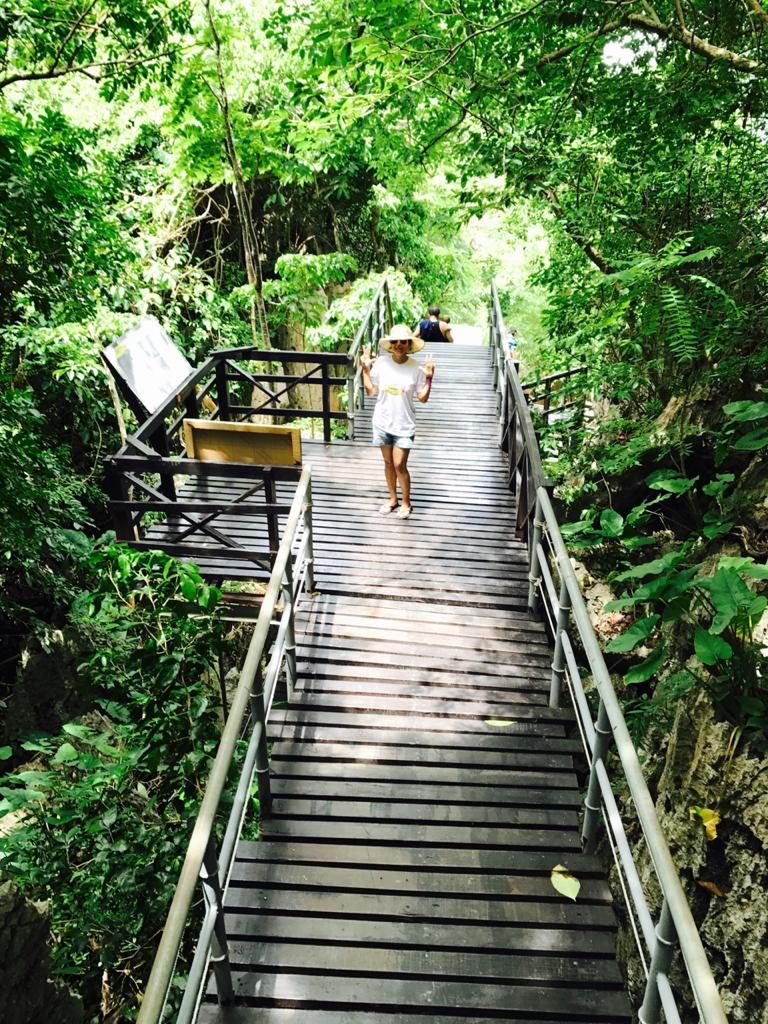 The tour starts at 7:30 am in the morning and ends around 4:30 pm. We were a group of 20 people so we booked a private speedboat. Private tour cost us 35000 THB including pick up/drop, snorkeling mask and marine park entry tickets for all 20 people. Having a private speedboat was so much fun because it had only our group. We didn't have to share it with anyone.
The island tour was simply splendid. Beaches were extremely clean, snorkeling and kayaking was absolute fun, climbing up the rock to see the sweet water lake was amazing.
We were back to our hotel by evening. We then went out to a close by place for dinner and ended our Day.
07:30 AM: Pick up from Hotel
09:00 AM: Ferry Port
09:30 AM: Ang Thing Marine Park Tour started
05:00 PM: Reached back Port
05:30 PM: Back to Hotel
DAY 4: Big Buddha, Wat Plai Liam and Fisherman Village, Woo Bar – W Retreat
We were very tired from last day's tour. We got up late, had breakfast at the hotel and then got ready for our trip to the northwest part of Koh Samui Island. You can again book a car for 8 hours with a driver for this or rent a car for the day.
Big Buddha / Wat Plai Laem
We started with our visit to Big Buddha, also known as the Wat Phra Yai. It is around 8 kms from Chaweng Beach and took us 30 mins to reach. Big Buddha is a 12-meter high statue of Buddha. There are roughly 150 steps to climb to reach the statue. After reaching the spot, enjoy the amazing view of the sea from the top.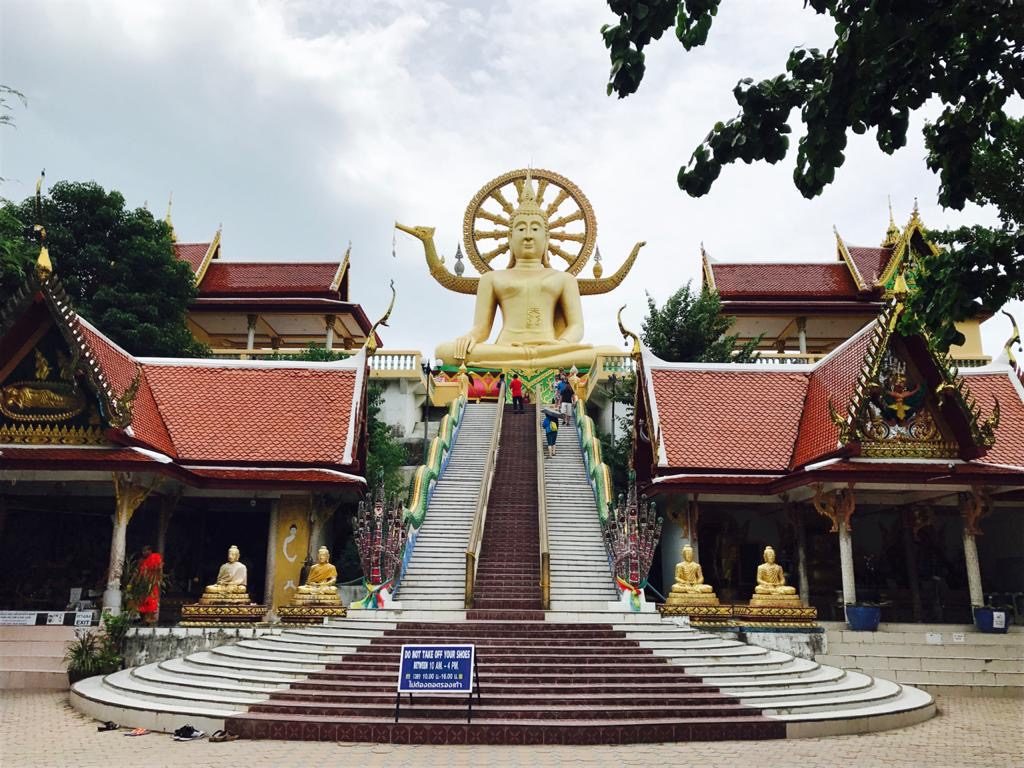 We then went to Wat Plai Laem, another Buddha temple, which is just 1 km away from the Big Buddha.
Fisherman Village
Post our visit to these famous temples of Koh Samui, we went to Fisherman village walking street, which was just 5 km from Big Buddha. It is a kind of local market where everything is sold at very reasonable price. You can see people selling dresses, T-shirts, decorative items, fruits, vegetable, spices etc. This place is clustered with huge number of food stalls. You get to taste authentic Thai food here. We went for lunch to the amazing Nirvana Restaurant. Ambience, food, services etc., all were amazing.
Woo Bar – W Retreat
Post lunch and relaxing for sometime, we went to the amazingly fabulous Woo Bar– located at W Hotel for sunset view. It took us just 10 mins to reach there from Fisherman Market. This is the best place on earth to see the sunset as they have beautiful sittings within the water and then you have view of the sea right in front.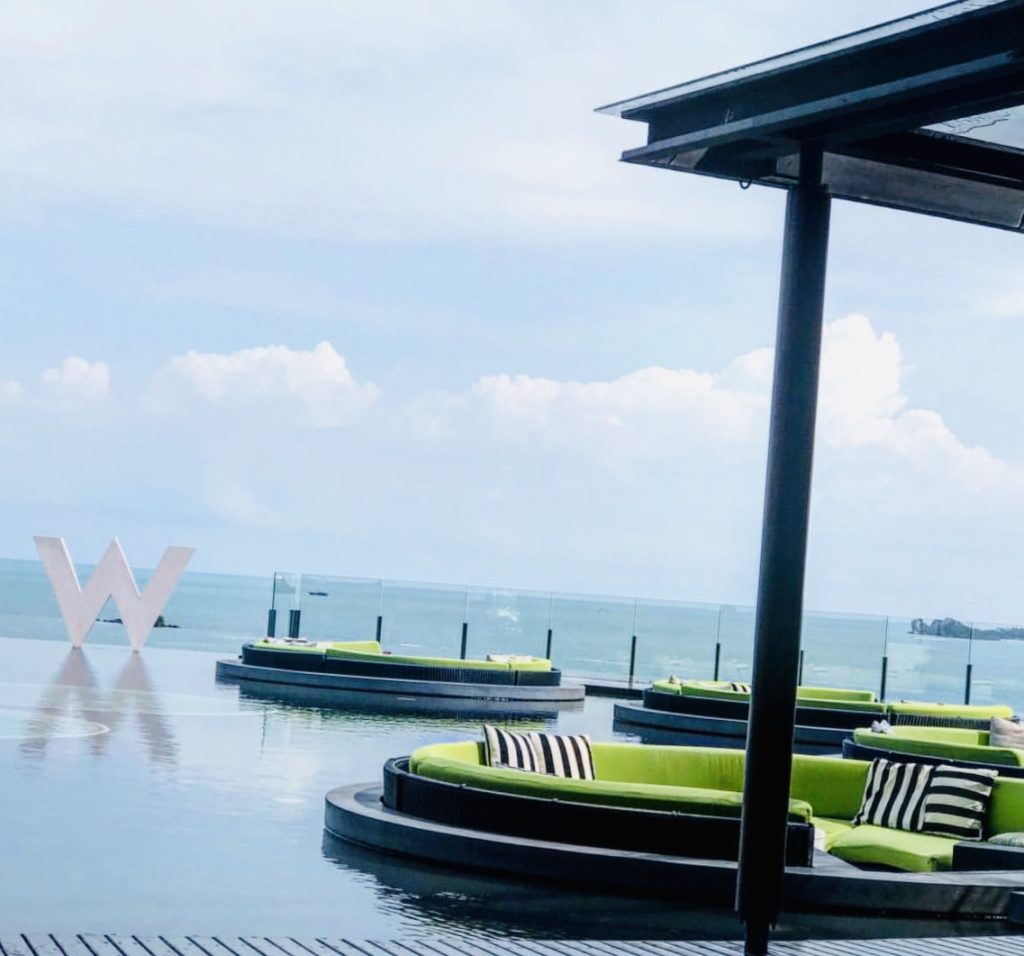 Even though it is very difficult to get a place, especially within the water sitting, but you can arrive early and try. There is also a fix charge (bill amount needs to be 10,000 Thai Baht) for this within water sitting which is very expensive.
For budgeted people they can skip this water sitting and can enjoy the view nearby. This place is definitely worth the visit. In this way you can enjoy this amazing hotel even if you are not staying here. After this amazing sunset experience we went back to Hotel and relaxed.
This now ends my splendid 3-4 days to Koh Samui. Hope you enjoyed all the details.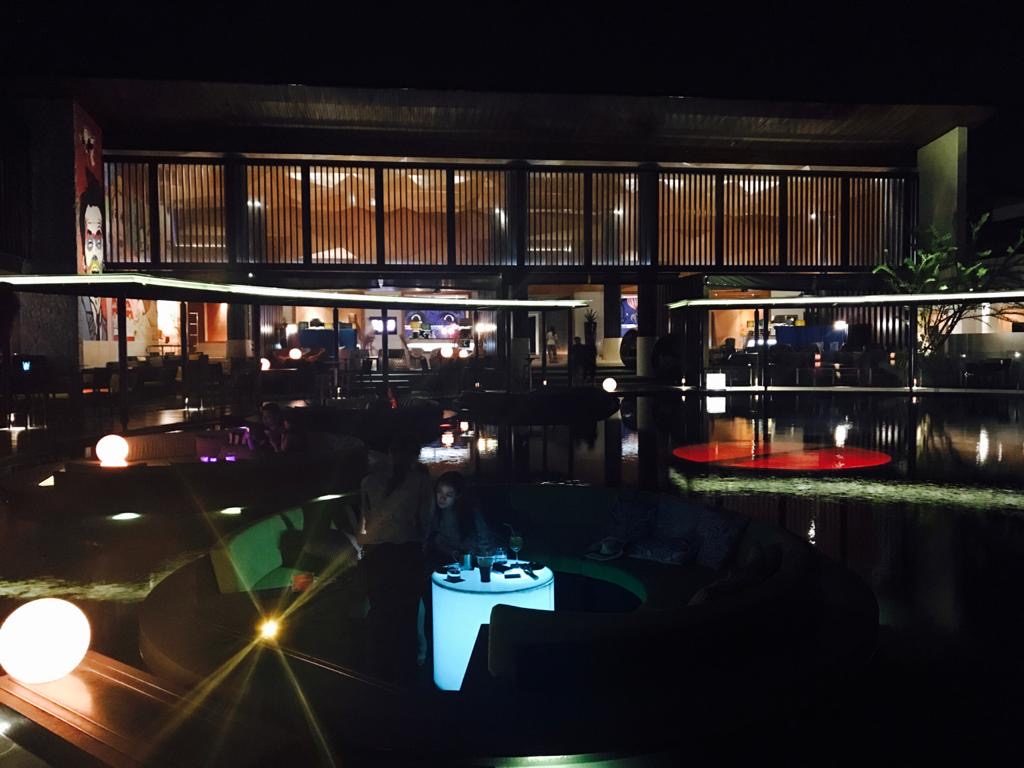 12:30 PM: Big Buddha (Wat Phra Yai)
01:30 PM: Wat Plai Liam
02:30 PM: Fisherman Market Bophut
03:30 PM: Lunch at Fisherman Market – Nirvana Restaurant
04:30 PM: Woo Bar W- Retreat
08:00 PM: Back to Hotel
If you find this blog 'Koh Samui 4 Days Itinerary' interesting, please share the link of the website/blog with your family and friends. If you have any comments or suggestions – please do write in the comments section below.
Need regular dose of travel information, planning and update on new blogs, please like my page on Facebook.
Need regular dose of travel shots – follow my page on Instagram