KASMHIR TRIP
Kashmir is an ultimate destinations for all Indian. Everyone dreams about visiting it atleast once in their life span. I had a chance to visit this beautiful place back in April'2018. Based on my experience I am sharing a perfect Kashmir 3 day itinerary, which can help in planning a trip to Kashmir. Here I have tried to cover almost all major attractions in Kashmir. But one can always extend it for few more days to make it more relaxing and to cover more places.
WHY TO VISIT KASHMIR
It is said that Kashmir is the most beautiful place on earth. As the Mughal Emperor Jahangir said 'If there is a paradise on earth, it is here, it is here, it is here'. After visiting the place, I can vouch that this quote is 100% true. The beautiful Dal Lake of Srinagar, the hills of Pahalgram and snow clad mountains of Gulmarg and Sonamarg are just a sight to behold. The beauty of Kashmir and its valley is incomparable to any other place and this is the reason it is a very precious part of India.
Placed like a crown on the head, Jammu & Kashmir sits in the northern most part of India. It is one of the Union Territories of India (since Aug-2019 after the amendment of Art 370). Jammu & Kashmir is divided into 3 parts – Kashmir, Jammu and Ladakh. Kashmir and Ladakh in particular, are extraordinarily beautiful and hence, quite popular amongst tourists from India and around the world.
Apart from extraordinarily beautiful valleys, Kashmir is equally famous for its intricate craftsmanship in the form of famous Pashmina Shawls and Carpets. Other than this, Kashmir's traditional food (Wazwan for non vegetarian, dishes prepared from lotus stem) and drinks like Kahwa are definitely worth trying. Kashmiri people are the most humble people to talk to. They go beyond limits to help and support tourists. It is in their culture to treat tourists as Gods. You will be surprised and amazed by their good behaviour.
BRIEF HISTORY OF JAMMU & KASHMIR
Click on the below link to know about the brief history of Kashmir post Independence and Partition, control of Pakistan and China on Kashmir and formation of Jammu and Kashmir and Ladakh as Union Territories etc.
(https://www.pinningdestinations.com/brief-history-of-jammu-kashmir/)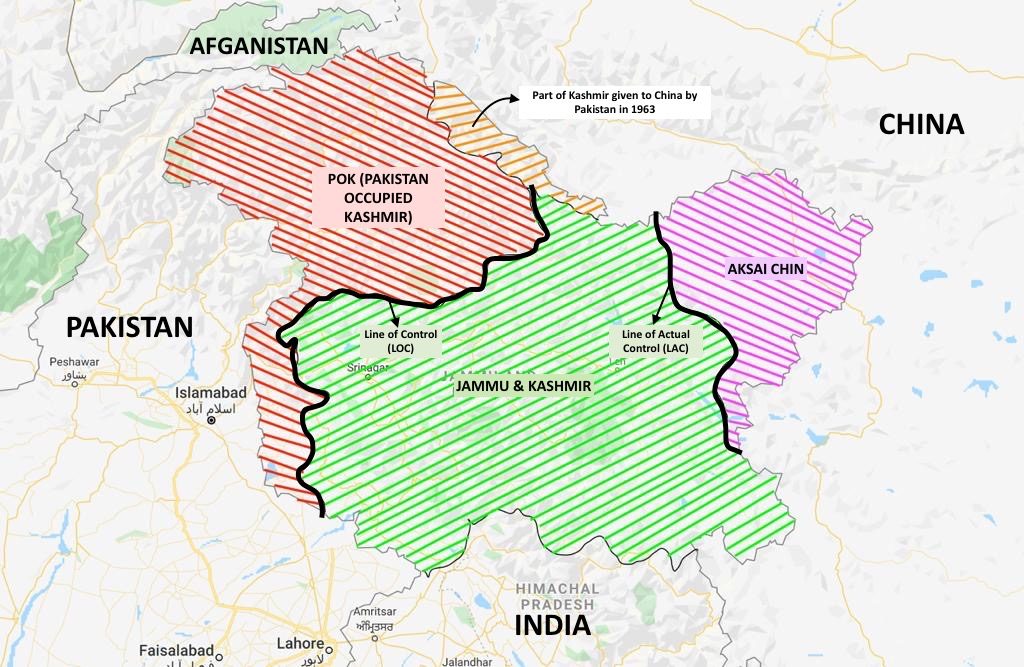 HOW SAFE IT IS TO TRAVEL KASHMIR
Yes, it is safe to travel to Kashmir. However, it is advisable not to go on hiking or trekking to some isolated hills or go close to the borders, apart from that, every other place is safe to travel. Kashmiris are warm people to interact with and very helpful. In Srinagar, you will witness a policeman standing every 500 meters, guarding everyone. There are numerous check points at the Airport, thus assuring complete safety.
Also, one often see in the news about stone pelting and attacks on tourists but as per the locals of Kashmir, there has never been any attack on tourist.
DURATION OF THE TRIP 
This trip is of 3 days. One day for Srinagar, one day for Gulmarg and one day for Pahalgram. You can easily extend it for more days to make it a more relaxed trip. One can also plan to include Sonamarg as well.
KASHMIR 3 DAY ITINERARY – TRIP COST
Return Flight/Train/Roadway from India: 9,000 – 15,000 INR/Person (106-160 US$)
Hotel: 5,000 – 20,000 INR/Day (65-265 US$)
Food & Local Transport: 10,000 – 15,000 INR/Person (133-200 US$)
Miscellaneous: 3,000 – 5,000 INR/Person (40-65 US$)
Approx Total: 30,000 INR/Person for 3 days (400 US$); If planned to stay at Lalit Grand Palace than 80,000 INR/Person (1065 US$)
BEST TIME TO VISIT 
Kashmir is always beautiful be it any month. You can choose any month to travel, as this heaven on Earth will never disappoint you. Be sure, a trip to Kashmir will always be memorable.
March – May 
This is the Spring Season of Kashmir. Temperature is warm around this time roughly ranging from 10°C-25°C. Flowers bloom around this time and there is lush greenery everywhere with mountains still covered in snow thus providing an extremely beautiful scenery. Tulip Garden season also comes around this time of the year.
June – August 
This is the Summer Season of Kashmir. Days are warm around this time. Temperature ranges roughly around 15°C-30°C. It is a good time for sightseeing as melting ice and slight rainfall fills the river and canals hence providing a spectacular view. This period is full of tourists as it is the summer vacation time in India.
September – November 
This is the Autumn Season of Kashmir when everything green turns to orange – thus offering a golden view all over the valley, which is truly mesmerising. Crowd is relatively low around this time hence making it perfect for a quiet escape. Temperature is moderate around this time ranging from 20°C-30°C during day time and around 11°C-15°C in the night.
December – February 
This is the Winter Season of Kashmir. Temperature ranges from 8°C to-10°C. The entire valley is covered in snow. If you want to see "white" Kashmir – this is the perfect time. Gulmarg and Sonmarg are heaven around winter season. You can enjoy skiing and various other snow activities.
HOW TO REACH SRINAGAR / HOW TO TRAVEL WITHIN SRINAGAR
Sheikh Ul Alam Airport of Srinagar is well connected to all major cities in India. A round trip cost of airfare from all major cities in India for Srinagar will be roughly starts from 9000-20,000 INR (US$ 130-US$ 275)/Person.
Sadly, there is no railway network in Srinagar and the nearest railway station is in Jammu, which is 300 kms from Srinagar. After reaching Jammu Railway Station, one can hire a car or bus till Srinagar. This takes 7-9 hours to reach Srinagar.
For travelling within Srinagar – taxis, auto rickshaws are easily available at affordable prices. Srinagar Airport is roughly 10-15 kms away from main Srinagar. It takes roughly 400-500 INR (US$ 5-7) for a cab ride from the Airport to the main center of Srinagar.
For going to neighbouring areas, it is best to rent a 8-10 hour car along with a driver, who will guide you about the places on the way in depth. Rental cars can be arranged very easily from any tour operator shops. No need to visit them physically – search in Google and get the list. Look at the ones with good ratings – call them and fix it. They will send a car with driver directly to your hotel. It is advisable to do this one-day prior. Charges usually range from US $30-50/Day for an SUV car having a capacity of 6 people. If you do not want to rent a car, then there are Private and Govt buses from JKSRTC also available to take you to neighbouring areas. Bus ticket from JKSRTC can easily be booked online from www.jksrtc.co.in.
WHERE TO STAY IN SRINAGAR, KASHMIR
Click on the link below to check out best area to stay in Srinagar and the various options of Hotels in Srinagar – High End Hotels, Mid Range Hotels and Budgeted Hotels.
(https://www.pinningdestinations.com/the-best-hotels-to-stay-in-srinagar/)
TIPS FOR KASHMIR TRIP
If reaching Srinagar by flight, then there will be many check points to clear, in order to come out of the Airport. Same goes while boarding a flight from Srinagar. Be patient, as it involves some extra time as usual.
Always walk and trek instead of taking a pony ride. Don't be fooled by the people asking you to take a pony ride. It is much more convenient to walk.
Don't forget to shop while in Kashmir. Kashmiri shawls, specially Pashminas, although expensive (starts from 8000 INR and goes up to 1,00,000 INR) but definitely worth it. Other items to buy from Kashmir are handmade silk carpets (very expensive), Dry Fruits, original 100% pure Saffron (Kesar), Kashmiri Salwar Kameez etc.
Do not miss to taste the delicacies of Kashmir like Kahwa (Kashmiri Tea), Wazwan (multi course Kashmiri dish made from lamb and chicken), snack prepared from lotus stems.
Availability of alcohol is very limited in Srinagar. It is restricted to 5 star hotels or at cantonment area. There is no alcohol shop in Srinagar (might be just one but not sure). Be prepared for this before hand.
If looking forward for a trip to Ladakh, it is better to plan a road trip from Srinagar instead of Manali, This route will offer a mesmerising view of theKashmir valley, Sonamarg, Kargil etc. on the way. The problem (giddiness) of low altitude to high altitude that people usually face while driving from Manali to Leh is not much from this route. While returning, one can take Leh to Manali route. In this way both views can be covered.
KASHMIR 3 DAY ITINERARY
1st Day: Day tour of Srinagar – Shankaracharya Temple, Tulip Gardens, Mughal Gardens and Shikara Ride at Dal Lake
2nd Day: Srinagar to Gulmarg – Day Trip
3rd Day: Srinagar to Pahalgram – Day Trip
KASHMIR 3 DAY ITINERARY IN DETAIL
DAY 1: Day tour of Srinagar – Shankaracharya Temple, Tulip Gardens, Mughal Gardens and Shikara Ride at Dal Lake
Srinagar, also known as the heaven on earth, lies on the banks of River Jhelum. Lakes, valleys and hills surround this beautiful city. Srinagar is extremely famous for Dal Lake, which is often called as lake of flowers, Mughal Gardens and Houseboats (Shikara).
Begin your 1stDay by exploring the city of Srinagar. Best way to do that is to hire a rental car along with a driver from any of the tour operators in Srinagar (search them in Google and strike a deal). It should cost approximately 1500-2000 INR (20-24 US$). To visit all the good tourist places in a day in Srinagar, it is really important to start early. Else one can always divide this into 2 days.
Shankaracharya Temple
Best place for the early morning hours is Lord Shiva Spiritual Temple 'Shankaracharya' which is situated at Shankaracharya Hill of Zabarwan Mountains. It is also the enlightenment place of the great Sage Shankarcharya. One has to do a little trek (around 250+ steps) to reach the temple, as the temple is situated at an elevation of 1100 feet. On reaching, one can enjoy the beautiful 360° view of the entire city of Srinagar specially the Dal Lake, which is not possible from any other place.
P.S.: Mobile phones and cameras are not allowed inside the temple. Timings of visiting the temple is from 8:00 AM till 5:00 PM. People with knee problems, kids or health issues can avoid this place.
Tulip Garden
Right after Shankarcharya Temple, visit the Tulip Garden – Asia's largest and World's 2nd largest Tulip Garden, if you are traveling to Srinagar around Tulip Garden season, which is generally from March end till the 2nd week of April.
Click on the below link to know more about the wonderful Tulip Garden of Srinagar, Kashmir
(https://www.pinningdestinations.com/visiting-tulip-garden-kashmir/)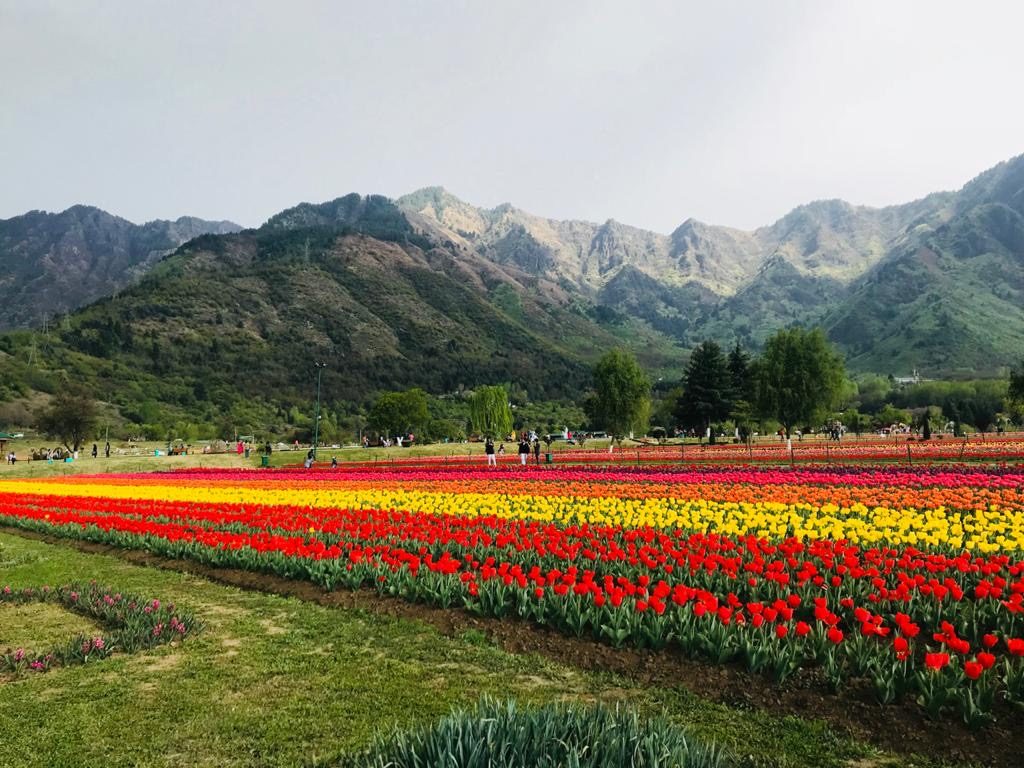 Right next to the Tulip Garden is Botanical Garden. No need to visit, as you can check its view from the Tulip Garden.
Stop over for lunch at any of the various options available at the lakeside road.
Click on the link below to know about the b

est choice of

restaurants 

in Srinagar, close to Dal Lake.
(https://www.pinningdestinations.com/the-best-restaurants-in-srinagar/)
Mughal Gardens
Afternoon can be planned to visit the Mughal Gardens in Srinagar. There are 4 Mughal gardens in Srinagar – Shalimar Bagh, Pari Mahal, Nishat Bagh and Chasme Shahi. All of them were built during the Mughal rule in India. Mughal Emperors – Jahangir and his son Shah Jahan had special love for Kashmir. They used to spend many summers in Srinagar and therefore got these gardens constructed. All of them are mostly constructed in a similar style. They are all located on the top of the hills, have mountains in the backdrop, terraced layout with water fountains running in the middle, surrounded by flowers, trees and fruit orchards and over looking the Dal Lake.
It is not at all necessary to visit all 4 of them. Moreover, after a visit to the Tulip Gardens – none of them will appeal that much. You can choose to visit any two of them – which will be more than enough. Shalimar Bagh is the largest amongst them. It looks quite mesmerising during the spring and autumn seasons. Nishat Bagh is 12 terraced, huge and beautiful garden overlooking the Dal Lake. Chasme Shahi is small and a charming garden, built around a spring. Fresh spring water is the main highlight of this garden. Pari Mahal, also known as the abode of the fairies, is seven terraced and builton the top of Zabarwan Mountains. As it is located on the top of the hills, it provides a beautiful view of the Dal Lake and the surrounding areas.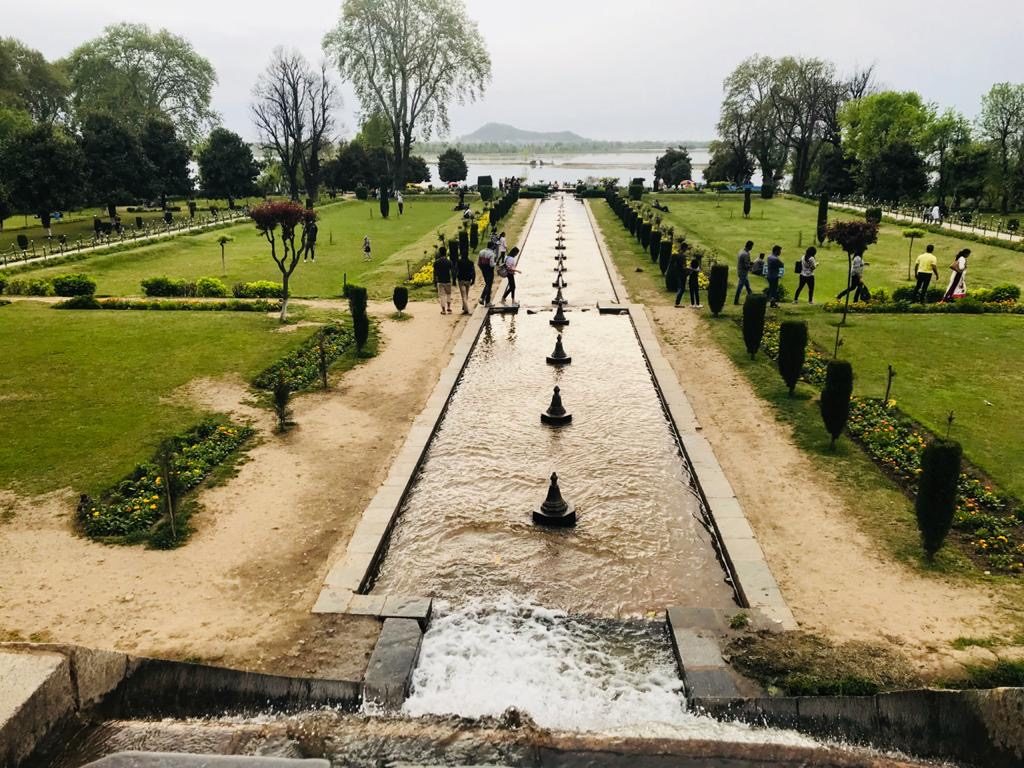 Shikara / Char Chinar
Shikara (wooden boat) ride is the best thing to do around sunset time in Srinagar. It is the main highlight of Srinagar. Beauty of Dal lake is beyond words. One can easily spend hours enjoying the spectacular beauty of thelake and the mountains nearby. Shikara ride on the Dal Lake is such a heavenly beautiful experience, it feels like you are floating in heaven.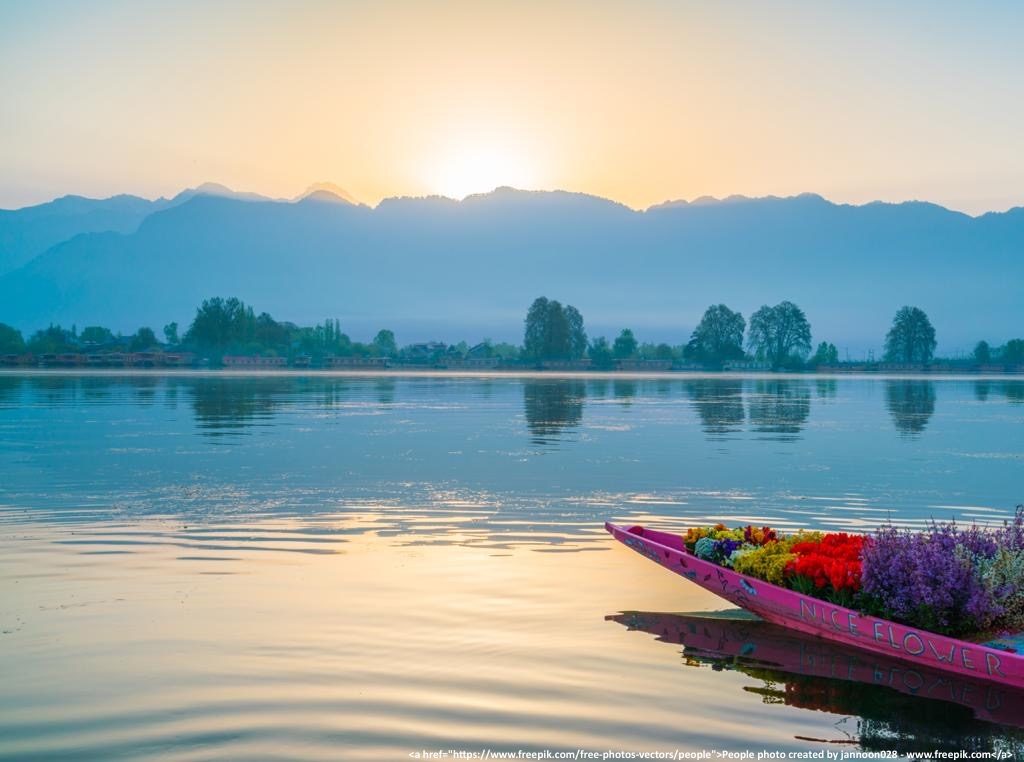 You can even stop for a short while at Char Chinar. It is a man made Island made by the Mughals during their rule in India. It is a square shaped island with Chinar Trees planted at the corners. Chinar Trees are quite prominent in Kashmir. Chinar trees were brought to Kashmir from Persia during the Mughal era. These trees are huge and evergreen in nature.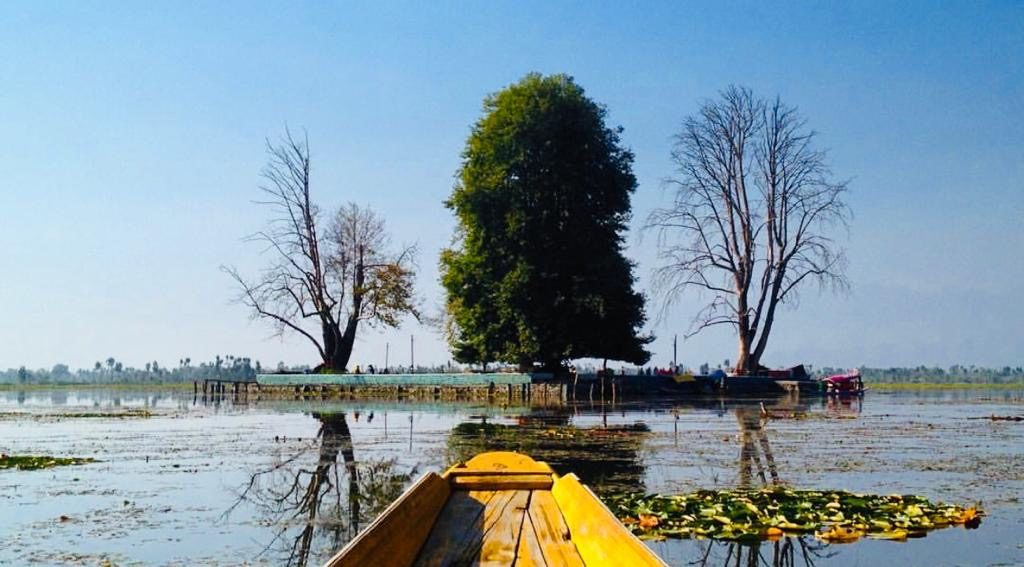 You can also enjoy lake market at Dal Lake, as there are many shops and boats selling flowers, wooden artwork, saffron etc. The cost for a Shikara ride starts from Rs 400 (US $ 5) for 1 hour and goes up to Rs 1300 (US $17.5) for 4 hours. One
Shikara can accommodate a maximum of 4 people. Mornings and sunset time are the best time to enjoy the Shikara ride. Reach the lake side around 4:00 PM – 4:30 PM and book the Shikara on the spot.
Dinner at some of the best restaurant in Srinagar
After the mesmerising boat ride at Dal Lake, end your day with dinner at one of the best restaurants in Srinagar (https://www.pinningdestinations.com/the-best-restaurants-in-srinagar/).
After dinner enjoy some shopping in local market. Later reach back the hotel and relax for the day.
09:00 AM: Visit to Shankaracharya Temple
11:30 PM: Visit To Tulip Garden,Srinagar
01:30 PM: Lunch at one of the lakeside restaurant
03:00 PM: Visit to Mughal Garden – Chasme Shahi & Nishat Bagh
04:30 PM: Shikara Ride at Dal Lake
08:30 PM: Dinner at one of the famous restaurant in Srinagar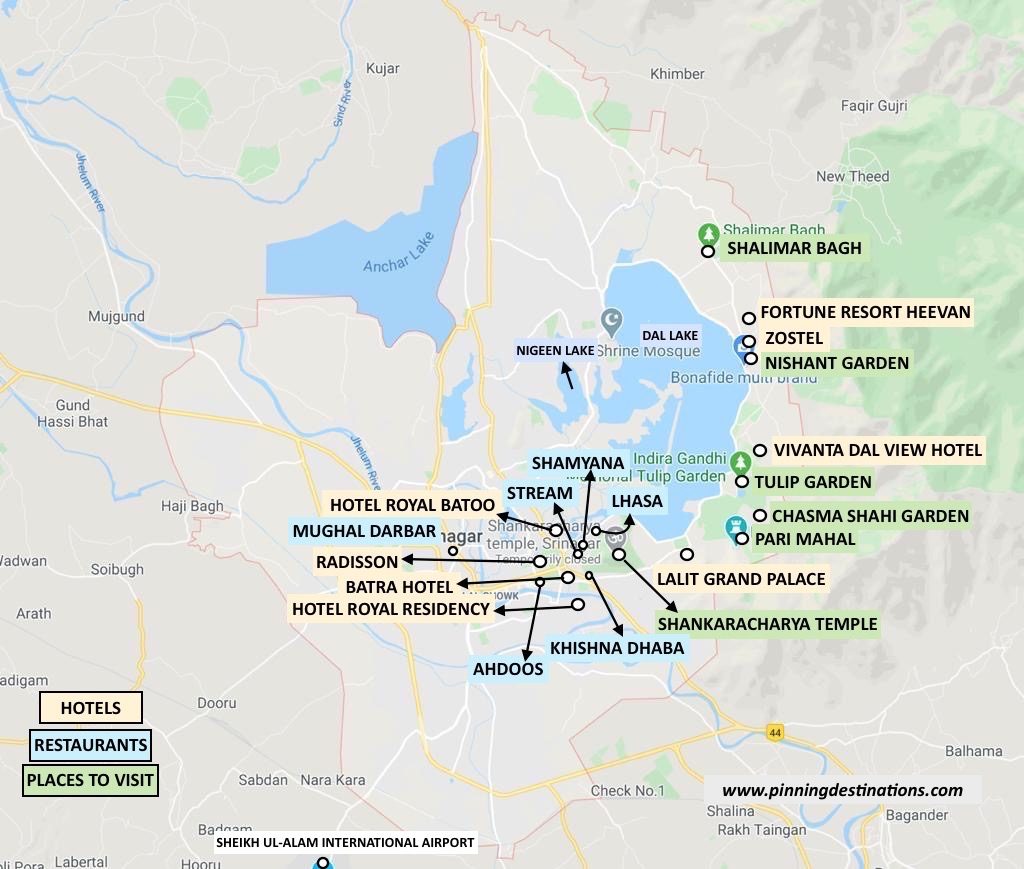 DAY 2: Day trip to Gulmarg
About Gulmarg
Gulmarg is a popular hill station of Baramulla district of Kashmir, which is situated at an elevation of 2600 meter (8530 feet) above the sea level. It is just 54 kms from Srinagar and takes only 1.5 hours to reach (by road).
It is often called the Winter Wonderland of India. Gulmarg experiences heavy snowfall from Dec to mid Feb and a lot of tourists specially honeymooners visit Gulmarg around this time to enjoy the fresh snowfall. Gulmarg, during this time, looks straight out of heaven. People enjoy a lot of snow activities here like Gondola ride (rope way), skiing, playing with snow etc. The most popular, luxurious and the only 5-star hotel in Gulmarg – The Khyper Himalayan Resort and Spa, is a delight to stay as this hotel offers mesmerising view of snow-clad mountain peaks. Snow in Gulmarg can also be enjoyed all around the year at Phase 2.
How to Reach Gulmarg from Srinagar
For easiest way to reach Gulmarg from Srinagar is to hire a rental car along with a driver available from any car rental company in Srinagar. Cost for this will be roughly 2500 – 3000 INR (US $33-40) with a capacity of 4-6 people. A public and private bus can also be taken to reach Gulmarg. Fare of Non A/C Bus (A/C bus is not at all required) will be roughly 150-200 INR / Person (US $2-2.5). For a day trip to Gulmarg, it is important to leave early in the morning from Srinagar, around 8:00-9:00AM.
Gondola Ride Gulmarg
The main highlight of Gulmarg is the Gondala Cable Car Ride (Ropeway), which is the second highest cable car ride in the world. It directly takes you to the mountain top, which is entirely covered with snow, hence providing a wonderful view all over. Timings for the Gondola ride are from 10:00 AM upto 5:00 PM.
Gondola ride consist of 2 phases. First phase is Gulmarg to Kungdoor (12,293 ft), which takes roughly 10-12 mins to reach from Gondola Cable Car. Cost for this is 700 INR (9.5 US$). The second phase starts from Kungdoor to Afarwat (13,780 ft), which takes 12-14 mins to reach. Cost for this phase is 900 INR (12 US$). Tickets can be purchased from the ticket counter in Gulmarg, which is open from 8:00 AM till 4:00PM. Nowadays, there is also an option to buy online, which is the best way to avoid the queue at the ticket counter.
In our case, the car driver was extremely helpful and got the cable car (Gondola) tickets booked for Phase 1 and Phase 2, through one of his known fellows in Gulmarg in the morning only. Due to this advance booking, we did not have to stand in a queue. The person who bought the tickets for us also became our tour guide at a very minimal cost. As there is heavy snow in Phase 2, snow boots are required, which are readily available on rent (100 INR/Pair). It is better to rent the boots in Tangmarg rather than in Gulmarg. Our driver arranged this for us as well.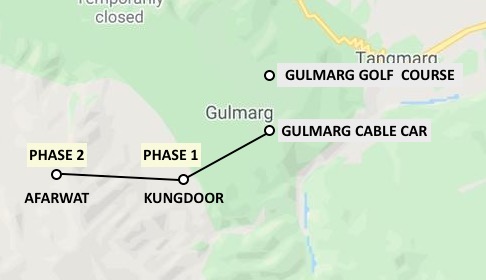 Reaching Gulmarg and enjoying Cable Car
After reaching Gulmarg, the car has to be parked in the parking lot and one has to walk till the Cable Car station, as cars are not allowed up till the cable car station. At the car parking area, you will be forced by local pony owners to take a pony ride for this. Kindly note that it is just at a distance of 500-600 meters, which can be covered by walking. The pony owners follow a much longer route to reach cable car station, which is a big waste of time. Please do not fall for this.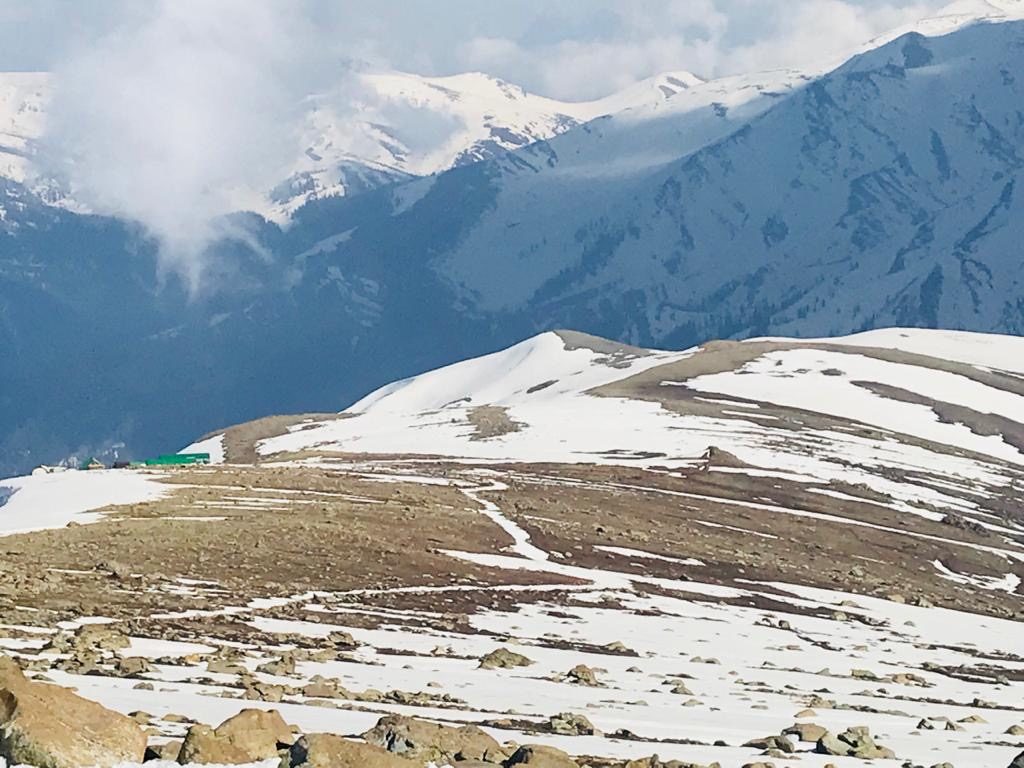 After reaching the cable car station, board the Phase 1 cable car. One cable car can accommodate 6 people. You will be amazed to see the beauty of the hills as the cable car moves upward.  After reaching Phase 1, board cable car for Phase 2. The view from the cable car will definitely blow your mind away. The view looks like the mountains and valleys are all covered by a snow blanket. After reaching Phase 2, enjoy walking and playing in the snow on the mountain peak. You can even go for a skate ride there.
If hungry, go back to Phase 1 as there are good variety of food choices available. Covering both phases, specially Phase2, is a must if, one wants to enjoy the mesmerising snow view and have a beautiful experience. Apart from the Gondola ride, there is not much to do in Gulmarg. Infact, Gondola ride is the main highlight of Gulmarg.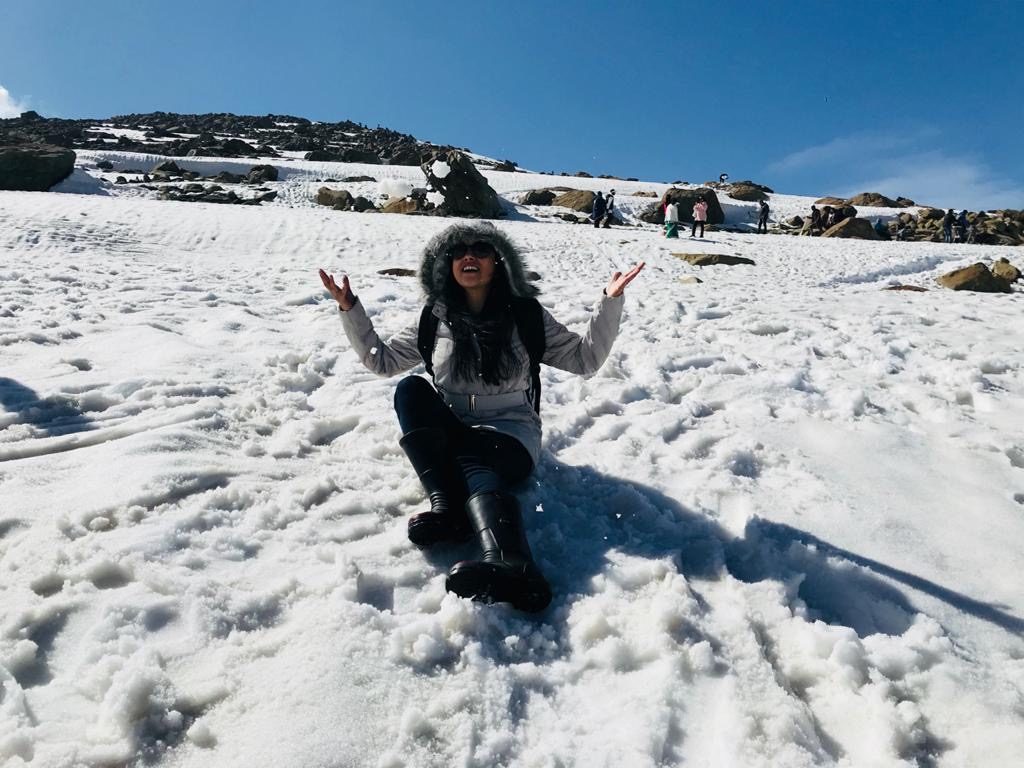 Gulmarg Golf Course
If visiting during summers, a visit to Gulmarg Golf Course can be planned. Gulmarg Golf Course is the highest golf course in the world with a spectacular landscape in the backdrop. This golf course completely gets covered in snow during winters.
After spending some quality time in Gulmarg, reach back to Srinagar. Drop by some place in between for early dinner and call it a day.
08:30 AM: Leaving for Gulmarg from Srinagar by car
10:00 AM: Reaching Gulmarg
11:30 AM: Gondola Ride from Ground toPhase 1 (tickets were pre-purchased)
12:30 PM: Gondola Ride from Phase 1 to Phase 2
02:30 PM: Going back to Phase 1 and enjoying some snacks
03:00 PM: Back to Base
03:30 PM: Going back to Srinagar
05:00 PM: Reaching Srinagar
08:00 PM: Shopping and Dinner in Srinagar
DAY 3: Day trip to Pahalgram
About Pahalgram
Pahalgram is a beautiful hill station in Anantnag district of Kashmir. Situated at the banks of Lidder River, this town is popular for its lush green meadows and sparkling water valleys. Pahalgram is 90 kms from Srinagar and therefore can very well be planned as a day trip from Srinagar. It takes only 2-3 hours to reach (by road).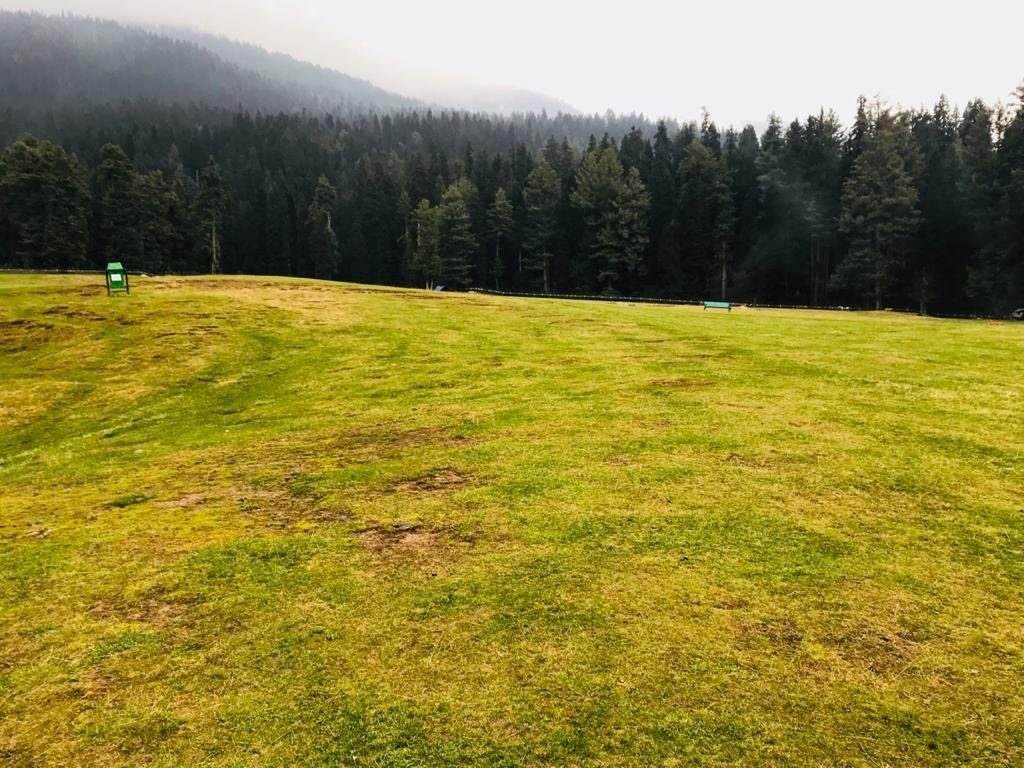 How to Pahalgram from Srinagar
The easiest way to reach Pahalgram from Srinagar is to hire a rental car along with adriver from any of the car rental companies in Srinagar. Cost for this will be roughly 3000-3500 INR (US $40-46) with a capacity of 4-6 people. A public or private bus can also be taken to reach Pahalgram. Cost of bus fare will be roughly 300-350 INR/Person (US $4-5). Please don't forget to buy Saffron on your way to Pahalgram, as it is 100% pure and is grown in a village, which comes on the way from Srinagar to Pahalgram.
Baisaran Hill Pahalgram
The most popular place visited in Pahalgram is Baisaran, which is known as Mini Switzerland of India. Baisaran is at a mountain top, full of lush green meadows. It is surrounded by pine trees with snow-clad mountains in the backdrop. Baisaran is an extremely beautiful place and definitely a must visit. It will remind you of the numerous Bollywood movies that has been shot here, from the classic Bollywood movies like Kabhi Kabhi, Silsila to thelatest oneslike Haider, Highway, Bajrangi Bhaijaan etc.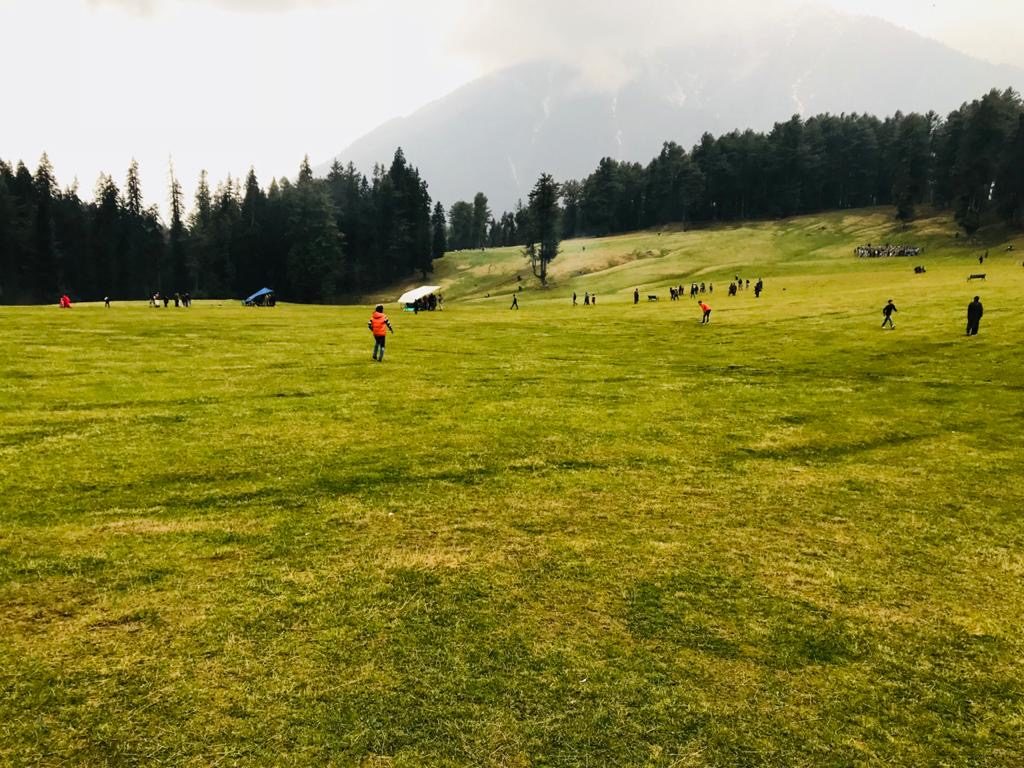 For reaching Baisaran (mountain top) one has to either trek 5 kms (roughly for 1-2 hours) or hire a pony. A healthy and fit person can definitely go trekking, otherwise, ponies are easily available at the mountain base. Cost for pony ride will be 700-900 INR/Person (US $9-12). Always negotiate well with the pony owners. Pony ride is totally a thrilling experience. The track is such, that many a times, it will give chills of slipping and falling down but, it does not happen as these ponies are very well trained. These are the same ponies that take people to Amarnath Cave. Elderly people and people with knee problems can avoid going to Baisaran, as this can be a risky trek for them.
Your mind will be blown after reaching Baisaran and looking at the mesmerising view all around. Adventures like Zip-lining and Zorbing are available at Baisaran. There are a few small tea and snack corners here as well, where one can enjoy a quick snack. After spending sometime here you can go back to the mountain base.
Other Places to visit in Pahalgram
One can also plan to visit Betaab valley, Chandanwari (base camp for Amarnath Yatra) and Aru valley (base camp for Kolhoi Glacier and Tarsar Lake trek), which are further 15-20 kms ahead of Pahalgram. All 3 can be covered together, but for this, one has to hire another car from Pahalgram Bus Station (to cover these parts cars from Srinagar and outside areas are prohibited), which costs roughly 1500-2100 INR/car (US $20-28). These cars drive you through all the three places (Aru Valley, Betaab Valley and Chandanwari). The best part of the journey is the wonderful view of the Lidder River, scenic meadows, lakes, mountains etc. that will fall on the way while reaching these valleys.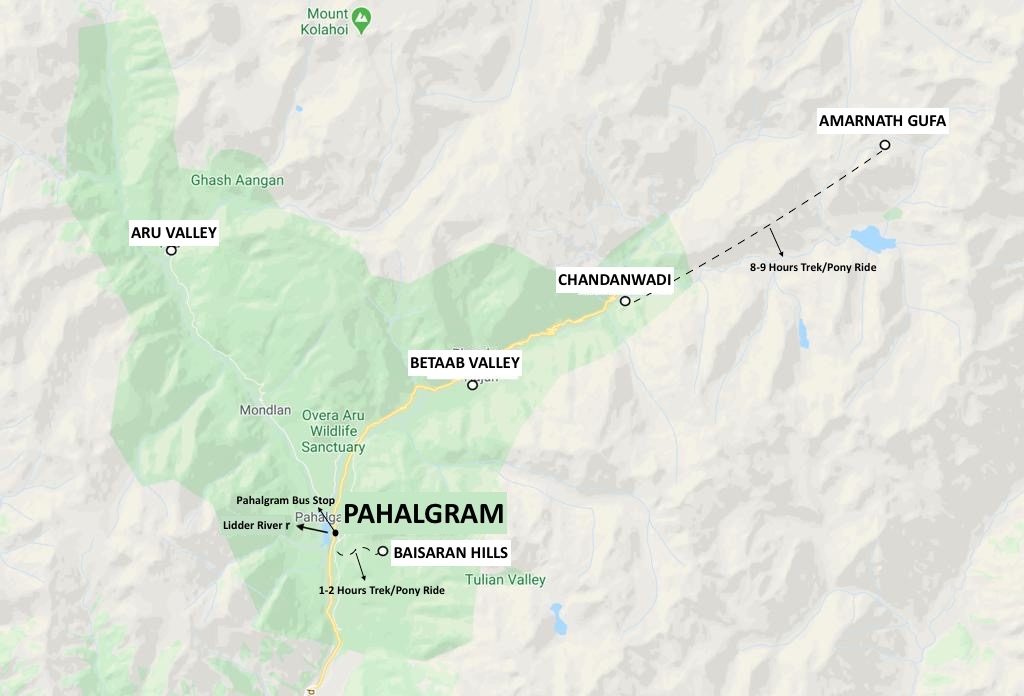 Unlike Baisaran, there isn't any trek to mountain tops for these places. They can be easily reached by car. If wanting to cover everything – Baisaran, Aru Valley, Betaab Valley, Chandanwari etc. in a day trip from Srinagar, then it is really important to leave early morning around 5:00 AM – 6:00 AM from Srinagar. Only then, will you be able to finish off your trip by evening and be back to Srinagar by 8:00 PM – 9:00 PM. If starting late from Srinagar, one will have to choose between Baisaran or Betaab valley/Chandanwari/Aru Valley. If you have some extra days in hand, you can plan to stay for a day or two in the beautiful Phalagram and enjoy all the places at leisure.
PS: Always check weather forecast before hand, for trip to Phalgram. Phalagram often experiences rainfall. On a rainy day, trek or pony ride to Baisaran will be risky and very tough.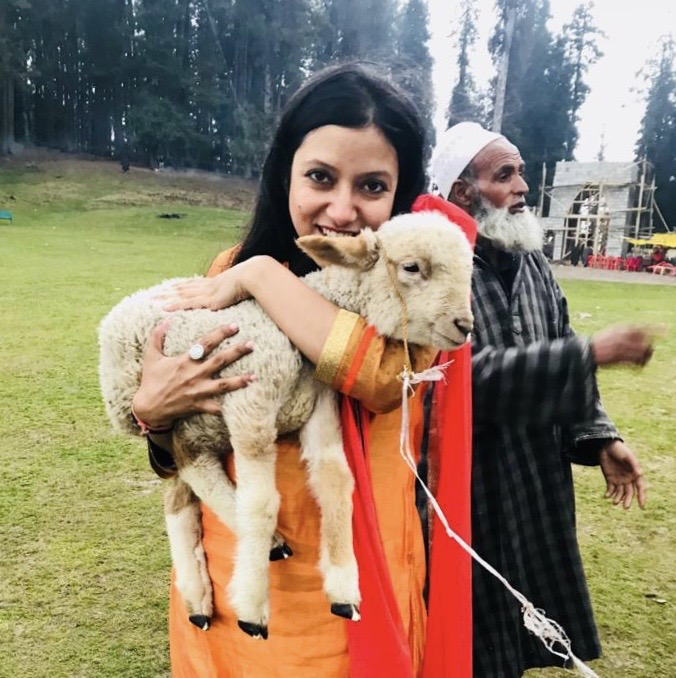 Sonamarg
If someone has few more days in Kashmir then one can explore Sonamarg. It is said to have more snowfall than Gulmarg and the beauty is more spectacular.
05:30 AM: Leaving for Pahalgram from Srinagar
08:00 AM: Reached Pahalgram
09:00 AM: Pony Ride to Baisaran
10:00 AM: At Baisaran
12:00 PM: Leaving from Baisaran and reaching Base
01:00 PM: Hiring Carfrom Taxi Stand for Aru Valley, Betaab Valley and Chandanwari
02:00 PM: Stopping somewhere for Lunch
05:00 PM: Going back to Srinagar
If you find this blog 'Kashmir 3 Day Itinerary' interesting, please share the link of the website/blog with your family and friends. If you have any comments or suggestions – please do write in the comments section below.
Need regular dose of travel information, planning and update on new blogs, please like my page on Facebook.
Need regular dose of travel shots – follow my page on Instagram