TRIP TO JAIPUR
Jaipur, the capital of the state of Rajasthan, is one of the most fascinating cities in India. It is full of great architecture in the form of palaces, forts, tombs, grand gateways etc. The place is filled with historical stories of the rulers of Jaipur and this makes it a very interesting place to visit.
Jaipur, also commonly known as the Pink City, was built in 1727 by the Rajput Ruler Maharaja Jai Singh II. He was a great astrologer, architect and mathematician, who through his wisdom, built the city of Jaipur after realising the need of creating a new city was utmost important, due to the growing population and scarcity of water.
A trip to Jaipur takes us to a different era of kings and queens, truly to be cherished. Here I am sharing an interesting Jaipur Itinerary for 2 days, a complete Travel Guide on – how to visit, where to stay, best places to visit, what to do eat etc.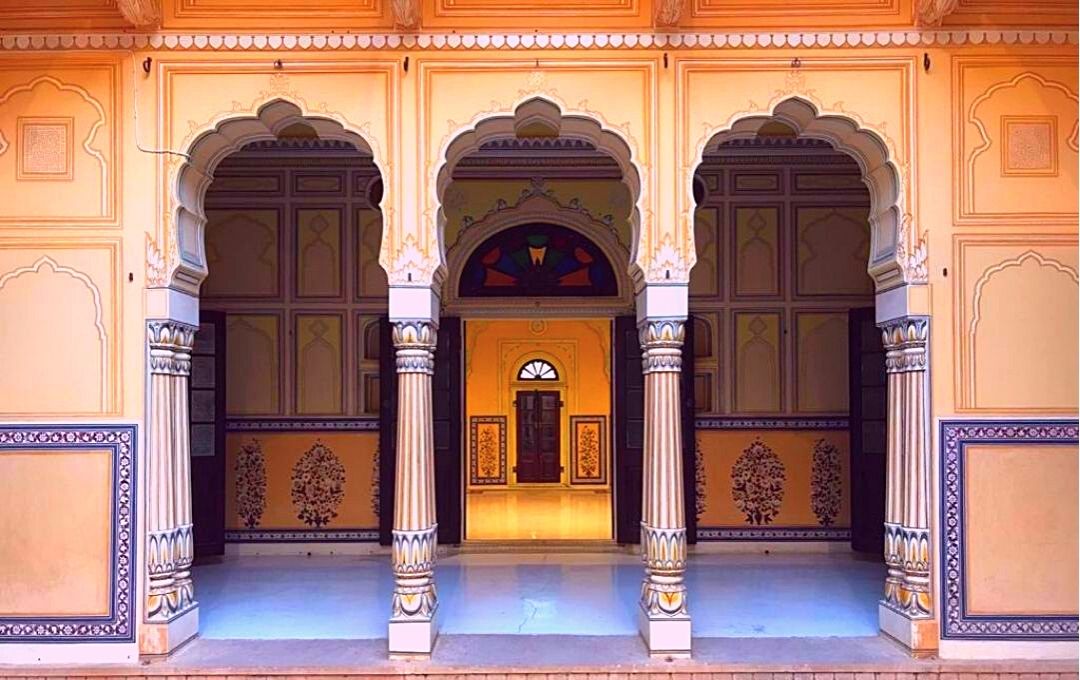 DURATION
A visit to Jaipur requires a maximum of 2-3 days. A trip to Jaipur is often combined with other destinations the state of Rajasthan offers like Ajmer, Pushkar, Ranthambore National Park, Udaipur (The City of Lakes), Jodhpur, Jaisalmer, Mount Abu etc. Religious places like Nathdwara, Khatu Shyam Ji, Mehendipur Balaji are also often combined along with a visit to Jaipur, hence making it a 4-5 days trip.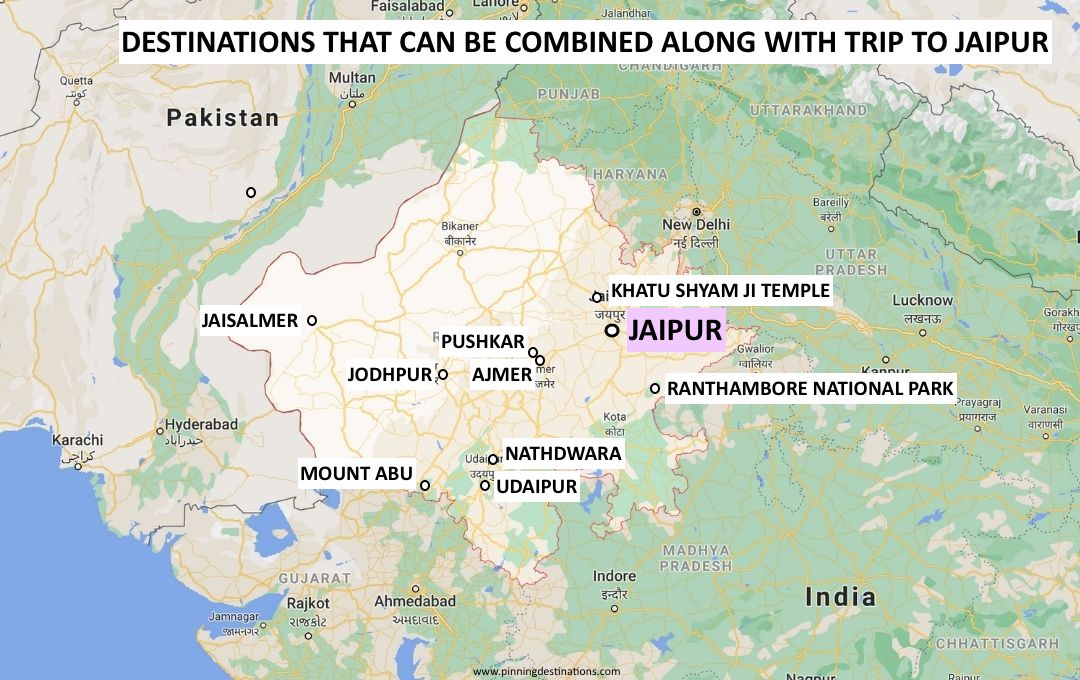 JAIPUR TRIP COST FOR 2 DAYS
Flight/Train/Road Trip from India: 3000-8000 INR/Person (US $ 45-113)
Hotels: 5000-15000 INR/Day (US $ 70-215)
Food & Local Travel Expenses: 5000-10,000 INR/Person (US $ 70-145)
Misc. Expenses: 5000-8,000 INR/Person (US $ 70-113)
Total Budget: Approx. 20,000-40,000 INR/Person (US $ 285-585)
HOW TO REACH/ HOW TO TRAVEL WITHIN JAIPUR
Being the capital of Rajasthan, Jaipur is very well connected to all the major cities in India through road, railways and airways.
Jaipur International Airport has numerous direct flights from Delhi and Mumbai. Many other cities in India have direct flights to Jaipur (check flight schedule from www.skyscanner.com). Jaipur Railway Station also has a good connectivity with major cities in India (check train schedule from www.irctc.com). Air-conditioned Buses also run daily from Delhi for Jaipur (check bus schedules from www.redbus.com). If planning to visit Jaipur by road, then it can be easily planned from any of the neighbouring states.
For traveling within the city, it can be very easily managed by taxis (ola/uber), autos etc. Car rentals are also easily available in Jaipur – with or without driver (check various car rentals in Jaipur from Google)
WHERE TO STAY IN JAIPUR
Being a tourist destination, Jaipur offers beautiful and varied options for the tourist to stay in the city. From palace hotels to 5-star chains of hotels, heritage hotels to budgeted stay. Some good venues to put up in Jaipur are listed below. You can check out more options from www.booking.com.
This luxurious hotel owned by Taj Group was initially the palace of the King of Jaipur, now converted into a 7-star hotel. Everything in this hotel, the structure, the rooms, the galleries, the gardens show the richness of the royal family of Jaipur. One-day tariff of this hotel starts from a whooping 30,000 INR i.e. US $ 428 – hence, an expensive place to stay.
This beautiful palace was initially the residence of the Prime Minister of Jaipur, now converted into a hotel. This is a perfect choice, if looking to stay in a beautiful palace property, if Rambagh Palace is out of range. Tariff for this palace hotel starts from 10,000 INR per day (much better than Rambagh Palace). The hotel boasts of beautiful Mughal styled garden, trimmed lawns, beautiful galleries and palace structure.
If looking for staying at one of the prime 5-star hotel chain in Jaipur, ITC Rajputana should be on the top of the list. The hotel fully justifies in providing the Jaipuri feel through its structure along with modern rooms. The added benefit is the awesome Indian food this hotel offers in its restaurant Peshawri and Sheesh Mahal. Tariff starts from 6000 INR per day. This is the best choice for upper mid range hotel in Jaipur.
If looking for a good comfortable 5-star business hotel, then Holiday Inn would be the perfect choice. Comfortable rooms, good breakfast and amazing services at reasonable prices of Rs 3000-4000 INR per day – Holiday Inn offers a lot at affordable range.
The best choice for budget stay in Jaipur. The colourful vibe of this hostel styled hotel is truly amazing. You can also make a lot of friends while staying here and have a great party time. This is best choice for solo travellers and small groups to stay.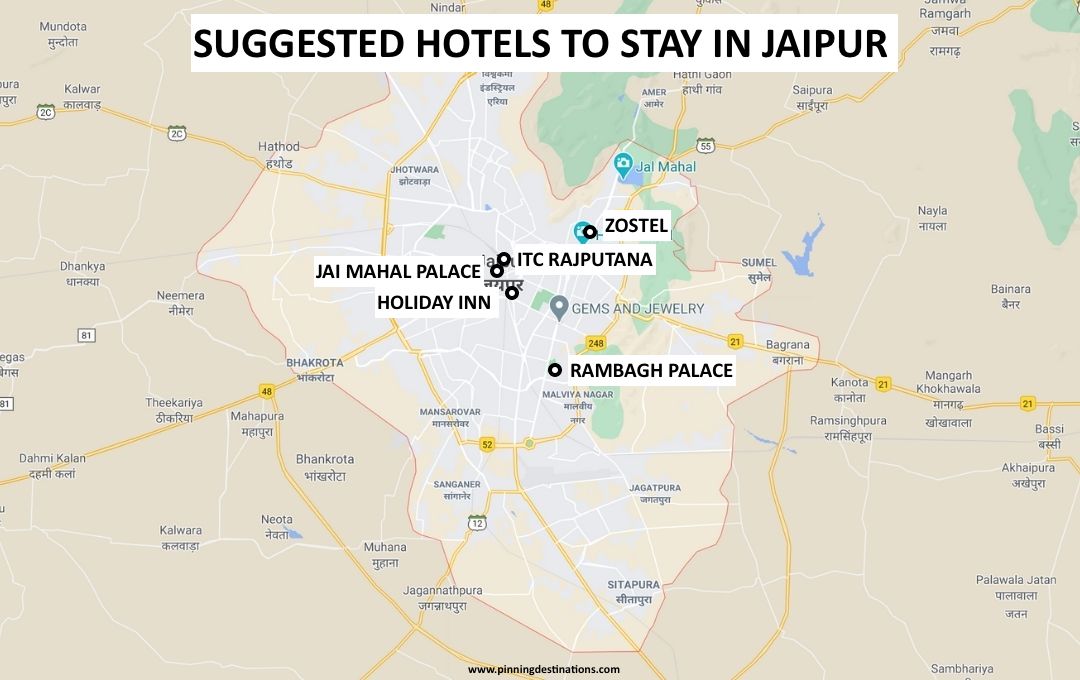 BEST TIME TO VISIT JAIPUR
Rajasthan has extremely hot summers with temperature ranging from 45-50 degree Celsius. Therefore, it is never advisable to visit Jaipur during summers. Winter season (October to March) are the best months to visit Jaipur as it is much more comfortable to travel and see all the attractions.
TOP THINGS TO DO IN JAIPUR
1. Visiting Forts
Visiting the grand and historically rich forts is the best thing to do in Jaipur. The city has three forts to offer – Amer Fort, Nahargarh Fort and Jaigarh Fort. Do not forget to get a guide when visiting these forts, as they explain in detail the history, facts and stories worth listening to. All three forts can be easily covered in a day, if one starts around 9:00-10:00 A.M.
2. City Centre Attractions
Visit the royal family's current residence, The City Palace (only some portions open for general public) and admire the richness and grandeur of the palace. The structure and the skill with which the architecture of the palace is done, is simply worth admiring. Peek into the historical side through the museum inside the palace. Jantar Mantar, which is located just outside The City Palace, can be covered alongside.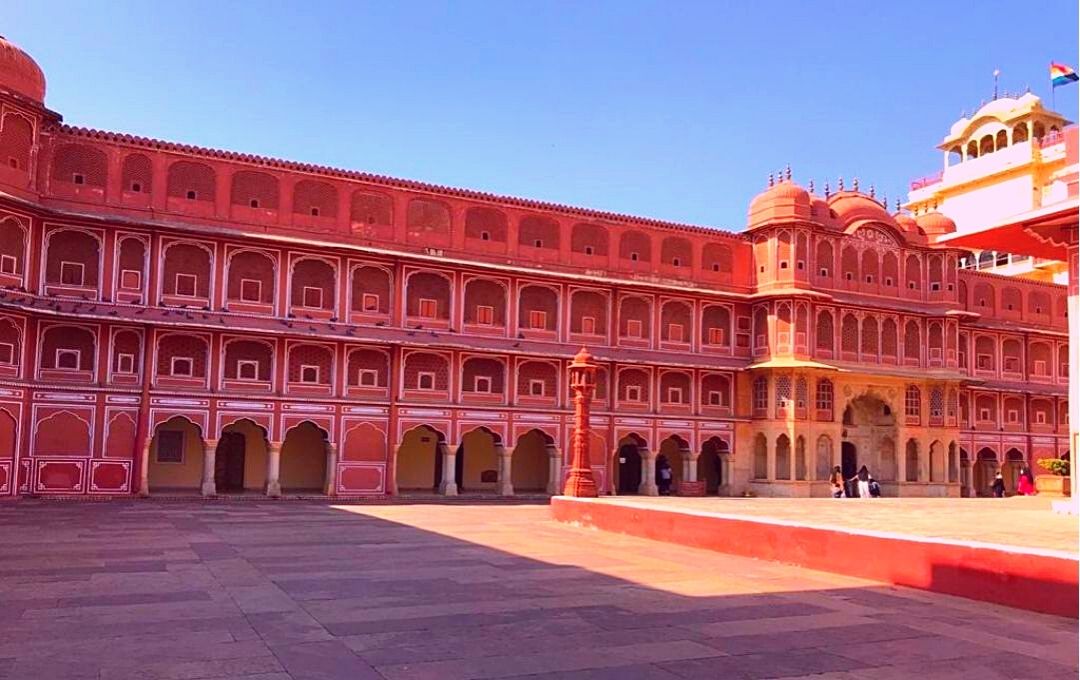 Walking distance to Jantar Mantar and City Palace is the beautiful Hawa Mahal. This historical brilliant masterpiece is a must visit – not only from outside but from the inside as well. It is worth admiring to see, how intelligently it is built, making it so airy – hence the name Hawa (meaning airy in Hindi) Mahal.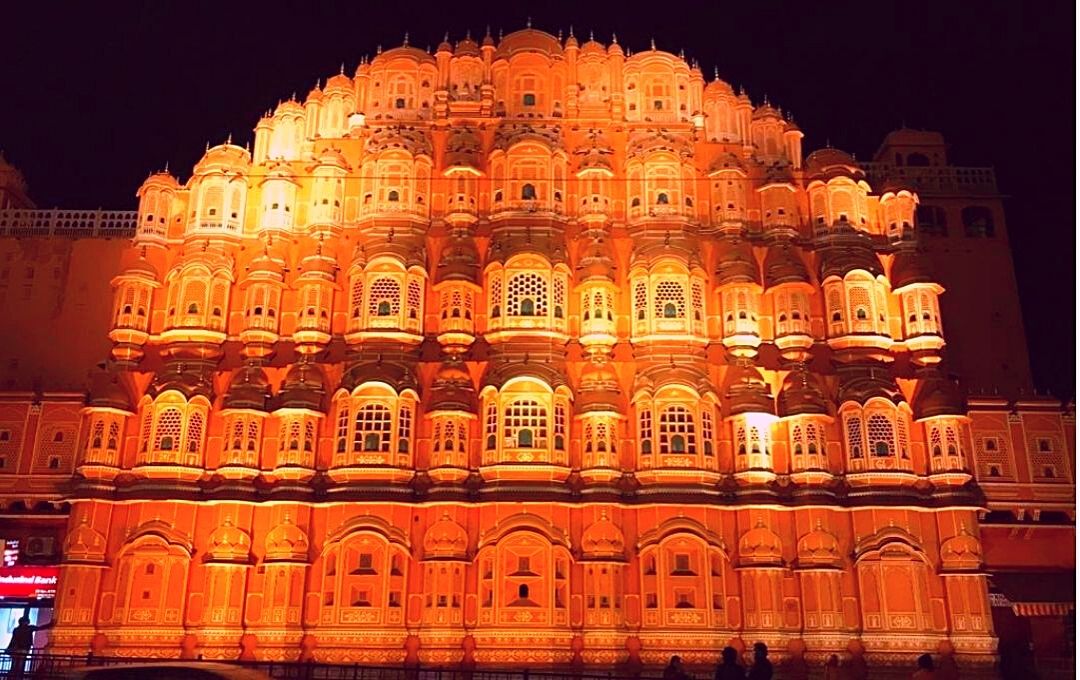 3. Authentic Rajasthani Food
Indulge in some of the authentic food of Rajasthan: Dal Bati (Laxmi Misthan Bhandar), Pyaaz Kachori (Rawats), Rajasthani Thali along with Gatte ki Sabji, Sangri, Kadi, Missi Roti etc. available at many places, is a must try. Laal Maas, a kind of a mutton curry, is a speciality of Rajasthan and should not be missed, if you are a non-vegetarian. For deserts, traditional and Rajasthan's famous Ghevar and Firni are 100% takeaways.
4. Shopping
Indulge in some good shopping Jaipur offers. Jaipuri footwear, glasswork bangles, traditional rajasthani dresses, decorative items are worth buying. Bapu Bazaar, close to Hawa Mahal is the best market to buy these stuff. Other upmarket shops like Rana's, Pratap Son's are also very good to check out.
5. Hot Air Balloon Ride
There are also provisions for hot air balloon ride in this city. It is a beautiful experience of viewing the Jaipur city and admiring the landscape. This takes place early morning around 5:00-6:00 AM and around sunset. There are specific days for air balloon rides, as it mostly depends on weather, so prior booking is required. Hotel staff or local travel agents can help in that. Ticket usually is quite expensive. It starts from 15,000 INR / Person.
6. National Park
If looking for some adventure in national park, then plan to visit the Jhalana Leopard Safari Park. It is nearby, at a distance of only 10 kms from Jaipur city. This park is home to 25+ leopards and tickets can be booked online from https://www.jhalanaleopardreserve.com/jhalana-leopard-safari-booking/.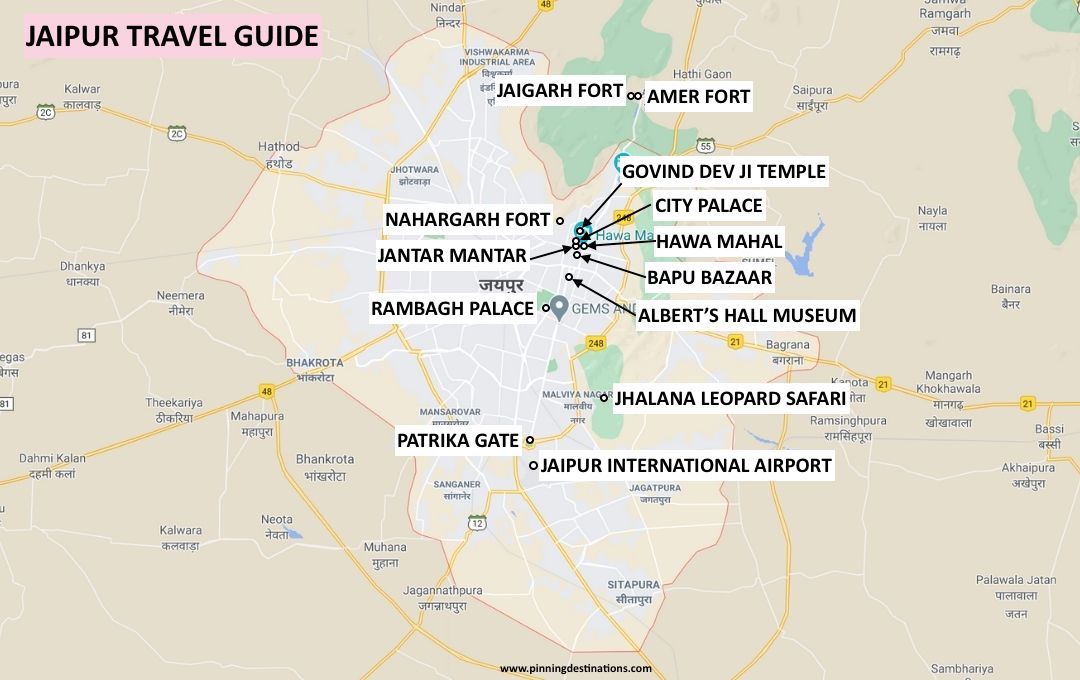 JAIPUR ITINERARY FOR 2 DAYS
Day 1: City Palace, Jantar Mantar, Hawa Mahal, Shopping at Bapu Bazaar
Day 2: Amer Fort, Jaigarh Fort, Nahargarh Fort, Jal Mahal
DETAIL JAIPUR ITINERARY FOR 2 DAYS
DAY 1: City Palace, Govind Devji Temple, Jantar Mantar, Hawa Mahal, Shopping at Bapu Bazaar
Start your 1stday in Jaipur by exploring the attractions in the centre of the city like City Palace, Jantar Mantar and Hawa Mahal. City Palace and Hawa Mahal are open to visit around 9:30 AM and closes by 5:00 PM, so it is very important to cover it by afternoon. As these are located in the busiest area of Jaipur, it is advisable to hire an auto to get there.
City Palace
City Palace is the most visited attraction in Jaipur and why not? Who doesn't want to see the place where the royal family of Jaipur lives? The palace was built during the same time the city of Jaipur was built by Raja Jai Singh II and since then, it has been the residence of the royal family. Currently, only a particular portion of the palace is open for the public to visit.
The City Palace is huge, spectacularly beautiful and gives a sneak peak into the history of the royal family. The palace boasts big courtyards, halls, gateways, a museum, all displaying the pictures, objects, dresses along with narratives which describe the life of past rulers that lived in the City Palace. Having a guide will be an added advantage to understand the palace better.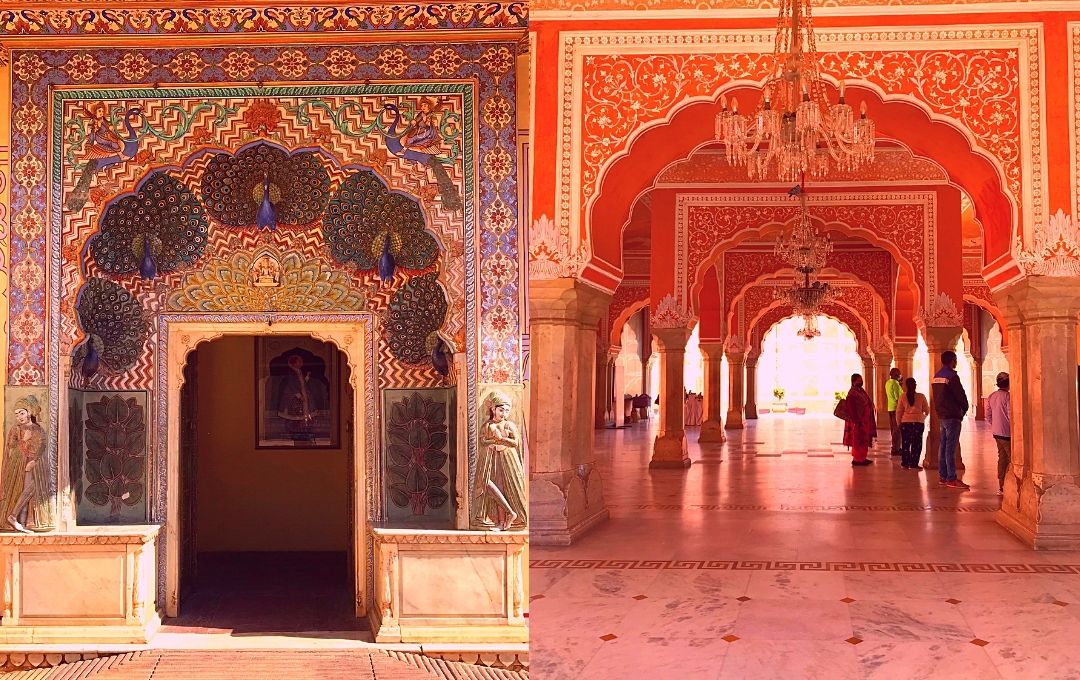 Entry:
200 INR / Adults; 100 INR / Child for Indians.
700 INR / Adults; 400 INR / Child for Foreign Nationals.
An expensive ticket for 1500 – 3000 INR / Person is also available which allows one to see some other restricted areas of the palace.
You can always check for current rates from https://jaipurtourism.co.in/city-palace-jaipur
Timing: 09:00 AM to 05:00 PM
There is a beautiful and a very famous temple named Govind Dev Ji, located extremely close to City Palace, which is one of the most recognised and important temples of Lord Krishna. It can also be visited before or after visiting City Palace.
Jantar Mantar
Jantar Mantar is located right opposite to the City Palace entrance. It is an astronomical observatory which was created by Raja Jai Singh II in 1734. This observatory defines the passion Maharaja Jai Singh II had for astronomy and of his great knowledge about the subject. There are various interesting life size instruments inside this observatory though which movements of sun and planets can be predicted. Always hire a guide while visiting this monument, who can explain about each instrument as a layman will never be able to understand the intricacies of the instruments. In case of limited time, this can be skipped.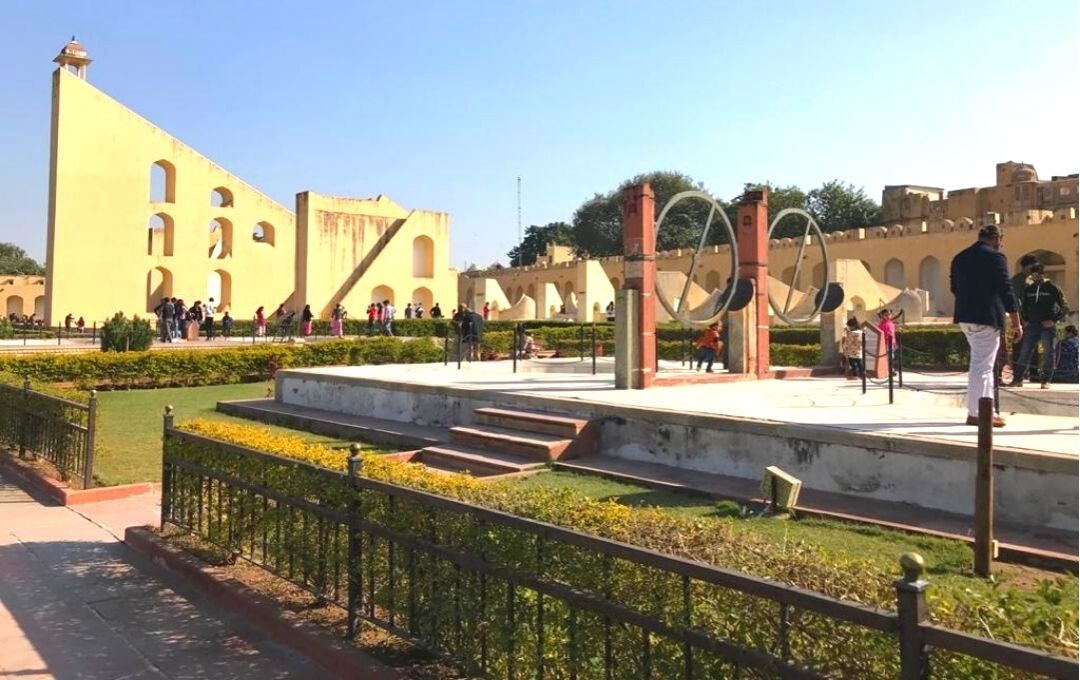 Entry Price: 50 INR / Adult for Indians; 200 INR / Adult for Foreign Nationals.
Timings: 9:00 AM – 4:30 PM
After visiting Jantar Mantar, stop for lunch at various options available in the area – Govindam Retreat, Heritage, LMB etc. Can use Google for more options.
Hawa Mahal
Hawa Mahal is an iconic landmark of Jaipur. This beautiful structure consists of 953 honeycombed designed windows made from red and pink limestones. It was built by Maharaja Pratap Singh (grandson of Maharaja Jai Singh – founder of Jaipur city) especially for the royal ladies, which allowed them to look through the windows on to the streets without being noticed. The speciality of the building is the structure, which allows it to be very airy (as the name suggests – Hawa). This monument stands on the busiest lane in Jaipur and can be seen while travelling from that lane, externally. To visit the monument from inside requires a ticket and if one has limited time, visiting inside can be skipped.
Entry Price: 50 INR/Adult for Indians; 200 INR/Adult for Foreign Nationals.
You can always check for current rates from https://jaipurtourism.co.in/hawa-mahal-jaipur
Timing: 09:00 AM to 05:00 PM
Bapu Bazaar
After visiting Hawa Mahal, the best thing is to check out the local market. Although the market outside Hawa Mahal is quite big and busy, still, try out Bapu Bazaar for more variety and better bargaining. It is no more at a distance of 10 minutes from Hawa Mahal. You can get a variety of traditional Rajasthani dresses, bangles, footwear, accessories, decorative items, bedsheets, cushion cover etc.
Albert's Hall Museum 
If not interested in shopping, then one can plan to visit the Albert's Hall Museum, which is located in the centre of the city. It is the oldest museum in Rajasthan. The building is impressive and is dated back during the colonial times. The museum includes ancient artifacts like objects, weapons, paintings, statues etc of different parts of the world. The most interesting part of the museum is the Egyptian Mummy.
Have dinner in the surrounding areas or at your hotel's restaurant.
09:00 – 11:00 AM: City Palace
11:00 – 12:00 PM: Jantar Mantar
12:30 – 01:30 PM: Lunch
02:00 – 03:00 PM: Hawa Mahal
04:00 – 06:00 PM: Shopping or Albert's Hall Museum
08:00 – 10:00 PM: Dinner
DAY 2: Amer Fort, Jaigarh Fort, Nahargarh Fort and Jal Mahal
Dedicate this day to visit the amazing forts of Jaipur. Without visiting these forts, trip to Jaipur is never complete. Renting a full day car is advisable for this day. One needs to start the trip around 9:00 or 10:00 AM in order to visit all three forts (Amer, Jaigarh and Nahargarh) in a day. Jal Mahal can also be seen on the way from a distance while going to Amer Fort. Going inside the Jal Mahal is not allowed.
Amer Fort
Amer Fort is 14 kms from Jaipur and takes around 45 mins to reach. It is extremely huge, beautiful and most interesting fort amongst the three. One can easily relate to it, as many Bollywood period films have been shot here like Jodha Akbar, Padmavat, Bajirao Mastani, Manikarnika etc.
Rajput ruler Man Singh built this fort around 1591. It was the residence of the Rajput rulers before Jaipur city was built. Because Maharaja Man Singh was one of the nine navratnas (royal court) of Mughal Emperor Akbar and the nephew of his Hindu wife Jodha Bai, we can see that the palace is largely influenced by Mughal architecture. The grand entrances, gateways, halls, Sheesh Mahal etc are very interesting to see. Moreover, the view of the hills and lake from the palace is also worth admiring. Again, having a guide is the best thing to do to know in detail about the palace. Palace can be reached by Elephant ride or by hiring Jeep or self-driven car.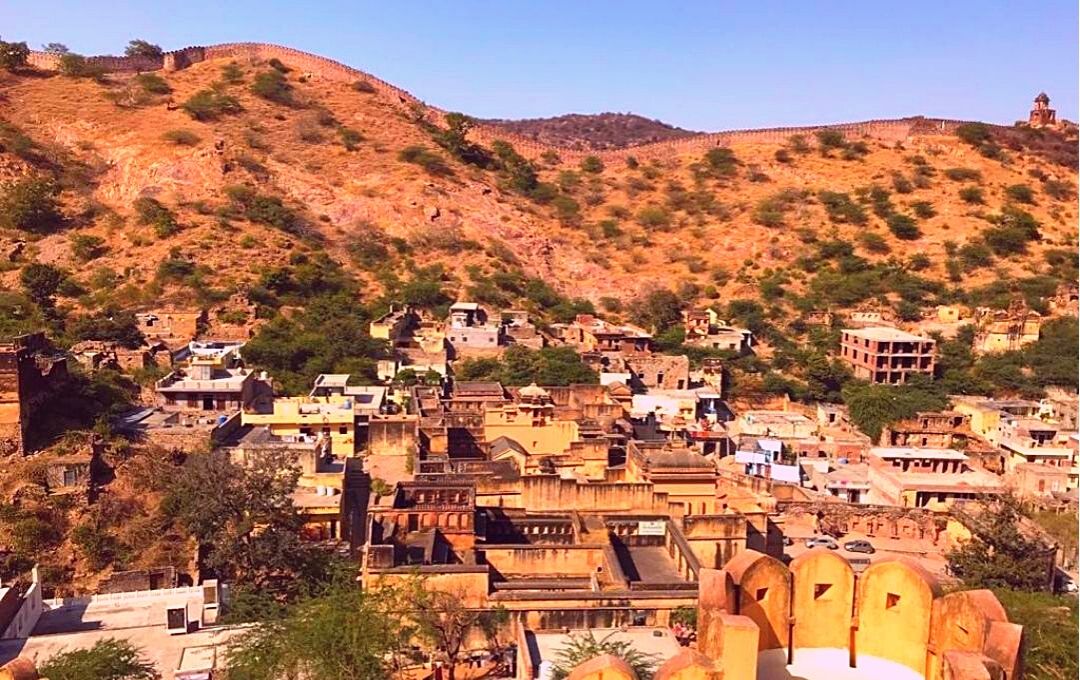 While reaching the Amer Fort, do not forget to stop at Panna Meena ka Kund – a beautiful stepwell, commonly known as Baori. It was a traditional way of storing water and is very common in Rajasthan. As Rajasthan is a dry state, people in the past created a lot of Baori's to help them store water.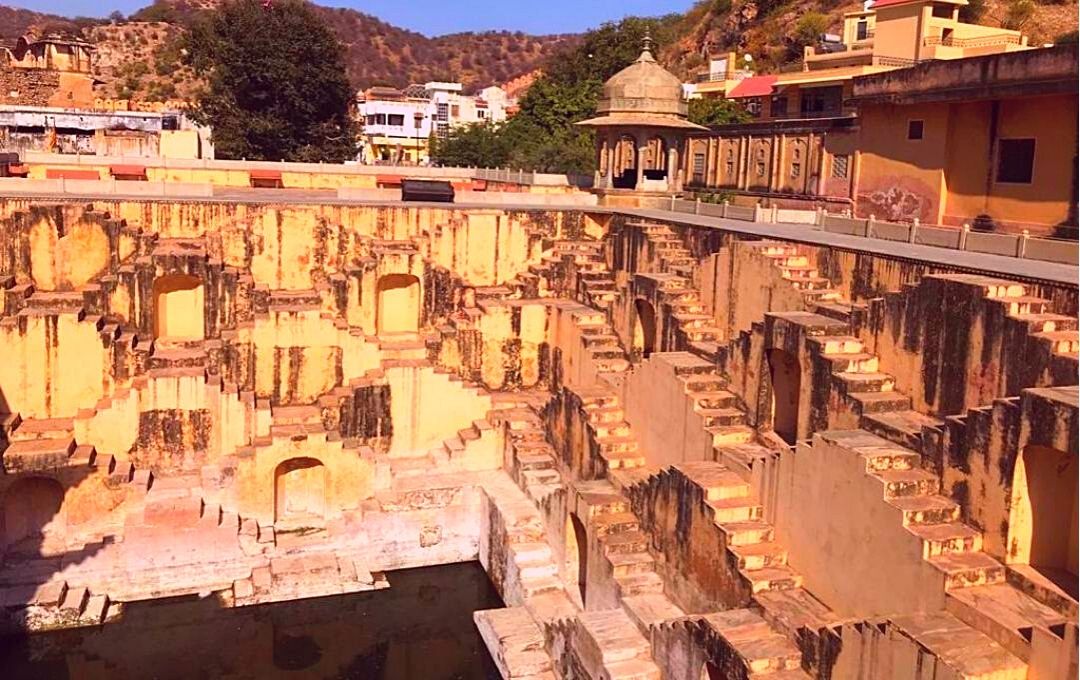 Jaigarh Fort
Jaigarh Fort is located a few meters higher above on the hill, just near the Amer Fort. It is very clearly visible from the Amer Fort. It was primarily built for the soldiers/army of the king. Soldiers were stationed in the Jaigarh Fort to protect the Amer Fort – The King's palace. There is also a tunnel directly connecting Jaigarh Fort to Amer Fort. This fort is not as attractive as the Amer Fort but it gives an incredible view of the city of Jaipur.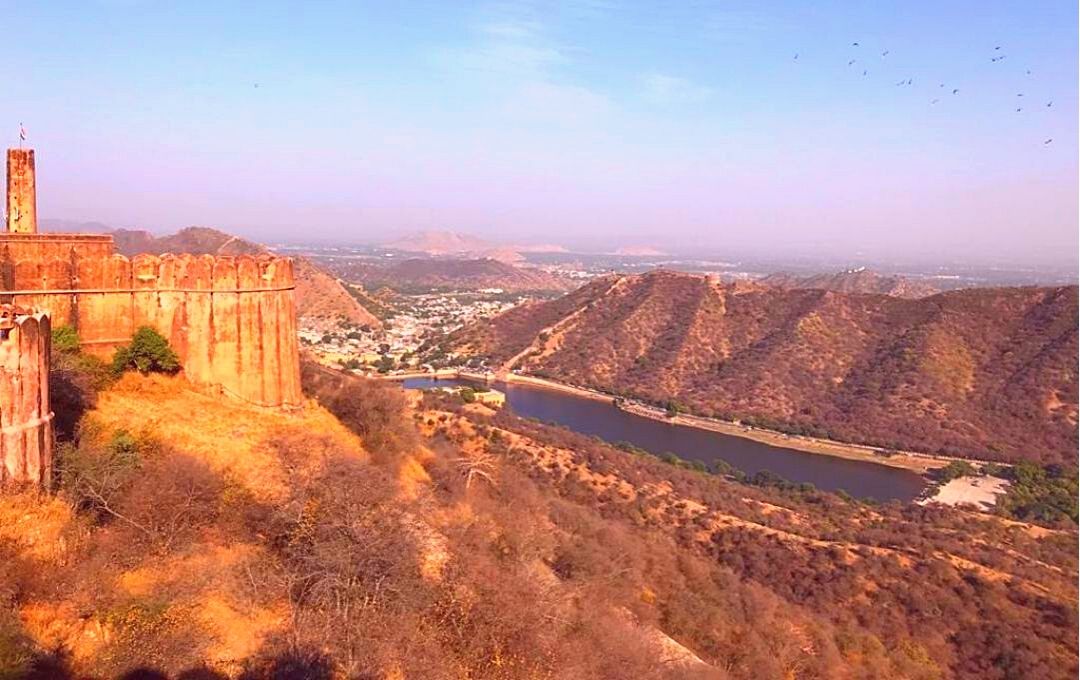 Jaigarh Fort is the home to the largest canon in the world called 'Jaiwan'. Beware of Monkeys at this fort. Having a guide to visit this fort is not much required, as apart from Jaiwan Cannon and a small museum, there isn't much worth exploring in this fort.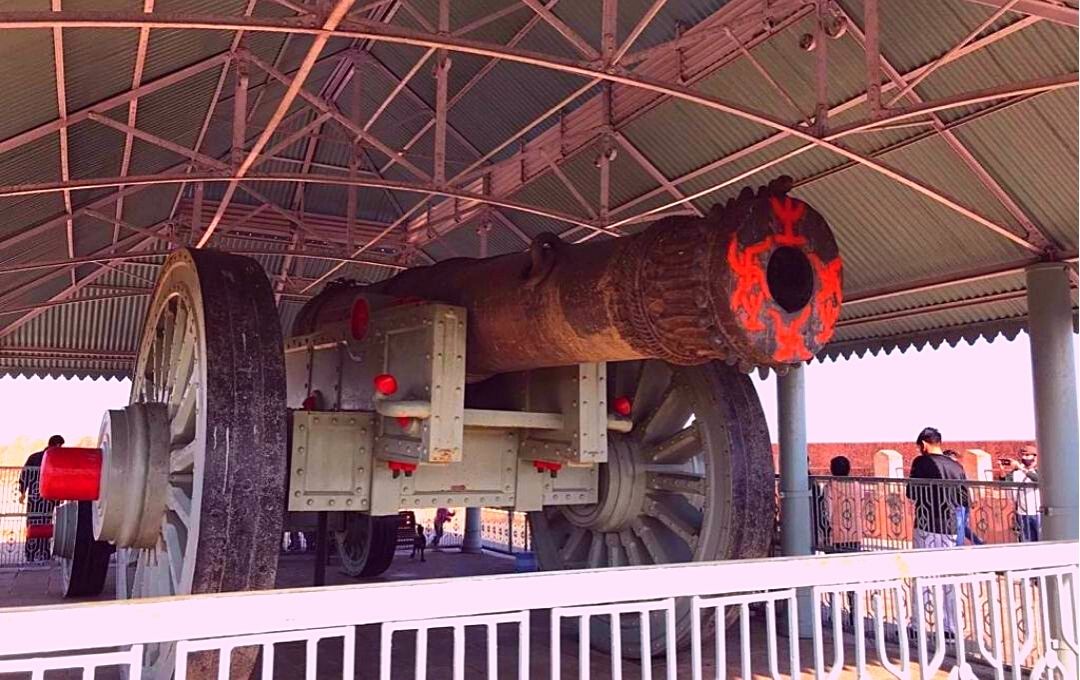 There is a small restaurant called "Jaigarh Restaurant" in the fort area, which provide authentic Rajasthani food. Must try here is Daal Bati and Bajre ki Roti along with Garlic Chutney.
Nahargarh Fort
This is the last fort to be covered on the 2ndday of the Jaipur trip and I suggest to keep it for the last, in order to enjoy the sunset view from this fort. This fort is famous for the sunrise and sunset views. Just like Amer Fort, this fort is also equally interesting. The creation was done by Raja Jai singh in 1734 as a hunting fort. It was later expanded in 1868 and 1883 by the then ruling kings.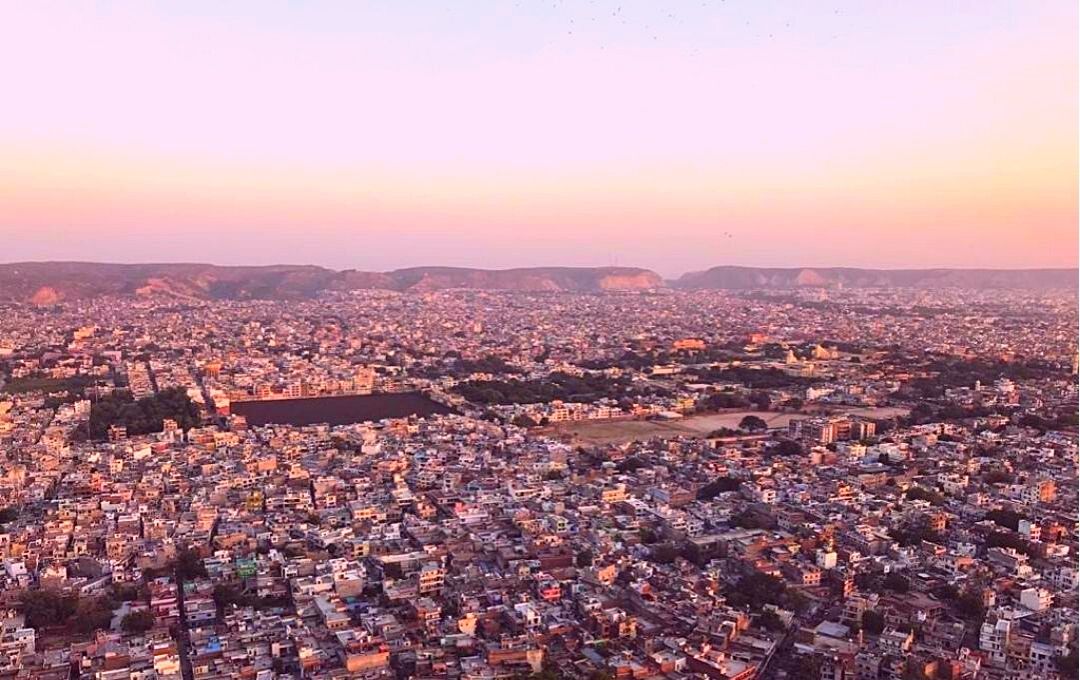 The most interesting thing to see in the fort is Madhavendra Bhawan of Raja Madho Singh, who built his own chamber connecting it with the chambers of his 9 queens, who had their own separate chambers. The Bhawan is built in such a way that none of the queens could find out in which chamber Raja Madho Singh was in. All the 9 chambers were connected to each other by passages that only Raja Madho Singh had access to.
The view from this fort is by far the best, compared to all three forts. There is a Baori (water step well) at the backside of the fort where one scene from the famous Bollywood movie Rang De Basanti was shot. Nahargarh Fort is quite a popular spot, especially amongst the youngsters in Jaipur and why not – the view, the stone structures and fresh air gives a good break from the daily chaotic life.
Dinner
After visiting these three forts, get back to city centre and head to a nice place for dinner. If you have some spare time, shopping can also be done in between. For dinner, try the amazing restaurants some of the 5-stars hotels offer like Peshawri at ITC Rajputana, Cinnamon at Jai Mahal Palace, Peacock Restaurant etc.
10:00 AM – 01:00 PM: Amer Fort
01:30 PM – 03:00 PM: Jaigarh Fort + Lunch
04:30 PM – 06:30 PM: Nahargarh Fort
07:00 PM – 09:30 PM: Shopping followed by dinner
This now completes Jaipur Itinerary for 2 Days. Hope you enjoyed all the information and hope this blog will help you plan your trip better.
If you find this blog 'Jaipur Itinerary for 2 Days' interesting, please share the link of the website/blog with your family and friends. If you have any comments or suggestions – please do write in the comments section below.
Need regular dose of travel information, planning and update on new blogs, please like my page on Facebook.
Need regular dose of travel shots – follow my page on Instagram