ABOUT HONG KONG & MACAU TRIP
If you want to experience great architecture, breath-taking scenic beauty, serene temples, old monuments as well as amazing cosmopolitan lifestyle – visit Hong Kong. When combined with Macau, it gives an additional touch of flashy 5 star hotels with glitzy casinos. Macau also has its own traditional side depicting Portuguese culture withthe finest churches, equally worth visiting. Both cities are charismatic in every way. Hong Kong & Macau together gives a splendid experience and a blend of both modern and contemporary old culture. Here, I am sharing a beautiful plan for a trip to Hong Kong & Macau in less than a week – just 6 days!!! It will guide you about the best time to visit, best place to stay, places to visit, tips, guidelines etc., so that a short holiday to Hong Kong & Macau can easily be planned.
Both Hong Kong & Macau comes under China but as Special Administrative Region (SAR). Both cities are administered as separate countries hence they offers their separate VISA's.
DURATION OF THE TRIP
This trip is for 6 days, starting with 2 days in Macau and then 4 days in Hong Kong.
HONG KONG & MACAU TRIP COST
Flights (round trip from India): 370 – 515 US$ / Person
Hotel: 100 – 150 US$ / Day
Ferry Transfers (Hk to Macau and return): 75 – 115 US$ / Person
Entry to various Attractions: 145 – 175 US$ / Person
Food and Local Transport: 145 – 175 US$ / Person
Miscellaneous: 75 – 115 US$ / Person
Total: 1200 – 1450 US$ / Person
HOW TO REACH/HOW TO TRAVEL WITHIN HONG KONG & MACAU
Hong Kong is a big Financial Business City of Asia and hence it has connections with all major cities around the world. Direct round trip flights can be booked from Home Country for Hong Kong easily. For travelling to Macau, the most common route mostly used by everyone is ferries. Ferries to and from Hong Kong are available at Honk Kong International Airport as well as from Hong Kong Island Ferry Port and China Ferry Terminal at Tsim Sha Tsui.
Hong Kong is a big Metropolitan city and has excellent MTR System (Metro). It is easy, fast, economical and convenient to use for travelling within Hong Kong City. Apart from MTR's public buses, Taxi's and Ubers are available in Hong Kong. Uber are cheaper than Taxi's but Uber isn't that popular in Hong Kong as it is in other big cities.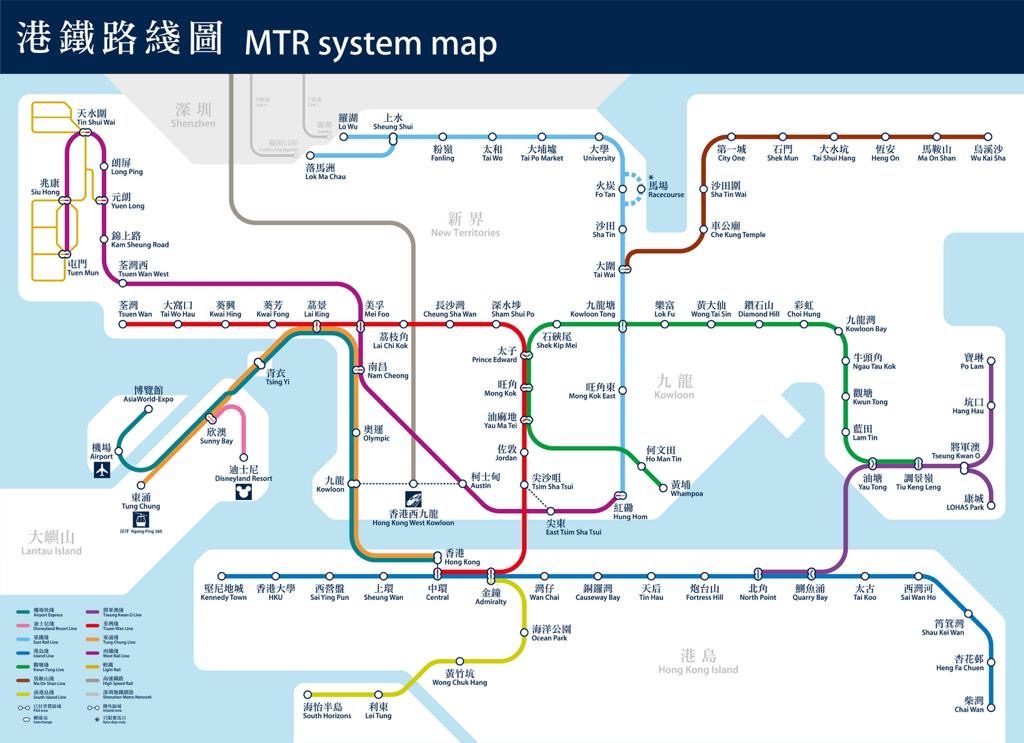 In Macau, travelling within the city is extremely simple. All major Hotels in Macau like Galaxy, Studio City and Wynn Palace have their free shuttle buses running at all major locations. Apart from these public buses, taxi's are also available.
WHERE TO STAY IN HONG KONG
The most lively place to put up in Hong Kong is Tsim Sha Tsui. You can book any hotel on Nathan Road between Jordan and Tsim Sha Tsui. Just make sure that it is at a walking distance from any of the subway stations.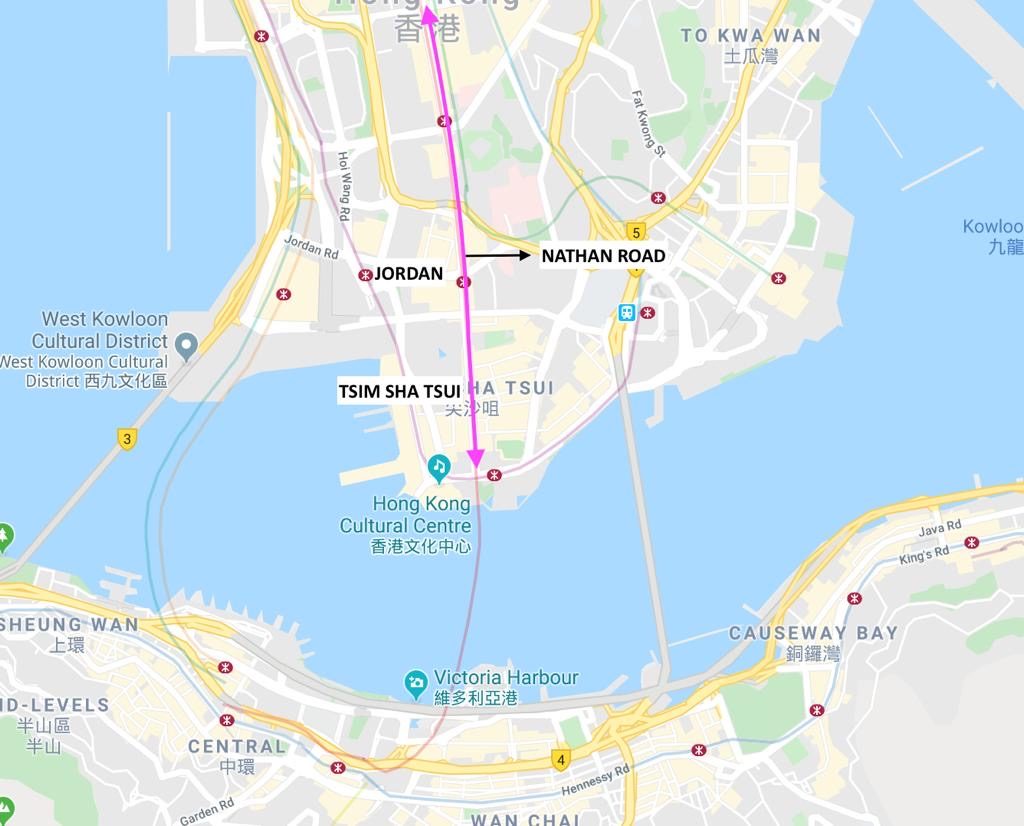 Below are the suggestions for Hotels in Hong Kong on the main locations –
 Sheraton Hong Kong Hotel and Towers – This is an amazingly good 5 star property right in the main shopping area. One gets a beautiful view of the whole city from this hotel.
Holiday Inn Golden Mile – This Mid range Hotel is just at a walking distance from Tsim Sha Tsui metro station.
Novotel Nathan Road Kowloon – This is a great choice for a mid range Hotel. Jordan station is 2 mins walk from this hotel.
Eaton HK – This is again a good choice of Hotel at Nathan Road. It is just at a 5 mins walking distance from Jordan Station. The best part of the Hotel is that guests a

t Eaton are given a mobile handset with free Internet, through which you can check out the eating options, purchase tickets, book half day or full day tour etc.
WHERE TO STAY IN MACAU
There are two main areas to stay in Macau – Macau Peninsula (Old Macau) or Cotai. I will always suggest Cotai as it offers better nightlife, casinos and malls. It is a new Macau and a mini replica of Las Vegas. If one really wants to enjoy night life, stay at Cotai, especially anywhere at a walking distance from Cotai Strip.
Macau Peninsula is basically old Macau with museums and historic places. There is free shuttle service from all major hotels in Cotai so one need not worry about commuting to Macau Peninsula from Cotai at any time of the day. Frequency of these buses is also very good.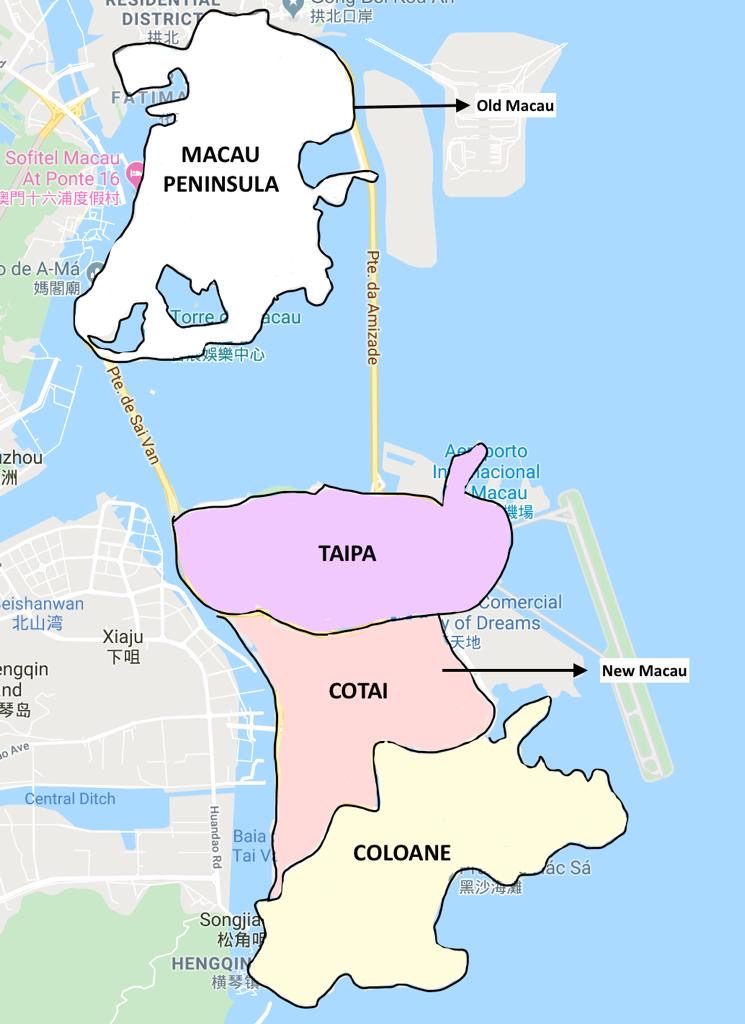 Below are some of the suggested Hotels to Stay in Cotai, Macau –
BEST TIME TO VISIT HONG KONG & MACAU
Weather usually stays the same throughout the year but try avoiding rainy season which is usually from April to September. November to January is the best time to visit as temperature is cool (around 20°C) during this time of the year and skies are clear.
MUST VISIT PLACES IN HONG KONG & MACAU
Macau : Taipa Village, Venetian, Macau Tower and Senate Square
Hong Kong : The Peak, Disneyland and Symphony of Light.
TIPS FOR 
HONG KONG & MACAU TRIP
Book your flight 2-3 months in advance for better rates. Always book return trip from Hong Kong.
Book your hotels in advance and in the main locations. Hotels are expensive in Honk Kong as well as in Macau.
Check the weather beforehand and then plan the place of visit. Rains are quite uncertain in Hong Kong as well as Macau.
Use credit card and book online ticket for Disneyland and Ocean Park and Airport Express for better offer via www.klook.com, just one day in advance.
Always try to use Subways for transport in Hong Kong to avoid traffic. Keep a Map of city and Subway Map handy for better understanding of the routes.
At few places in Hong Kong you can use Airport free shuttle buses running around the city. It's not necessary to have flight tickets to travel on these shuttles. Check with your hotel staff for their pick and drop locations.
Macau offers free shuttles for almost all places. Make best use of this service and don't waste money on Taxi's.
HONG KONG & MACAU TRIP PLAN FOR 6 DAYS 
1st Day: Arriving in Hong Kong and transfer to Macau.
2nd Day: Macau – Taipa Village, Venetian, Galaxy and Club Cubic.
3rd Day: Macau – Macau Tower, Ruins of St Paul, Grand Lisboa, Senade Square and Venetian.
4th Day: Leaving Macau, Reaching Hong Kong, The Peak, Star Ferry, Symphony of Light and The Night Market.
5th Day: Hong Kong – Disneyland, Ozone Bar- Bar on the 118thfloor.
6th Day: Hong Kong – Ocean Park, TST market
DETAILED ITINERARY FOR HONG KONG & MACAU FOR 6 DAYS
DAY 1: Arrival in Hong Kong and Transfer to Macau
How to reach Macau from Hong Kong via ferry – ferry ports, ferry timings, ferry ticket price and how to book
We planned for visiting Macau directly after reaching HK airport. Process was quite smooth. Look for Macau Ferry Transfer Counter/Skypier Ferry Terminal at Hong Kong Airport. There are numerous people to guide you for this at the airport. Buy tickets for the next available ferry. Cost for ferry to Macau was 254 HKD. The luggage was transferred directly from the flight into the ferry. Just make sure you reach HK Airport by 7 PM because the last ferry departs at 10 PM. There are limited ferries operating from Hong Kong Airport so do check out the ferry timing beforehand from www.turbojet.com.hk and www.cotaiwaterjet.com. Tickets for the ferry need to be purchased 1 hour ahead of sailing time. Pre-booking is not at all recommended as there can be chances of flight delay and these ferry tickets are non-refundable and non-transferable.
Apart from the airport, ferries to Macau are available round the clock from HK Island (Hong Kong Ferry Terminal) at just 150 HKD. There is another port at Tsim Sha Tsui (China Ferry Terminal) where ferries run from Hong Kong to Macau all throughout the day. One has to go through Immigration (which takes quite some time) to use these two ports. As we did not want to waste time in reaching Macau, we preferred taking the ferry from the airport itself. It took us one and a half hour to reach Macau. We passed through Macau Immigration and after clearing it we took the free shuttle from the ferry port to reach our hotel. We had a light dinner and called it a night as we were already quite jetlagged.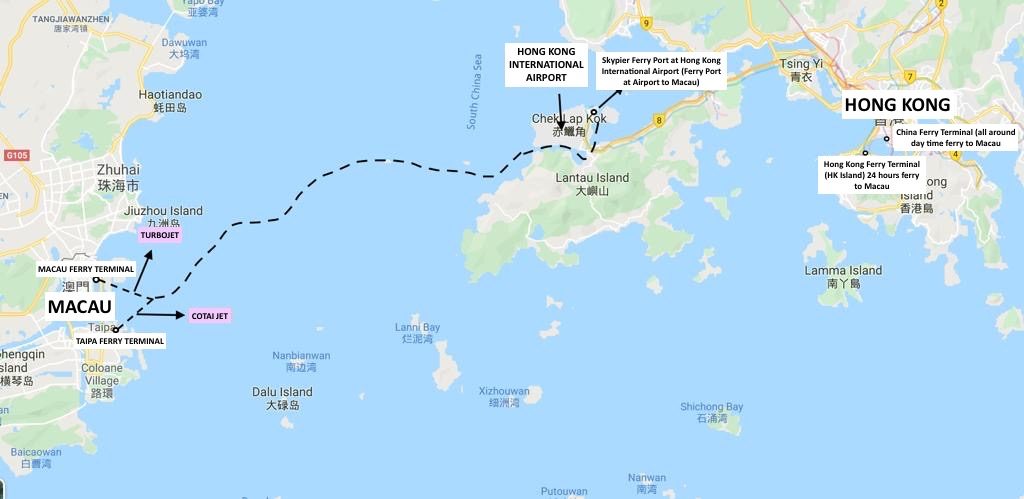 02:30 PM: At Hong Kong Airport
03:45 PM: Bought tickets for Macau Ferry from Skypier counter at HK Airport
05:00 PM: Boarding Ferry at Skypier Ferry Terminal – HK International Airport
06:30 PM: Reaching Macau
08:00 PM: Reaching Hotel
DAY 2: Visit to Taipa Village, The Venetian, Galaxy & Club Cubic
Taipa Village
We started our first day in Macau with Taipa Village, which was quite near to our hotel – roughly 4 kms. There were many free shuttle buses from our Hotel to Galaxy Hotel. We reached Galaxy Hotel and walked up to Taipa Village, as it was very close by this Hotel. Free Shuttle buses are also available for Taipa Village from Galaxy Hotel, Studio City Hotel and Wynn Palace Hotel.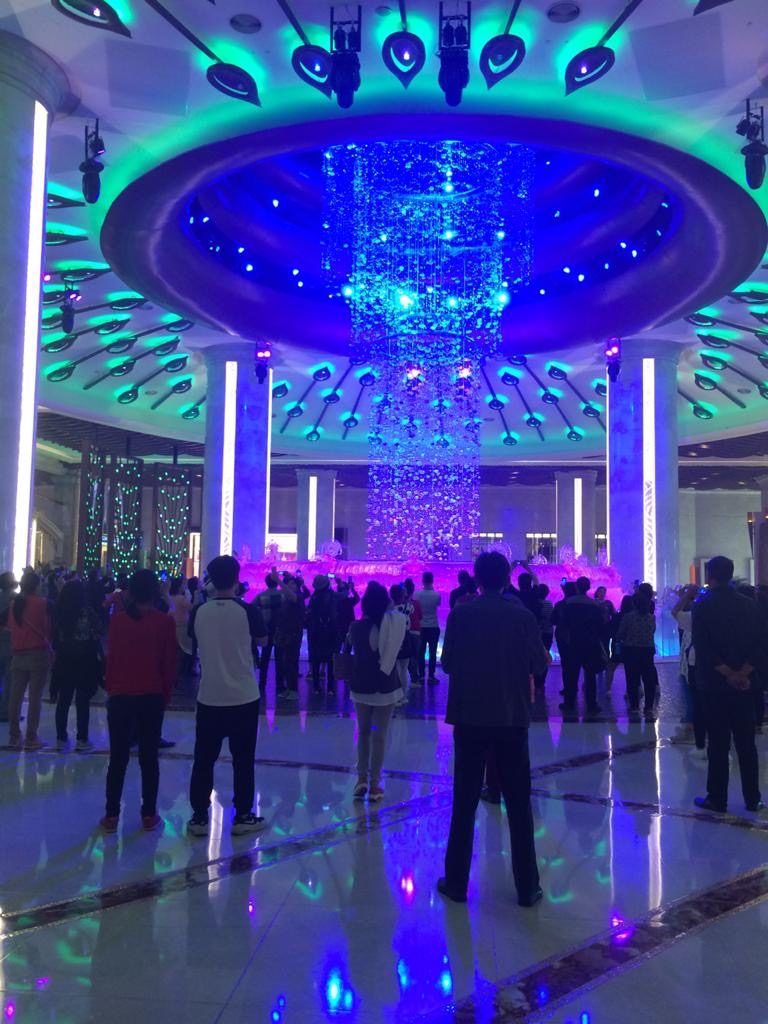 Taipa Village takes us back to the old culture of Macau and it was fascinating to see how well preserved it is till date. The houses built there are typically old Portuguese style, which are a sight for the sore eyes. The village also has beautiful museums and temples to visit and nice cafes to refresh one self.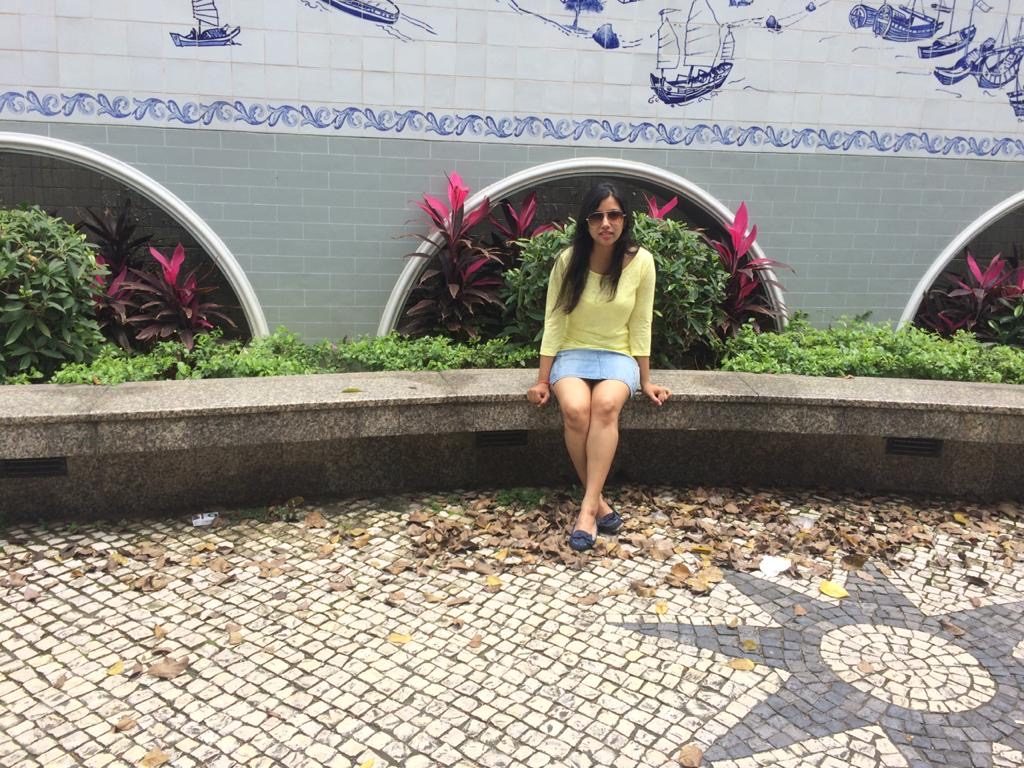 The best way to explore Taipa Village is by renting bicycles, which are available for 20 HKD (For 1 to 2 hours). We visited Pak Tai Temple, then went to Lady of Carmel Church and Taipa House Museum. It is not necessary that you visit inside each temple and museum from inside. Just a walk from outside to these places totally work. Visit to Taipa Village is a must because it takes you altogether to a different traditional world which is worth admiring.
After exploring the village for sometime, we decided to have lunch. We went to Blissful Carrot, which is an amazing organic vegetarian café. The menu was quite large and we decided to try some salad, sandwiches and smoothies, all of which were a treat for the tummy. After spending quality time in the village, we decided to get back to the hotel and rest for a while.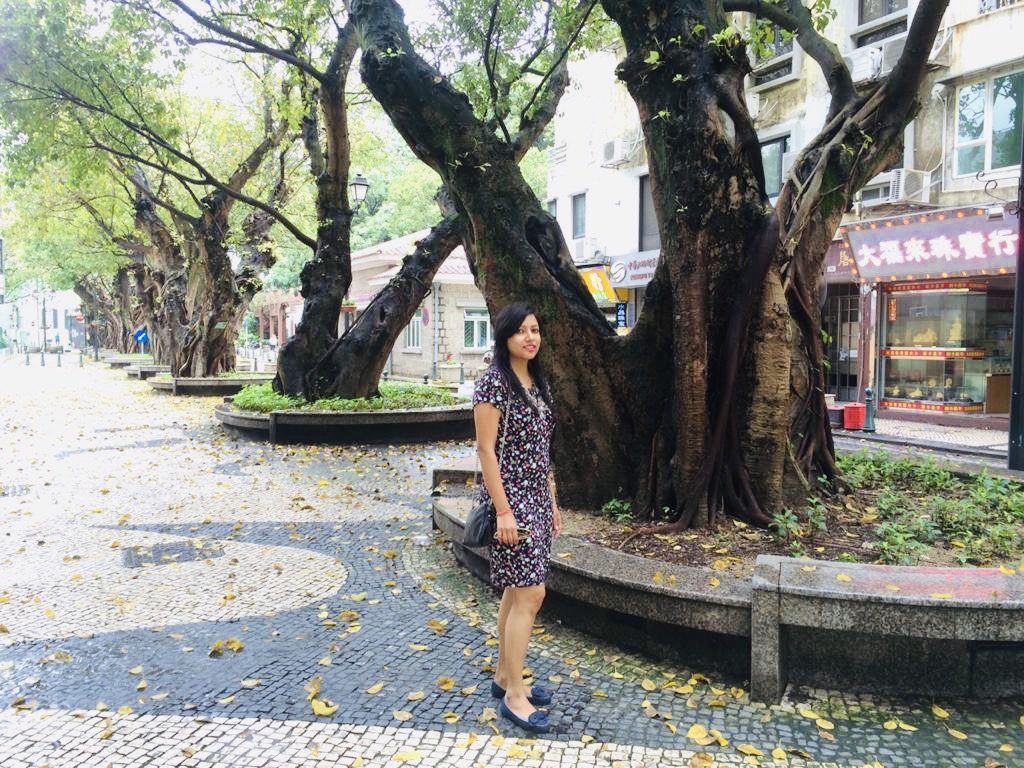 Venetian/ Dinner/ Club Cubic
In the evening, we all decided to go to the Venetian, which was just across the road from our Hotel – Countdown. The Venetian is a luxury hotel cum mall cum casino owned by the American Las Vegas Sand Company. The Venetian is based on the theme of the Vatican City. Every Venetian around the globe has a replica of Gondola rides giving the visitors a feel of their presence in Venice.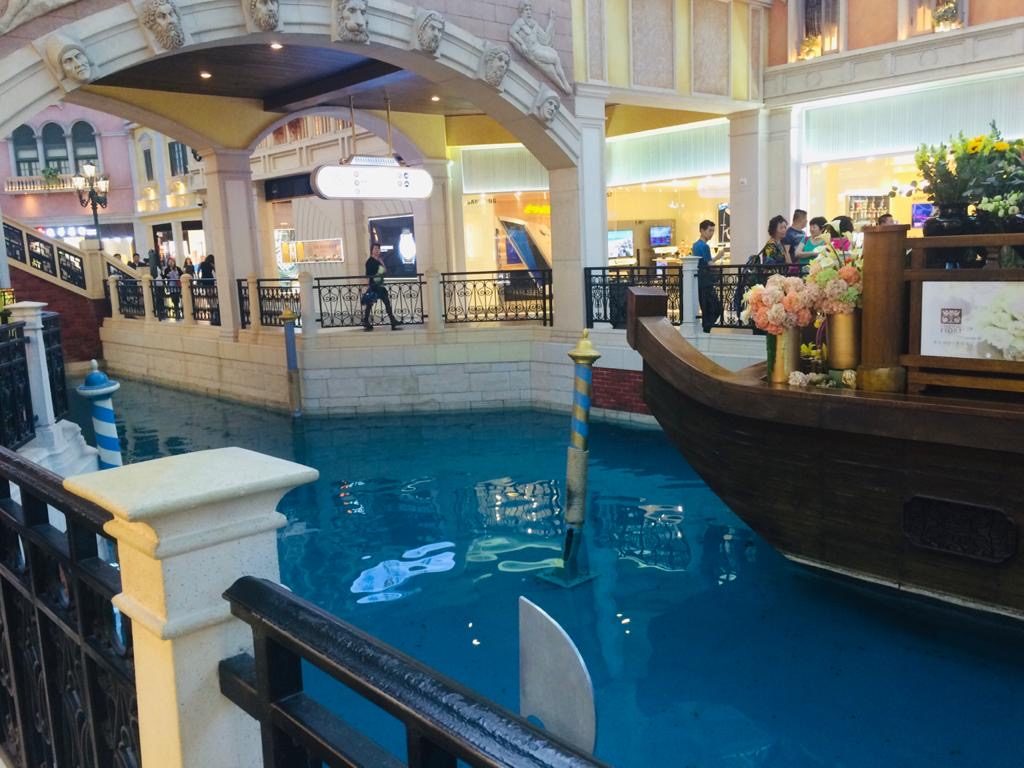 The Macau's Venetian is not as huge as the one in Las Vegas, but surely big enough to keep one busy throughout the day. We spent a good 4-5 hours in the casino and mall and had our dinner at the Venetian's food court amongst the various other dining options available there. Casinos are open 24 hours in Macau and one can pop up there anytime.
Post dinner, we decided to go to this amazing nightclub named Cubic, which was in our Hotel itself. As we were staying in this hotel, the entry to the club was free for us. The club had an amazing ambiance and the crowd was cool. Altogether it was a nice place to party.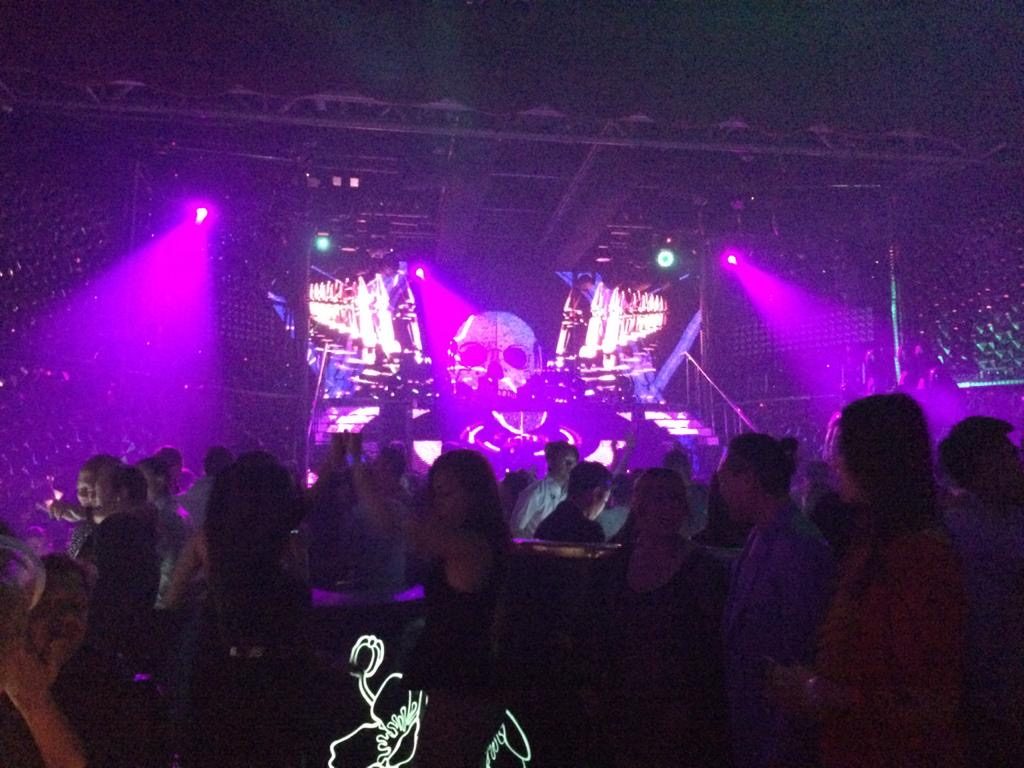 10:00 AM: Galaxy Hotel
11:00 PM: Pak Tai Temple – Taipa Village
11:30 PM: Our Lady of Carmel Church
12:30 PM: Taipa House Museum
01:30 PM: Lunch at Blissful Carrot
02:30 PM: Back to Hotel
05:00 PM: Venetain
08:00 PM: Dinner at Venetian Food Court
09:00 PM: Strolling around Cotai Strip and checking out all Hotels and their amazing Casinos
11:00 PM: Club Cubic
12:00 PM: Back to Hotel Room
DAY 3: Macau Tower, Ruins of St. Paul, Grand Lisboa, Senade Square and Venetian
Macau Tower
For the 2ndday in Macau, we headed to explore Macau Tower & old Macau i.e. Macau Peninsula. We took the free shuttle from the hotel for Macau Tower. We were really excited to witness the view of Macau city from one of the tallest building of the world – 338 meters. For this we went upto the Tower to see the observation deck at 58th Floor and 61st floor. We bought tickets for Observation Deck at Macau Tower only for 165 MOP/Person. You can also buy the same online from www.klook.com.
Observation Deck was real fun specially the scary glass floor walk. Macau Tower is basically famous for its BUNGEE JUMPING ADVENTURE SPORT. It should be a definite MUST DO thing in the list. But it is quite expensive as it is the highest bungee jumping point in the world. We missed out on it as the rain Gods were not on our side at that time. Apart from Bungee Jumping there was various activities like Sky walk, Sky Jump and Tower climb. You can check out all the activities as well as their rates from www.macautower.com.mo.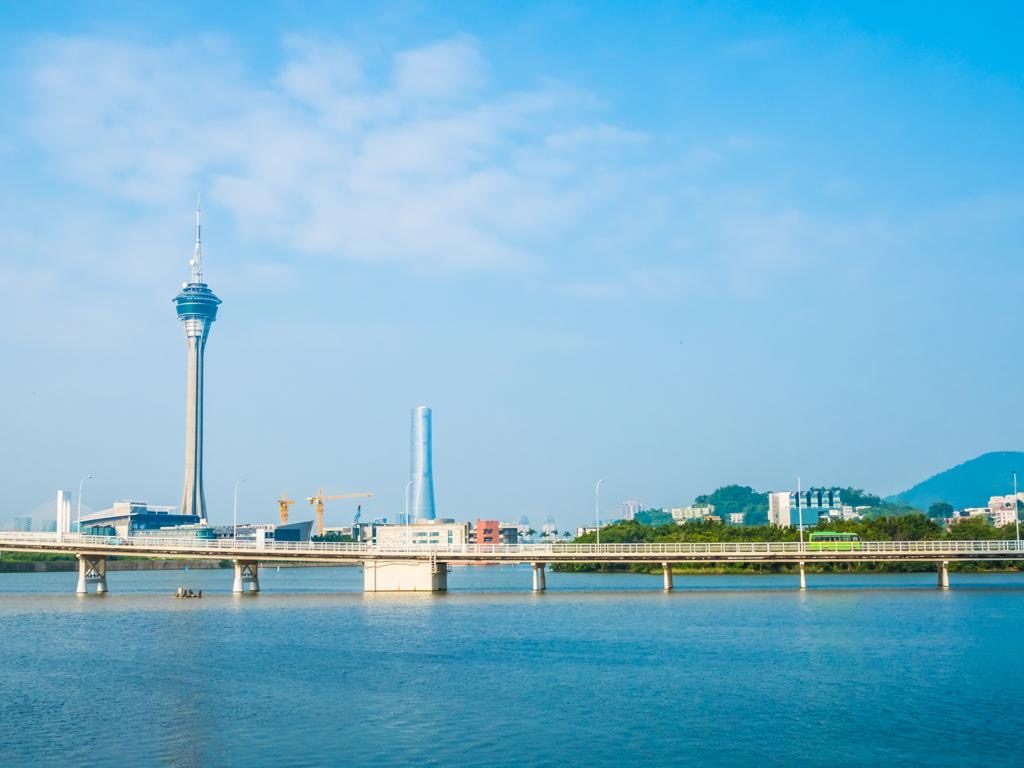 There is a shopping complex and quite a few number of food outlets on the lower floors of Macau Tower. We enjoyed lunch here at one of the restaurants and then headed towards Senado Square. We took a direct public bus to reach there. You can even take a cab to reach Senado Square.
Senado Square
Senado Square is a very popular shopping street of Macau. This place is hustling and bustling with traffic and all the malls here feature almost every brand possibly known from around the globe.  We also saw the Lisboa Hotel. Hotel Lisboa is one of the oldest hotels in Macau and is famous for being the pioneers of casino openers in Macau.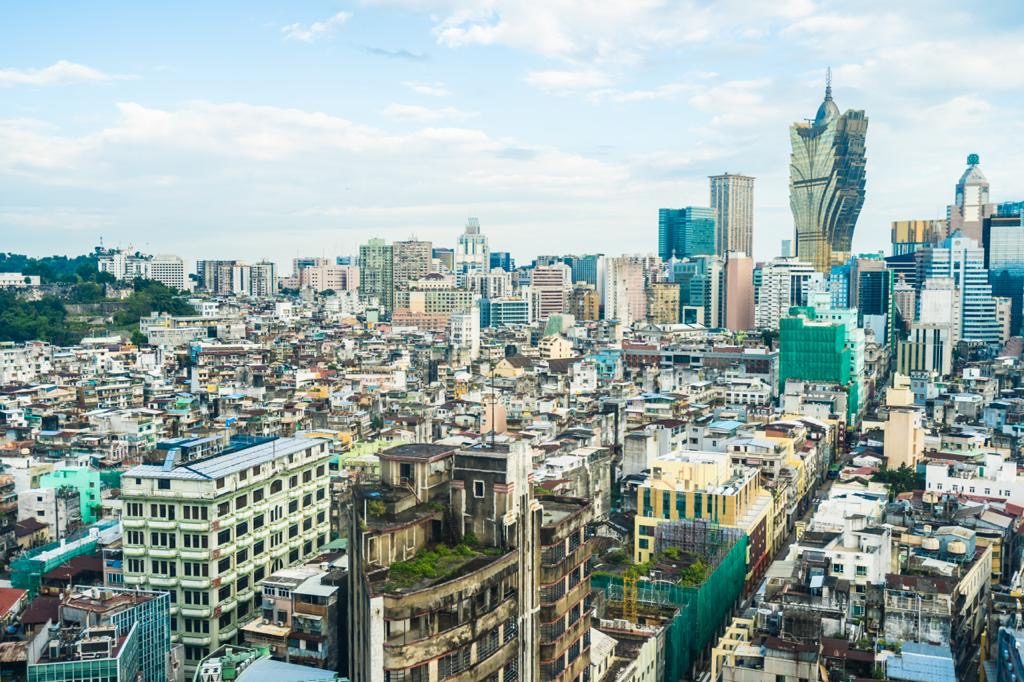 Ruins of St Paul
After taking a stroll on the Senado Square, we went to visit Ruins of St. Paul. It was just 10 mins walking from Senado Square. Ruins of St Paul is one of the most famous landmark of Macau. It has history dated back to the 17th century. It is the remains of the greatest church of Macau – Saint Paul which was built by the Portuguese people in olden days. This is a UNESCO World Heritage Site.  This site then leads to a museum which was right next to it. Museum was full of information and was very informative.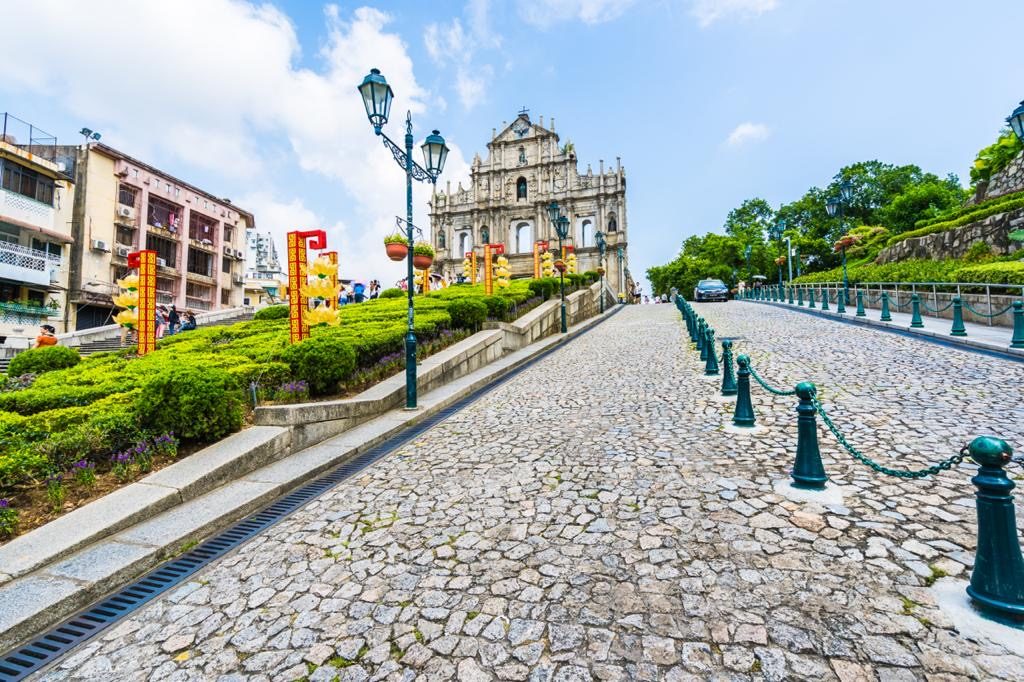 Other places to visit in Old Macau
You can also visit St. Dominic Church which will be on the way from Senado Square to Ruins of Saint Paul. After roaming here for some time we took a free shuttle back to Taipa from Hotel Sintra, which was just 1 km from Ruins of Saint Paul. If you have more time you can also plan to visit A-Ma Temple – which is one of the oldest temples of Macau.
Back to Cotai
After relaxing in the hotel for a while we headed back again to Venetian and enjoyed our dinner at this Indian Restaurant  – The Golden Peacock. Later we went to Pacha – a nightclub at Hotel Studio City. The nightclub was absolutely fun, with good ambiance and music.
10:30 AM: Leaving for Macau Tower
11:00 AM: At Macau Tower
01:30 PM: Lunch at a restaurant at Macau Tower
03:00 PM: Senado Square
04:00 PM: Ruins of Saint Paul & Museum next to it
06:00 PM: Taking Shuttle back to Cotai from Hotel Sintra
07:00 PM: Back to Hotel
08:00 PM: Dinner at the Golden Peacock at The Venetian only
11:00 PM: Pacha – nigh club at Studio City
DAY 4: Leaving Macau, Reaching Hong Kong, The Peak, Star Ferry, Symphony of Light and Night Market
Macau to Hong Kong via ferry
We started this day early as we were heading back to Hong Kong this day. After checking out from the Hotel we proceeded to the Macau Ferry Terminal again via free shuttle. We bought tickets of the next available ferry for 155 HKD only. Ferries from Macau to HK run almost round the clock, so you can always get a booking very quickly and easily. It took us around 1-1.5 hours to reach Hong Kong Island.
Reaching Hong Kong
After reaching Hong Kong, we made our way towards our Hotel at Nathan Road. You can use Airport Express/ Airport Free Shuttles/ MRT/Taxi's etc. to reach your hotel. We used Taxi, even though it is the most expensive option, only because it was really important to reach hotel quickly and start our tour.
The Peak
After reaching the hotel, we dropped our bags and immediately started with our trip. For this day we planned to visit the most famous place in Hong Kong – The Peak. This place is standing high at 1,811 feet offering the best panoramic view of the Hong Kong City.
The Peak is at Hong Kong Island so one needs to cross the Victoria Harbour to reach there. We took a public bus right outside our Hotel and got down at Star Ferry Stop at Tsim Sha Tsui. Hotel staff can guide you very well for this. You can also reach this place using MRT's but in MRT one needs to walk for about 10 mins from TST station to Star Ferry port but by bus we got down at the exact spot.
Star Ferry
We then got on the Star Ferry and crossed Victoria Habour and reached Hong Kong Island. We could have taken the direct MRT from Jordan to Central (crossing Victoria Habour via MRT) but we very much wanted to experience the traditional mode of transport – Star Ferry and enjoy the sea view.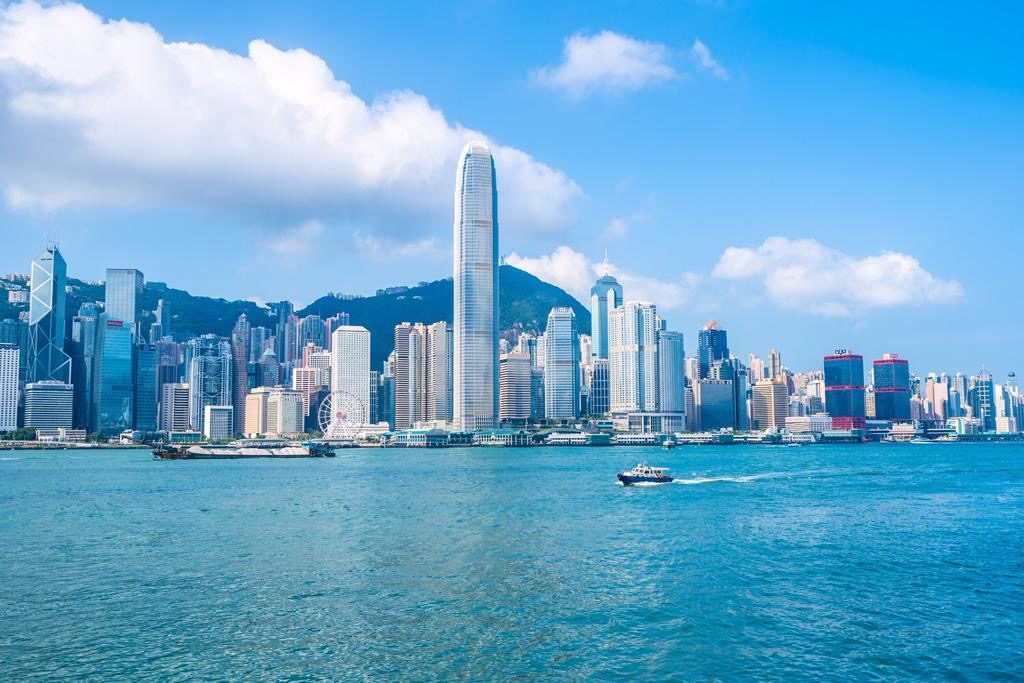 How to reach Peak Galleria from HK Island
From Star Ferry Pier (HK Island) there were two ways to reach The Peak, either by Tram (lowest station 1.7 kms from the Star Ferry Pier) or take Bus No. 15 from Bus Station right outside Star Ferry Pier. We decided to take the Bus route and we were very happy as it was the right decision. The entire route was mesmerising and so scenic. The best part was that there was no queue for the Bus ride compared to Tram and it took us 45-50 mins to reach Peak Galleria. The bus dropped us outside The Peak Galleria.
The Peak Galleria
Galleria in Peak has shopping complex with shops and restaurants, tourist attraction places like Observation Deck and Madame Tussauds etc. We went straight to the Peak Galleria – Observation Deck which was free of cost. We really enjoyed the view from here of the whole Victoria Harbour and skyscrapers of Hong Kong from the Observation Deck.
You can also prebook 'The Peak Package' for better rates and convenience. This package includes the tram tickets (both sides) and combine tickets to the Madam Tussauds and Sky Observation Deck. We did not book the package, as we wanted to take the bus to reach the PEAK. Also, it was a weekday so there was very little rush and we were also not interested in visiting the Madam Tussauds Museum.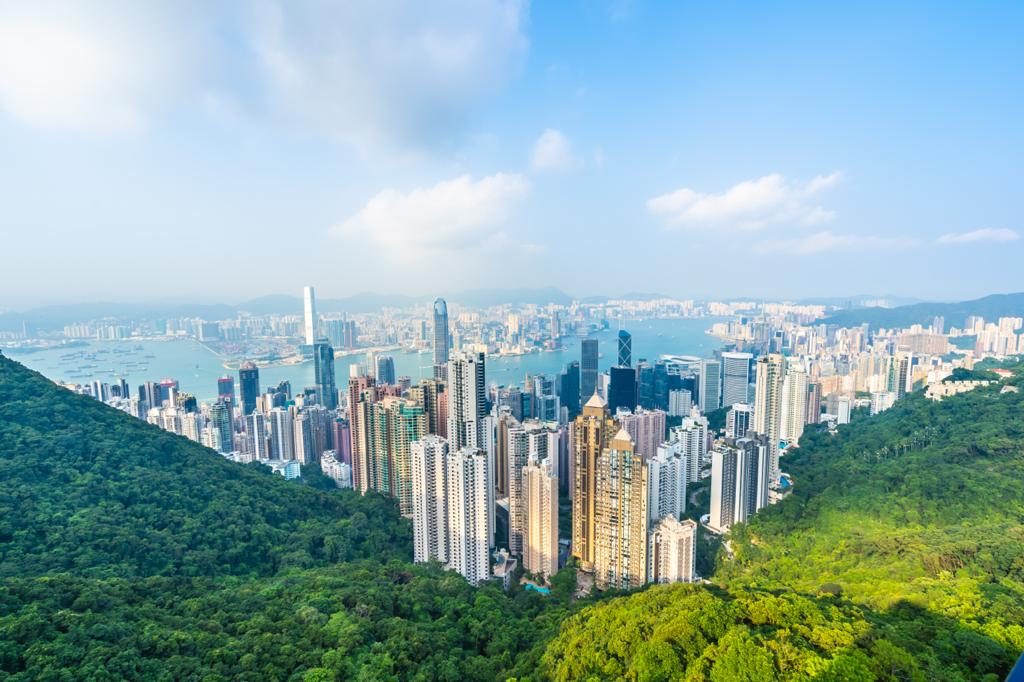 Victoria Peak Garden
You can also go hiking up till Victoria Peak Garden which is roughly 20 mins from the Observation Deck. As per the review, this place offers a much better view and is definitely worth visiting. Because of the limited time we could not visit Victoria Peak Garden. We made our way back using the Tram this time. In just 30 mins we reached the lowest Tram Station and from there we went walking up to Admiralty MTR Station and took the direct MTR and got down at the next stop Tsim Sha Tsui station.
Symphony of Light
We then went walking till Tsim Sha Tsui waterfront area right outside the Hong Kong Cultural Centre to enjoy the free light show – Symphony of Light. It is an amazing digital light and sound show, which takes place daily at 8 PM and lasts only for 10 minutes. In this show, all the Skyscrapers on both the sides of the Victoria Harbour lights up simultaneously forming  a light show, which is totally worth watching and admiring. It can also be seen from Tsim Sha Tsui and the Golden Bauhinia Square (HK Island) on the other side.
Tsim Sha Tsui
After enjoying the show, we explored the Tsim Sha Tsui area for a while. It is a nice market place having all the branded shops and quite a good number of restaurants. We then went to one of the Indian Restaurant at TST Market. There were good 4-5 Indian restaurants in TST itself.
Night Market, Mongkok
After a while we went to the Night Market located at Mongkok which sells duplicate branded handbags, HK souvenirs, mobile covers, fancy hair clips, umbrellas, toys etc. at very affordable prices. We took the direct MTR from TST station to Mangkok. As the name suggests, this market is open throughout the night. This market also has a lot of street food options and various massage parlours. Half an hour foot massage was just for 90 HKD only. Asian countries offer the best of massages, which can be very relaxing after a long hectic day.
Lastly, we went back to the Hotel and slept the night. This time we went walking from the night market to our Hotel Eaton HK. If you have limited time, you can skip this market.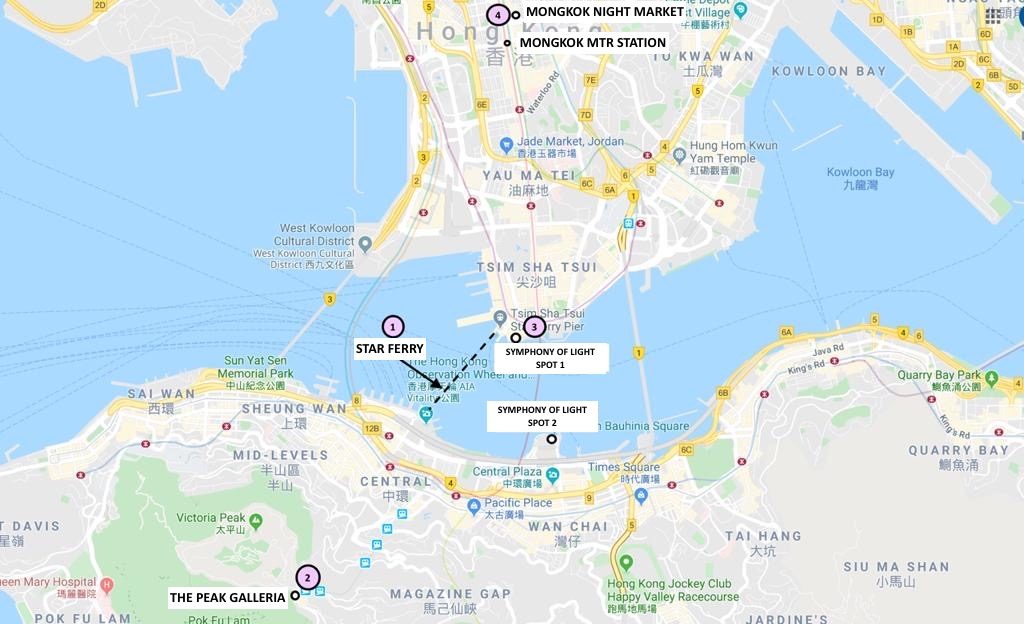 09:00 AM: Checking out from Macau Hotel
10:00 – 11:30 AM: Ferry form Macau to Hong Kong
12:30 PM: Reaching the Hotel at Nathan Road in Hong Kong
02:00 PM: Star Ferry
02:30 PM: Catching Bus for – The Peak
03:00 PM: At the Peak Galleria
04:00 PM: Enjoying lunch at the Peak Galleria Mall
07:00 PM: At TST Station
08:00 PM: Watching Symphony of Light at TST
09:00 PM: Dinner at Indian Restaurant in TST Market
11:00 PM: Mongkok Night Market
12:00 PM: Back to Hotel
DAY 5: Disneyland and Ozone Bar
Disneyland Hong Kong
There is a kid in all of us and Disneyland is for that kid. It was therefore a must do thing on our list. After breakfast, we got ready to go to Disneyland. We booked the tickets via www.klook.com from the mobile handset given by the hotel on the day of arrival. We got the ticket for 500 HKD, which otherwise would have costed 540 HKD, if we had purchased from Disneyland Resort. It is advisable to book tickets online as it is cheaper and saves the hassles of standing in a queue and waste precious time.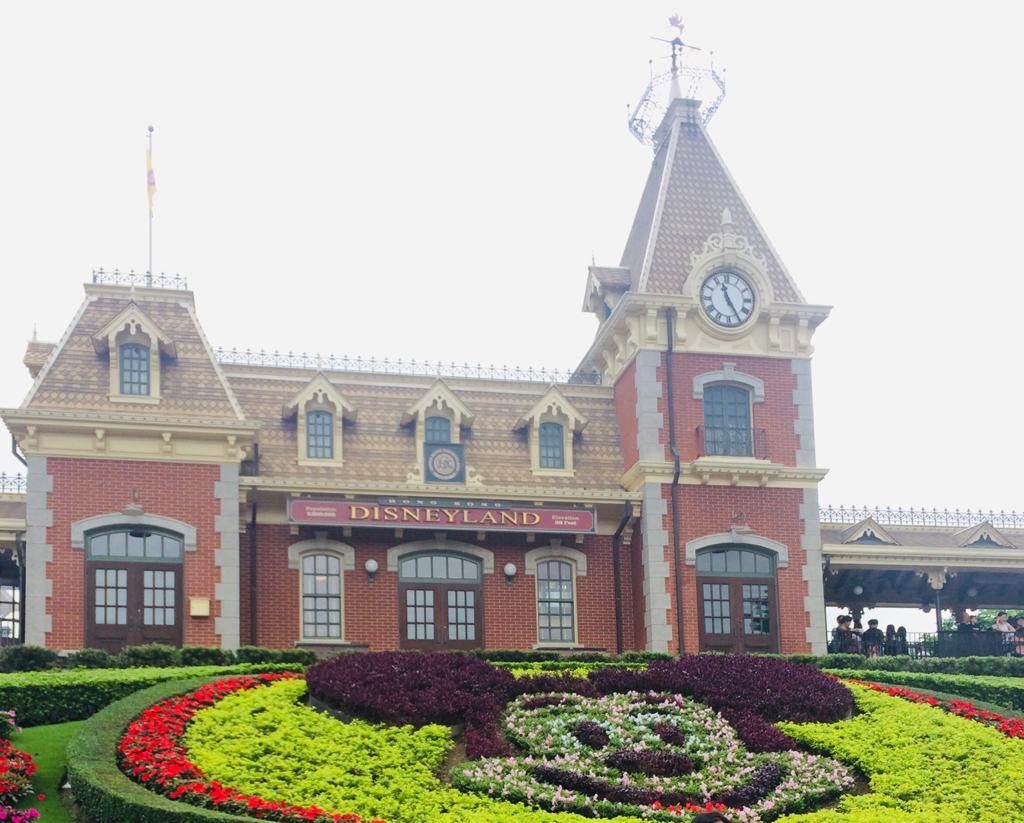 How to Reach Disneyland from Nathan Road
We took a subway to reach Disneyland, which was quite simple. We took the subway from Jordan Station to Central Station (Red Line – Tsuen Wan line) and from Central we walked till the HK Station. From HK station we went to Sunny Bay Station (Orange line – Tung Chug line) from where runs a Disney special train directly to the Disneyland Resort. Round trip ticket to Disneyland costs 45 HKD.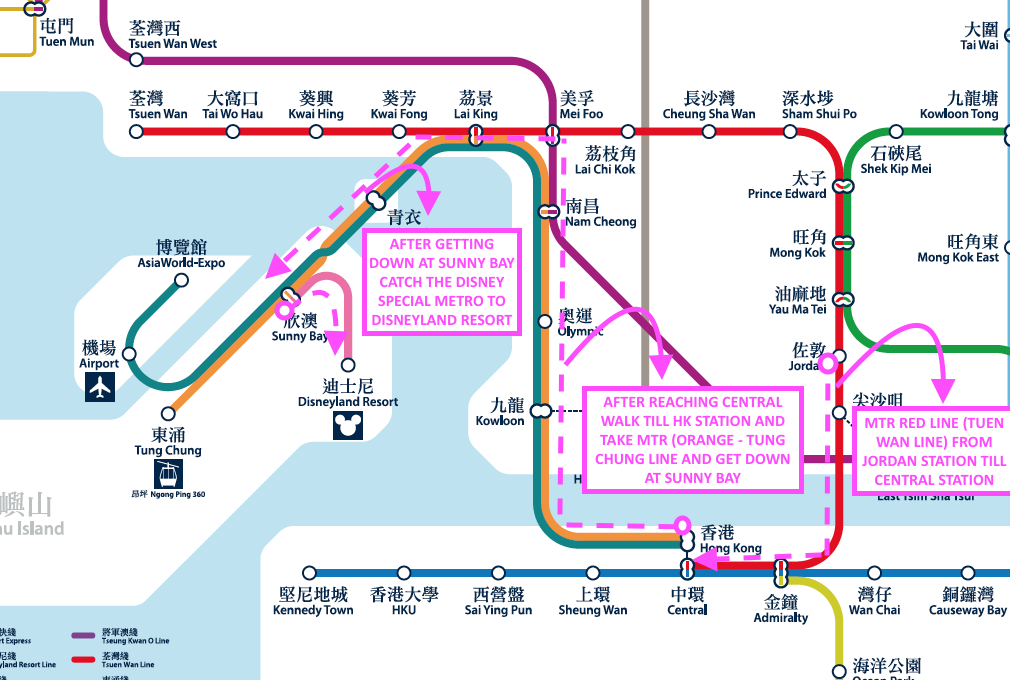 Tips for Disneyland
Try and plan Disneyland on weekdays to avoid rush.
Reach the resort around 9 or 10 in the morning so as to be able to enjoy everything in the resort.
Map of the resort is available on the entrance. Please use the map to cover the entire Island.
Visit to the Disneyland was completely magical. Each and every ride was worth the wait. In the evening they have a special lighting show, which was really amazing. After having fun in Disneyland we headed back to the hotel late in the evening using the MTR. We then enjoyed Dinner at some restaurant close to Jordan Station.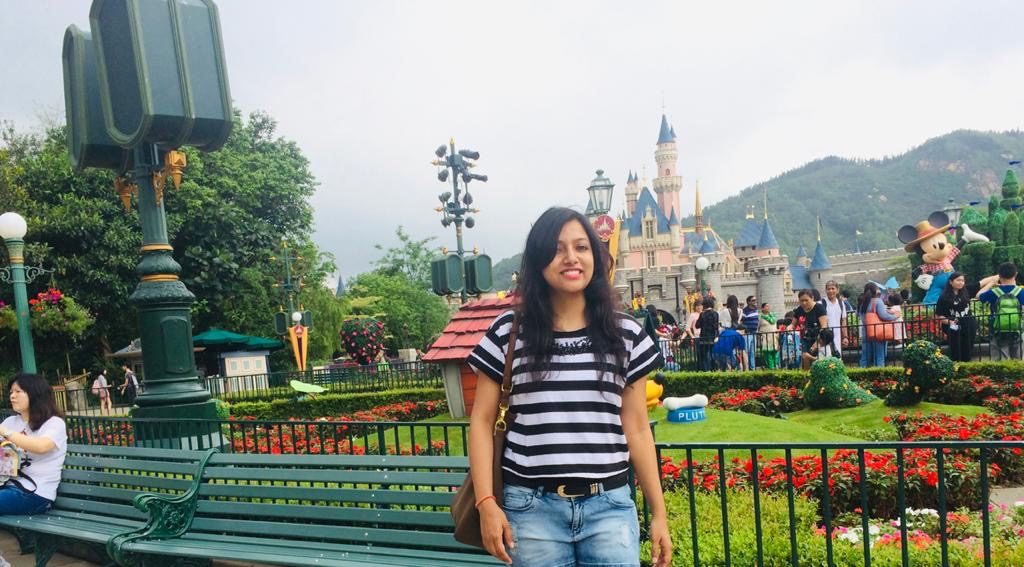 Ozone Bar
Later in the night, we decided to visit the Ozone Bar. Ozone Bar is located at the 118th floor of the Ritz Carlton Hotel. You cannot go to the Ozone Bar by Subway. One has to take a bus or taxi to reach there.  This place is like heaven. You can actually feel the clouds around you. Amazing music, beautiful lounge and a superb view from the 118th floor. It is definitely a must visit place.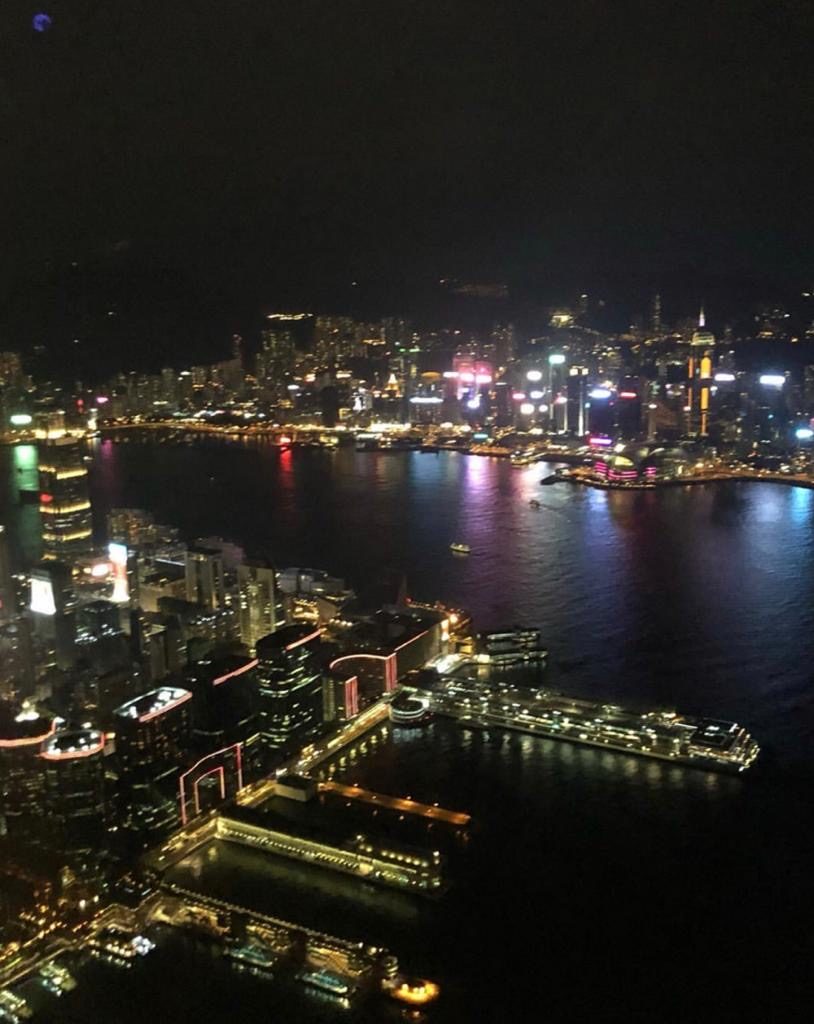 09:00 AM: Leaving from Hotel for Disneyland
10:00 AM: At Disneyland Resort
02:00 PM: Lunch at one of the restaurants and food joints at Disneyland
07:00 PM: Back to Hotel
08:00 PM: Dinner at some restaurant at Jordan
10:00 PM: Ozone Bar – Ritz Carlton
12:00 PM: Back to Hotel
DAY 6: Hong Kong: Ocean park and TST Market
Oceanpark vs Disneyland
As we are crazy about adventure rides, we decided to go to Ocean Park as well. One can always choose amongst Disneyland and Oceanpark. As I have been to both places, I prefer visiting the Disneyland. Even though it is said that Disneyland is for Kids but Hong Kong Disneyland is no disappointment for adults as well. Some of the rides were totally thrilling.
If you are not an adventure ride and theme park freak, you can skip this Oceanpark and can go for Hong Kong Hop on and Hop off Bus Tour or plan "The Peak" for the entire day.
Booking Oceanpark entry tickets and Reaching Oceanpark from Jordan
Likewise, Disneyland bookings, we pre-booked for Ocean Park, using our free mobile handset given by the hotel on www.klook.com a day prior to our visit and again got a cheaper price compared to actual on site rates.
To reach Ocean Park, we took the subway from Jordan Station to Admiralty Station. From Admiralty Station you can find Ocean Park buses (one way) at just 10.5 HKD  right outside Admiralty Station. There will be various sign board at Admiralty Station for the way to the Oceanpark buses. It is advisable to take the bus tickets for to and fro route at the same time only.
Oceanpark Hongkong
Ocean Park has crazy adventure rides, beautiful aquariums, animal shows like dolphin and seal shows etc. One should enjoy all the rides first and then go to aquarium and animal shows. We reached the Ocean Park around 10 AM so that we could finish everything on time. We completed visiting the entire park by 4:30 PM and then went back to our Hotel.
Later, we again went to Tsim Sha Tsim (SOHO Shopping Area) for shopping and dinner.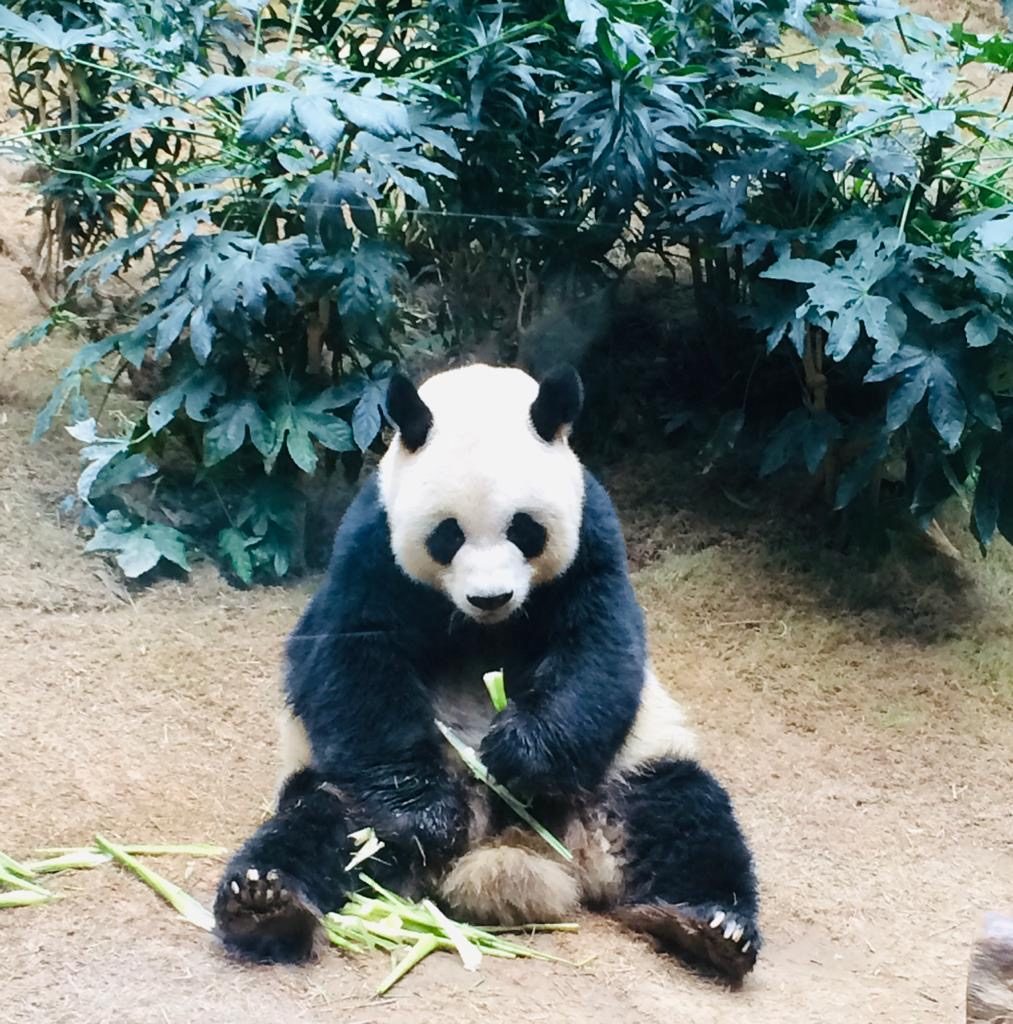 09:00 AM: Leaving for Oceanpark
10:00 AM: At OceanPark
02:00 PM: Lunch at one of the restaurants at Oceanpark
05:30 PM: Back to Hotel
08:00 PM: Again at TST Market for Shopping and Dinner
10:00 PM: Back to Hotel
Guide to reach Hong Kong International Airport via AIRPORT EXPRESS
Next day, after breakfast we checked out from the hotel and headed towards Kowloon station to catch the Airport Express via Free Airport shuttle Bus. Hong Kong International Airport is really far from the main area (roughly 50 kms) so best way is to use Airport Express to reach there.
We already booked the Airport Express Pass from the mobile handy set at the hotel via www.klook.com for just 77 HKD, which is generally 90 HKD.  If not booking from Klook.com then tickets can be bought at any Airport Express Station. Airport Express is the cheapest, quickest and the most convenient way for reaching HK Airport as it drops you right outside the airport. Check in (Boarding) can be done at any of the stations in between – Tsing Yi Station, Kowloon Station and HK Station.
To reach up to Airport Express Kowloon Station we used the free Airport shuttle buses running in the city. For bus pick up time and location you can check with the Hotel Concierge Department. If not taking free shuttle bus you can take a normal Taxi/Uber up to Kowloon station (just 1.6 Kms from Jordan). With Airport Express, we reached airport in just 30-40 mins. We then boarded the flight back to India.

This now completes my 6 days Tour to Hong Kong and Macau. There are a few places in Hong Kong which we could not visit due to limited time. One can always consider them if one has more time.
Other places to visit in Hong Kong if have few more days in hand
Tian Tan Buddha (Big Buddha)
One of them is Tian Tan Buddha (Big Buddha). Big Buddha is a very popular destination in Hong Kong. It is a 34-meter-high statue of Buddha located at Ngong Ping, Lantau Island. Lo Ping Monastery is located nearby, which is a beautiful Buddha Temple.
This place is really far (around 51 kms) from Jordan Area (Nathan Road) closer to Hong Kong Airport. One can use MTR Jordan till Lai King Station (Tsuen Wan Line) and from there another subway till Tung Chung Station (Tung Chung Line). Now, from here one can either take the cable car (125 HKD round trip) or bus (34 HKD round trip). Mostly people prefer the cable car, as it provides a wonderful view till the top. You can also go for trekking to Lantau Peak, which is the 2nd highest peak in HK. Some shopping can also be done in the Ngong Ping village. This visit is a full day activity.
Hop On Hop Off Bus
If you still haven't had enough of Hong Kong, then the best way is to explore the entire city by Hop On Hop Off Bus. Tickets can easily be bought from www.klook.com or from your own hotel reception or any of the Big Bus Tour Offices from where the bus tour starts. One-day pass is around 430 HKD. One usually takes a 24-hour pass.
It is very important to start the trip early in the morning like 9 AM in order to complete everything and utilise the full value. Hop On Hop Off one-day pass covers 3 routes: 1st Hong Kong Island Tour, 2nd  Kowloon Tour and lastly, the very interesting Stanley Tour, which includes Aberdeen Fishing Village, Stanley Market, Repulse and Deep Water Bay etc. The tour has more than 20 bus stops. Get off at any of these bus stops as you please, explore the area and hop back on on the next bus coming your way. It is one of the easiest and the most convenient way for exploring the entire city which otherwise is not possible separately. Last bus runs around 7 PM.
If you find this blog 'Hong Kong & Macau Trip in less than a week' interesting, please share the link of the website/blog with your family and friends. If you have any comments or suggestions – please do write in the comments section below.
Need regular dose of travel information, planning and update on new blogs, please like my page on Facebook.
Need regular dose of travel shots – follow my page on Instagram