Planning to explore nearby wonderful Islands from Bali ? Here I am sharing Gili Islands ultimate travel guide. It suggests – How to reach, Where to stay, Things to do etc. This is a perfect guide for a 2 day trip to Gili Islands.
GILI ISLANDS 
Gili Islands are definitely a paradise on Earth. It's laid back white sandy beaches and crystal clear blue water are out of the world. It is an ultimate destination for scuba diving and snorkelling, a dreamland for all beach loving people and a perfect destination for couples/honeymooners. The most special thing about Gili Islands is that there are no motorcars allowed. Staying in such a wonderland – refreshes and rejuvenates you from inside.
It consists of three tiny islands – Gili Trawangan (Gili T), Gili Air and Gili Meno, which are situated very close by from Lombak, but can be reached easily by speedboat from Bali.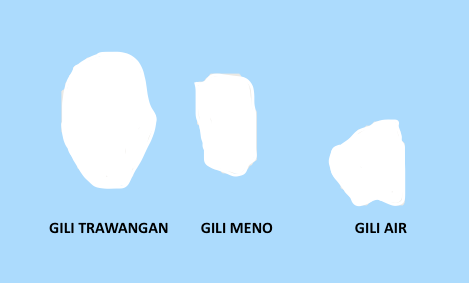 Gili Trawangan 
The best and largest amongst the three is Gili Trawangan (Gili T), which is most developed. It has plenty of options to stay – big resorts, mid range hotels and decent hostels etc. Gili T also has large number of restaurants to choose from, amazing exotic spas to relax and plenty of party places. Gili Trawangan has a large number of diving schools, which are really good and extremely economical as compared to any other diving schools around the world. Overall Gili Trawangan has everything – extremely scenic, good options to stay, good places to eat and good places to party at night.
Gili Meno 
Lies in the centre and is the smallest amongst all three. It definitely offers spectacular view and has much cleaner beaches, but have fewer choices of stay and limited places to eat. It is the most secluded Island amongst all three. If anyone is looking for a paradise away from the crowd, Gili Meno is the place to be.
Gili Air 
It is a blend of both Gili Trawangan and Gili Meno. Gili Air offers amazing beaches – decent choices of stay and eat but are slightly less crowded compared to Gili Trawangan.
You can make any one of the Islands your place of stay as you can very easily explore the other Islands making use of Hopper Boats running everyday from 8:00 AM up to 4:00 PM between all three Islands at a very economical price.
GETTING TO GILI ISLANDS FROM BALI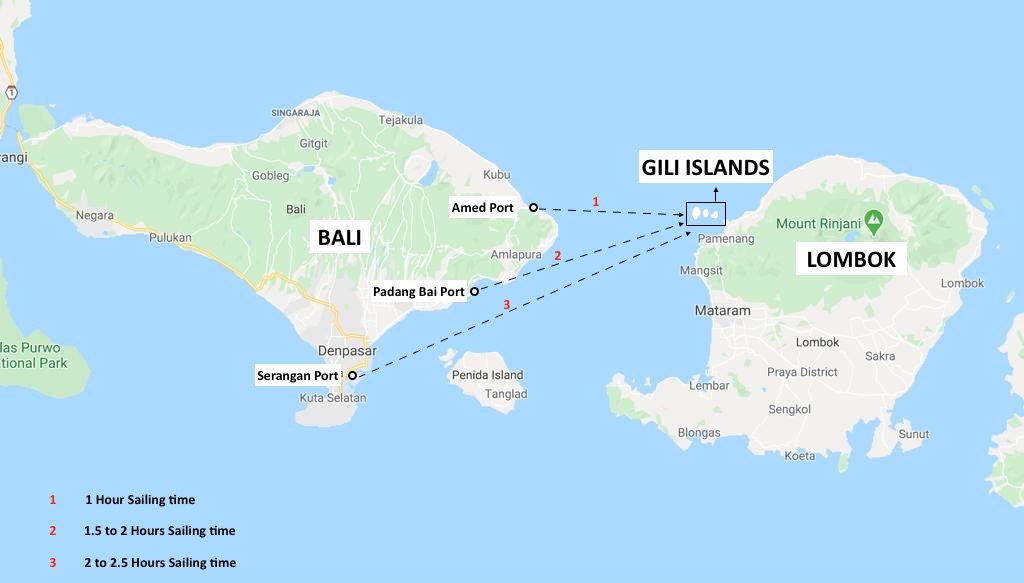 Speedboats
The most commonly used mode of transport to reach Gili Islands is speedboats from Bali, which takes 1-2.5 hours to reach Gili Islands. There are three major ports in Bali, which takes us to Gili Islands – Pandang Bai, Serangan and Amed. All speedboat tickets include pick up and drop facility from the hotels. If you are staying on the north side of Bali then taking fast boat from Amed will be advisable.
If you are putting up at Kuta (South Bali) then taking a speed boat from Padang Bai is recommended. Although Serangan Port is closer to Kuta, yet sea journey till Gili Islands is longer as compared to, from Padang Bai. It is always better to spend time on roads rather than onthe sea. Moreover, Serangan Port has limited number of speedboats. To check schedule and booking, visit the website www.gilitransfers.com.
From where to buy Speedboat ticket & price of Speedboat
Price for round trip ticket of speedboat including pick and drop from Kuta will be around 500K – 600K IDR ($35 – $50) per person. There is always an option to buy tickets online. I would suggest to never buy them online from home country. Buy them a day or two in advance from Bali itself. There are numerous tour stalls in Kuta and all of them sell speedboat tickets to Gili. Negotiate with them for best deals. It will be cheaper than online rates. Always book early morning 8:00 AM to 9:00 AM speedboat, because around afternoon, there are chances of delays and cancellations, which is quite less during the morning hours. Speedboat schedules depends a lot on sea weather, so always be ready for delays and cancellations. When they cancel, they definitely make alternate arrangements, so be prepared to take that much of extra time.
Flying to Gili Islands from Bali
One can even fly from Bali to Lombok, but after landing, one has to take a boat ride from Lombok Port to Gili Islands. Reaching Lombok Port from Lombok Airport is again a one hour journey. Overall, taking this route to reach Gili is expensive, extremely tiring and long. It is always better to take the speedboat directly from Bali to Gili Trawangan.
ACCOMMODATIONS IN GILI ISLAND
Click on the link below to check out the various options to stay in Gili Islands – Budget hotel options, Mid Range & High End Hotels options.
(https://www.pinningdestinations.com/best-places-to-s…-in-gili-islands/)
2 DAYS ITINERARY FOR GILI ISLANDS
Gili Islands is a beautiful laid back beach vacation, where one can spend hours doing nothing, just lazing around the beach side. There are plenty of activities that one can do in Gili Islands. Here I am presenting a perfect 2 days itinerary for Gili Islands.
DAY 1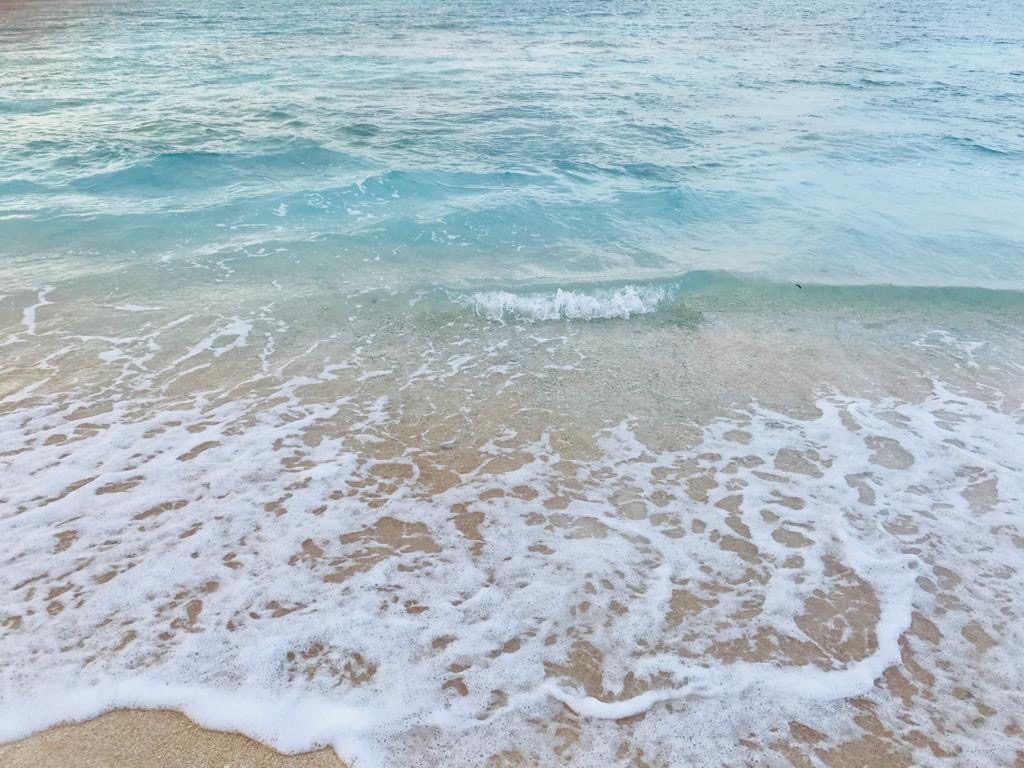 Start your day in Gili Trawangan by hiring a bicycle, readily available for rent at a very nominal price, roughly 50,000 IDR ($3 – $4) a day. Take the entire round of the Island and enjoy the spectacular beach view throughout. Stop at some of the fantastic places in between to eat.
Following are some of the best choice of restaurants to choose from in Gili Trawangan –
1. Pituq Waroeng 
The ultimate 100% Vegan restaurant – even relished by non Vegans. This is the top restaurant to eat in Gili Trawangan. Everything about this restaurant is great – ambiences, food, juices, music, service etc. It is slightly away from main Trawangan Market, but a pretty manageable 10-15 mins bicycle ride. You can easily stop by this place, when strolling the Island from Bicycle.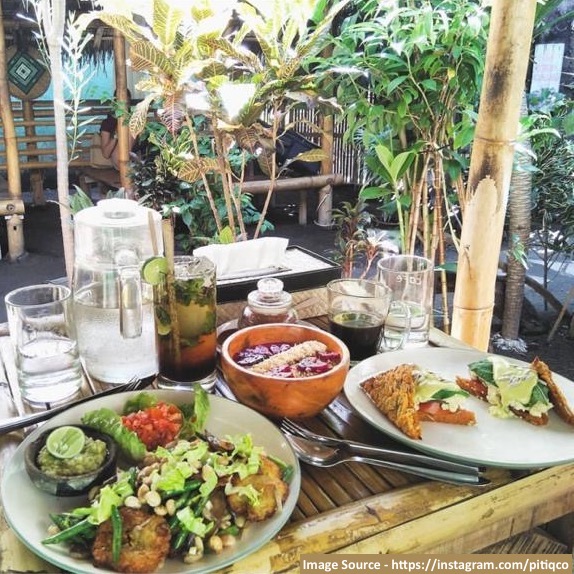 2. Jali Kitchen 
This is a fabulous Asian cuisine restaurant, which keeps numerous vegetarian, vegan and gluten free options. Definitely try their top pick – carrot cake. Ambience, food and services everything is really good. It is roughly 10-12 mins bicycle ride from Trawangan Market.
3. Tiki Grove 
If looking forward to have Mexican food, specially Tacos, then this is the right place. It is located in the same lane as Pituq Waroeng. The place does provide a variety of vegetarian, vegan and gluten free options.
4. Francesco's Pizza 
One of the top picks for Italian cuisine in Gili Trawangan is Francesco's Pizza. It is located in the main Trawangan Market, very close to Gili Trawangan Pier.
Partying at Gili Trawangan
If you are a party loving person and one of the day in Gili happens to be a Saturday or Wednesday, then go for the famous Wild Boat Party called Jiggy's Boat Party that takes place every Saturday and Wednesday from 2:00 PM up to 7:00 PM. Price for ticket is roughly 2,50,000 IDR/Person for girls and 3,50,000/Person for boys. You can even try day pool parties that take place at Gili Castle and Gili Mansion – very popular hostels in Gili Trawangan. If you missed Jiggy's Boat party, then Jiggy Jigs Bar is a fun place to party in the evening. If you are not into partying, then, relaxing at the beach and enjoying the amazing seafood at some of the popular restaurants in Gili Trawangan is a perfect way to spend your day.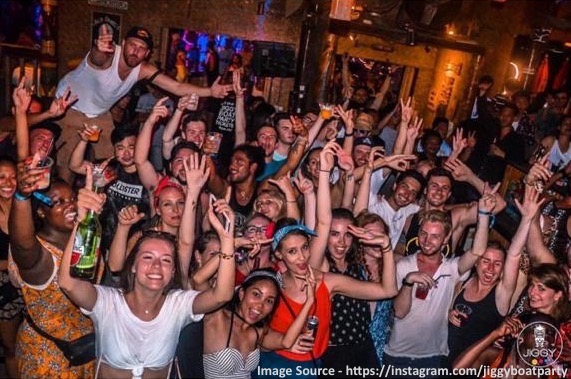 Swings at Gili Trawangan
When it is close to sunset, go to the west side of the Island and enjoy the sunset view. There are two hotels on the west side of Gili Trawangan, which have placed a swing on the sea shore outside their hotel. One is Hotel Pink Coco and other is Hotel Ombak Sunset. Strike a pose on this swing and get the most wow picture clicked of yourself. The rise in popularity of Gili Island was grown twofold because of the pictures posted by people on social media posing on these iconic swings.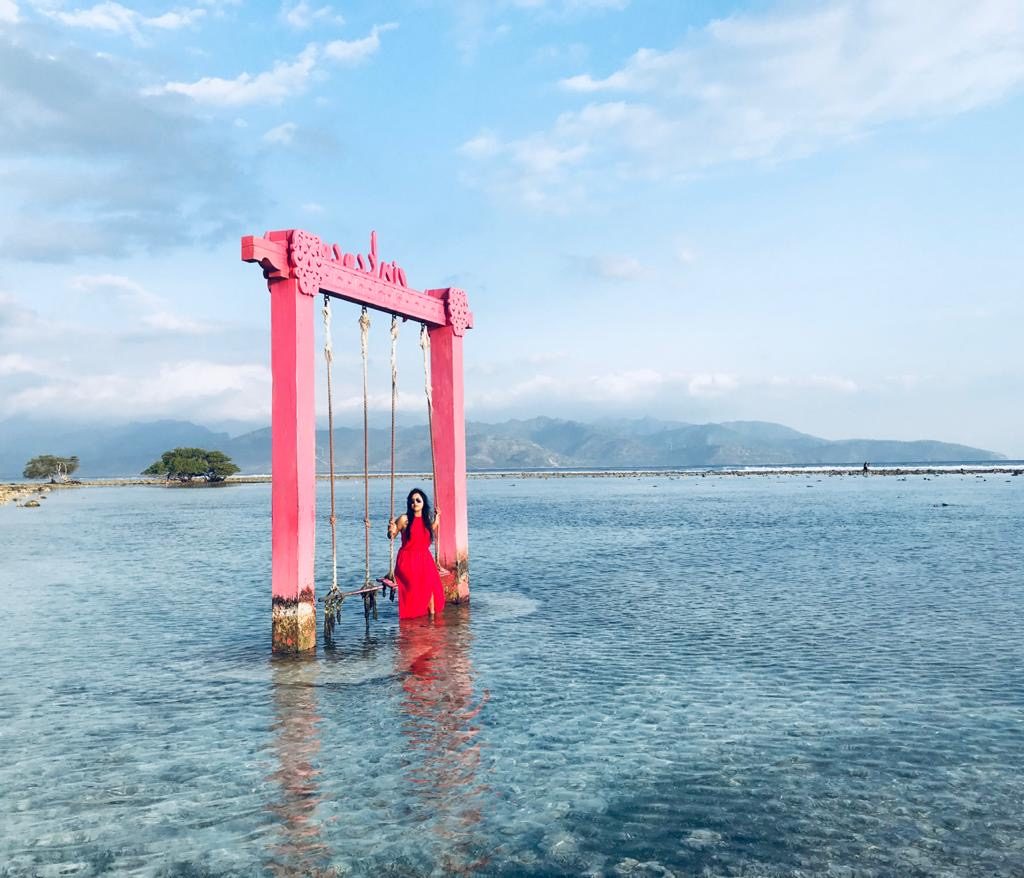 Enjoy the evening strolling at the market place and checking out all the shops. Always check the tour operator kiosk in the market area and see what they are offering. One of the top picks from this tour kiosk is snorkelling trip – which is an extremely good deal. For just 100,000 IDR/Person(7-8 US$) they take you around all three Islands and halt at the best spots for snorkelling. Grab this deal for the next day.
End your day dinning at one of the sea-facing restaurants. Following are some of the best choice for sea facing restaurants (all vegetarian friendly) –
1. Pearl Beach Lounge – It is a huge beautiful bamboo restaurant owned by Pearl of Trawangan Hotel. The set up is extremely romantic but a bit pricy. Enjoy mouth watering seafood here, while gazing at the sea.
2. Sun Kiss Beach Club – This small and romantic beach side restaurant set up by Pink Coco Hotel is the best place to spend the evening gazing at the sea while enjoying its amazingly good food.
3. Casa Vintage – If someone wants to enjoy the sunset while chilling and having a few beers/drinks, followed by a romantic dinner then this place should be the first choice. This small restaurant is located at the west side of the Island and is a popular place around sunset.
DAY 2
Kick start your day with some amazing breakfast in Gili Trawangan. Most of the hotels provide complimentary breakfast but if they don't, you can try BanyanTree Café or Kayu Café, both located very close to Gili Trawangan Pier. Both are amazingly good café's totally worth visiting.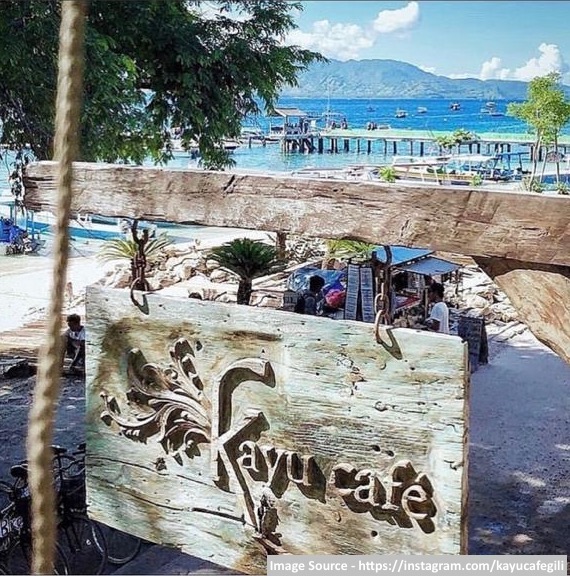 After breakfast, go for a snorkelling trip. Gili is famous for its sea corals, therefore a snorkelling trip should definitely be taken. Even if you do not know how to swim, you can enjoy floating or swimming in the sea with help of a live jacket and a trained guide. The tour starts by dividing people in groups of 25 and boarding a big boat.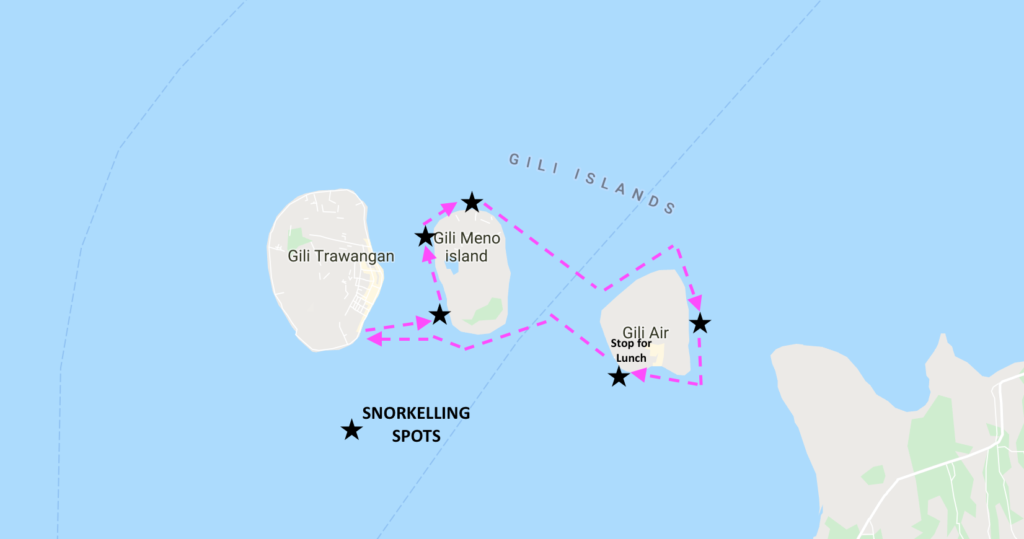 Five marvellously beautiful snorkelling spots, located between these three Islands, are covered in this trip with a small break for lunch at Gili Air. Water of Gili is very clean and gives the best snorkelling experience. You will encounter a lot of fishes and sea turtles, even a wrecked ship.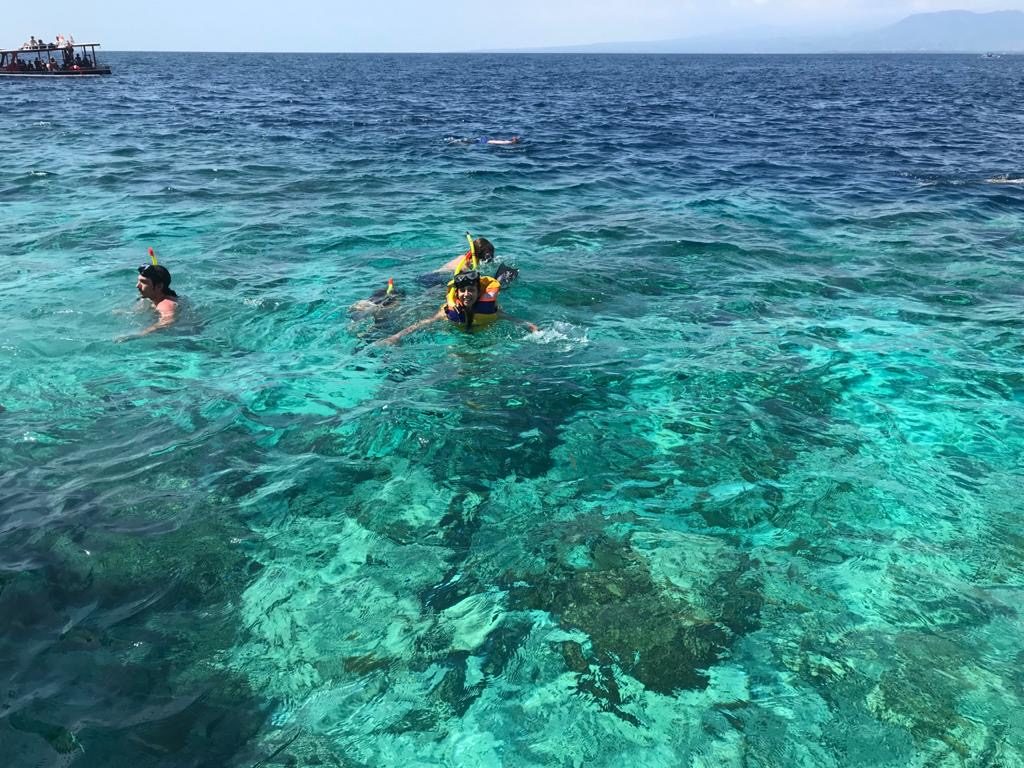 NEST – underwater Sculpture
The most wonderful part is to see the famous underwater sculpture called THE NEST, placed on the seafloor, which is hauntingly beautiful. It was created by the famous underwater sculptor Jason De Caires Taylor. It consists of 48 live sized human figures situated near Gili Meno.  The main motive behind building this sculpture was to improve and increase coral life. This sculpture will eventually become a coral reef and encourage marine life.
If not interested in taking a snorkelling trip, one can enjoy Island hopping from Gili Trawangan to Gili Meno and further to Gili Air and finally returning back to Gili Trawangan.
Later for the evening, enjoy a relaxing massage at one of the many amazingly satisfying Spas available at Gili Trawangan. This is best way to relax after a hectic day at sea.
Following are some of the good options of Spa's at Gili Trawangan:
1. Wagwan Spa at Scallywags Resort
2. Azure Spa at Pesona Resort
3. The Rose Spa
End your day with dinner at one of the various options available at Gili T.
More About Gili Islands/Bali
If you find this blog 'Gili Islands Ultimate Travel Guide' interesting, please share the link of the website/blog with your family and friends. If you have any comments or suggestions – please do write in the comments section below.
Need regular dose of travel information, planning and update on new blogs, please like my page on Facebook.
Need regular dose of travel shots – follow my page on Instagram