ABOUT VARANASI
Varanasi – commonly known as Banaras and Kashi, is one of the most spiritual and holy places in India, situated at the banks of river Ganga. It is also known to be the oldest city in India. Out of the many religious places in India- Varanasi stands on the top because it is said to be standing on Lord Shiva's Trident – Trishool (Lord Shiva's weapon). Varanasi holds utmost importance for Hinduism and Jainism. It is said that taking a dip in the holy waters of River Ganga, cleanses one from all of their sins. The ones who die in Varanasi are said to attain Moksha (free from the cycle of birth and rebirth). Varanasi attracts thousands of spiritual seekers from around the world. The city has more of spiritual and religious value than being a tourist attraction.
Being an Indian and having to know the city well, I am sharing the Best Way To Spend 2 Days in Varanasi – How to Reach, Top Thing To Do, Where to Stay, Best Things To Buy, Places to Eat etc.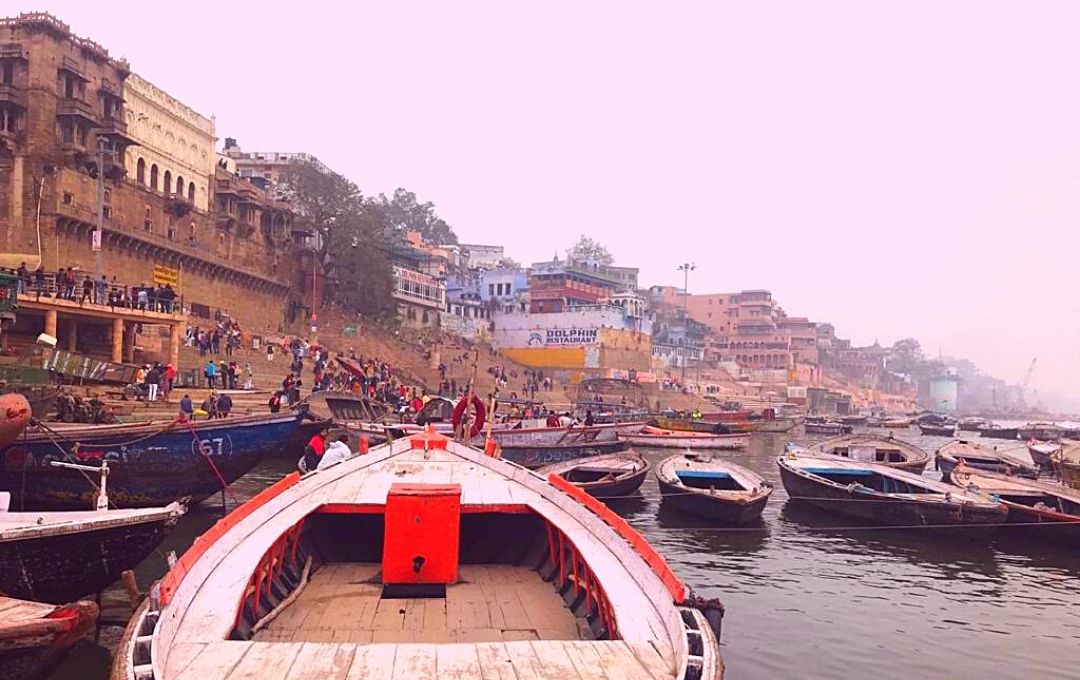 DURATION
A trip to Varanasi can easily be completed in just 1 or max 2 Days.
VARANASI TRIP COST
Flight/Train/Road Trip from India: 3000-8000 INR/Person (US $ 45-113)
Hotels: 5000-8000 INR/Person (US $ 70-113)
Food & Misc. Expenses: 5000-8000 INR/Person (US $ 70-113)
Total Budget: Approx. 13,500-20,000 INR/Person (US $ 195-295)
It will take approx. 195 to 295 US$ /Person for the best way to spend 2 days in Varanasi
HOW TO REACH / HOW TO TRAVEL WITHIN VARANASI
Varanasi is situated in the state of Uttar Pradesh in the Northern part of India. The city can easily be reached from all major cities in India.
BY AIR
Varanasi has its own Airport – Lal Bahadur Shastri International Airport. Varanasi has frequent direct flights from Delhi, Mumbai, Khajuraho and Kolkata. One can easily take connecting flight via these cities for Varanasi. Check flight schedule from www.skyscanner.com.
BY RAILWAYS
Varanasi has two-railway stations – Varanasi Railway Station also known as Varanasi Cantt Railway Station and Mughal Sarai Railway Station. Both railway stations are well connected to all major cities in India. Check train schedule from www.irctc.com.
BY BUS
Varanasi also has good connectivity through A/C Private Buses from all major cities in Uttar Pradesh and neighboring states. Check bus schedules from www.redbus.com.
BY ROAD
Varanasi roads are well connected with all major cities of Uttar Pradesh. Road journey can easily be planned from Kanpur, Allahabad, Lucknow etc. via hired cab or self drive.
For travelling within Varanasi one can spot Auto Rickshaws and Taxi's all around the city. Usually using auto rickshaws and then walking barefoot to reach your destination, is recommended as the city is very congested and has narrow lanes. One should be prepared to walk a lot in Banaras, especially in the areas around the Ghats.
STAY IN VARANASI
Staying close to Ghats is the Best Way to Spend 2 Days in Varanasi. Ghats, especially Dhasashwamedh Ghat & Assi Ghat are the primary attractions in Varanasi and all top places to visit like temples, eateries and markets etc. are close by. Ghats also offer best-budgeted accommodations. The only drawback is that they are populated and cars are not allowed in the area.
Varanasi also has big 5-star hotel chains lined up in the Cantonment Area. These are the best choice for luxury stay but it is around 5 kms (25 mins drive) away from the Ghats.
Following are some of the Best Choices of Hotels in Varanasi to choose from, based on Price Range:
LUXURY
Taj Nadesar Palace
BrijRama Palace – Heritage Hotel
Taj Ganges
MID RANGE
Radisson Hotel
Madin Hotel
Palace On Ganges
BUDGET
Hotel Ganges View
Rashmi Guest House
Alka Hotel
Ganpati Guest House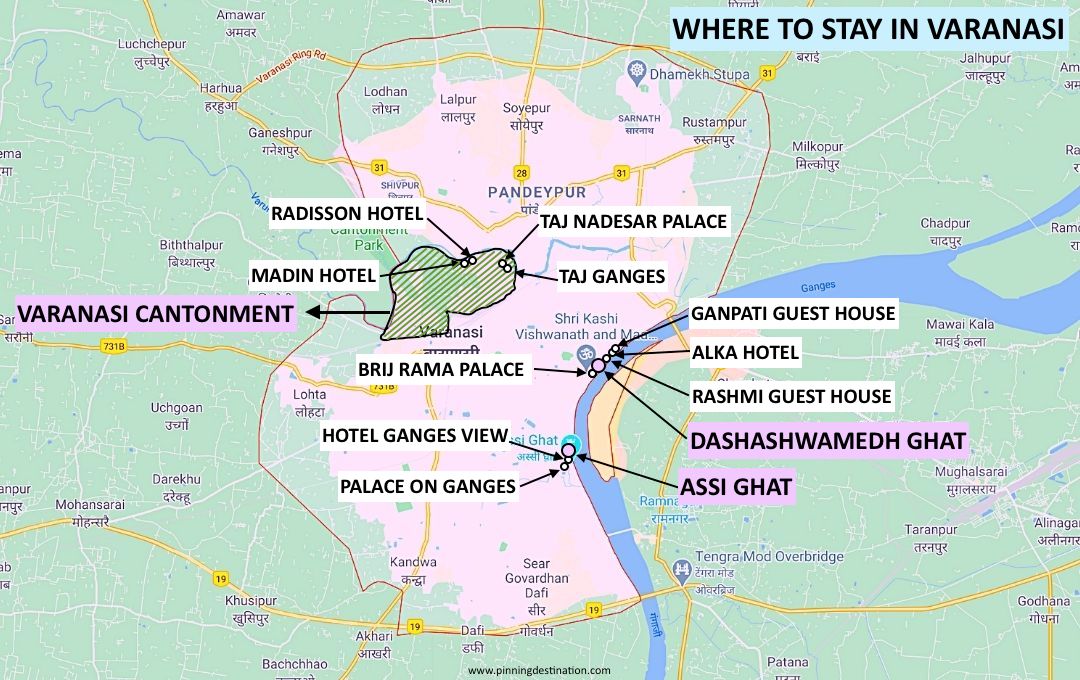 BEST TIME TO VISIT VARANASI
Varanasi is situated in the northern part of India, where it is extreme hot during summers and extreme cold during winters. Therefore, to avoid such extreme weather, it is best to travel around the months of October, November and March when the temperature is moderate.
TOP THINGS TO DO IN VARANASI – Best Way to Spend 2 Days in Varanasi
1. Boat Ride at the Ganges
The best way to soak in the beauty of the holy city of Varanasi is to take a boat ride at the Ganges and admire all the Ghats one by one from a distance. Best time for a boat ride is either sunrise or sunset. There are numerous boats (manual, motor and even cruises) available at affordable prices at Dhashawamedh Ghat (Rajendra Prasad Ghat).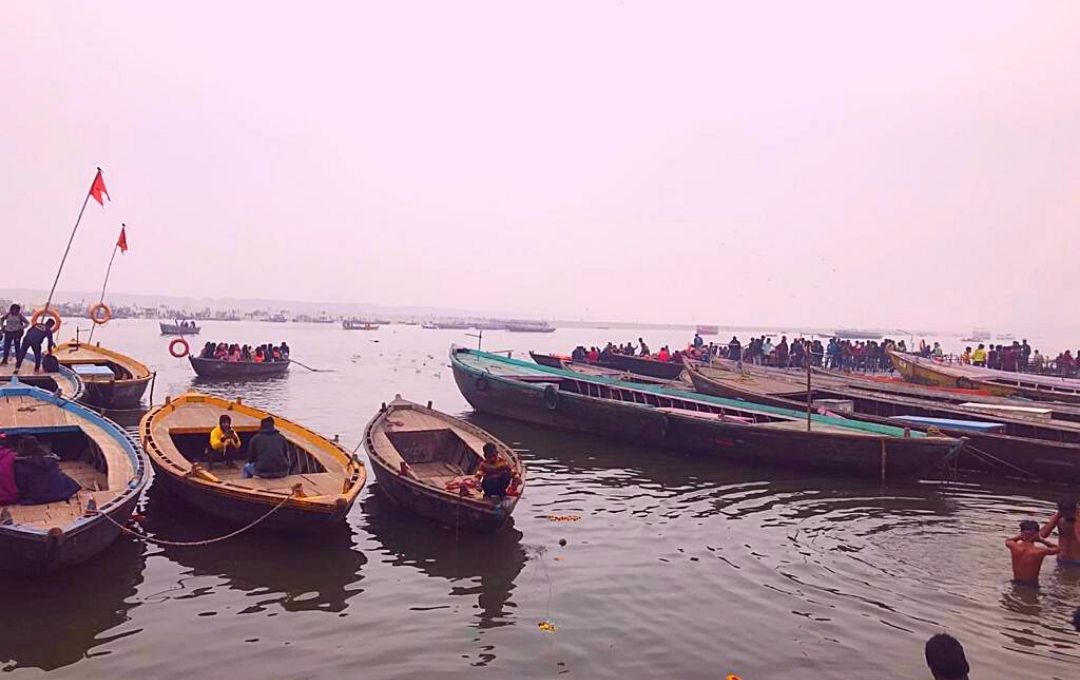 2. Watching Ganga Aarti
People from all around the world come to witness the Grand Ganga Aarti, which takes place daily at Dashashwamedh Ghat around 6:00 – 7:00 PM. The entire ritual is extremely mesmerizing and very soothing to watch. The rituals take around 45 mins and the entire area is filled with people around this time – all collected to catch a glimpse of this beautiful Aarti.
3. Visiting Various Auspicious Temples
Varanasi is primarily a very religious city of India – full of auspicious temples. Kashi Vishwanath Temple – Shiv Temple (Hindu God), which is amongst the 12 Jyotirlings, is the top most visited temple of Varanasi. People from different parts of India visit Varanasi, just to pay homage at this temple. Other famous temples to visit are Sankat Mochan Temple, Kaal Bhairav Temple, Sankata Devi or Annapurna Devi, Tulsi Das Temple, Iskcon Temple, Birla Temple etc.
4. Watching a burning pyre at Manikarnika Ghat from a distance
Although not a very pleasant site to watch, but one gets to witness burning pyres while on the boat ride when passing from Manikarnika Ghat. It depicts a big part of Hindu culture, its customs and their faith. Although, as per Hindu customs, burning pyre cannot be performed after sunset, but it is allowed to be done 24 hours in Varanasi because of the holiness of this place. This place is known for attaining 'Moksha', if one dies here or someone performs their death rituals here. Therefore, everyday thousands of people come to Varanasi to perform the death rituals of their close ones.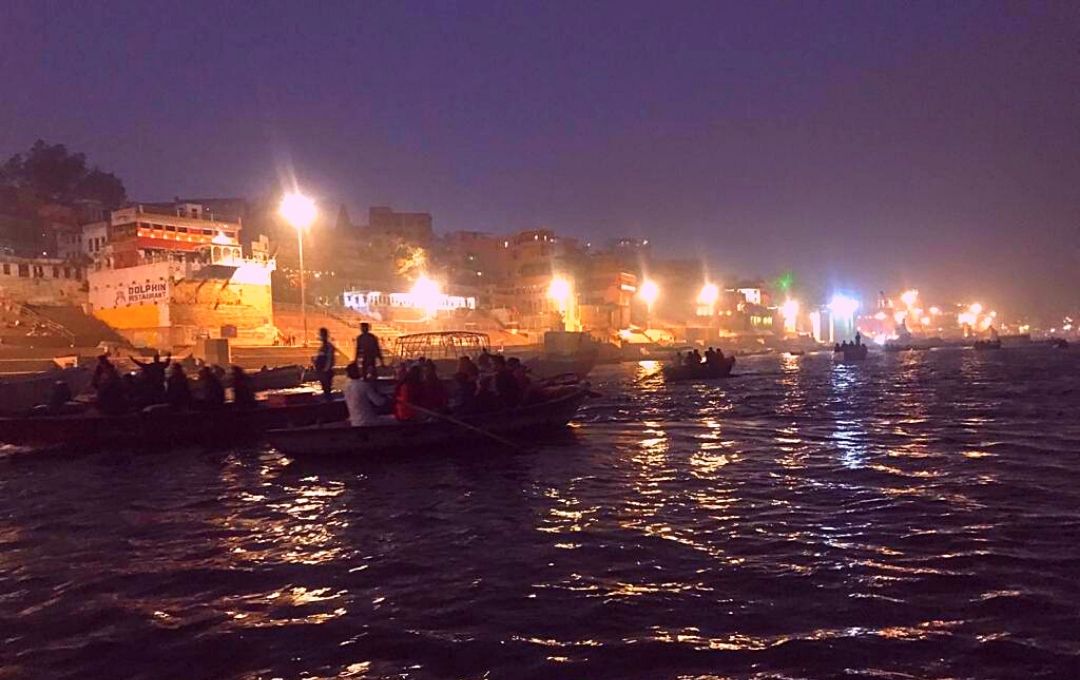 5.
Visiting Banaras Hindu University (BHU):
Apart from its spiritual significance, Varanasi is equally famous for Banaras Hindu University – which is one of the top education institutions of India. Spread across 1300 acres of land, the place is full of   lush greenery, beautiful Birla Temple, New Kashivishwanath Temple and amazing Cafes. A quick visit to BHU is a must, when visiting Varanasi.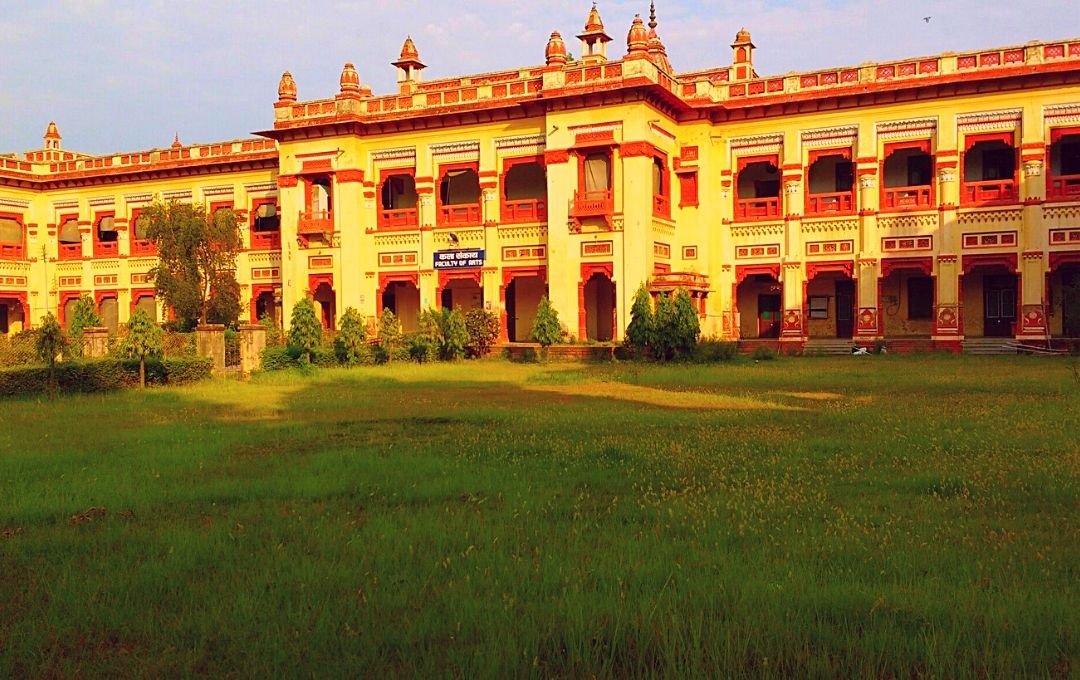 6.
Shopping for Handloom specially Banarasi Sarees:
Varanasi is extremely famous for its Banarasi Sarees (traditional Indian dress made from silk with beautiful golden or silver brocade). The entire handloom hub is in Varanasi. Banarasi Sarees are exported all over the world from Varanasi. Every Indian woman owns at least one piece of Banarasi Saree. There are numerous shops selling Banarasi Sarees but try to buy from an authentic shop. Look for Katan Silk pure handloom (not power loom) Banarasi Saree. Some of the best shops for Banarasi Saree are Saree Ghar, Laxmi Saree Ghar, Santushti etc. All these shops are located at the lane leading to Dashshwamedh Ghat.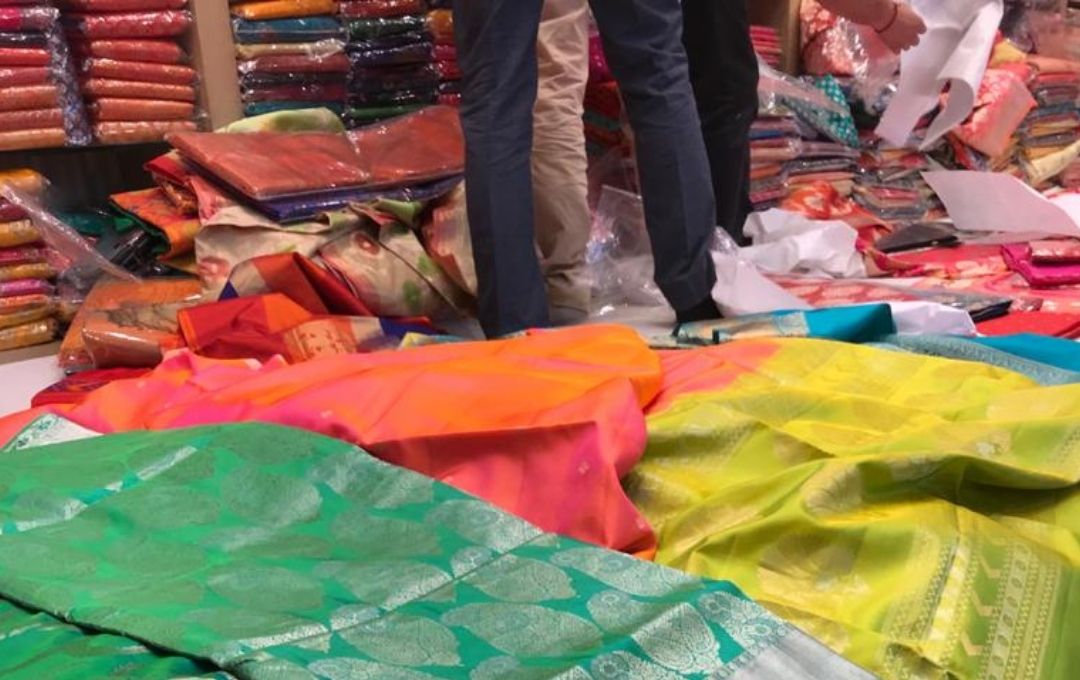 7.
Indulging in Authentic Varanasi Food/ Best Restaurants:
Some of the must try food while in Varanasi are: Tamatar Chat which is only found in Banaras (from Kashi Chat Bhandar or Deena Chat Bhandhar), extremely famous Banarasi Paan (various stalls), Lassi (from Pahalwaan's), Choora Matar, Lata Long, yellow Makhkhan during winters etc. All these delicacies can be found at small food stalls on the lane leading to Dashashwamedh Ghat. Some of the best restaurants to try in Varanasi are Ming Garden for Chinese, Brown Bread Bakery and Aum Cafe for amazing sandwiches, cakes, variety of breads etc., Jaws at Madin Hotel for amazing Indian food etc.
8. Visiting Sarnath
Located at just 10 kms from Varanasi, Sarnath can very easily be planned along with a trip to Varanasi. Sarnath is one of the main Buddhist Pilgrimage sites. Sarnath is the place where Gautam Buddha started his first preaching at deer park after attaining enlightenment at Bodhgaya. Mulgandha Kuti Vihar, Museum Bodhi Tree, Dhamekh Stupa etc. are the places to visit in Sarnath. The entire trip to Sarnath may take 2-3 hours. It is best to start in the morning and return by afternoon. Do not forget to hire a guide, to get a detailed knowledge and importance of the place.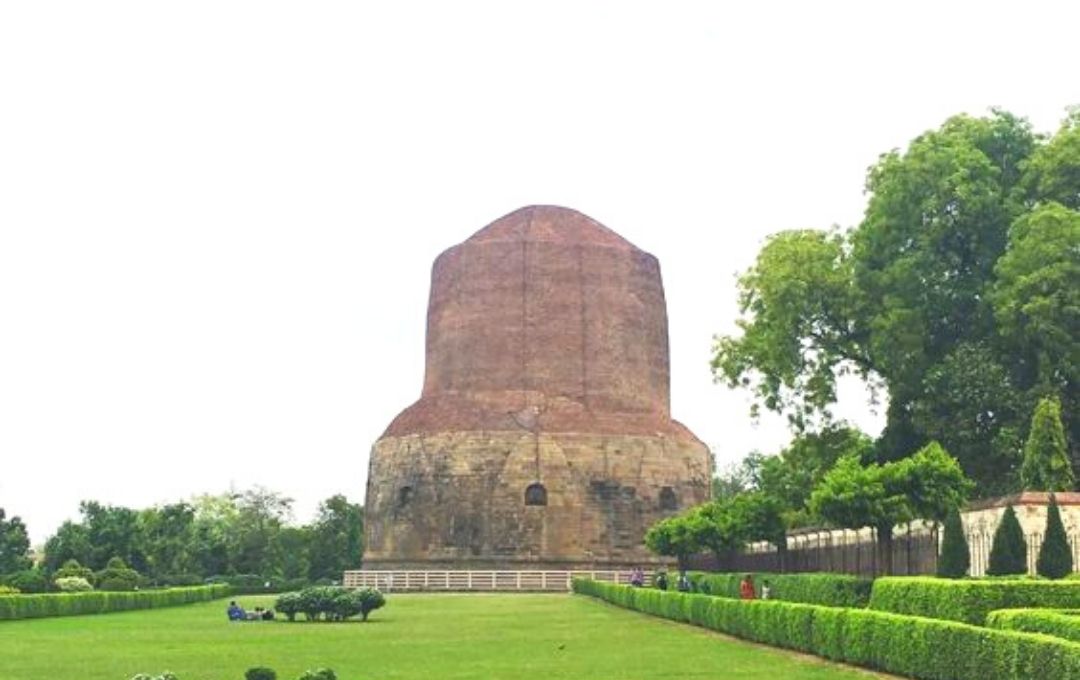 TRIP BRIEF ON HOW TO SPEND 2 DAYS IN VARANASI
Day 1: Exploring famous Temples, Handloom Shopping, Boat Ride at the Ganges followed by Ganga Aarti.
Day 2: Visiting Sarnath and BHU around Evening.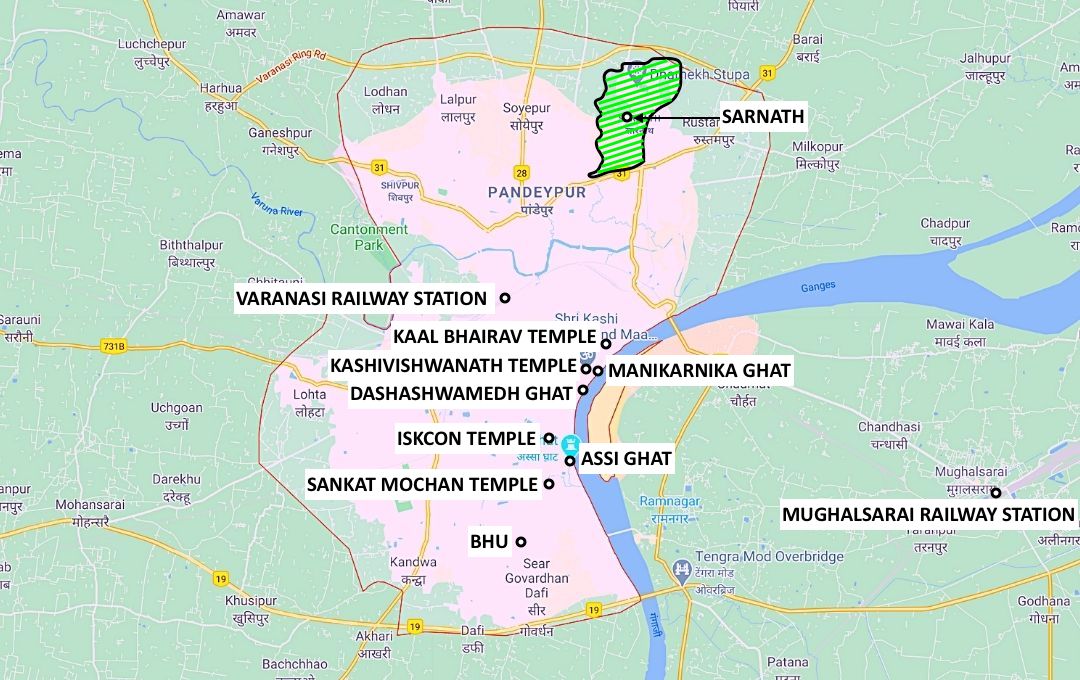 DETAIL ITINERARY – BEST WAY TO SPEND 2 DAYS IN VARANASI
Day 1: Exploring famous Temples, Handloom Shopping, Boat Ride at the Ganges followed by Ganga Aarti
 Visting Kashivishwanath Temple
Start off early morning on 1stday in Varanasi by visiting the most famous temple of Lord Shiva – Kashi Vishwanath Temple. Temple is always crowded throughout the day and it can take approx. 0.5 to 1 hour to get inside and worship the idol. Many a times, foreigners are not allowed to go inside the Kashi Vishwanath Temple. Please check with the locals about this before planning to visit.
Kaal Bhairav Temple/ Annapurna Temple
After doing the splendid darshan of Kashivishwanath, visit other famous temples namely Kaal Bhairav Temple and Shree Annapurna Temple. You can either walk (20 mins) or take an auto rickshaw to reach these temples. It is said that it is mandatory to visit both these temples after visiting Kashi Vishwanath Temple, otherwise, the visit is said to be incomplete. Every Hindu follows this chain.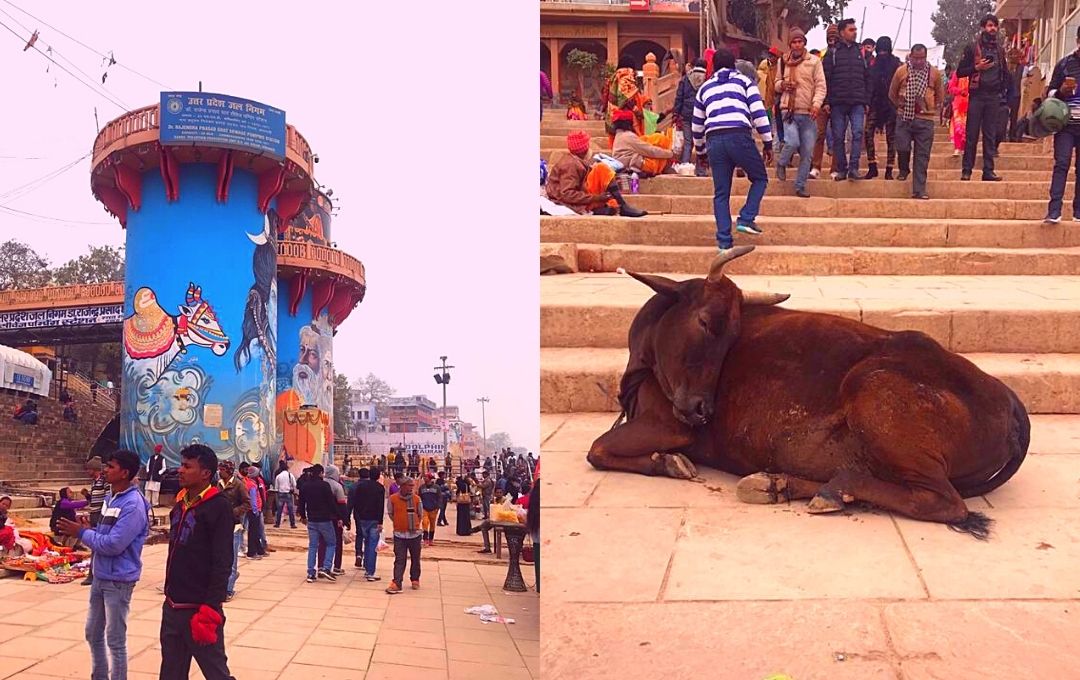 Lunch
Stop for lunch at various options available close to Annapurna Temple – top on the list is Kashi Chat Bhandaar (5 mins walk) or can try Vegetarian Thali at Jaipuria Bhawan (5 mins walk), which is a must try. Healthy homemade Thali available for Rs 200/Person with unlimited food. Timings for lunch are between 1:00 – 3:00 PM and dinner from 8:00-10:00 PM.
Handloom Shopping
After lunch, walk down on the lanes leading to Dashshwamedh Ghat and explore some traditional Banarasi Saree shops. Some popular ones are Saree Ghar, Laxmi Ghar, Santushti, Suvidha etc. One can even look for Banarasi Weave Dupattas, Lehengas or Suit Pieces.
Boatride at Ganges
After exploring the Banarasi fabric shops, walk down till the Dashashwamedh Ghat (Rajendra Prasad Ghat) – the most popular Ghat amongst all 84 ghats (all stretching in a span of 8 kms). Get on a boat and enjoy the view of the surroundings – admiring the beauty of all the ghats and of the river Ganga, seeing various people performing their rituals etc.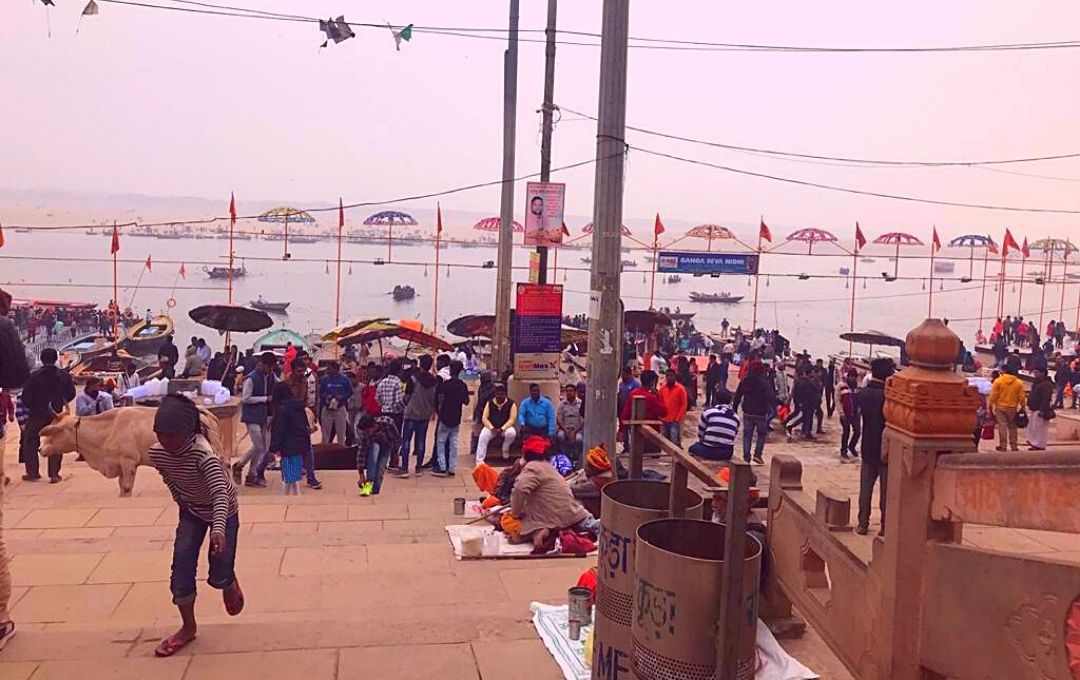 Watching Ganga Aarti
After completing the round of the boat ride, get back at Dashashwamedh Ghat and wait for the Ganga Aarti (starts around 6:30 PM), which is the most beautiful sight on the Ghats of Varanasi. Get in awe of the performance of the priest with a big lamp, praying to river Ganga with bells chiming and music running in the backdrop.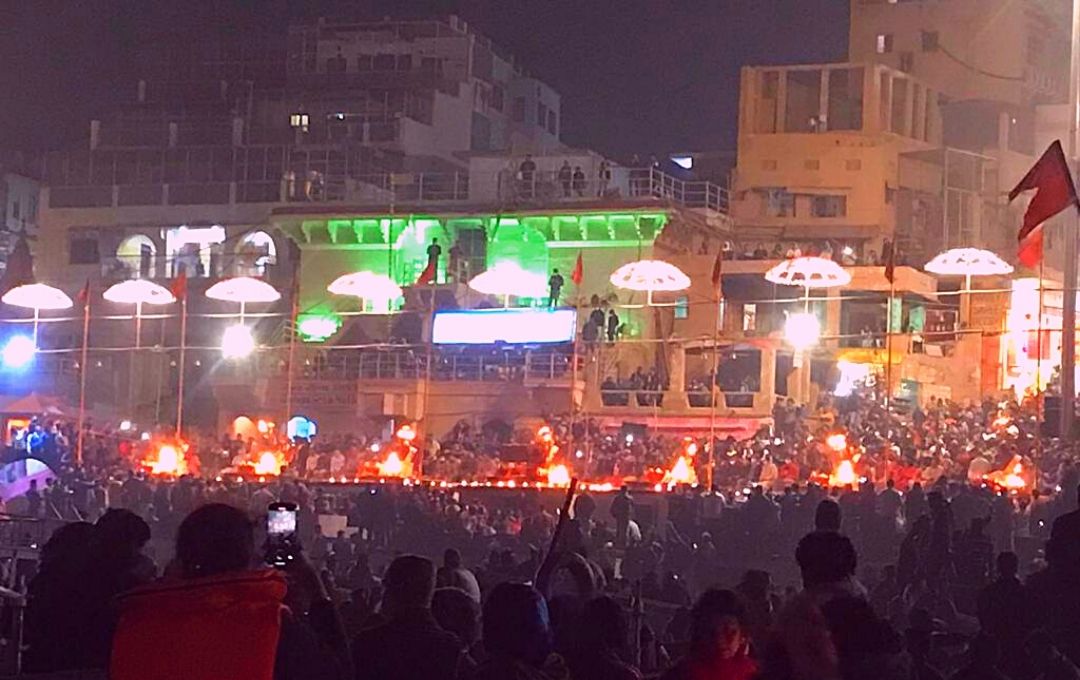 Dinner
After finishing of the Ganga Aarti, look for some place for dinner. Can try Brown Bread Bakery, which is just 7-8 mins walk from the Ghat. If one is staying at some hotel in the Cantonment Area, then all the big chains of hotels here, have amazing restaurants worth trying.
Get back to hotel and relax for the rest of the day.
09:00 AM-10:00 AM: Kashi Vishwanath Temple
10:00 AM-11:30 AM: Kaal Bhairav Temple
12:00 AM-01:00 PM: Annapurna Temple
02:00 PM-03:00 PM: Lunch
03:00 PM-05:00 PM: Exploring Banarasi Saree Shops
05:00 PM-06:00 PM: Boat Ride at River Ganga
06:30 PM-07:15 PM: Watching Ganga Aarti
07:30 PM-09:00 PM: Dinner and Back to Hotel
Day 2: Visiting Sarnath and BHU Around Evening
Dedicate this day to visit two big sites in Varanasi – Sarnath and Banaras Hindu University. It is best to hire a full day cab along with driver for this day.
Visiting Sarnath
Start your day by planning to visit the very famous and recognised pilgrimage site of Lord Gautam Buddha – Sarnath, the place where Lord Buddha gave his first preaching on Dharma. The entire trip will be very mesmerizing, as the place is extremely neat and clean, has a beautiful garden, a huge beautiful Stupa and a very interesting museum. Hiring a guide is advisable so that one may know in detail about the place and its importance.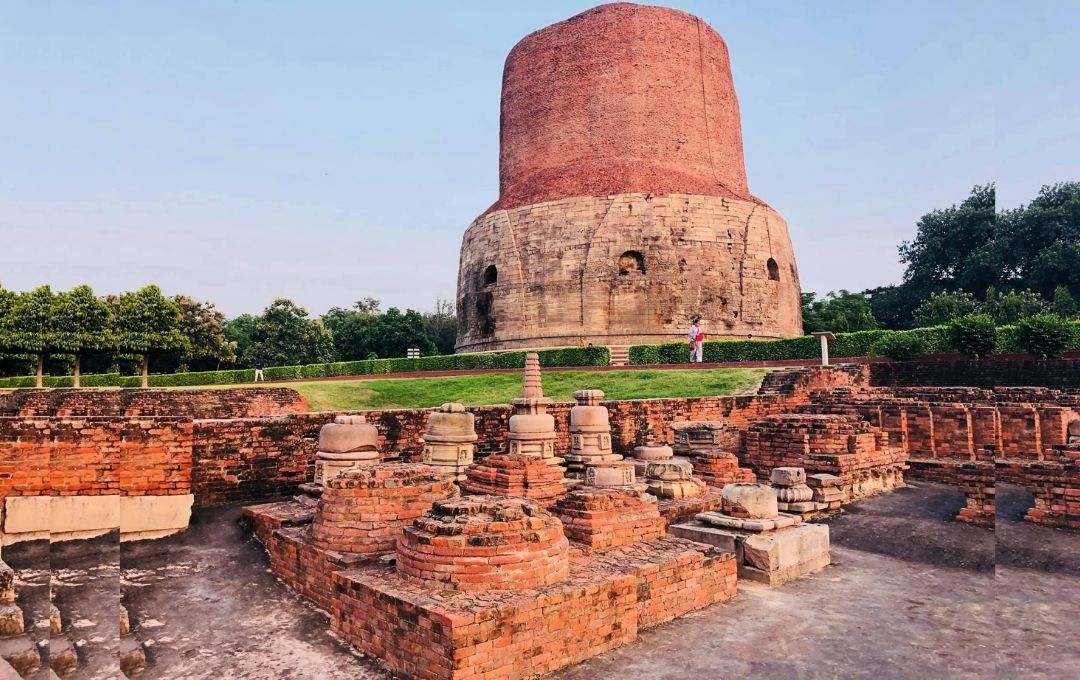 Visiting BHU Campus
After the spiritually satisfying visit to Sarnath, head back to Varanasi and visit another famous landmark – The Banaras Hindu University. Stop for lunch on the way. One can try Aum Café at Assi Ghat or Ming Garden etc.
Sankat Mochan Temple (extremely famous Temple of Hindu Lord Hanuman Ji) and Iskcon Temple (Hare Krishna Temple) can also be covered on the way, if you have enough time.
Close by to the entrance of Banaras Hindu University (BHU), do not forget to try Pahalwan's Lassi. After reaching BHU, drive through the campus and admire the beautiful campus, vintage buildings, the huge maintained grounds etc. Also visit the beautiful New Kashi Vishwanath Temple and Birla Temple. There are various amazing Café to try at BHU. Later, get back to the hotel and relax. For dinner, one can try any option near to their hotel.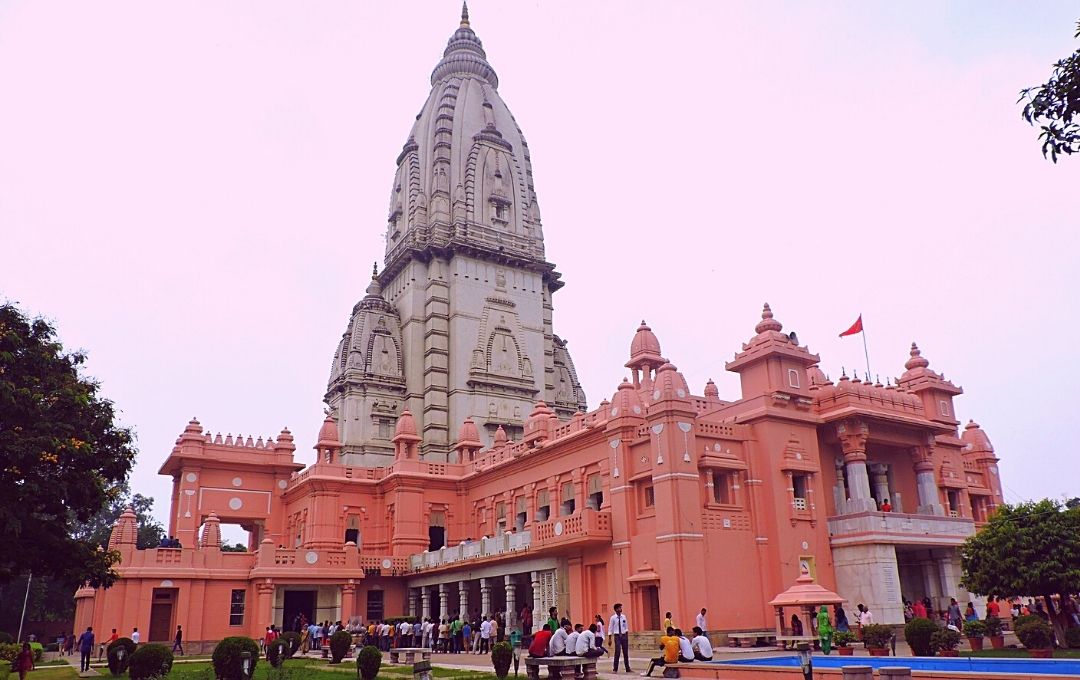 08:00 AM-12:00 PM: Visit to Sarnath
12:00 AM-02:00 PM: Lunch
02:00 PM-04:00 PM: Sankat Mochan Temple and Iskcon Temple
04:00 PM-06:00 PM: Banaras Hindu University
07:00 PM-09:00 PM: Dinner
This now ends the splendid 2 days in the Holy city of Varanasi. Hope you enjoyed the information.
If you find this blog 'Best Way to Spend 2 Days in Varanasi' interesting, please share the link of the website/blog with your family and friends. If you have any comments or suggestions – please do write in the comments section below.
Need regular dose of travel information, planning and update on new blogs, please like my page on Facebook.
Need regular dose of travel shots – follow my page on Instagram