GOA ITINERARY
Goa is a complete package for all kinds of people looking out for a beach vacation in India. It has clean beaches, amazing food and great party places. I bet, one can never explore entire Goa in just a few days. Every time I go there I see a different part of Goa. Here, I am sharing a very interesting itinerary for 5 days in Goa especially for the first timers. It covers North as well as South Goa. North Goa is more popular and commercialised and because of that, it is usually very crowded. It has amazing lounges and nightclubs. South Goa, unlike North, is very quiet, scenic and has better beaches.
DURATION 
It is a 5 days itinerary for Goa – 2 days for North Goa and 3 Days for South Goa.
BEST TIME TO VISIT GOA
Mid November to Mid February are the best months to visit Goa. Weather is very cool and pleasant around this time. This is also the best time to enjoy all beach related activities. Temperature stays between 25-30ºC.
GOA TRIP COST FOR 5 DAYS
Flight/Train/Road Trip (from India): Roughly Rs 5000-10,000/Person (70-145 US$)
Hotels: Rs 5000-10,000/Day (70-150 US$)
Food & Local Transport: Rs 10,000-12,500/Person (145-175 US$)
Miscellaneous: Rs 5000-7000/Person (70-100 US$)
Total Approx. Budget: Rs 30,000-40,000/Person (428-570 US$) for 5 days
WHERE TO STAY IN GOA
NORTH GOA
In North Goa, there are many areas to stay – Arambol, Morjim, Arpora, Baga Beach, Calungate Beach and Candolim Beach etc. We decided to stay at Candolim because it is a perfect area to travel easily to both North and South part of Goa. Moreover, Candolim is an amazing area with quite a good number of hotels, huge variety of restaurants, great nightlife and various shops.
There are plenty of choices to stay at Candolim – luxurious 5-stars hotels, home like villas at affordable prices and the very popular Airbnb homes and OYO rooms. One can decide on any facility based on their budget. Below is my suggestions for Hotels for stay in Candolim.
Luxury
Mid Range
Budget
SOUTH GOA
For South Goa mostly people have to make a choice between Palolem Beach and Agonda Beach. Comparing both Agonda beach is neater, nicer, more scenic and an extremely romantic place as compared to Palolem. There are numerous sea facing beach huts here to choose from in Agonda Beach. Following are some choices. They are all ranged from 3000-9000 INR/Day (40-120 US$).
TIPS FOR GOA TRIP
Try to avoid visiting Goa around Christmas and New Year. There is huge rush at this time and prices are hitting the roof. Plan around November or Mid January – Mid February.
Do go through www.whatsupgoa.com for more information about Goa. This is the best website I found so far with all the relevant information about Goa.
Always book hotel at a walking distance from the beach.
Hiring a Scooty/Bike or Car is the best way to go around places in Goa.
Apart from beaches, next thing to look up to in Goa, is food. Make sure you get an opportunity to taste the most. Take the help of Google, to know the popular restaurants and find their ratings and reviews.
Download Goamiles app before reaching Goa. This is like Uber/Ola of Goa. You can use that to reach your Hotel from the Airport.
GOA TRIP PLAN FOR 5 DAYS
1st Day: Reaching Goa, Lower Fort Aguada, Saturday Night Bazaar and Club Cabana
2nd Day: Exploring North Goa – Fort Chapora, Mandrem Beach, Arambol Beach, Marbella Resort, Thalasa and LPK or Casino
3rd Day: Reaching South Goa – Martin's Corner, Agonda Beach, Jardim E Mar
4th Day: Butterfly Beach, Honeymoon Beach and Palolem Beach
5th Day: Cape Goa, Tropical Spice Market, Reaching the Airport
GOA TRIP PLAN FOR 5 DAYS IN DETAIL
DAY 1: Reaching Goa, Lower Fort Aguada, Saturday Night Bazaar and Club Cabana
We boarded the morning flight for Goa and reached Goa Airport around 11:00 AM – 12:00 noon. We had to take an expensive taxi as Ola and Uber don't operate here. After a long negotiation, one of the taxi driver agreed to take us from the Airport to our hotel in Candolim for Rs 1000 (13.5 US$). It took us around 60-75 mins to reach Candolim. Thankfully, Goa now has Goa Miles!!! It is like Uber/Ola of Goa. They offer better rates than normal taxi's.
We booked the Park Inn Hotel at Candolim, which is an amazing hotel. After checking in our hotel, we relaxed for a bit and moved out for lunch. You can try Tuscany Gardens, Inferno and Sunny Side Up etc. You can also check for other eating options from Google along with ratings, reviews and decide accordingly.
While on our way back to the hotel after lunch we checked with 2-3 vendors about car rentals. We decided and hire a car for 5 days on self drive. We got the deal at Rs 1200/Day (16 US$). Bike/Scooty is also an option, but we had to travel extreme south and north so this option was not feasible for us. Moreover, there is scorching heat in the afternoon in Goa, so hiring a car is always better.
Lower Fort Aguada, Condolim
We relaxed for some time at the hotel and then headed to Lower Fort Aguada. Do not go to Fort Aguada but to Lower Fort Aguada, which is adjacent to Taj Fort Aguada. This place is amazing around evenings and also a good spot for sun set view.
Dinner/Saturday Night Bazaar/Club Cabana
After this, we went back to hotel. We were dying to go partying, as it was a Saturday night, so after relaxing for some time we got ready for Club Cabana. Since these clubs are open till late nights, we stopped midway at Calangute Beach for Dinner. Souza Lobo and Tibet Kitchen are good dining options at Calangute Beach. Baga Beach, just ahead of Calangute Beach, is also a very popular beach with huge number of dining options. The most popular and fun diner is Brittos. The cold coffee here is a must try.
Post dinner, on the way we stopped at Saturday Night Market. Since it was at a walking distance from Club Cabana, we decided to explore it a bit. As the name suggests, this market is set up only on Saturdays. You can get accessories like neckpieces, bracelets, decorative items, spices, long and short dresses etc. in this market. Prices in this market are relatively low. If not interested in shopping, visit to this market can be skipped.
Around late night we entered Club Cabana. Club Cabana is one the most popular nightclub in Goa, which is located on the hills on Arpora Road. It is a huge property with a closed disc inside, a pool, lounge and a huge open space. Entry was Rs 2000 (26 US$) per couple with specific drinks 'On The House', like Kingfisher Beer and Absolute Vodka. Other brands of liquors are chargeable by the peg and Beers by the bottle.
Curlies Shack , Anjuna Beach
We partied quite late and then went to Curlies Shack – a very famous rustic sea facing food shack at Anjuna Beach – 15 mins drive from Club Cabana for some late night snacks. Curlies is open quite late during the season time. As it was very late we left Curlies and went back to the Hotel and slept tight.
11:00 AM: Reached Goa Airport
01:30 PM: Reached Hotel
02:00 PM: Lunch at Tuscany Garden
04:30 PM: Lower Fort Aguada
08:00 PM: Dinner at Souza Lobo – Calangute Beach
10:00 PM: Saturday Night Bazaar
11:00 PM: Club Cabana
03:00 PM: Back to Hotel
DAY 2: Exploring North Goa – Fort Chapora, Mandrem Beach, Arambol Beach, Marbella Resort, Thalasa and LPK or Casino
This day we had to get up and start early because we had to cover the north most part of Goa and this is a long trip. We got up early and had our breakfast at the hotel and got ready for our day tour to North Goa. I suggest to pack 2-3 dresses, swimsuit, vanity kit etc., as this will be an entire day's tour and you can halt, refresh yourself and change at any place in between.
Fort Chapora
We first went to Fort Chapora – the famous fort, where the movie Dil Chahta Hai was shot. It took us 30-35 mins from Candolim to reach there. Although it is the best place to see the sunrise but we were very tired from last night party so we went a bit later. We had to climb up a hill to reach there. It was a dilapidated fort but the view of the sea from there was worthwhile. It is an advice to cover this Fort before noon, as it gets really very hot in the afternoon.
If hungry, do try the amazingly great vegan restaurant in Goa – 'Bean Me Up'.  This place offers good ambience, delicious food and prompt services at a very economical price. If looking for some beach facing restaurant with fun music then try out Titlie Culinary Bar. If looking for fancy beach face property then Olive Bar & Kitchen should not be missed. All these restaurants are just within a kilo meter from Fort Chapora.
Manderem Beach/Arambol Beach
We then went to Mandrem Beach, which is a very popular beach of North Goa. It took us another 30-35 mins to reach there from Chapora. We had to pass through a long passage to reach this beach. Mandrem Beach is quite neat, serene and scenic. We took a shack there and relaxed for some time.
Later, we went to Arambol Beach, which is just a 10 mins drive from Manderam Beach. Again this is quite a popular beach of North Goa. We had our lunch here at one of the beach shacks.
Marbela Beach Resort/Thalassa
Then we went to Marbela Beach Resort for sunset view. This resort is located in the interiors and we had to cross quite steep roads. It took us 30 minutes to reach there. On reaching the destination, we were blown away with the beauty of this resort. Marbela Beach Resort is a premium property and has an amazing beach side view. They also have small tents with beds overlooking the beach. It was very romantic. If you have enough time you can plan to stay at this resort for a day to fully enjoy this property.
After witnessing the most romantic sunset, we decided to dine at another extremely popular restaurant in North Goa – Thalassa located at Vagator Beach, which was a half an hour drive from Marbella Resort. Thalasa is a Greek themed beach facing restaurant and bar. Food is okay but music and ambience is really great specially, the view of the sea from the restaurant. Be assured that there will be a long waiting queue here if you are planning to visit on weekends. I suggest pre booking before for safer side.  Thalasaa is again very famous for the sunset, so you can enjoy the sunset here and visit Marbela Resort later.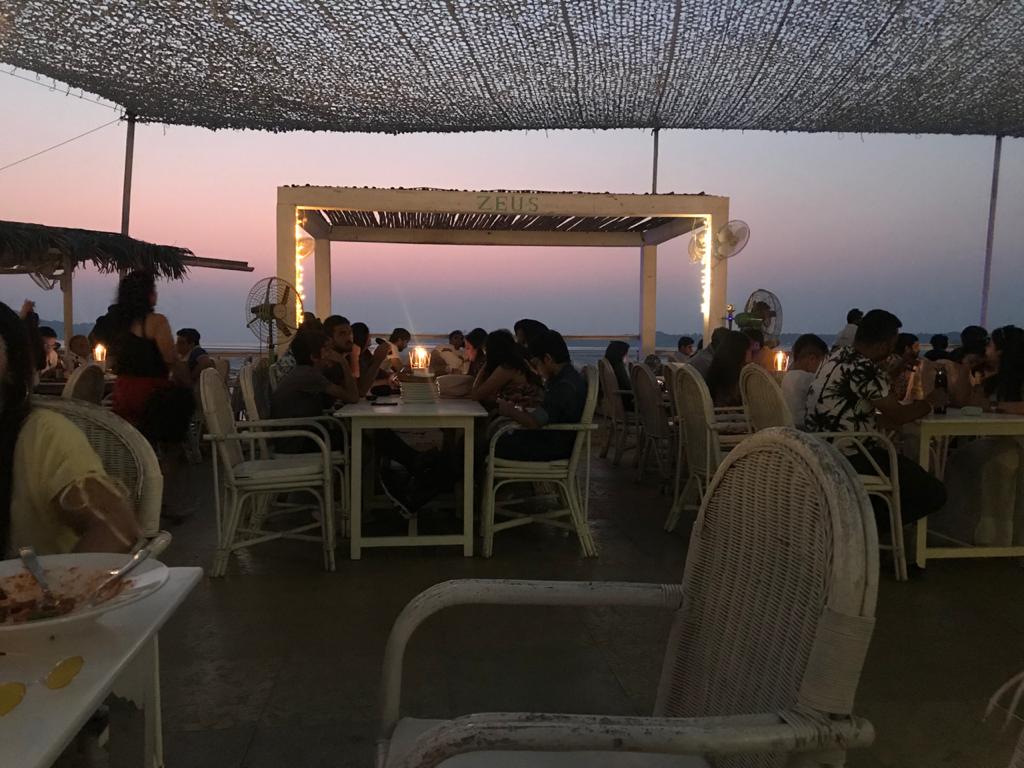 LPK or Casino
After dinner, we headed back to our hotel. Later at night, we went to another very popular nightclub named LPK (Love Passion Karma). It was just 2 kms from Candolim. Entry was Rs 2000 (26 US$)/couple with unlimited drinks on selected spirits. Alike Club Cabana, this club was also totally fun, just that it was a Sunday and the crowd is much crazier on Saturdays.
If you are not much in the mood to party and have interest in gambling, you are very much in luck, as there are quite a few number of Casinos in Goa. Goa is amongst the few places in India, where gambling is legal. All of the popular casinos are set up on cruise ships, parked at the shores of the Mandovi River. These casinos are open 24×7 and charge a one-time entry fee of Rs 1500-3000 (20-40 US$) per person. Food and drinks are On The House. The biggest and the most popular casino in Goa is The Deltin Royale. The Casino Pride, The Deltin Jack, The Big Daddy etc are some of the other big Casinos worth visiting in Goa.
09:00 AM: Breakfast at Hotel
10:00 AM: Leaving for Fort Chapora
11-12 PM: At Fort Chapora
12:30 – 2:00 PM: Maderam Beach
02:30 – 3:30 PM: Arambol Beach
04:30 PM: Marbella Resort – Morjim Beach
07:30 PM: Thalassa
09:30 PM: Back to Hotel
11:00 PM: LPK night club or Casinos
DAY 3: SOUTH GOA: Martin's Corner, Agonda Beach, Jardim E Mar
After having an amazing breakfast, we packed our bags and left for South Goa by car. It's a very long (2-2.5 hours) drive from Candolim.
Reaching South Goa – Agonda Beach
The entire way from Candolim to South Goa is very scenic – narrow roads with palm trees, beautiful hut houses and small lakes are a sight to behold. Throughout the way, the roads were well maintained. Midway we had our first stop at Martins' Corner at Betalbatim. It is a very popular and vibrant Goan restaurant famous for its sea food. It is Sachin Tendulkar's favourite restaurant in Goa. Martin's Corner is also very popular with other celebrities.
On the way to South Goa, one can enjoy various beaches along the way – Dauna Pola, Colva, Benaulim, Varca etc. We did not stop anywhere because it was afternoon, way too hot and moreover we wanted to spend the evening in South Goa. For South Goa, we decided to put up at Agonda Beach. Palolem is also a good option but in comparison Agonda is quieter and neater.
After reaching Agonda we booked a sea-facing hut at Agonda Shell Beach Resort. Huts are quite popular in South Goa. These huts have attached open washroom and a small open area outside the hut with chairs and table. We enjoyed the entire evening soaking on the beach. As we had a beach hut to ourselves, it was much easier and convenient. Putting up in these huts was an amazing experience.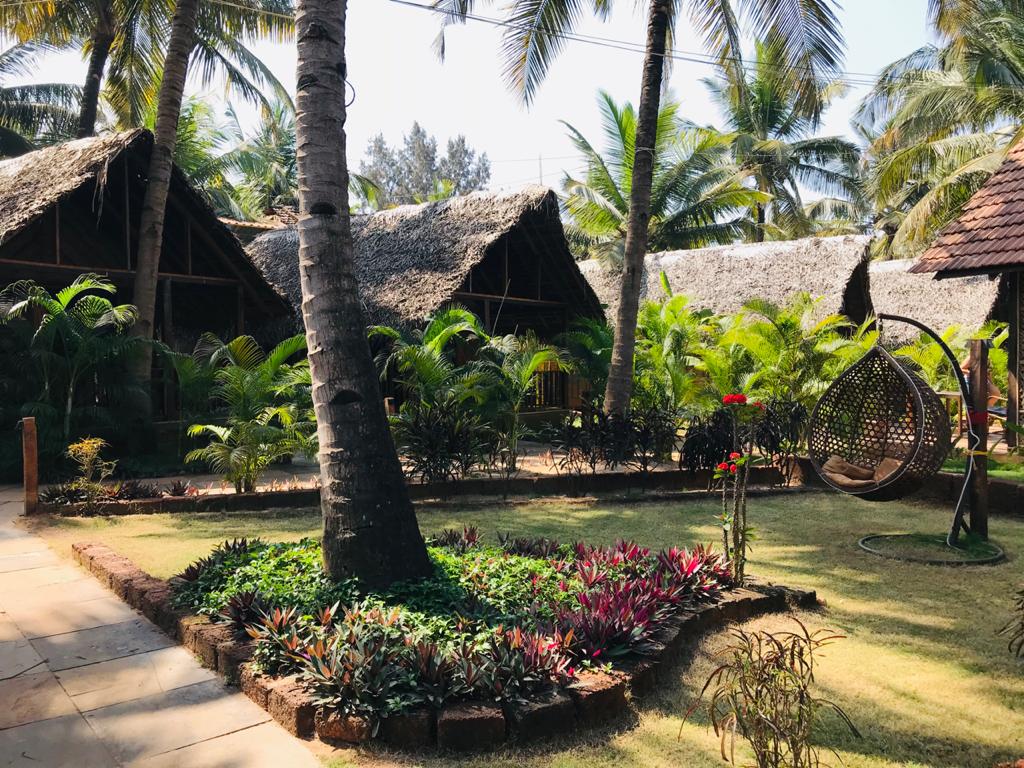 Dinner
Agonda beach is full of amazing sea facing restaurants and lounges to choose from for dinner like Agonda Sunset, La Dolce Vita, Kopi Desa etc.
After dinner we then walked on the street along the beach. This place is quite romantic with beach facing restaurants having romantic set ups like candlelights for uplifting the mood of the tourist. The weather and the cool breeze adds to the romance. We then went back to our hut and enjoyed the rest of the night looking at the sea.
10:00 AM: Breakfast at Hotel
12:00 PM: Check Out and drive to South Goa
01:30 PM: Martin's Corner
03:00 PM: At Saxony Beach Resort Agonda Beach
05:00 PM: At Beach
07:00 PM: Dinner
09:00 PM: Sitting at the Beach Side
DAY 4: Butterfly Beach, Honeymoon Beach & Palolem Beach
It is so amazing waking up to the sound of sea waves. The view outside was very pleasant. After walking for a while on the beach, we went to catch out boat ride for Honeymoon & Butterfly Beach.
Butterfly Beach/Honeymoon Beach via boat ride
We took a boat ride (capacity of 4-6 people ) to Honeymoon Beach & Butterfly Beach. Boats for reaching this beach are easily available for just Rs 1,000-2,000 (14-28 US$) to and fro from Agonda and Palolem Beach. You just need to get it booked one day prior. Hotel people can help in booking. Early morning around 7 is the best time to visit this beach. There are chances to spot dolphins around this time. This beach is secluded making it by far the most beautiful beach in South Goa. As the name suggests, Butterfly Beach is an abode to numerous species of butterflies and its shape also resembles a butterfly. It is a very quiet beach with beautiful landscapes, cool breeze and dense forest in the backdrop.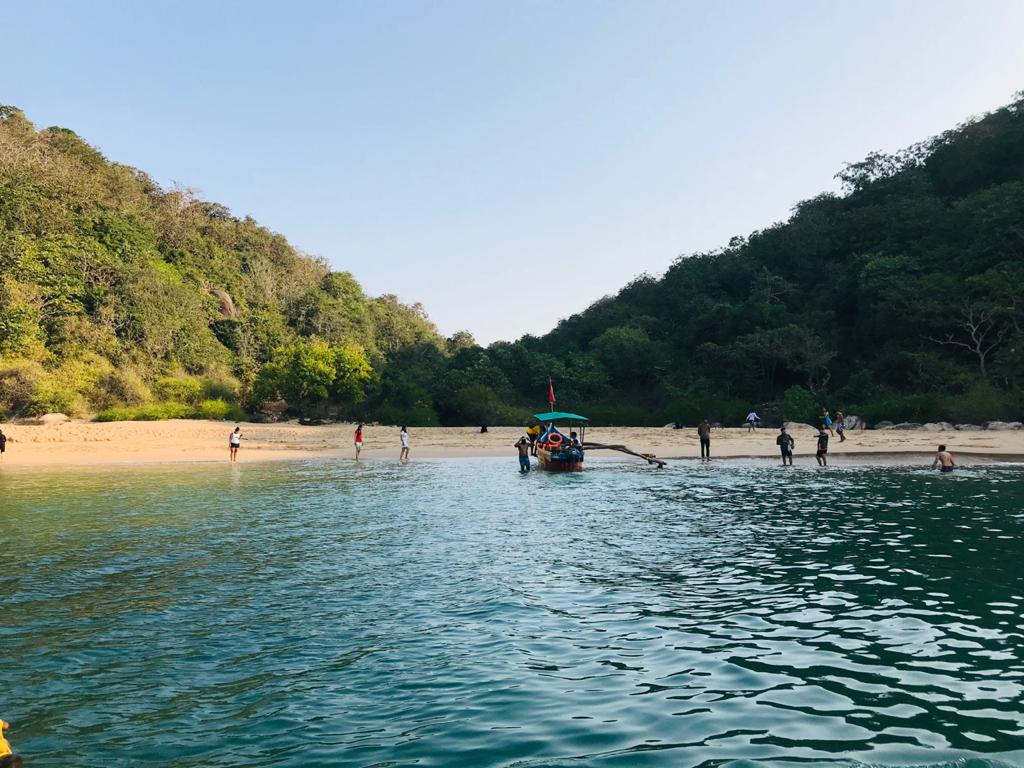 Palolem Beach
After this amazing boat ride we went to Palolem beach for breakfast/Brunch. There are many options at Palolem Beach but we tried Cairans. It is a sea-facing restaurant serving amazing English breakfast. It had good reviews and it totally did justice. Coffee, Omelette, pancakes, all were amazing.
Back to Agonda
Later, after lazing around and whiling away some time walking peacefully on the beach, we went back to Agonda Beach. Around sunset we again enjoyed swimming and playing at the beach followed by dinner. If this happens to be a Saturday, then try Leopard Valley Night Club, which is very close to Agonda Beach.
07:00 AM: Boatride to Honeymoon/Butterfly Beach
11:00 PM: Brunch at Palolem Beach
05:00 PM: At Beach
08:00 PM: Dinner
DAY 5: Cape Goa and Tropical Spice Market
Cape Goa
After breakfast we checked out from Hotel and went to Cape Goa. It was around 13 kms from Agonda Beach, roughly a 30 mins drive. This is again a very secluded place and not many people know about it. Cape Goa offers some breath taking views of the sea. It was so beautiful that it wasn't even looking like a part of India. With crystal clear blue water and green grass, palm trees and beautiful rocks, it was giving the perfect wallpaper view.
Cape Goa is also a premium property with very limited huts (just 4 to 5). Advance booking is required if one plans to stay here, else one can always come and visit this place and spend few hours at the open lounge.
You can visit Cabo De Rama Fort as well in place of Cape Goa, which is just 5 mins from Cap Goa.
Tropical Spice Market
After visiting Cape Goa, we went to Tropical Spice Market, which was around 55 kms from Cape Goa and took us one and a half hour to reach there. Entry fee was just Rs 400 (5.5 US$) including lunch. We were given a welcome drink on entry. We were also given a tour guide to explain everything to us.
It was a very interesting tour and we saw how spices are grown and cultivated. The guide was quite knowledgeable and informative. Lunch included typical Goan style dishes and was good to eat. You can also purchase these authentic spices here at very affordable prices. The entire tour was very educational.
If you have limited time you  can be skip this Spice Plantation. After the tour, we went back to Candolim and returned our car to the vendor. He was kind enough to arrange our drop to the airport at a reasonable price. We then catch our flight back. This ends our 5 days tour to Goa.
Salaulim Dam/Dhoodh Sagar
If one has more time they can also try Salaulim Dam and Dhoodh Sagar fall and trek in central Goa. These both places are very popular around rainy season. They are quite far around 1 to 1.5 hours from Agonda and 2 to 2.5 hours from Candolim.
09:00 AM: Breakfast at Sonhe Do Mar
10:00 AM: Checking out from Beach Hut and drive towards Cape Goa
10:30-12:00 PM: Cape Goa
01:30 PM: Tropical Spice Plantation
04:00 PM: Way back to Candolim
05:30 PM: At Candolim
07:00 PM: At Airport
If you find this blog 'Best 5 Days Itinerary for Goa' interesting, please share the link of the website/blog with your family and friends. If you have any comments or suggestions – please do write in the comments section below.
Need regular dose of travel information, planning and update on new blogs, please like my page on Facebook.
Need regular dose of travel shots – follow my page on Instagram