TRIP TO BANGKOK & PHUKET
Planning a trip to Bangkok & Phuket? Here I am sharing a very interesting itinerary for trip to Bangkok & Phuket in a week – best time to visit, where to stay, best things to do etc. This is a perfect guideline for a short 7 days holiday plan for Bangkok & Phuket.
Thailand's capital Bangkok is definitely a fun city. It is a blend of modern city with huge skyscrapers with great nightlife and old culture with ancient temples. Being a tourist destination, the people are warm and the food is amazing. The city is economical as compared to the experience it offers and one can have a lot of fun and shell very few bucks for the same.
Trip to Bangkok can be combined with any beach city in Thailand like Pattaya, Phuket, Krabi, Koh Samui etc depending on the pocket of the individual. It makes the whole trip complete with the metropolitan charm of the city of Bangkok and exotic laid back beach vacation of the other city.
I chose Phuket because it offers one of the best scenic views and is a much better place to visit than Pattaya. This is my personal opinion. Krabi, on the other hand, can be planned as a trip in itself.
DURATION OF BANGKOK & PHUKET TRIP
The complete trip is of 7 Days  –  4 Days in Bangkok & 3 Days in Phuket
BANGKOK & PHUKET TRIP COST
Return Flight from India: 285 – 360 US$ / Person
Accommodation: 60 – 75 US$ / Day
Internal Flight Transfers: 43 – 70 US$ / Person
Visa on Arrival: 60 – 70 US$ / Person (Free for Indians)
Food and Transport: 143 – 215 US$ / Person
Entrance tickets and Day Tours: 143 – 215 US$ / Person
Miscellaneous: 72 – 115 US$ / Person
Total: Approx 860 – 1250 US$ / Person for 7 days
HOW TO REACH / HOW TO TRAVEL WITHIN BANGKOK & PHUKET
Bangkok's Suvarnabhumi Airport is very well connected to all major cities of the world. There are various cities in India that have a direct flight to Suvarnabhumi Airport, Bangkok.
For travelling within Bangkok best is to use BTS (metro trains/subways) as much as possible because they are quick, economical and saves a lot from road traffic (Bangkok main areas are mostly full of traffic). Taxi's and Tuk Tuk rides are also available all the time.
For travelling within Phuket best is to walk to nearby places and for the far off places, book a full day or half day car with driver from various tour operators at Patong Street.
WHERE TO STAY IN BANGKOK
Out of many areas to stay in Bangkok Sukhumvit is the most popular and preferred choice. This place is always lively as it has a lots of bars, restaurants and shops. Best is to book hotel a walking distance to any of the BTS Stations (metro train) in Sukhumvit area – Nana Station or Asok Station.
If you are a shopaholic and looking forward to shop, then stay close to Siam Centre. All big Malls like MBK, Central World, Siam Paragon, Siam Discovery etc is situated at Siam only. Even Platinum Fashion Mall, Night Market, Indra Square etc are just 10-15 mins walking from Siam Centre.
There is another area, Silom which is full of 5 star properties including Lebua Sky Bar. It is the financial hub of Bangkok. This place is also filled with night clubs, bars and restaurants.
If looking for budget Hotels and Hostels then stay at Khao San Road – which is filled with backpackers. The best part about this area is that it is very close to The Grand Palace and Was Pho – the biggest attractions of Bangkok.
Dusit and Thon Buri are really far off areas and are preferred the least.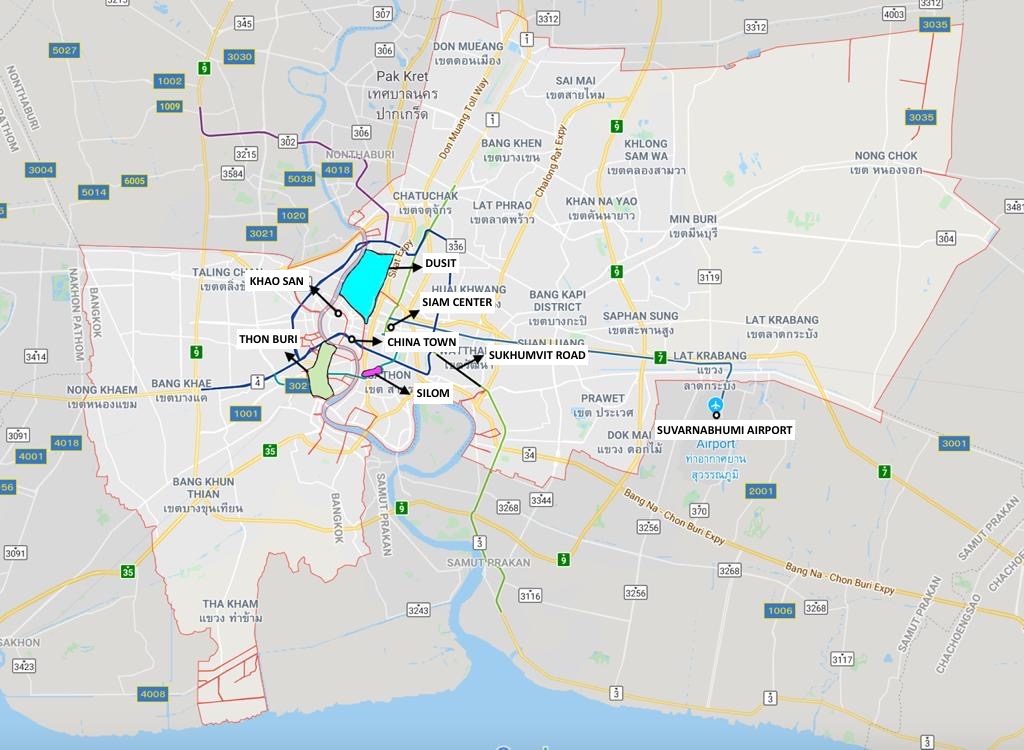 WHERE TO STAY IN PHUKET
Patong Beach is the most preferred choice of stay in Phuket as it is centrally located, has an amazing night life, variety of restaurants etc. The very famous Night Show Bangla Street is located at Patong only. Patong can be divided into three parts – North Patong, Central Patong and South Patong. There are huge number of Hotels from luxury to budget in Patong to choose from.
Other popular area apart from Patong is Karon & Kata Beach. This area is best for couples and honeymooners as the beaches are extremely beautiful, clean and less crowded. There is a good market area to spend time in the evening at Karon/Kata Beach, and it doesn't even have loud night shows, like in Patong.
Another area with extremely beautiful beaches is Nai Harn and Rawai Beach. It is a bit far from the main area but the beaches and the view is spectacular.
Phuket Old Town is the area for people who are interested in historical places and want to stay in traditional culture.
Bang Tao is another area with sprawling 5 star properties. This place has the cleanest, white, shiny beaches but is really far from the main area and not much to do nearby. It is perfect for people who just want to enjoy at the luxury resort and not go around anywhere.
Lastly if one wants to stay closer to Airport then Mai Khao is the place.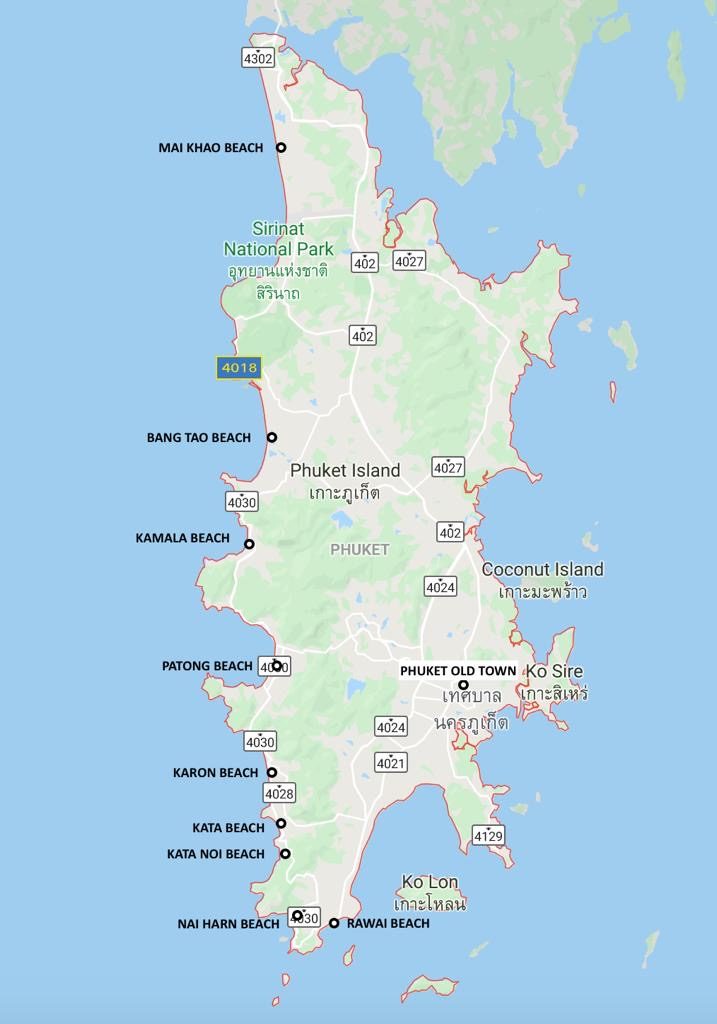 BEST TIME TO VISIT BANGKOK & PHUKET
November to February is the best time to visit Bangkok, as the climate is cools (26 – 29ºC) during this time of the year. March to June are Summers (hot) and July to October is rainy season.
For Phuket, best months to travel starts from November up till April. This is the best time to enjoy beach activities.
BEST PLACES TO VISIT IN BANGKOK
Following are must do in Bangkok –
Bangkok Temples – Visit to Grand Palace, Wat Arun and Wat Pho (Reclining Bhuddha)
Shopping in Bangkok – Visit Siam (biggest centre of Bangkok's Shopping Malls), Platinum Shopping Mall, Indra Square, Night Market etc
Adventure – Visit Safari World & Marine Park or Siam Ocean World
Bangkok Spa – Enjoy the relaxing Thai massage in Bangkok city from one of the best Spa in Bangkok.
Bangkok Nightlife – Enjoy some of the best lounge, restaurant and nightclub in Bangkok like Lebua Sky Bar, Octave Rooftop Bar etc.
BEST PLACES TO VISIT IN PHUKET
Following are must do in Phuket –
Phuket Temples – Big Buddha Phuket, Wat Chalong Phuket
View Points in Phuket – Visit best viewpoints in Phuket like Karen View Point, Promthep Cape View Point etc
Island to visit from Phuket – Phang Nga Bay or Phi Phi Island Tour
TIPS FOR BANGKOK & PHUKET TRIP
Carry Thailand currency – THAI BHAT from hometown or else carry USD as exchange rate against USD is always better compared to any other currency.
In Bangkok always make use of BTS Sky train (Metro Train). Download BTS Map from Google to understand the routes better. Travelling from BTS is economical, fast and convenient. Sometimes, there is heavy traffic jams on the roads and one can get stuck there for hours.
Street Shopping is a must in Bangkok. It is economical and the quality of the product is quite good. One can spend the entire time just shopping in Bangkok and still can't get enough of it.
If you are going for VISA ON ARRIVAL, be prepared that the overall process can take up to 3 hours. Please take this much time into consideration. Good news for Indians, Thailand is now VISA FREE for India.
It is always advisable to visit the other city (Phuket/ Krabi/ Koh Samui) first and then plan to visit Bangkok as all International flights arrive and depart from Bangkok. Hence, planning to visit the other city first is a convenient, safer and smarter option.
BANGKOK & PHUKET 7 DAYS ITINERARY
1st Day: Reaching Phuket and enjoying Fantasea Show in the evening.
2nd Day: Phuket Day Tour – Karon Beach, Kata Beach, Kata Noi Beach, Karan View Point, Windmill View Point, Promthep Cape View Point and Big Buddha.
3rd Day: Island Tour of Phi Phi & Maya Bay.
4th Day: Leaving Phuket, reaching Bangkok, Siam Ocean World, Madame Tussauds and Shopping outside Platinum Fashion Mall.
5th Day: Bangkok – The Grand Palace, Wat Pho (Reclining Buddha), Wat Arun (Temple of the Down) and Lebua Sky Bar.
6th Day: Safari World and Marine Park.
7th DAY: Damnoen Saduak Floating Market and Chao Phraya River Cruise.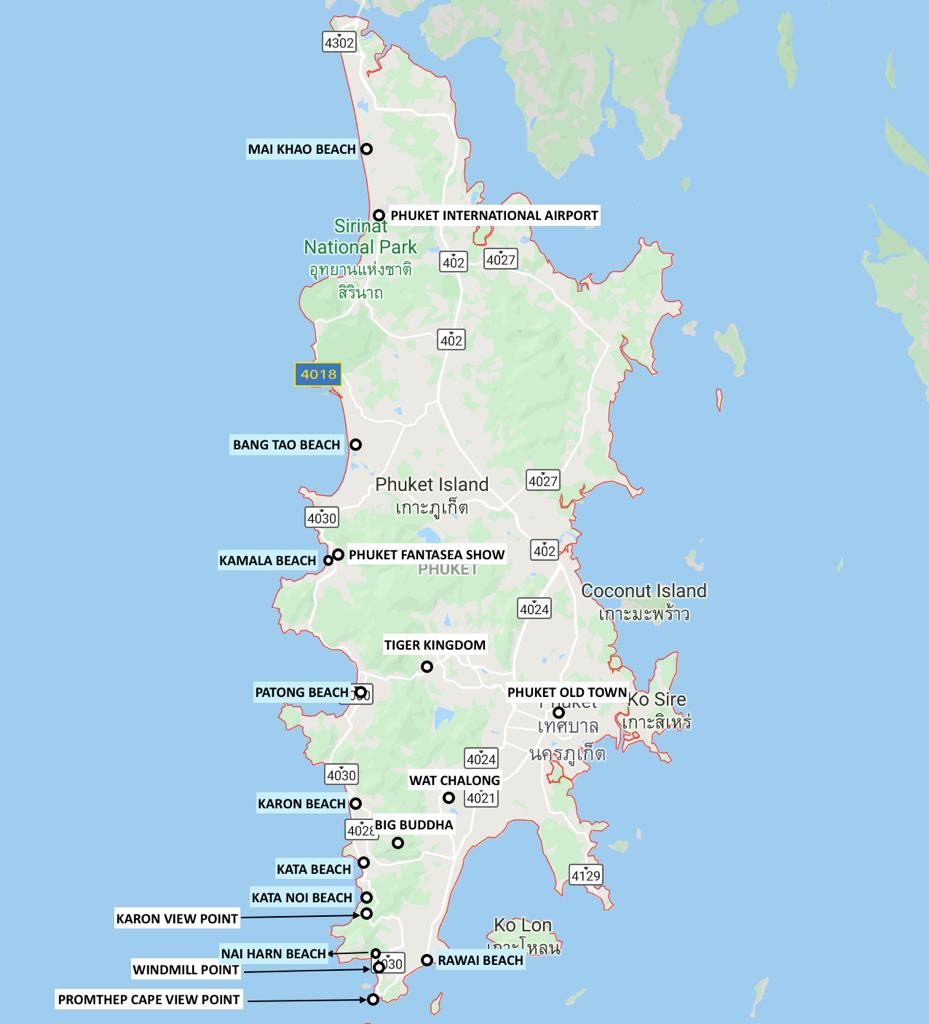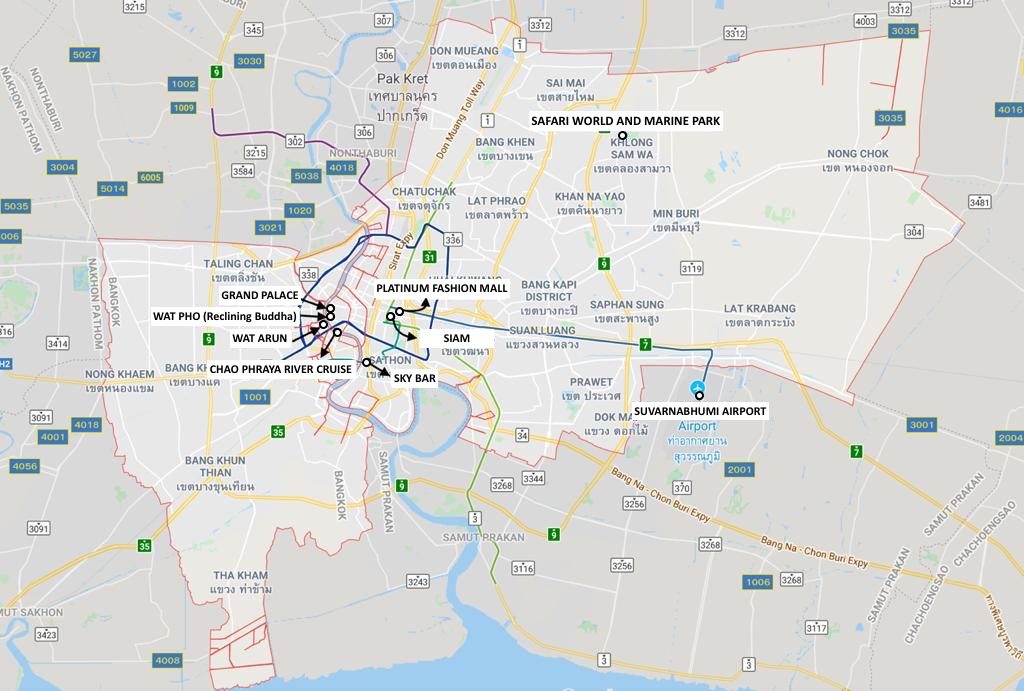 BANGKOK & PHUKET 7 DAYS DETAIL ITINERARY
DAY 1: Reaching Phuket and enjoying Fantasea Show in the evening
Reaching Phuket via Bangkok
We took the overnight International flight from India to Phuket with a 4 hours layover at Suvarnabhumi Airport, Bangkok. After reaching Phuket International Airport and collecting our bags, we took a Taxi to reach our Hotel in Patong.
Patong is 35 kms away from the Airport and therefore it took us roughly 1 hour to reach our Hotel. Taxi cost was 875 THB. As we were a group of 5 people, it did not cost much individually.
Buses (an economical option if travelling alone or in smaller groups of 2 or 3) run from the airport every hour from 7:30 AM in the morning up to 9:30 PM at 150 Bhat/Person but travel time is close to 2 hours.
Soon after we checked into the hotel, we went out to grab something for lunch. There are plenty of restaurants in Patong – one can go to any place of their choice. Post lunch we relaxed for some time at the Hotel as we were tired from the overnight journey.
Fantasea Show, Phuket
In the evening we went to watch the Fantasea Show which starts at 5:30 PM and ends at 11:30 PM. Tickets are available in the hotel lobby and for better prices it can be booked online from www.klook.com as well. Price of the ticket will be roughly 2300 THB/Person. It is a suggestionto buy ticket with pick up and drop inclusive of dinner.
Fantasea show exhibits live performances of thai dance, circus, and animal performances etc. Apart from the show there were some exquisite animal museum, vintage car exhibition, beautiful fountains and fishes etc to see.
One can skip this, if there is a time constrain as it is an overrated and overpriced show. Dinner buffet was also very average. We went there mainly because it was the best way to do something for the evening in Phuket. We were already very tired from the overnight flight so no day trip could have been possible that day. Timing of this show was matching perfectly in our schedule. We went back to the Hotel after the show and relaxed.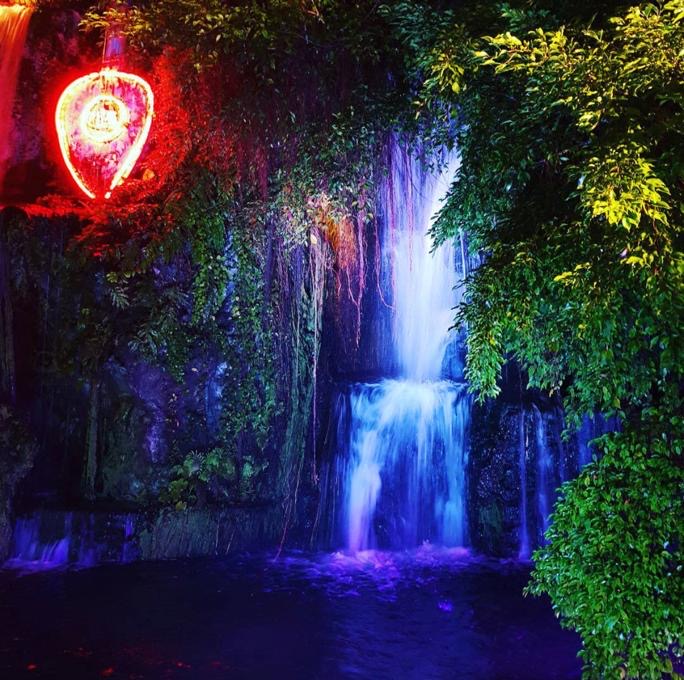 01:30 AM: Catching a night flight from India to Bangkok
05:00 AM: Reaching Bangkok Airport
09:00 AM: Catching flight for Phuket
10:00 AM: Reaching Phuket
12:00 AM: Reaching Hotel at Patong Beach
01:00 PM: Lunch at a restaurant in Patong Beach
04:30 PM: Catching Fantasea Show pick up Bus outside Hotel
05:30 PM: Enjoying the Fantasea Show
11:30 PM: Back to Hotel
Day 2: Phuket Day Tour – Karon Beach, Kata Beach, Kata Noi Beach, Karan View Point, Windmill View Point, Promthep Cape View Point and Big Buddha
For this day we hired a full day cab with driver from one of the tour operator kiosk at the street outside our Hotel one day prior at 1500 THB. Please don't hire it from Hotel as they are expensive. Hiring a cab with knowledgeable driver is the best way to explore Phuket city.
We drove along the beach side enjoying all the spectacular sea view. Phuket is full of magnificent views and clear shiny white sand beaches. The beaches are so beautiful and clean that I can vouch, one will want to settle in Phuket. We passed by Karon Beach, Kata Beach and Kata Noi Beach. We did not get down anywhere as it was too sunny.
Karen Viewpoint
We first stopped at Karen View Point. Karen View Point is one of the famous view point of Phuket where one can see the entire sea view of Kata Beach, Karen Beach and Kata Noi Beach from the top. View from this place is absolutely divine. This place is a perfect spot for great photography.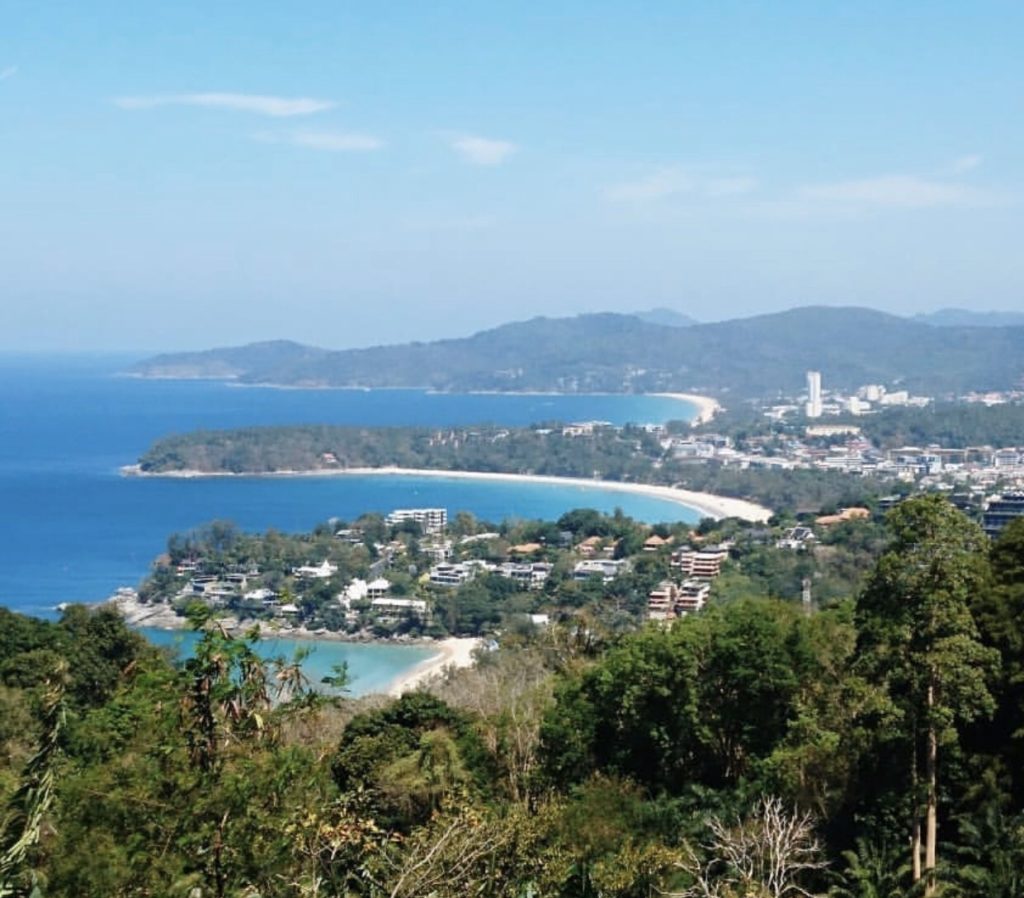 Windmill Point / Promthep Cape View Point
After this we went to the Windmill Point, which is another beautiful point to capture the beauty of Phuket. Very close to theWindmill Point is Promthep Cape View Point – again a very famous view point especially for sunset. We were here way ahead of the sunset and could not enjoy the sunset view but never the less the view before sunset was also spectacular. As we were hungry, we went to Promthep Cape restaurant – an amazing sea facing restaurant specialising in Seafood and authentic Thai food.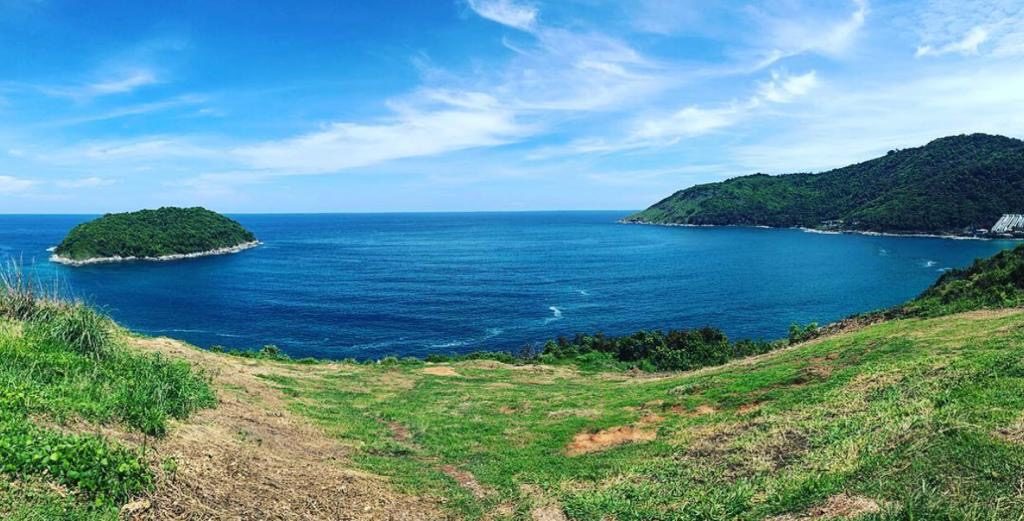 Big Buddha, Phuket
After eating, we went to out last stop – Big Buddha, which is a 45-meter high white marble statue of Buddha. One needs to climb 95 stairs to reach to the top and enjoy the amazing 360 degree view of the city of Phuket. This place is a landmark of Phuket and should be visited not only because it is a religious and holy place but also because of the view it offers from the top.
You can also visit Wat Chalong right after or before Big Buddha as this place is nearby (around 7.7 kms and a20 mins drive). This spiritual place is the most visited temple in Phuket. This temple closes at 5 PM, so we missed out on it.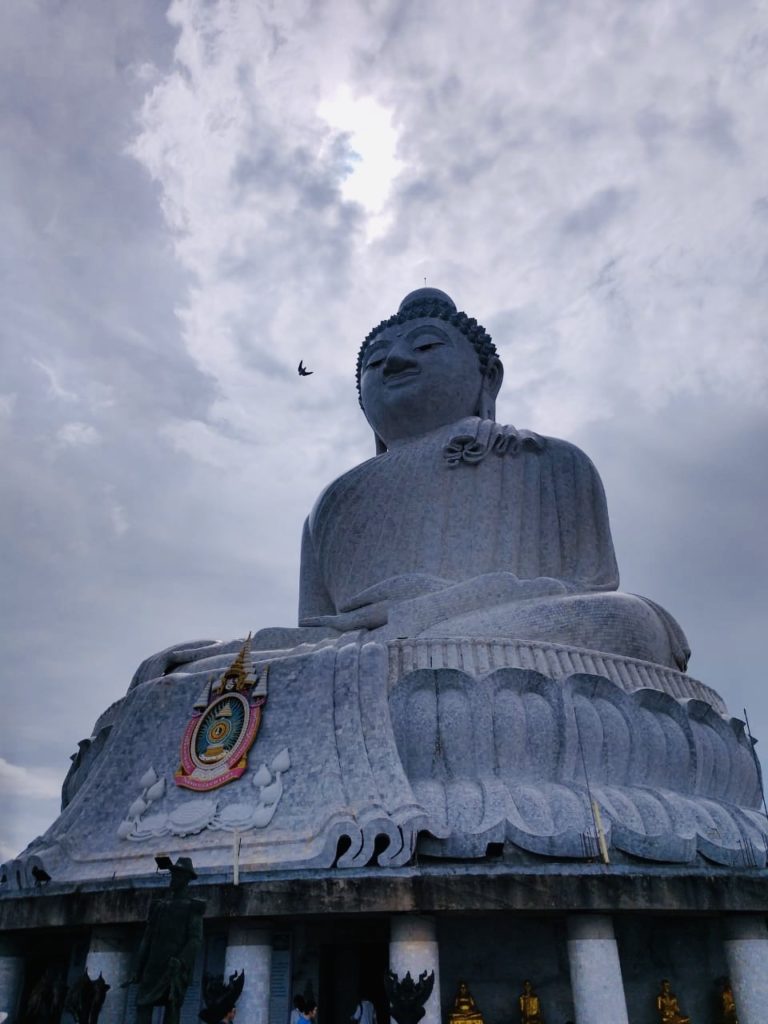 Bangla Street, Phuket
We then went back to the Hotel after this long day. After relaxing for a while we headed to Bangla Road, which is open throughout the night. Enjoy the glitter of the nightlife of Phuket on Bangla Road with all the lighting, pubs, night bars, pom pom shows, clubs etc. Do not go to Bangla Street, if going with family and kids, as everything is basically for adults here.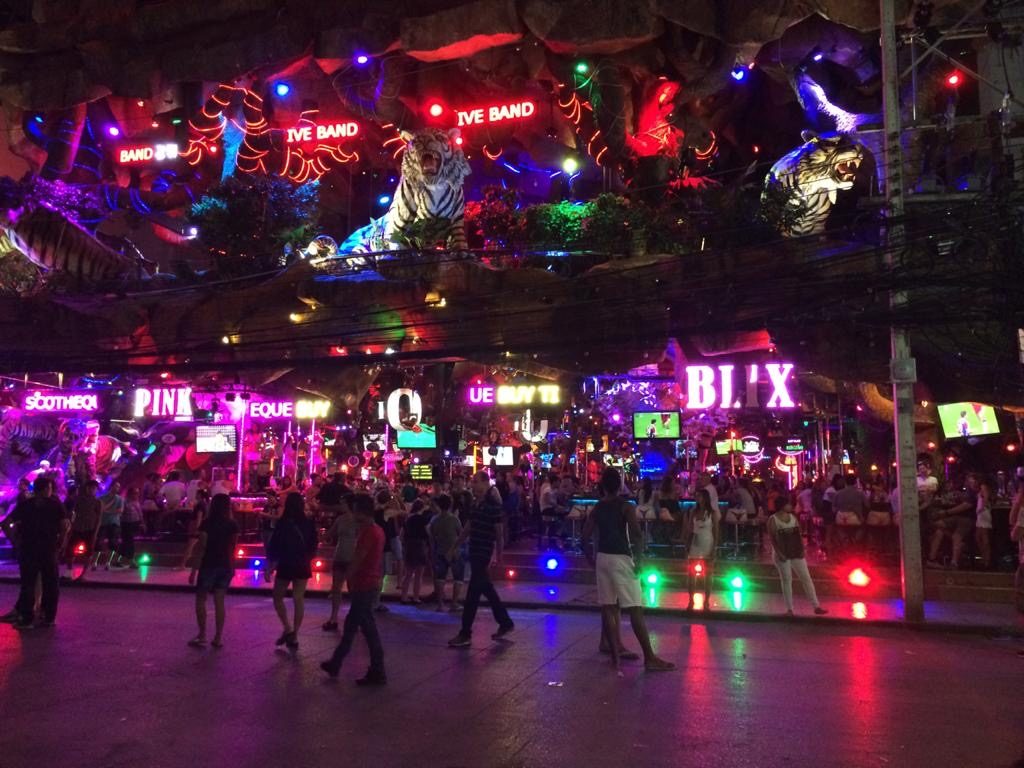 09:30 AM: Left from Hotel
10:30 AM: Karen View Point
11:30 AM: Windmill View Point
01:00 PM: Promthep Cape View Point
02:00 PM: Promthep Cape Restaurant
03:00 PM: Big Buddha View Point
04:00 PM: Back to Hotel
08:00 PM: Bangla Street
DAY 3: Island Tour of Phi Phi & Maya Bay
Island Tour from Phuket
A trip to Phuket is never complete without a visit to the nearby Islands. Out of the many Islands, there are two most visited and famous Islands from Phuket – Phi Phi Island and Phang Nga Bay.
Both these islands can be visited from Krabi as well, as they lie in the Andaman Sea, which is almost at an equal distance from Phuket and Krabi. Both of them are equally good and scenic.
Comparing Phi Phi Island and Phang Nga Bay
I would suggest taking a tour of both the Islands on separate dates as both of them offer a different experience. Phi Phi is more about white sand beaches, beautiful bays with lush green cliffs. It has clearer water hence perfect for snorkelling. Phang Nga Bay on the other hand is very scenic with unique rock formations, lagoons, hidden caves etc.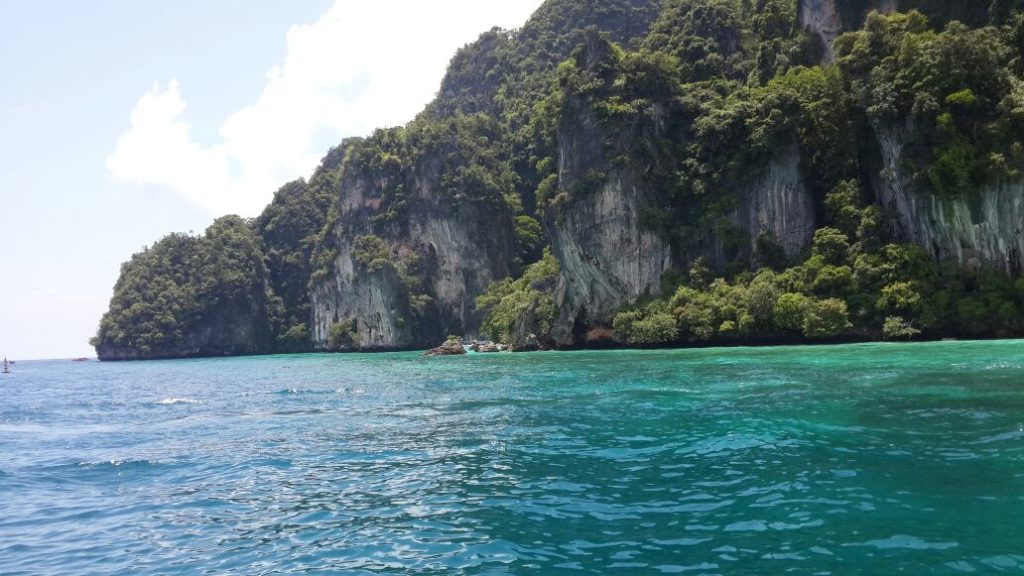 Both Islands have featured in very famous Hollywood Movies and are commonly called by the name of the movies they were featured in. Maya Bay Beach of Phi Phi Island was shown in "The Beach" movie starring Leonardo Di Caprio. Unique pencil shaped Island of Phang Nga Bay was featured in James Bond movie "Man with the Golden Gun" starring Roger Moore.
However, if you have limited time then go for Phang Nha Bay – as the tour operators and ratings suggest.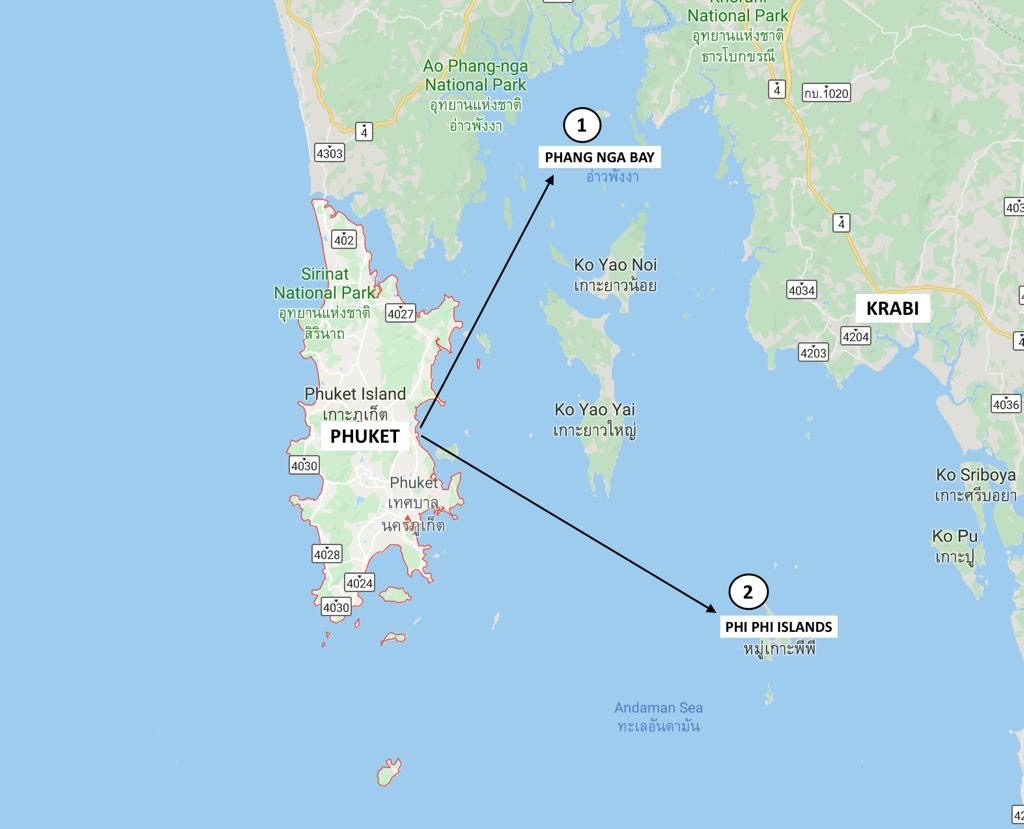 From where to buy Tickets for Island Tour and what all is included
Both tours start early morning and package includes – pick up and drop from the hotel (from all main locations), ferry/speedboat ride to Island and return, tour guide, snorkelling gear, life jacket, lunch buffet etc. Tickets need to be purchased one or two day in advance from various tour shops at Patong Street. One can purchase them online as well from  www.mythailandtour.com, www.klook.com etc. Roughly this will be 1000-1500 THB/Person.
Phi Phi Island Tour
We went for Phi Phi Day Tour as we badly wanted to visit the Maya Bay (where the movie 'THE BEACH' starring Leonardo Di Caprio was shot) and we also wanted to enjoy snorkelling.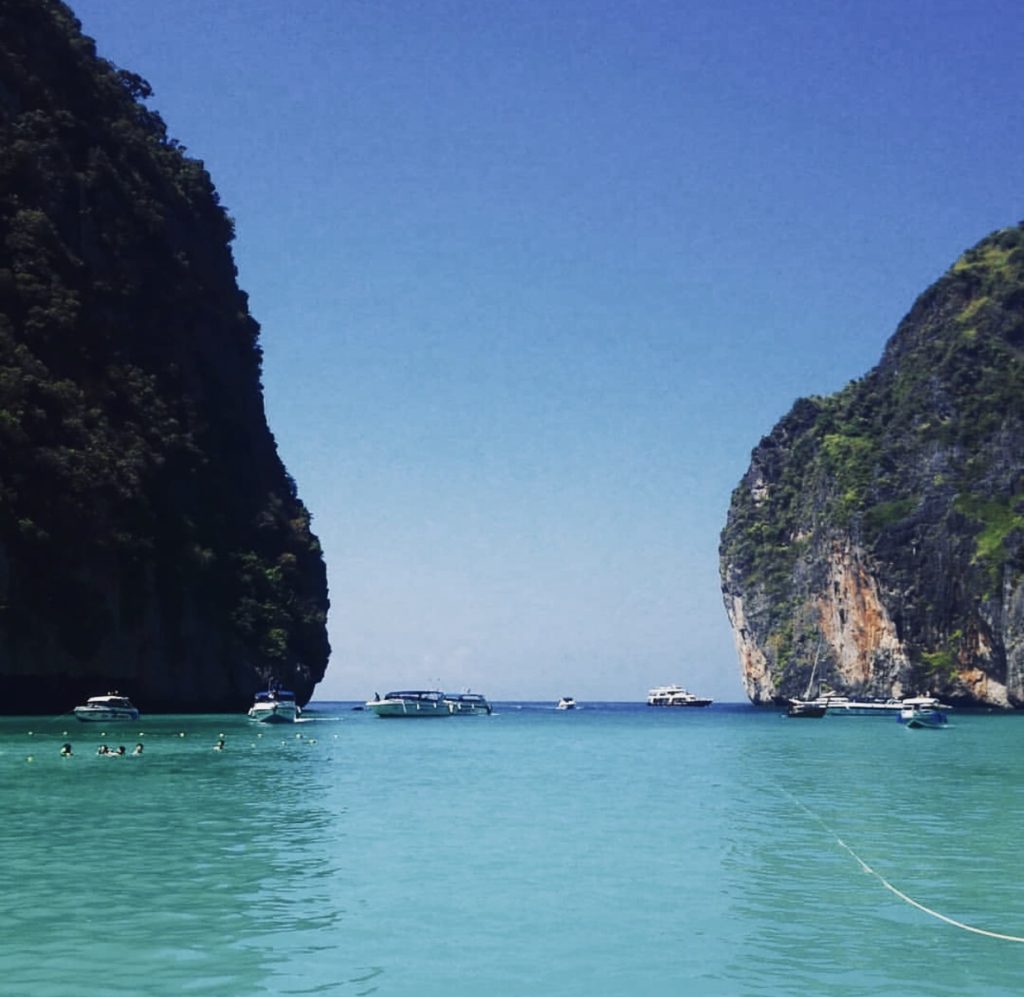 We were picked up from our hotel around 7:30 AM in the morning. We were then taken to the Rassada Pier where a group of people were collected. There we were given small refreshments after which we boarded the big Speed Boat.
The view is definitely going to blow your mind away. Those wonderful rock formations, pristine white sands at the sea shore and greenish blue sea water was straight out of a fairytale. It took us roughly 2 hours to reach Phi Phi Island.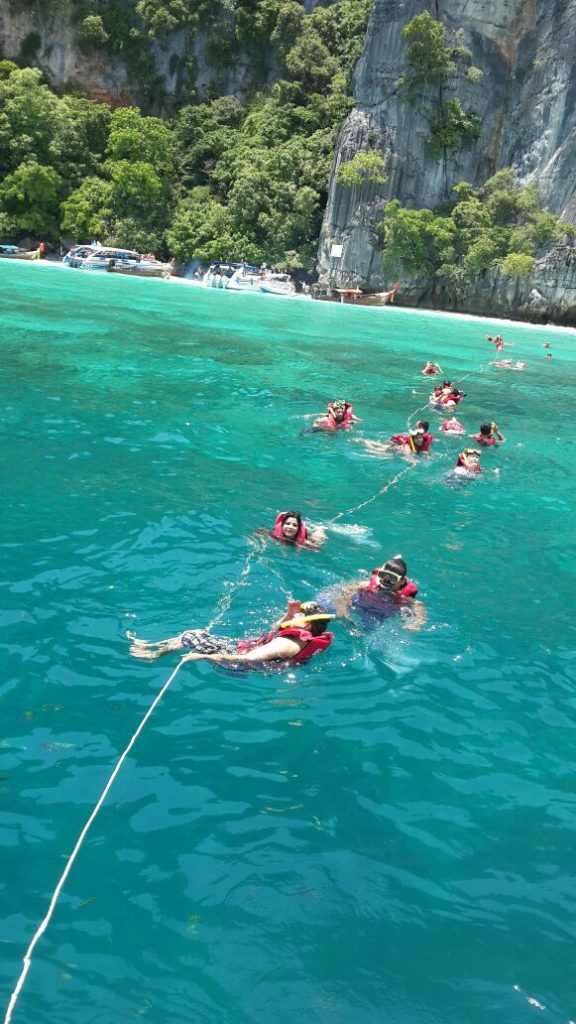 Our trip included visit to Mosquito Island, Bamboo Island, Bamboo beach, snorkelling at Pileh Lagoon, Maya Bay and some free time at Khai Nok Island. It was totally a mesmerising experience.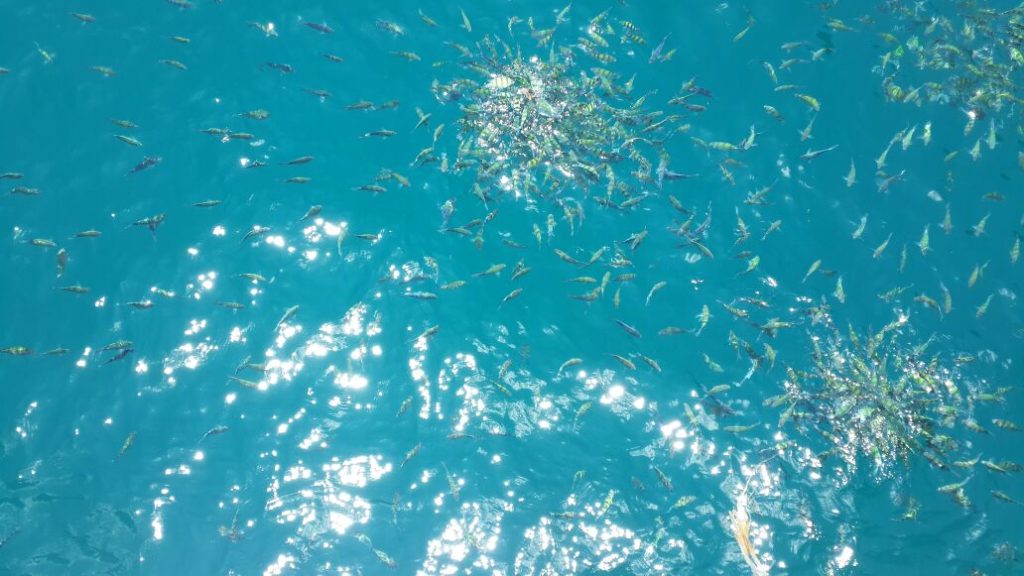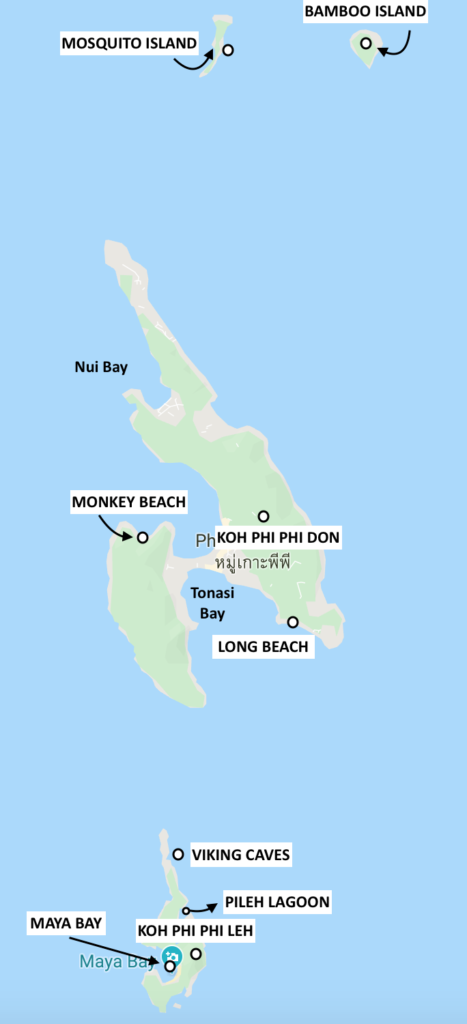 P.S: From 1stAugust 2018 – visit to Maya Bay has been closed by the Govt. One cannot go inside but can go up to the entrance of the bay. One can still capture the beauty of the Maya Bay from this  point.
We were back to our Hotel around evening. After relaxing for some time at the Hotel, we then went out to grab something for Dinner. We also packed our bags as we had the flight to Bangkok the next day.
07:30 AM: Picked up from Hotel
08:30 AM: At Rassada Pier
09:00 AM: Boarded the Ferry
11:00 AM: Reached Phi Phi Island
03:00 PM: Leaving from Phi Phi Island
04:00 PM: Back to Phuket
05:00 PM: Back to Hotel
DAY 4: Leaving Phuket, reaching Bangkok, Siam Ocean World, Madame Tussauds and Shopping outside Platinum Fashion Mall
We checked out early in the morning from the Hotel and went to Phuket Airport to catch the flight back to Bangkok. We did a Taxi for the same which again cost us 700-900 Bhat.
Bangkok Airport to Sukhumvit
We reached Suvarnabhumi Airport and took a Taxi till our Hotel in Sukhumvit. It took us roughly 1 hour to reach. You can also use Bangkok Airport Rail Link (SRTET City Line) to reach Bangkok City. The special airport train takes just 30 mins to reach Phaya Thai (45 THB/Person). From Phaya Thai one can either take BTS or Taxi to reach their Hotel. One can even get down at any of the previous Stations, if their hotel is closer to those stations. As we were a group of 5 people we preferred to take the taxi as it was a much more convenient option.

We stayed at Grand Sukhumvit Hotel – managed by Accor. The property is beautiful and well managed. As half of the day had already passed, we decided to utilise the rest of the day doing the best possible thing – SHOPPING!! After resting in the hotel for a while, we went to Siam. For this we took BTS from Nana Station (a 3 mins walk from our Hotel), took the green line and got down at Siam Station.
Siam Shopping Centre
Siam is undoubtedly the biggest centre for shopping in Bangkok and is home to some of the city's most popular shopping Malls like MBK, Siam Discovery Centre, Siam Centre and Siam Paragon. One full day is also not enough to explore this market area.
We first went to Siam Paragon, which was very close to Siam Station. We went to Ocean World situated in this mall only. To my surprise the place was huge and very interesting and totally worth visiting. Tickets were roughly 356-400 THB/Person. We saw a great variety of colourful fishes, sharks, Penguins etc.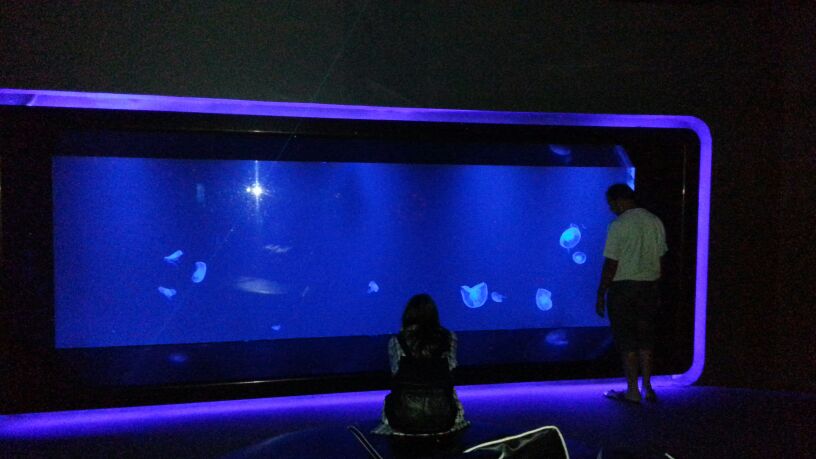 After finishing from sea world we went to Siam Centre which is right next to Siam Paragon. Right after this we went to Siam Discovery. We then went to Madame Tussauds situated in this Mall. Entry to Madam Tussauds is 407-420 THB/Person. Tickets can be bought directly at the  venue. You can skip this if have been to any of the Madame Tussauds open at various major cities across the globe.
Platinum Fashion Mall/ Night Market
There is another mall – MBK Mall as well, but we skipped it and went to Platinum Fashion Mall because that closes at 7 PM. It is just 1.5 kms from Siam so one can go there on foot or can take a Taxi or Tuk Tuk. Platinum Fashion Mall is basically clustered with boutique stores. It offers a large variety of good quality products at very affordable prices.
The mall closes by 7 PM and after closure of the mall, road side vendors put up their stalls outside the Platinum mall and this market opens till 11 at night. This is a big market offering a variety of products like shorts, denims, jackets, clutches, hair clips, mobile covers, blankets, sweat shirts, skirts, blazers, large variety of tops, footwear, trendy handbags, neckpieces, bracelets etc. at very affordable prices ranging from 60 TBH to 500 TBH.
Important tip while visiting the roadside market: Please do not just waste away your time negotiating with these vendors (if you do not intend to buy their stuff), as they do not take it very positively and can get very rowdy. It is also possible that you get to see the vendors selling the same products at a cheaper rate outside which are being sold at a higher price inside the mall.
Chatuchat Market
We also went to the famous weekend Market –  Chatuchat for shopping. Spoiler Alert: It was a total waste of time! One can get better variety of goods at a more affordable price in other markets than here.
We were immensely tired after our shopping spree and decided to go for a relaxing foot massage. There are a lot of massage parlours all throughout the city.
After getting a relaxing foot massage, we enjoyed Dinner at this market place – there are huge dining options here. Post dinner,we went back to our Hotel and called it a day.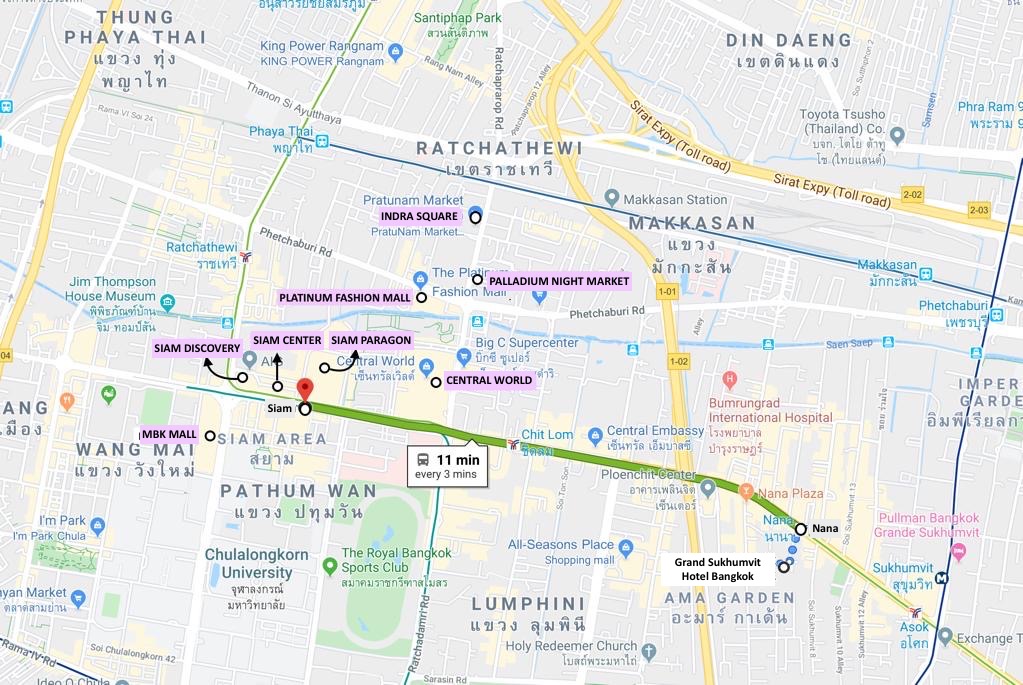 08:00 AM: Left Phuket
11:00 AM: Reaching Suvarnabhumi Airport
12:30 AM: Reaching Hotel and checking in
02:00 PM: Leaving Hotel
03:00 PM: Siam Ocean World – Siam Paragon
04:30 PM: Madam Tussauds – Siam Discovery
05:30 PM: Platinum Fashion Mall
07:00 PM: Night Market outside Platinum Fashion Mall
10:00 PM: Back to Hotel
DAY 5: Bangkok – The Grand Palace, Wat Pho (Reclining Buddha) and Wat Arun (Temple of the Down) and Lebua Sky Bar
We dedicated this day to visit some of the most magnificent landmarks of Bangkok – The Grand Palace, Wat Pho (reclining Buddha temple) and Wat Arun – amazing river facing Buddhist Temple. Our trip to Bangkok was incomplete without our visit to these landmarks. The best part is that all 3 of them are located very close to each other. Alert: There is a strict dress code to be followed while entering these temples – shoulders and legs needs to be covered. Make sure to dress accordingly to avoid inconvenience.
We left early from the Hotel as this place is 9 kms from Sukhumvit and we decided to take the BTS Sky Train, which usually takes 1 hour to reach. We went walking till Nana Station from the Hotel, took the green line and got down at Asok Station. From there we went walking till Sukhumvit Station and took the MRT Blue Line and got down at Sanam Chai Station. Then we went walking till Grand Palace. Grand Palace can be reached by Public Bus as well but we preferred the train to avoid road traffic.
The Grand Palace
Once the house of the royal family – The Grand Palace is definitely a must visit. One does not have access to the entire palace and can only visit the selected areas open for commoners. Wat Phra Kaen Temple (Emerald Buddha) and the garden is the main highlight of this palace. Entry was 500 Bhat/Person for non Thai's. Timings are limited from 8:30 AM to 3:30 PM and no matter what time you visit; there is always a huge crowd and long queue to visit this palace. It is always better to visit before noon to beat the heat and crowd.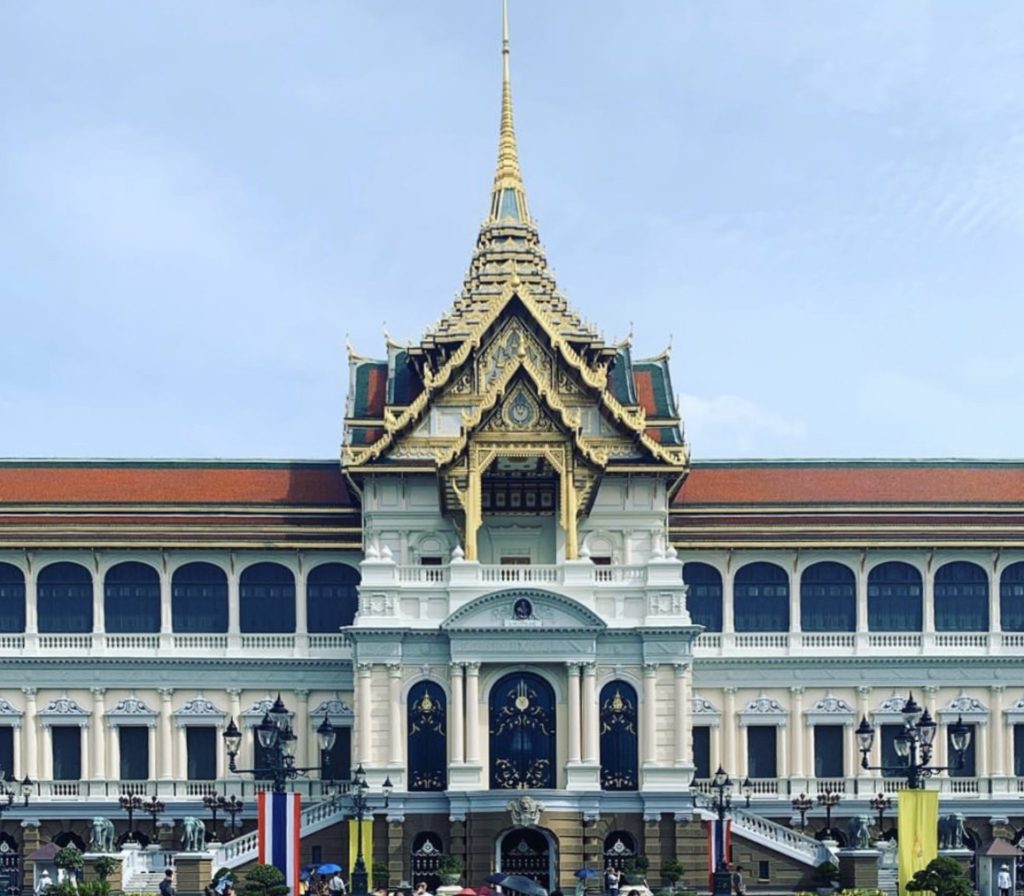 Wat Pho
ight next to Grand Palace is Wat Phra Chetuphon (Wat Pho), a big complex with many Buddha idols, images and temples including the main 46 meter long and 15 meter high buddha statue at Reclining Buddha Temple. This place also has the first Thai Massage Palour and school – said to be the place of origin of Thai Massage. Entry to Wat Pho was 100 Bhat/Person. A walk around the whole complex requires aminimum 1 hour. This place is really beautiful, full of colourful structures and temples giving you the feel of authentic Thai culture.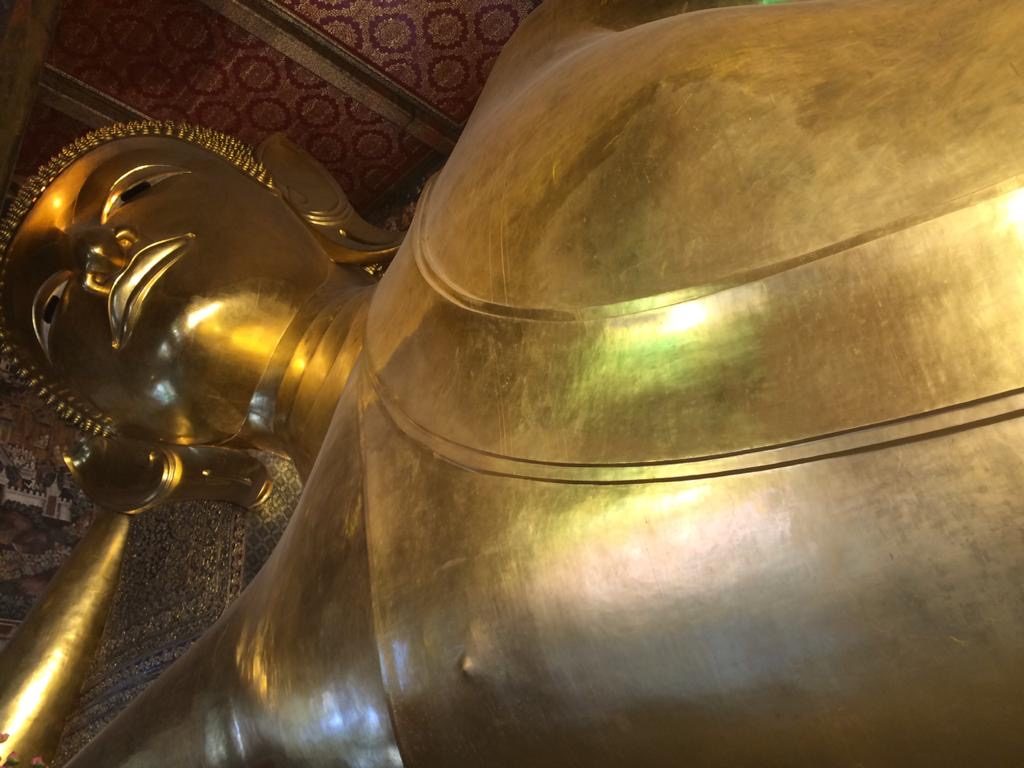 Even though this place is closer to Sanam Chai Station, we went to Grand Palace first as it closes at 3:30 PM where as Wat Pho temples are open till 6:30 PM.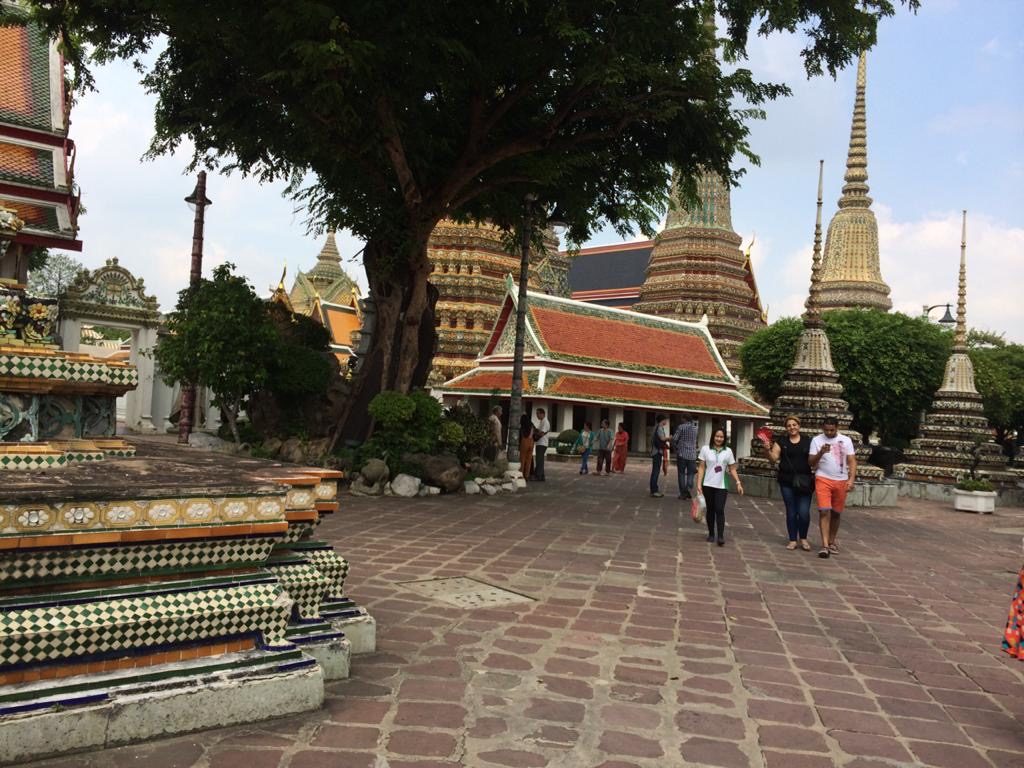 Wat Arun
After spending a good amount of time at Wat Pho, we went to Wat Arun, also known as the Temple of the Down. For this, we walked up to Tha Tien Pier (5mins from Wat Pho) and took a ferry at just 3 Bhat/Person. Right across the river was Wat Arun Temple. Entry to this temple was 100 Bhat/Person. We had to climb an umpteen number of stairs, to reach to the point at the top of the temple, from where one could witness the amazing view of the city.
After strolling around the temple for some time we again took a boat from Wat Arun Pier up to Tha Tien Pier and went walking to Sanam Chai Station and got back to the Hotel following the same route. The Boats run from 6 AM to 8 PM only. Make sure you make a move to return to your hotel between these timings, otherwise after 8 PM, you will have to walk up to Itsaraphap Station from Wat Arun to catch the same train.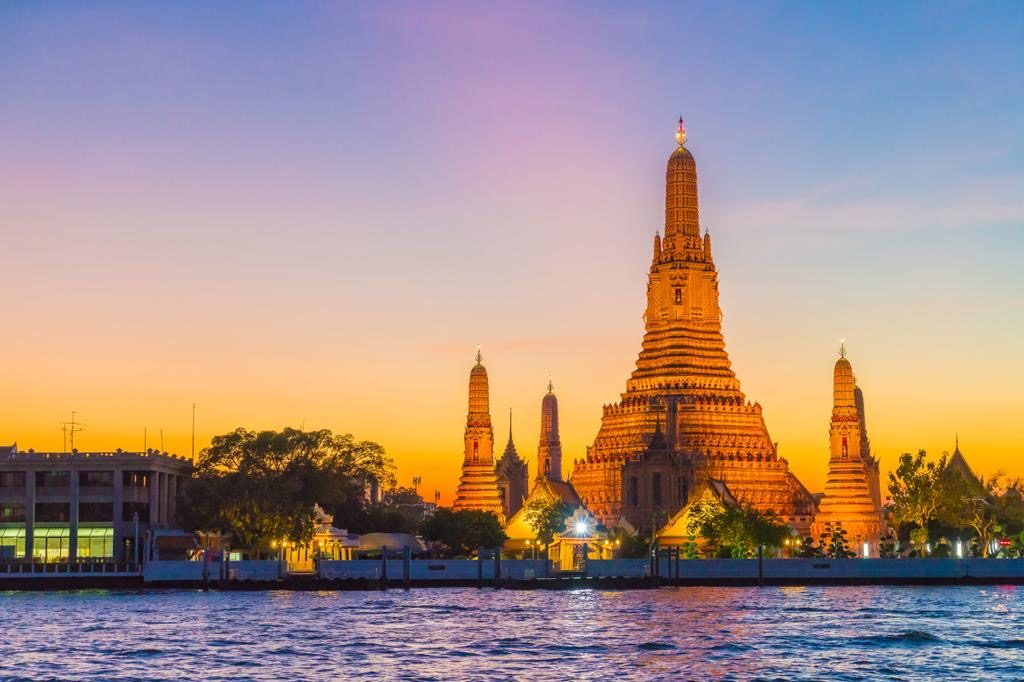 Lebua Sky Bar
Later, after relaxing for a bit at the hotel, we went to Lebua Sky Bar – an open terrace lounge on the 64th floor with a spectacular view of the city. It is an open to sky lounge and the view of the city from here is beyond words. I doubt any other place can offer a better view of the city than this place.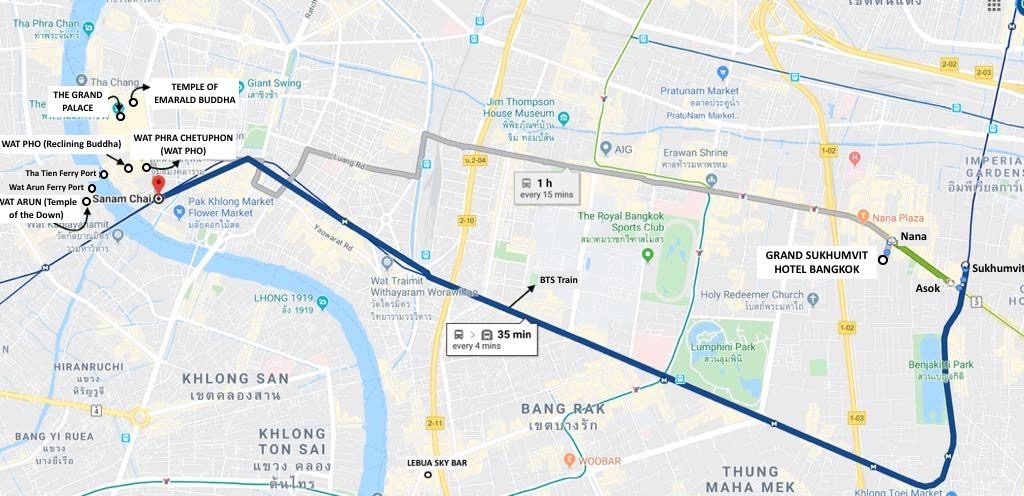 09:00 AM: Leaving from Hotel
10:15 AM: Reaching Grand Palace
01:00 PM: Wat Phra Chetuphon
04:00 PM: Wat Arun
06:00 PM: Back to Hotel
10:00 PM: Lebua Sky Bar
DAY 6: Safari World and Marine Park 
Safari World & Marine Park
For this day, we decided to go for Safari World & Marine Park – Thailand's most popular open zoo and Leisure Park.
How to Reach and from where to buy tickets
The place is really far -around 30 kms from Sukhumvit. This place doesn't have any connection from BTS Sky train, so it is better to take a taxi running by the meter, which will take about 45 mins to reach. Another option is to buy transfer included Pass (Bus) from online portals like www.klook.com, www.hotel2thailand.com etc. Make sure to buy both Safari World and Marine Park tickets. We took a Taxi from theHotel as we were 5 people and hence it did not cost us much individually. On reaching, we bought combined passes of Safari World and Marine Park for 900 Bhat/Person with no lunch Buffet. Tickets are also available with lunch Buffet, if required.
Animal Shows and Giraffe feeding at Safari World
We enjoyed the first half of the day at Safari World. There were various animal shows taking place like the Seal Show, Bird Show, Orangutang Show, Dolphin Show etc. You can check the timings of all these shows beforehand and then plan the route accordingly. Best was the Dolphin Show. Major drawback was that all the shows were in Thai language. Another interesting thing about this Park was the Giraffe feeding. I have never had such a close encounter with Giraffes and the experience was an absolute delight.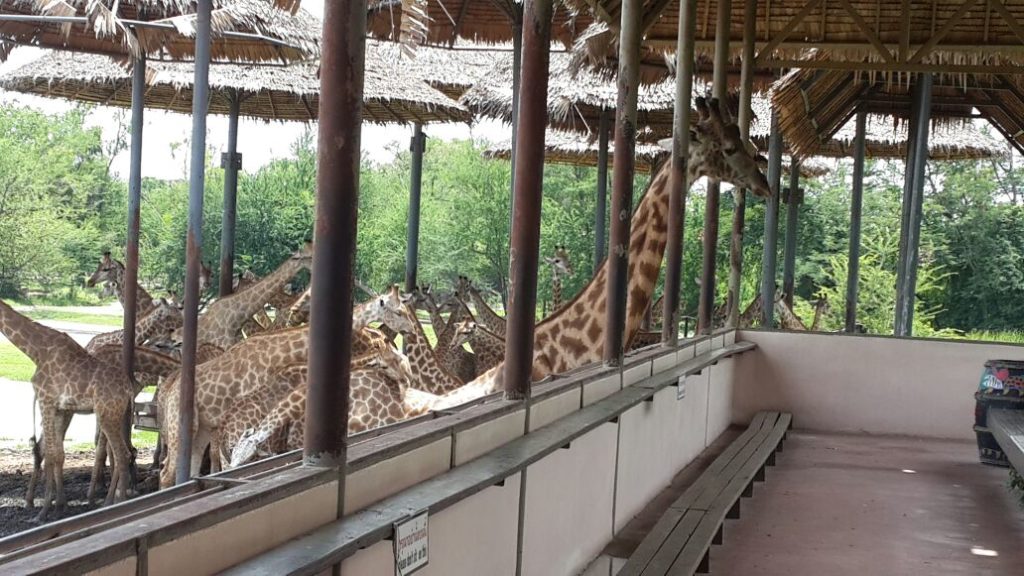 Ride to Marine Park – Open Zoo
Post this, we enjoyed a few snacks at the food zone in the park and then we went for a drive though Marine Park. A group of people were collected and taken for a Bus ride to an open zoo (Marine Park) where the animals were roaming freely as if living in the actual jungle. We saw a dazzle of Zebra's grazing, Hippopotamuses enjoying in the pond, a bear lazing around in afternoon and the birds chirping.
The most exciting part was to see the Tigers playing. Watching the tigers was absolutely the best part about the park. Mostly in the zoo around the world one visits, the animals are caged and the visitors are free to roam. Here, the animals were roaming free and the visitors were locked down. Kudos to the idea of Marine Park! This is how I believe, every zoo around the world should be.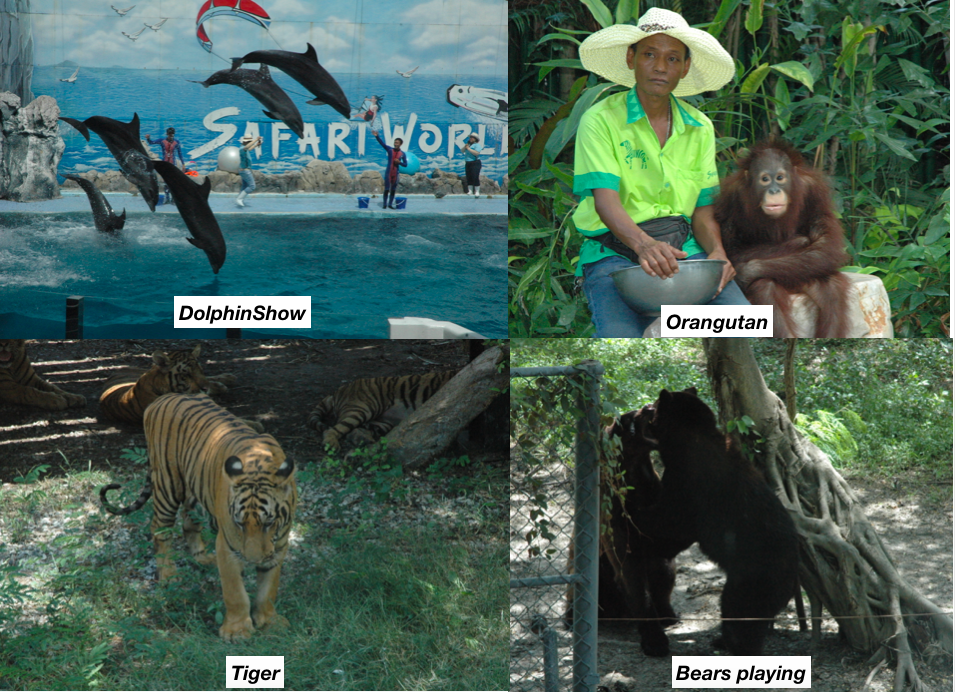 Shopping / Dinner / Foot Massage
After the wonderful experience at the Park, we went back and got dropped off at market area (Indra Mall, Platinum Fashion Mall and Night Market) to enjoy the street shopping again. Shopping was followed by dinner and foot massage. After this, we went back to our Hotel.
10:00 AM: Leaving from Hotel for Safari World & Marine Park
11:00 AM: Reaching Safari World & Marine Park
05:00 PM: Leaving from Safari World & Marine Park
06:00 PM: Shopping at Siam
08:00 PM: Dinner
10:00 PM: Back to Hotel
DAY 7: Damnoen Saduak Floating Market and Chao Phraya River Cruise
Damnoen Saduak Floating Market
We have always been very fascinated with the amazing floating market, which is quite common in different parts of Thailand. One can enjoy the experience of shopping while boating. We definitely wanted to experience this.
We bought Damnoen Saduak Floating Market Day Tour at 1000 Bhat/Person inclusive of hotel pick up and drop. You can buy the tickets online as well if getting a good deal through  www.klook.com, www.getyourguide.com, www.expedia.com etc. This trip starts early in the morning around 7:00 AM – 7:30 AM as this place is 109 kms away from Bangkok and takes roughly 2 hours to reach.
After reaching there, we went for boat ride on these narrow canals. Even though the water was slightly dirty, we really enjoyed the boat ride. It was a totally different experience. There were people selling flowers, fruits, fresh traditional Thai soup on the boats etc. On the canal banks were various shops selling spices, souvenirs, decorative items etc.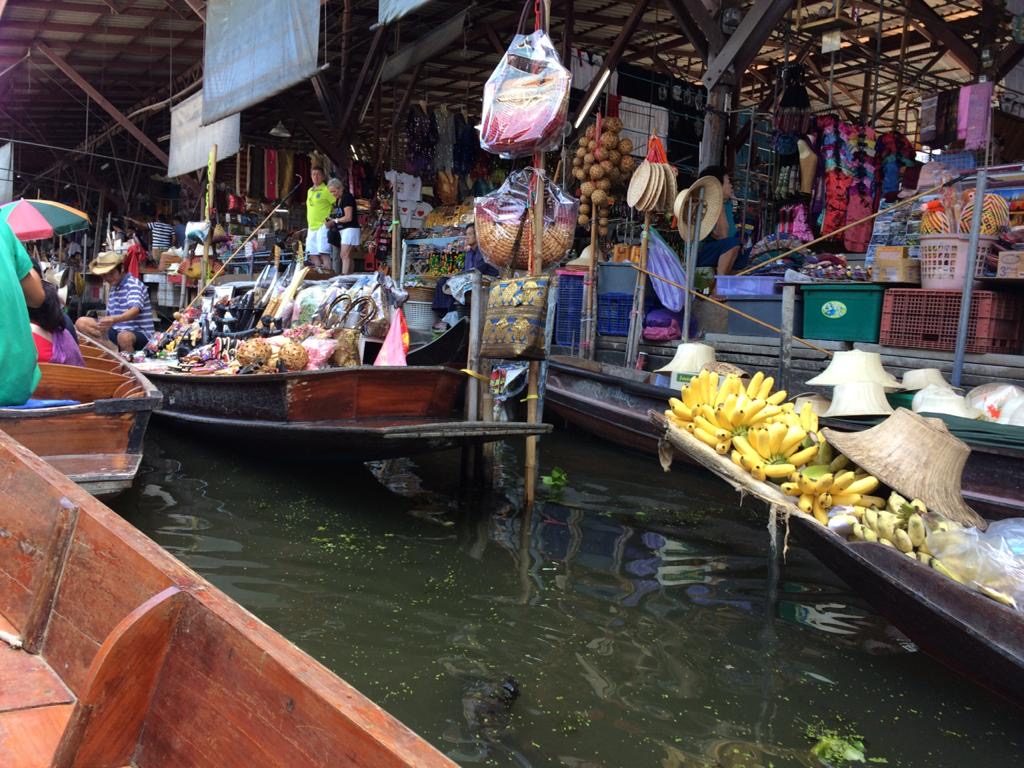 Chao Phraya River Cruise with dinner buffet
We were back to the Hotel by afternoon. For the evening we booked the Chao Phraya River Cruise (Chao Phraya Princess Cruise) for roughly 1000-1500 Bhat/Person. There are packages available with and without pick up/drop from the Hotel. Packages are available online as well at amazing prices and discounts on www.klook.com, www.hotel2thailand.com, www.expedia.com etc.
This cruise is the best way to enjoy the night view of Bangkok over the Chao Phyara River with dinner buffet and a live band performance. The dinner buffet mainly includes seafood. If you are a vegetarian, then it is better to check the cuisine before taking the package.
This cruise is costly if you are more than 5 people as you can otherwise enjoy an a la carte menu in a nice lounge in the city at a much lesser cost, instead of the fixed menu on the cruise.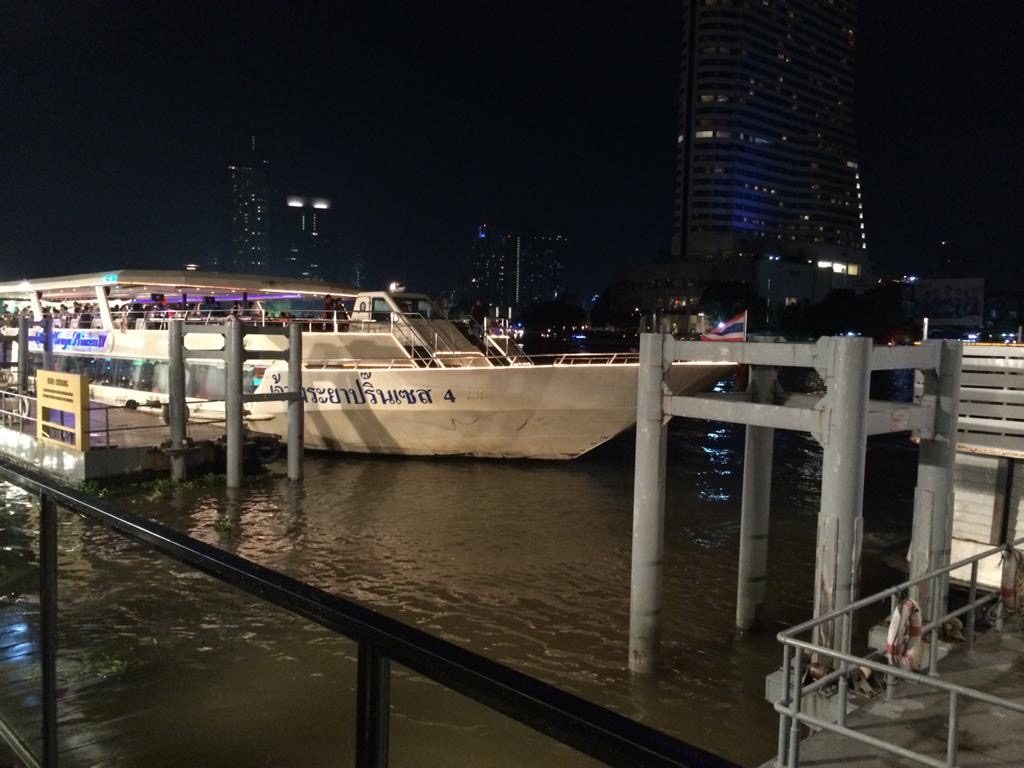 07:30 AM: Leaving from Hotel for Floating Market
09:00 AM: Enjoying Floating Market
03:00 PM: Back to Hotel
05:00 PM: Leaving for Chao Phraya River Cruise with dinner buffet
09:00 PM: Back to Hotel
If you find this blog 'Bangkok & Phuket in a week' interesting, please share the link of the website/blog with your family and friends. If you have any comments or suggestions – please do write in the comments section below.