ABOUT TRIP TO BALI
Bali is my favourite holiday destination. It has everything – from spectacular beaches to splendid green beautiful paddy rice farms, from serene and magnificent ancient temples to the never ending fun filled nightlife, from relaxing massages to the luscious mouth watering food. People are warm, welcoming and extremely helpful. I have visited and explored this Island 3 times already and still don't feel it's enough. Here I am sharing a 9 days Suggested Itinerary for Bali.
Although it requires a lot of time to explore Bali completely – from North to South, East to West and its neighbouring Islands, but I am limiting this trip to 9 days. I have tried to include bits and pieces of everything. This 9 Days Suggested Itinerary for Bali covers almost all major attractions in Bali, best of temples, nightlife, beaches etc. Here, in my 9 days suggested itinerary of Bali, I am trying to bring to you the Best of Bali in just 9 days.
Most of the people who visit Bali stay in Bali and return. I don't know why, but people do not include the beautiful islands nearby in their itinerary. Either they don't plan to visit because they believe Bali is the ultimate destination here and nearby islands will not be worthwhile or they are unaware of the existence of these islands. A trip to these nearby islands, if included, will triple the experience with very little burden on the pockets. Very famous islands nearby are Gili Islands and Nusa Penida, which offer a completely different experience and are definitely worth visiting. Here, I have included the best places, tips and suggestions and it should help you to planning a good 9 day trip to Bali.
BALI TRIP COST FOR 9 DAYS
The best thing about Bali is that it is very economical as compared to any other holiday destinations. Everything, including food, accommodation and transportation is available at a very pocket friendly prices. If planned smartly, one can manage to explore Bali within 1000 USD.
Flight (round trip from India): 300-500 US$/ Person
Hotel: 70-115 US$ / Day (average)
Local Transport: 215-285 US$ / Person
Food: 215-285 US$ / Person
Miscellaneous: 140-150 US$ / Person
Total Approx.: 1285-1715 US$ / Person for 9 days
HOW TO REACH/ HOW TO TRAVEL WITHIN BALI
Bali's Ngurah Rai International Airport is very well connected to all major cities in the world. You can find a lot of direct flights for Bali from many cities in South East Asia. Singapore's Changi Airport and Suvaranbhumi Airport of Bangkok, in particular, have numerous direct flights each day for Bali. Many people use these airports as stopovers to reach Bali.
For travelling within Bali, you can use Blue Bird Taxi's/Cabs from Grab or Gorek (which is like theUber of Bali), for one way drops, pick ups or small trips. Gorek/ Grab rates are cheaper than Blue Bird taxis but often one can face problems like unavailability or cancellations by the drivers, especially in the remote areas. If you have a day plan to visit multiple areas, it is better to hire a full day or half-day car along with driver. Drivers in Bali are very helpful and even act as a guide. They can even help you plan your trip as per your preference and interest. Usually a half-day tour will cost 350K-450K IDR (US $22-30) and a full day tour would cost 600K-700K IDR (US $ 40-45). It is not advisable to use public buses in Bali. That is for the locals. Metro/subway are not available in Bali.
WHERE TO STAY IN BALI
We had to stay in Bali for 7 days, so putting up at 2 places was the best and the most convenient way to explore Bali. We divided our stay between Kuta and Ubud.
Click here to know all about where to stay in Bali – suggested areas to stay, best place to stay, list of suggested hotels etc.
BEST TIME TO VISIT BALI
April, May, June and September are best months to visit Bali. During these months the season is dry and temperature is really pleasant around 24-26º C. Bali has Tropical and Humid Climate all round the year.
MUST VISIT IN BALI 
Must Visit Places in Bali
Central Bali – Ubud
Kintamani Volcano Sunrise Tour
Day Tour to South Bali (Jimbaran, Ulluwatu and Nusa Dua)
Day Tour to North Bali
Must Visit Temples in Bali
Ulun Danu Beraton Temples
Uluwatu Temple
Tanah Lot Temple
Goa Gajah Temple
Other Temples if have more time
Gunung Kawi Sebatu
Besakih Temple
Tirth Empul Temple
Tirta Ganga Temple
Taman Ayun Temple
Pura Lempuyang Luhur
* Click here to check out the 10 Best Temples in Bali Worth Visiting*
Must Visit Island Tour from Bali
Nusa Penida as day trip
Gili Island for 2 days
Must Visit Lounge/Bars/Night Clubs in Bali
Rock Bar – Ayana Resort Bali – Jimbaran
Woobar – W Retreat – Seminyak
The Lawn – Canggu
Potato Head Beach Club  – Seminyak
La Plancha – Seminyak
Omnia – Uluwatu
La Brisa – Canggu
Sky Garden – Kuta
KU DE TA – Seminyak
Must Visit Waterfall in Bali
Banyumala Twin Waterfall
Gitgit Waterfall
Kanto Tempo Waterfall
Leke Leke Waterfall
Aling Aling Waterfall
Tukad Cepung Waterfall
TIPS FOR BALI TRIP
Book Flights 2-3 months in advance for best prices. Please check the low budget airlines like Scoot and Air Asia. Same for Hotels – try booking in advance for best rates.
Do not book any day trips in advance online from various websites. You will get plenty of options from various local tour operators in Bali, that too at very cheap prices.
Download GOJEK or GRAB application in your mobile from Home Country. It is like Uber of Bali. They are much cheaper than normal Taxi's in Bali.
For currency, best is to carry USD from home country as USD always gets converted at the best rates as compared to any other currency.
Almost all temples have mandatory requirement to have fully covered legs while entering the temple, so, if you are planning to visit any temple, be equipped to fulfil this requirement.
Do not forget to avail the amazing foot massage in Bali, open up till late night, even 12 midnight. Apart from foot massages, all other services offered in these spas are amazing.
For a trip to Nusa Penida, many a times the boats do not run the entire day, due to bad weather. Be flexible with dates.
Try getting up early as all places are really far off in Bali and even Island trips require getting up really early.
Buying a Sim Card is cheaper in Bali rather than taking an international roaming plan for 10 days. There are various shops selling sim cards in Kuta. It will cost roughly 50K-100K IDR (3.5-6.5 US$) with unlimited internet and calling.
9 DAYS SUGGESTED ITINERARY FOR BALI
1st Day: Reaching Bali, transfer to hotel, lunch at poppies, sunset at Rock Bar and night at Sky Garden.
2nd Day: Reaching Gili Island, strolling around the Island on a bicycle, swing at Pink Coco & Ombak Sunset.
3rd Day: Snorkeling at Gili Air, Gili Meno and spa at night.
4th DAY: Reaching back to Bali – Ubud, dance show at Ubud Palace.
5th DAY: Taman Ayun Temple, Ulun Danu Beratan Temple, Gitgit Waterfall and Jatiluwih rice terrace.
6th DAY: Sunrise trip to Mount Batur – extremely active volcano, Monkey Forest, Tegalalang Rice Terrace, Tirta Empul Temple and Tenungan Waterfall.
7th DAY: East Bali – Tirta Gangga Temple, Lempuyang Luhur Temple and Besakih Temple.
8th Day: Tanah Lot Temple and half day tour to Southern most part of Bali – Nusa Dua Beach, Pandawa Beach, Green Bowl Beach, Uluwatu Temple and Padang Padang Beach.
9th Day: Visit to Nusa Penida Island – Angels Billabong, Broken Bridge, Kelingking Beach and Crystal Beach.
9 DAYS SUGGESTED ITINERARY FOR BALI (DAY WISE DETAIL)
DAY 1: Reaching Bali, transfer to hotel, lunch at poppies, sunset at Rock Bar and night at Sky Garden
Reaching Hotel from Airport
We reached Bali around 10:00 AM in the morning. For Indians, there is no Visa required for Indonesia, so getting out of the Airport was really quick. It is currently not possible to book cab via Gojek or Grab as they are not allowed to pick from airport. Drop off are somehow allowed. Therefore for reaching your hotel best is to book a Taxi from Airport which will cost roughly 200K IDR (6.5 US$) for Kuta.
On the way, you can stop at one of the exchange shops and get currency exchanged for next few days. After reaching the hotel (Kuta Seaview Boutique Resort), we requested for an early check in and to our surprise, the hotel was kind enough to grant it for free (we did intimate them about our early arrival in email). We got a wonderful cottage for our stay. It was beautiful, huge and had an amazing outside sitting area.
After some time we got out for Lunch. There was this restaurant named Poppies, just at a walking distance from the hotel with good ratings. Food was okay but we really liked the greenery of this place. After lunch, we strolled in the nearby market area. There we got our Gili Ferry tickets booked for the next day from one of the tour kiosk. We got a round trip ticket for just 500K IDR ( 33US$) per person with hotel pick and drop.
Rock Bar
Later, we went to Rock Bar – Ayana Resort – Jimbaran, which is 18-20 kms from Kuta. We booked a cab from GRAB to go there. It is an amazing property and is very famous for sunset view. I would suggest to reach there by 3:15- 3:30 pm and getting your name enrolled on the waiting list. Waiting time is generally 2 to 3 hours. In the meantime, you can check out the beautiful Ayana Resort – it's Infinity Pool, Bars and Gardens etc.
Enjoy the sunset at Rock Bar which is spectacular and I am sure it will be an evening to remember. You can also visit Potato Head Beach club at Seminyak (roughly 10 kms from Kuta) instead of Rock Bar, for sunset, if have limited time as it is closer to Kuta compared to Rock Bar at Jimbaran. This place is equally fun and very popular but Rock Bar & Ayana Resort definitely offers a better view.
After enjoying the sunset at Rock Bar, we went back to Kuta to our hotel. After relaxing for sometime we went for dinner to an Indian restaurant nearby – Indian Food Punjabi Grill. This was just at a walking distance from our hotel and in the main market area. Food was okay. After dinner, we went to one of the Spa's right opposite to this restaurant for an amazing Foot Massage. Foot Massage for half an hour is just for 60K IDR (4 US$)/Person.
Sky Garden, Kuta
Later, we went to Sky Garden, which was again at a walking distance from our hotel. It has a disc with nice music, inviting lounge, sheesha everything! It is the best nightclub in Kuta and definitely worth visiting. Entry for girls is free and for couple is 200K IDR (13.5 US$). You can call them and check the rates before going. As we were very tired, we spent just a little time here and left for our hotel and called it a day.
10:00 AM: Reached Bali Airport
10:30 AM: Reached Hotel
11:00-01:00 PM: Relaxed at Hotel
01:00-2:00 PM: Lunch at Poppies
03:30 PM: At Ayana Resort
06:00 PM: Sunset at Rock Bar
07:30 PM: Back to Hotel
08:00 PM: Dinner
10:00 PM: Sky Garden
DAY 2: Reaching Gili Island, strolling around the Island on a bicycle, swing at Pink Coco & Ombak Sunset
We got up early and got ready to go to Gili Islands. We quickly grabbed our breakfast at the hotel. Around 7:30 AM our pick up driver reached the hotel. It took us 1 hour 40 minutes to reach Pandang Bai Port. All the passengers were being collected at our ferry company counter. After a while, we got in a ferry to go to Gili Islands and the whole route was amazing. We could see the water colour changing as we were getting closer to Gili. It took us another one and a half hour to reach Gili Trawangan.
To know more about Gili Islands/how to reach/where to stay/where to eat/where to party etc click on the link below –
(https://www.pinningdestinations.com/gill-islands-ultimate-travel-guide/)
Reaching Gili Trawangan and checking into hotel
After reaching Gili Trawangan, we got down from the ferry and went straight to the lane. We searched various hotels and then finalized Scallywags. Scallywags is a very famous sea facing resort of Gili T. We found it to be the best in the entire lane comparing prices, rooms and services. We got rooms booked for 3 nights at just 1000K IDR (72 US$)/Day . The best part of this hotel is that the ground floor rooms are like private cottages having a small garden attached to the rooms. These rooms also had an amazingly beautiful open to sky washrooms. Taking a bath under the sky was out of the world experience. We also got complimentary drinks from them at their sea-facing restaurant.
Bicycle ride at Gili Trawangan
After getting into our rooms and relaxing for some time, we got bicycles on rent, which was at just 50K IDR (3.5 US$) for 24 hours. We went on a ride to explore the Island. When it was about sunset, we went outside Pink Coco Hotel to click some candid photographs sitting on the swing, which the hotel people have placed on the sea shore. There aren't any charges for this from the hotel but you may find a long queue of people waiting for their turn to click a picture at the swing. Similar to this was the Swing outside Ombak Sunset Hotel.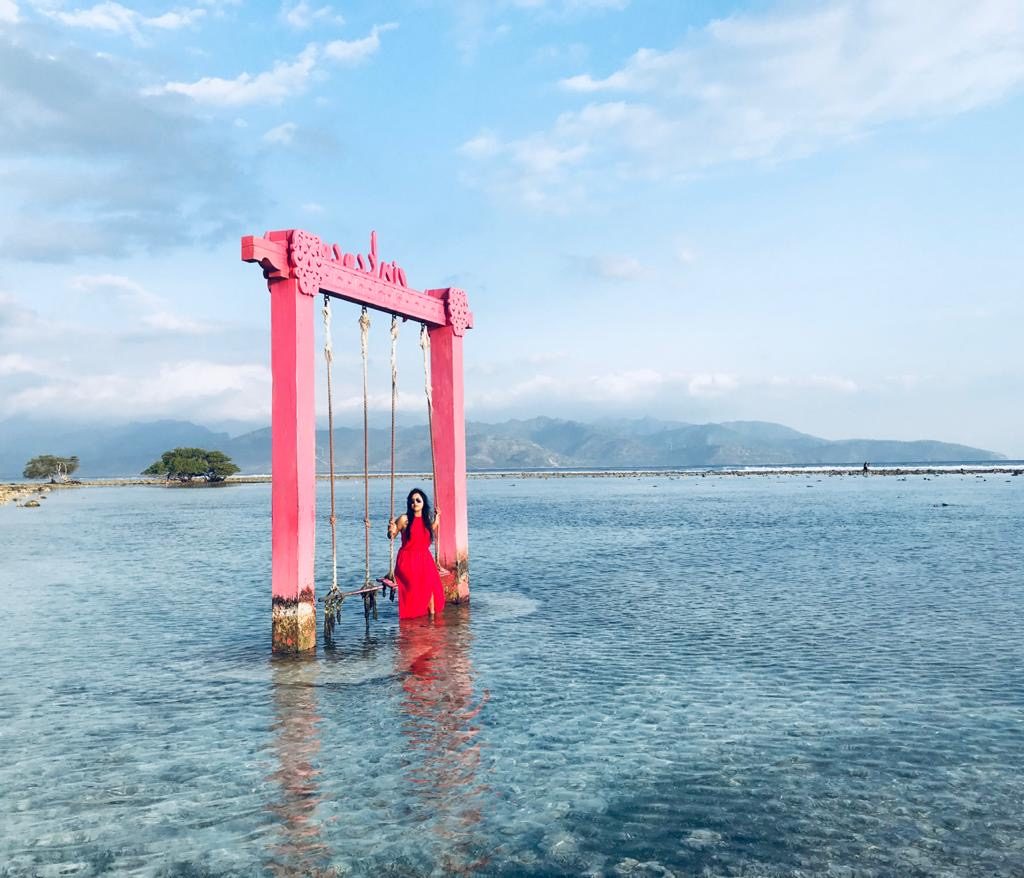 Sea Facing Dinning at Gili Trawangan
After clicking a photo at the swing, we went back to the hotel and relaxed for some time. Then we went to our hotel's sea-facing restaurant. We utilized our complimentary drink and ordered some food. It was a very romantic set up.
After having a stomach full dinner, we went for a stroll in the lane. The lane where Scallywags is situated is quite happening with lots of food stalls, lights and music. One can stay up an entire night enjoying there. We spotted a small tour operator shop, where we booked our snorkelling trip for the next day from 10 am till 3 pm for just 100K IDR (6.6 US$)/Person. Later, we went back to the hotel and rested.
07:00 AM: Breakfast at Hotel
07:30 AM: Pick up from Hotel for Padang Bai
09:15 AM: At Padang Bai Ferry Port
10:00 AM: Got into Ferry
12:00 PM: Reached Gili Trawangan
01:00 PM: Checking in to Hotel Schallywags
03:00 PM: Hired Bicycle for 24 hours
05:00 PM: Outside Pink Coco Beach for the swing
07:00 PM: Dinner at Scallywags
DAY 3: Snorkelling at Gili Air and Gili Meno
Snorkelling trip at Gili Islands
After having a filling breakfast at Scallywags, we went to the tour stall from where we booked our snorkelling day trip, as that was our meeting point. They made a group of 25 people and we all went in a big boat. We covered 5 amazing snorkelling spots located between these 3 Islands. Gili water is very clean and gives the best snorkelling experience. We were given a mask and life jackets and proper instructions. We spotted lots of fishes and sea turtles, even a wrecked ship, which was quite scary.
The most wonderful part was, we saw the famous underwater sculpture called NEST, placed on the seafloor, which was hauntingly beautiful. The famous underwater sculptor Jason De Caires Taylor created this. It consists of 48 live sized human figures situated near Gili Meno. The main motive to build this sculpture was to improve and increase coral life. This sculpture will eventually become a coral reef and encourage other marine life. After snorkelling, we were taken to Gili Air Island to stop for lunch.  Lunch was not included in the trip cost. Post lunch, we were taken back to Gili Trawangan Islands. This entire day was absolute fun and the best snorkelling experience so far.
Massage & Dinner at Gili Trawangan
We were very tired when we reached back to our hotel. There we noticed a pamphlet in our room of a Wagwan Spa right next to our Hotel, which was giving a 20% discount to Scallywags guests. We called them and got ourselves an appointment for the stone massage. The Stone Spa was amazingly good – the best so far. It gave me the complete relaxation I was looking for. Later, we went for dinner at Banyan Tree Cafe, which was a 10-12 mins walk from our Hotel. It was an amazing place, food was really good and price was also reasonable. As we are vegetarians, it still had many options for us. As we were a bit tired, after dinner, we called it a day.
Next day we were heading back to Bali from morning ferry but if you happen to stay for one more day then and if that happens to be a Wednesday or Saturday, then I would suggest to go for Jiggy's Boats Party, which takes place obviously as the name suggests on a boat every Wednesday and Saturdays from 2 PM to 7 PM. Tickets can be bought from Jiggy Jig's Bar counter.  Price for ticket is roughly 250K IDR (16.6 US$)/Person for girls and 350K IDR (23.3 US$) /Person for boys. Jiggy's Boat Party is said to be the best boat party in the world. Roughly 100 people join for this Boat Party where International songs are played. It is a wild fun Boat Party.
09:00 AM: Breakfast at Hotel
10:00 AM: At Snorkeling Trip Meeting Point
02:00 PM: Lunch at Gili Meno
03:30 PM: Back to Gili T
06:00 PM: Stone massage
08:00 PM: Dinner
DAY 4: Reaching back to Bali – Ubud, Dance Show at Ubud Palace  
We got up, packed our bags and checked out from hotel and went walking to the Port where we waited at the Ferry company counter. Our Ferry was scheduled to depart at 10:45 AM and thankfully it went well on time. We said our last goodbyes to the beautiful Gili. We reached Padang Pai Port roughly around afternoon and were then transferred to our hotel.
This time we planned our stay at Ubud. The driver dropped us at our Hotel Sapodilla in Ubud. This hotel is amazingly good – very beautiful and very green. They have limited rooms, hence, it is full almost all the time. We were given a suite. Their suite room was along with an open terrace – which was spectacular. It was really worth staying here. Staff was well trained and well mannered. Best part was they provided us handy mobile phones and free shuttle car for every place in Ubud. After checking in, we relaxed for some time.
Dance Performance at Ubud Palace
As it was already late, we could not do much on this day and just went out for Dinner and to a Dance Show at Ubud Palace. We used the hotel's shuttle car to go to Ubud Palace. We bought tickets for Dance Show which was 100K IDR (6.5 US$)/Person. This show is traditional Balinese Dance Show based on Mahabharat. It takes place daily at Ubud Royal Palace at 8:00 PM. Come early and take the front seats for better view. If you have limited time then you can avoid this Dance Show.
After the Dance show, we went to Queen's of India – Indian Restaurant just opposite to Ubud Palace. We were craving for some Indian food and this restaurant totally did justice. After that we called the driver and went back to the hotel. Later we went walking to the nearby Spa for some massage to end this day.
09:30 AM: Breakfast at Hotel
10:00 AM: Checking out and walking to the Port
01:00 PM: Reached back Bali – Padang Bai Port
03:00 PM: Reached our Hotel Sapodilla Ubud
07:00 PM: Dance Show at Ubud Palace
09:00 PM: Dinner at Queen's of India
10:00 PM: Back to Hotel
DAY 5: Taman Ayun Temple, Ulun Danu Beratan Temple, Gitgit Waterfall and Jatiluwih Rice Terrace  
For today, we booked an entire day trip to the northern side of Bali from this hotel. We got a car booked for the day at just 400K IDR (26 US$). This day tour is commonly known as Lovina Beach Full Day Tour. If one really wants to enjoy watching dolphins from a Boat at Lovina Beach, then you need to reach Lovina Beach by 5:30 AM. Dolphins are visible early in the morning only. But we did not have that much of energy, so we skipped Lovina Beach and started this tour at 9:30 am with rest of the places.
Pura Taman Ayun Temple
Pura Taman Ayun Temple was our first stop. It took us half an hour from our hotel to reach there. It is commonly known as the Royal Family Temple. All temples in Bali have entry tickets and require that the shoulders and legs should be properly covered. Entry for this Temple was 20K IDR (1.5 US$)/Person. If you have limited time, skip this temple and visit rest of the places.
Ulun Dhanu Beraton Temple
After spending a little time here, we went to another extremely beautiful temple – Ulun Danu Beraton Temple – also known as Temple at the Lake. It took us an hour to reach there from Taman Ayun Temple. This temple was the most scenic temple of Bali – from its entrance to its garden, to it riverside view, everything was beautiful. Entry for this Temples was 50K IDR (3.3 US$)/Person.
Gitgit Waterfall
We spent some time there and went for our next destination Gitgit Waterfall. It took us 30 mins to reach there. We had to walk a long distance to come to the waterfall. There were hardly any people there, so we really enjoyed, just listening to the gushing sound of the waterfall. Entry for this waterfall was 20K IDR (1.3 US$)/Person.
Jatiluwih Rice Terrace
After this, we went to Jatiluwih Rice Terrace. It was a 1-hour straight drive from Gitgit waterfall. On the way, we stopped at a place for lunch. Jatiluwih is also known as the biggest and best rice terrace in Bali. The entire view of green rice farming and its multiple layers was very eye catching.
After watching the splendid view of rice terrace, we went back to our hotel and relaxed for the day. Later, for dinner, we went to Ganesha Ek Sanskriti – an Indian Restaurant, which was a 15 minutes walk from our hotel. There are various choices of cuisines as well. Just Google and check the ratings.
09:00 AM: Breakfast at Hotel
10:00 AM: Taman Ayun Temple
12:00 PM: Ulun Danu Beraton Temple
01:30 PM: Gitgit Waterfall
04:30 PM: Jatiluwih Rice Terrace
06:30 PM: Back to Hotel
08:00 PM: Dinner at Ganesha Ek Sanskriti – Indian Restaurant
DAY 6: Sunrise trip to Mount Batur – Extremely Active volcano, Monkey Forest, Tegalalang Rice Terrace, Tirta Empul Tampaksiring and Tenungan Waterfall 
Mount Batur Sunrise Trip
We booked Mount Batur Sunrise trip from our hotel only. We got it at 300K IDR (20 US$)/Person. The trip needs to be started late night around 2:00 AM from Hotel. So, we slept early the night before and got ready at 2 AM. Our driver came and then drove us up to the trekking site. At 3:30 AM we started our trek on the steep mountain with the help of a torch and our tour Guide. We reached the hill top at around 5 AM.  We then watched the incredible sunrise view of the active volcano from Mt Batur.
Later, we made our journey back and on the way we saw the beautiful Batur Lake, Kintamani village and the entire beautiful hill area. We walked through the Volcano Black Sand and Craters on our way back. We saw the very interesting Lucky Temple – the Temple where lava stops right at the doorsteps. Around 10 AM we came back to our hotel and relaxed for some time. Those who are not interested in trek or getting up so early can skip this, but honestly, it is really worth the experience.
Sacred Monkey Forest
After relaxing for sometime at the hotel, we started with our Ubud trip for the day. We used the hotel shuttle for this. We asked the driver to drop us at the Sacred Monkey Forest. It was just 1 km away and it took us roughly 5 minutes to reach from our Hotel. Entry was 100K IDR (6.6 US$)/Person. Apart from having monkeys in huge numbers, Monkey Forest is a very green lustrous forest area worth admiring.
Some of the trees were looking like they were centuries old. The bridge over the waterfall and walkways were fascinating. The area is huge and it will take around an hour or two, to enjoy here. Best part is that the monkeys were completely harmless. We were instructed not to look directly into their eyes or feed them. Entire trip to this place was an amazing experience.
Tegallalang Rice Terrace
After visiting this amazingly green Monkey Forest, we went to a very famous Rice Terrace of Ubud – Tegallalang Rice Terrace. It took us 30 minutes to reach there. There are many places in this area with big swings over the rice terrace. You can check all the options. We went to Uma Pakel Agro Tourism & Swing located at the Tegallalang Rice Terrace. Entry was free here but to enjoy the swing and other activities, there was a charge. We paid 200K (13.5 US$)/Person for swing and pictures inside the nest. Swing experience was very good and totally worth it.
Tirta Emphul Temple
After this, we went to Tirta Empul Temple, located 20 minutes ahead of Tegallalang Rice Terrace. It was a good and quiet temple. They had holy water pool inside the temple. If required, one can take a plunge in it. Entry for this Temple was 50K IDR(3.5 US$)/Person. If you have limited time then visiting this temple can be skipped. This is a very authentic traditional temple of Bali. Right outside the temple, we grabbed some fresh fruits, juices, coconut water and some light snacks. Do try the coconut water in Bali. They are huge in size and very tasty and refreshing. Totally different from what we get in India.
Tegenungan Waterfall
After this we went to Blangsinga to see Tegenungan Waterall. It took us close to an hour to reach here. Entry was 100K IDR (6.5 US$)/Person. There were a lots of stairs to reach the waterfall area. It was a nice waterfall but Gitgit waterfall was far better. If not interested, one can skip this as well.
Later, we went back to our hotel and relaxed for the day. There are other temples like Saraswati Temple located right behind Ubud Palace and Goa Gajah temple- just 5 minutes from our hotel. These are small temples; hence, if one has time and want to experience most of the temples in Ubud, can visit these as well.
03:00 AM: Went for sunrise trek at Kintamani
04:00 AM: Reached Trekking Area
06:00 AM: Reached up for sunrise
10:00 AM: Back to Hotel
12:00 PM: Sacred Monkey Forest
02:30 PM: Tegallalang Rice Terrace
04:00 PM: Tirta Empul Temple
05:30 PM: Tegenungan Waterfall
06:30 PM: Back to Hotel
08:00 PM: Dinner at Hotel only
DAY 7: East Bali Trip – Tirta Gangga Temple, Besakih Temple, Lempuyang Luhur Temple and Tukad Cepung Waterfall
I was always fascinated with the photographs of Gateway of Heaven on Instagram put up by bloggers. I always wondered where this place was in Bali. Hence, I searched about it and planned a trip for East Bali, where Lempuyang Luhur Temple – Gates of Heaven is located. I booked a car along with a driver from my hotel for East Bali trip at a very good price – 650K IDR (45US$). We got up early for this. Post breakfast, we checked out from the hotel in Ubud, as after East Bali trip we were supposed to go back to Kuta to cover some areas closer to Kuta. We got our luggage collected in a car and left for East Bali.
Tirta Ganga Temple
Our first stop was Tirta Ganga Temple. It was a long journey and took us close to 2 hours to reach. This is again one of the traditional temples of Bali. There are 2-3 big ponds in this temple which have a lot of golden fishes. The gardens, pillars, walkway stones on water were all worth admiring. Entry for this Temple was 40K IDR (2.5 US$)/Person.
Lempuyang Luhur Temple
After visiting this temple, we went straight to Lempuyang Luhur Temple, which was half an hour drive from Tirth Ganga Temple. As this temple is located at the slope of Mount Lempuyang, so, we had to hire bike riders for going up and coming down. Bikers were reasonable and charged us only 40K IDR (2.5 US$) for a round trip.
There wasn't any entry charge at this temple but they welcome donations. On reaching the top, we were definitely spell bound with the view. But, for a picture with Gateway of Heaven there was a big queue of 2 hours. Moreover, to my surprise there wasn't any water lake for reflection ahead of that gate. There were cameramen sitting there for making fake photos and for that only, there was a two hour queue. We were disappointed and had to go back as we did not have the time and energy to stand in the line for hours, just for a fake picture.
Besakih Temple
We then went to Besakih Temple, which was again a one and a half hour long drive. This temple is the biggest and the holiest temple of Bali situated on the slopes of Mount Agung. It is also known as the Mother Temple as it over 1000 years old. We had to walk and climb a lot to reach the temple but the view from here was totally worth it.
Tukad Cepung Waterfall
We  our last spot for the day was Tukad Cepung Waterfall, which was a half an hour drive from Besakih Temple but we couldn't go there as this place closes by 5 PM. Moreover, we got to know from our driver that going to this waterfall is a struggle – long walk, steep stairs and again too much crowd at this waterfall to get that "Instagram wow" picture. This is again a way too much commercialised place just like Lumpuyang Luhur Temple. People go there only for the pictures – thanks to Instagram but in actual it takes a lot of time for your turn for that kind of picture. So go there only if you have that much time in hand.
We then went to Kuta to our Hotel – Yulia Beach Inn. After checking in the hotel and relaxing for some time we decided to go to a nearby Indian Restaurant to dine. We went to Shankara, which was at a walking distance from our hotel. We ended our day with a relaxing foot massage just outside our hotel.
*If one has limited time I would suggest skipping East Bali trip altogether as this is really far and very tiring.
08:00 AM: Breakfast and Checking out from the Hotel
08:30 AM: Leaving Ubud for East Bali trip
10:30 AM: Tirth Ganga Temple
12:00 PM: Lempunyang Luhur Temple
03:30 PM: Besakih Temple
06:30 PM: To Kuta – Yulia Beach Inn
08:00 PM: Dinner at Sankara
Day 8: Tanah Lot Temple and half day tour to Southern most of Bali – Dusa Dua Beach, Pandawa Beach, Green Bowl Beach, Uluwatu Temple and Padang 
Padang
 Beach
Tanah Lot Temple
We got up a little late this day because we were very tired with East Bali trip. After breakfast we got ready and went to a very famous temple – Tanah Lot. The most interesting thing about this temple is that the main temple area gets submerged in the sea during high tides and can be visited only during low tides. So, only lucky people get a chance to visit the main temple. As the temple is at the seashore, the whole surrounding area is really beautiful. We used the Grab App. to book a cab which took us an hour to reach there. Entry for this temple is quite high 62,500 IDR (4.2 US$)/Person.
After spending some time here, we came back to the hotel. We went for lunch near by and then we booked a half-day tour to South Bali from one of the tour operator shop at just 400K IDR (26 US$). The cab came to pick us up at 2 PM.
Nusa Dua Beach/Pandava Beach/Green bowl Beach
We first visited the Nusa Dua area. Nusa Dua is the most expensive area of Bali and is the home of almost all the big 5-star hotels. Nusa Dua beach has a lot of water sports activities. We had already done a lot of water sports Gili, so we just skipped Nusa Due Beach and went straight to Pandawa Beach. This beach was good.
We relaxed for some time in the shack and later went to Green Bowl Beach. We did not get down here and just enjoyed the view of the beach sitting in our car in the parking area. No doubt it was very scenic and beautiful.
Uluwatu Temple
We then went to Uluwatu Temple, which is very famous for its sunset view. Entry for this Temple was 30K IDR (2US$)/Person. Uluwatu temple is built on a cliff facing the sea. Mostly, nobody goes to the main temple as it involves climbing a lot of stairs. Surrounding areas of this temple are so huge and splendid, it takes quite a lot of time wandering around and visiting the main temple is not much required then. There is a very famous dance show Kecak Fire that takes place at this temple everyday in the evening but we skipped it and went to Padang Padang Beach.
Padang Padang Beach
Padang Padang Beach is just 10 minutes drive from Uluwatu Temple. Please do carry a swimming costume and an extra pair of dress for Padang Padang Beach. One has to walk through a cave to get down to this amazing beach. This beach is the best if one likes surfing. There was entry charge of 20K IDR (1.5 US$)/Person to enter Padang Padang beach.
After spending sometime, we went back to the hotel and later went for dinner to this amazingly beautiful Indian restaurant – Spice Mantra. Food, ambience and service were superb. Although it was pricy, it was justified due to the amazing Indian food the place was offering.
10:00 AM: Breakfast at Hotel
10:30 AM: Going to Tanah Lot Temple
11:30 AM: At Tanah Lot Temple
01:30 PM: Back to Hotel
02:00 PM: Going For South Bali
02:30 PM: Nusa Dua Beach
03:00 PM: Pantai Pandava Beach
03:30 PM: Green Bowl Beach
04:30 PM: Uluwatu Temple
05:30 PM: Padang Padang Beach
08:00 PM: Back to Hotel
09:00 PM: Dinner at Spice Mantra
Day 9: Visit to Nusa Penida Island – Angels Billabong, Broken Bridge, Kelingking Beach and Crystal Beach.
For our last day, we went to Nusa Penida Island. Nusa Penida is a small Island situated at a 1-hour ferry ride from Bali. We booked tickets for this, 2 days in advance. This trip was 600K IDR (40 US$)/Person. It included hotel transfers, boat transfers, visiting all major places like Kelingking Beach, Broken Beach, Angel's Billabong and Crystal Bay along with a car and a guide.
The trip started really early as we needed to catch the Ferry to reach this Island. We were picked up from our Hotel at 7:30 am and reached the Port. There we waited for the ferry. In a while, we boarded the ferry and reached Nusa Penida Island. There, we had our own tour car along with a driver waiting with our nameplate. We got into the car and started our trip. We had to walk a lot in order to reach any beach or place in Nusa Penida. Roads were also in a very bad shape. Our driver looked quite trained to drive on such roads.
Kelingking Beach
We first visited the Kelingking Beach. It's not a beach but the most famous picture taking spot of this Island. It is in the shape of a beautiful rock that gives edge to the pictures. Beware of monkeys on the way to this place.
Angels Billabong
After visiting this beach, we went to Angels Billabong. This again was a beautiful photography spot. It was the different shades of the sea between the rocks that was making this place so exquisite.
Broken Bridge
After clicking a lot of pictures here we went to Broken Bridge. This place was just out of the world. The way rocks were formed like a bridge and the dark blue sea underneath, it was just like a dream. One can spend hours gazing and enjoying the cool breeze around.
Crystal Bay
After this, our driver took us to a restaurant for lunch. Lunch was already included in our package. Food was decent. We are vegetarians and still we got enough options to eat. After lunch, we went to our last stop – Crystal Bay. This beach was very clean and neat. Water was actually shinning like crystals. Snorkelling can also be included on this beach at a nominal cost but as we had already experienced it at Gili, we did not go for it.
Around 3:30 PM we went back to the port to go back to Bali. Around 5 PM, we reached Bali and by 6:00 – 6:30 PM we were back to our Hotel. Nusa Penida was a total different experience as compared to Gili Islands. This trip was an absolute delight and undoubtedly the best part of the entire trip. One can plan to stay for one day here.  After coming back to the hotel, we just relaxed. We ordered some food from the hotel's restaurant and slept as we had a 10:45 AM flight, back to India, the very next day.
07:00 AM: Breakfast at Hotel
07:30 AM: For Port for catching ferry to Nusa Penida Island
09:30 AM: At Nusa Penida Island
10:30 AM: Kelingking Beach
12:00 PM: Angels Billabong
01:00 PM: Broken Bridge
01:30 PM: Lunch
03:00 PM: Crystal Bay Beach
04:00 PM: In Ferry
05:00 PM: Reached Bali
06:00 PM: Reached back Hotel
08:00 PM: Dinner
If you find this blog '9 Days Suggested Itinerary for Bali' interesting, please share the link of the website/blog with your family and friends. If you have any comments or suggestions – please do write in the comments section below.
Need regular dose of travel information, planning and update on new blogs, please like my page on Facebook.
Need regular dose of travel shots – follow my page on Instagram