ABOUT POKHARA TRIP
Planning a trip to Pokhara? Presenting a perfect itinerary for a 3 Day Trip to Pokhara, which will brief you about the places to visit, best area to stay, best lake side restaurants, best spa's and best nearby places from Pokhara like Begnas Taal, Muktinath Temple, trekking spots nearby Pokhara etc.
Pokhara is a beautiful lakeside hill station in Nepal. It sits alongside 6.5 kms long Fewa Lake, which offers wonderful view with mountains in the backdrop, jungle on one side and city on the other. It is very scenic, beautiful, safe and economical. The people are warm and very helpful. Pokhara also gives you a brief about Nepali Culture – their folk dance, dresses and food. This place is a dream come true destination for all trek loving people. This city attracts a lot of foreigners all throughout the year. 
DURATION OF POKHARA TRIP 
3 days in Pokhara is more than enough to explore the place completely. If you are looking forward to trekking, then definitely a few more days are required. 
COST FOR 3 DAY TRIP TO POKHARA, NEPAL  
Pokhara is an economical trip. Neither the stay and food cost much nor the entrance fees for the attractions. 
Flight/Train/Road trip from India: 115 – 145 US$ / Person
Hotel: 100 – 120 US$ /Day 
Food & Local Transport: 130 – 145 US$ / Person
Miscellaneous: 70 – 100 US$ / Person
Total : 370 – 500 US$ / Person for 3 days
BEST TIME TO VISIT POKHARA
Best time to visit Pokhara is September, October and November when temperature is moderate and pleasant (20-25°C). Nights can be a bit cold around this time so would suggest to carrying a light jacket.
HOW TO REACH/HOW TO TRAVEL WITHIN POKHARA
Kathmandu, the capital of Nepal, has major connections via international flights, hence, one can easily reach Kathmandu. From there, one can choose to fly to Pokhara, which take approx 40 mins time and cost roughly 125 US$ (one way). Another way is to catch a bus to Pokhara, which takes approx 7-9 hours to reach and cost roughly 8-12 US$/Person. One can even hire a rental car from Kathmandu for the entire Pokhara Trip. 
As Nepal is a neighbouring country of India, all travellers from India living in the cities within a range of 300-500 kms from the border, can easily plan to drive till Pokhara, crossing the Sonauli Border. If living farther away from the Nepal Border, then one can reach Gorakhpur City and then either hire a rental car or take a bus till Pokhara.  
WHERE TO STAY IN POKHARA
Click on the link below to check out best area to stay in Pokhara and the various options of Hotels in Pokhara Lakeside – High End Hotels, Mid Range Hotels and Budgeted Hotels. 
(https://www.pinningdestinations.com/best-place-to-stay-in-pokhara-nepal/)
TIPS FOR POKHARA TRIP
Book hotels in advance as these hotels charge exorbitantly, if booked on the spot. Make sure to stay near Lake Phewa in order to enjoy lakeview and the market area of Pokhara.
Momo's and Nepali Thali are a must try dishes in Nepal. To check out best lakeside restaurants in Pokhara click on link (https://www.pinningdestinations.com/best-lakeside-restaurants-in-pokhara/)
Pokhara shuts down completely by 11:00 PM. For dinner, it is better to finish off by max 9:30 PM otherwise, it gets difficult to find a dining place later in the night.
Paragliding and zip lining is also available in Pokhara. Please do check for rates from various tour shops at lakeside as well as from your hotel.
Definitely a must do activity in Pokhara is to take a boat ride at Phewa Lake, visit to World Peace Pagoda and experience Sarangkot Sunrise. You can avoid Devi's Fall and Gupteshwar Gufa, if have limited time. 
PLACES TO VISIT NEAR BY POKHARA
You can even plan to visit Begnas Taal and Rupa Lake, which is just a half an hour drive from Pokhara (13 kms). Local buses and cabs are easily available from Pokhara for Begnas Taal. Although, Begnas Taal is smaller than Phewa Lake of Pokhara but it is more scenic, peaceful and less commercialised. You can enjoy a mesmerizing boat ride at Begnas Taal and can even hike up to the mountain to reach a viewpoint from where you can enjoy the panoramic view of both, Begnas Taal and Rupa Taal.
There are various spectacular trekking points available from Pokhara, which can definitely be covered provided you have a few extra days (3-7 days) in hand. To check out the best trekking trips in Pokhara click on the link (https://www.pinningdestinations.com/trekking-trips-from-pokhara/)
If one has more days in hand, one can always plan to visit Kathmandu (200 kms from Pokhara) or Muktinath Temple (175 kms from Pokhara) along with the trip to Pokhara. Click on below link to know about Muktinath Temple and how to reach there from Pokhara/Kathmandu (https://www.pinningdestinations.com/trip-to-muktinath-from-kathmandu-or-pokhara/)
POKHARA 3 DAYS ITINERARY
1st Day: Reaching Pokhara and relaxing at the Hotel

2nd Day: Devi's Fall, Gupteshwar Gufa, Boat Ride in Lake Phewa, Market visit, Café Concerto

3rd Day: Sunrise at Sarangkot, World Peace Pagoda (Shanti Stupa)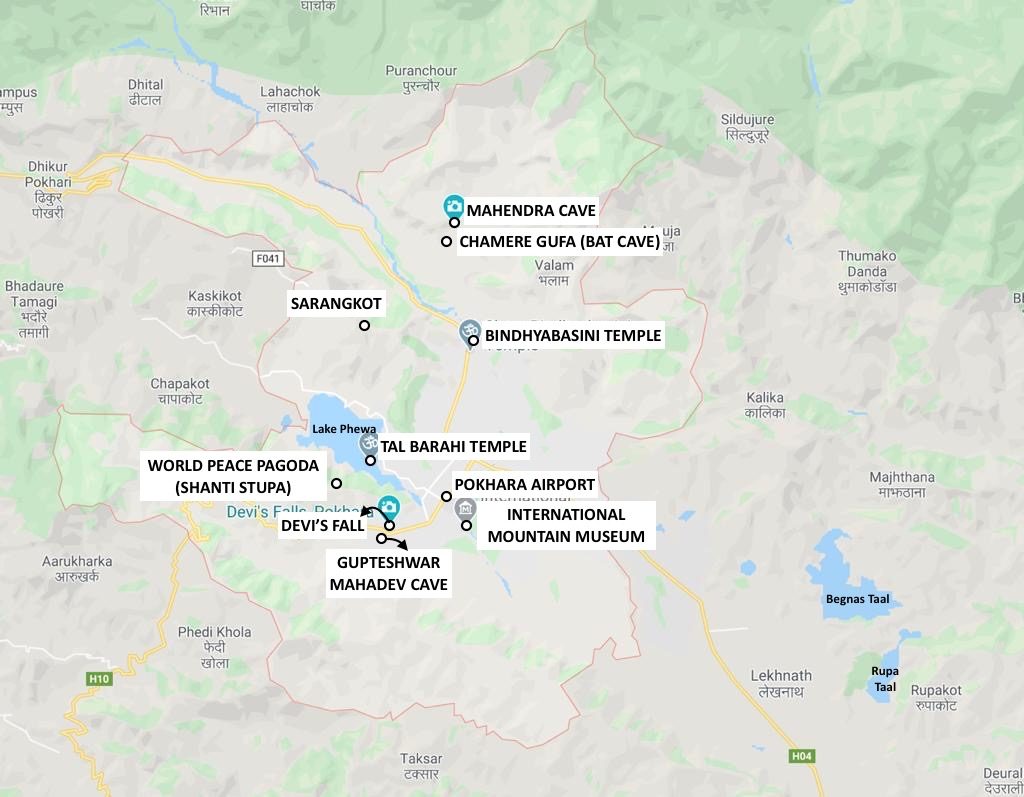 POKHARA 3 DAYS DETAIL ITINERARY 
Day 1 : Reaching Pokhara and relaxing at the Hotel
As I belong to the northern part of India, a trip to Nepal from here is a long but manageable road drive. We started off with our adventurous road trip and it took us 10-12 long hours to reach Pokhara. Around evening we reached Pokhara. We checked in at our Hotel – Waterfront Resort and relaxed for some time in our room. Later we enjoyed the sunset time sitting at the lake side which was part of the hotel area.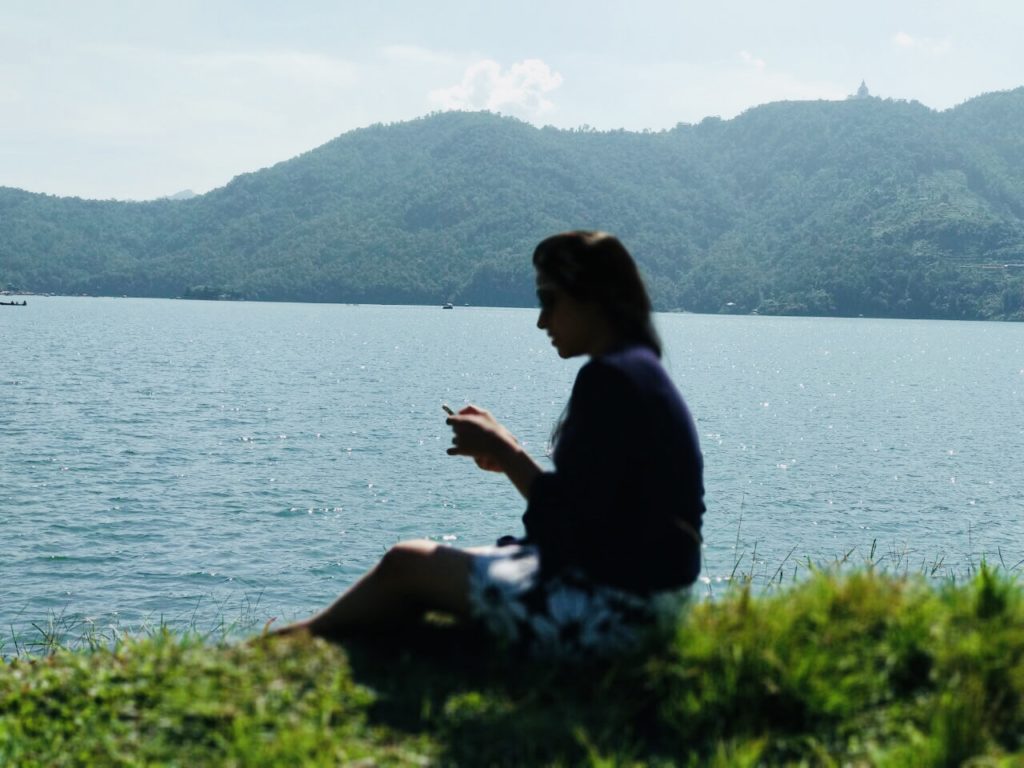 04:00 AM: Started with road trip to Pokhara
05:00 PM: Reached Pokhara
06:00 PM: Enjoying sunset at the riverside
08:00PM: Dinner at the hotel's restaurant
DAY 2 : Devi's Fall, Gupteshwar Gufa, Boat Ride in Lake Phewa, Market visit, Café Concerto
As soon as we got up we were blown away looking at the view of the mountains, lush green hills and Pokhara lake from this resort. One can never get tired looking at this view. We then went and enjoyed breakfast at the hotel. Post breakfast, we got ready to start our trip.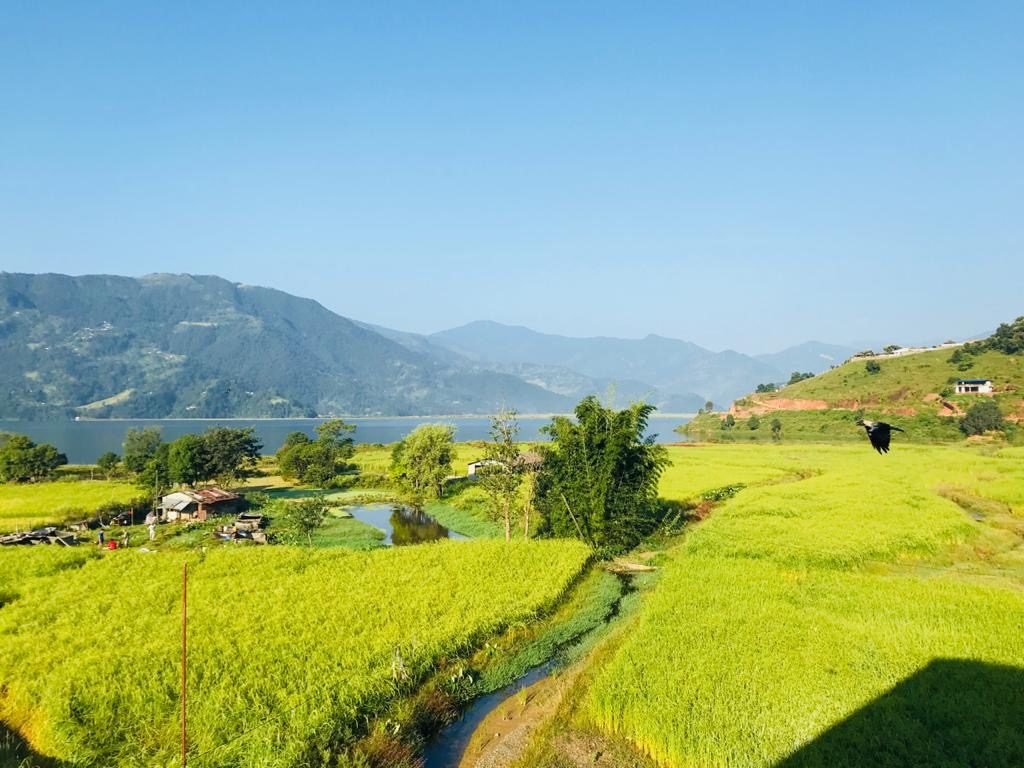 Devi's Fall
We went to see Devi's Fall also known as the Patale Chahango. It was just 3.5 kms away from our lakeside hotel. Entrance fee was just 20 Nepali Rupees. There is a waterfall inside, which was around 500 meters in length. Devi's fall can also be reached from World Peace Pagoda. It is hardly 15-20 mins trek from there.
Gupteshwar Gufa
Right opposite to Devi's Fall is Gupteshwar Gufa. This is the place where Devi's fall finally ends. Entrance fee is 100 Nepali rupees. There is a spiral staircase on the entrance, which leads to an underground cave. It was quite dark, wet and slippery. While walking inside the Gufa, we saw the statue of Lord Shiva, some very interesting rock formations, hidden waterfalls and finally saw where the Devi's Fall ends. Overall, it was a very different experience. If time is scarce, Devi's Fall and Gupteshwar Gufa can be skipped.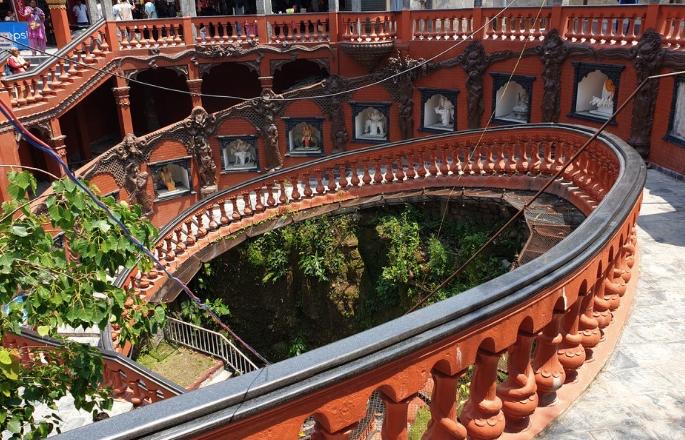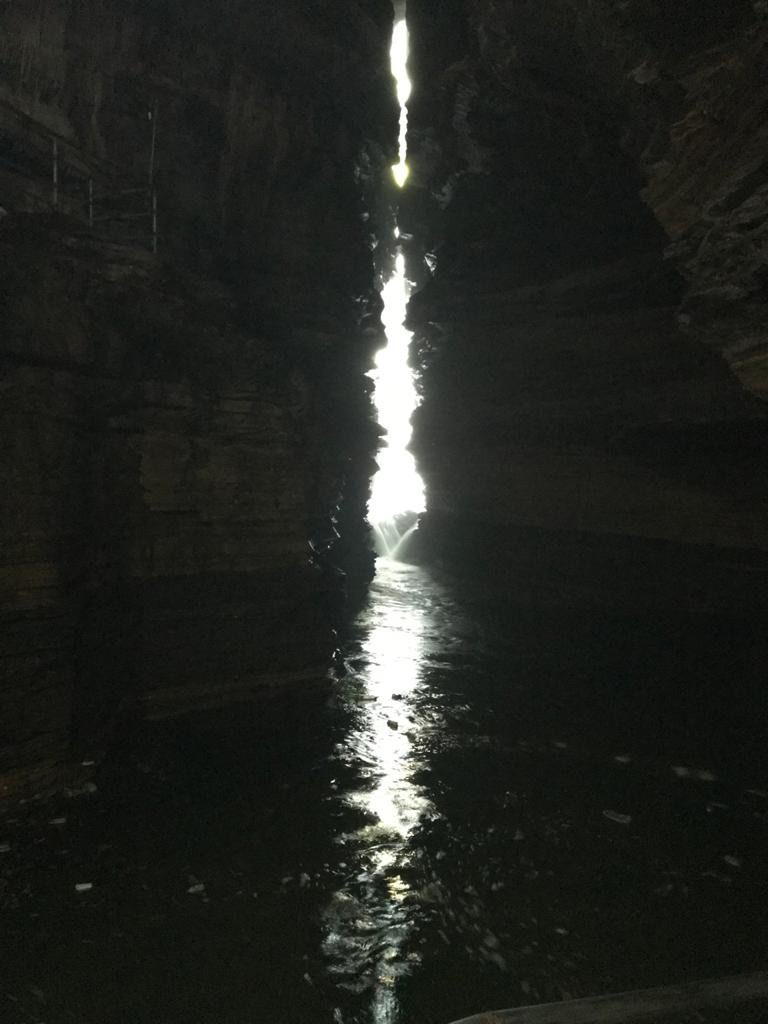 After our visit to Devi's Fall and Gupteshwar Gufa, we went back to the lake side and searched for a place to have lunch. Pokhara has abundance of restaurants to choose from. We went to Godfathers Pizzeria. We tried some pizzas and pasta and both were decent enough. There are numerous other options as well for lunch by the lakeside.
Click on
the link 
below 
to
find the 
best lakeside restaurants in Pokhara –
(https://www.pinningdestinations.com/best-lakeside-restaurants-in-pokhara/)
The International Mountain Museum
If interested in gathering knowledge about the mighty mountains in Nepal and all over the world, their history, equipment's used for climbing, culture of Nepali people, geography of Nepal etc., then you can plan to visit The International Mountain Museum in Pokhara. Entry price is 300 Nepali Rupees per person and timings are from 9:00 AM to 5:00 PM.
Boat ride on River Fewa
Then around 4 PM we went for a boat ride on River Fewa. The boat ride was 500 Nepali Rupees for an hour. One can also take the boat on self-ride, at a lower cost. Boat ride was very pleasant and it was a treat for the eyes. On one side of the lake, you will see the lush greenery of the jungles with mountains in the backdrop. On the mountains, you can see the white coloured Shanti Stupa (World Peace Pagoda) and on the other side is the view of the city. Lake Phewa is very clean, quiet and serene. Moreover, the view this boat ride offers is absolutely splendid.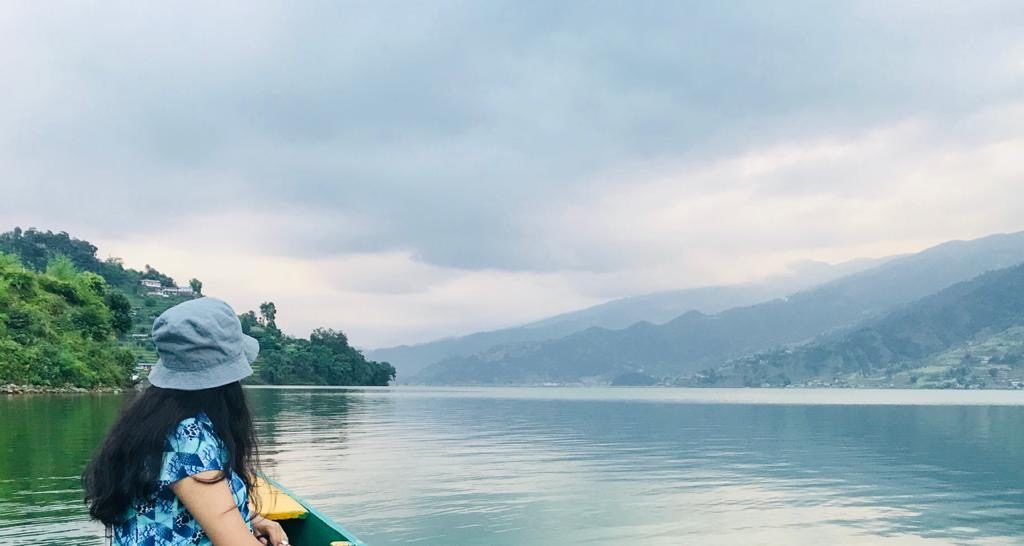 In the middle of the lake is a small island where the Tal Barahi Temple is located. The lake is so huge that even two hours is not enough to wander around on it.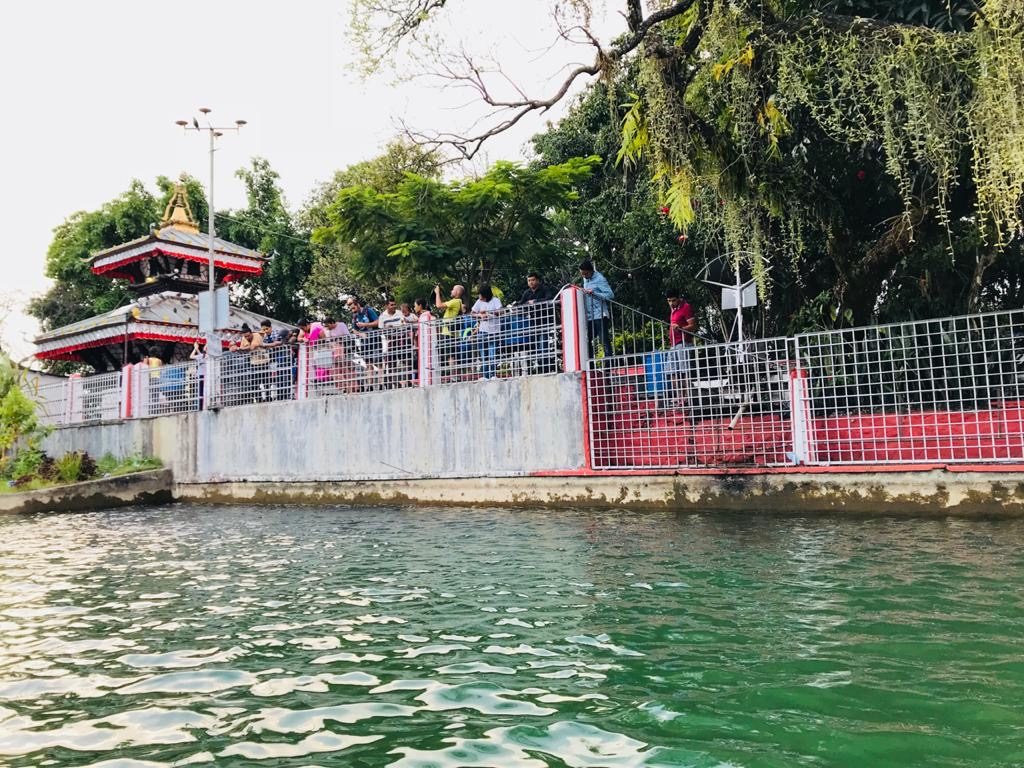 Strolling Market Area followed by Dinner
After the boat ride, we strolled in the market place opposite to Lake Phewa. This whole market has a lot of bars, restaurants, café's, ayurvedic massage parlours, shops, grocery stores etc. It was wonderful to walk in this market place and enjoy the variety of food it offers. Later, we went to Café Concerto. The place is quite happening with good music, good food and prompt service. After that, we went back to the hotel as we had a long day.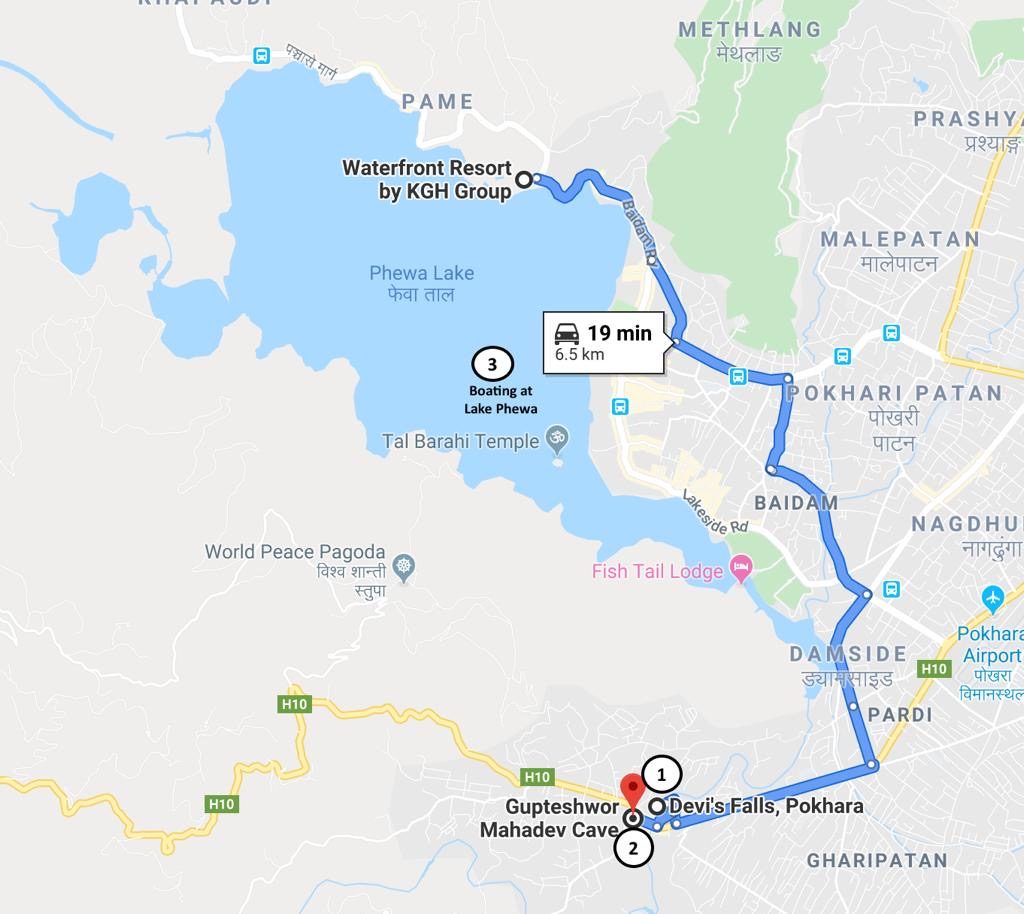 12:00 PM: Devi's Fall
01:00 PM: Gupteshwar Gufa
02:00 PM: Lunch at Godfather Pizzeria
04:00 PM: Boat Ride at Phewa River
08:00 PM: Dinner at Cafe Concerto
DAY 3 : Sunrise at Sarangkot, World Peace Pagoda (Shanti Stupa)
Sarangkot
Sarangkot is the most popular place in Pokhara to see the sunrise from the mighty Himalayan range – Annapurna Massif, Fishtail Mountain, Dhaulagiri and Manaslu overlooking the Pokhara valley. We started early in the morning and reached there around 5:45 AM. Sarangkot is 11 – 12 kms away from the lake side. It took us half an hour to reach by car. We had to trek for another 20 mins to reach to the viewpoint. So it is important to leave from Hotel at 4:45 AM sharp.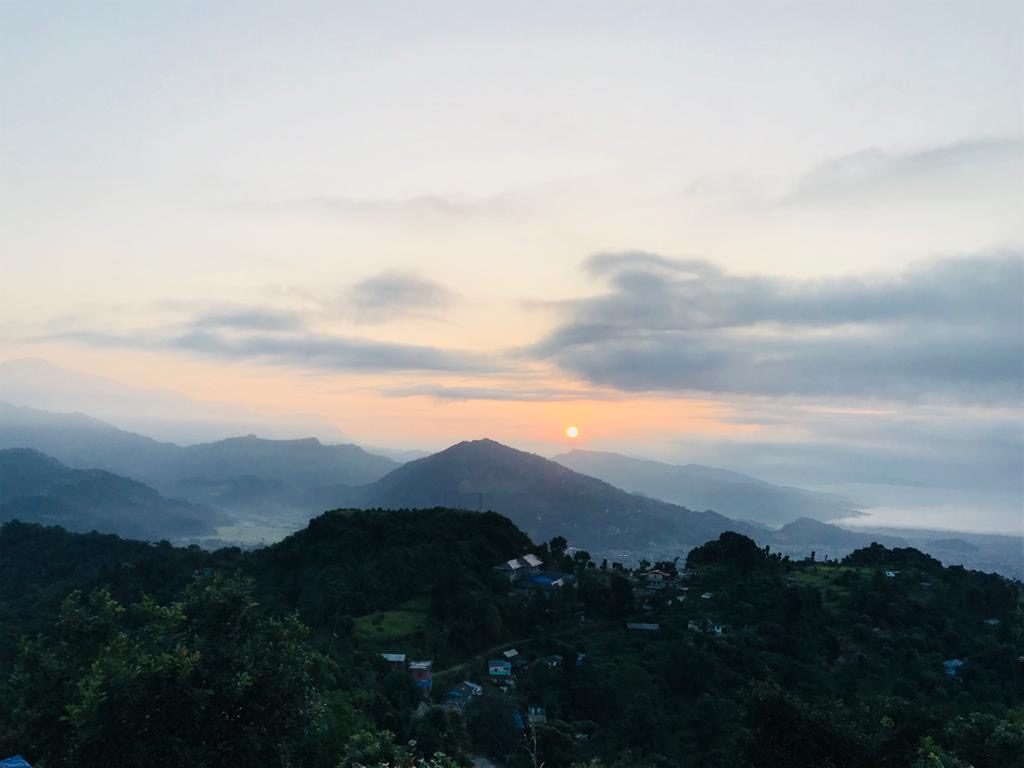 The view of the sunrise was splendid and we thoroughly enjoyed it. As the sun was rising, we could see the majestic Himalayan range and the valley changing its colours. As this place is very famous for sunrise, you will see many people collected in the early hours with their big cameras ready to capture the sunrise view.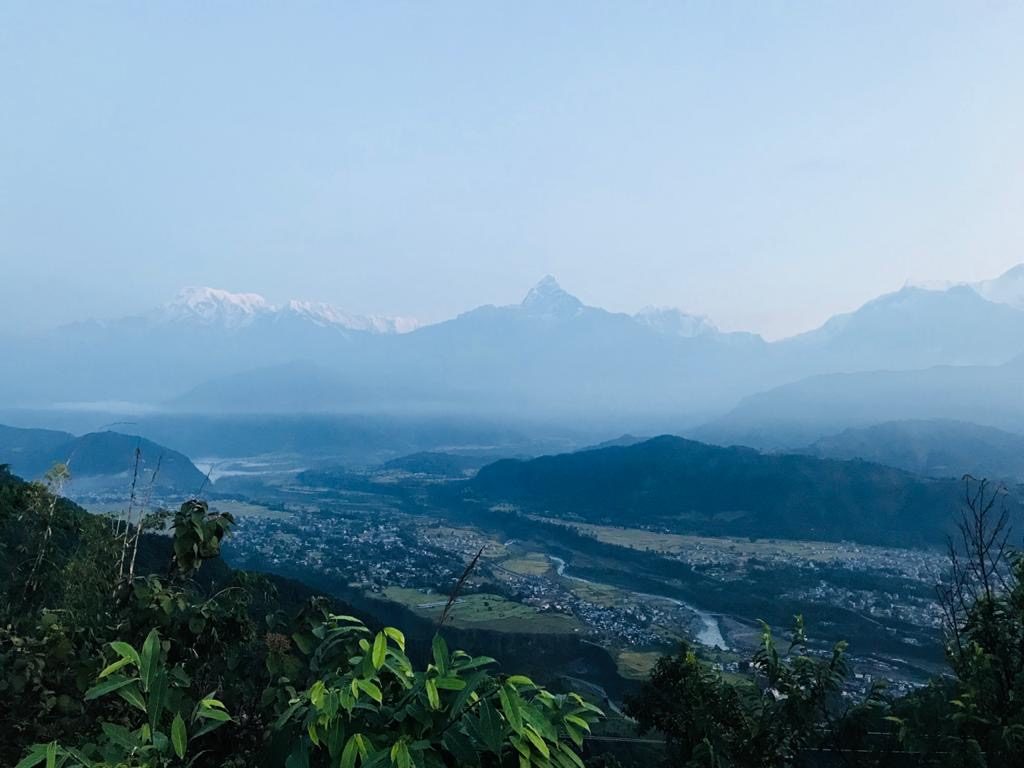 Around 7:00 AM when the skies were clear, we decided to head back to the hotel where we had breakfast and relaxed for a while. You can also visit the Bindhiya Basini Temple on your way back from the sunsise point as it falls on the way. Further 5 kms upwards from Bindhiya Basini Temple are Mahendra Cave and Chamere Gufa (Bat Cave). Both are dark, slippery and narrow caves. Visit them if you want to experience this kind of deadly adventure or else they can be avoided.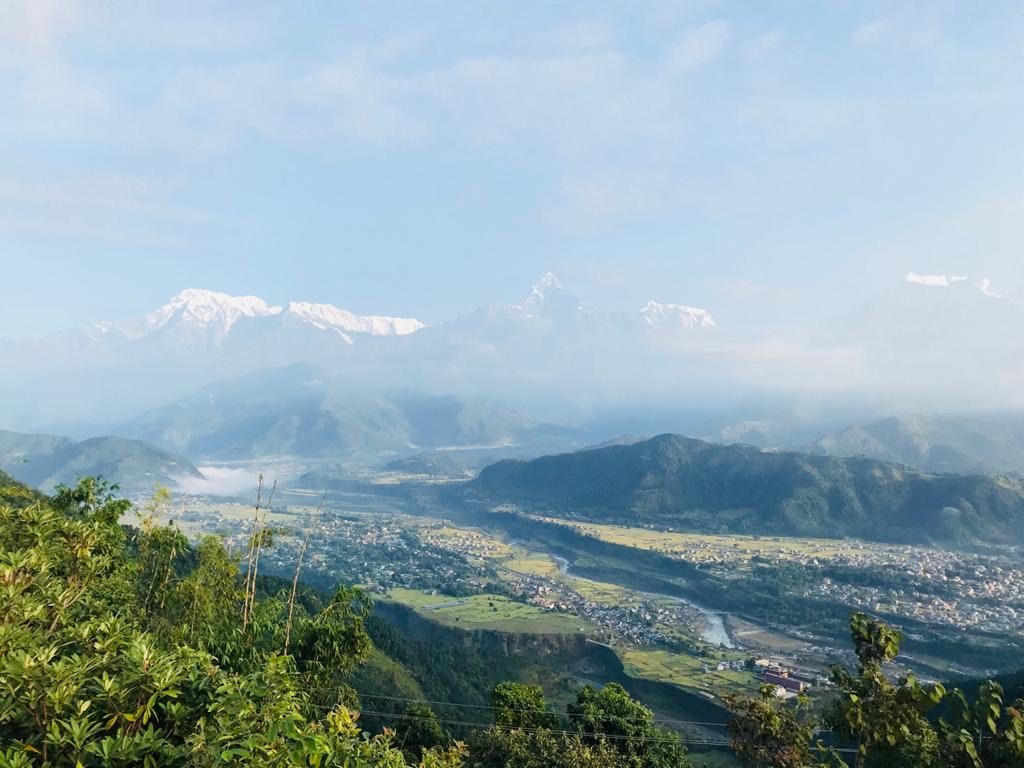 Shanti Stupa (Work Peace Pagoda)
Around afternoon we started with our trip to Shanti Stupa – World Peach Pogoda. The shinning white round shaped Stupa sitting at the top, right in the middle of the jungle always attracted us.
The Buddhist monks of Japanese Nipponzan Myohoji Organization are credited for building this marvellous Stupa.
How to Reach Shanti Stupa from Lakeside – 
First and the easiest way is from the lake side – cross the river to the other side and then the Stupa is at a one hour trek from that point. This route is the most preferred route because it includes a  boat ride and then trekking through the beautiful jungles and most importantly offers a beautiful view of Lake Phewa and Mountains while trekking.
Second is the road route. Reach to the main entrance point by Car/Bus/Bike (30 mins from Lakeside) and then a little trek to reach the Stupa. This route is best for those who do not want to trek.
Third is the most dangerous and toughest route, a 2 hours hike from the Dam side road through the jungle. This route is not advisable because there have been many cases of theft and attacks on this route.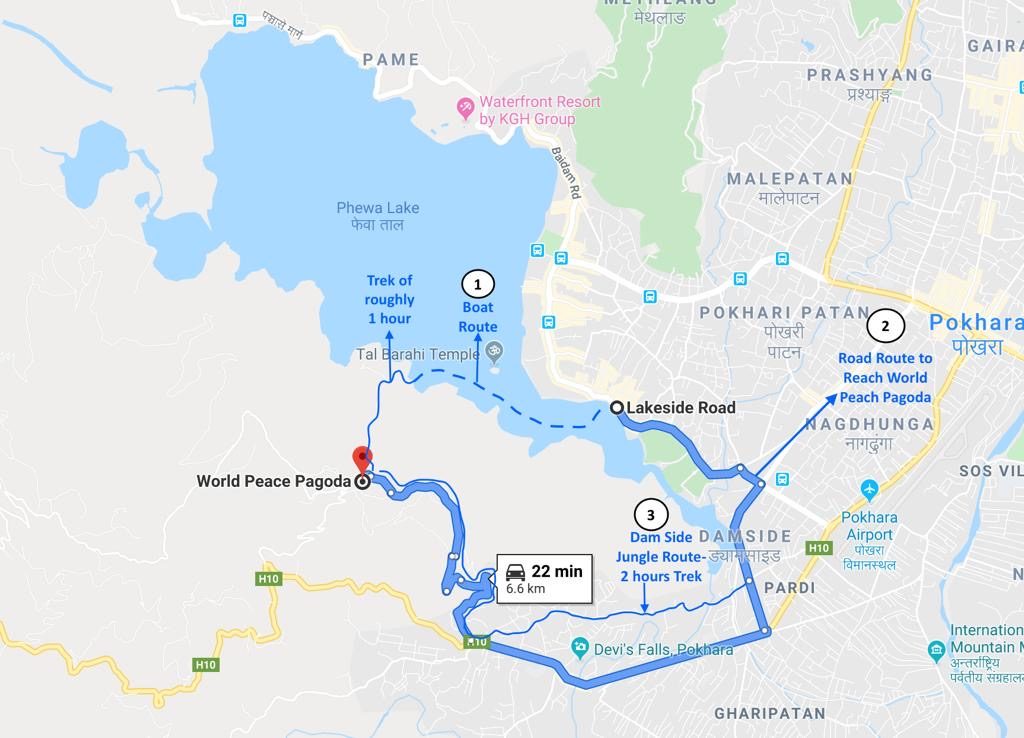 Boat Route to reach Shanti Stupa
We decided to reach the Stupa using the most common route – boat route. I believe it was the right decision from our side as we thoroughly enjoyed the amazing view of the Phewa Lake.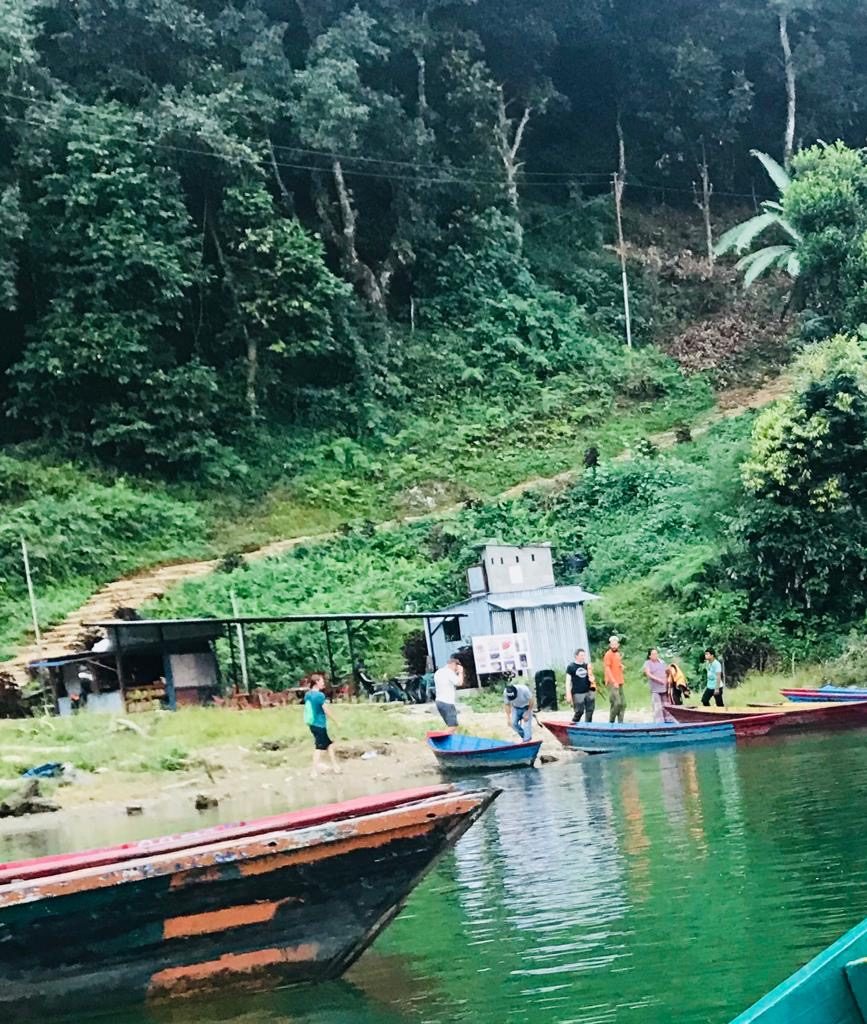 We hired a Boat and reached the other side of the lake from where the trek to the Stupa starts. After reaching, we started with our trek. The signs to the way up to the Stupa are very clearly marked and there are quite a few number of cafés on the way for refreshments. On our way up to the hill the scene was just like the drawing we all used to make in our childhood – Mountains in the backdrop with a river flowing and lush greenery all around.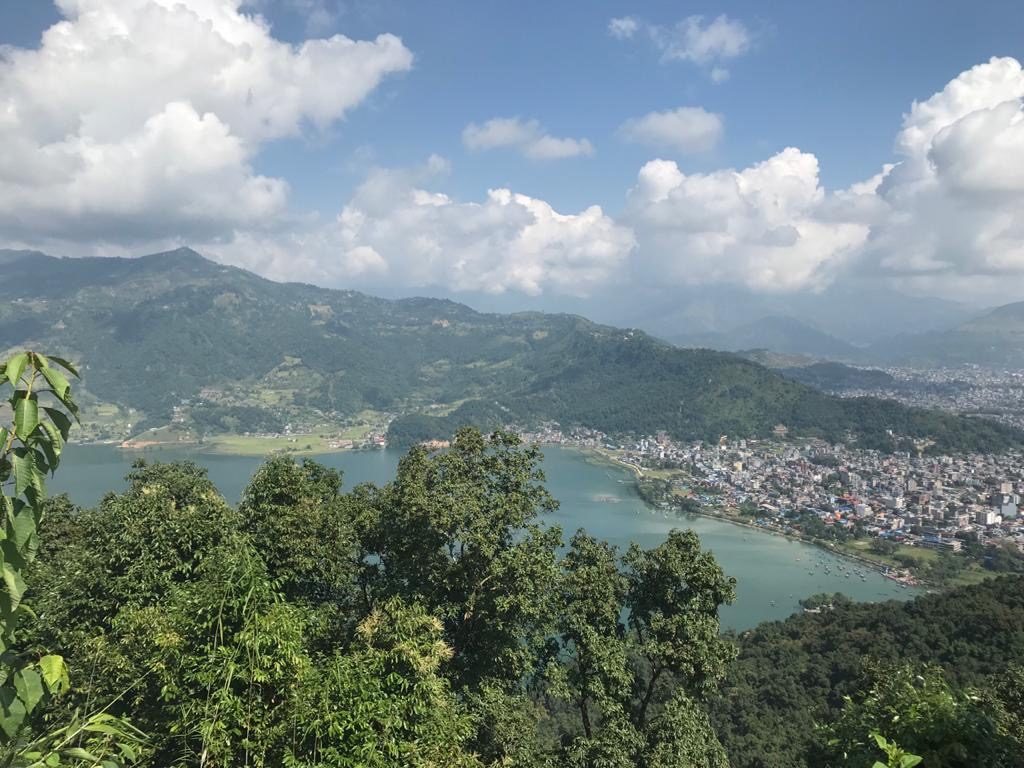 We finally arrived at the beautiful Buddha Stupa. After spending some time here at the hill top we then strolled down to the point where the boat had dropped us. Our boat man was kind enough to wait for us until we returned. He then took us back to the lake side. The return boat trip cost us 1000 Nepali Rupees. It is important to know that the Stupa closes by 5:00 PM so one should plan the trip accordingly.
Dinner/Shopping/Massage at Pokhara
After reaching back to the hotel, we relaxed for some time and then went out for dinner. We tried the authentic Nepali Thali at Dahlia Boutique Hotel and it was simply amazing.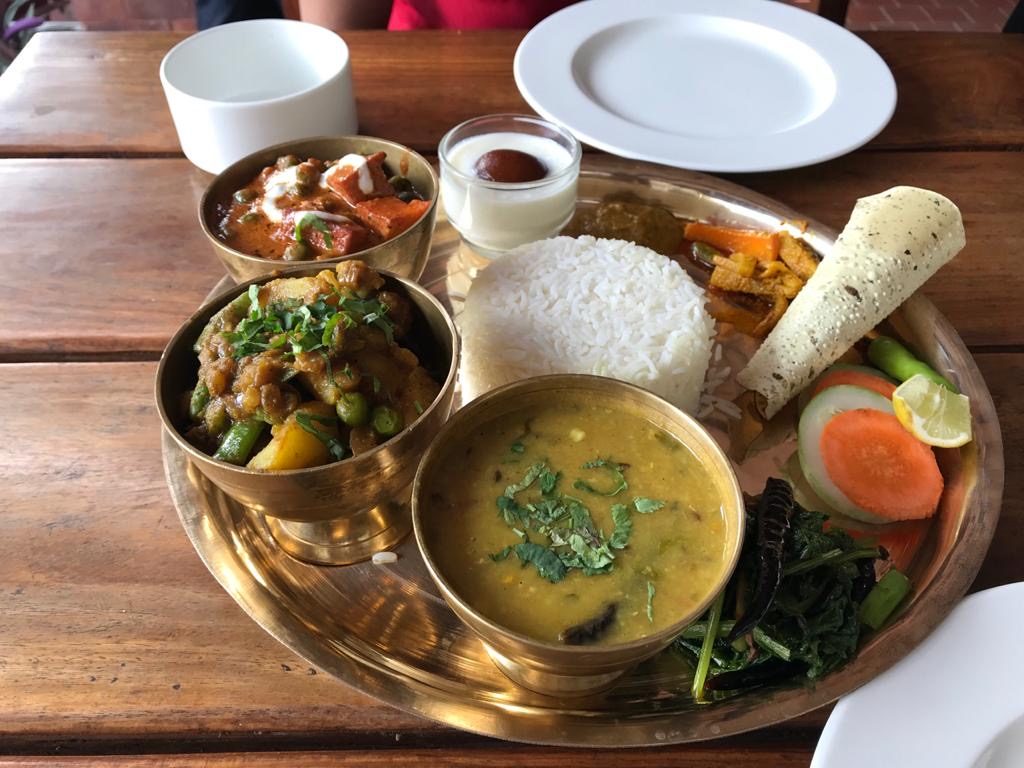 Later, we also tried Ayurveda Massage at Moonlight Resort and Spa at the lakeside. It was expensive compared to other Spa's but it was totally worth it. In order to get your massage done, it is very important to book it 3-4 hours in advance or one day in advance like we did. Also, Pokhara lake side is full of various massage parlours. Not all of them are good. It is really important to get into the right one.  Ask for suggestion from locals or hotel staff for the right one.
Following are some of the popular Spa's at Pokhara Lakeside with good ratings –
Jiva Spa and Cafe
Dreams Spa
Tranquility Spa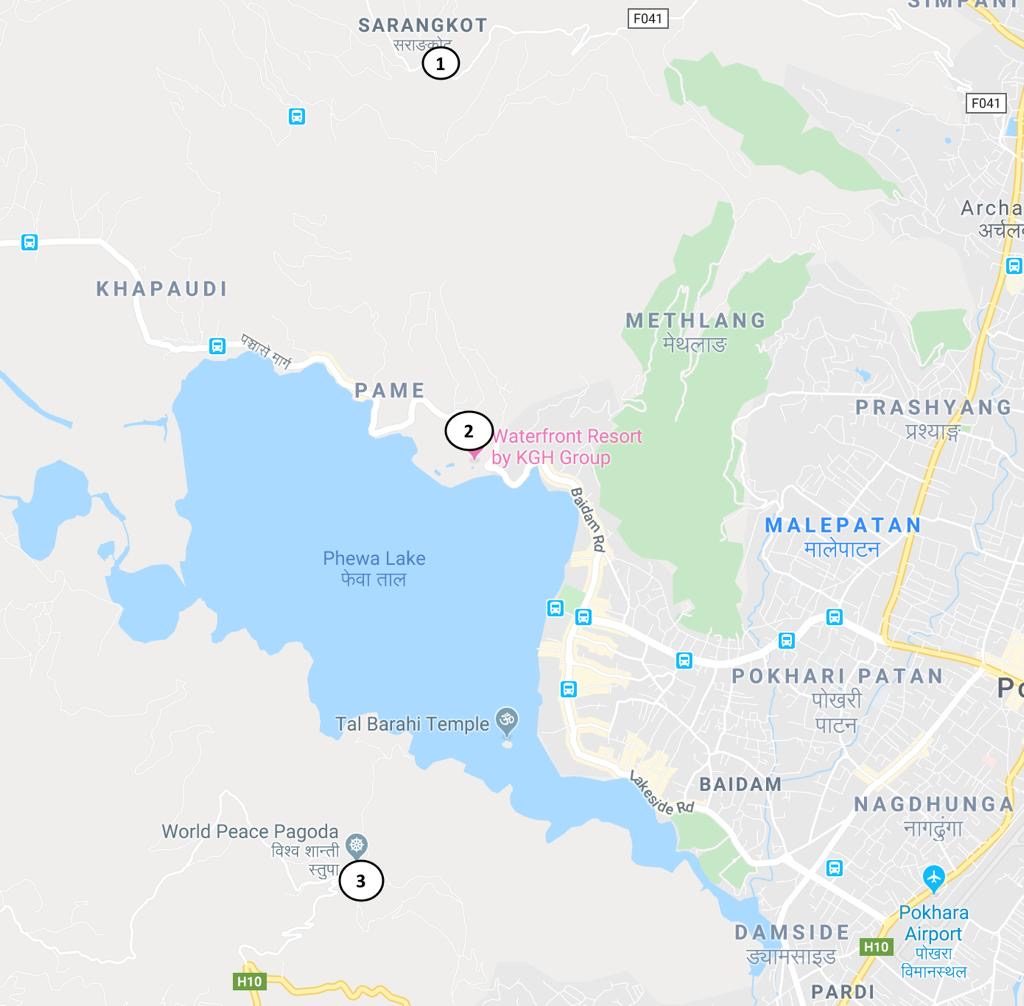 05:00 AM: Going to Sarangkot for Sunrise view
08:00 AM: Back to Hotel
01:00 PM: Lunch at Hotel 
02:00 PM: Boat Ride to the other side of the lake where trek for Shanti  Stupa starts
03:30 PM: At Shanti Stupa
05:30 PM: Boat ride back to the Lakeside
06:00 PM: Back to Hotel
08:00 PM: Dinner at Dahlia Boutique Hotel 
09:00 PM: Ayurveda Massage at Moonlight Resort and Spa
More about Pokhara: 
If you find this blog '3 Day Trip to Pokhara' interesting, please share the link of the website/blog with your family and friends. If you have any comments or suggestions – please do write in the comments section below.
Need regular dose of travel information, planning and update on new blogs, please like my page on Facebook.
Need regular dose of travel shots – follow my page on Instagram