ABOUT MUKTESHWAR
A 2 day trip to Mukteshwar is a perfect short refreshing break from daily chores of life. It can be easily planned as a weekend trip from all major cities in North India.
Mukteshwar is a small, quiet and beautiful hill station of Nainital District, Uttarakhand sitting on the lap of Kumaon Hill at an elevation of 2171 meter above sea level. It is named after 350 years old Lord Shiva Temple – Mukteshwar Dham, which is the most visited place in Mukteshwar. Other attractions in Mukteshwar includes the amazing sunset point at Chauli ki Jali and the thrilling Bhalughad Waterfall. Distance of Mukteshwar from Nainital is just 51 kms.
The road route from Nainital to Mukteshwar is absolutely splendid with lush greenery and beautiful view of the hills on all sides. This place is a perfect getaway for a short break with a group of friends or family. It is not at all commercialised like other hill stations, therefore, an ideal location for people looking forward for a different and unique experience.
DURATION FOR MUKTESHWAR TRIP
This trip is just for 2 days, which is enough to cover major must visit places in Mukteshwar. Trip can be easily extended for more days if some nearby hill stations like Nainital, Bhimtal, Almora etc are combined.
APPROX BUDGET FOR 2 DAY MUKTESHWAR TRIP
Flight/ Train/ Road Trip from India: 5000 – 10,000 INR / Person (70-145 US$)
Hotels: 3000 – 5000 INR / Day (40-75 US$)
Food & Misc Expenses: 3000 – 5000 INR / Person (40-75 US$)
Total Budget: Approx 11,000 – 20,000 INR / Person (160-285 US$)
HOW TO REACH MUKTESHWAR
As I belong to North India, we drove up to Mukteshwar. It took us roughly 9 hours to reach. From New Delhi, it is 335 kms roughly 8 – 9 hours drive. So one can plan to reach Delhi and from there, can hire a car up to Mukteshwar. There are other modes of transport also available to reach Mukteshwar. The nearest Railway Station is Haldwani – 63 kms from Mukteshwar. Nearest Airport is Pantnagar, which is 100 kms from Mukteshwar, whichever suits one better.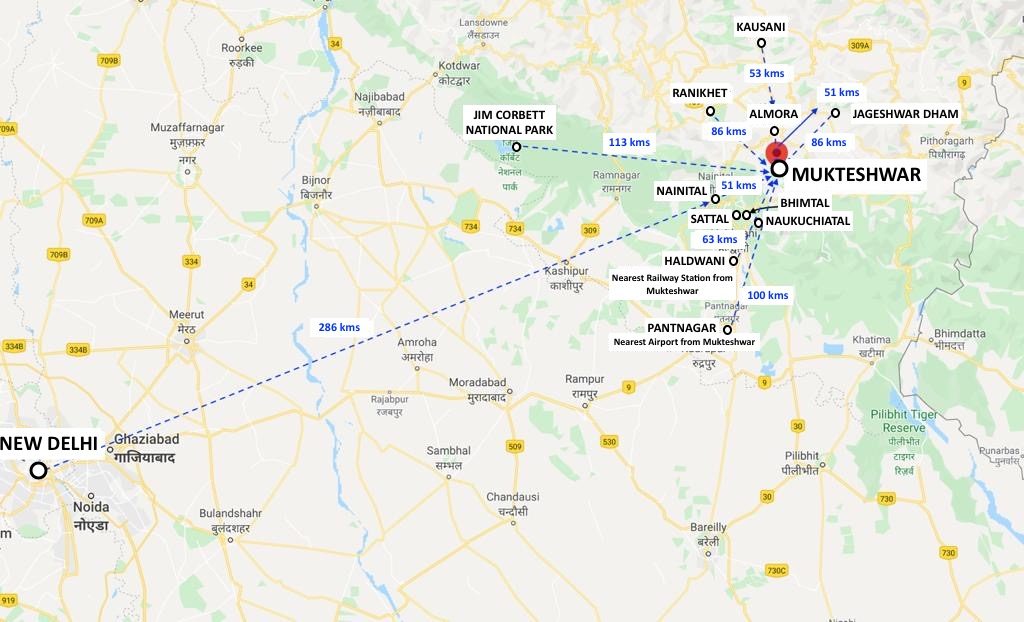 BEST TIME TO VISIT MUKTESHWAR
The best part about Mukteshwar is that it is can be visited all round the year. During winters, one can witness heavy snowfall. During summers, the weather is cold and pleasant, with lots of greenery. Sep and Oct are also good months to visit, as it is usually quiet around this time and the temperature is also pleasant.
WHERE TO STAY IN MUKTESHWAR
Since the weather in Mukteshwar is always cold, none of the Hotels have air conditioners or fans. There are various small Boutique Hotels and Resorts to choose from in Mukteshwar. Following are some of the good hotels to consider for stay in Mukteshwar –
This hotel is located in Sitla Village, 9 kms ahead of Mukteshwar Temple. This high-end resort is an ideal place to see the Himalayan range right from the bedroom. It is a beautiful property with cozy warm rooms, friendly staff and delicious food. The property has a small kids play area and facility for many indoor games. View of hills and the Himalayan range is magical from this resort.
Price: 6000 – 8,000 INR/Day (80-105 US$)
This fabulous resort is very much centrally located in Mukteshwar. Mostly all the rooms have big balconies with a majestic view of the Nanda Devi Mountain Range. Resort also provides Yoga and Meditation classes, which is worth attending. It has amazing food and very nice staff.
Price: 4500 – 6000 INR/Day (US$ 60-80)
This new Resort in Dhanachauli Village offers amazingly beautiful view of the hills and the Himalayan mountains range from the resort premises as well as from the room balconies. Rooms were very spacious,  clean, cozy and warm. The resort also offers few indoor games like pool, table tennis etc. There is an arrangement of bonfire everyday in the resort's garden area.
Price: 4000 – 5000 INR/Day (US$ 60-65)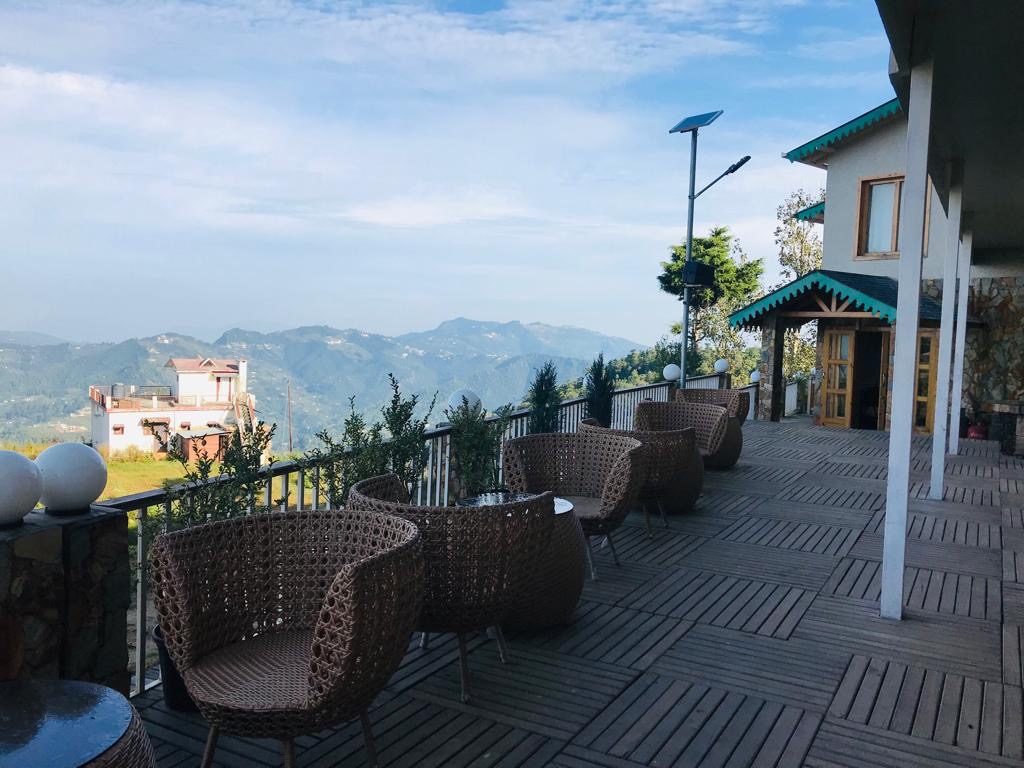 It is a beautiful home stay kind of a hotel, surrounded by fruit orchards and lush green valleys. View of the Himalayan peaks and hills are spectacular from this hotel. Because of the fruit orchards, you can spot numerous varieties of birds chirping here in the garden and near by hills. Food is delicious here and the service of the staff is outstanding. There is even a beautiful glass house in the hotel premises.
Price: 3500 – 4500 INR/Day (45-60 US$)
PLACES TO VISIT IN MUKTESHWAR
Mukteshwar is relatively a small place and just 1 day is sufficient to cover it. Most commonly must visit place is Mukteshwar – Lord Shiva Temple, which is situated on the hills. It is roughly a 15 mins trek to reach this temple. This trek is totally worth it as it offers an amazing view. Another is Chauli ki Jali, which is very close to Mukteshwar Temple. Lastly, is the beautiful Bhalughat waterfalls. It takes 30 – 40 mins trek to reach this waterfall. Apart from this you will enjoy the greenery Mukteshwar offers. Enjoy the quiet sunset while sipping tea and local maggi and pakoras. Eat Butta and local delicacy – Bhaat ki Daal with rice, Rajma Chawal etc and enjoy the peaceful night on the hills with Bonfire.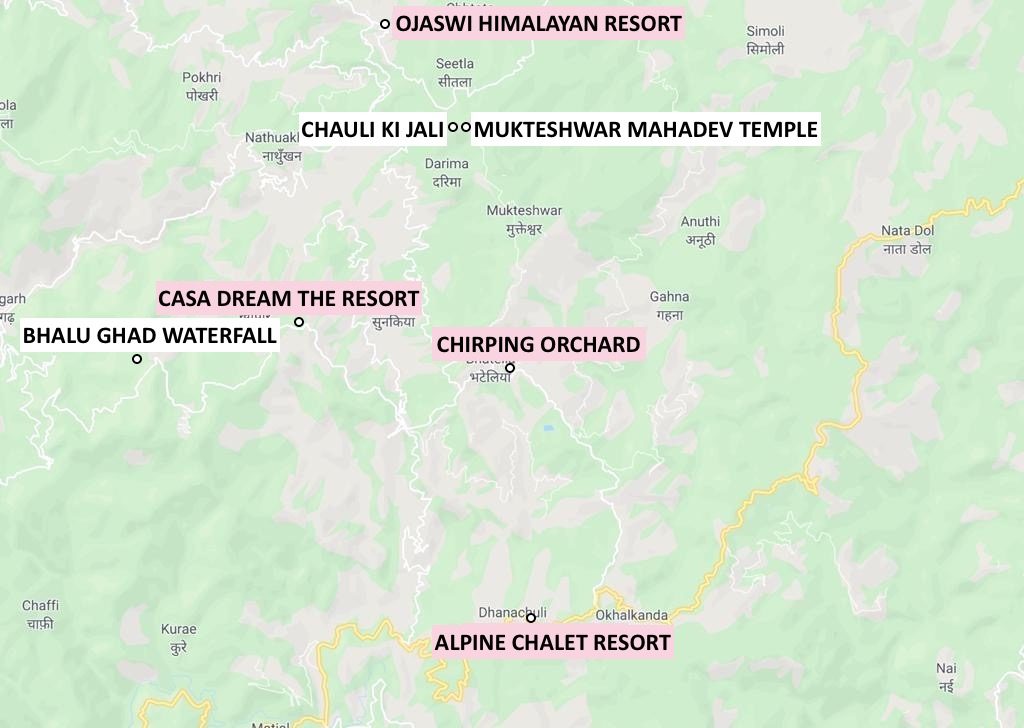 TIPS FOR MUKTESHWAR TRIP
One can easily combine Mukteshwar trip with Jim Corbett National Park (113 kms from Mukteshwar), Nainital (51 kms from Mukteshwar), Bhimtal (46.3 kms from Mukteshwar), Naukuchiatal (46 kms from Mukteshwar), Ranikhet (86 kms from Mukteshwar), Almora (51 kms ahead of Mukteshwar), Jageshwar (86 kms ahead of Mukteshwar) and Kausani (100 kms ahead of Mukteshwar).
Please carry good sport shoes to Mukteshwar as one has to trek a lot to reach Mukteshwar Temple and Chauli ki Jali and even a longer trek to reach Bhalughat waterfalls.
Enjoy the local delicacy – Bhaat ki Dal with Rice, Kadi Chawal, Rajma Chawal,Paradi Maggi, Momo's etc on local stalls.
Please get fuel filled in your car before reaching Mukteshwar. Last petrol Pump is at Bhimtal. There are no petrol pumps in Mukteshwar. Same goes for alcohol – better to buy and stock it in advance.
If you want to enjoy snow, visit Mukteshwar from late December to Mid Feb.
Of course carry proper winter wear, as this place is cold, all round the year.
2 DAY TRIP TO MUKTESHWAR 
DAY 1: Reaching Mukteshwar, Bhimtal Lake, checking in Hotel and enjoying sunset of Dhanachuli.
DAY 2: Mukteshwar Temple, Chauli ki Jali and Bhalugaad Waterfall
DETAIL ITINERARY FOR 2 DAY TRIP TO MUKTESHWAR
DAY 1: Reaching Mukteshwar, Bhimtal Lake, checking in Hotel and enjoying sunset of Dhanachuli
We started our long road trip at 5:00 am early in the morning. Advantage of leaving early in the morning was that we covered a lot of distance without much traffic. Usually the highways get heavy traffic during the day time. We halted on the way for quite a few times for tea and snacks. We witnessed the beautiful lake of Bhimtal, which was on our way to Mukteshwar. From Bhimtal to Mukteshwar, the entire journey is full of breathtaking views of the hills, forest areas and patches of small lakes.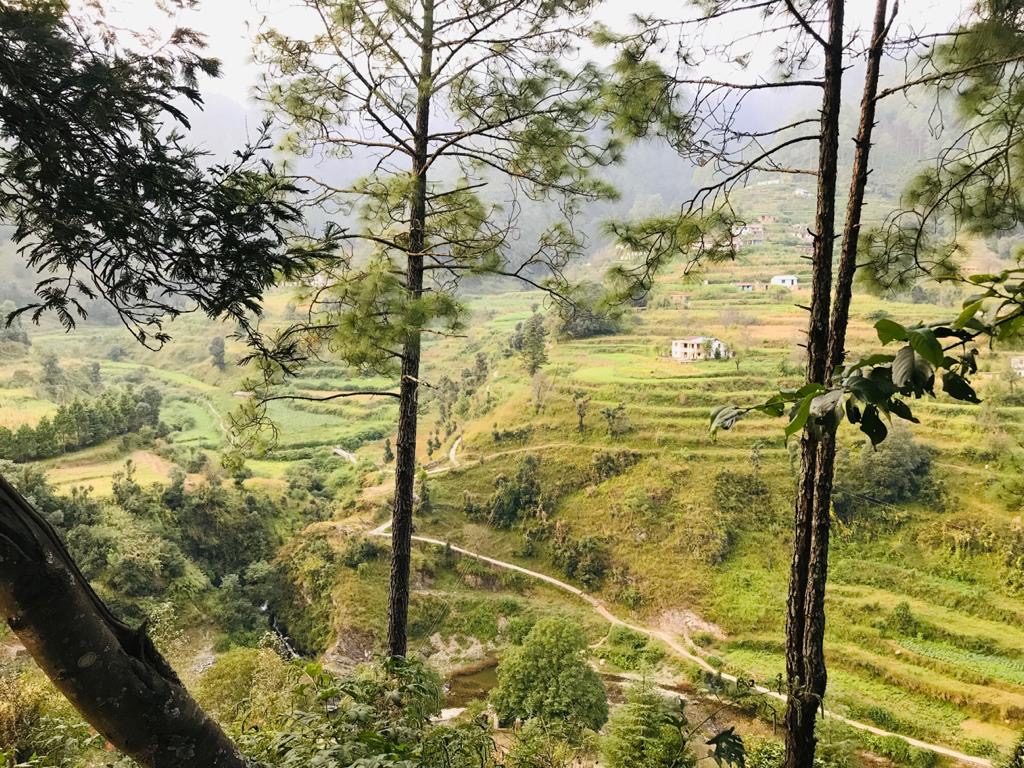 The roads were good and it was a joyous experience enjoying the cold breeze and the smell of fresh green trees. We reached Dhanachuli area where our hotel was situated.
After reaching our Hotel, we got into our cozy wooden rooms and relaxed for some time. It was now close to sunset, so we quickly grabbed tea mugs and snacks and went up to the hill, which was right outside our Hotel. There we enjoyed the splendid sunset. It was one of the most beautiful sunsets I have ever witnessed – the reddish orange clouds, the descending fog flowing in and the beautiful view of the green hills.
After enjoying the beauty of the nature for sometime, we went back to our hotel. Later we had dinner at the hotel restaurant and then called it a night.
05:00 AM: Leaving for road trip to Mukteshwar (approx. time 9-10 hours)
04:00 PM: Reached Mukteshwar
06:00 PM: Enjoying Sunset on the cliff outside the Hotel
08:00 PM: Dinner at the Hotel Restaurant
DAY 2: Mukteshwar Temple, Chauli ki Jali and Bhalugaad Waterfall
Our Hotel room balcony had a beautiful hill view on the front and on the right side one could see the snow clad White Himalayan Mountains, if the skies are clear. We got up in the morning and sat on the balcony to enjoy this morning bliss. Then we got ready and went for Breakfast. After having a stomach full breakfast we got into our car for a full day adventure.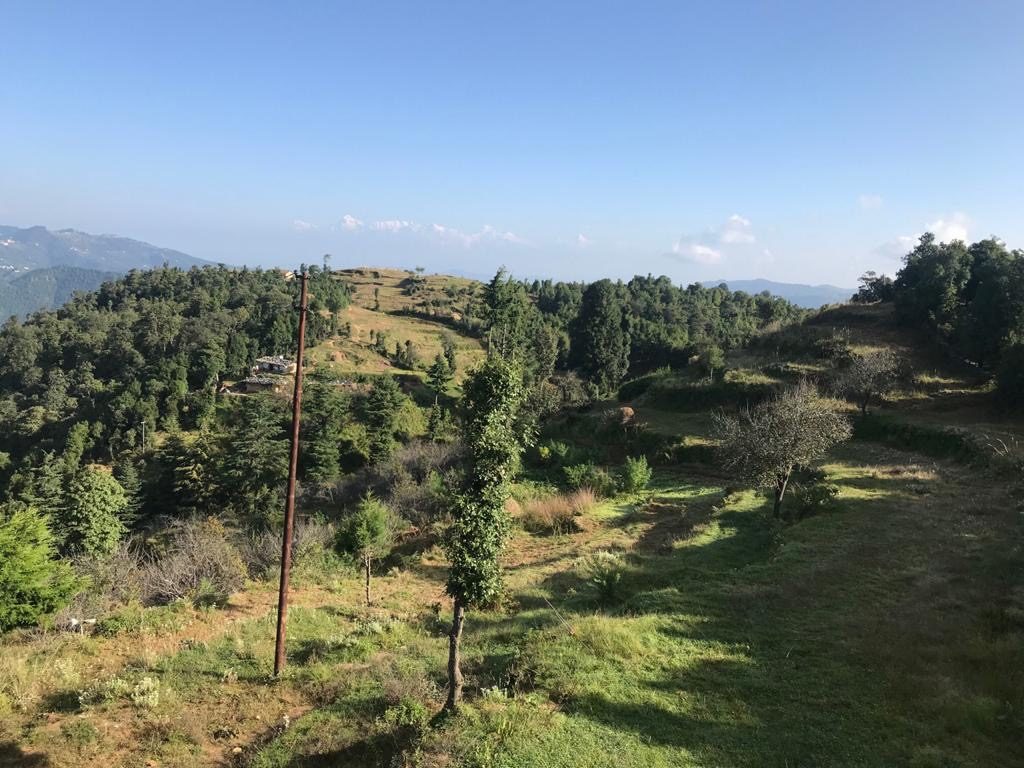 Mukteshwar Dham Temple
We started with Mukteshwar Temple. This is a very sacred ancient temple of Lord Shiva around 350 years old. It is one of the 18 main temples of Lord Shiva. The entire route from entrance gate to the temple is covered with fruit orchards and forest.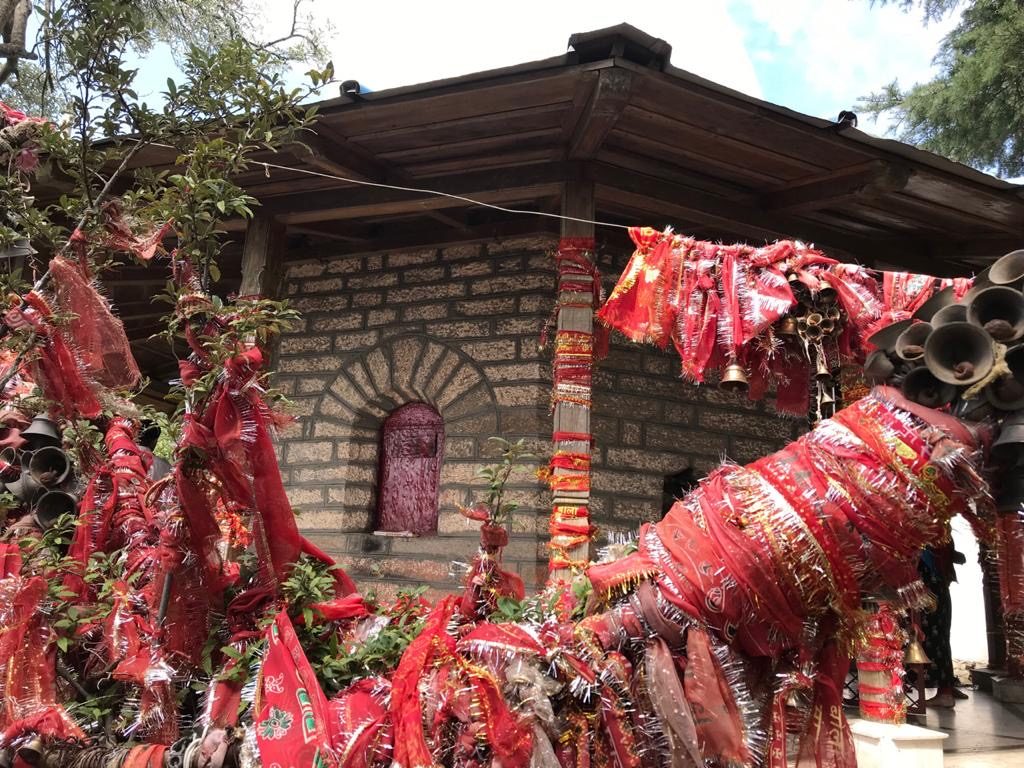 There is no entry fee for this temple. After reaching the Temple, we worshipped the Lord Shiva White Marble Linga. The view of the hills from the temple is breathtakingly beautiful. One can see Chauli ki Jali from here also.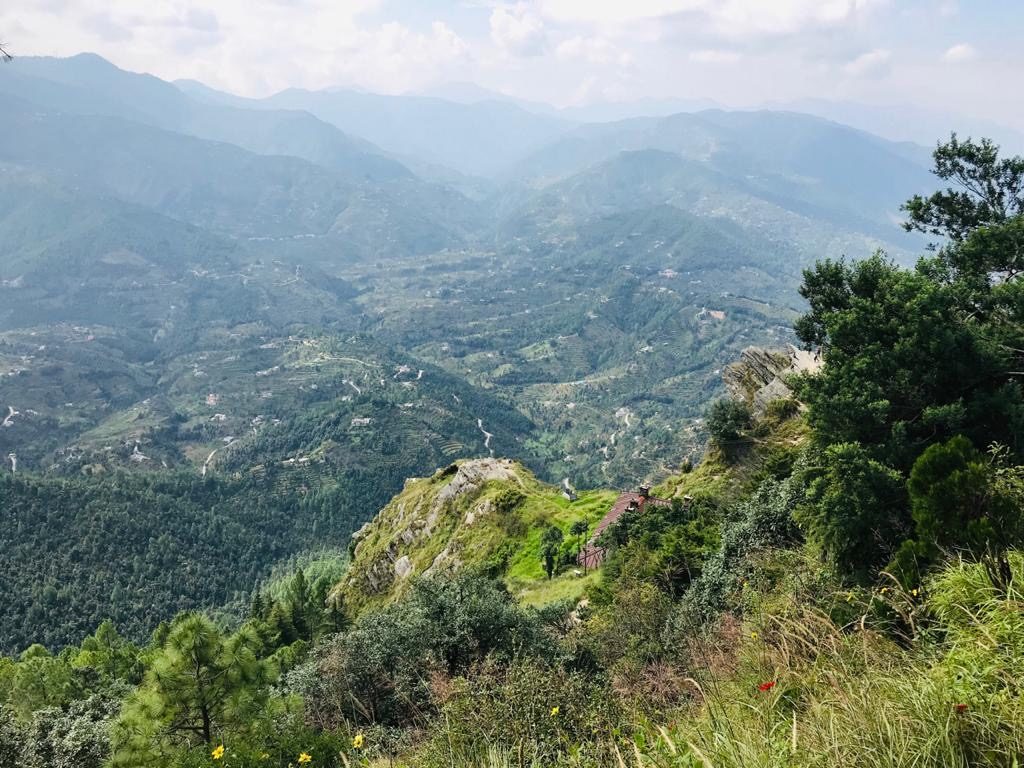 Chauli ki Jali
After visiting the temple, we went to Chauli ki Jali. Entrance gate of Chauli ki Jali was nearby the Mukteshwar temple entrance. Again, there were no entrance fees for Chauli ki Jali. Right at the entrance of Chauli ki Jali gate one can find various food stall selling maggi, pakodas and local delicacies. We enjoyed food at these stalls and then went inside. Chauli is Jali is plain plateau kind of rock formation. Standing on these rocks one can witness the amazingly beautiful hill view. We sat there for some time and enjoyed the view. We then went to explore the hidden lanes at Chauli ki Jali. As we were walking deeper inside, we saw another way for the exit, which was very close to Mukteshwar temple and the route was also shorter.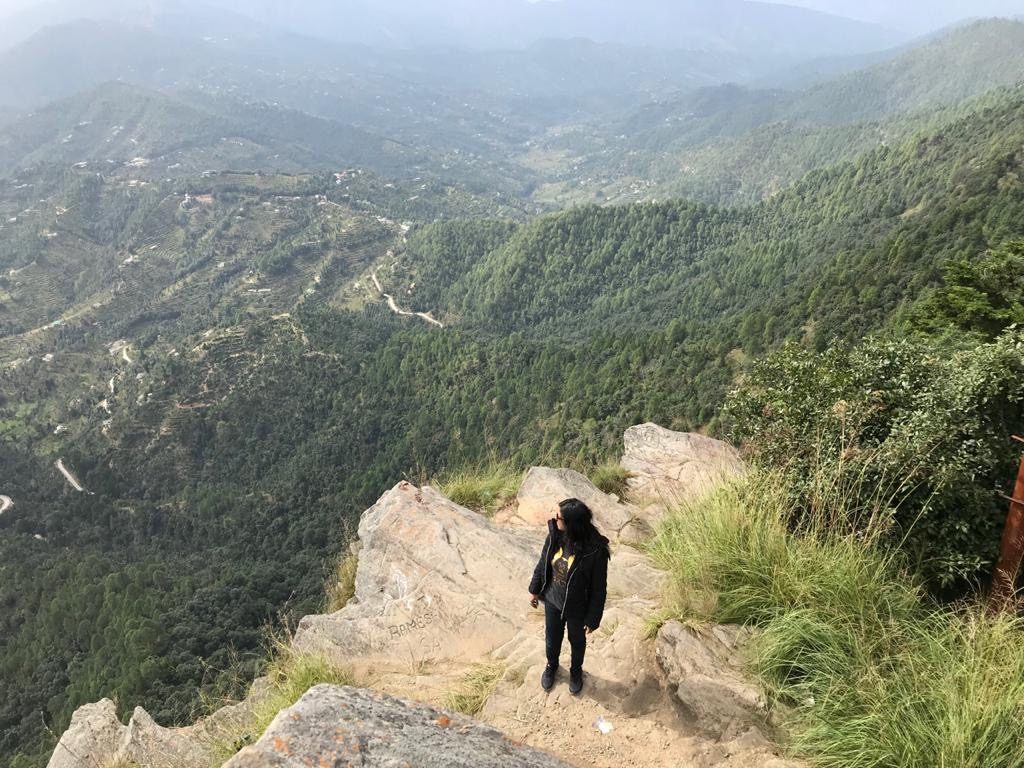 Bhalughat Waterfall
We came out from that route and sat in our car and went straight to Bhalugaad Waterfall. It took us roughly 30 minutes to reach this waterfall entrance. Entry was Rs 20 per person. We trekked for around 30-40 minutes to reach the waterfall. It was a total adventurous trek to reach the waterfall, as we had to climb rocks cross small lakes. We were also enjoying the mesmerizing view and sound of the waterfall all throughout the route.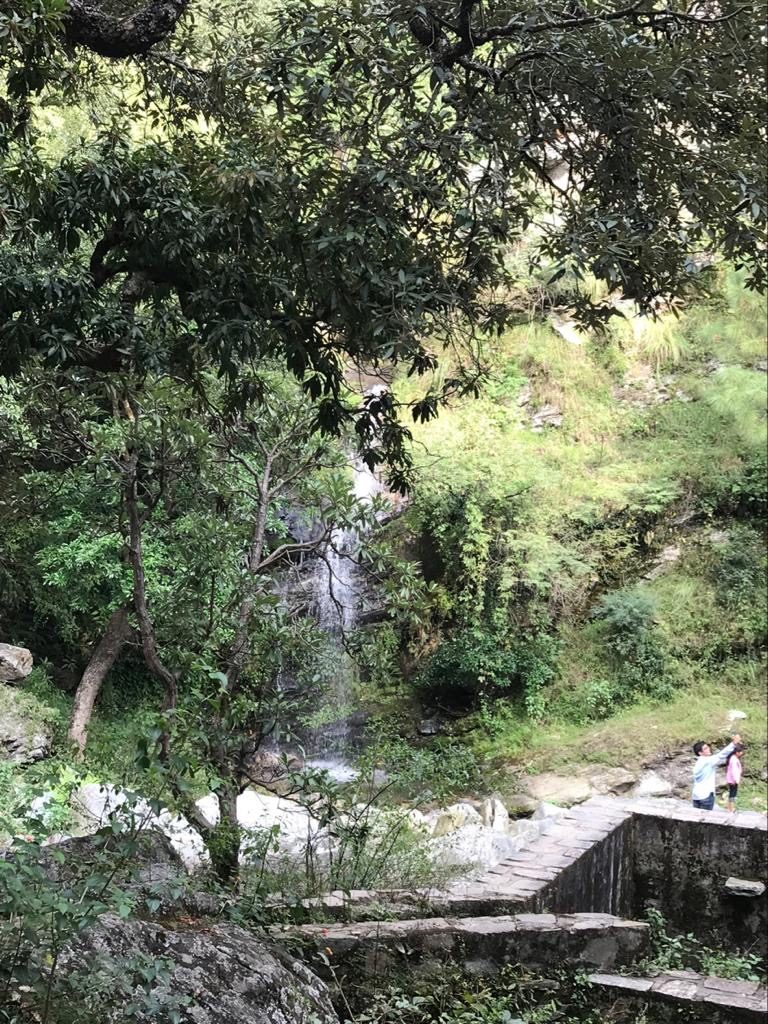 The Waterfall was absolutely splendid. It was huge and many people were enjoying taking a dip in the waterfall. Always bring an extra pair of dress if you want to enjoy taking a dip in the waterfall. After enjoying for sometime, sitting on the rocks with our foot immersed in the water, we started our trek back as it was getting close to sunset and we wanted to reach our hotels before it was total dark.
While going back we spotted a small shack near the waterfall selling hot tea and maggi. We stopped here to munch and then went back towards the entrance gate. After this, we got into our car and went back to hotel. Later we had dinner at the Hotel Restaurant and then we enjoyed some indoor games – pool and table tennis at the hotel itself. Later, we enjoyed sitting till late night in the garden area next to a bonfire. Next day after breakfast we checked out and went back to our cities.
If you find this blog '2 Day Trip to Mukteshwar' interesting, please share the link of the website/blog with your family and friends. If you have any comments or suggestions – please do write in the comments section below.
Need regular dose of travel information, planning and update on new blogs, please like my page on Facebook.
Need regular dose of travel shots – follow my page on Instagram