ABOUT JAPAN TRIP
Japan should be in the must visit list of any traveller. From their high technology to their farms, their culture to their helpful nature, there are so many things people will learn from this country. Japan is the neatest city I have ever visited.  Japan's transportation system is the best in the world and trains were always on time. People were extremely caring and helpful. They were all very gentle and soft-spoken. Here I am sharing an interesting 10 Days in Japan Suggested Itinerary specially for the first timers, which will provide guideline for a trip to Japan – best time to visit, where to stay, how to travel from one city to another, trip budget etc.
Although, 10 days is not enough, I have still tried to cover most of it in short span of time. In my 10 days trip I covered trip to Tokyo, Kyoto and Osaka. Japan is famous for its cherry blossoms and most tourists visit Japan during that period, but I visited Japan around June because of summer vacations. Weather was fine in June but we witness some rainfall. We spent our major time in Tokyo, as it is quite huge and requires a minimum 5 days to cover it completely. Moreover, many day trips can be planned from Tokyo city.  Tokyo is a fashionable city and therefore the city is full of malls and showrooms. Japan is the ultimate Fashion Destination for any fashion lover.
DURATION OF JAPAN TRIP
Japan cannot be covered in a short span of time. A minimum of 10 days is required to understand the country well. I spent most of the time in the Capital City of Japan – Tokyo and then small trip to Kyoto and Osaka.
Tokyo: 6 Days 
Kyoto: 2 Days
Osaka: 2 Days
APPROX BUDGET FOR 10 DAYS TRIP 
Flight (Round Trip from India): $700 – $715 / Person
Hotel: $180 – $220 / Day
Japan Railway Pass: Approx $285 / Person
Food and Transport: $285 – $400 / Person
Entrance Ticket to Various Attractions: $285 – $300 / Person
Approx. Total: $2150 – $2500 / Person
HOW TO REACH / HOW TO TRAVEL WITHIN JAPAN
Tokyo's Narita International Airport is well connected to all major cities of the world. Best is to buy round trip flight tickets to and from Tokyo. Osaka can be an option for one way as Osaka Kansai International Airport also has good international connecting flights. One can reach Tokyo and travel up to Osaka from Tokyo by Bullet train and then take a return flight back to home country from Osaka.
For travelling to Kyoto, Osaka, Hakone or nearby places from Tokyo it is best to use the super fast bullet trains. Make use of amazing JR Pass specially created for all the tourist travelling to Japan. Check out my separate blog explaining all about JR PASS and how it is to be used in the link below.
You can also use public buses but for that you will have to take the help of Google Maps to understand the routes as most of the people commuting in buses might not understand English. Taxis are very expensive in Japan, so try avoiding it as much as possible.
BEST PLACE TO STAY IN TOKYO, KYOTO AND OSAKA
Tokyo – Tokyo is one of the largest cities in the world. There are so many areas in Tokyo, therefore it is real hard to decide on one specially when all of them are worth trying. Moreover, taxis are really expensive in Japan so it is advisable to use Metros for transportation. Find a suitable accommodation at a walking distance from Metro Station, specially JR Stations. Generally, centrally located areas like Shinjuku, Shibuya, Ginza and Roppongi Hills are considered the best for tourist, mainly because they have easy access to all areas. We stayed in Tokyo for 6 days and divided our stay in two very good area: Shinjuku and Roopongi Hills. You can also consider Shibuya in place of Shinjuku and Ginza or Tokyo Station in place for Roppongi Hills.
Kyoto – Downtown Kawaramachi
Osaka – Namba or Umeda
BEST TIME TO VISIT JAPAN
Mar – May & Sep – Nov are considered the best months to visit Japan. Temperature is moderate around this time and rainfall is low. If you want to witness the heavenly beautiful Cherry Blossom, visit Japan between March and May. But this is also the most crowded period to visit. Sep-Nov is autumn season which is also a very nice time to visit Japan as leaves starts to change their colour to golden brown.
MUST VISIT PLACES IN TOKYO, KYOTO AND OSAKA
Tokyo: Meiji Shrine, Shibuya Crossing, Mori Tower Tokyo City View, Hop on Hop off Bus, Mount Fuji Day Trip.
Kyoto: Gion, Arashiyama
Osaka: Dotonbori Street, Umeda Sky Building Observation Deck and Universals Studios
TIPS FOR JAPAN TRIP
Japan is undoubtedly an expensive trip. Even budgeted travellers cannot avoid big expenses. 
Always try to book hotel closer to some good and connected Metro Station specially JR Line Station in order to avoid inconvenience and taxi expense.
Purchase JR Pass (Japan Railway Pass) from Home Country (online) in advance rather than buying from Japan to save money.
You can take International Roaming Plan to enjoy unlimited incoming, outgoing calls and data from home country because SIM cards are very expensive in Japan.
Hotels are very expensive in Japan. Book then at least 2-3 months in advance. Strangely enough, none of the hotels in Japan provide body lotion, so please do not forget to carry one for yourself.
Do compact packing so that you can easily lift your luggage. Touring from city to city and returning, is a task with luggage. With compact packing it will be easier.
Use Metros as much as possible. TAXI's are a big NO as they are extremely expensive.
If wishing to see Mount Fuji, please check the weather forecast in advance. Visit to Mount Fuji should be planned when it is a sunny day with clear skies.
Must try – Japanese Sushi, Ramen, Macha Ice-Cream etc.
Subway routes and lines are very very complex in Tokyo. Understand the Metro Map and Routes beforehand, else one will definitely get lost in the big metro stations of Tokyo. Make Google Maps / Google Translate your Best Friend.
Be prepared to walk a lot, specially in Tokyo as Taxi's are extremely expensive.
Frequency of Bullet train from Tokyo to Kyoto, Kyoto to Osaka etc is very good so one need not worry about not getting one on time. You can also prebook all these tickets as soon as you reach Japan from any one of the various JR Stations.
FASCINATING THINGS ABOUT JAPAN
Pets (Dogs and Cats mainly) are very common in Japan. It is said that there are more number of pets in Japan than Children. It was so lovely to spot dogs in prams wearing stylish clothes. Japanese love pets like their own kids. 
Corner of roads and streets were decorated with huge baskets of flowers making them look very beautiful.
Japan has very little land mass. Hence, they utilize it quite intelligently. Buildings are high-rise and have multi level underground floors as well. It is quite fascinating to see how amazingly they utilize their spaces.
Even though there weren't any bins on the roadsides, one cannot spot any litter on the roads.
Construction and architecture was worth admiring.
The washrooms were extremely advanced compared to any place in the world. Bathtubs had options to control water temperature and pressure. Everything was automated. Even commodes had electrical plate besides it to control water pressure, flush and to use different sprays for different purposes.
Every restaurant has mock dishes displayed outside along with description and prices. The mock dishes look so real that it can easily be confused for real.
Trains system was undoubtedly the best. Extremely advanced bullet trains were worth travelling.
Japanese are very soft spoken and polite people and we hardly heard anyone talking loudly. They are very well behaved, extremely helpful and respect tourists.
We hardly saw anyone obese in Japan. No doubt they are known as the healthiest people in the world and it was quite evident.
Most of the Hotels in Tokyo are very compact compared to any other city in the world. But it is very interesting to see how they utilise and manage everything in such small spaces. Every nook and corner of the room was usable and had 100% utility.
10 DAYS IN JAPAN SUGGESTED ITINERARY 
1st Day: Tokyo – Exploring Shinjuku, Gyoen Park, Tokyo Metropolitan Government Building for Free Observation, Robot Restaurant
2nd Day: Tokyo – Meiji Shrine, Harajuku Market/Takeshita Market, Hachiko Memorial Statue, Shibuya Crossing, Gonpachi Restaurant
3rd Day: Tokyo – Hop On and Hop Off Bus One-Day Pass – Asakusa- Sensoji, Tokyo Sky Tree, Tokyo Tower, Ueno Park, Akihabara, Ginza, Roppongi Hills, Odaiba
4th Day: Reaching Kyoto, Gion and Hanamikoji Street
5th Day: Kyoto – Arashiyama Area – Bamboo Grove, Kameyama Park, Tenryu Ji Temple, Togetsu Bridge and Monkey Park Iwatayama
6th Day: Osaka – Reaching Osaka, Osaka Castle, Hozenji Temple, Dotonbori Street and Umeda Sky Building Observation Deck
7th Day: Osaka – Universal Studios
8th Day: Reaching back Tokyo, Exploring Ginza, Roopngi Hill – Mori Art Museum and Tokyo City View
9th Day: Tokyo – Day Trip to Hakone
10th Day: Tokyo -Tokyo Disneysea
10 DAYS IN JAPAN DETAIL ITINERARY
DAY 1: Tokyo – Exploring Shinjuku, Gyoen Park, Tokyo Metropolitan Government Building for Free Observation and Robot Restaurant
Reaching Shinjuku from Narita Airport
Our trip started as soon as we landed at Narita Airport. Narita Airport is really far (approx 70 kms) from main Tokyo City. After landing, we bought the JR Narita Express Pass (NEX) up to Shinjuku Station for 3250 YEN/Person from Narita Airport (from JR Counter). Narita Express (NEX) is the best and the fastest way to reach Tokyo from here. It runs every half an hour and takes roughly 1 hour to reach Shinjuku.
We could have used our JR Pass as Narita Express (NEX) is included in JR Pass but as we had 7 Days pass, we decided to activate it on the 4th Day.  There are various other lines apart from Narita Express, which are a little cheaper like JR Sobu Line, Keisei Limited Express, Keisei Skyliner, Limousine Bus etc to reach the main Tokyo City but some of them have very limited connections and some take a really long time to reach. Taxi is a BIG NO option because it will cost approx 25000 YEN. Check out all possible ways to reach Tokyo from Narita International Airport along with prices, route and frequency etc from www.japanguide.com.
After reaching Shinjuku Station we quickly grabbed something to eat from the various food options available at Shinjuku Station. Then we went walking to our Hotel Gracery Shinjuku with the help of Google Maps. It is very important to take the right exit from these big stations of Japan. Shinjuku Station particularly is a huge station even has a shopping complex inside the metro station. Our hotel, Hotel Gracery was just a 5 mins walk from the east exit but if we took a wrong exit it could be very complex and  could have waste a lot of time.
Gyoen Park
After checking it to our Hotel, we relaxed for sometime. After freshening up, we went to see Gyoen Park situated at Shinjuku only, which was a 15 mins (approx 1 kms) walk from our hotel. It was already afternoon, so we had to hurry up to reach Gyoen Park as it closes at 5 o clock. This garden is also closed on all Mondays. Entry price just 500 Yen/Person. This is a big sprawling beautiful Japanese Garden, well maintained and very green. The entire park is divided in various sections. Highlight is the garden is Greenhouse (open  9:30 AM till 4 PM). Visiting the entire park will consume atleast 1 to 2 hours.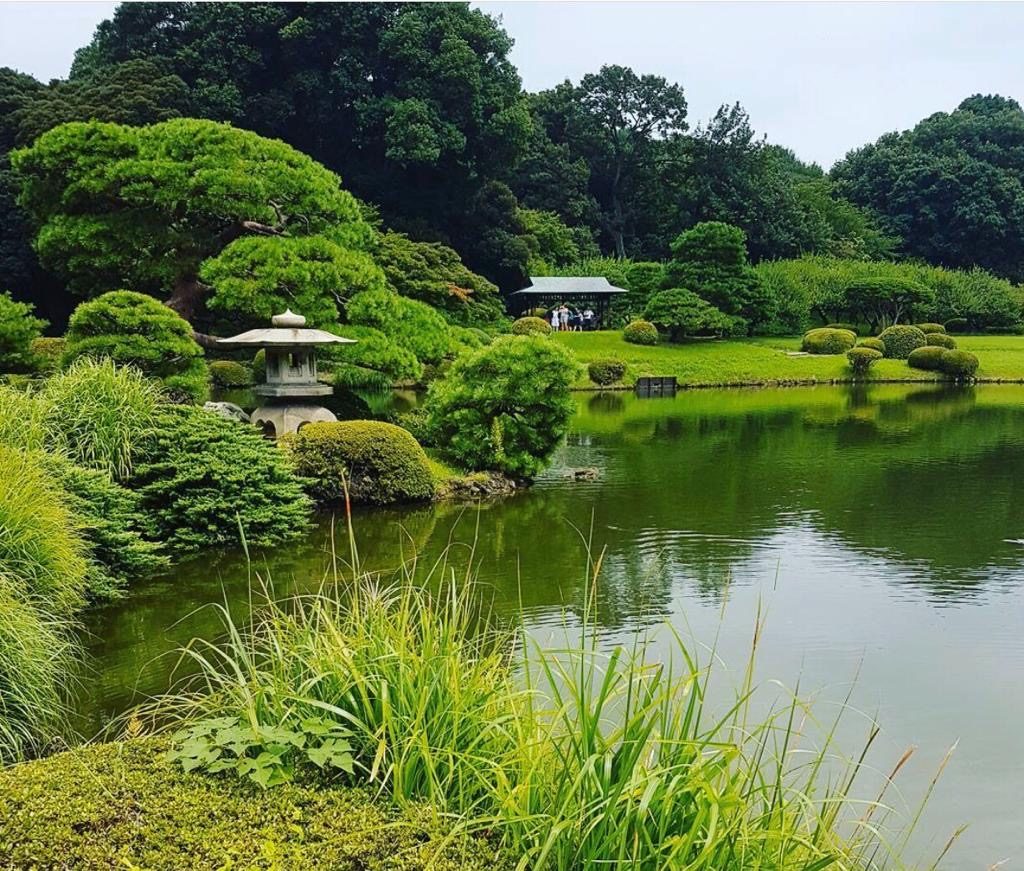 Shinjuku Shopping Market / Tokyo Metropolitan Government Building
After strolling for sometime at the park, we went exploring the Shinjuku Shopping Market. Do not forget to shop at UNIQLO – Japan's most famous value for money apparel store. Looking around at the wonderful shops and buildings we went walking till Tokyo Metropolitan Government Building for its free Observation at 45th Floor (9:30 AM till 11:00 PM). Yes! It was free, although all other observation buildings like Tokyo Sky Tree, Tokyo Tower, Mori Tower Tokyo City View etc. have entry tickets, this one to our surprise was free. Tokyo Metropolitan Government Building is the tallest building in Shinjuku area and therefore the view was splendid as we could see the entire Shinjuku and nearby areas. On a day with clear skies, one can see Mount Fuji very clearly from here.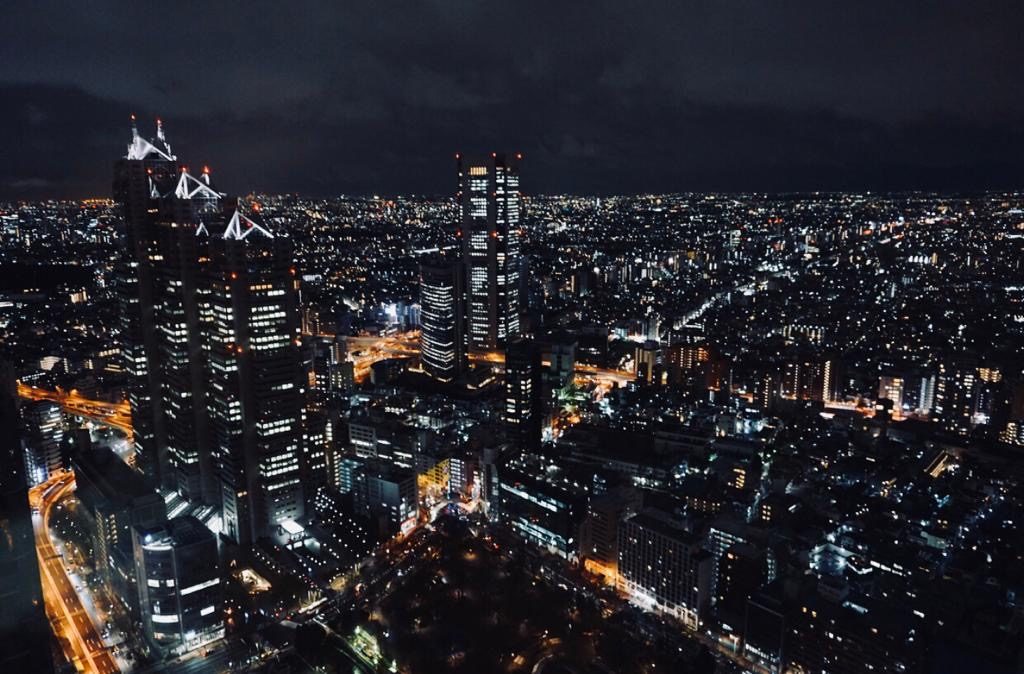 Post this visit, we went to Japan's very famous Robot Restaurant situated in Shinjuku, just a 1 min walk from our Hotel. You can try other restaurants as well, as there was a whopping 8000 Yen entry price for Robot Restaurant. There were some dance shows inside and everything was very glitzy. There are plenty of food options in Shinjuku apart from Robot Restaurant. If it happens to be a Saturday in Shinjuku, you are in luck. Shinjuku is the party hub and has numerous nightclubs, bars and discs.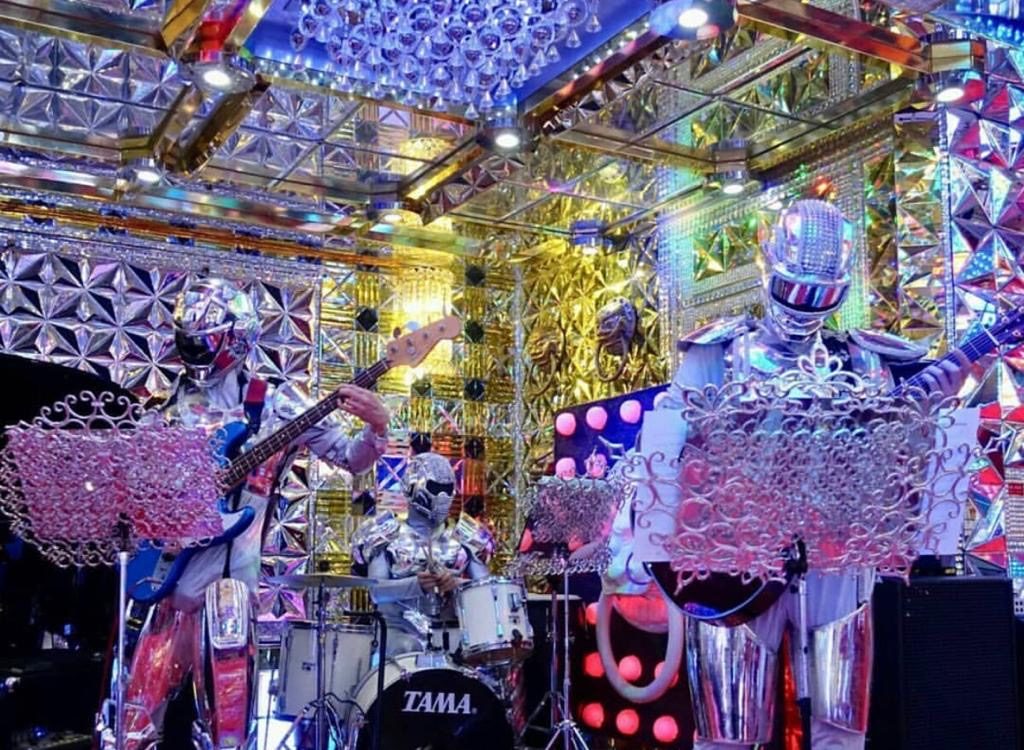 10:00 AM: Landing at Narita International Airport
11:30 PM: Catching Narita Express (NEX) to Shinjuku Station
02:00 PM: Checking in at Hotel Grocery – Shinjuku
03:00 PM: Gyoen Park
05:00 PM: Shopping at Shinjuku Market
06:00 PM: Tokyo Metropolitan Government Building Observation Glass View at 45th Floor
08:00 PM: Dinner at Robot Restaurant Shinjuku
10:00 PM: Back to Hotel
DAY 2: Tokyo – Meiji Shrine, Harajuku Market/Takeshita Market, Hachiko Memorial Statue, Shibuya Crossing and Gonpachi Restaurant
Meiji Shrine
We started this day first with a visit to the Meiji Shinto Shrine in order to experience the Japanese culture. We took a direct metro from Shinjuku Station to Harajuku Station (Yamanote Line) – which had just one stop in between. After reaching Harajuku Station, we went straight to Meiji Shrine entrance, which was just a 3 to 5 mins walk. Meiji Shrine sits right in the middle of the jungle, hence it was a long walk from the entrance to the Shrine, but it was totally mind blowing because of the view of the jungle, parks and the serene atmosphere. There were many food counters as well in this place. We enjoyed many local snacks here.
Harajuku Market/Takeshita Street
After spending a good amount of time here, we went walking up to the Harajuku Market, which is famous for its teenage fashion. The main highlight here is the Takeshita Street, which is a small lane and has many trendy shops, boutiques, food outlets etc. If, one is not at all into shopping or even window-shopping, then they can skip Harajuku and Takeshita Street.
Shibuya
We then went to explore Shibuya – an extremely famous town in Tokyo, known for shopping, food and nightlife. Shibuya is the next station after Harajuku, so we took a direct metro for Shibuya from Harajuku Station.
Hachiko Memorial Statue
As soon as you exit the subway (Hachiko Exit) at Shibuya, you can spot the very famous statue of Hachiko – the dog from the famous movie Hachiko – based on a real life story of the most faithful dog named Hachiko and his infinite love for his master.
The story goes long back when Hachiko was given as a gift to a Professor's (Eisaburo Ueno) daughter. When his daughter got married, the Professor took care of Hachiko all by himself. Hachiko would accompany his master everyday up to Shibuya Station to drop him off and then would come back to the station around his arrival time to pick him up. This goes on for years until one sad day the professor dies of brain haemorrhage while at work. Hachiko, unknown of his master's death, kept on going to Shibuya Station and would wait for his return. Such was athe loyalty of this dedicated Dog.
This went on till not one, two or three but nine long years. A Statue of this loyal dog was created in 1934 on the same spot at Shibuya Station where he used to wait for his master. In 1935 Hachiko died of old age right in front of his statue. He was later buried next to his master. Everyday thousand of people cross and take pictures with this famous iconic statue of Hachiko.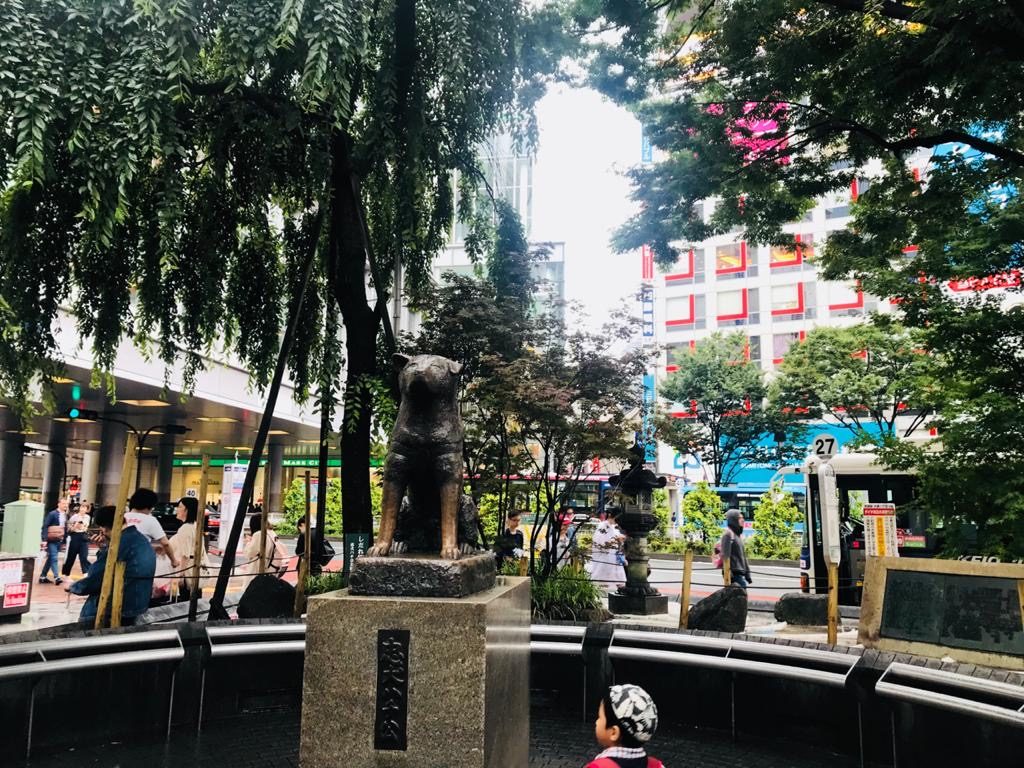 Shibuya Crossing
Don't forget to click a picture here before moving ahead to witness the biggest intersection of the world – Shibuya Crossing, where around 2500 people cross simultaneously at one single time. This crossing is tremendously huge and shows how well planned Japan is.
Gonpachi
After spending enough time exploring the streets of Shibuya we went to Gonpachi – a very famous Japanese Restaurant having 7 branches in the City. We went to the Shibuya branch. It is a huge restaurant, also known as the Kill Bill restaurant because the famous movie Kill Bill starring Uma Therman was shot here. Post this; we headed back to the hotel by taking the metro train from Shibuya to Shinjuku.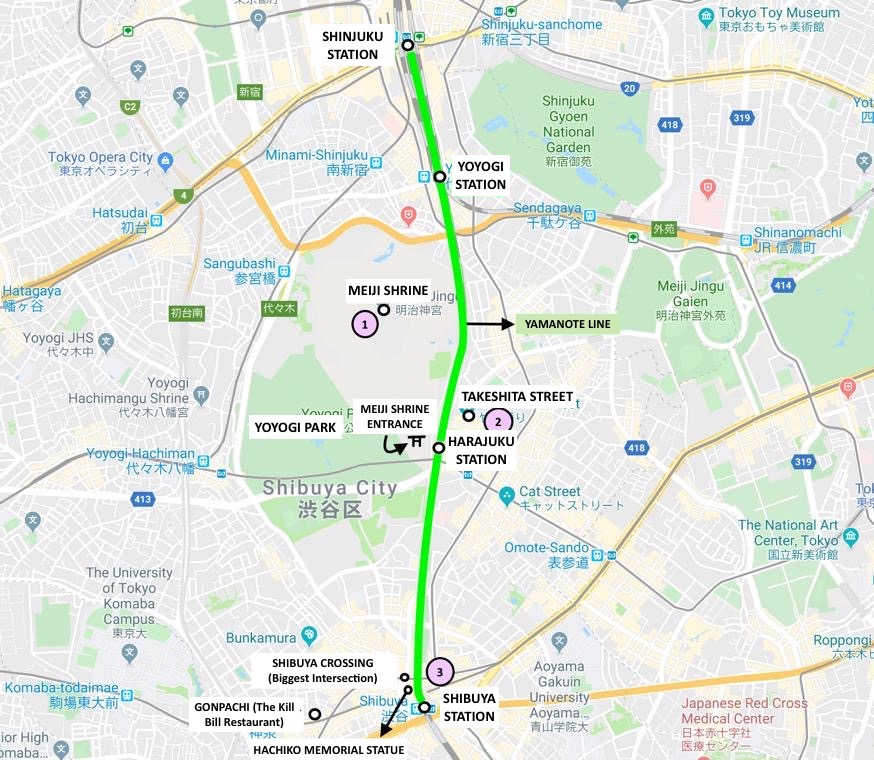 10:00 AM: Leaving from Hotel
10:30 AM: At Shinjuku Station for take metro for Harajuku Station
11:00 AM: Meiji Shrine
02:00 PM: Harajuku Market/Takeshita Market
04:00 PM: Taking Metro from Harajuku Station for Shibuya
04:15 PM: Hachiko Memorial Statue & witnessing Shibuya Crossing
05:00 PM: Exploring Shibuya Market
07:00 PM: Gonpachi – The Kill Bill Restaurant
10:00 PM: Back to Hotel
DAY 3: Tokyo – Hop On and Hop Off Bus One-Day Pass – Asakusa- Sensoji, Tokyo Sky Tree, Tokyo Tower, Ueno Park, Akihabara, Ginza, Roppongi Hills and Odaiba
Sky Hop OnHop Off Bus
As Taxis are very expensive in Japan and it is not possible to cover every nook and corner of the city by metro or on foot, we decided to go for Sky Hop On and Hop Off Bus – open to sky double taker bus with audio guide in English, Japanese, Korean and Chinese language. This is the best way to see the city as these buses covers almost every main attraction the city if Tokyo offers.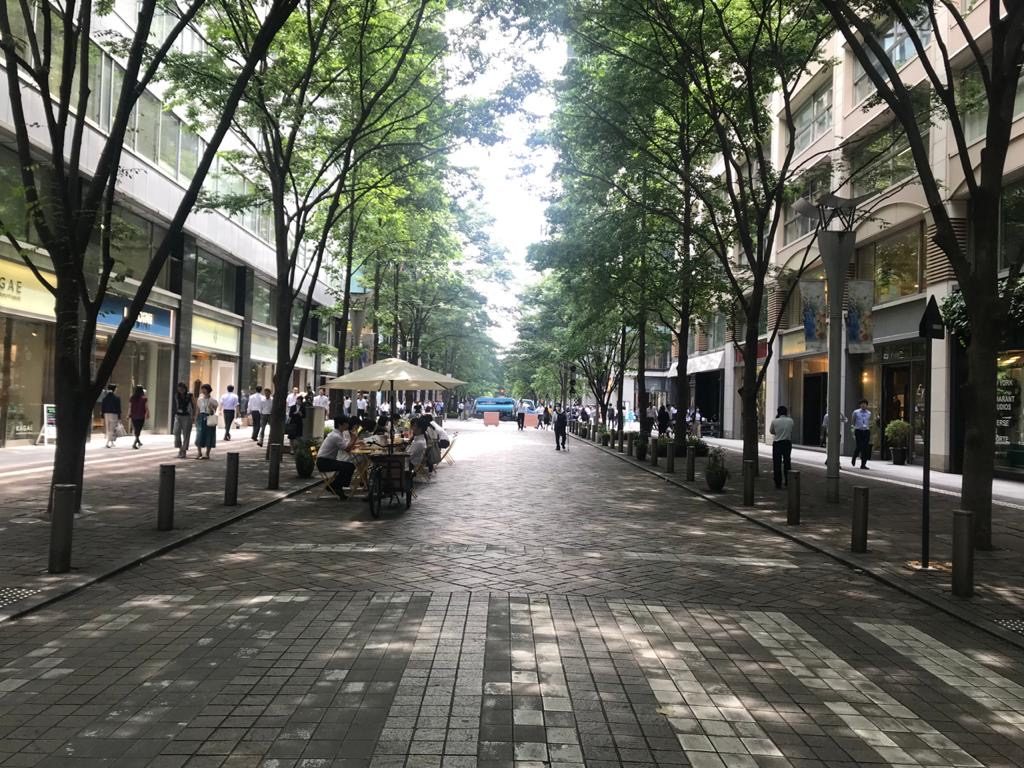 We started our day early by reaching Sky Hop On and Hop Off Bus Counter at the very famous Mitsubishi Building (2 mins walk from Tokyo Station South Exit). For this, we took a direct metro train from Shinjuku Station till Tokyo Station via Chūō Line. If you have 30 mins in hand you can also walk till East Garden of Imperial Palace (Palace where current ruling King of Japan resides), just 10 -15 mins walk from Tokyo Station. This East Garden area of Imperial Palace is open for commoners to visit. 
We took unlimited 24 hours pass covering 3 bus routes – 1. Asakusa – Tokyo Skytree Course 2. Odaiba Course and 3. Roppongi –  Tokyo Tower Course for 2500 YEN/Person.  You can also buy them online one day prior via various online portals like www.klook.com, www.kkday.com, www.expedia.com etc. To utilise this opportunity to the maximum, try to reach at 9:15 AM and catch the first bus departing at 9:30 AM. Last bus runs at 5:45 PM so by reaching early many places can be covered with 1 day pass. I suggest getting down at each stop, enjoy for a while and then catch the next available bus.
Ueno Park
We firstly go on to Asakusa – Tokyo Skytree Course Bus and got down at Ueno Park. This is one of the largest Park in Tokyo with many attractions inside like museums, shrines, food counters, Zoo, kids area etc. This park is open from 9:30 AM till 5:00 PM and this is always closed on every Mondays. This park is very popular during Cherry Blossom season (March to May) as huge number of Cherry Trees sits in this park. Every attraction has an entry price but if you do not want to spend then even the free areas are worth exploring specially the food.
Tokyo Sky Tree
After spending good 1 to 2 hours here, we hopped on the Bus and went to the next stop – Tokyo Sky Tree. On the way, we crossed the amazing Sumida River. Tokyo Skytree is  2nd highest tower in the world after Burj Khalifa and offers an amazing 360° view of the city from the top. On a day with clear skies, one can even spot Mount Fuji from here. Entry ticket is 2060 YEN/Person. Tickets can be bought on the spot or in advance from various portals like www.klook.com, www.kkday.com, www.getyourguide.com etc. If lucky, one can get a 20-30% discount on entry price by buying them online. Always check these tickets one day in advance.
Sensoji Temple
After enjoying the amazing view of Tokyo City from Tokyo Sky Tree we again hopped on next Bus and went to the next spot – Sensoji Temple at Asakusa. We had to walk for 5 mins from our bus stop at Asakusa to reach this famous Buddhist Temple. This is one of the oldest and very famous temple in Tokyo. Here, you can spot Japanese ladies dressed in their traditional attire Kimono and worshipping at this holy Buddhist temple. There are many shops here selling the traditional dress Kimono and many food stalls. A walk around this temple is very interesting as you can see the traditional side of Japan. We enjoyed some of the local food here and hopped back the next bus. If have limited time, you can skip Senso Ji Temple if have already covered Meiji Shrine.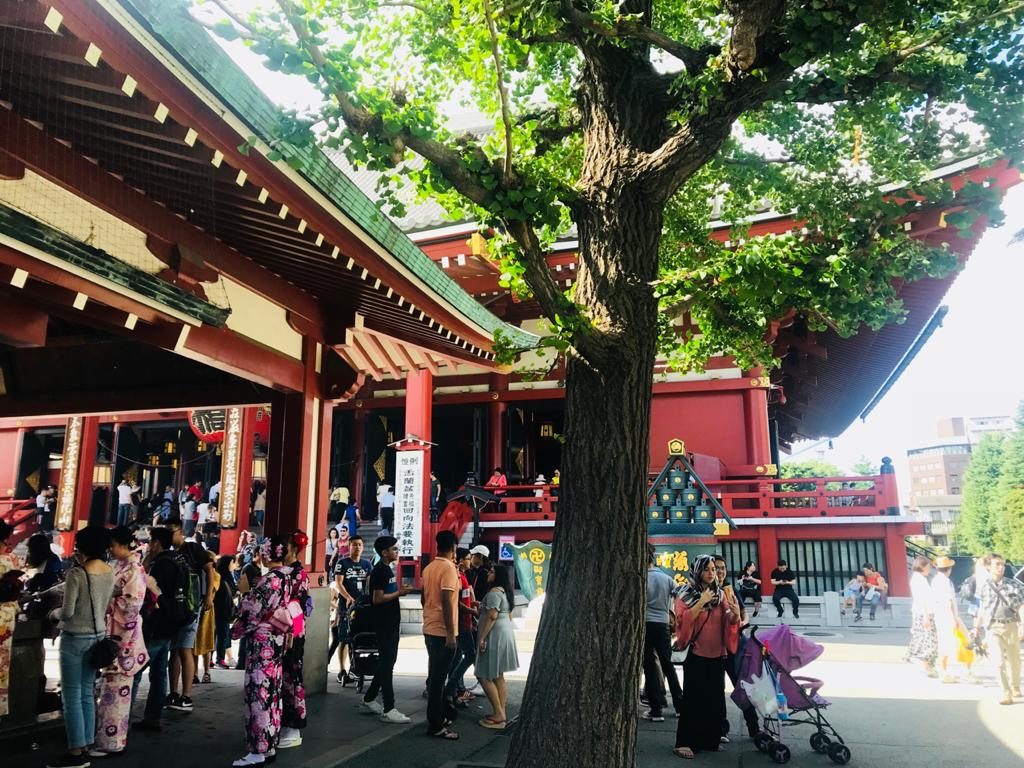 Akihabara/Nihombashi Bridge/ Roppongi Hills/Tokyo Tower
On our way back we saw the extremely famous gadget market Akihabara. This is a huge market and selling almost everything in the name of Gadget. We saw it from the bus only. Get down, if interested in some gadget shopping.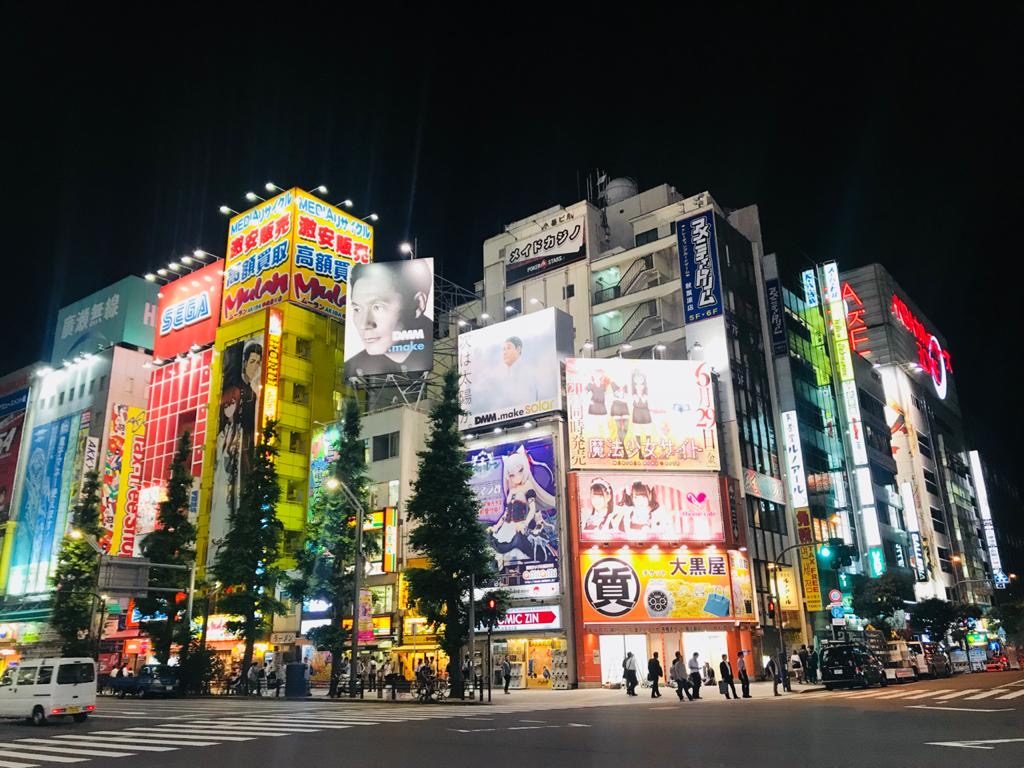 Don't forget to see the famous landmark Nihombashi Bridge on the way from the bus which is said to be the starting point of all the main roads of Tokyo. After this, we got into another Bus Route – Roopongi Tokyo Tower Course. On this trip, did not got get down anywhere and enjoyed everything sitting in the Bus. The highlight of this route was the Roppongi Hills and Tokyo Tower.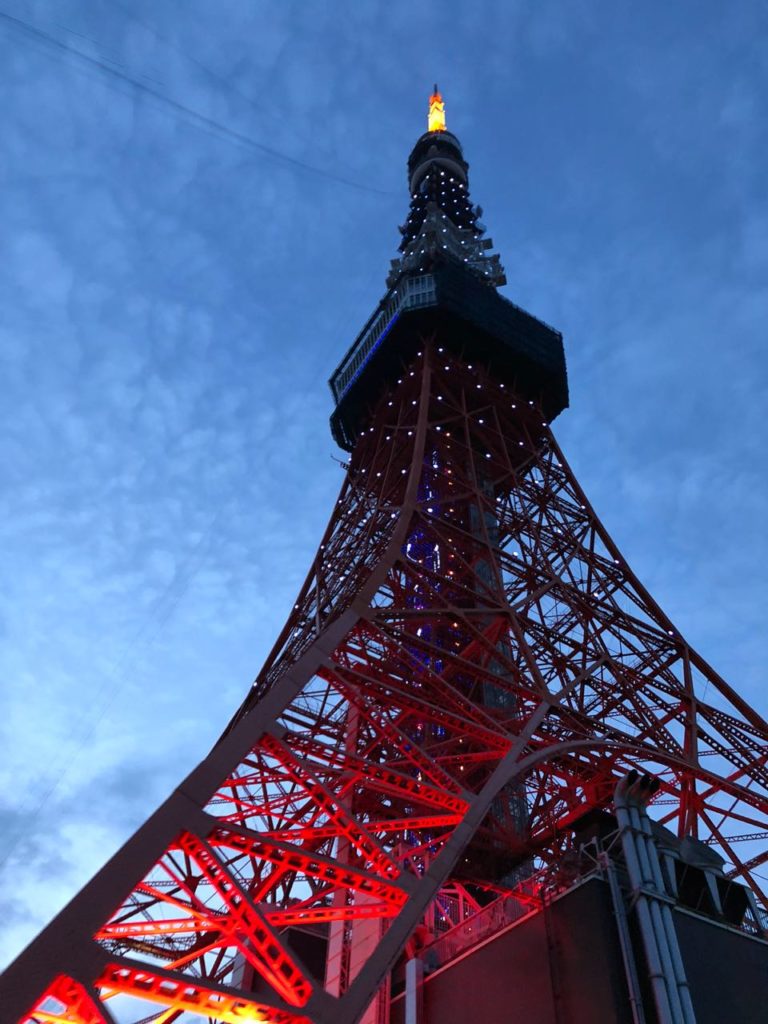 Odaiba/Rainbow Bridge/Ferris wheel/Venus Fort
After this, we got on to the last Bus of Odaiba Course. Odaiba is an artificial manmade Island across Rainbow Bridge. The entire route till Odaiba was very mesmerising specially the view across the Rainbow Bridge over Sumida River.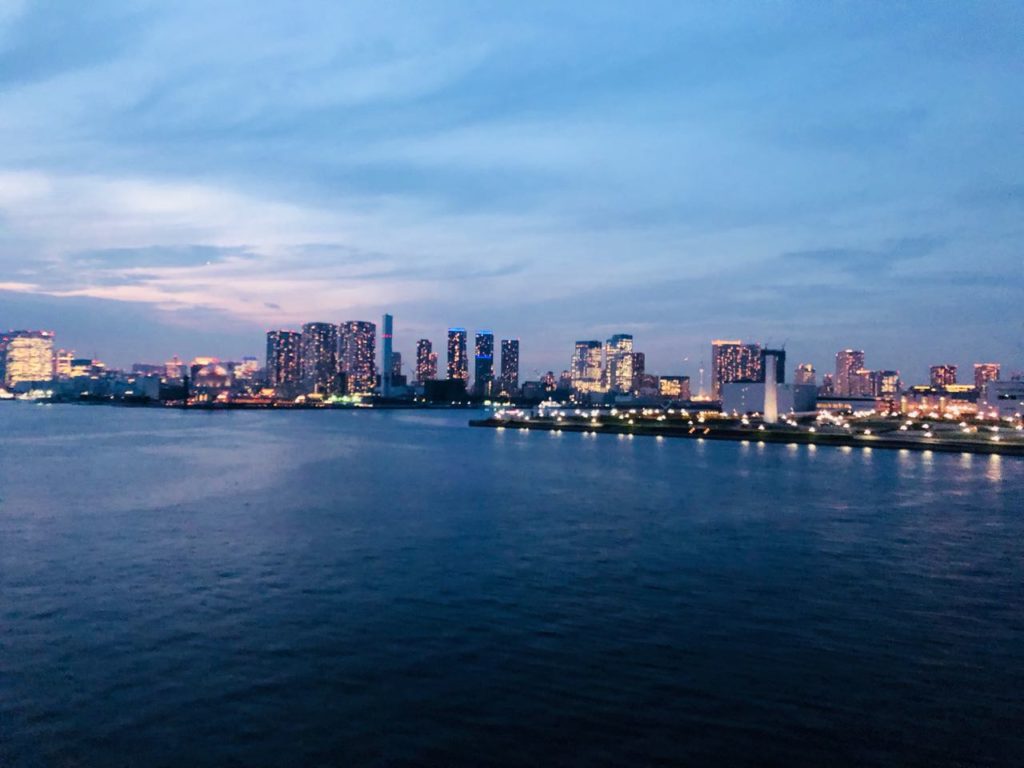 The main attraction in Obaiba is the Daikanransha (Ferris wheel) in Palette Town in Odaiba. Odaiba is a High Tech Entertainment world, which has Joypolis – indoor amusement park, Legoland, National Museum of Emerging Science and Innovation, Shopping Centres – Aqua City and Venice based Venus Fort. Odaiba is definitely a full day trip to visit a few or all of these places.
On this route we just got down at Venus Fort Stop and went for a ride on the Ferris wheel. We bought the tickets on the spot. It was 900 YEN/Person. This Ferris Wheel is 115 meters tall so the view is not like what we saw from Skytree and Tokyo Metropolitan Government Building but it was interesting as one could see the massive highway routes and huge skyscrapers. One complete round on this Ferris wheel just took almost 15 mins.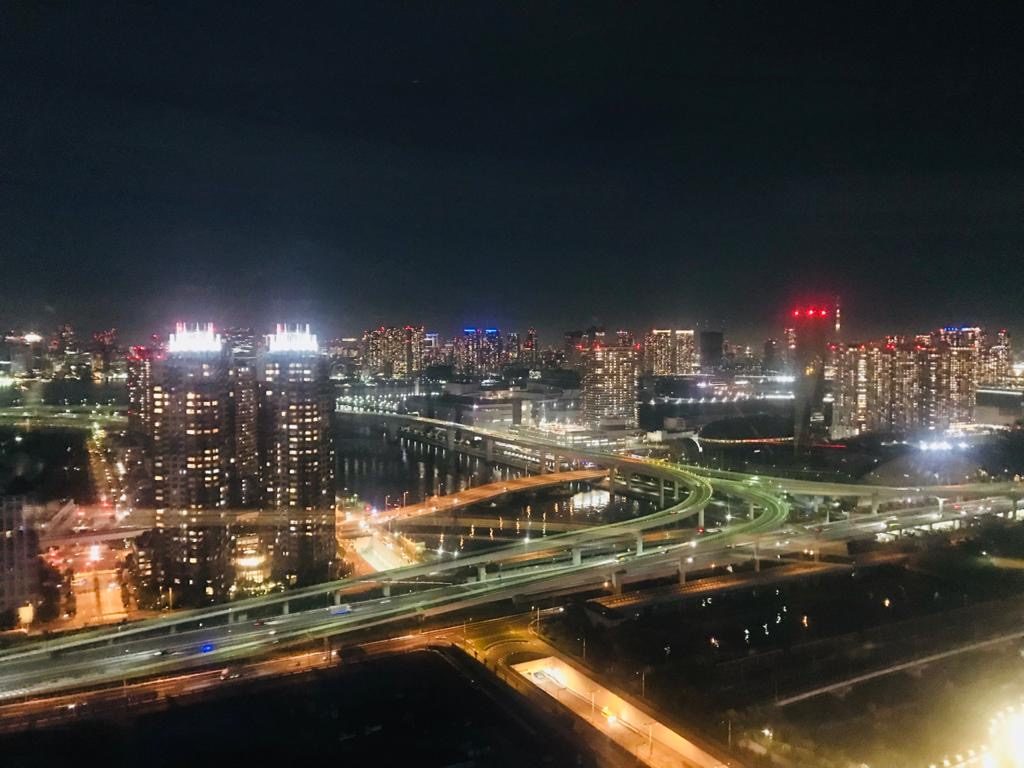 After this, we strolled for a while in the Venus Fort Shopping Centre and then got back on our bus to go back to Mitsubishi Building.
Ginza
On the way, we saw an amazing market – Ginza. We didn't have the time to get down here this time but we decided to visit this market some other day. After coming back to Mitsubishi Building we then took a metro to go back to Shinjuku. If one has limited time and cannot cover all three Bus Course, I suggest to definitely go for Asakusa – Tokyo Skytree course and Odaiba Course.
After relaxing for some time at the Hotel we went out and enjoyed the rest of the day eating and shopping at Shunjuku Market.
08:45 AM: Leaving from Hotel for Tokyo Station
09:20 AM: Buying Sky Hop On and Hop Off Bus Tickets
09:30 AM: Hopping the 1st Bus Asakusa – Tokyo Skytree Course
10:30 AM: At Ueno Park
12:00 PM: At Tokyo Skytree
02:00 PM: At Senso-ji Temple – Asakusa
03:00 PM: Hopping the 2nd Bus Roopongi – Tokyo Tower Course
04:30 PM: Hopping last Bus – Odaiba Course
05:00 PM: Daikanransha (Ferris Wheel) in Palette Town
07:00 PM: Back to Mitsubishi Building
08:00 PM: Back to Hotel
09:00 PM: Dinner at nearby Restaurant in Shinjuku
DAY 4: Reaching Kyoto, Gion and Hanamikoji Street
We bought the 7 day JR Pass. JR Pass once activated needs to be used continuously for 7 days without a break. So for the first three days, we decided to explore Tokyo so that we could use our JR Pass later. Since we were now traveling to other cities, it was the right time to activate our JR pass.
Reaching Kyoto through JR Pass
After breakfast, we checked out from our Hotel and went to Shinjuku Station and took a direct metro till Tokyo Station (Chuo Line) and after reaching there we bought tickets for Bullet train (Hikari) from Tokyo to Kyoto from JR Counter. In just 2 hours 40 mins and covering close to 500 kms (Hikari Bullet train speed is 320 km/hr) we reached Kyoto, which usually takes 6 hours by road. Such is the magic of the wonderful bullet trains of Japan. After reaching Kyoto Station, we then took the Karasuma Line (not included in JR Pass) and got down at Shijō Station, which was at a walking distance from our Hotel in Downtown Kawaramachi – the best area to stay. We stayed at Hotel Nikko Princess.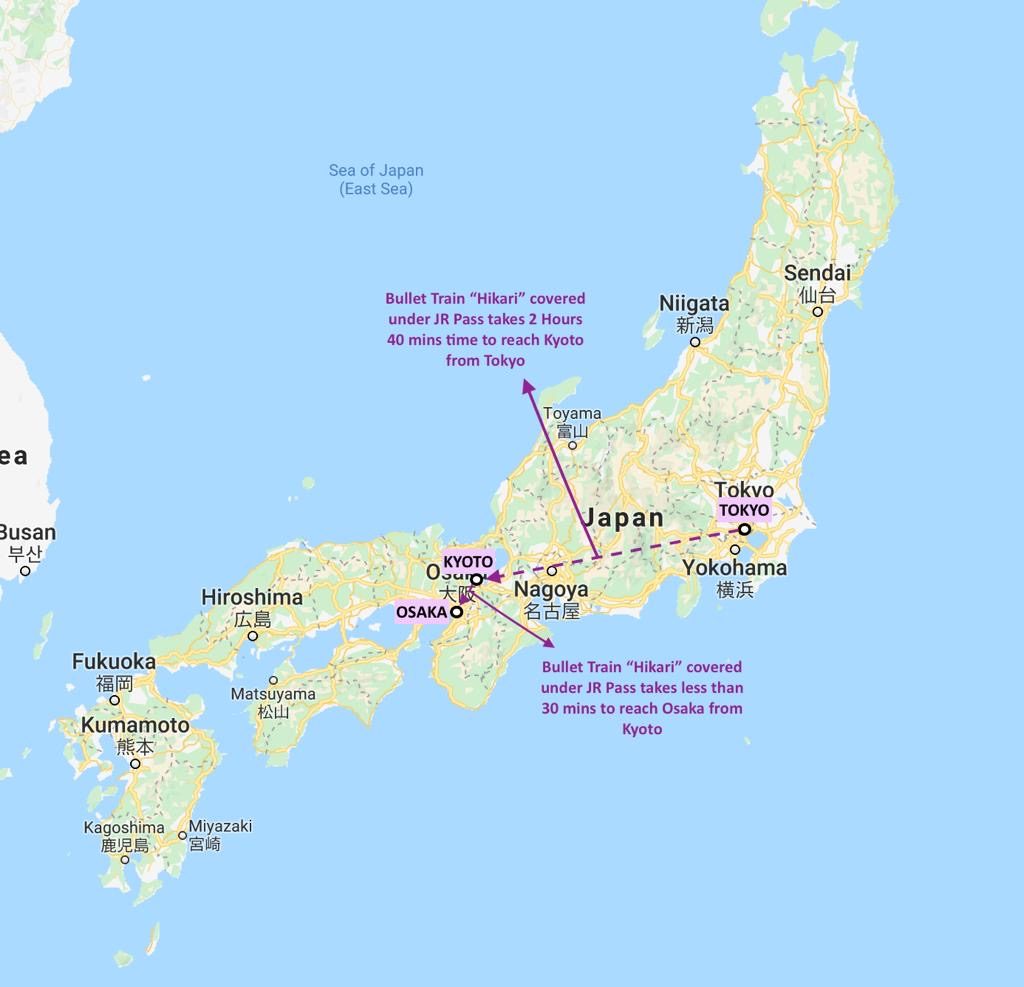 Kyoto is very beautiful town with a small stream of Kawaramachi river flowing along the road. It has a lot of greenery, temples and farms all around. Bamboos were the most prominent plant spotted in Kyoto.
Gion
After checking in to our Hotel and relaxing for some time, we started with our trip in Kyoto. We went to Gion area in Kyoto, which was a 15- 20 minutes walk from the hotel. The entire walk was amazing as we enjoyed the side walk along Karawamachi River.
Gion is the area famous for spotting Geisha (Japanese hostesses in colorful Kimono's). In fact, Kyoto is the birthplace of Geisha culture. Geisha are often spotted in Japanese restaurants, teahouses and boutiques on wooden bridges on Hanamikoji Street (just ahead of Gion Street). These restaurants and boutiques are very expensive and there is no entry for tourists. Apart from spotting Geisha, Gion also has plenty of shops and restaurants and is a fun filled street to spend time. We enjoyed Ramen at one of the many fabulous restaurants in Gion area.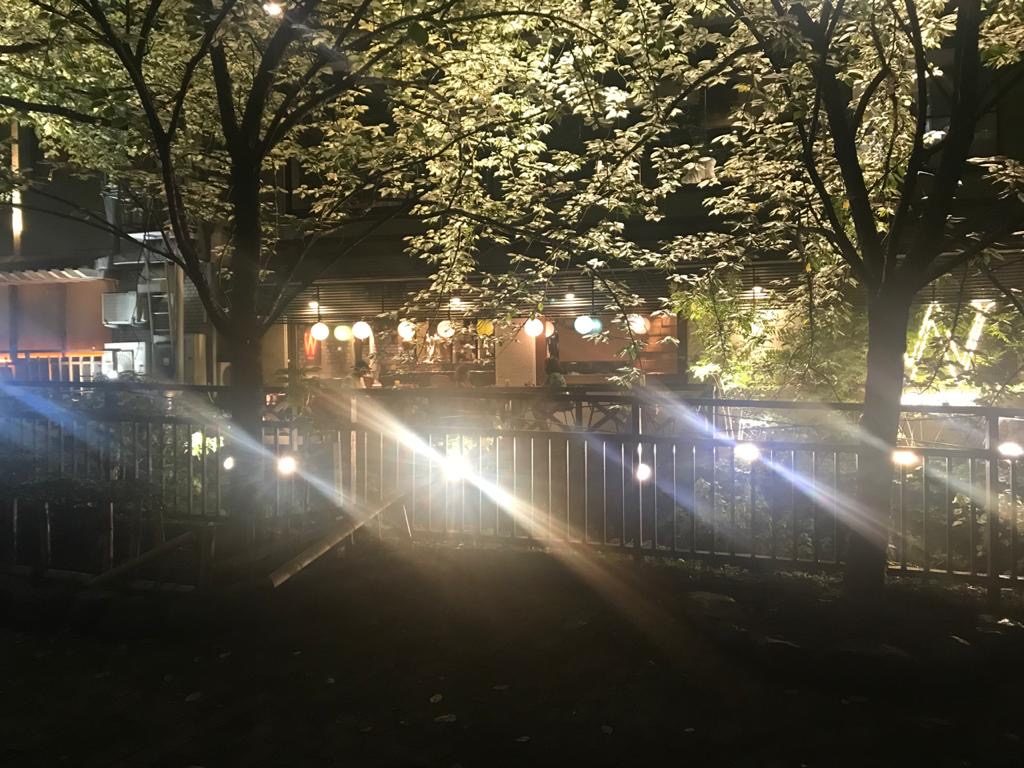 On our way back to the hotel, we stopped at Karafuneya Coffee – an amazing coffee and fabulous dessert shop. The ice creams and desserts were the best I have ever tasted. Japan is extremely famous for its baking techniques and offers fabulous cakes, pastries and ice creams. Wherever we tried baked items in Japan, they never disappointed us.
We then returned back to our Hotel after spending amazing time in Gion Street and enjoying all the Japanese delicacies.
09:30 AM: Leaving Tokyo for Kyoto
01:00 PM: Reaching Kyoto
01:30 PM: Checking in at Hotel in Kawaramachi Area, Kyoto
04:00 PM: Gion Street
05:00 PM: Hanamikoji Street
07:00 PM: Dinner at Gion area
08:00 PM: Back to Hotel
DAY 5: Kyoto: Arashiyama Area – Bamboo Grove, Kameyama Park, Tenryu Ji Temple, Togetsu Bridge and Monkey 
Park
 Iwatayama 
Arashiyama Area
A visit to Arashiyama Area is a must in Kyoto. Even though this place is a little far away (roughly 9 kms) from the main area of Kyoto yet it is totally worth visiting, as this place has so many attractions, the beautiful experience of walking through the Bamboo Grove, the amazing Zen Gardens and its serene shrines etc.
How to Reach Arashiyama Area/Kameyama Park
Best way to reach this place is by train (metro/subway). One route is to take adirect train up to Katsura Station (Hankyu Kyoto Line) and then another train from Katsura till Arashiyama Station (Hankyu Arashiyama Line). This route will take 40 mins altogether. But it is not included in JR Pass. If one wants to utilise JR Pass, then best is to reach Kyoto Station and then take JR San In Line and get down at Saga Arashiyama Station. This route will take 30 mins to reach Arashiyama Area. Although there is a direct Bus from Kawaramachi Area up to Arashiyama, but it is not at all recommended because it takes 1 hour to reach.
We took the JR Pass included train from Kyoto to Saga Arashiyama.
Arashiyama Bamboo Grove
After reaching, we first went walking up to Arashiyama Bamboo Grove – roughly a 15 mins walk from Saga Arashiyama Station. This walk amid the Bamboo Forest was out of the world kind of experience. It seemed as if we were in some other part of the world. This is an amazing place for some iconic photographs.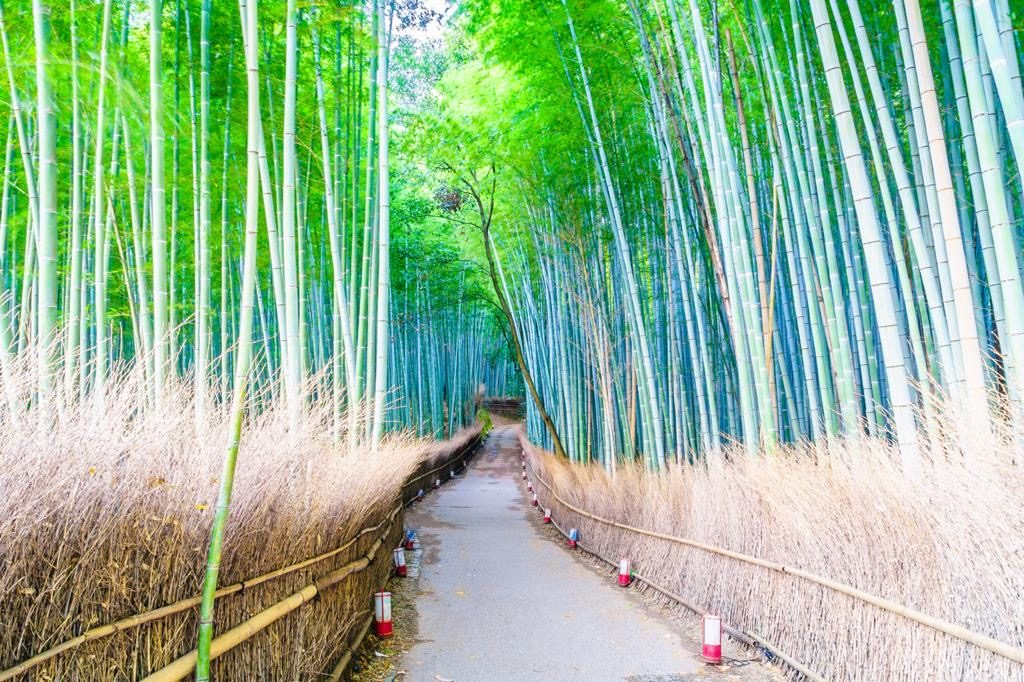 On the left from the T-point ahead of this bamboo grove comes Kameyama Park, which is quite a peaceful place to relax and spend some time. 
Tenryuji Temple/Togetsu Bridge/Monkey Park
After this, we went walking (roughly 10 mins) up to Tenryuji Temple – one of the most famous temple of Arashiyama Area. This is one of the World Heritage Site and one of the most popular Zen Temples of Japan. The park and pond ahead of this temple was worth admiring.
We then went to Shigetsu Restaurant located at Tenryuji Temple (inside Sogen Garden) – a large vegetarian restaurant. They serve authentic Japanese Buddhist food- all Vegan. We loved everything about this restaurant- sitting on the floor, small portions of food being served, excellent services and authentic Japanese food that too in vegetarian form was an added BONUS. One has to pay 500 YEN extra to enter the Garden area where this restaurant is located. This restaurant is a must visit. Kindly note it is open from 11 AM to 2 PM only.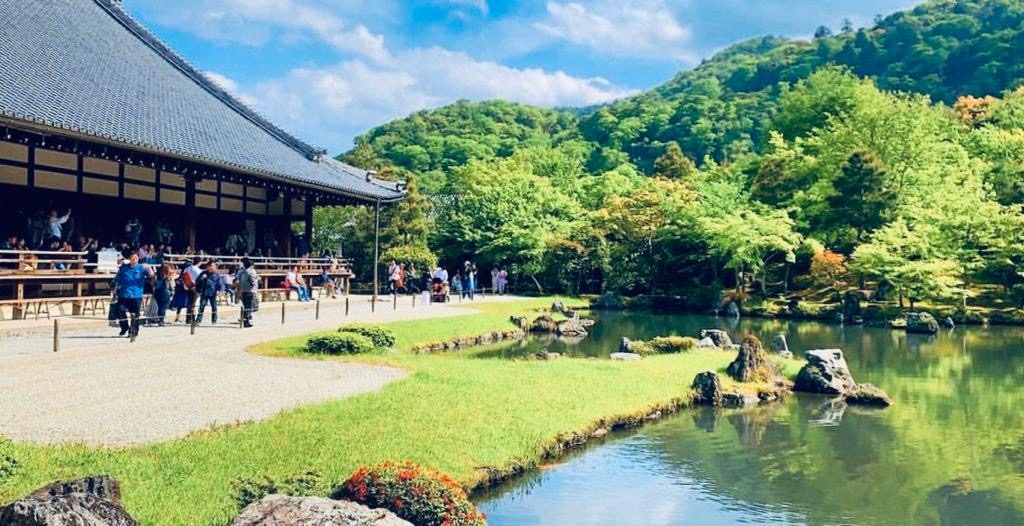 We then went to Togetsu Bridge – 155 meter long bridge over the Katsura River. The entire walk over this bridge was amazing because of the beautiful view on the sides. This bridge is also known as Moon Crossing Bridge.
Crossing this bridge we went up till the hill (roughly 15-20 mins) to reach Monkey Park. Apart from enjoying and feeding the monkeys her – the best part was the view of Kyoto from here.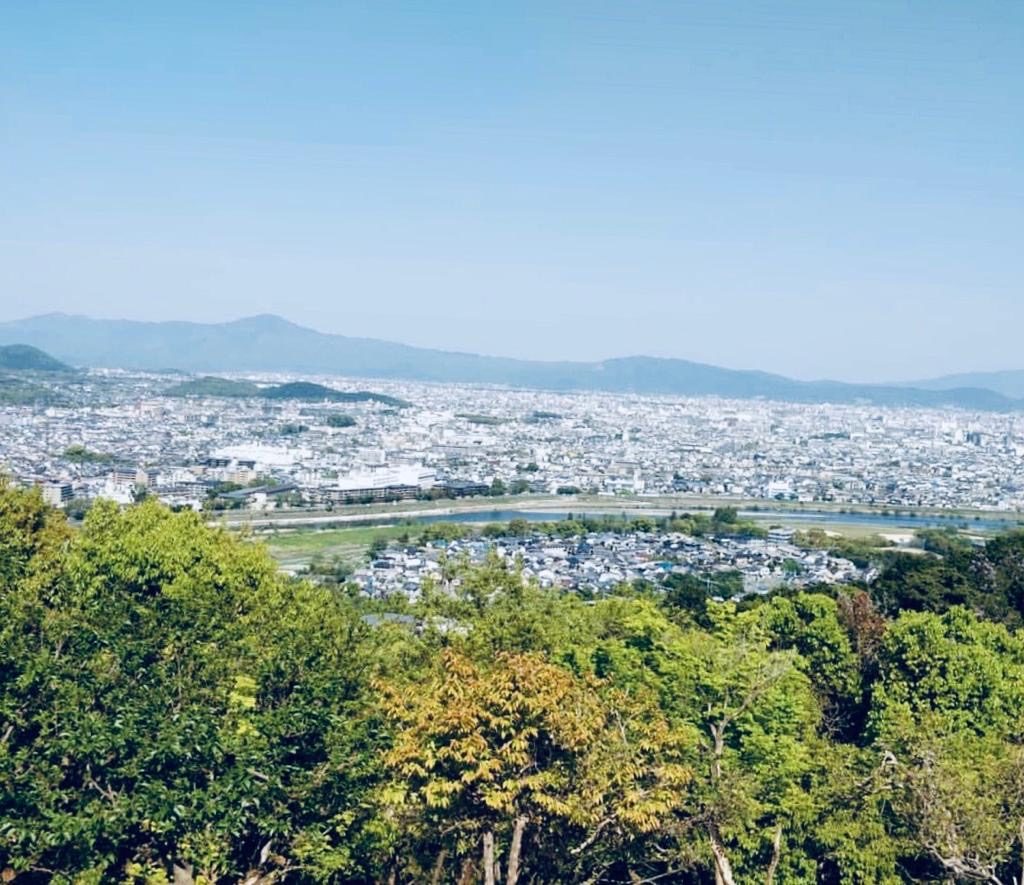 Post this, we went walking up to Saga Arashiyama Station to go back to our Hotel. This ends our amazing trip to Arashiyama Area.
After reaching back to our hotel we relaxed for some time and then again went to Gion Street on foot and enjoyed food and desserts. After dinner, we came back to our Hotel and packed our bags as we were leaving for Osaka the next day.
Kinkakuji Temple
This was our small visit to Kyoto City which was absolutely scenic, traditional and very authentic. If one has more time they can plan to visit Kinkakuji Temple – which is again a very famous Shrine and the main landmark of Kyoto city. We skipped this one because of the time constraint. This temple is also a little far from Karawamachi Area – 7.5 kms. Best way to reach this temple is to use subway – Karasuma Line and get down at Kita Oji Staion and then take the public Bus No. 204 and 205 to reach there. Overall it will take 40 mins to reach. There is always a huge crowd in this temple and the timings are from 9 AM to 5 PM.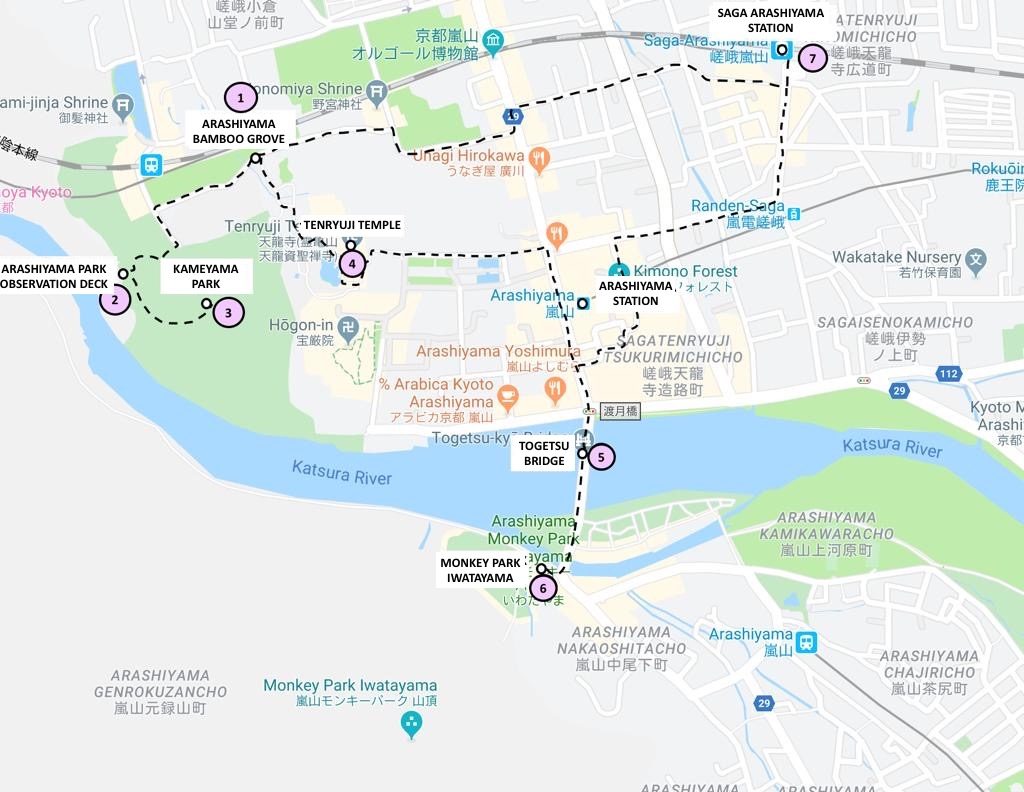 09:30 AM: Leaving from Hotel
10:30 AM: At Saga Arashiyama Station
10:45 AM: Arashiyama Bamboo Grove
11:15 PM: Kamerama Park
12:00 PM: Shigetsu Vegan Japanese Buddhist Restaurant/ Tenryuji Temple
02:15 PM: Togetsu Bridge
04:00 PM: Monkey Park Iwatayama
05:30 PM: Taking train back from Saga Arashiyama Station
06:30 PM: Back to Hotel
08:00 PM: Enjoying at Gion
10:00 PM: Back to Hotel
DAY 6: Osaka – Reaching Osaka, Osaka Castle, Hozenji Temple, Dotonbori Street, Shinsaibashi and Umeda 
Sky
 Building 
Observation
Deck 
On this day, we were going to this amazing city of Japan – Osaka, which was once the Capital City of Japan. Osaka is often known for its Modern architecture, Cosmopolitan lifestyle, fun nightlife and most importantly the amazing cuisines specially Takoyaki and Okonomiyaki – their speciality. It is often known as the food capital of Japan because of the various mouth watering delicacies it offers in the food district Dotonbori. Osaka is also the commercial centre of Japan.
Leaving Kyoto, Reaching Osaka
After breakfast, we packed our bags and checked out from Kyoto Hotel and went to Kyoto Station to catch Bullet train Hiraki (covered under JR Pass) for Osaka. Within 30 mins, we reached Osaka. From Osaka Station we walked till Umeda Station ( hardly 3 mins walk) and took Midosuji Line (not covered in JR) and got down at Namba Station, from where our hotel Fraser Residence Nankai was just a 5 mins walk. We reached the hotel and checked in. We already intimated the hotel for early check in and we were lucky enough to get the rooms.
Osaka Castle
After relaxing for some time and then got ready to check out this city. We first planned to visit the famous Osaka Castle – the landmark of Osaka City. The quickest and the easiest way to reach Osaka Castle is by taking Taxi which takes just 10-15 mins but it will cost 2500 to 3000 YEN.
Another way is to take the metro (subway trains) from Namba Station up to Tanimachiyonchrome Station (nearest Station from Osaka Castle). There is no direct line and one needs to change trains in between. There are 2-3 ways for this. Roughly via train it will take 30-40 mins to reach the Castle. After reaching, it is a very long long walk to reach the Castle.
Castle entry is 600 YEN/Person but outside areas are free to explore. Castle is open from 9 AM to 5 PM.  The entire Castle area is worth admiring, from its amazing garden area to it labyrinth styled way to reach the castle and to the amazing view from the Castle top.
Dotonbori Street
After spending some time there we came back to the hotel and for the evening we went walking to the Dotonbori Street – a street running across the Dotonbori Canal. It is a complete fun street and the most famous area of Osaka. It is full of restaurants, bars, nightclubs, shops etc.
In between we also stopped at this quiet temple – Hozenji right in the middle of the busiest area of Osaka. It is a little on the interiors but is definitely worth visiting. Dotonbori street is a long street, which starts from nearby the Namba Station and goes up and merges into Shinsaibashi – another big shopping complex.
Umeda Sky Building
After enjoying thoroughly at Dotonbori street, we took a metro train (Subway) from Namba Station till Umeda Station (Midosuji Line) to go to Umeda Sky Building to enjoy the panoramic view of the city from Kuchu Teien Observatory. We reached the building and bought tickets for 360° Observatory Deck for 1500 Yen/Person. We were amazed by the ultra modern architecture of the building.
The best part was the glass covered escalators which give you a feel like you are entering a space ship. On reaching the top, we saw that there was an indoor view as well as the open rooftop area. View from both the areas was splendid. Umeda Sky Building is one of the tallest buildings of Japan and this is definitely the best place to capture the beauty of Osaka city. Observation Deck is open from 9:30 AM to 10:30 PM with last admission at 10:00 PM.
After this visit, we went back to our Hotel (taking the same route – direct metro from Umeda Station up to Namba Station) and slept tight.
10:30 AM: Checking out from hotel in Kyoto
11:00 AM: Reaching Kyoto Station and catching next available Bullet Train for Osaka
11:30 AM: At Osaka Station
12:00 PM: Reaching our Hotel at Namba – Fraser Residence Nankai.
01:00 PM: Leaving for Osaka Castle
2:00 PM: At Osaka Castle and spending 1 – 1.5 hours here
04:30 PM: Back to Hotel
06:00 PM: Hozenji Temple
07:00 PM: Dotonbori Street and Enjoying street food
08:00 PM: Reaching Umeda Sky Building
10:30 PM: Back to Hotel
DAY 7: Osaka – Universal Studios 
Universal Studios 
Osaka is a totally fun place to go. The spectacular Universal Studios theme park never disappoints anybody. Although I have already been to Singapore Universal Studios, but none of the rides or shows were same here.
Where to buy Universal Studios Tickets & the price
It is always a good decision to buy tickets one day prior to avoid the long queue at the ticket counter and moreover, one can even get attractive discounts online. There are various website offering Universal Studios Admission ticket like www.klook.com, www.expedia.com etc. Price is 7900 YEN/Person (adult). Even though it is expensive it is totally worth it.
Tips for Universal Studios
Avoid going to Universal Studios on weekends.
Try reaching at the opening hours to enjoy the park to the fullest.
If required, you can also buy Express Pass to save time as it offers to skip the queue and enjoy everything at a priority. Price for Express Pass is obviously expensive about 9800 Yen/Person (adult).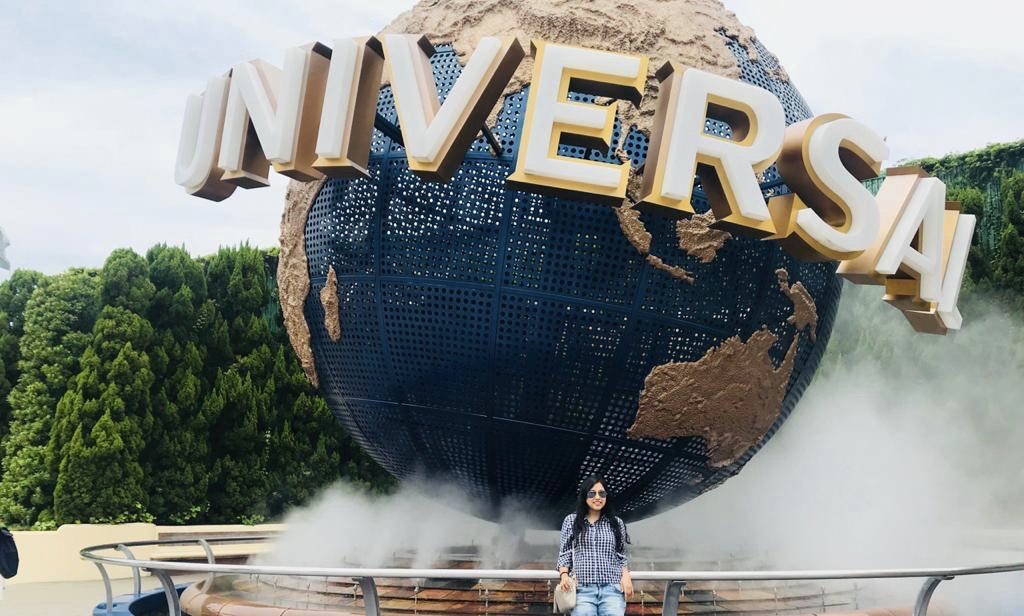 How to Reach Universal Studios
To reach Universals Studios the easiest way is to take a Taxi, which takes 15-20 mins but it is also the most expensive option. We took the subway to reach Universals. We took the metro train from Namba Station and got down at Nishikujō Station (Hanshin-Namba Line – not included in JR) and from there, took another metro JR Skurajima Line (included in JR) and got down at Universal City Station. In just 30 mins we reached the Universal Studios.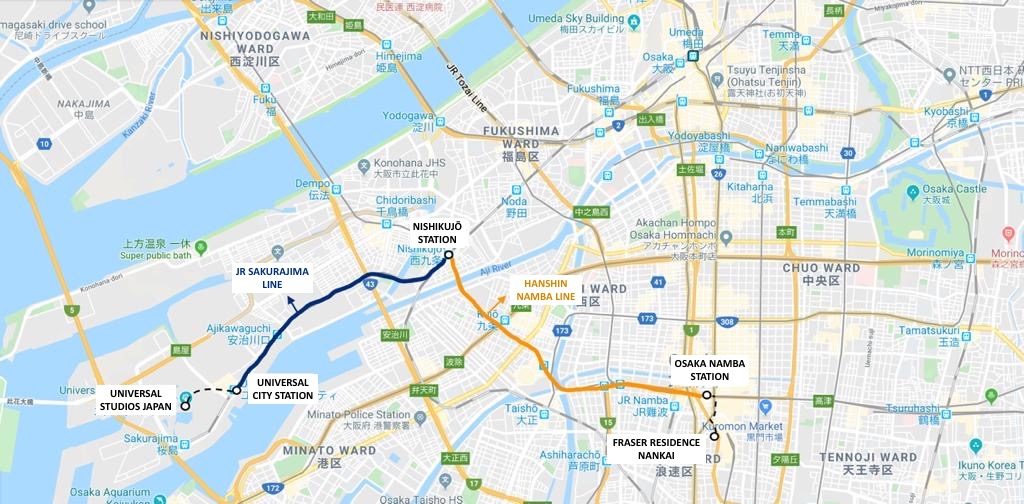 As usual, Universal Studios offered us the best rides and shows and they were totally adventurous. Some of the rides like the Dinosaur Roller Coaster, Harry Potter Ride and Spiderman Ride were super fun.
After enjoying all the rides at Universal Studios, we went back to Namba Station and went walked up to Dotonburi Street to enjoy the street food and dessert. Later, we went back to the Hotel
For those who are not interested in Theme Parks they can visit Osaka as day trip from Kyoto. They can also plan a day trip to Nara from Kyoto as well. 
10:00 AM: Leaving Hotel for Universal Studios
10:40 AM: At Universal Studios
02:00 PM: Lunch at Universal Studios
07:15 PM: Leaving Universal Studios
08:30 PM: Dotonbori Street
10:00 PM: Back to Hotel
DAY 8: Reaching back Tokyo, Exploring Ginza, Roppongi Hill – Mori Art Museum and Tokyo City View
Leaving Osaka, Reaching back Tokyo
We were now heading back to Tokyo. We checked out from Osaka Hotel and reached Shin Osaka Station using Midosuji Line from Namba Station. From Shin Osaka Station we took Bullet Train – Hikari from Osaka to Tokyo – using our JR Pass. It took us roughly 3 hours to reach Tokyo Station.
This time we wanted to stay in a different area of Tokyo so that we can explore another part of the city and cover nearby areas easily. We were very confused between staying at Roppongi Hills, Tokyo Station or Ginza. So we then decided to stay at Roppongi Hills as it has multiple night clubs, Mori Museum, Shopping Malls and is a fun area to stay. We booked APA Hotel Roppongi Itchome Ekimae for our rest of the days in Tokyo.
Tip – If you are staying at the same Hotel in Tokyo then you have an advantage of  leaving your luggage with the hotel concierge and go with a light baggage to Kyoto and Osaka. It is easier to travel and catch the metro trains with little baggage as compared to dragging your full luggage load.
Ginza
After checking in to our Hotel, we relaxed for some time. Then we went to the most famous and fabulous market place – Ginza. We went walking till Tameike-sannō Station (6 to 8 mins walking from our Hotel) and took the Ginza Line and got down at Ginza Station. We were amazed by this fabulous shopping area and dinning options this place had. The main attraction is that the Main Street of Ginza is closed for automobile traffic till 5 PM, making it a huge space for visitors to walk freely on the road. Don't forget to check out UNIQLO – the famous Japanese Apparel Brand – with amazingly good variety of clothing at good prices and great quality.
Mori Art Museum/Tokyo City View
After doing fabulous shopping at Ginza, we went to Mori Art Museum and Tokyo City View from Mori Tower Roppongi Hills. For this,we took the metro (Hibiya Line) from Ginza Station and got down at Roppongi Station. Entry pass was 1800 YEN / person which included entry to Tokyo City View Observation Deck as well as the Mori Museum. Tickets come combined only. You can buy them on the spot or buy them online beforehand from www.klook.com.
We first went to Tokyo City View Observation Deck at the 52nd floor and enjoyed the city's view from the glass wall. Open to air Sky Deck can also be visited with an additional charge of 500 YEN/Person (Adult). The view of the city from the 52nd floor was worth admiring. We could see the entire city glittering and Tokyo Tower shinning in the centre.
If I could compare all the Observation Points we visited in Japan – Mori Tower – Tokyo City View was by far the best.
We then went to Mori Art Museum. Mori Art Museum is a digital light show and it was quite innovative and interesting. After watching this show, we walked back towards our hotel. We had dinner in a restaurant nearby our hotel and ended our day.
09:00 AM: Checking out from Osaka Hotel
09:30 AM: Reaching Shin Osaka Station to catch Bullet Train to Tokyo
01:00 PM: Reaching Tokyo Station
01:30 PM: Reaching our Hotel at Roppongi Hill
03:30 PM: Ginza
06:00 PM: Tokyo City View – Mori Tower
07:30 PM: Mori Art Museum
08:30 PM: Dinner
10:00 PM: Back to Hotel
DAY 9: Day Trip to Hakone
Trip to Japan is always incomplete without the view of Mount Fuji. Mount Fuji is the tallest mountain peak and is considered very sacred in Japan.
Best way to see Mount Fuji
The best and closest view of the mountain is possible from Kawaguchiko. For this you can take Mount Fuji Day Tour available online at www.klook.com, www.kkday.com etc at a very good prices. It is a bus tour, which starts around 8 AM in the morning and finishes around 7:00 PM in the evening. The tour provides a guide who takes you to all the main spots like Fuji 5th Station, Gotemba Premium Store, Oshino Hakkai, Lake Kawaguchiko etc to capture the beauty ofMount Fuji in the best possible way. The Mount Fuji Day Tour is also available at hotel concierge but they are mostly expensive. 
Hakone is another place to view Mount Fuji. In addition, it is a beautiful mountain-side Hill Station worth visiting. The view of Mount Fuji will no doubt be better from Kawaguchiko (because it is closer to Mount Fuji as compared to Hakone) but as we were in a group of 10+ people, Bus Day Tour to Mount Fuji  was a costlier option compared to a trip to Hakone and so we decided to take a day trip to Hakone.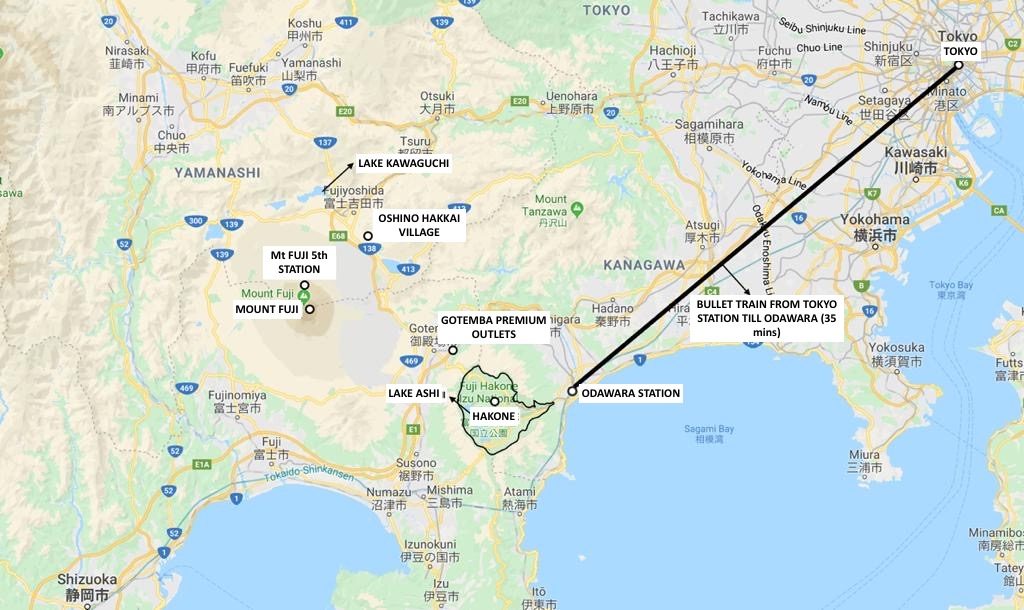 Tokyo to Hakone
We got ready early in the morning and took Shinkansen (Fast train) from Tokyo Station up to Odawara (comes under JR Pass). Frequency of this bullet train up to Hakone is every 30 mins. It took us 35 mins to reach Odawara. From Odawara Station, we walked up to the nearby bus stop and took a direct bus for Hakone.
You can also take Hakone Full Day Pass which includes a trip on the amazingly beautiful Romance Bullet Train, Tozan Rail Pass, Cruise, Cable car, bus rides etc. All this is for 6000 Yen/Person. We did not take this Pass because our route from Tokyo to Odawara was already included in JR so there was no point paying for Hakone Full Day Pass. If not using JR Pass then this Hakone Day Pass should definitely be taken. 
Reaching Hakone and taking Cruise Trip
The bus roughly took 1 hour and dropped us near Lake Ashi. After reaching there, we were totally in love with the scenic beauty of this place. We went ahead and bought tickets for the Cruise at Lake Ashi for 1000 Yen/Person. Cruise boarding time was after 40 mins so in the meantime, we went and enjoyed some food at the market near Lake Ashi. The best were the Macha Ice-cream and fresh fruits, specially Cherries. We then went to the Port from where we boarded the cruise. Cruise ride was roughly 30mins. View was very mesmerising. The lake water was crystal clear.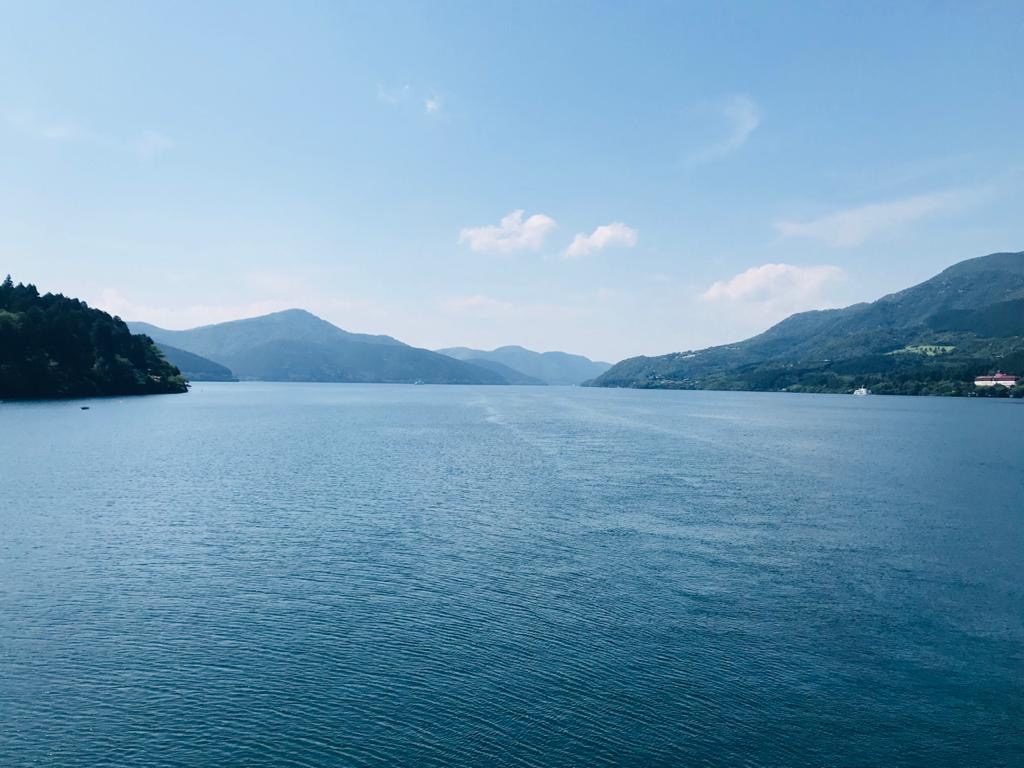 Hakone Cable Car
After reaching on the other side of the lake, we climbed up the mountain. We then went to the cable car counter and bought tickets for Gora Station. We thoroughly enjoyed the amazing view of the mountain from the Cable Car. On a day with clear skies, one can very clearly spot Mount Fuji. We also witnessed the mountain but it wasn't very clear.
We enjoyed both the modes of transport during our visit – Cruise (to reach) and Cable Car (for return). Cable car dropped us at Gora Station. From there we took a metro train till Odawara Staion. From Odawara, we followed the same route back to Tokyo via Bullet train included in the JR Pass. After reaching back, we went out for dinner to a nearby restaurant and then went back to the hotel and relaxed for the day. 
09:00 AM: Leaving from Hotel for Tokyo Station
10:00 AM: Reached Tokyo Station
10:26 AM: Catching Bullet Train for Odawara
11:00 AM: Reached Odawara
12:30 AM: Reaching Hakone via Bus outside Odawara Station.
01:30 PM: Reaching Hakone
02:00 PM: Enjoying Food at the Market near Lake Ashi 
02:15 PM: Boarding the Cruise at Lake Ashi
02:45 PM: Reaching other side of the Lake
03:30 PM: Catching Cable Car up to Gora Station
04:45 PM: Reaching Odawara Station
05:15 PM: Catching Bullet Train from Odawara up to Tokyo Station
06:30 PM: At Tokyo Station
08:00 PM: Dinner at a near by Restaurant
09:30 PM: Back to Hotel
DAY 10: Tokyo Disney Sea
We had kids with us so visiting Tokyo Disney Resort was on the list. We chose Disney Sea over Disneyland because we had already visited Disneyland in Honk Kong and we thought Disneyland here might have a few of the same rides but Disney Sea would be a totally new experience.
Getting to Disney Resort
It takes 1.5 hours by train to reach Disney Sea. Even though it is just a 20-30 mins ride via Taxi but Taxi fares cost a fortune in Tokyo so trains are a better option. We reached Roppongi, took the Keiyō Line and got down at Maihama Station. From Maihama Station runs the special Disney trains – Disney Resort Line and as we were going to DisneySea,we got down at Tokyo DisneySea Station.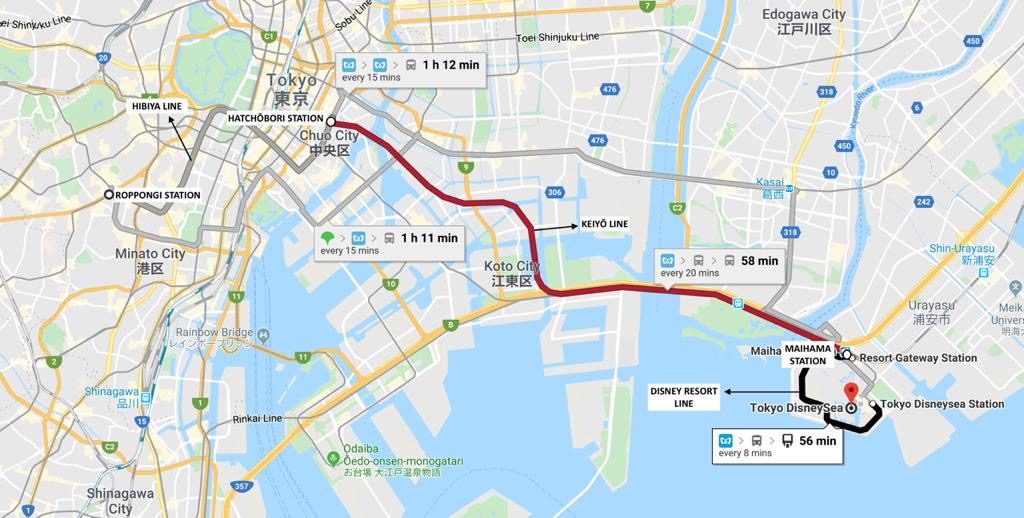 Where to buy Ticket and Price
It is better to buy tickets online beforehand from various portals like www.getyourguide.com, www.expedia.com,  www.viator.com etc to avoid the queue at the ticket counter. If not bought online, you can buy at the entrance gates as well. Tickets were very costly at 7400 Yen / person.
Timings
Disney Resorts open from 9 AM till 10 PM. Avoid visiting Disney Resort on weekends.
Fast Pass
One really needs to know about fast pass system before coming to Disney Sea. At Disney Sea, all major rides come under fast pass. Fast Pass is like a priority pass, having separate entrance with fewer people which takes you on a priority to the ride. Like, if for a particular ride the waiting is 2 hours and you have a fast pass, your waiting time will be maximum half an hour. To get Fast Pass, you need to place your entry ticket in the Fast Pass machine outside that particular ride.
Fast Pass is free and available for all but the condition is, with the Fast Card, one does not get to go on the ride immediately, but secures a time in advance. For instance, lets say I used Fast Pass at House of Terror at 1 AM, then I will get the next fast pass for 3:30PM – 4:30 PM. So now till 3:30 PM I will have to utilize my time at some other rides and have to come back to House of Terror anytime between 3:30 PM to 4:30 PM and show my fast pass and get into the priority line. 
Also, one can take out only 2 fast passes every 2 hours. So, as soon as you reach DisneySea, please take Fast Pass of all major rides like House Of Terror, Journey To The Center Of The Earth, Indiana Jones ride etc. You can Google and YouTube to check about all the rides and then decide which one is on your priority list and then take Fast Pass accordingly.
Night Show at Disneysea
At night, there was an amazing night show at Disney Sea, which was definitely worth watching.
After watching the night show, we headed back to the hotel and collected our stuff, as we had to catch a late night flight back to India. This time we used our JR pass for Narita Express to reach Narita Airport.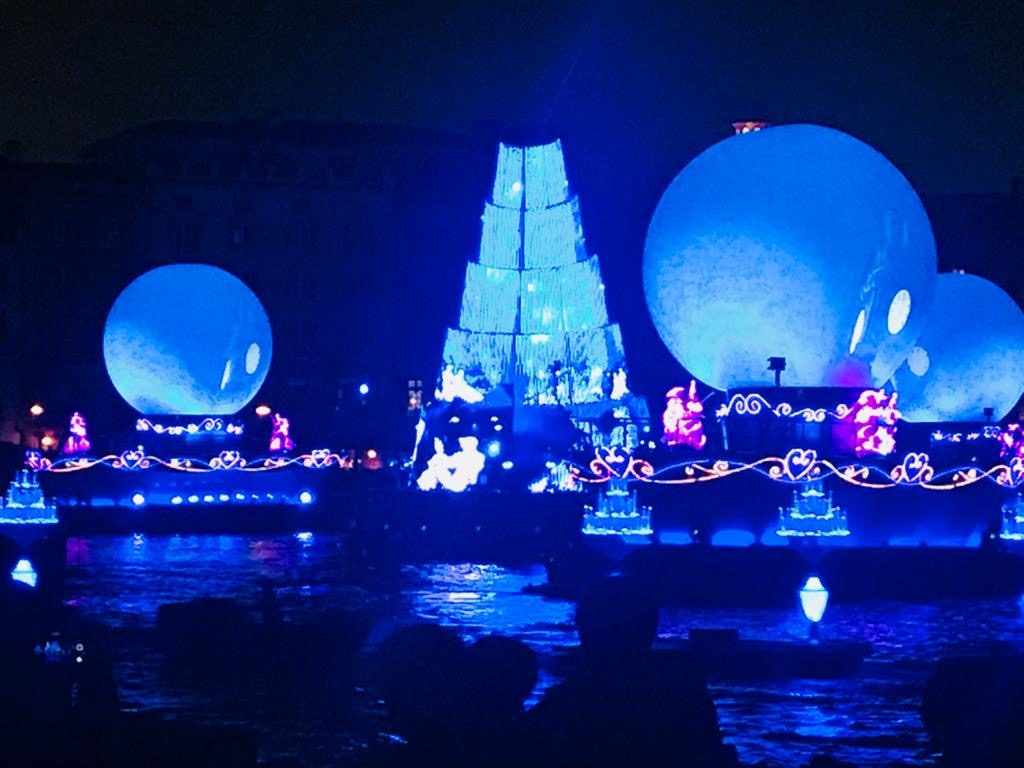 If not interested in Disneysea then one can plan a day trip to Nikko or Kamakura. 
09:00 AM: Leaving from Hotel for DisneySea
10:10 AM: Reaching DisneySea
07:30 PM: Leaving DisneySea
08:30 PM: Back to Hotel
If you find this blog '10 Days in Japan Suggested Itinerary' interesting, please share the link of the website/blog with your family and friends. If you have any comments or suggestions – please do write in the comments section below.
Need regular dose of travel information, planning and update on new blogs, please like my page on Facebook.
Need regular dose of travel shots – follow my page on Instagram