Dubai provides a spectacular experience to all its visitors throughout the year. But post sundown, the magic, and allure of this city increase tenfold. From millions of dazzling lights illuminating its skyscrapers, or the vibrant nightlife to the unparalleled beauty of the Arabian deserts, nights are an extremely special time to make the most of your Dubai holidays. Read on to know more about the 10 best places to visit in Dubai at night.
1. DUBAI MARINA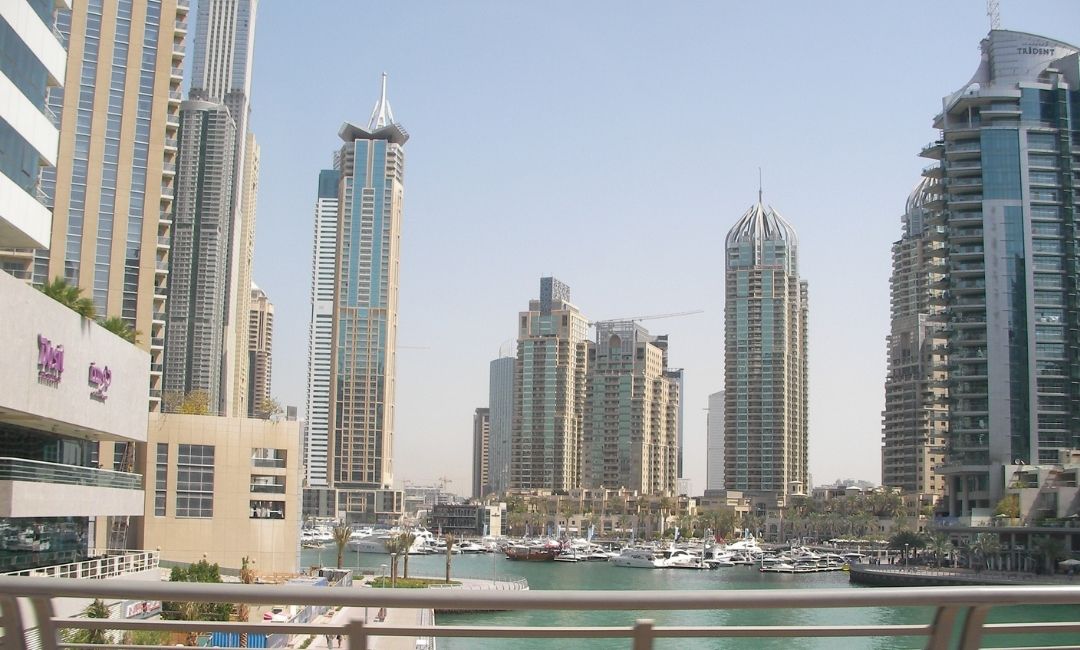 It is a mesmerising waterfront development dotted with opulent hotels, swanky restaurants, grand shopping malls, and elegant boutiques. This place comes alive in the evenings and is ideal for a leisure stroll or just spending time with your loved ones.
2. BURJ KHALIFA
This masterpiece is known for its captivating views during the day. But at night, the entire ambiance of Burj Khalifa changes, providing an extraordinary experience to its visitors. Go to the observation deck to feast your eyes on the illuminated Dubai skyline glittering like diamonds in the sky.
3. OVERNIGHT DESERT SAFARI TOURS
Book a visit to the desert from an array of desert safari deals available in Dubai. It offers abundant activities such as quad biking, dune bashing, sandboarding, and camel riding. Enjoy cultural performances such as Belly Dancing and Tanura Dance Show and relish a mouth-watering buffet dinner. Stay in Bedouin-style tents and spend the night under the stars. This is one of the most stereotypical experiences of Dubai.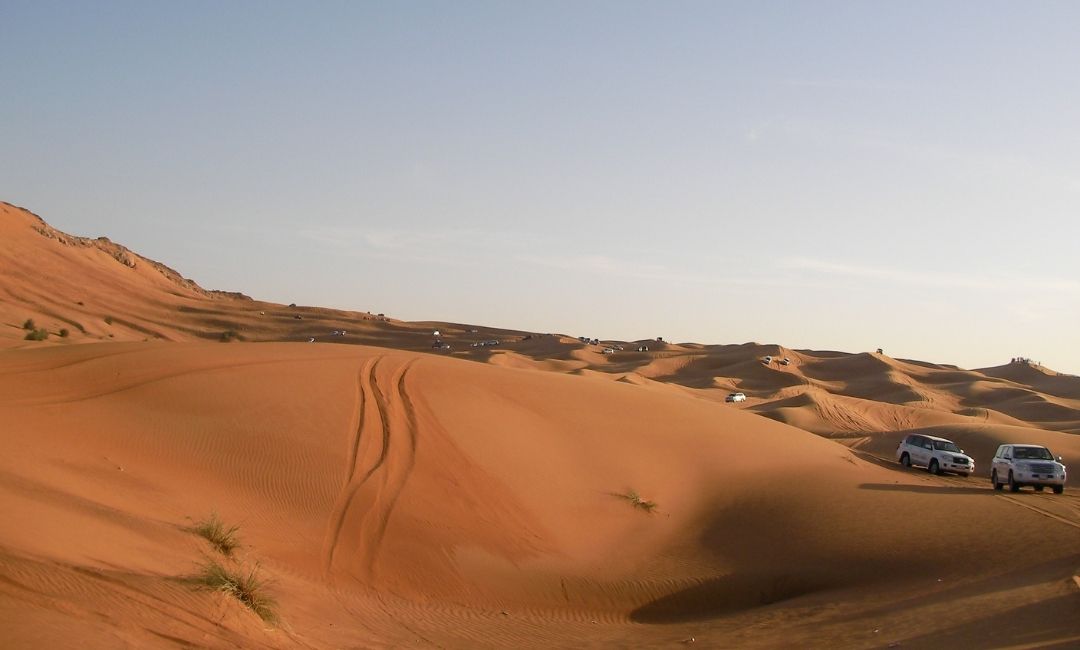 4. DUBAI MALL
The Dubai Mall is one of the largest shopping malls in the world having more than 1200 outlets. You may wander around the mall or if you are a shopaholic, this mall is your heaven. There are plenty of entertainment options within – aquarium, ice rink, multiplexes, theme parks, and more that will keep you on your toes. Don't forget to witness the colorful and beautifully choreographed Dubai Fountain right outside the mall.
5. CAVALLI CLUB
One of the oldest running clubs in Dubai, the Cavalli Club is one of the most luxurious places to visit at night. Spread over 3 floors, the place has enormous seating capacity and the best facilities for its guests. The interiors are full of black quartz flooring, extravagant furnishings, magnificent chandeliers, and Swarovski crystals. The club has several bars and a splendid Italian restaurant and is frequented by many celebrities and party mongers.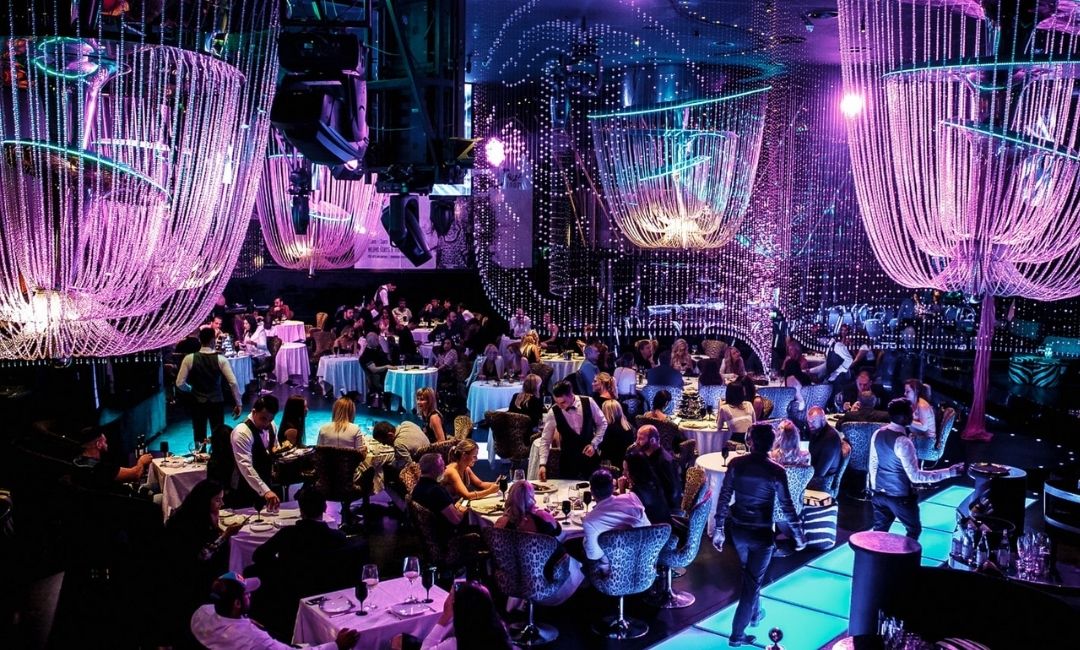 6. SOUK MADINAT JUMEIRAH
The Souk Madinat Jumeirah is a modern-day version of the classic Arab markets or souks. Post sunset, innumerable people throng this place to explore the shops, cafes, restaurants, and boutiques. Several events such as live entertainment and musical shows take place here. It is one of the best places to buy souvenirs for your friends and family.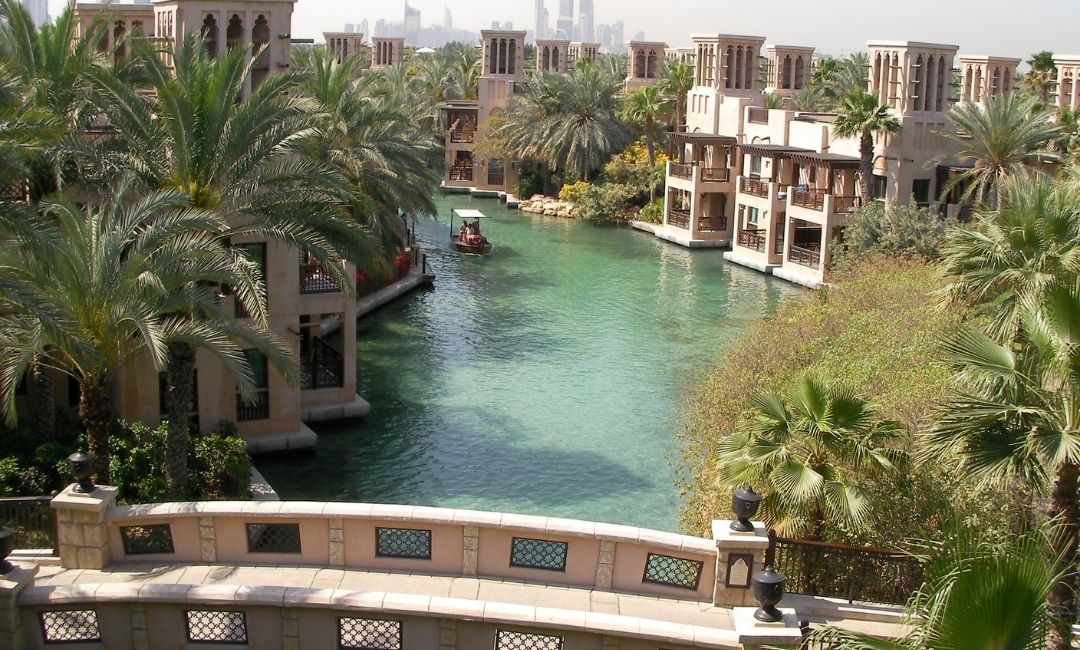 7. GLOBAL VILLAGE
The Global Village is a huge open-air market that is put up from October to April. This event displays many monuments from different countries under one roof. This cultural event is divided into pavilions having a selection of handicrafts, games, food, rides, and other products from different countries with loads of fun and entertainment options.
8. LA PERLE
Created by the famous Italian Art Director, Franco Dragone, La Perle is one of its kind permanent theatre show in Dubai. It includes acrobatics, flying, diving, and astonishing stunts performed by acrobats from different countries. A major highlight of the show is the aqua theatre that blends rains, waterfalls, torrents, along with astounding special effects to create a jaw-dropping spectacle.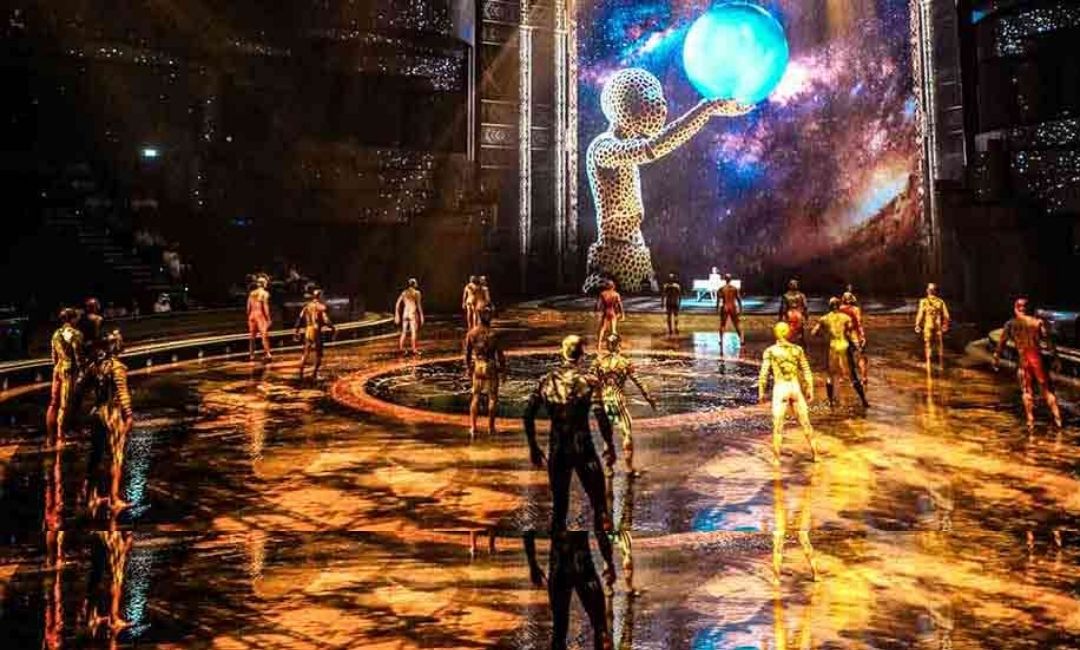 9. JUMEIRAH PUBLIC BEACH
After a tiring day filled with sightseeing, visit the Jumeirah Public beach to see a gorgeous sunset. Stroll on the cool sands with your loved ones or just sit and watch the world pass by. Enjoy the pleasant breeze hitting your face and soak in the peace and tranquility all around you.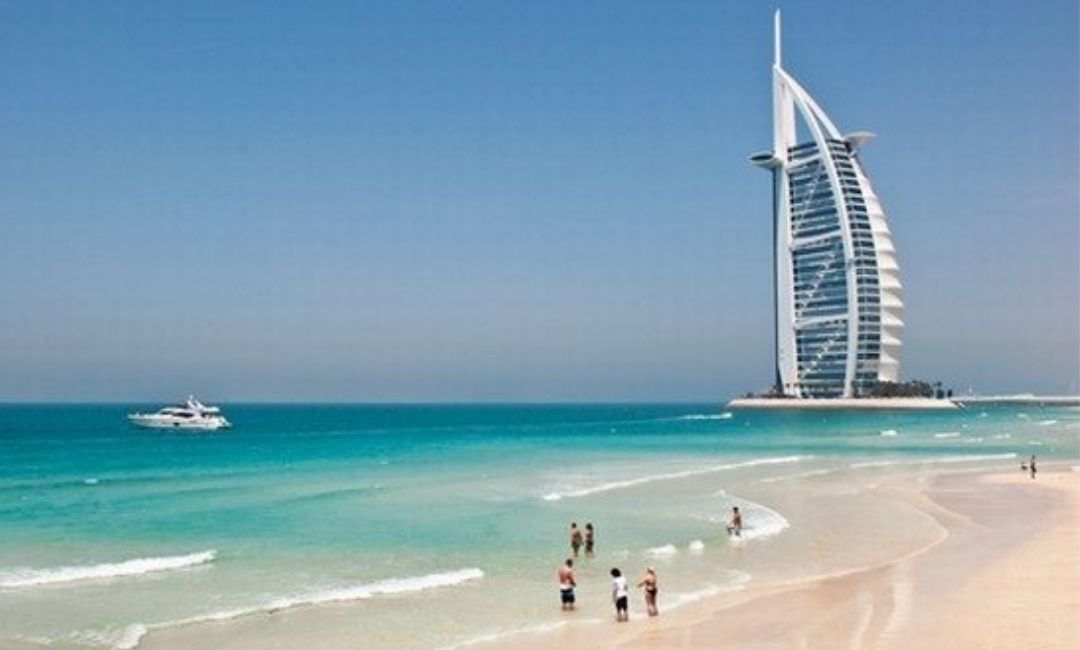 10. DUBAI GLOW GARDEN
Dubai Glow Garden is based on a unique glow-in-the-dark concept. The garden is decorated with multiple recycled fabrics and energy-saving bulbs. The park consists of Ice Park, Art Park, Magic Park, Dinosaur Park, and the Glow Park offering distinct experiences to its visitors. The light architecture is visually appealing and will leave you overwhelmed.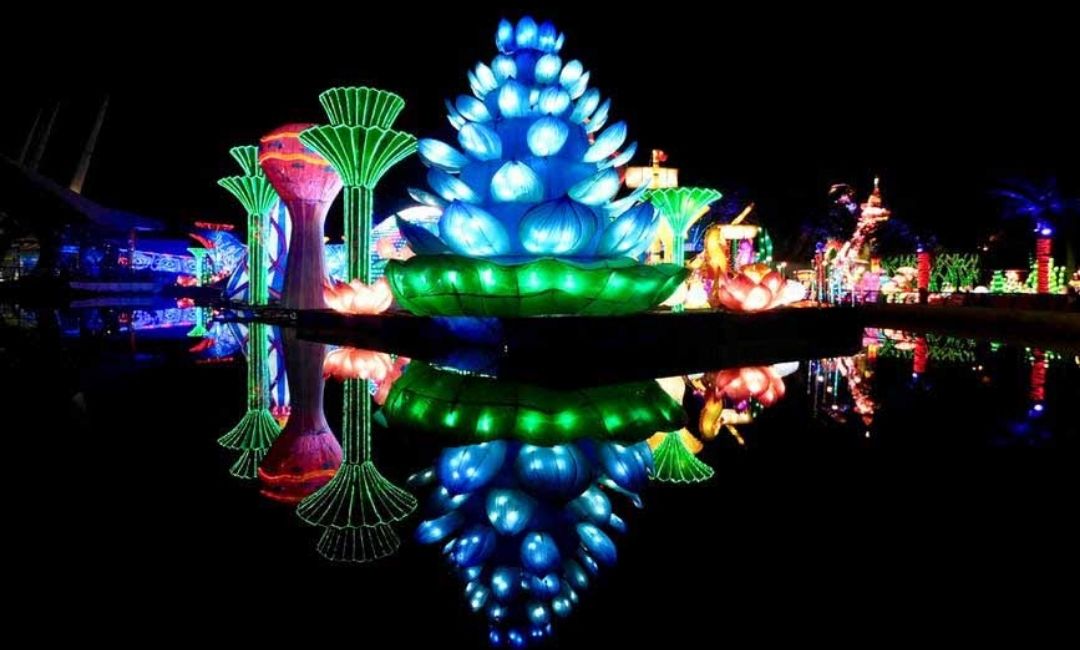 CONCLUSION
Dubai is brimming with attractions that you can visit at night. So, pack your bags and explore this stunning city now. Click here to get a 4 days guide to Dubai Trip.
If you find this blog '10 Best Places to Visit in Dubai at Night' interesting, please share the link of the website/blog with your family and friends. If you have any comments or suggestions – please do write in the comments section below.
Need regular dose of travel information, planning and update on new blogs, please like my page on Facebook.
Need regular dose of travel shots – follow my page on Instagram